2012 Ford Mustang Cobra Jet Twin-Turbo Concept
LAS VEGAS, Oct. 30, 2012 – The Ford Racing Mustang Cobra Jet concept revealed today at the Specialty Equipment Market Association (SEMA) show proves there is indeed a replacement for displacement.
In the perpetual quest to stay ahead of the competition, for the first time ever Ford Racing has equipped its factory-built turn-key drag racer with a turbocharged engine, adopting the same award-winning technology found on road-going EcoBoost engines.
Winning heritage
When the original Mustang Cobra Jet drag racers rolled out of the Mustang factory in 1968, they relied on 7.0-liter V8 engines with massive four-barrel carburetors to propel them down the strip.
"When a new generation of Cobra Jets arrived four decades later, they immediately began winning with a modern, fuel-injected 5.4-liter V8 topped with a belt-driven supercharger," recalls Jesse Kershaw, Ford drag racing competition manager. "Over the past four years, the Cobra Jet has gone on to become both a fan and competitor favorite, the most successful late-model vehicle in drag racing."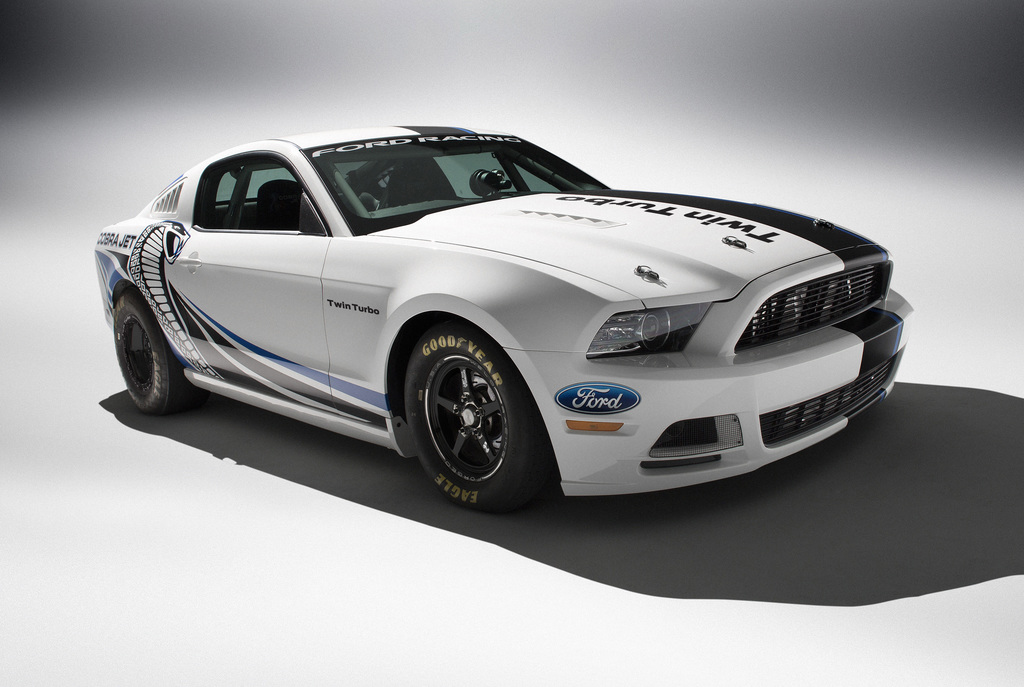 "Racing pre-dates Ford Motor Company. Henry Ford himself raced the 999 and won in 1901 to generate interest for the new company," said Jamie Allison, director of Ford Racing Technologies. "We haven't stopped since.
"We've competed in almost every category of auto racing, from deserts to road courses to ovals and drag strips over the past 111 years, often with cars and trucks based on our production models, including the Mustang," Allison added.
In 2011, the Mustang GT's all-new 5.0-liter V8 found a home in the Cobra Jet, both with and without a supercharger.
"Despite its smaller displacement, the improved breathing of the 5.0-liter with its twin independent variable camshaft timing and Boss 302 cylinder heads provided comparable performance while showcasing the high technology available in street Mustangs today," said Rob Deneweth, Cobra Jet powertrain development engineer.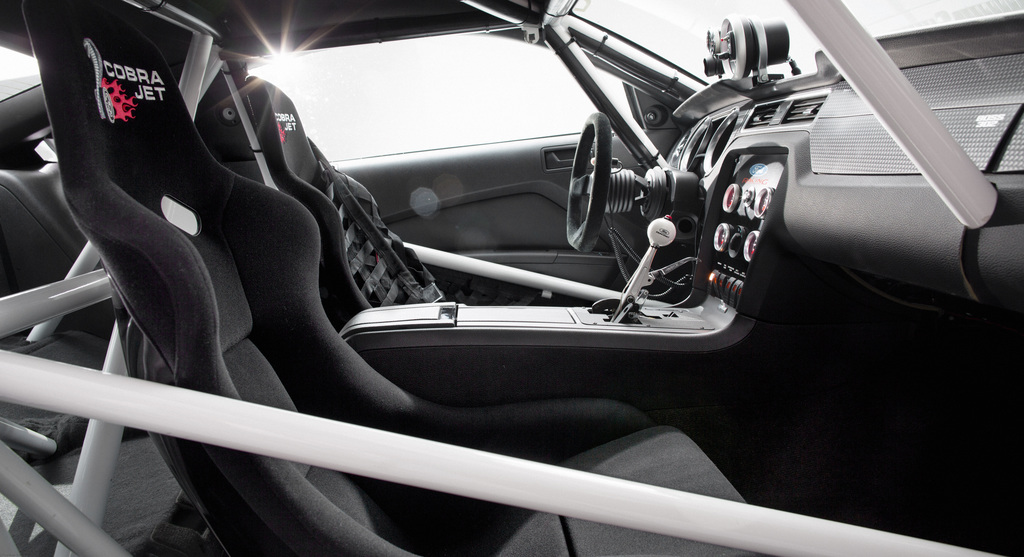 "Ever since we relaunched the Cobra Jet in 2008, we've continuously evolved the engine to be more optimized for drag racing and produce more power for its NHRA class."
While superchargers provide instant on-demand power, they can also sap a lot of power especially at high boost levels. The 2.9-liter blower used on the 2013 Cobra Jet uses as much as 100hp to drive the supercharger.. That's power no longer available for acceleration.
Two turbochargers, no waiting
Fortunately, every internal combustion engine has a plentiful source of energy that normally goes to waste right out the exhaust pipe. Turbochargers harness the thermal and kinetic energy in the exhaust gases to drive turbines and compressors that force more air into the engine for a big increase in power without most of the parasitic losses of a supercharger.
"Ford has embraced turbocharging technology and a lot of our production engineers are working with the technology on a daily basis, so we have a lot of knowledge," added Deneweth. "So we decided to apply that knowledge to the Mustang Cobra Jet to showcase what our engineers and suppliers know how to do."
Turbocharger design and release engineer Dave Born joined the Cobra Jet team after working on the 3.5-liter EcoBoost® V6 for the F-150 to help make this concept a reality. "When done right, turbocharging is just as good as or better than supercharging," Born confirms.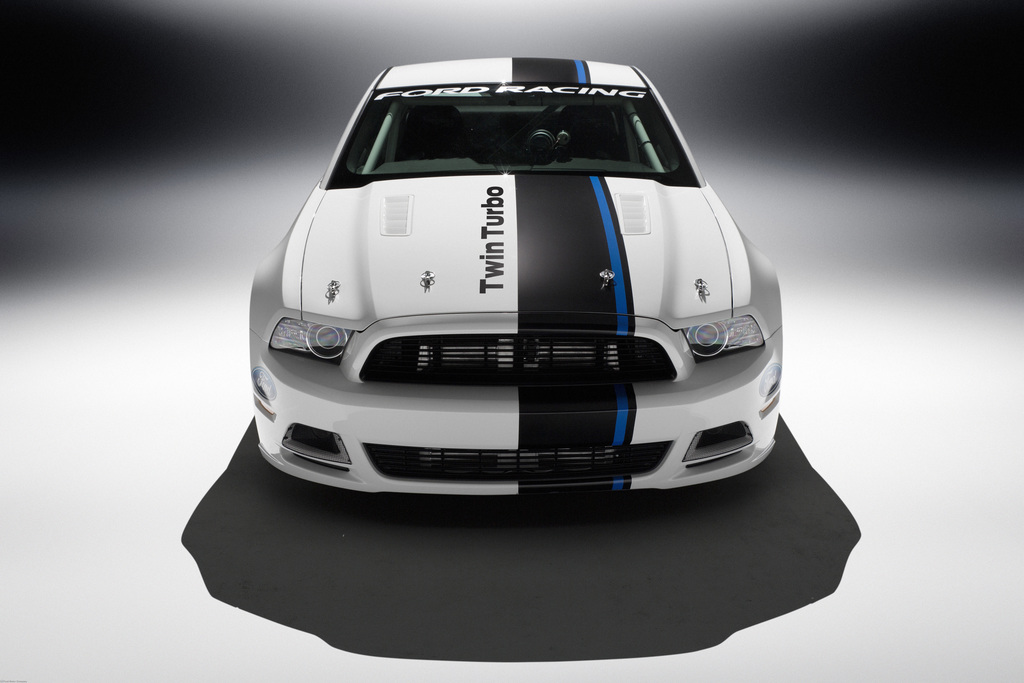 "To overcome the biggest perceived drawback of turbocharging – the lag – we've selected the smallest possible turbos that will give us the airflow we need," he added. "We've also got some other enhancements to help improve the responsiveness; we have very low inertia and very low internal friction."
NHRA competition rules for the stock classes Cobra Jet races in require parts like turbochargers to be derived from production components. Borg-Warner™ has supplied smaller, more efficient turbochargers based on the units used in the Focus ST for the Cobra Jet concept. Smaller than those found in most other drag racing applications, the turbine wheels are made from titanium aluminide that reduces the rotational inertia by 50 percent. Along with a shaft riding on low-friction ball bearings, the compressors can spin up to 150,000 rpm almost instantly.
The same integrated, electronically controlled wastegates used on production EcoBoost engines enable the turbos to keep spinning and generating the boost pressure needed for low elapsed times and high trap speeds at the strip.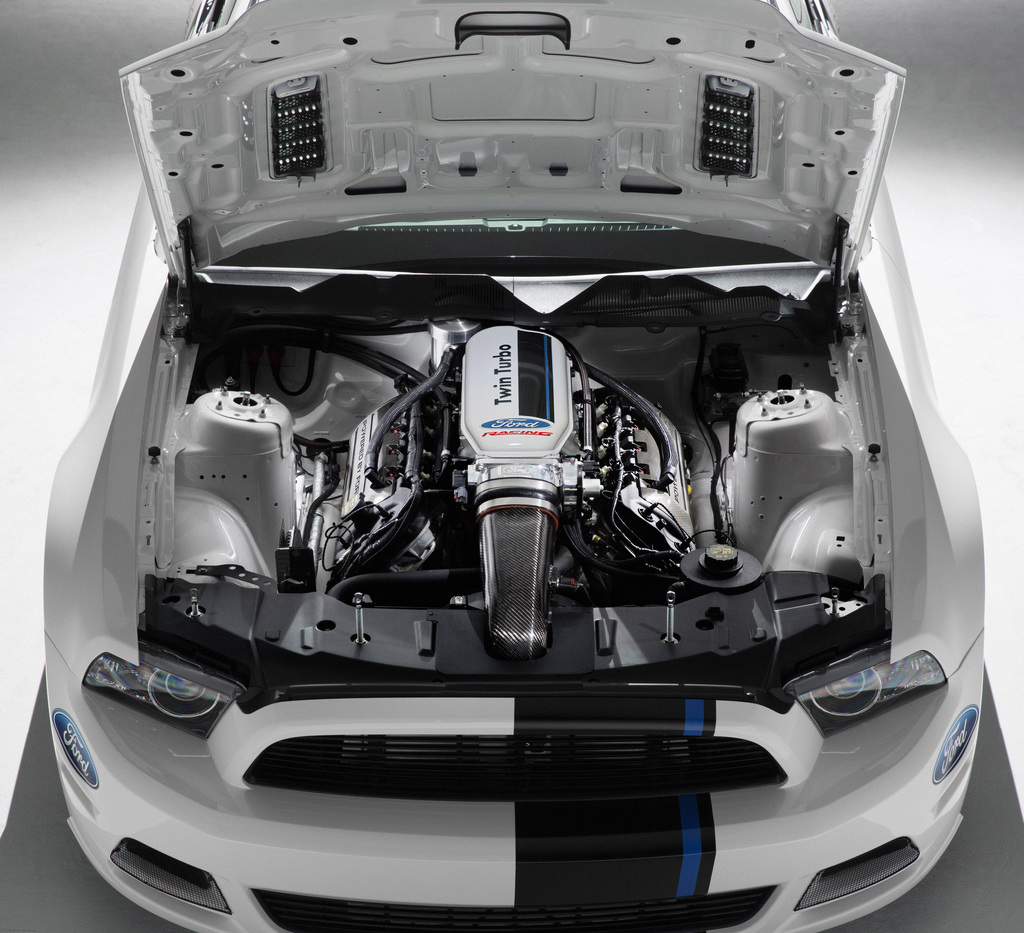 One of the top reasons for a car company to go racing is the rapid learning curve it provides and the lessons that can be fed back into the vehicles customers drive every day.
"We're already using ball bearings in the turbocharger of the 6.7-liter Power Stroke® diesel V8 in Super Duty trucks," adds Born. "We're also evaluating materials like the titanium aluminide for the turbine, and it could find its way into future production programs as the costs come down."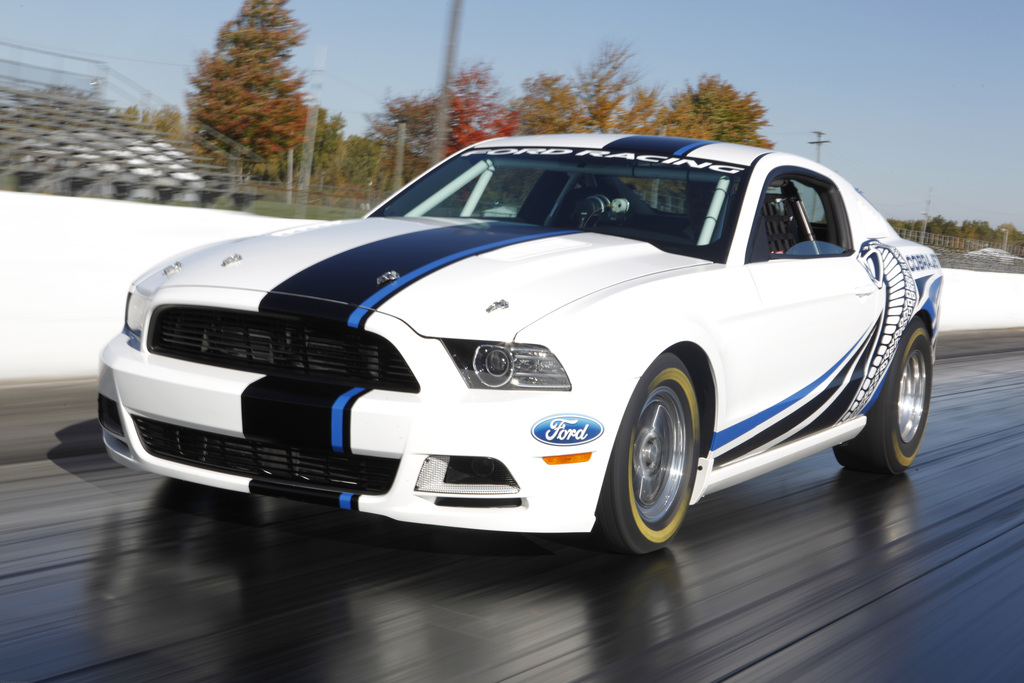 In Detail
| | |
| --- | --- |
| | |
| type | Concept / Prototype Car |
| released at | 2012 SEMA Show |
| built at | Romeo, Michigan, USA |
| production | 1 |
| engine | V8 |
| position | Front, Longitudinal |
| aspiration | Borg-Warner Twin Turbochargers |
| ignition | Coil-on-plug |
| block material | Aluminum |
| valvetrain | DOHC, 4 Valves per Cylinder |
| fuel feed | Electronic Fuel Injection |
| displacement | 5409 cc / 330.08 in³ |
| bore | 90.22 mm / 3.6 in |
| stroke | 105.8 mm / 4.2 in |
| body / frame | Unitary Steel Monocoque |
| driven wheels | RWD |
| wheel type | Weld Racing |
| front tires | Goodyear |
| rear tires | Goodyear |
| front brakes | Ventilated Discs w/Brembro 4-Piston Calipers |
| rear brakes | Ventilated Discs w/Brembro 2Piston Calipers |
| steering | Rack & Pinion w/Electronic Assist |
| f suspension | MacPherson Struts w/Lower Control Armsm Stabilizer Bar |
| r suspension | Live Axle w/Coil Springs, Panhard Rod, Twin Gas-Tube Shock Absorbers |
| curb weight | 1734 kg / 3820 lbs |
| weight distro | 56 % / 44 % |
| wheelbase | 2720.3 mm / 107.1 in |
| front track | 1572.3 mm / 61.9 in |
| rear track | 1587.5 mm / 62.5 in |
| length | 4780.3 mm / 188.2 in |
| width | 1877.1 mm / 73.9 in |
| height | 1384.3 mm / 54.5 in |
Story by Ford Motor Company