2012 Porsche 911 Carrera 4S Cabriolet
The new Porsche 911 Carrera 4 unites the excellent performance and efficiency of the new generation of the 911 Carrera with the dynamic benefits of the latest version of the active all-wheel drive system PTM (Porsche Traction Management). The typical Porsche all-wheel drive with rear-focused layout in this latest 911 version guarantees maximum vehicle dynamics on a wide variety of road surfaces and in all weather conditions. The new 911 Carrera 4 models deliver traction and dynamic performance the power of four.
The new all-wheel drive 911 is being launched on the market in four versions – as the 911 Carrera 4 and 911 Carrera 4S and each as Coupé and Cabriolet. They sport the same traits as the rear-wheel drive versions: their lightweight body design, suspension, engines and gearboxes are identical, the only exception being modifications related to the all-wheel drive. This means that despite a higher level of engine and driving performance, all four models consume significantly less fuel than the previous models; total savings for individual versions are as much as 16 per cent. In addition, the new 911 Carrera 4 is up to 65 kg lighter in weight.
The most distinct identifying feature of the 911 with all-wheel drive is still the wide rear section: compared to the two-wheel drive 911 Carrera models, the rear wheel housings each extend further outward by 22 mm, and the rear tyres are each ten millimetres wider. The traditional red light band that connects the two taillights has also taken on a new form.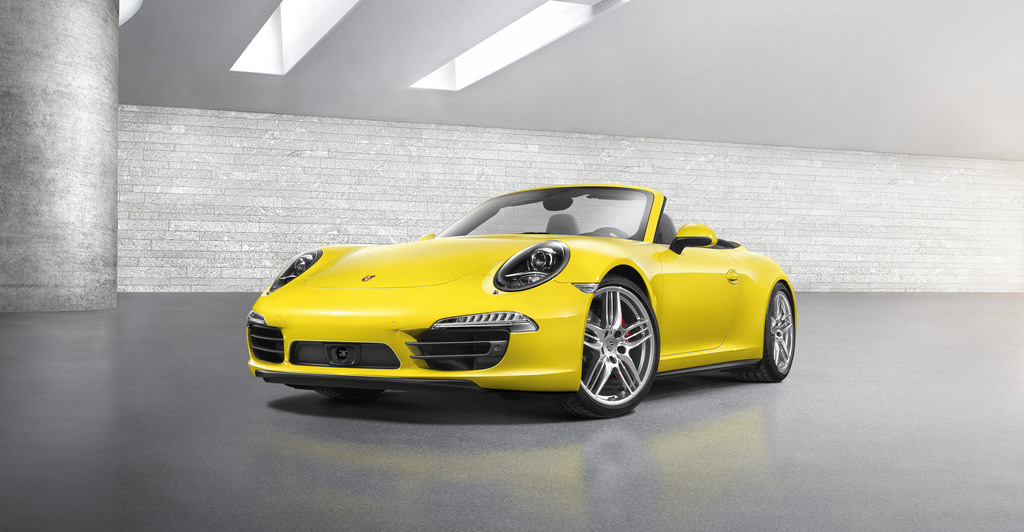 Porsche Intelligent Performance: high levels of driving performance, low fuel consumption
All new models have a 7-speed manual gearbox as standard, and the Porsche Doppelkupplung (PDK) gearbox is available as an option. The 911 Carrera 4 Coupé with 350 hp (257 kW) can sprint from zero to 100 km/h in as little as 4.5 seconds (Cabriolet: 4.7 s) and reach a top speed of up to 285 km/h (Cabriolet: 282 km/h), depending on equipment features. Fuel consumption with PDK is 8.6 l/100 km (CO2 203 g/km) for the Coupé and 8.7 l/100 km (CO2 205 g/km) for the Cabriolet.
The Coupé and Cabriolet of the 911 Carrera 4 S each have a 3.8-litre rear-mounted boxer engine that produces 400 hp (294 kW); this enables acceleration to 100 km/h in 4.1 seconds (Cabriolet: 4.3 seconds) and a top speed of 299 km/h (Cabriolet: 296 km/h) with a suitable equipment configuration. Fuel consumption values with PDK are 9.1 l/100 km (CO2 215 g/km) for the Coupé and 9.2 l/100 km (CO2 217 g/km) for the Cabriolet.
New: all-wheel drive indicator, Porsche Active Safe, sliding glass sunroof, extended Sport Chrono pack
In the new 911 Carrera 4, a new menu in the instrument cluster informs the driver how the PTM all-wheel drive is currently distributing engine power. In addition, with the debut of the 911 Carrera all-wheel drive models Porsche is introducing the optional Adaptive Cruise Control (ACC) to the entire model range, which controls distance to traffic ahead and vehicle speed. When ordered with PDK, the ACC system adds the safety function Porsche Active Safe (PAS), which helps to prevent front-end collisions. In addition, Porsche offers a new sliding glass sunroof as an optional feature for the 911 Carrera Coupé. Driving 911 cars with a manual gearbox and Sport Chrono pack can now be even sportier: In Sport Plus mode, the system automatically double-declutches during downshifts.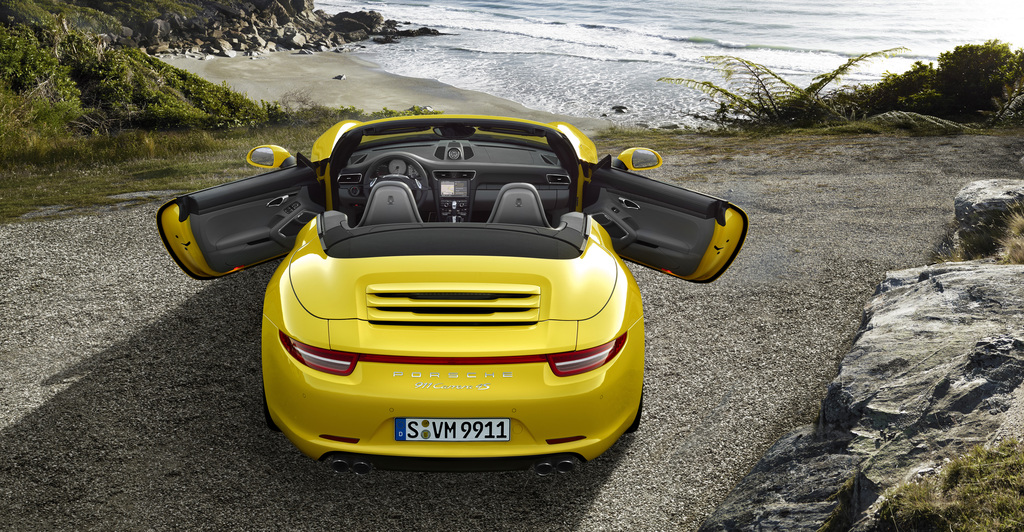 The new all-wheel drive models replace a very successful previous generation, of which a total of about 24,000 units have been sold since 2008. This represents a 34 per cent share of total sales of second generation 997 models. This previous generation launched with one of the greatest development steps in powertrain technology that the 911 with all-wheel drive ever made: new were the engines with direct petrol injection, Porsche Doppelkupplung (PDK) gearbox and electronically controlled Porsche Traction Management (PTM). In July 2011, Porsche crowned the model series with the 911 Carrera 4 GTS, whose 3.8-litre engine was boosted to 408 hp (300 kW).
World premiere at the Paris International Motor Show
The new Porsche 911 Carrera with all-wheel drive will make its first public appearance at the 2012 Paris International Motor Show. The new 911 models will launch at the end of 2012. Prices in Germany are 97,557 euros for the 911 Carrera 4 Coupé and 110,290 euros for the Cabriolet. The 911 Carrera 4 S costs 112,313 euros as a Coupé and 125,046 euros as a Cabriolet. All prices include 19 per cent VAT and country-specific features.
Story by Dr. Ing. h.c. F. Porsche AG.
In Detail
| | |
| --- | --- |
| | |
| type | Series Production Car |
| released at | 2012 Paris Motor Show |
| built at | Stuttgart, Germany |
| price $ | $ 117,530 |
| price €/td> | €112,313 |
| engine | Flat-6 |
| position | Rear, Longitudinal |
| aspiration | Natural |
| ignition | Coil-On-Plug |
| block material | Aluminum |
| valvetrain | Chain-Driven DOHC, 4 Valves per Cyl w/VVT |
| fuel feed | Electronic Direct Injection |
| displacement | 3800 cc / 231.89 in³ |
| bore | 101.85 mm / 4.01 in |
| stroke | 77.47 mm / 3.05 in |
| power | 298.3 kw / 400 bhp @ 7400 rpm |
| specific output | 105.26 bhp per litre |
| bhp/weight | 263.85 bhp per tonne |
| torque | 440.6 nm / 325 ft lbs @ 5600 rpm |
| redline | 7800 |
| body / frame | Unitary Steel & Aluminum Monocoque w/Aluminum Panels |
| driven wheels | AWD |
| wheel type | Cast Alloy |
| front tires | 235/40 ZR 19 |
| rear tires | 295/35 ZR 19 |
| front brakes | Ventilated Discs w/6-Piston Aluminum Calipers |
| f brake size | 34 x 340 mm / 1.34 x 13.4 in |
| rear brakes | Ventilated Discs w/6-Piston Aluminum Calipers |
| r brake size | 28 x 330 mm / 1.1 x 13.0 in |
| front wheels | F 48.3 x 21.6 cm / 19 x 8.5 in |
| rear wheels | R 48.3 x 27.9 cm / 19 x 11 in |
| steering | Rack & Pinion w/Power Assist |
| f suspension | MacPherson Struts w/Coil Springs, PASM Dampers, Anti-Roll Bar |
| r suspension | Multi-Link w/Coil Springs, PASM Dampers, Anti-Roll Bar |
| curb weight | 1516 kg / 3340 lbs |
| wheelbase | 2450 mm / 96.5 in |
| front track | 1532 mm / 60.3 in |
| rear track | 1560 mm / 61.4 in |
| length | 4491 mm / 176.8 in |
| width | 1852 mm / 72.9 in |
| height | 1293 mm / 50.9 in |
| transmission | 7-Speed Manual or 7-Speed Automatic |
| gear ratios | 3.91:1, 2.29:1, 1.55:1, 1.30:1, 1.08:1, 0.88:1, 0.71:1 |
| final drive | 3.44:1 |
| top speed | ~294.45 kph / 183 mph |
| 0 – 60 mph | ~4.5 seconds |