2013 Mercedes-Benz SLS AMG GT Roadster
Both in Europe and North America Mercedes updated the SLS AMG to have a more powerful GT engine and adaptive suspension. Smaller upgrades include GT badging, Darkened headlights and taillights, Red brake calipers, High-gloss black trim, high contrast stitching and Alcantara upholstery.
Our feature car is presented with
Magno Alanite Grey exterior paint and optional hand-stitched designo leather interior.
Major options include an 11-Speaker Bang & Olufsen 1000 Watt Sound System ($6,400), AMG Carbon Ceramic Braking System ($12,500), Carbon Fiber Engine Compartment Covers ($5,400), Extended Carbon Fiber Package ($7,250),
Press Release
For the 2013 model year, the Mercedes-Benz SLS AMG GT replaces the SLS AMG models with "GT". It denotes a more powerful engine, a recalibrated AMG SPEEDSHIFT DCT seven-speed sports transmission and modified AMG Adaptive Suspension.
The flagship supercar of the auto industry's broadest product lineup, the SLS AMG GT is available as a coupe with dramatic gullwing doors or a convertible model with a retractable cloth top and conventionally hinged doors. The Mercedes-Benz design and performance standard-bearer, the limited-production SLS AMG was the first-ever car designed and developed from the ground up by Mercedes-AMG, the company's high-performance division.
The hand-built AMG engine in the 2013 SLS AMG GT is rated at 583 hp and 479 lb.-ft. of torque, up 20 horsepower over last year's version. For 2013, the GT model also comes with darkened headlights and taillights, red brake calipers, a unique 10-spoke wheel with matte black inlay and a high-gloss black finish on the front grille and outside mirrors as well as the fins on the hood and fenders. New interior highlights include red seatbelts, red contrast stitching and Alcantara upholstery.
Gullwing Doors and Aluminum Space Frame
Convertible or gullwing coupe, the SLS AMG GT features a lightweight aluminum space-frame body with gullwing doors and a 6.3-liter dry-sump V8 engine. With its front-mid engine and rear-mounted, dual-clutch, seven-speed transaxle, the compelling SLS AMG GT boasts ideal weight distribution of 47-53. Combined with double-wishbone sport suspension, its weight distribution and low center of gravity ensure race-car-like handling.
Its silhouette is defined by a long front hood, short body overhangs, low greenhouse and a short tail section. Along with a wide front grille that sports a large Mercedes-Benz star and a wing-like lamella, the SLS AMG GT is reminiscent of the Mercedes-Benz 300SL gullwing coupe of the 1950s.
0-to-60 MPH in Less Than Four Seconds
The SLS AMG GT can accelerate from 0 to 60 miles per hour in only 3.7 seconds, with an electronically limited top speed of 197 mph. Designed from the ground up by AMG, the 6.3-liter V8 powerplant in the Mercedes-Benz SLS represents an entirely new engine family, identified internally by the designation M159.
Based on valuable insight from 40-plus years of motor racing, more than 120 components were redesigned in the development of the SLS AMG GT engine. With 583 hp and 479 pound-feet of torque, the engine is one of the world's most powerful naturally aspirated V8s in production.
A Top As Fast as the Car
The soft top on the SLS AMG GT roadster can be opened in only 11 seconds. A button at the front of the center armrest operates the folding top, which can be opened or closed when the car is moving at speeds up to 31 mph. The top is available in three colors – black, red or beige – to complement nine exterior colors and eight interior combinations.
The frame of the triple-layer fabric top is a carefully chosen combination of magnesium, aluminum and steel, which contributes to the car's extraordinarily low center of gravity. A rear window of single-layer safety glass is seamlessly bonded to the top, which helps minimize wind noise. A long water channel under each side of the top directs rain water to the underside of the car. Trunk capacity is 6.1 cubic feet with the roof closed or open, about the same as the SLS AMG GT gullwing coupe (6.2 cubic feet).
Convertible and Coupe Body Stiffness
To ensure the same handling and driving pleasure as the fixed-roof coupe, the SLS AMG GT roadster has thicker door sill members; additional struts between the dash cross member, center tunnel and windshield frame; and a special strut between the soft top compartment and the rear axle. There's also a special cross member behind the seats to support the fixed roll bars. All in all, the entire aluminum spaceframe for the convertible model weighs only 4.5 pounds more than the coupe.
Dry Sump Lubrication for Lower Center of Gravity
A dry-sump engine lubrication system – rare in the auto industry – along with a front-mid engine located well behind the front wheels, coupled with a rear-mounted transaxle, all contribute to impressive vehicle handling. Two oil pumps make it possible to store engine oil in a separate tank, eliminating a conventional oil pan or sump and allowing the engine to be positioned lower in the body for an extremely low center of gravity. More than 14 quarts of oil circulate through the SLS engine. A suction pump constantly scavenges oil from the bottom of the crankshaft chamber and the cylinder heads, pumping it into the oil tank in front of the engine. With no reservoir of oil at crankshaft level, this design actually adds horsepower by significantly reducing oil drag on the spinning crankshaft. A second engine oil pump draws oil out of the tank and pressure-feeds it throughout the engine to lubricate the bearings.
When oil travels to one side during hard cornering, conventional lubrication systems can lose oil pressure and damage the engine, but the SLS two-pump system with its remote reservoir ensures a reliable supply of oil even under extreme lateral loads.
Lightweight Forged Pistons
Forged aluminum pistons are another special feature of the SLS engine. Stronger than conventional cast pistons, forged pistons are also 1.1 pounds lighter. Metered nozzles in the crankcase spray cooling oil on the underside of the pistons.
One Man, One Engine – Individual Hand Craftsmanship
Each new AMG engine is hand-assembled by an expert craftsman at Mercedes-AMG in Affalterbach, Germany. Mercedes-AMG follows a philosophy of "one man, one engine," which means a single technician – identified by the signature plate affixed to the engine – is responsible for the complete assembly of an AMG high-performance engine from start to finish.
With the utmost care, the craftsman installs each and every part – from the crankshaft, connecting rods and pistons to the intake system, wiring harness and oil fill-up. Each new engine is test-run to ensure consistent quality and maximum performance.
Rear-Mounted AMG SPEEDSHIFT DCT Transmission
The Mercedes-Benz SLS AMG GT features an AMG SPEEDSHIFT dual-clutch seven-speed transaxle, essentially a manual gearbox with computer-controlled automatic shifting and two clutches that control odd and even gears. Designed for full-power shifting, the new transaxle incorporates a rear final drive, differential and a mechanical differential lock.
Its rear-mounted transmission and final drive help provide ideal 47-53 front-rear weight distribution – a key factor contributing to the car's outstanding handling. The aluminum transaxle is solidly connected to the engine by a torque tube in which a carbon-fiber driveshaft rotates at engine speed.
Dual-Clutch Seven-Speed Gearbox
The two clutches control power to shafts that hold seven pairs of drive gears. One shaft holds all the odd-numbered gears, and the other shaft has the even-numbered gears. As a result of this design, shifts can be made without interrupting power by electronically applying one clutch exactly when the other is being disengaged. The next gear is always pre-selected electronically while its clutch is disengaged, making it ready for an instant, full-power shift as soon as its clutch is engaged.
Instant Shifts, Computer-Enhanced
Mounted on the center console, a small T-handle serves as an electronic shift lever for the AMG E-DRIVE unit, which also includes a shift mode knob and buttons for choosing ESP and AMG driving modes, starting the engine and raising the rear wing. One touch back on the T-handle engages drive, while a touch forward engages reverse. When the car is stopped, pushing the "P" button engages the park lock, which also happens automatically whenever the engine is turned off.
The rotary knob on the AMG E-DRIVE unit can select the RACE START feature and four drive modes – Comfort, Sport, Sport Plus and Manual. AMG shift paddles on the back of the steering wheel control manual shifting. An automatic rev-matching feature makes downshifting the SLS AMG smooth, yet even more satisfying. Rev-matching automatically meters engine speed so that downshifts are load-free – no lunging or jerking, even in power-on turns or heavy braking.
Forged Aluminum Double Wishbone Suspension
Complementing its prodigious power, the SLS AMG GT suspension features double wishbones and track rods at all four wheels – a technology that has proven itself in racing, right up to Formula One competition. An adaptive AMG Sport Suspension provides electronically controlled damping at the touch of a button. With a button on the AMG DRIVE UNIT, the driver can choose "Comfort," "Sport" and "Sport Plus."
Unlike strut-type suspensions, the shock absorber in a double-wishbone arrangement does not perform double duty to help locate the wheel, making the suspension stronger and allowing the shock absorber to work independent of any wheel deflection. All eight wishbones and the four steering knuckles are made of forged aluminum, minimizing unsprung weight, which improves suspension and steering response. To minimize body roll during hard cornering, a thick but lightweight tubular stabilizer bar is fitted up front, while the rear suspension comes with a solid, two-piece bar.
Two-Piece AMG Disc Brakes
To balance its high-speed capability, the SLS AMG GT comes with vented disc brakes that are grooved and perforated all around. Proven on AMG race cars, two-piece (compound) front brake discs "float" on stainless-steel pins connected to aluminum hubs. This two-piece design reduces weight and transfers less of the intense braking heat that would otherwise find its way to the wheel bearings. Fixed brake calipers (six-piston up front and four-piston at the rear) grab the discs for a force of 1,109 horsepower under full braking from 155 mph to zero.
An SLS AMG GT can be ordered with optional ceramic disc brakes, which are identified by their gold calipers with "AMG Carbon Ceramic" logos. Made of a carbon-fiber-reinforced ceramic material, the ceramic discs are much harder than conventional ones. This not only increases service life, but also enhances durability under high heat and extreme loads, for even shorter stopping distances and higher fade resistance under extreme conditions.
While they utilize the same two-piece floating layout as the standard SLS AMG GT disc brakes, the ceramic discs are even larger, and their total braking force is also higher. In addition, the ceramic discs are 40 percent lighter than conventional brakes, further reducing unsprung weight and enhancing suspension and steering response.
Flow-Formed Light-Alloy AMG Wheels
The alloy wheels on the SLS AMG GT use an innovative flow-forming process that compresses and strengthens the area around the rim, allowing for thinner contours and reduced weight. As a result, each SLS wheel is about 2.4 pounds lighter than a conventional alloy wheel, further reducing unsprung weight and, in turn, enhancing suspension and steering response.
In front, the SLS AMG GT wheels are 9.5 inches wide, 19 inches in diameter, and are shod with 265 / 35 R 19 tires. The rear wheels measure 11.0 x 20 inches, with 295 / 30 R 20 tires that are nearly a foot wide. SLS AMG GT tires use an exclusive rubber compound with grip on dry surfaces that's comparable to today's road racing tires, but without their disadvantages in the wet and cold.
AIRSCARF for an Extended Driving Season
A standard AIRSCARF system can extend the open-air driving season of the SLS AMG GT roadster into the cooler months. Built into the seatbacks, the neck-level heating system blows warm air from the driver and passenger-seat head restraints, allowing occupants to cruise comfortably with the retractable hardtop open in cooler weather. AIRSCARF even compensates automatically for changes in vehicle speed. A standard fabric air deflector mounts to the roll bars, helping to reduce air buffeting.
AMG Performance Media
An optional race-inspired system, AMG Performance Media provides a telemetric, real-time display of horsepower, torque, accelerator position, lateral and linear acceleration, braking performance, 0-60 mph or quarter mile times and lap times. In addition, it can display engine oil, coolant and transmission fluid temperatures as well as individual tire pressures.
Pressing an AMG key in the AMG DRIVE UNIT activates the system, which is then operated by the COMAND controller. Three digitally simulated dial gauges with red pointers can be displayed at a time, with the most important information in the center.
Hand-Stitched designo Interior
Echoing the gullwing doors, an aviation theme is carried into the interior by a wing-like dash, four turbine-look dash air vents, concave door panels, aviation cockpit gauges and center console. Angled toward the driver, the AMG E-DRIVE unit on the console holds the electronic shift lever — a "T" handle that recalls a jet's thrust control – and knobs and buttons for operating key drive systems. The dash, seats, door panels and arm rests are upholstered in hand-stitched designo Alcantara as well as the headliner, roof pillars and rear shelf, while the floor and lower part of the rear wall are covered in short-pile carpeting.
Lending an authentic racing flair to the cockpit, a three-spoke contoured steering wheel is wrapped in perforated nappa leather with a vertical metal double spoke. The 14.4-inch wheel includes metal paddles for manual shifting and a flattened section at the bottom for more knee and leg room. The steering wheel features multi-function rocker buttons that allow drivers to operate audio, phone, voice control and navigation from the steering wheel as well as a versatile main menu in the dash display.
Versatile Dash Displays
Two silver gauges with red needles indicate engine speed and vehicle speed, with smaller displays within the gauges for fuel level and engine oil temperature. Between the gauges, a 4.5-inch screen displays gear selection, driving mode, outside temperature and clock. Above the display is a racing-type shift prompter – a group of LEDs showing ideal shift points that are visible in the driver's peripheral vision.
A User-Friendly COMAND system
A controller on the center console works like a computer mouse to operate a seven-inch color COMAND display at the top of the dash that controls the audio, telephone and navigation systems. A standard six-speaker audio system includes a 100-watt amplifier; a six-disc, in-dash CD / DVD player; and an AM, FM and weatherband tuner that's satellite-radio-ready.
A standard Bluetooth interface allows a phone still in a pocket or handbag to be operated through the audio system, and a 7.2-gigabyte music registry enables up to 1,000 music files to be stored in the car. The COMAND system is also equipped with a standard iPod/MP3 interface and an advanced voice control. Other features allow the navigation system to display SIRIUS real-time traffic information and Zagat restaurant ratings.
Bang&Olufsen Audio
An optional surround-sound audio system from the Danish specialist Bang&Olufsen was developed specifically for the SLS AMG. An amplifier with a total of 1,000 watts drives 11 speakers, and its digital sound processor (DSP) provides a choice of surround-sound or high-end studio sound, as well as sound focus positions for the driver, passenger or "central." This system includes two 250-watt subwoofers in the parcel shelf and illuminated 50-watt tweeters in the dash.
Luxurious Racing Seats
Designed to hug occupants but not be overly tight, high-bolstered SLS AMG GT seats are upholstered in premium designo leather with integral head restraints, an adjustable lumbar feature and power adjustments that are mounted on the bottom cushion. Standard equipment includes memory buttons that can store seat, steering wheel and outside mirror positions for three different people.
The SLS AMG GT comes with eight airbags – two-stage adaptive front air bags and knee air bags for the driver and passenger, as well as side air bags in the outer seat cushions to protect the chest and arms and, for head protection, window bags that deploy upward from the door sill.
Story by Mercedes-Benz USA
In Detail
| | |
| --- | --- |
| submitted by | admin |
| type | Series Production Car |
| released at | 2012 Paris Motor Show |
| built at | Sindelfingen, Germany |
| price $ | $ 206,000 |
| price €/td> | €213,010 |
| engine | M159 90° V8 w/Dry Sump Lubrication |
| position | Front, Longitudinal |
| aspiration | Natural |
| block material | Aluminum |
| valvetrain | DOHC, 4 Valves per Cyl |
| fuel feed | Electronic Injection |
| displacement | 6208 cc / 378.84 in³ |
| bore | 102.2 mm / 4.02 in |
| stroke | 94.5 mm / 3.72 in |
| compression | 11.3:1 |
| power | 434.7 kw / 583 bhp @ 6800 rpm |
| specific output | 93.91 bhp per litre |
| bhp/weight | 350.78 bhp per tonne |
| torque | 650 nm / 479.4 ft lbs @ 4750 rpm |
| redline | 7200 |
| body / frame | Aluminum Spaceframe |
| driven wheels | RWD |
| wheel type | Forged Aluminum Alloy |
| front tires | 265/35 R 19 Continental ContiSportContact 5P |
| rear tires | 295/30 R 20 Continental ContiSportContact 5P |
| front brakes | Internally Ventilated Composite Discs w/6-Piston Fixed Calipers, ABS, Brake Assist, 3-stage ESP |
| f brake size | 36.07 x 391.2 mm / 1.42 x 15.4 in |
| rear brakes | Internally Ventilated Composite Discs w/4-Piston Fixed Calipers, ABS, Brake Assist, 3-stage ESP |
| r brake size | 25.91 x 360.7 mm / 1.02 x 14.2 in |
| front wheels | F 48.3 x 24.1 cm / 19 x 9.5 in |
| rear wheels | R 50.8 x 27.9 cm / 20 x 11 in |
| steering | Rack & Pinion w/Speed Sensitive Assist |
| f suspension | Aluminum Wishbones w/Coil Springs, Gas-Tube Shock Absorbers, Anti-Roll Bar |
| r suspension | Aluminum Wishbones w/Coil Springs, Gas-Tube Shock Absorbers, Anti-Roll Bar |
| curb weight | 1662 kg / 3661 lbs |
| wheelbase | 2680 mm / 105.5 in |
| front track | 1682 mm / 66.2 in |
| rear track | 1653 mm / 65.1 in |
| length | 4638 mm / 182.6 in |
| width | 1939 mm / 76.3 in |
| height | 1262 mm / 49.69 in |
| transmission | AMG Speedshift DCT 7-speed |
| tran clutch | Dual Clutch |
| gear ratios | 3.40:1, 2.19:1, 1.63:1, 1.29:1, 1.03:1, 0.84:1, 0.72:1 |
| final drive | 3.67:1 |
| fuel econ epa | 15.68 L/100 km or 15 mpg-us |
| city fuel econ epa | 18.09 L/100 km or 13 mpg-us |
| hwy fuel econ epa | 12.38 L/100 km or 19 mpg-us |
Auction Sales History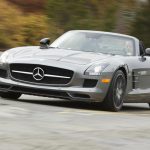 2015 Mercedes-Benz SLS AMG GT Roadster WDDRK7JAXFA011243 – sold for $228,800 One of just 350 Final Edition SLS examples produced. Less than 6,000 miles and just one owner since new. The last and most potent iteration of Mercedes-Benz and AMG's retro Gullwing. Extremely powerful and luxurious supercar. Complete with all factory delivered options and accessories.
Auction Source: The Scottsdale Auction 2015 by Bonhams