2014 Koenigsegg One:1
For the 2014 Geneva Motor Show, Koenigsegg created the one:1 based on the Agera platform. Seven examples, including one prototype, were built during 2014 and 2015.
This was one of the most exclusive production car programs ever envisaged in the car industry. One:1 is named after its capability to produce 1 megawatt of power from a single car – it is the first homologated production car in the world with one Megawatt of power. The hp-to-kg curb weight ratio is an astonishing 1:1. To achieve this 1360 bhp, Koenigsegg had to redesign the turbocharger.
To further enhance the One:1's pedigree, Koenigsegg manufactured the the chassis from a lighter-grade carbon fiber. The One:1 will produced in a limited series of 7 cars that includes prototype. All the six customer versions have been pre-sold ahead of the car's debut at the Geneva Motor Show.
The One:1 truly raised the performance bar. The One:1 featured new, unique solutions that enhance track performance without compromising top speed or everyday usability, with a stunning visual appearance to go with it.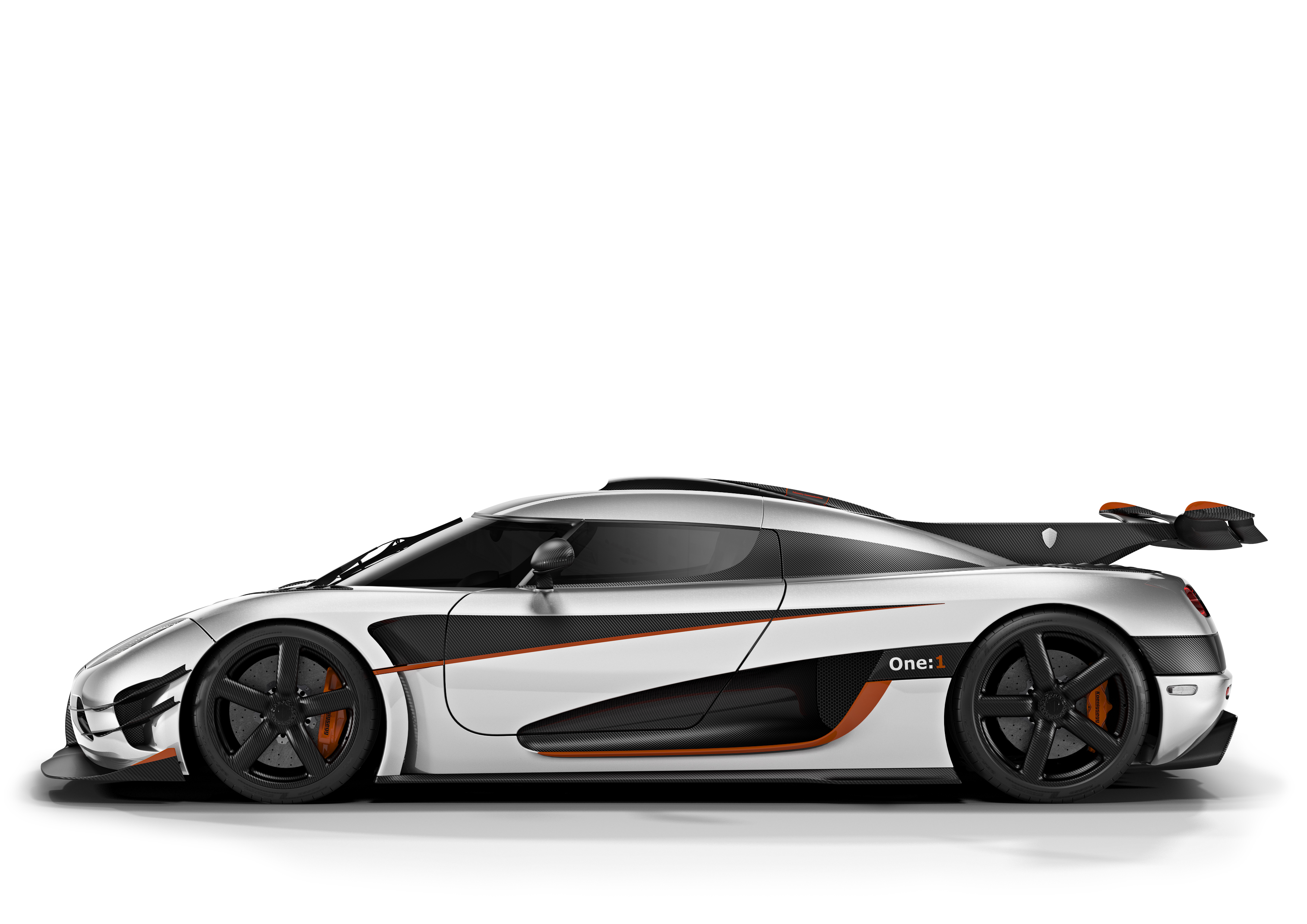 Examples of features: unique track-optimized aero winglets, extended venturi tunnels and side splitters, Le-Mans inspired active wing configuration and optimized active under trim air management. Large air vents for improved cooling, roof air scoop to support the 1 Megawatt of power, 8250 RPM rev limit, complemented with custom-made Michelin Cup Tires, upgraded rear Triplex suspension with carbon bevel springs and active shock absorbers and ride height, combined with upgraded revolutionary Koenigsegg Aircore carbon fiber wheels.
Koenigsegg was the first extreme car manufacturer to take steps toward green technology with the release of the biofuel CCXR in 2007. The One:1, a sibling of the highly competitive Agera R, follows in the footsteps of the CCXR as it also runs on E85 biofuel, race fuel or normal gasoline.
Pictures & Image Gallery
See full Koenigsegg One:1 Image Gallery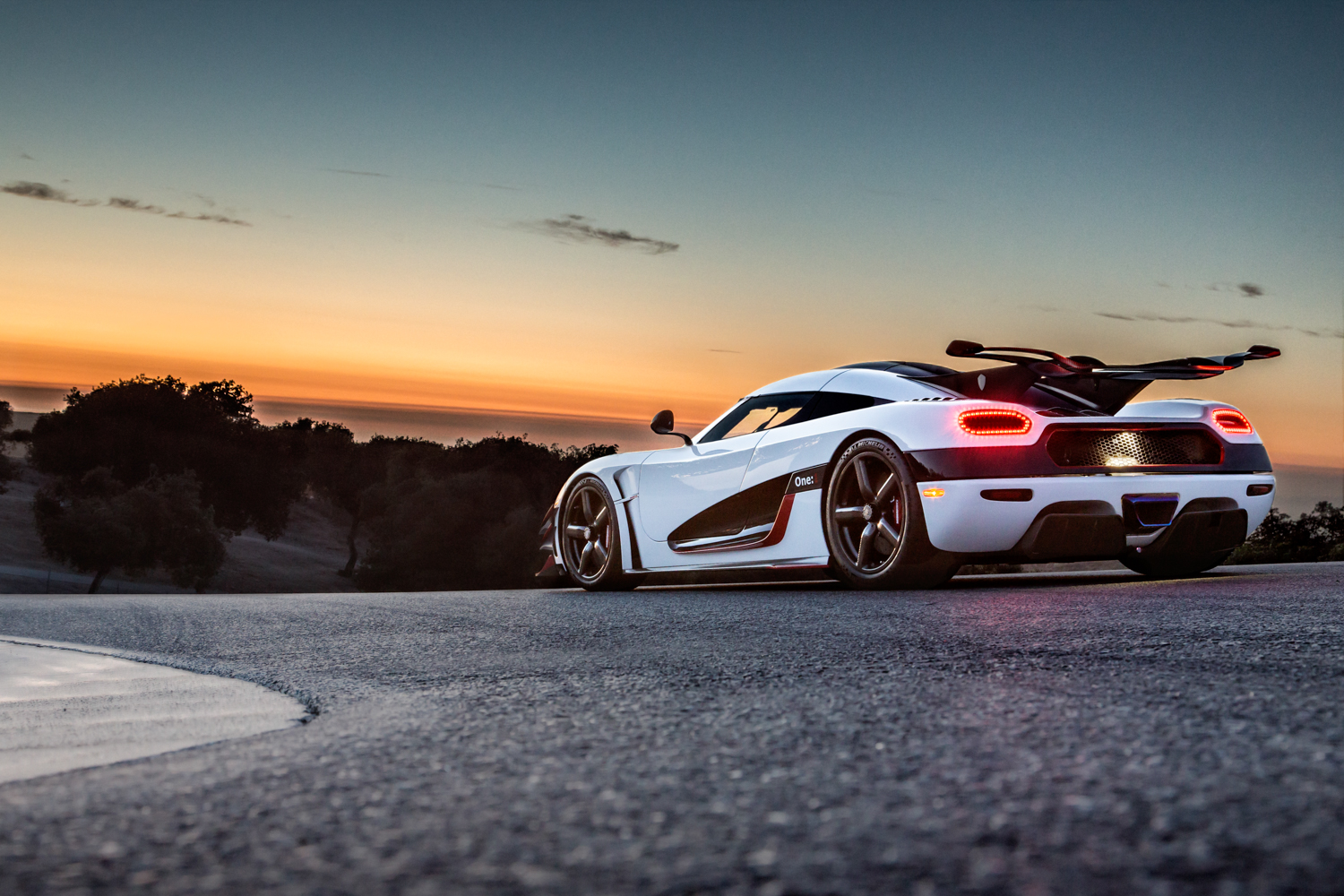 Videos
Koenigsegg One:1 Performance
Power output: 1 MW at 7500 rpm – rpm limiter @ 8250 rpm
Torque: over 1000 Nm from 3000 to 8000 rpm
Max torque: 1371 Nm at 6000 rpm
0 – 400 km/h approx. 20 sec
400 – 0 km/h approx. 10 sec
Braking distance: 28 m (100-0 km/h)
Max lateral g-force: 2.0 g
Emission levels: Euro VI
Chassis
Advanced high modulus carbon fibre chassis with F1 style honeycomb core and integrated fuel tanks for optimal weight distribution and safety.
Monocoque torsional rigidity: 65,000 Nm/degree.
Weight: 72kg.
Double wishbones, active ride height control and bevel carbon fibre springs with variable spring ratio.
Triplex damper in the rear.
Needle bearings and o-ringed wishbone bushings.
Fully machined aerospace grade aluminium uprights with SKF LeMans specification 150mm angle contact ball bearings.
GKN hollow/gun-drilled driveshafts.
Koenigsegg Z-style progressive and lightweight anti-roll bars front and rear.
Brakes
Front brakes: Ventilated ceramic discs Ø 397 mm, 40 mm wide. 6 ceramic piston calipers.
Rear brakes: Ventilated ceramic discs Ø 380 mm, 34 mm wide. 4-piston calipers.
Traction Control. F1-style for optimal performance with 5 different handling modes.
Wheels
Koenigsegg Aircore™ carbon wheels with centre locking.
Front: 19" x 9.5"
Rear: 20" x 12.5"
Transmission
Specially developed 7-speed dual clutch, 1 input shaft transmission with paddle-shift.
Electronic differential.
Engine
Koenigsegg aluminum 5,0L V8, 4 valves per cylinder, double overhead camshafts with flex-fuel capability.
Compression: 9.0:1
Bore: 92 mm Stroke: 95.25 mm
Sequential, multipoint fuel injection.
Variable geometry twin turbo chargers.
1.8 bar boost pressure.
Dry sump lubrication.
Carbon fibre intake manifold with optimized intake tracts.
Tig-welded ceramic coated Inconel exhaust system manifold with merge collector.
Weight: 197 kg
Steering
Rack and pinion power assisted steering. 2.7 turns lock-to-lock.
Turning circle: 11 metres. Electro-hydraulic power-assisted.
Tires
Specially developed Michelin Cup 2 tires.
Front: 265/35 – 19" (Y)
Rear: 345/30 – 20" (Y)
Speed rating: 440 km/h
| | |
| --- | --- |
| type | Limited Production Car |
| released at | 2014 Geneva Motor Show |
| built at | Ängelholm, Sweden |
| production | 7 |
| price £/td> | £2000000 |
| engine | Koenigsegg Biofuel V8 w/Dry Sump Lubrication |
| position | Mid Longitudinal |
| aspiration | Twin Turbo |
| block material | Aluminum |
| valvetrain | DOHC, 4 Valves per Cylinder |
| fuel feed | Multi-Point Fuel Injection |
| displacement | 5000 cc / 305.1 in³ |
| compression | 9.2:1 |
| power | 1000.0 kw / 1341 bhp @ 7500 rpm |
| specific output | 268.2 bhp per litre |
| bhp/weight | 986.03 bhp per tonne |
| torque | 1370.7 nm / 1011 ft lbs @ 3000 to 6000 rpm |
| body / frame | Carbon Fibre/Kevlar Body over Carbon Fiber & Aluminum Honeycomb Semi-Monocoque w/Steel Front Cro-Moly Steel Subframe |
| driven wheels | RWD w/E-Diff |
| wheel type | Carbon/Magnesium w/Center Lock |
| front tires | 265/35–19 |
| rear tires | 345/30–20 |
| front brakes | Carbon Ceramic Discs w/6-Piston Calipers |
| f brake size | 36 x 392 mm / 1.4 x 15.4 in |
| rear brakes | Carbon Ceramic Discs w/6-Piston Calipers |
| r brake size | 34 x 380 mm / 1.3 x 15.0 in |
| front wheels | F 48.3 x 24.1 cm / 19 x 9.5 in |
| rear wheels | R 50.8 x 31.8 cm / 20 x 12.5 in |
| steering | Rack & Pinion w/Power Assist |
| f suspension | Double Wishbones w/Inboard 2-Way Adjustable VPS Dampers, |
| r suspension | Double Wishbones w/Inboard 2-Way Adjustable VPS Dampers, |
| curb weight | 1360 kg / 2999 lbs |
| wheelbase | 2662 mm / 104.8 in |
| front track | 1700 mm / 66.9 in |
| rear track | 1650 mm / 65.0 in |
| length | 4296 mm / 169.1 in |
| width | 1998 mm / 78.7 in |
| height | 1120 mm / 44.1 in |
| transmission | 7-Speed AMT |
| tran clutch | Dual-Clutch |
| gear ratios | 3.364:1, 2.875:1, 1.773:1, 1.267:1, 1.000:1, 0.833:1, 0.711:1 |
| top speed | ~439.26 kph / 273 mph |
| 0 – 60 mph | ~2.9 seconds |