2016 Concours of Elegance
Established in 2012, the inaugural Concours of Elegance is held within Windsor Castle. The show is a classic car-lovers dream. This year saw over 12,500 fans visit Windsor Castle to check out some of the most amazing automotive machines on the planet.
Highlights included a one-off Hispano-Suiza H6B Dubonnet Xenia that was voted by the other owners as Best in Show. The RAC Club Trophy – celebrating the best of the nation's car clubs – was awarded to a pristine Aston Martin 'Clover Leaf. A spectacular Jaguar XK120 Roadster took home the Jaguar Trophy, while the pre-1965 Bentley Trophy was awarded to a Bentley 3 Litre, and the post-1965 Trophy to a Bentley Azure.
Sixty of the world's rarest cars parked in the Quadrangle at Windsor Castle, ranging from the 1895 Benz Velo 'Comfortable' to the 2016 Touring Superleggera Disco Volante Spyder. Many of these cars haven't been seen in the UK before, representing some of the rarest and most incredible examples from throughout automotive history.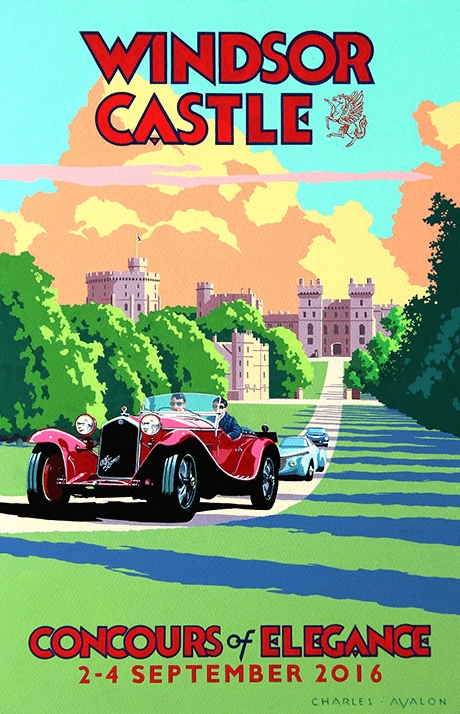 The Best of Show-winning 1938 Hispano-Suiza Dubonnet Xenia was developed by André Dubonnet, an inventor, racing driver and World War One fighter pilot. Dubonnet chose an H6 Hispano-Suiza engine for his creation, and commissioned Jean Andreau to design the incredible, streamlined body. Jacques Saoutchik then brought the design to life, featuring curved glass, sliding doors and a panoramic windscreen.
Unlike most concours d'elegance events, the Concours of Elegance Best of Show isn't picked by judges– instead the owners of the cars vote for their favourite. This year the Dubonnet Xenia was the stand-out winner, followed by the Alfa Romeo 8C 2300 Viotti Coupé. The Hispano-Suiza was also a favourite with the public, having won the Classic Driver Public Choice award.
More than 100 historic Jaguars on display on Jaguar Land Rover Saturday, the competition for the Jaguar Trophy was tough. Led by Jaguar Land Rover Special Operations MD, Jonathan Edwards, a panel of judges overwhelmingly decided the car they would most want to take home, was an impeccably restored Jaguar XK120 Roadster.
Bentley Sunday saw more than a hundred Bentleys lining the Long Walk, and an expert panel of judges, including male supermodel David Gandy, with the tough job of picking an overall winner. In the pre-1965 class it was a pristine Bentley 3 Litre that took home the trophy, while in the post-1965 class it was an immaculately maintained Bentley Azure.