2020 Nissan GT-R Nismo
Celebrating its 50th anniversary last year, the GT-R moniker has had an undoubtedly storied past. The current iteration of the GT-R, known as the R35, has produced another fine chapter in book of automotive legend. The latest apogee in this ongoing tale is the impending release of the 2020 Nissan GT-R Nismo, which was unveiled at last year's New York International Auto Show.
Now entering the 11th year of this golden generation, the R35 has seized the opportunity to become a household name in mainstream motorsport stardom. With that being said, the achievement of so many milestones is also revealing in how long it has been in the scene.
Therefore, it would be serendipitous if this latest GT-R Nismo also drew the curtains on the R35, ushering an era of fresh ideas, and ultimately the next generation of the GT-R.
The 2020 Nissan GT-R Nismo is the first production-spec GT-R to benefit from sharing parts directly from the GT-R GT3 race car. In summary, the new GT-R Nismo is lighter, more responsive, has better aerodynamics, is more efficient at cooling and brakes greater than ever.
What this should inevitably translate to – likely in the near future, as the release date approaches – is the fastest lap time set by a factory assembled and street-legal GT-R at the Nürburgring.
Each of the changes on their own isn't particularly notable compared to the 2019 Nissan GT-R Nismo. Both cars look mostly the same, with a keen eye required to spot the changes – such as the vented front fenders, redesigned wheels, lighter-weight exterior components, bigger brakes, and beefier tires.
In fact, overall power figures for the 2020 car remain unchanged; the key difference is that this newest version utilizes the same turbocharger hardware used in its GT3 version, which Nissan claims will significantly improve engine response and acceleration.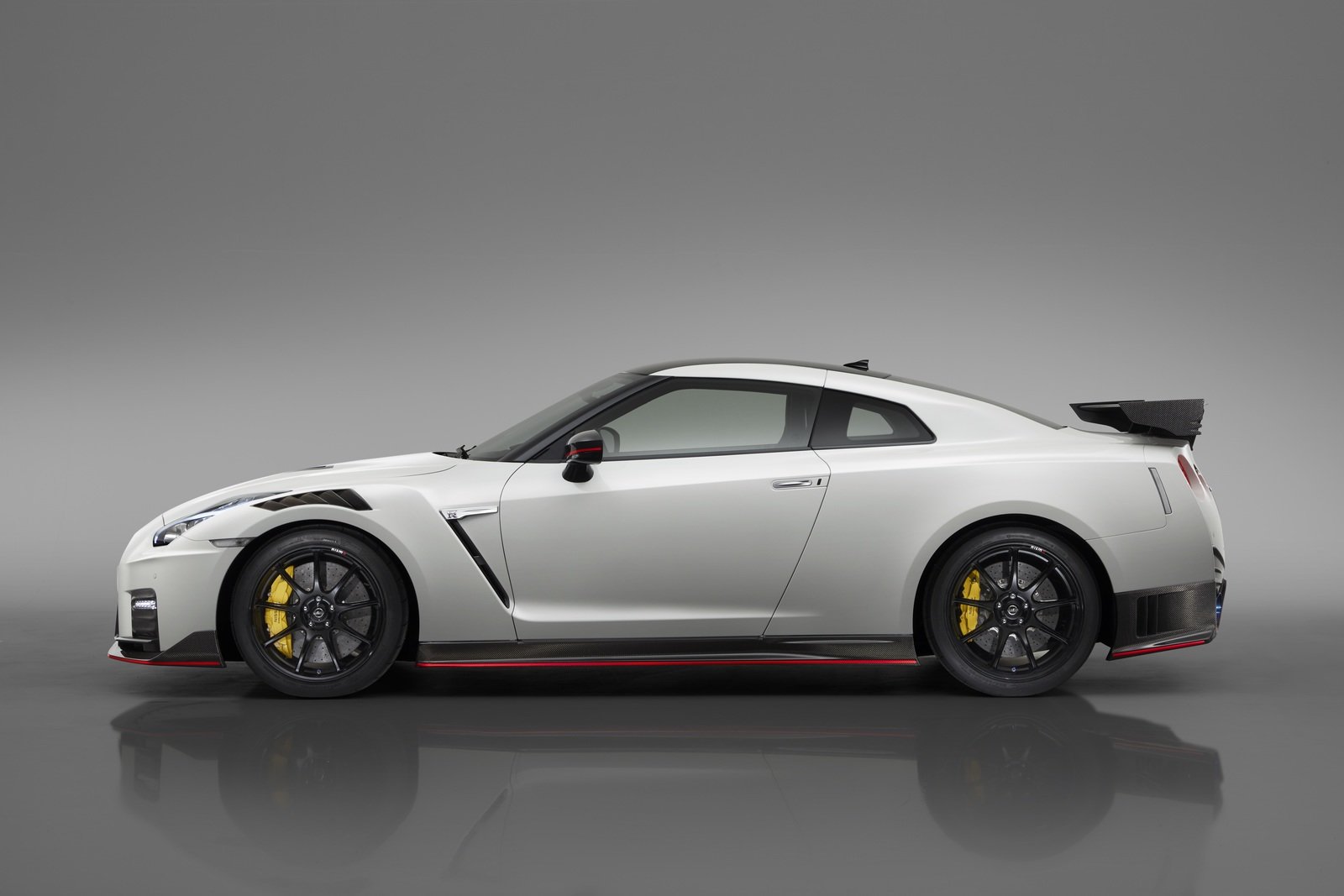 Over the past 10 years, the Nissan GT-R has been the subject of perpetual tweaking, refining, and perfecting. The 2020 Nissan GT-R Nismo is the culmination of a decade's worth of experience, knowledge, and mastery of one's craft.
It is Nissan's interpretation of what the quintessential modern supercar needs to be – the perfect balance of refinement for the road and performance for the track. I have no doubt that the latest Nismo will be the most complete representation of this philosophy that we have seen.
Engine & Performance
Specifications:
Engine Type & Size: 3.8L Twin-Turbocharged V6
Horsepower: 600 hp @ 6,800 rpm
Torque: 481 lb-ft @ 3,600 rpm
O-60 mph: 2.5 seconds
The 2020 Nissan GT-R Nismo employs the same 3.8L twin-turbocharged V6 that has continued to evolve over the life-cycle of the R35. Since its inception, the VR38DETT power plant has undergone numerous stages of updates which have made it more powerful than the version before – the new Nismo is no exception, as the most powerful and advanced version to come out of the Tochigi assembly plant.
Producing 600-horsepower @ 6,800 rpm and 481 ft-lb of torque @ 3,600 rpm, overall output remains unchanged compared to the 2019 Nissan GT-R Nismo – but that's just on paper. Where it really matters is in the exclusive turbocharger design which is borrowed directly from the GT-R GT3 race car.
The modified turbine architecture further optimizes flow rates and improves acceleration response by 20% thanks to quicker spooling, even under the same level of boost pressure. A new titanium exhaust provides the finishing touch, enhancing the car with a more pronounced growl and a bit of weight reduction.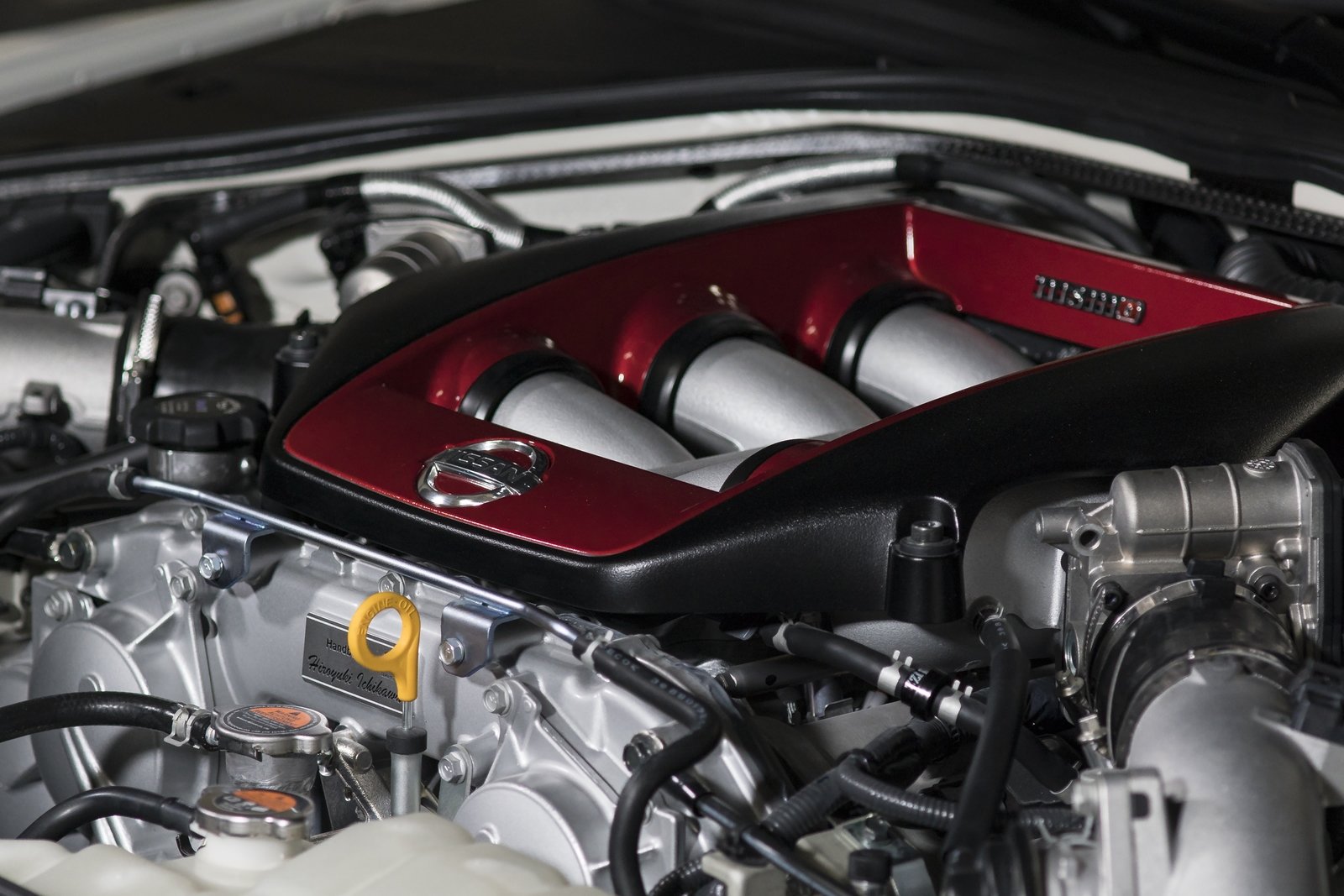 Mated to the engine is a revised version of the evergreen 6-speed dual-clutch transmission, which continues to send power through car's legendary all-wheel-drive system. It now features a smarter 'R mode' which allows for lightning-quick and smoother gear shifts.
The adaptive shift control program allows the GT-R Nismo to seamlessly transition between a Jekyll-and-Hyde personality – civil manners while on public roads and pure unhinged performance on the racetrack, even without needing to manually switch driving modes.
Nissan claims that the combination of all these improvements will allow the 2020 Nissan GT-R Nismo to accelerate from 0-60 mph in 2.5 seconds. The GT-R in any of its guises is certainly no slouch, but that is absolutely mind-boggling. Those are hypercar numbers.
Chassis & Handling
With how well composed the previous year's version of GT-R Nismo was, it would be understandable – and to a degree, forgivable – if Nissan had decided to forego any major changes in the handling department. However, in tandem with Nismo, they are on the never-ending quest to continue improving the GT-R in any, and every way possible.
To complement the car's overall engine performance improvements, a retuned suspension setup further improves cornering stability along with an enhanced yaw rate response and smoother ride quality, effectively adding refinement without sacrificing its handling capabilities. The steering also feels more linear and is more precise; only the most minimal input corrections are needed at speeds of up to 300 km/h.
The 2020 Nissan GT-R Nismo also benefits from new Brembo carbon-ceramic brakes which are inspired by the GT3 race car. As part of this setup, larger brake rotors are provided in the front and rear – 16.1" and 15.3" respectively – and provide better stopping performance and weight reduction.
However, as all things 'carbon-ceramic' go, the inevitable costs to replace these consumables will likely be sky-high.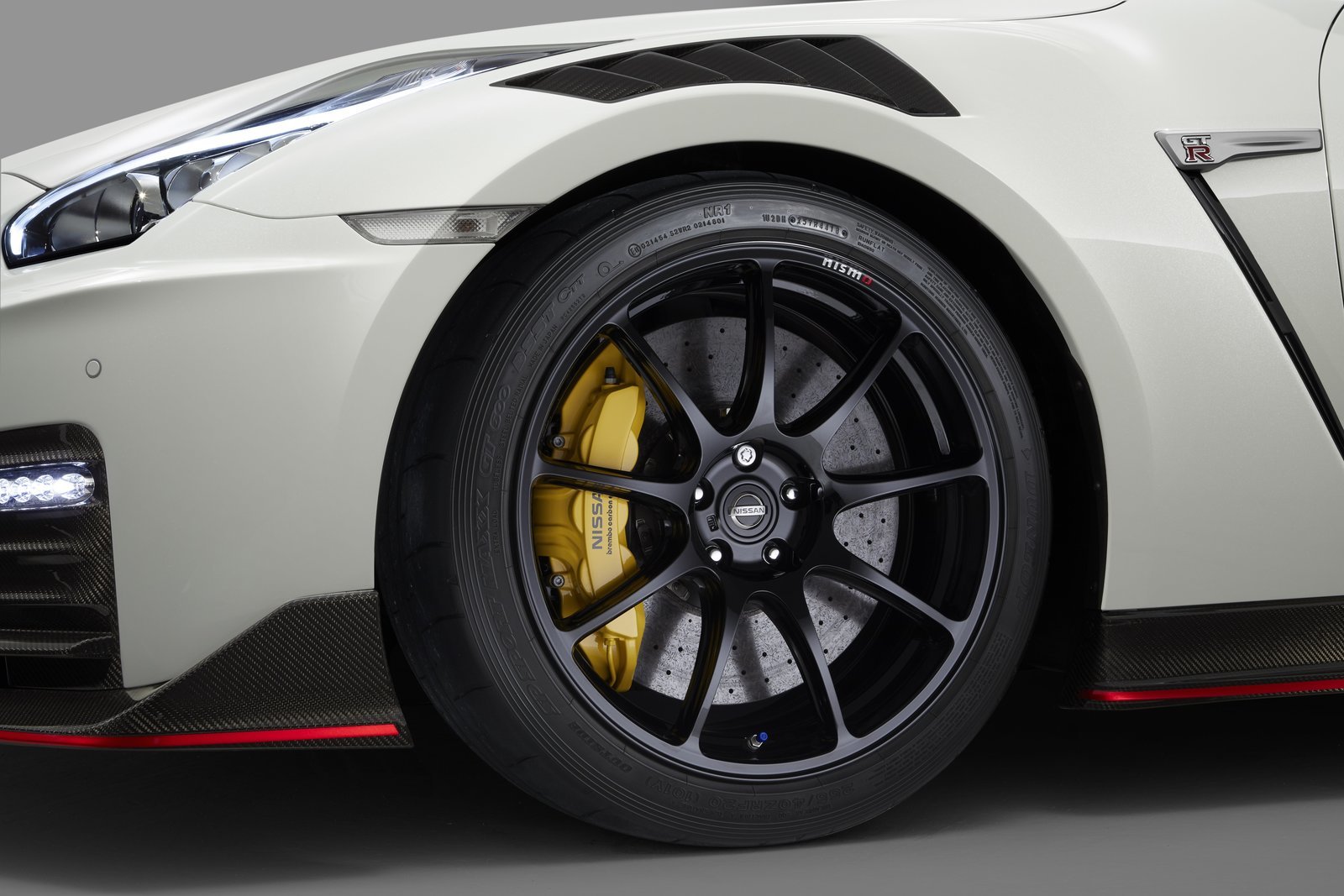 The redesigned 20-inch wheels are the lightest and most rigid factory-made versions so far, and feature a new 9-spoke face. The wheels are wrapped in Dunlops specially designed for use on the 2020 GT-R Nismo, and provide an 11% increase in contact patch – good for higher cornering forces and improved steering response.
Design, Styling & Interior
At a cursory glance, the 2020 Nissan GT-R Nismo looks essentially the same as any of the previous Nismo versions and is certainly not easy to mistake as a GT-R in general. More discerning eyes will immediately be able to distinguish the new vented front fenders, which are a unique feature on the 2020 edition. Aside from being eye-catching, the vents help to cool the engine and contribute help to increase downforce over the front tires.
Other less-standout-ish changes include a new front and rear bumper, front hood, side sill covers, trunk, and rear wing, all made of carbon fiber (plus an optional roof, made from the same). Compared to the 2019 Nissan GT-R NISMO, the 2020 version manages to shed about 67 pounds thanks in huge part to this carbon fiber diet.
Much fewer considerations were made in re-jigging the interior, although new seats with improved bolstering are provided. The interior layout remains identical to last year's Nismo model and continues to be based on the GT-R's most recent interior design refresh which was performed back in 2016.
Nissan's collaboration with Polyphony Digital (creators of PlayStation's Gran Turismo series) continues to ensure that features such as the instrument cluster, infotainment system, and multi-function display continue to stay relevant and inspired.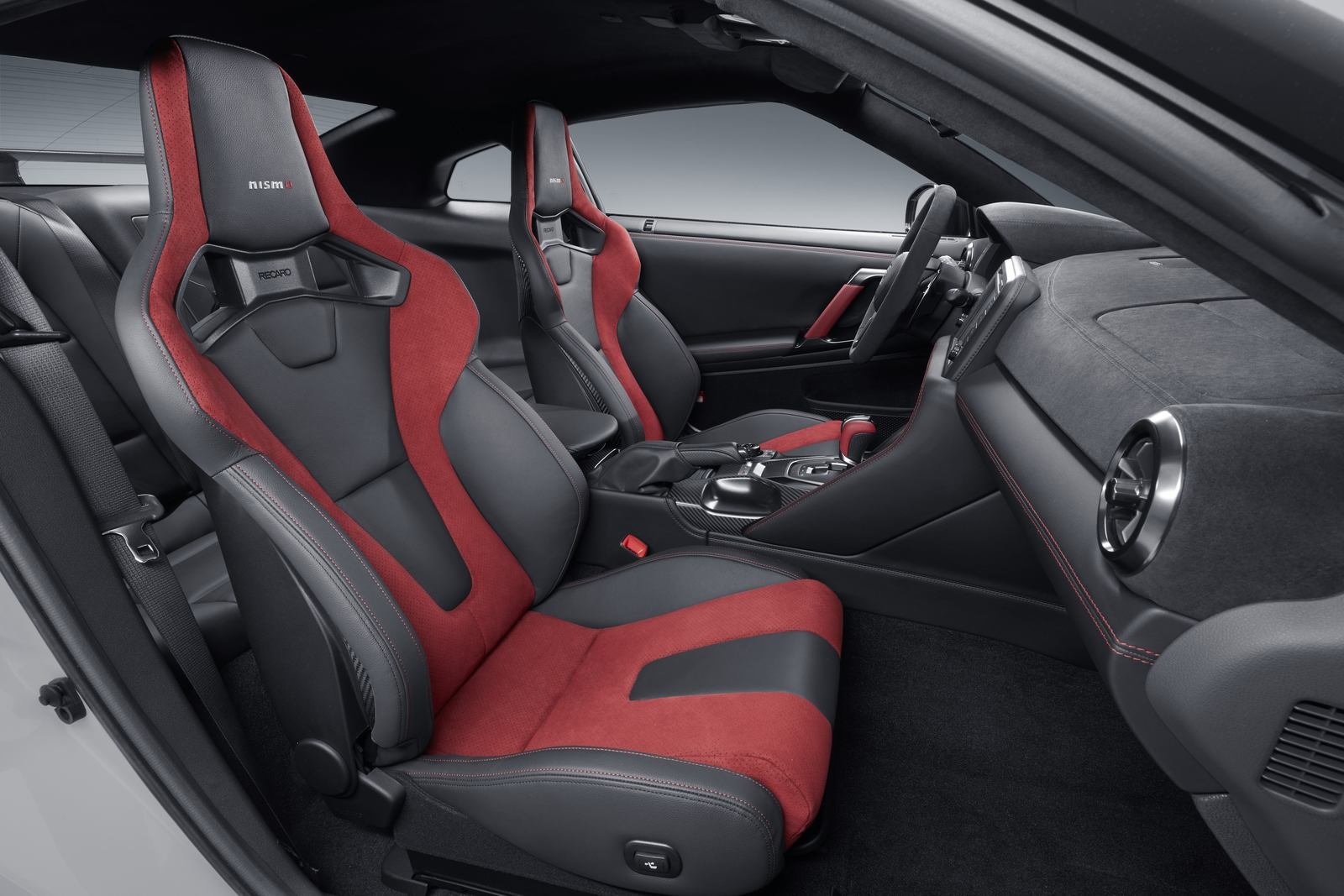 Pricing
While the Nissan GT-R has been improved upon with every passing year since 2009, so too has its price been increasing accordingly. While it is not unreasonable to expect that a better product should command a higher price tag, the 2020 Nissan GT-R Nismo is still a car based on a chassis that is now entering its 12th year of service.
The GT-R continues to be relevant with its overall performance capabilities and sufficiently thoughtful refreshes; there is no doubt that this latest model will be the best GT-R yet. In spite of this, however, we may be approaching the ceiling of what buyers find acceptable spending on a design that could be teetering towards an overstayed welcome.
Official pricing has not yet been released by Nissan. With that being said, the 2020 Nissan GT-R Nismo will inevitably become the most expensive version so far, likely to be priced a smidge higher than the 2019 version, which had an MSRP of $175,540 USD.
That means you should be prepared to dole out at least $180,000 USD to get your hands on the new GT-R Nismo, and closer to the $200,000 mark with all the option boxes ticked.
Performance & Specifications Summary
Model & Pricing Info
| | |
| --- | --- |
| Make | Nissan |
| Model | GT-R |
| Generation | R35 |
| Sub-Model | Nismo |
| Car type | Coupe |
| Category | Limited Series Production Car |
| Built At | Tochigi, Japan |
| Introduced | 2019 |
| Base Price (US) | $280,000 (est.) |
| Units built | TBD |
Chassis, Suspension & Powertrain
| | |
| --- | --- |
| Curb Weight | 1,744kg (3,844 lbs) |
| Layout | Front-engine, All-wheel Drive |
| Body / Frame | Aluminum-steel composite monocoque, carbon fiber elements |
| Suspension (F) | Independent double wishbone aluminum, integral tube-frame structure, six-point mounting |
| Suspension (R) | Independent multi-link aluminum suspension, integral tube-frame structure, six-point mounting, aluminum upper/lower links (spherical bearing design) |
| Steering | Vehicle-speed-sensitive power rack-and-pinion, aluminum steering rack, four-point mounting, with stiff insulators |
| Brakes | Carbon Ceramic Discs 16.1" front, 15.3" rear), Brembo Brake Calipers (6-piston front; 4-piston rear) |
| Tires | Dunlop tires (bespoke) |
| Transmission | 6-Speed DCT |
Engine, Output & Performance
| | |
| --- | --- |
| Engine | V6 |
| Displacement (Litres) | 3.8L |
| Position | Longitudinal |
| Aspiration | Twin-turbocharged |
| Power (hp) | 600 hp @ 6,800 rpm |
| Power (hp) / litre | 157.9 hp / litre |
| Power (hp) / weight | 0.34 hp / kg |
| Torque | 481 lb-ft @ 3,600 rpm |
| 0-60 mph time | 2.5 seconds |
| Average Fuel Consumption | 19 mpg (combined) |
Gallery & Videos
Image Gallery
The 2020 Nissan GT-R Nismo retains the silhouette that makes it undeniably 'Godzilla'. Though relatively unchanged from last year's Nismo model, and easy to identify from afar as an R35, new features such as the scalloped vents on the front fenders are identifying features of the Tochigi's latest rendition.
In my opinion, the 2020 Nissan GT-R continues a tried and trusted recipe of Japan's 'everyday supercar'. Some would say that it's about time Nissan started serving a new dish – but there is no denying that there will always be a palette for the R35, and this is the tastiest concoction yet. While the due date for a new generation of GT-R is certainly approaching, the latest Nismo collaboration is still very much a car to be craved.
Video Gallery
Since there have not yet been any journalist reviews of the 2020 Nissan GT-R Nismo, here is Doug DeMuro's review of the 2019 model. Although the 2020 Nismo is certainly an improvement, I suspect many of his talking points will carry over for the newer car – most notably its value-for-money when compared to its competitors, and even to the 'regular' GT-R.
A documentary which chronicles the build process from start to finish, of a 2020 Nissan GT-R Nismo. The story is told as seen through the eyes of 'Takumi' – master technicians who possess special qualifications that allow them to be involved in the assembly of a GT-R.
Nissan's official cinematic for the car.
Original Press Release
2020 Nissan GT-R NISMO Strengthens Grip On Speed
Racing-inspired upgrades make ultimate performance available to select drivers
2019/04/16
NEW YORK – The 2020 Nissan GT-R NISMO made its world debut today, with race-car-inspired upgrades and tuning improvements that maximize its exhilarating performance.
The model was showcased alongside the new 50th Anniversary Edition as Nissan celebrated 50 years of GT-R heritage at the New York International Auto Show.
"The 2020 GT-R NISMO has evolved into a balanced, yet extreme, performance car," said Hiroshi Tamura, chief product specialist for the GT-R. "Pursuing driving pleasure is the most important concept behind GT-R, and the new NISMO's performance suggests it is a car that belongs on the race track – but is also at home on the open road."
Designed for a pro, built for everyone.
For the 2020 GT-R NISMO, Nissan engineers set out to take race-proven technology and make it accessible and comfortable for drivers of all skill levels. Vehicle control and predictability were critical in achieving this; thus, they adopted the theme "absolute street and track performance" when developing the car.
Setting the most potent and exclusive of all GT-Rs apart from the rest of the pack is the amount of carbon fiber found throughout the car, including the front and rear bumpers, front fenders, hood, roof, side sill covers, trunk, and rear spoiler.
Each component has been improved to cut weight, increase downforce and enhance aerodynamics. These exterior parts alone have resulted in a total weight savings of 10.5 kilograms, in addition to nearly 20 kg of reductions from other upgrades and new components.
The front fenders now resemble those on the GT3 GT-R. Scalloped vents help funnel hot air away from the engine bay and provide exceptional downforce onto the front tires, without additional drag.
They also improve aerodynamics by smoothing out airflow along the body, with special consideration given to avoiding the rear spoiler, promoting high-speed stability. A new compression process gives the carbon fiber roof a lightweight, tight weave.
The 2020 GT-R NISMO's exclusive 20-inch RAYS forged aluminum wheels are lighter than before and incorporate a nine-spoke design that enhances their rigidity. Newly designed Dunlop tires, with a wider tread and fewer grooves, increase the contact patch by 11%. This results in higher cornering force, enhanced steering response and improved rolling resistance when compared with the previous model.
Inside the cabin, exclusive GT-R NISMO front seats are designed to focus on holding the shoulder blades and lower body points, giving the driver a better sense of car and body as one.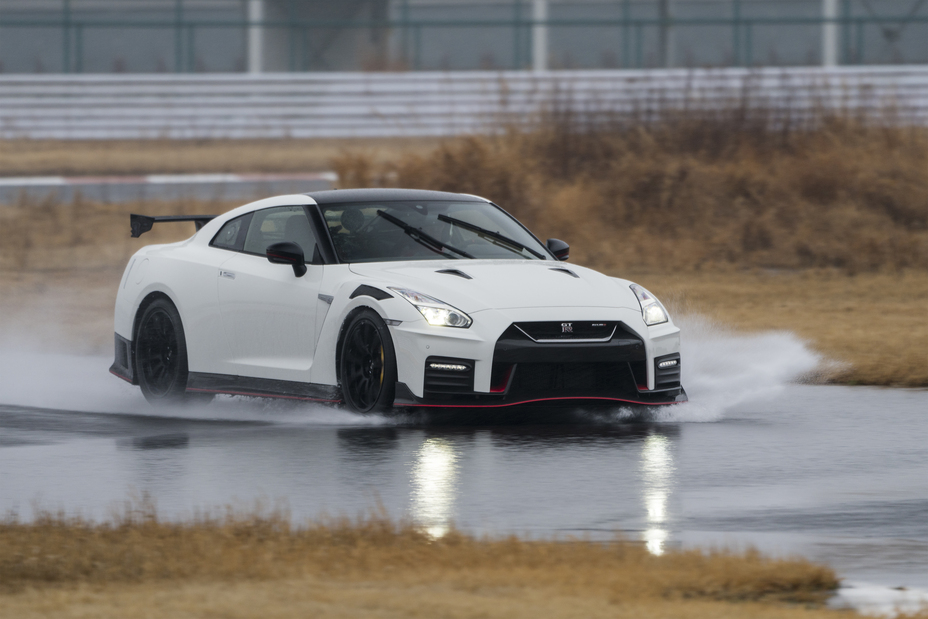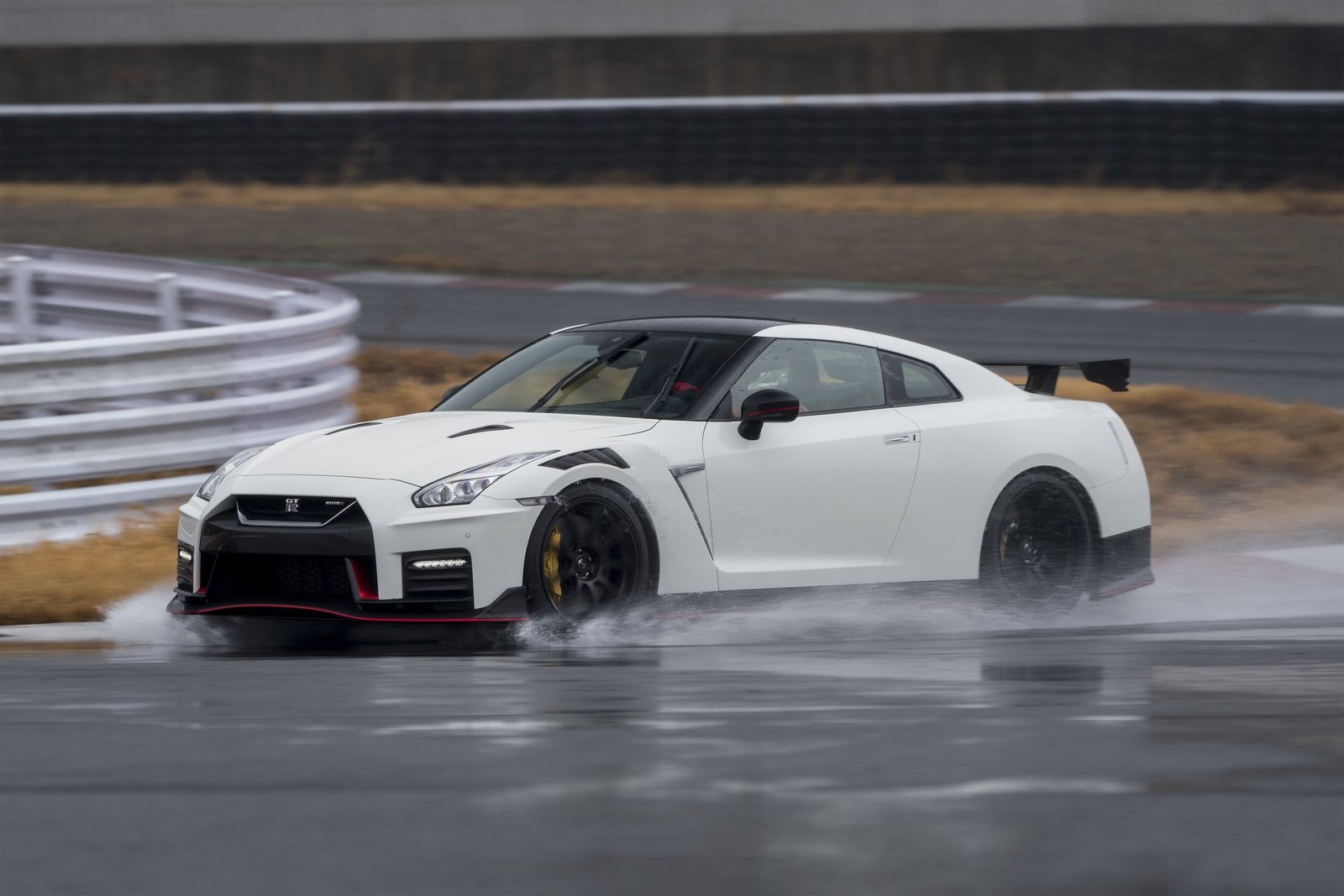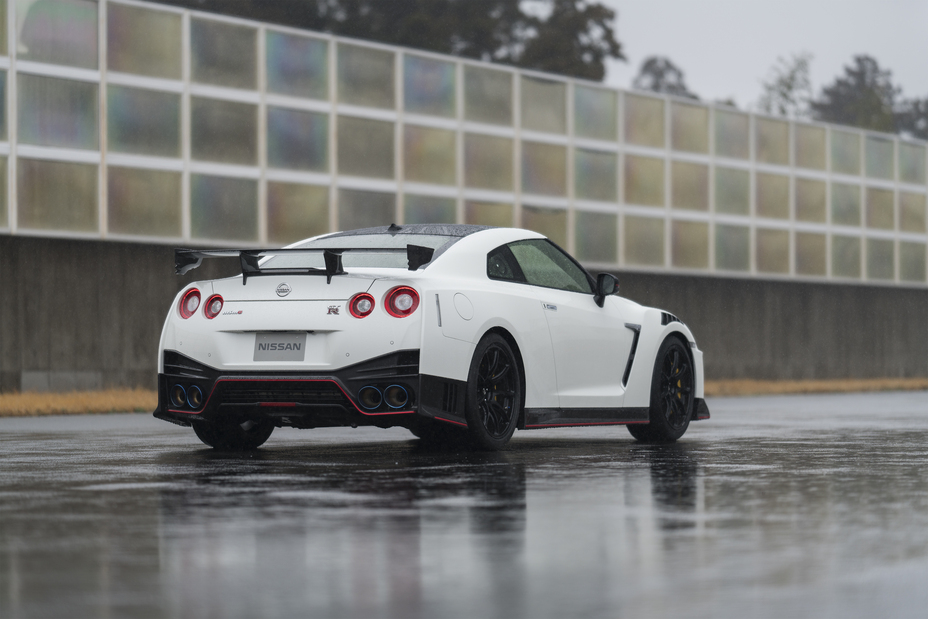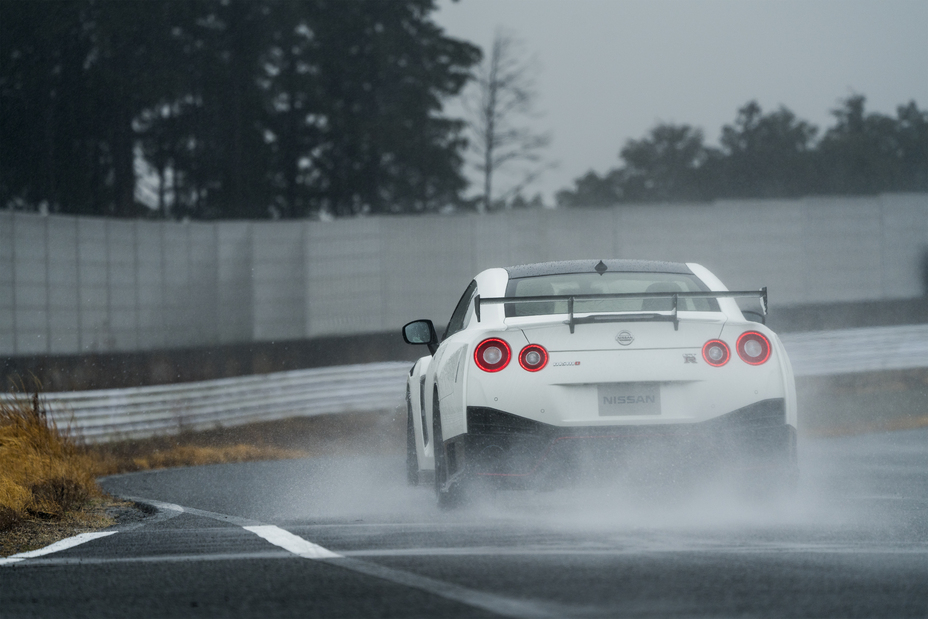 Transcending perfection
Few cars possess the GT-R's driving performance. For the 2020 model, the engineers sought to improve what was essentially already mechanical perfection, "making small tweaks to squeeze out as much as possible from the engine and chassis," according to Tamura.
Nissan's 3.8-liter V6 24-valve twin-turbocharged engine – each handcrafted by its own takumi technician – remains the heart of the GT-R's drivetrain. The GT-R NISMO features an exclusive turbocharger design – direct from the GT-R GT3 race car – with modified turbine shape and fewer blades. This optimizes the flow rate and enhances the acceleration response by 20%, without a loss of horsepower.
The car's revised 6-speed dual-clutch transmission features a refined "R mode" that not only shifts faster but also optimizes gear selection, especially when exiting corners. This enhances the feeling of acceleration and deceleration on both road and track.
The adaptive shift control has also been programmed to adapt shift schedules to the user's driving style. This makes it possible to drive in a law-abiding way on public roads and in a highly spirited fashion on a race track, without manually changing modes.
The car's exhaust note is the product of a revised titanium exhaust with handcrafted burnished blue tips.
When it comes to handling, the 2020 GT-R NISMO has few equals. Its updated suspension tuning improves cornering stability, with enhanced yaw rate response and smoother ride quality. The steering features better linearity and precision than ever, requiring minimal corrections at speeds of up to 300 kph (186 mph).
The absolute performance theme is also fittingly reflected by the addition of a carbon-ceramic brake system. The combination of the Brembo carbon-ceramic rotors — 410 mm upfront and 390 mm at the rear — and Brembo calipers significantly improve reaction time, durability and overall stopping performance. At the same time, their lightweight nature decreases the unsprung weight on each wheel, allowing the car to trace the intended driving line in a highly precise manner.
The carbon and silica carbide structure of the rotors is nearly as hard as diamonds. When paired with the new material of the brake pads, they generate more friction for an enhanced controlled feeling in all types of braking situations. The new materials also help decrease braking footwork by shortening the brake pedal stroke. The newly developed high-rigidity calipers are dipped in bright yellow paint that can resist temperatures of more than 1,000 degrees Celsius.
"We have built the 2020 GT-R NISMO for our customers to be the ultimate track and street vehicle," Tamura said. "It is about total balance management, not just chasing power figures. The new NISMO has been brought to a new level, with enhanced engine, handling, braking, and aerodynamics."
2020 GT-R NISMO specifications (U.S. spec)
Engine
VR38DETT, V6 twin-turbo charged DOHC
Displacement
3.8L
Horsepower
600 hp
Torque
481 lb-ft /3600-5600 rpm
Overall length
184.6 in. / 4690 mm
Overall width
74.6 in. / 1895 mm
Overall height
53.9 in. / 1370 mm
Wheelbase
109.4 in. / 2780 mm
Contact
Dan Passe
General Manager, Global Product Communications
+81-(0)45-523-5549
Koji Okuda
Deputy General Manager, Japan Communications
+81-(0)45-523-5552
For more information about our products, services, and commitment to sustainable mobility, visit Nissan Global. You can also follow us on Facebook, Instagram, Twitter, and LinkedIn and see all our latest videos on YouTube.
Final Verdict
4.5/5
As the proud owner of a GT-R (2012 Black Edition), the Nismo cars have always garnered from me, a sense of awe, excitement, and fanfare that I've come to associate with cars given the blessing by Nissan's iconic racing division.
The 2020 Nissan GT-R Nismo is no different, and I also have no doubt that it will be the best iteration of the GT-R to come out of the infamous Tochigi factory in Japan.
Aside from being an objectively impressive machine, there are two issues that I predict will arise from one problem – its price.
Likely to start at around $180,000 USD, the new GT-R Nismo is an expensive car, putting it in the same price territory as the exotic cars it was set to hunt down, then defeat, with its superior bang-for-buck.
This can no longer be the case, as it is now priced very similarly to its main rival – the Porsche 911 Turbo S. This could prove to be a hard sell for a pragmatist, who will also consider that the GT-R is now entering its 12th year based on the same design.
The second issue is that you can get 95% of the car at 60% of the price, just by looking at another car in the Nissan lineup – namely the good ol', regular, 'Plain Jane' GT-R. With an established aftermarket ecosystem to draw from, it would be easy and relatively inexpensive to wring out that extra 5% of performance to match the Nismo on paper.
But at the end of the day, you and I both know that doing so won't make it a Nismo, and it never will. Even if one went as far as taking a normal GT-R and fitting it with all of the legitimate Nismo hardware after the fact, it still wouldn't even be close. That perhaps, is what makes the Nismo an ultimately desirable car.
The Nismo badge alone, speaks to a heritage and brand power that simply cannot be replicated. In that same light, the 2020 Nissan GT-R Nismo precludes conventional scrutiny and needs to be appreciated with a more idealistic approach. Only then, could one understand why it is such an amazing car.
Rivals
Porsche 911 Turbo S
Acura NSX
Audi R8
Nissan GT-R Track Edition
Corvette ZR1