Introduction
When we attended the livestream unveiling of the 992-generation Porsche 911 GT3, it quickly became evident that the folks from Stuttgart had come good on a number of proclaimed and unspoken promises – the new car was far superior to those that came before it, proving that Porsche is not lacking on the level of innovation that's required to make something so amazing, even better. The event also provided an opportunity for the gaffer to speak about some of the other commitments from the automaker, such as the development of eFuels and the confirmation of an upcoming Touring version for their latest GT car.
For those already in the know, the GT3 Touring model is as exceptional as it has become familiar over the past few years, particularly to the most diehard driving purists and deeply-rooted Porsche enthusiasts. For those wondering, "Hey, what's the diff?", the Touring is essentially a gentleman's version of its otherwise track-focused road car; based on a less extroverted and more purist-centric blueprint, the Touring forgoes some key features from the regular car.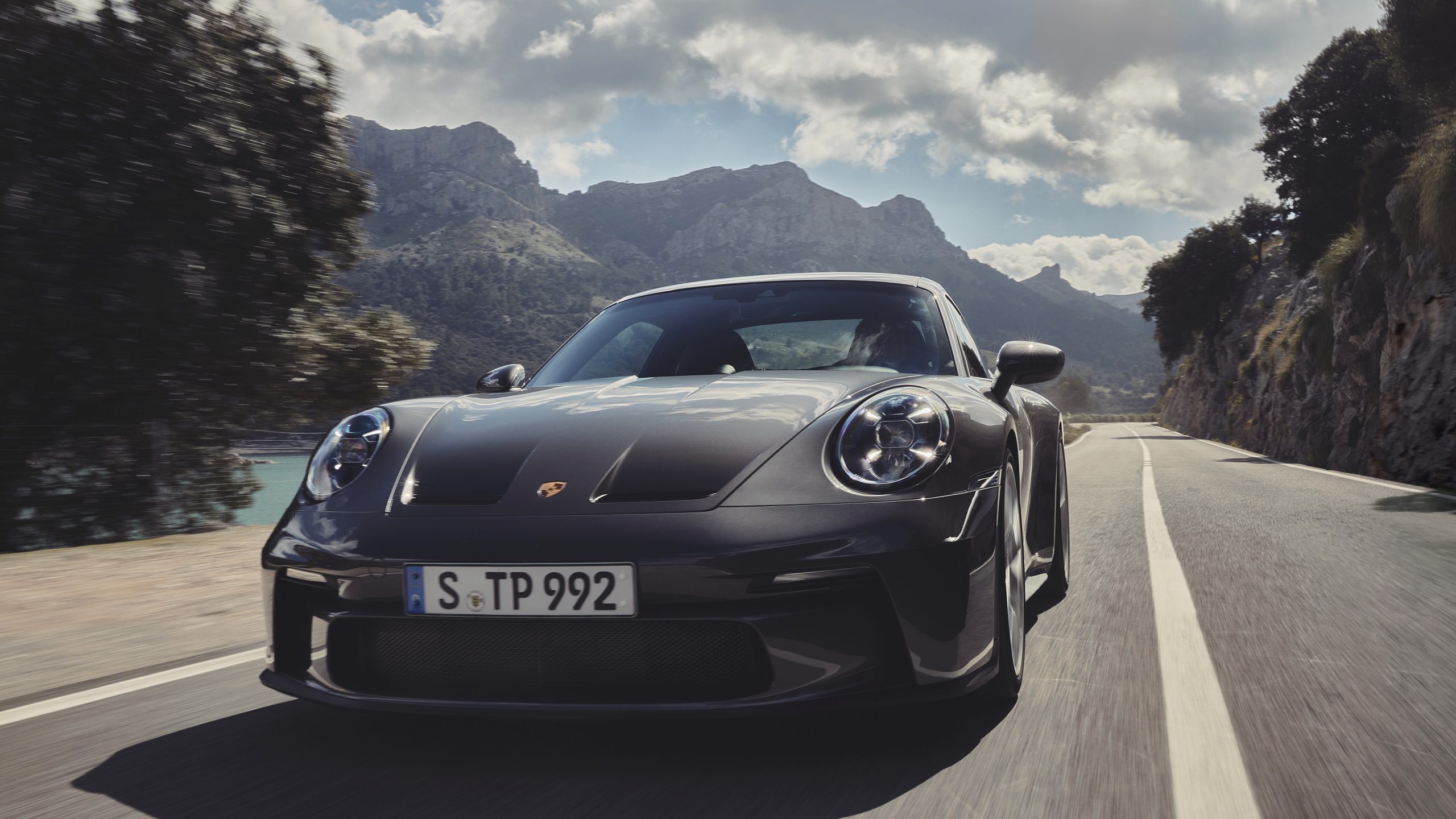 The most notable of these would be the removal of the static rear 'swan neck' wing, which has become one of the most defining and differentiating elements of the 992 GT3. It has been replaced by an electronically-controlled retractable wing, which in theory, would serve most of its function under race-track conditions; otherwise, expect the Touring to appear as the wing-less, more unassuming version of itself, in almost all other cases.
In actuality, this helps the car blend in more with the non-GT lineup of 911 cars, rather than simply being a less attention-grabbing version of the GT3. Subtlety is the leading philosophy here – nevertheless, those who know, really know. With that said, this is always one of the best things about owning a Touring model. It's part of a special ensemble that plays to a small and exclusive audience. These days, being in that kind of company is priceless; in this era where society caters more to bigger egos and louder mouths, the longing to appear as something less, can't be faked. If anything, it takes some bravery to pull off.
Interestingly enough, the 992-generation GT3 Touring model does come with the (no-cost) option to add PDK, though we reckon that manual transmission models will reign supreme as the overwhelming favorite, and for good reason. After all, it makes little sense opting for the former, in the same way that someone would make the argument for having a manual transmission in the GT3 RS because they wanted access to the fastest lap times possible from the car. In any case, Porsche has a proven track record when it comes to satisfying just about every niche via its GT lineup, with the Touring model being one such product of their open dialogue with customers.
Touring Evolution
For the genesis of the GT3 Touring, we go back to the 991-generation when the series' first 911 GT3 was released in 2014. It came exclusively with the PDK transmission. This was followed by a bit of an outcry from Porsche customers, who felt that at the very least, the option of a manual transmission GT3 should've been on the table from the get-go. Hindsight is always 20/20, and only after-the-fact is it easy to see why a GT3 Touring slots in so perfectly into the 911 hierarchy – it's the sweet spot for those who desire a 911 grand-tourer and want a bit more than what the GTS offers, but find the Turbo models (for which a manual transmission was not offered) a bit too farfetched.
Stuttgart heard, and they delivered, though the introduction of the Touring model didn't happen overnight. The first serving of appeasement came in the form of the manual-transmission-only 911R (which is actually more closely based on the 991.1 GT3 RS model) before a proper commitment was afforded to the 991.2 GT3 in 2017, with the debut of the official Touring designation. It was the first time the 991-generation GT3 could be had with a manual transmission (including the regular model), with the Touring model being exclusively offered with the stick-shift for this iteration.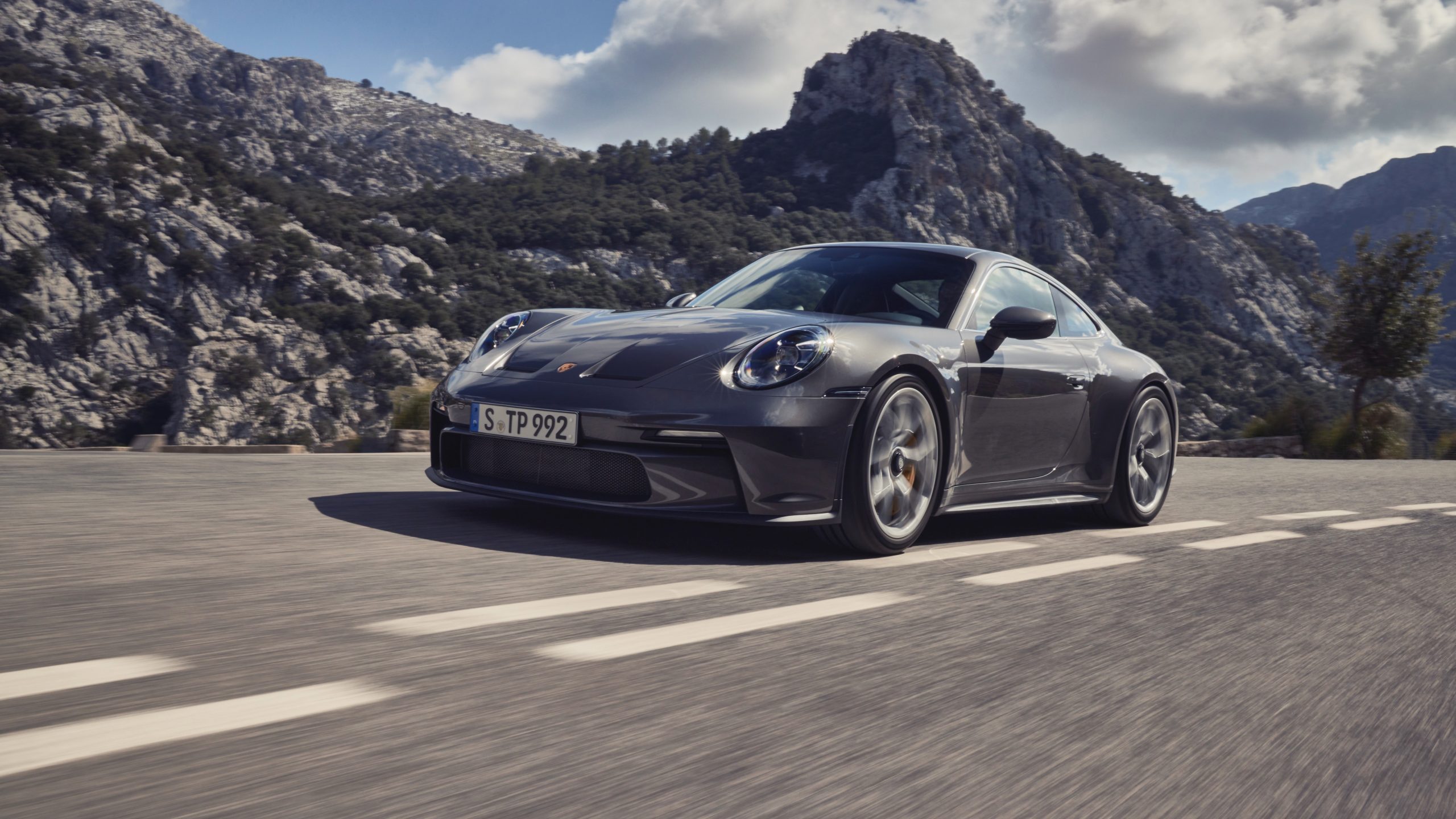 If you wanted a post-997-generation 911 GT car with a manual transmission, the 2017 GT3 and GT3 Touring were the automaker's first offering at a relatively reasonable price point; the rarity of the 911R and the fact that it's basically an RS model, see it demanding inflated prices to this day. With that being said, I don't think many would have opposed the new 992 GT3 Touring continuing its exclusive relationship with the manual. But it can't be argued that the PDK opens up more options for a wider range of buyers, which should equate to a larger market share and translate to bigger profits; it makes sense from a business standpoint.
However, we urge buyers of the new GT3 Touring to go all-in on the purity it has on tap, particularly when it comes to being a road car. If lap times are your priority, PDK (on the regular GT3, or the upcoming 'RS', if possible) is the way to go. Leave the PDK for what it's good at. Keep efficiency and essence separate. It's good for resale value too – maybe you'll thank me later. Speaking of the 911R, perhaps a 992 iteration is in the pipeline? Though this time, we reckon it will be more in parallel with the RS program from the get-go (as it ended up being the first time), rather than a knee-jerk reaction to the lukewarm reception of a manual-transmission-less GT3. One can only hope!
Engine & Performance
Engine Type & Size: 4.0L naturally-aspirated flat-6
Horsepower: 502 hp @ 8,400 rpm
Torque: 346 lb-ft @ 6,250 rpm
Transmission: 7-speed PDK, 6-speed manual
0-60 mph: 3.2 seconds (PDK), 3.7 seconds (manual)
Top Speed: 199 mph
Porsche has continued the use of the naturally-aspirated 4.0L 9A1 flat-6 power plant in the 2022 Porsche 911 GT3, with that engine carrying over untouched in the GT3 Touring. The only key differences between the 9A1 and the engine used in the Cup race car, are the exhaust system and ECU. Otherwise, those two engines share virtually all the same components, such as individual throttle bodies. As such, the new GT3 needed no "sound engineering" and inherently sounds amazing.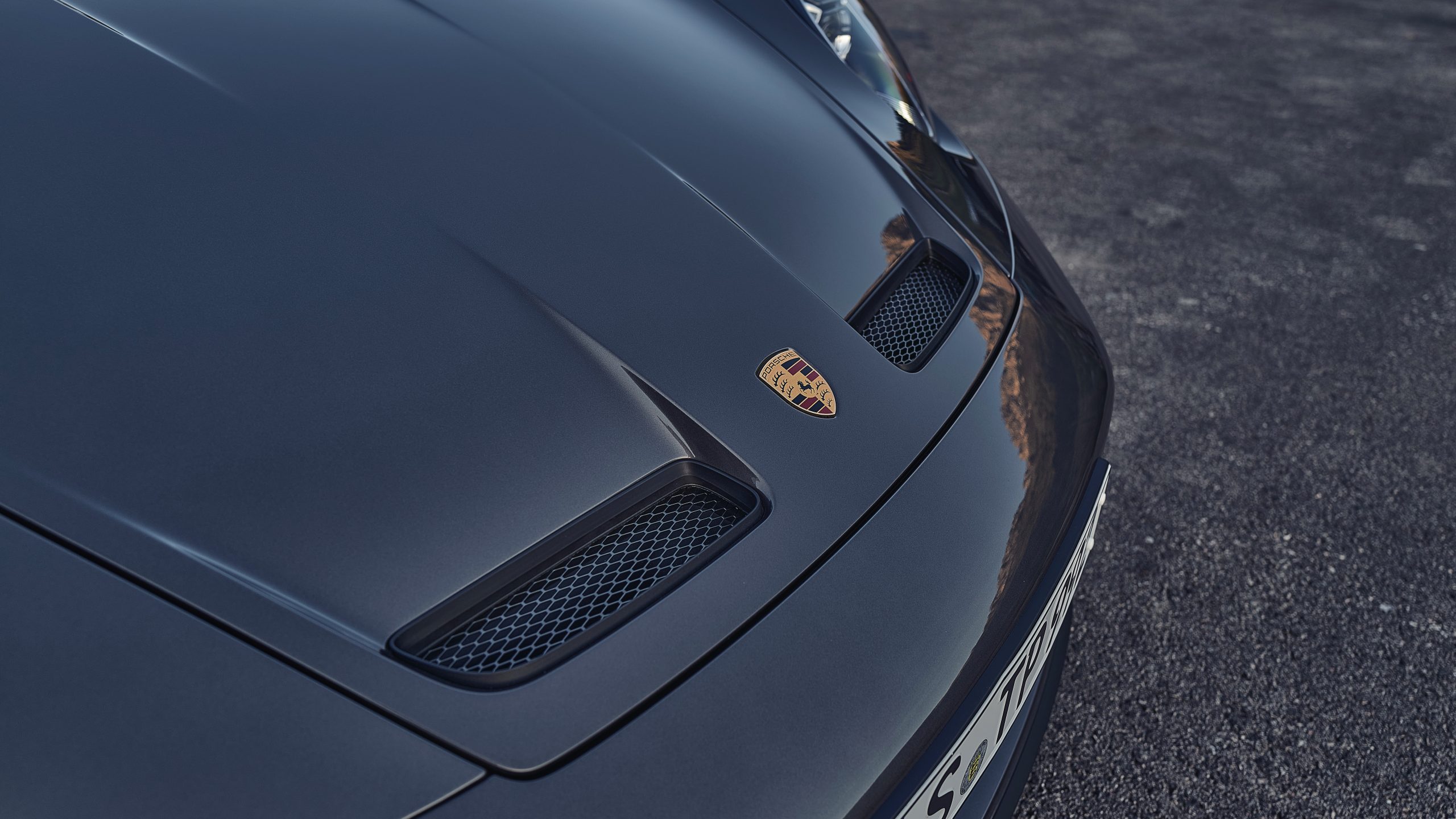 With its astronomical 9,000 rpm redline, the GT3 Touring produces 502 hp @ 8,400 rpm and 346 lb-ft of torque @ 6,250 rpm and should likewise achieve hugely similar, if not identical figures as it pertains to 0-60 mph times and top speed. Like the regular model, the Porsche 911 GT3 Touring comes with two transmission options, though as mentioned before, the 6-speed manual is expected to be the much more popular choice for buyers of this model. The GT3 and GT3 Touring continue to use the 7-speed PDK transmission, instead of a version of the 8-speed used in the rest of the 992 line-up.
Purists, rejoice! Dr. Frank Walliser – Vice President of 911 and 718 Product Lines – said that we shouldn't count on the GT3 going electric or even hybrid, anytime too soon. It is much more likely that Porsche will transition to using synthetic fuels for motorsport and its GT line of production cars, before even considering going full-on EV. This aligns with Porsche's intention to keep the naturally-aspirated engine alive for as long as possible – regulations and emissions standards will serve as the eventual ultimatum.
Chassis & Handling
Aerodynamics & Weight Reduction
The new 992 GT3 spent more than 160 hours across 700 simulation sessions in the wind tunnel. It generates 50% more downforce than its predecessor and up to 150% more downforce in its "high downforce" setting. Porsche has claimed that the retractable spoiler on the GT3 Touring model – while fully extended – is able to generate the same amount of downforce as the regular model's affixed version, though it is unclear if they are including the "high downforce" setting in this comparison.
Otherwise, the GT3 Touring uses all of the same aero components including an adjustable front diffuser and a fully closed rear diffuser, which on its own generates 60 kg of downforce at top speed. Its low weight of just 1,413 kg is achieved with a myriad of lightweight components, and next to an equally-optioned GT3, it should weigh in about the same. This includes a carbon-fiber hood, roof, and rear wing, along with other items such as a super lightweight battery, lighter wheels, ultra-thin glass, carbon-fiber cross members, and lightweight interior appointments. Essentially, the 992 GT3 and GT3 Touring have achieved the same weight as their predecessors, but are loaded with a lot more technology.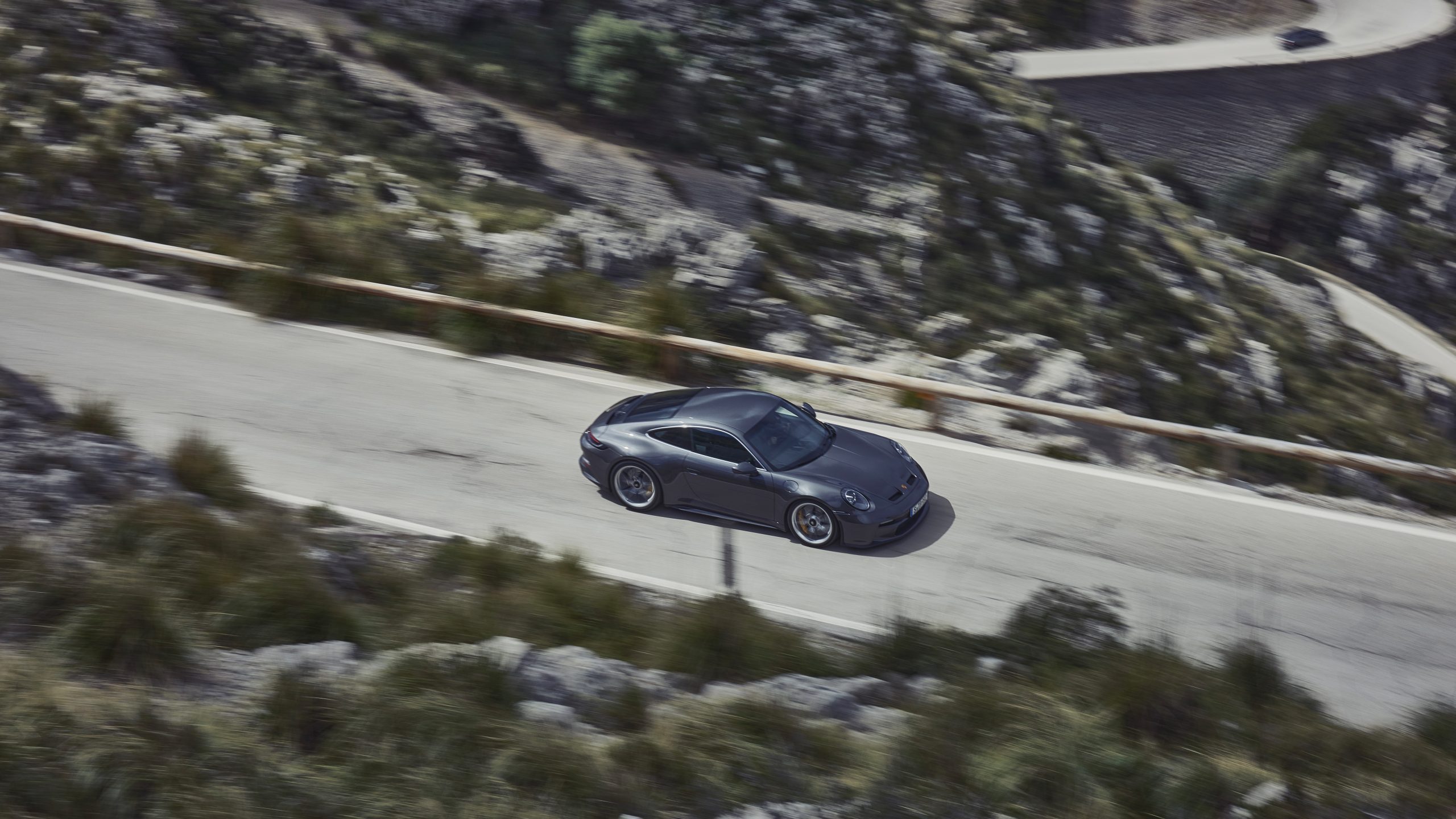 Suspension & Chassis Control Systems
In this department, the GT3 Touring is also identical to the GT3. Expect the same 911-RSR-inspired handling characteristics that are spearheaded by the introduction of a new front suspension setup consisting of unequal-length control arms instead of conventional struts, making it the first time a double-wishbone suspension configuration is used in the front of a GT3. This will provide better tire contact through turns and during moments of compression and rebounding. Porsche's new adaptive dampers are capable of adjusting every 10 milliseconds, which means the spring rates have doubled without affecting the ride quality of the GT3.
There are three available driving modes: Normal, Sport, and Track, which all provide varying degrees of driver-aid involvement and chassis settings. Aside from providing the most firm, performance-biased setup with the least amount of computer control, initiating Track mode also changes the instrumentation and displays to "Track View". This compiles all pertinent information to the immediate field of view of the driver. Important details such as oil temperature, oil pressure, tire pressures, and shift indicators, are all in plain sight and easily visible.
Brakes & Tires
Both the GT3 and GT3 Touring draw their standard features and optional equipment from the same parts bin, with the latter car also coming standard with cast-iron rotors and Michelin Pilot Sport Cup 2 tires. Likewise, upgrading to carbon-ceramic brakes and Michelin Pilot Sport Cup 2R tires, remain as options.
Design, Styling & Interior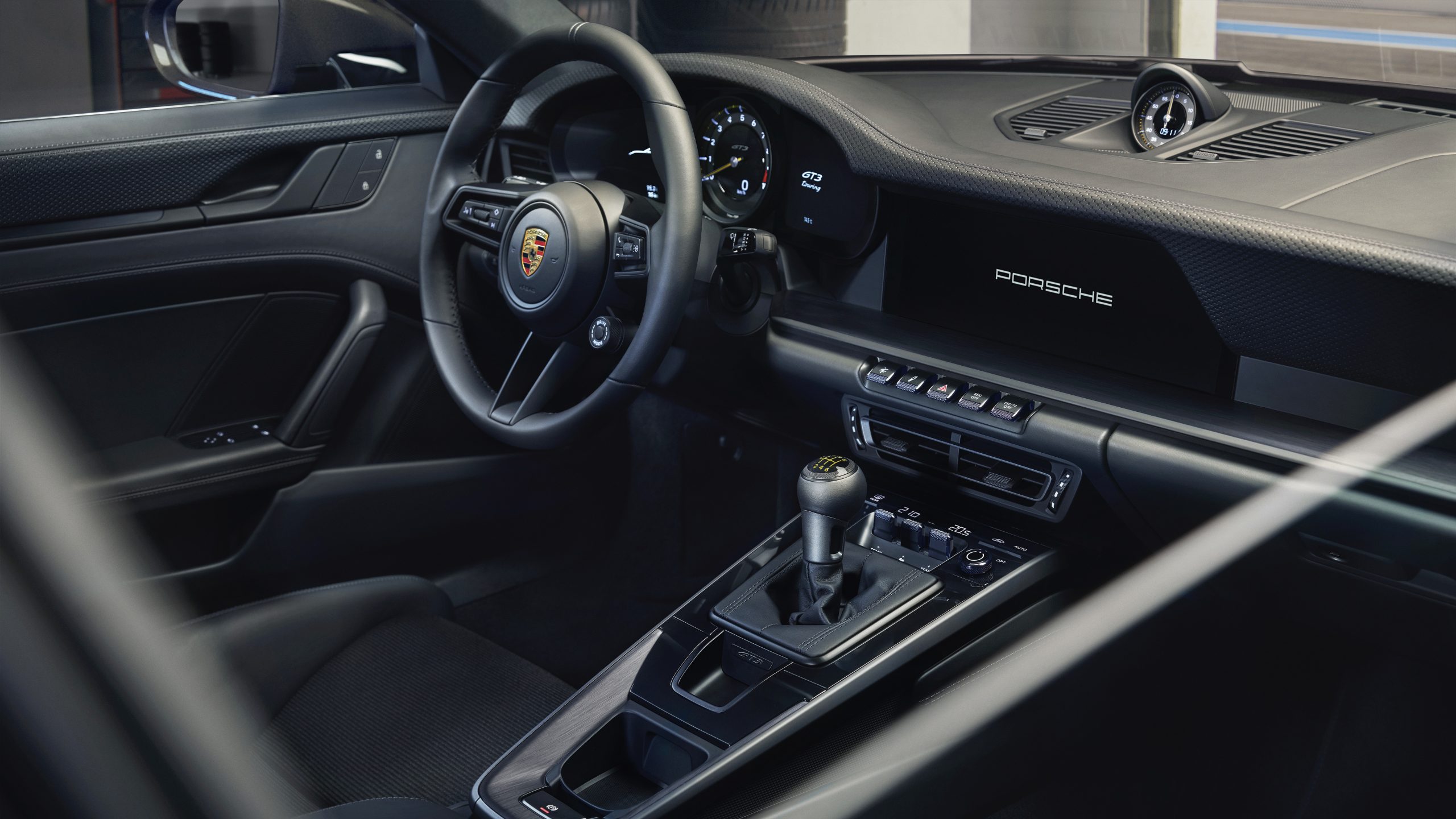 This, of course, is where the GT3 Touring truly begins its quest to make a name for itself, with both of the current GT3 variants being virtually identical otherwise. It really comes down to what kind of visual signals you're intending to give off while driving the GT3 (and the resulting levels of attention you want to grab or avoid). It's not even a question of aerodynamic performance either – as many would understandably expect – with the downforce generated remaining unchanged regardless of whether you go fixed-wing or adaptive. Porsche was adamant on lending to its mantra that subtlety doesn't need to come with any penalty, and made sure the GT3 Touring was engineered and designed in such a mold.
There are a number of other aesthetic details that are unique to the Touring model as well, though they're not as individually pronounced as the rear spoiler changes. In keeping with the now deep-rooted philosophy of Touring models, standard features such as painted front bumper inserts, aluminum window trimming, and an interior wrapped in leather and brushed aluminum (in place of Alcantara and carbon fiber), give the latest GT3 variant a more reserved persona.
That's not to say that the Touring has been in any way, emasculated as a GT car; if nothing, it's simply a more mature version of itself. After all, the remaining presence of distinguishable cues such as carbon fiber bonnet vents, a front bumper with large air intakes, and a signature GT-department engine cover, provide enough hints that this isn't just a fancy looking Carrera S. While you can spec a Touring model to be as hardcore as its more track-purposed stablemate, do so with some introspection.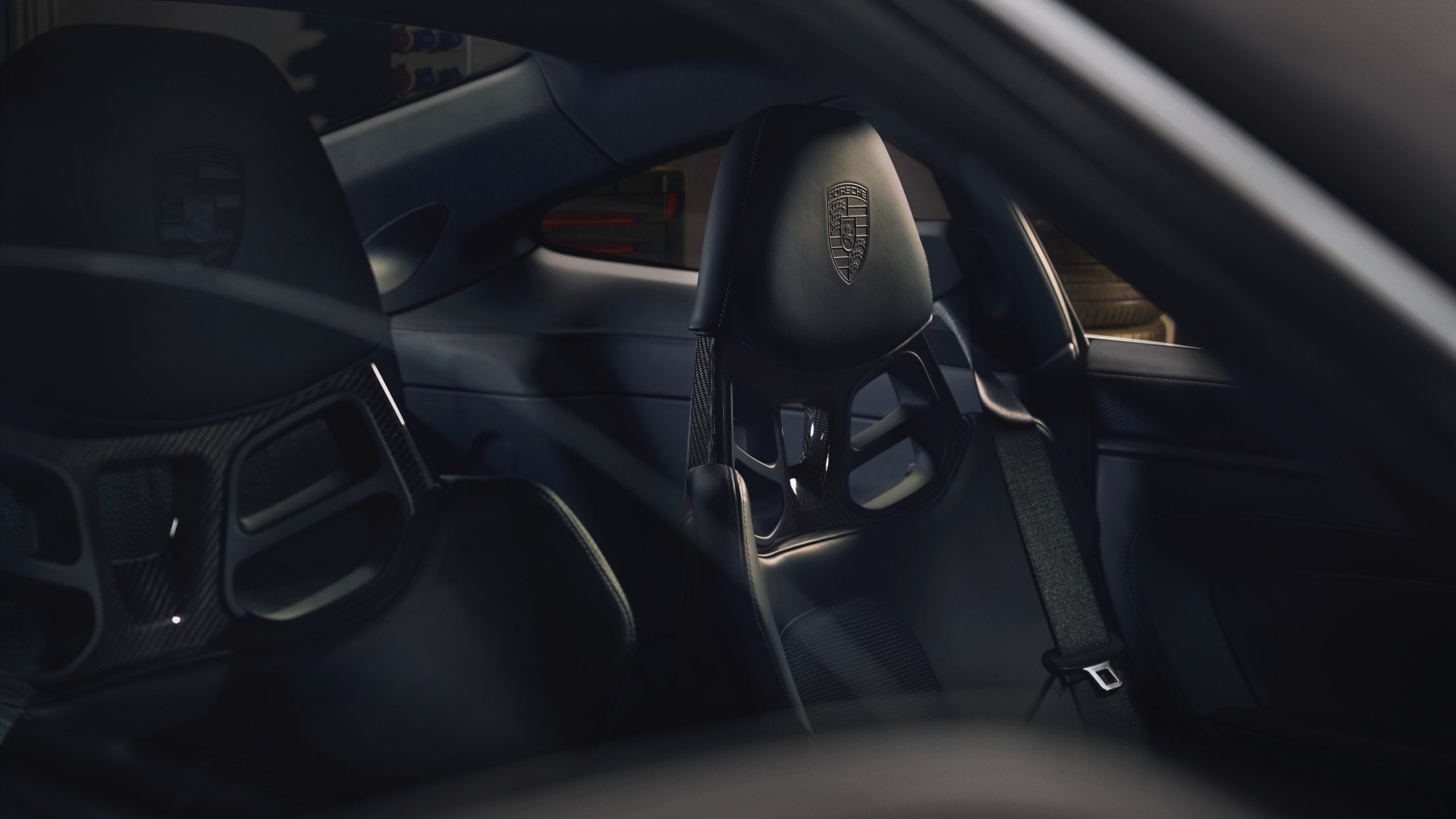 For example, as cool as those lightweight carbon fiber bucket seats are, they make getting into and out of the car more difficult. This would make the case for the Touring model being a more dedicated daily driver, a bit harder to argue. Before checking all the boxes on the options list, just know what you're getting (and why), and you won't be disappointed. Overall, the silhouette of the new 911 GT3 Touring remains a largely familiar one – and that's not a bad thing.  In fact, this is probably great news for Porsche and GT3 enthusiasts, who would contend that there was never anything wrong with the previous GT3 in the first place.
No confirmation yet on whether the Club Sport Package (roll cage, 4-pt harnesses) will continue to be a no-cost option, as it is in the regular GT3. If it is, it would probably only be for the European markets anyway – this package was not available on past iterations in North America due to safety regulations. Again, like PDK, the Club Sport Package kind of clashes with the whole purpose of the Touring model, in our opinion. Paint to Sample (aka, custom paint colors) will also be available for GT3 Touring examples.
Pricing
Base MSRP for both the GT3 and GT3 touring are the exact same: US $160,100. So while less is not more, more is not less either.
The good part about this is that you only have to worry about making your decision – on what GT3 variant you really want – based on your personal tastes, and not be forced into one because of a difference in price.
We see this as nothing but a good thing. Just pick what looks better to you. Which to be fair, might be easier said than done – oh Porsche, you make things so, so interesting.
Verdict
supercars.net – 10/10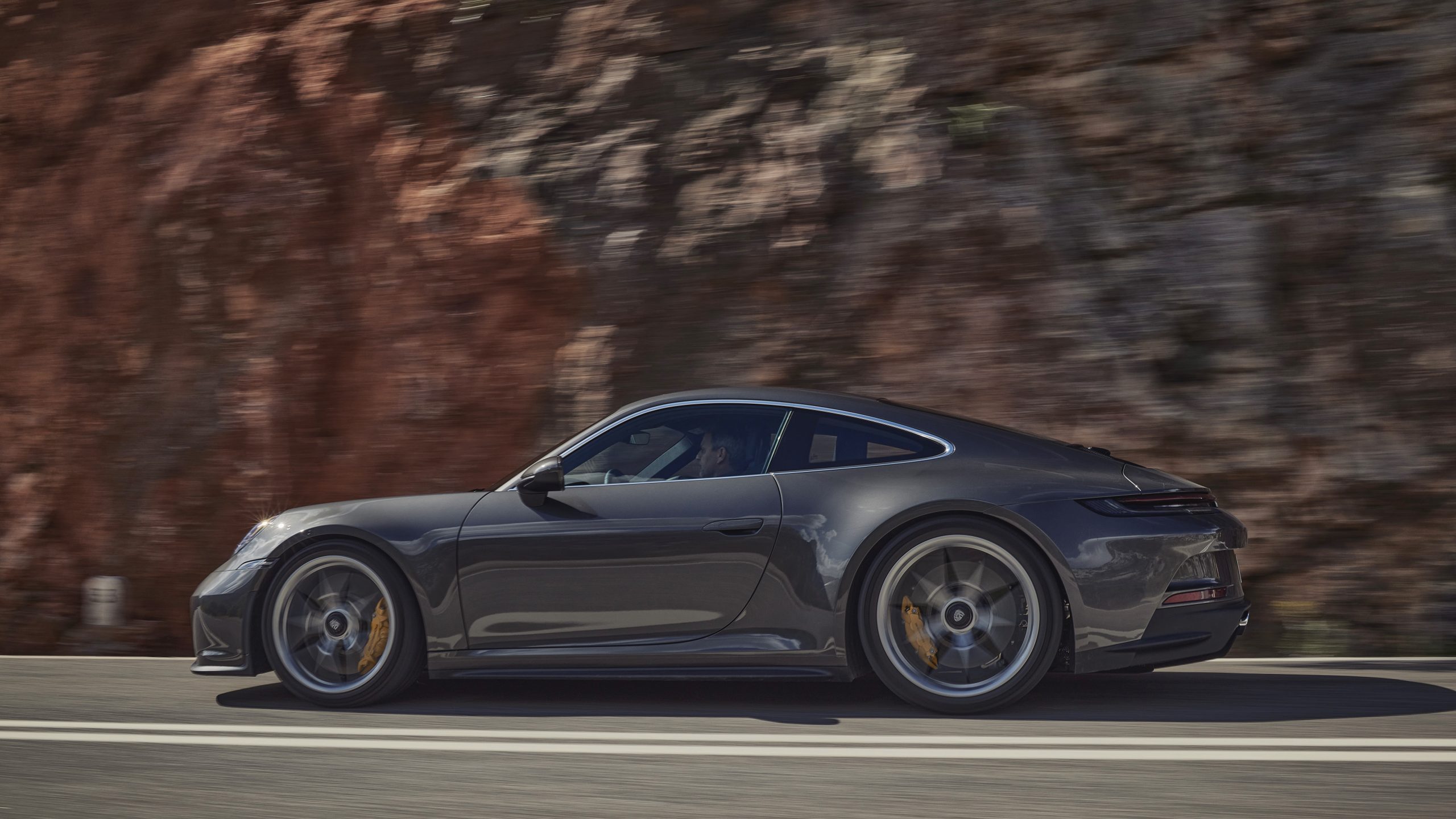 "The Porsche 911 GT3 Touring is back. If this latest 992-generation version is any indication of Porsche's commitment to this model, then it should be safe to say that it's also here to stay. The Touring makes sense for those who envision their GT3 more as a daily mode of transportation than a track specialist, although there is nothing to suggest that it is not comfortable filling both of those roles either.
GT performance is good enough for any paved road – and that includes the race track – but we reckon that the Touring variants were created for a certain type of personality. There are few other cars, especially today, that can invoke an idealized sense of connection and purpose like a GT3 Touring (with a 6-speed manual transmission) can. Its unpretentious demeanor, in a somewhat ironic way, rounds off things with the bold statement that less really can mean more."
What Other Experts Are Saying
Top Gear – 10/10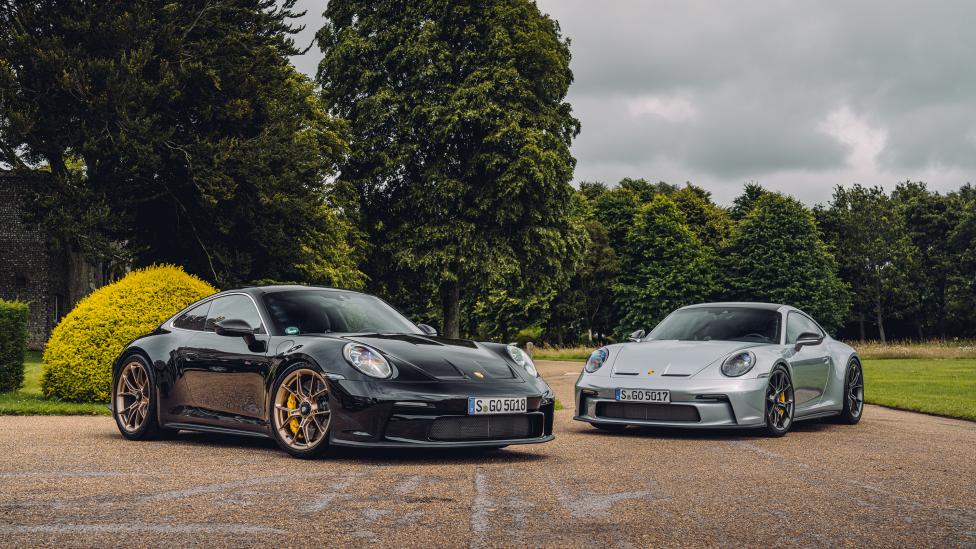 "The numbers don't matter. And that's an important point to make. Because if they do matter, go and buy electric. You're looking at the Touring for the wrong reason. This is a car for feels."
Car Magazine – 5/5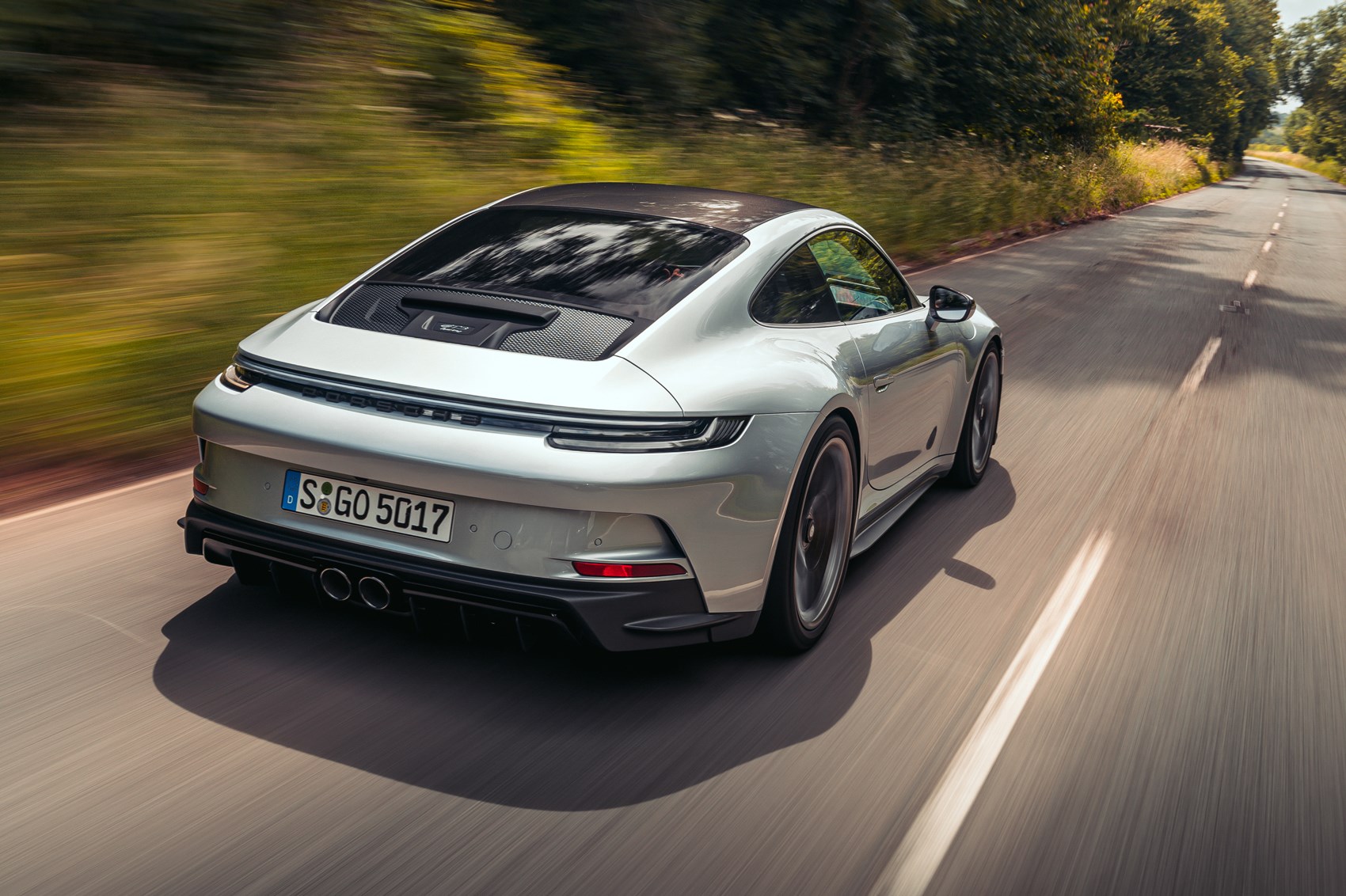 "Track drivers will want the GT3's genuine downforce. But for the rest of us the Touring Package is the definitive road-going 'event' 911."
Evo – 4.5/5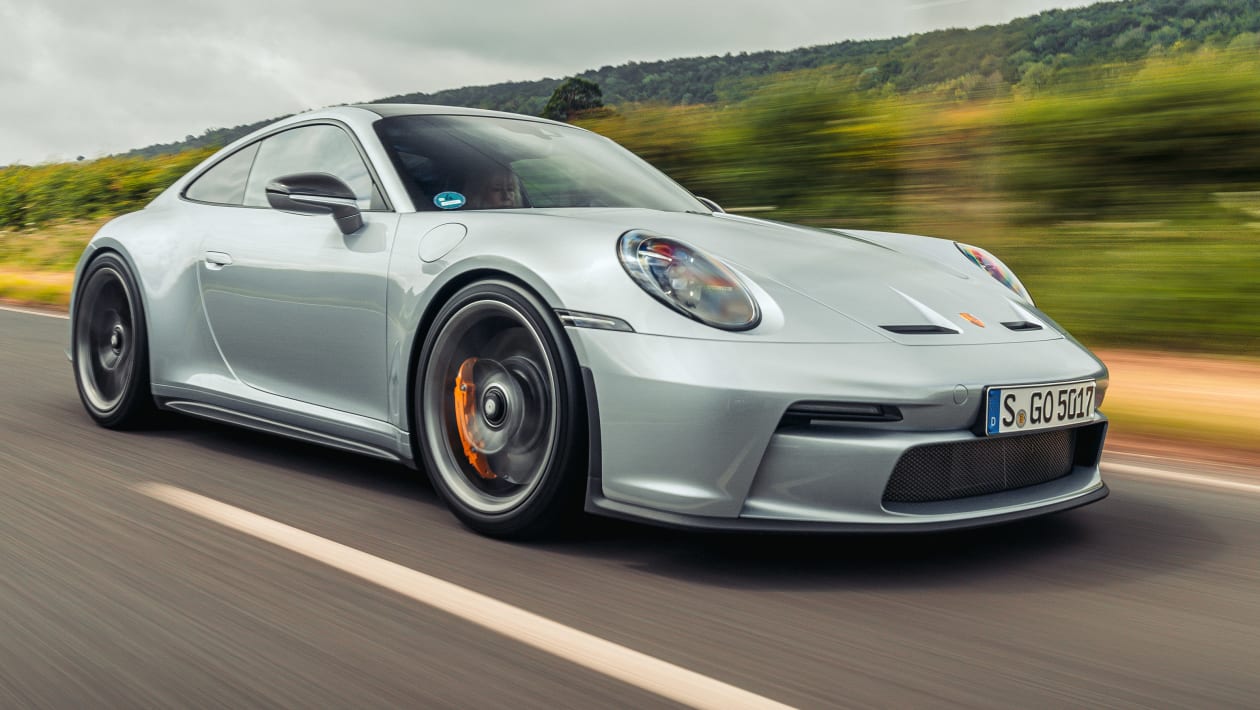 "There are few, if any, more rewarding, engaging, or intense experiences for those in pursuit of the thrill of driving."
Image & Video Gallery