The Nissan 370Z kept us entertained for over a decade, but its successor was so long in the making that we had almost forgotten the excitement of a new generation of this iconic Japanese sports car. But in 2023, after a long wait, the new Nissan Z finally became the worthy successor to the Z dynasty.
The Z 2023, or Fairlady Z in Japan, is Nissan's new sports car and the successor to the 370 Z. This new Z returns to a classic shape, offering solid dynamics, a massive leap in power with the most potent base engine in its class, and the delight of that perfect mix of rear-wheel drive and a manual transmission.
The seventh generation of this sports car from Nissan shares some similarities with its predecessor since it's built upon an altered rendition of the platform from the previous generation. This new model differs from earlier iterations of Z-cars because it doesn't follow the numerical naming scheme. The new Z was introduced in August 2021 and is based on a modified version of Nissan's FM Z34 platform with a VR30DDTT engine. Its designated model code is "RZ34".
The first suggestion of what would eventually become the seventh-generation Nissan Z came in 2018 from Alfonso Albaisa, Senior Vice President for Global Design at Nissan. Confirmation of a direct successor to the 370Z, being in development was provided during an interview with the Australian automotive magazine WhichCar.
On March 19, 2020, Nissan filed a trademark application for a redesigned version of their iconic Z-car logo. This move marked another step towards materializing their plans related to the newest iteration of the Z. A video featuring Nissan's updated vehicle lineup was released on May 28, 2020, through their official YouTube channel under the banner "Nissan Next" as part of their global restructuring plan.
At that point, they officially unveiled their newer Z-car design with retro elements harkening back to the outstanding aesthetic qualities of the legendary 240Z, like its distinct shape and circular running lights built into it. The prototype version, called "Nissan Z Proto Concept," was disclosed through official channels on September 15, 2020, providing an early glimpse into what customers would expect from this upcoming vehicle featuring dimensions slightly larger than those seen on its predecessor, measuring approximately at around 4,382 mm (172.5 in) lengthwise with width remaining unchanged.
An embodiment of Nissan's unwavering commitment to excellence, the 2023 Nissan Z epitomizes modern ingenuity while honoring its illustrious heritage spanning over five decades. Melding tradition with technological advancements was paramount in shaping this remarkable vehicle's identity.
The 2023 Nissan Z symbolizes years of relentless pursuit of automotive perfection by Nissan's visionary engineers and designers. This extraordinary vehicle is set to captivate ardent Z enthusiasts and newcomers. With sleek aerodynamics encompassing a long hood, abbreviated rear deck, and formidable stance, Nissan's masterpiece demands admiration wherever it glides gracefully.
Engine & Performance
Specifications:
Engine Type & Size: VR30DDTT 3.0L Twin Turbo DOHC 24-valve
Horsepower: 400 hp @ 6,400 rpm
Torque: 350 lb-ft @ 1,600–5,200 rpm
Transmission: 6-speed Manual or 9-speed Automatic
O-60 mph: 4.3 seconds
It's no secret that the most exciting part of the new Nissan Z is the engine's power, which offers a notable enhancement compared to its predecessor's 3.7-liter V6. The Z's new powerplant is a 3.0L twin-turbocharged V6 (VR30DDTT) with an output of 400 hp at 6,400 rpm with a redline of 6,800 rpm and a torque of 350 lb-ft from 1,600 to 5,200 rpm.
This engine is made from an aluminum block and features small-bore twin turbochargers plus variable valve timing to ensure immediate throttle response. This new engine not only delivers increased power and efficiency but also offers a heightened level of responsiveness and can also be found in the Infiniti Q50 and Nissan Skyline.
And if this engine sounds familiar to you, that's because it's the same one used in Infiniti's sporty lineup, and if it's already a delight on an Infiniti, imagine what it does on the Z, which is smaller and lighter with a weight of 3,486 pounds.
If we had to choose the best highlights of this engine, two aspects would be at the top of the list. First, maximum torque is available at very low revs with virtually no turbo lag. Two, there's plenty of power at just about any rev range, to the point that sometimes you won't need to downshift; just slam your foot down on the accelerator.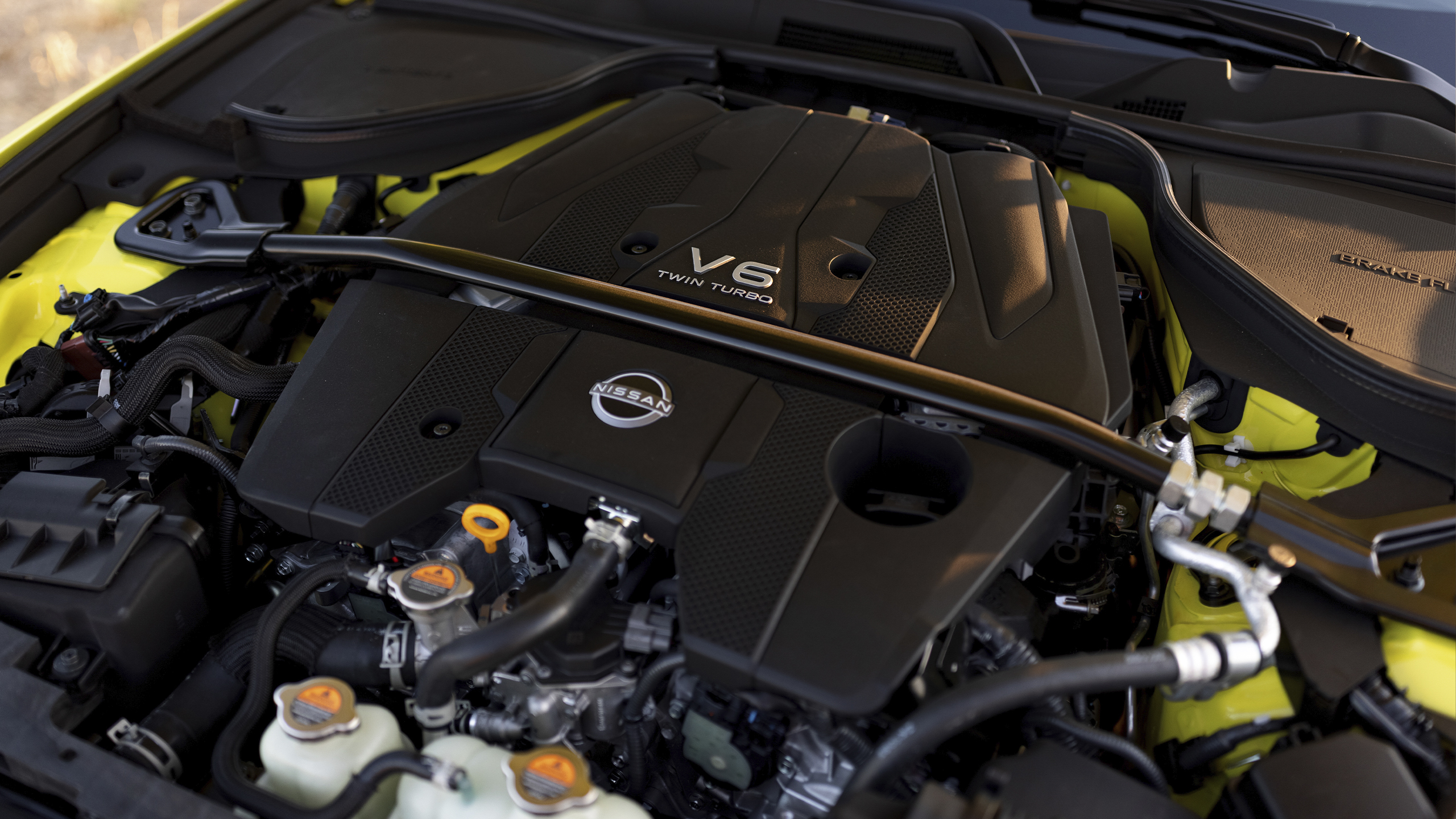 Overall, the engine feels explosive yet smooth, worthy of a Z. It's 68 hp and 80 lb-ft more potent than the 370Z, which makes it 15% faster, with 0-60 mph in around 4.3 seconds. The 2023 Nissan Z has two trim levels: Sport and Performance. The Sport variant boasts a standard six-speed manual transmission. At the same time, the Performance variant comes equipped with a nine-speed automatic transmission as standard, but a manual transmission is also available.
Notably, both trim levels are rear-wheel drive, making the new Z a true enthusiast's car. The Performance version comes with Launch Control, so if you have doubts about the dynamic qualities of this car, there is nothing to fear. The 2023 Z promises power, the ability to handle it, room for fun, and a certain old-school flavor.
Whether you opt for the manual or automatic transmission, both offer unique delights: the manual provides sheer enjoyment while shifting gears, and the automatic delivers seamless operation. Also, it's worth highlighting the mesmerizing sound of its exhaust system; it's genuinely intoxicating.
According to a test by Road & Track, the new Z reached a top speed of 155 mph. The automatic version completed the 1/4 mile in 12.3 seconds at 116 mph in another independent acceleration test by the Hagerty company, achieving 0 to 60 mph in 4.0 seconds. The manual version accelerated from 0 to 60 mph in 4.3 seconds, completing the 1/4 mile in 12.8 seconds at 112 mph.
Chassis & Handling
One of the highlights of the 2023 Z is its exceptional handling capability. The platform on which it was built is the same as the one used for the 370Z, but with improvements. According to Nissan, the shell has undergone reinforcement, leading to a 10.8% boost in torsional stiffness while only adding 40 pounds. It's worth noting that the latest iteration of the Z is approximately 150 pounds heavier and has grown by 5 inches compared to the previous generation.
The 2023 Z features a double wishbone suspension and aluminum subframe at the front and, at the rear, a multi-link attached to a steel subframe. The suspension has been redesigned to provide smoother damping by introducing new monotube shock absorbers. Furthermore, wider tires and the option to upgrade to performance brakes, borrowed from the 370Z Nismo, greatly enhance its overall capabilities.
Another novelty is the electric power steering (the first for a Z model), inherited from the Infiniti Q50, which allows many adjustments for better control and precision. In addition, the body comprises numerous strong yet lightweight aluminum panels for a higher strength-to-weight ratio.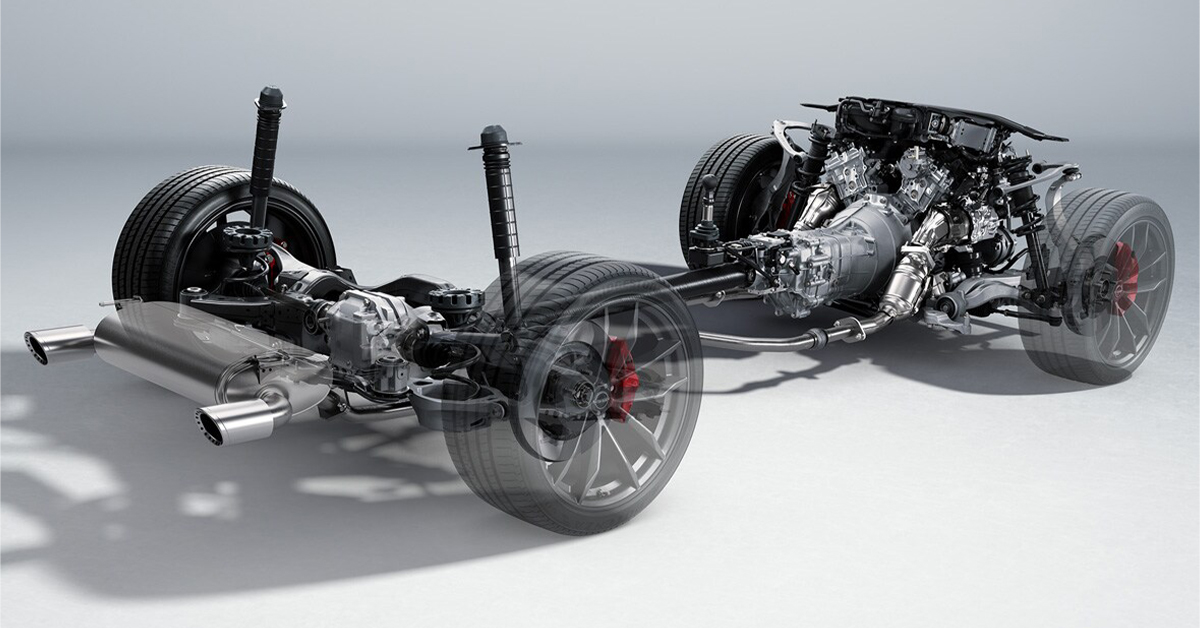 As a result of these improvements, the Z offers a more stable and composed driving experience with sharper turning ability and reduced body roll. The Z's new twin-turbo, high-revving V6 provides ample power and contributes significantly to its enhanced handling prowess, allowing quick acceleration out of corners. And since this engine is relatively lightweight, it contributes to an overall improved balance. When the twin turbos kick in, a tremendous power boost is available while maintaining good handling as the Z feels firmly attached to the road, reminiscent of its big brother, the GT-R.
Regarding braking performance, significant upgrades were made for the 2023 model. The Z Performance trim has larger rotors, 14 inches in the front and 13.8 inches in the rear, and floating aluminum calipers, four pistons in the front and two in the back. The Sport trim relies on 12.6-inch front rotors and 12.1-inch rear rotors. Stable single-piston calipers in the back and two-piston calipers in the front control these. These brakes also deliver increased stopping power thanks to updated pads.
Standard features on the Z include 18-inch alloy wheels wrapped in Michelin Pilot Sport 4 tires, an excellent combination for optimal performance on various road conditions. The Performance trim features firmer shock absorbers, a mechanical limited-slip differential, larger brakes, and 19-inch RAYS forged wheels installed on Yokohama Advan Sport tires, or Bridgestone Potenza S007, measuring 255/40 in the front and 275/35 in the rear.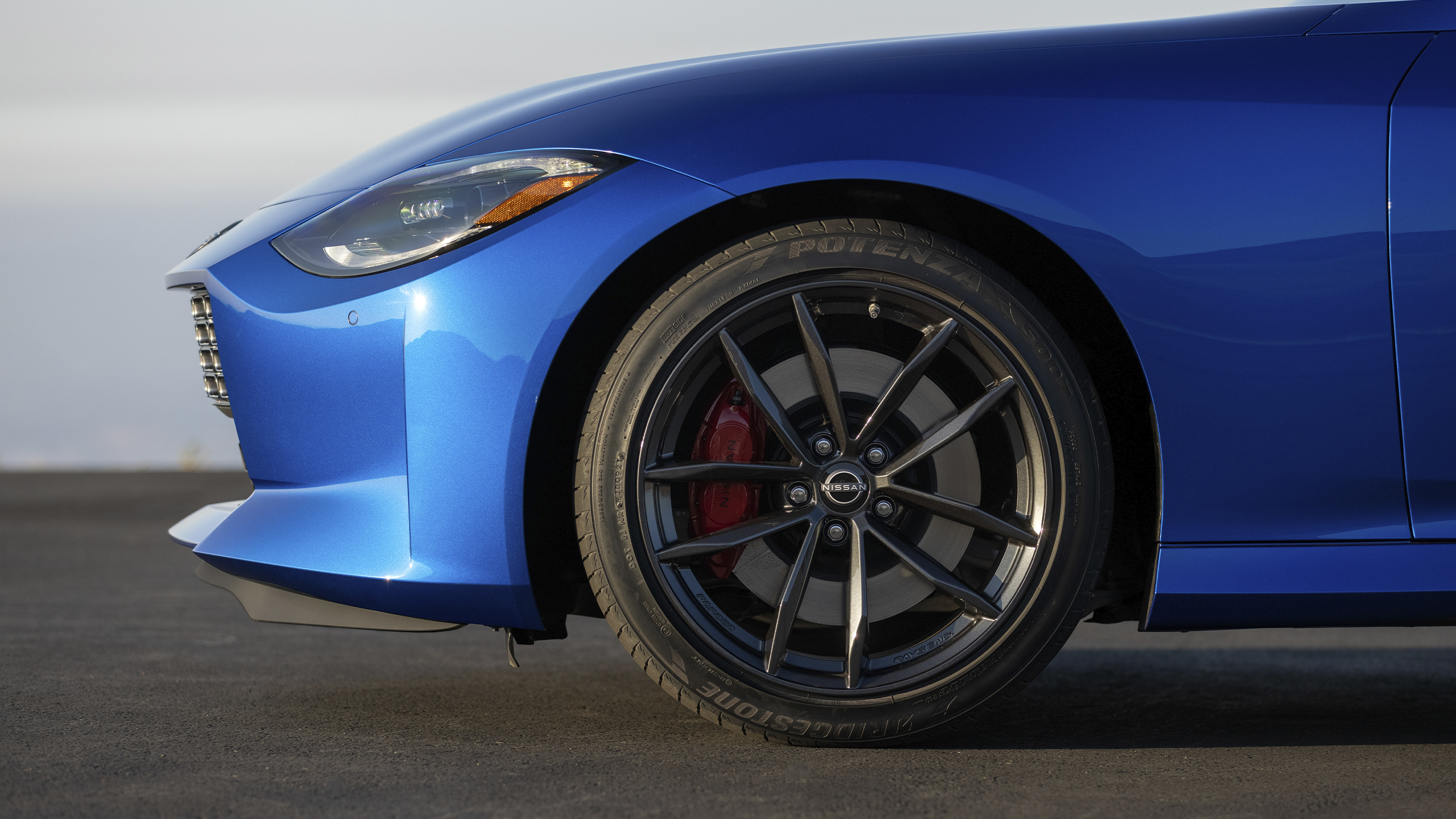 The 2023 Nissan Z is an exceptional vehicle for handling and chassis capabilities. The Z's newfound agility and responsiveness undoubtedly make it a pleasure to drive along winding roads. At the same time, its powerful engine and upgraded braking system provide ample acceleration abilities and enhanced stopping power, even meeting the high expectations of demanding drivers.
The 2023 Nissan Z is a raw, mechanical car made for enthusiasts, and its demeanor is palpable as soon as you turn the key. It leans very well in curves, with a slight tendency to oversteer, but in a fun way, because it does it subtly without interfering with pleasant dynamics, At the same time, it reminds us that we are dealing with a rear-wheel drive car. Sitting behind the wheel of the 2023 Z is a visceral sports car experience,but with high-performance technical goodies.
Design, Styling & Interior
Respectfully paying tribute to tradition while embracing modernity, the Nissan Z 2023 embodies a contemporary interpretation of an iconic design. With aesthetic influences drawn from past generations of Z cars cleverly integrated into this rejuvenated model's appearance, it emits style and performance-oriented attributes.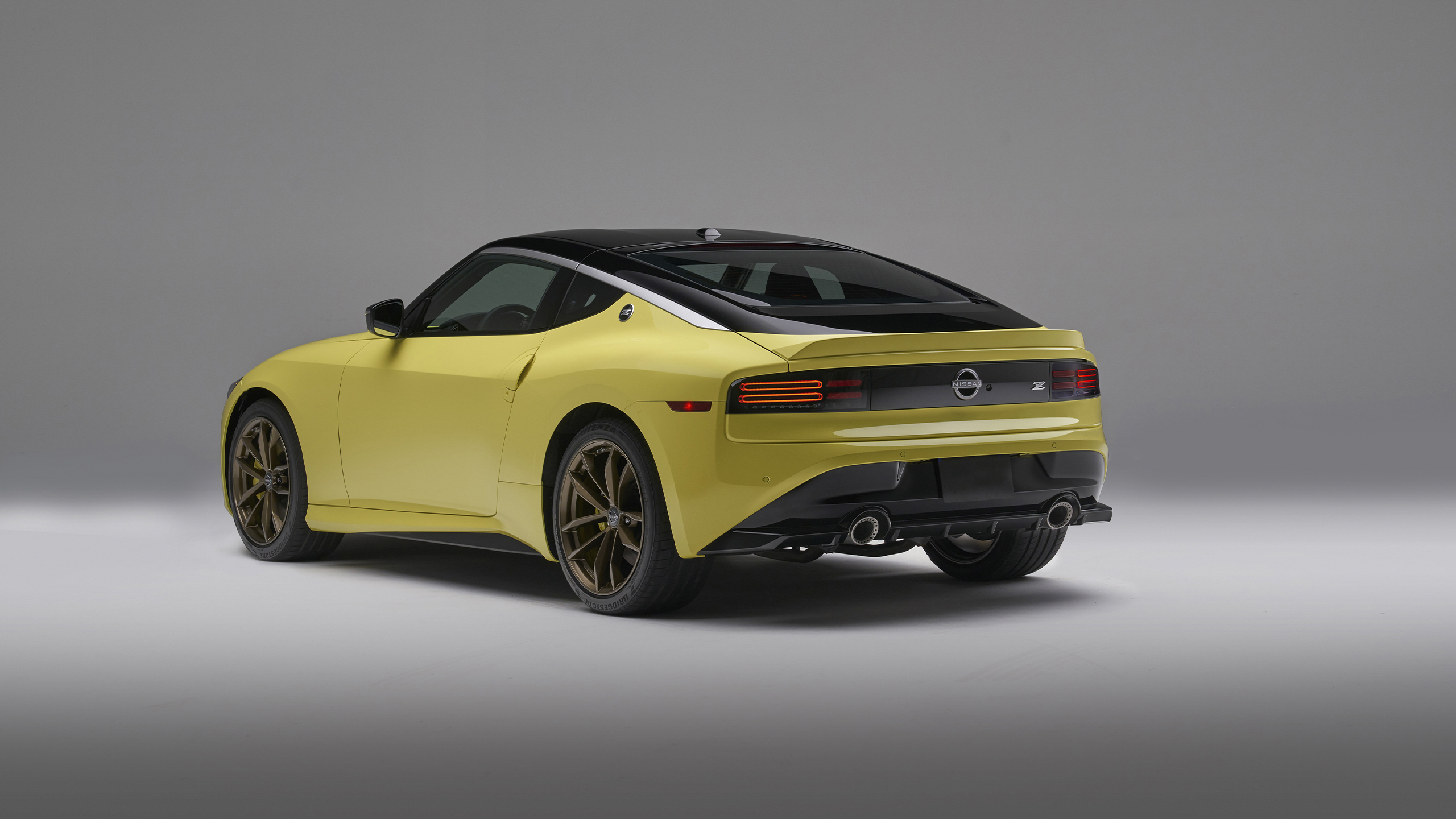 Beginning at the front end, it boasts a sizable grille and elegantly swept-back headlight fixtures. These headlights serve as an ode to their predecessor's oval-shaped counterparts while benefiting from cutting-edge LED innovation for improved visibility.
Complementing this striking front fascia is an enlarged grille that amplifies elegance and creates alluring aggression within the overall demeanor of the Z. Its side profile, channeling an undeniable sense of aerodynamic refinement, celebrates the timeless Z car ethos through its elongated hood and compact deck proportions, epitomizing a sporty disposition.
Transitioning to the rear is a gracefully sloping roofline, in concert with circular taillights that nod towards the iconic design language found on the 300ZX. These stylistic elements reinforce a timeless signature that seamlessly blends nostalgia with contemporary elegance. Prospective buyers can choose from various colors, including Black Diamond Metallic, Gun Metallic, and Rosewood Metallic.
On board, we find the brand's freshest technology, starting with an 8" screen featuring Nissan's latest infotainment interface. The new Z has a 9″ screen with satellite radio, compatibility with Android Auto and Apple CarPlay, and the NissanConnect Services.
In front of the driver is an entirely digital instrument panel with multiple views depending on the information we want to display. All this meets the requirements of any modern sports car, but the cabin has a retro look and feel with old-school analog gauges for the turbo's PSI, turbo speed, and battery voltage.
Some components come from its predecessor, such as the oval handles that integrate an air conditioning grill. Regarding the quality of materials, Nissan doesn't aim for premium heights, but in almost every interior corner, we find parts that are soft to the touch.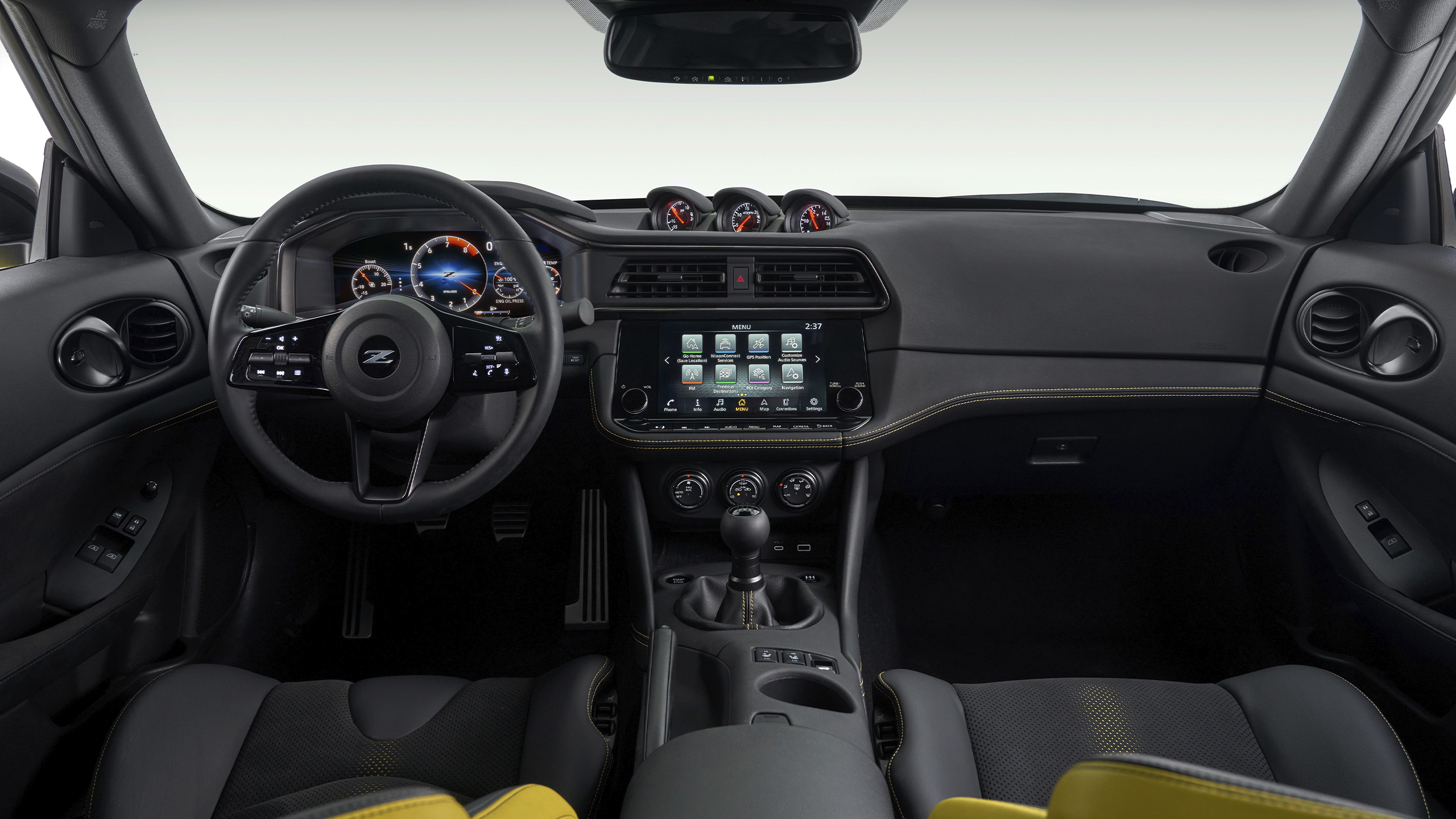 Now, let's talk about equipment. The Z has electric and heated seats, an electrochromic rearview mirror with universal garage door opener, LED headlights, a reverse camera, an 8-speaker Bose sound system, proximity sensors, and a whole suite of advanced driving assistance: autonomous emergency brake with pedestrian detection, blind spot monitor, lane departure warning, automatic high beams, and adaptive cruise control.
Finally, concerning practicality, the Nissan Z is a coupe sports car with only front seats. The driving position is low, the controls are in the right place, and visibility is good, albeit with some restrictions to the rear by the very nature of a coupe.
Pricing
Starting at $40,990 is the Sport trim of the Nissan Z 2023, while the Performance trim starts at $50,990. Both models offer a 6-speed manual transmission or the all-new 9-speed automatic transmission.
The Sport Z comes with a 12.3-inch digital instrument cluster, a user-friendly 9-inch touchscreen infotainment system compatible with Apple CarPlay and Android Auto, an immersive Bose sound system for audiophiles, and the convenience of a rearview camera.
Stepping up to the Performance trim, you get everything the Sport trim offers, plus a limited-slip differential, a sport-tuned suspension, larger brakes, and 19-inch Rays wheels.
Nissan also launched a limited edition with only 240 units being built called the Proto Spec, based on the Performance trim level and priced at $53,990. This unique variant has distinctive features like a sleek carbon fiber rear spoiler. The Proto Spec edition also comes with yellow brake calipers and bronze-colored wheels.
Performance & Specifications Summary
Model & Pricing Info
Make: Nissan
Model: Z
Car type: Coupe
Category: Production Series
Built At:  Kaminokawa, Tochigi, Japan
Introduced: 2021
Base Price (US): $40,990
Chassis, Suspension & Powertrain
Curb Weight: 1,581 kg (3,486 lbs)
Layout: Front Midship / Rear-wheel drive
Body / Frame: Unibody corrosion-resistant high-strength steel
Suspension (F): Independent double-wishbone and aluminum subframe
Suspension (R): Multi-link attached to a steel subframe
Steering: Electric power steering (electric rack)
Brakes: Akebono® Performance Brakes with 14″ front rotors and 4-piston calipers and 13.8″ rear rotors with 2-piston calipers
Tires: Michelin Pilot Sport 4 (F: 245/45/18, R: 245/45/18) for the Sport trim and Yokohama ADVAN Sport or Bridgestone Potenza S007 (F: 255/40/19, R: 275/35/19) for the Performance trim
Transmission: 6-Speed Manual
Engine, Output & Performance
Engine: V6
Displacement (liters): 3.0 / 2997
Aspiration: Twin Turbo
Power (hp): 400 hp @ 6,400 rpm
Power (hp) / liter: 133.3 hp/liter
Power (hp)/weight: 0.25 hp/kg
Torque: 350 lb-ft @ 1,600–5,200 rpm
0–60 mph time: 4.3 seconds
¼ Mile (standing): 12.8 seconds
Top Speed: 250 km/h (155 mph)
Average Fuel Consumption: 20 mpg (combined)
Gallery & Videos
Image Gallery
The 2023 Nissan Z boasts an exceptional combination of classic heritage and contemporary sportiness, resulting in a remarkable design and style. Its sleek and aerodynamic profile exudes a timeless yet modern aesthetic that effortlessly captivates those who lay their eyes on it.
The coupe's long hood and short overhangs indicate speed and agility, adding to its overall allure. Additionally, the subtle retro-inspired touches, such as the elongated roofline and distinct taillights, pay homage to the legendary Z models of the past while embracing a new and dynamic design language that pushes boundaries and ignites enthusiasm.