Contents: Models & Guides / Picture Galleries / Best Bentleys / News & Updates
Bentley
Bentley Motors was founded by W.O. Bentley. The first car to bear his name pulled out of New Street Mews, London in 1919. From modest beginnings, the company moved from strength to strength – in a relentless pursuit of both luxury and performance.
Were it not for the brand's five victories at Le Mans in the 1920s, plus a sixth in 2003, this combination could be seen as a contradiction in terms. In which case, it could be said that Bentley continues to create the most acclaimed contradictions on the road today.
Almost a century later, W.O.'s vision continues to guide our beliefs, actions and ambitions. Located in Crewe, England and owned by Volkswagen AG since 1998, Bentley Motors remains the definitive British luxury car company, crafting the world's most desirable high performance grand tourers.
During the 1920s Bentley was outstandingly successful in both racing and setting new speed records, grabbing many front page headlines. Bentley first won Le Mans in 1924. From 1927 to 1930 Bentley won each year.
W.O. was clear in his reasons for supporting motor racing - gaining publicity, generating sales and establishing the Bentley marque. "I would have been perfectly content to see our cars circulating round Le Mans in inglorious solo solitude as long as the Daily Mail gave us their front page on a Monday morning!"
In 1923 W.O. worked with 'Bentley Boy' John Duff, to prepare his Bentley and lent him the Bentley Works driver Frank Clement for the 24-hour endurance race. W.O. travelled to see the race and it was then W.O. claims Le Mans got into his blood.
Bentley's racing success was achieved by thorough preparation and the ability to continuously learn from experiences. Each year Bentley improved their engines, pit procedures and team discipline.
And so, at 4pm on Sunday June 15, two Bentley Speed 8s came first and second at Le Mans, almost 83 years to the day that the two Speed Sixes had achieved the same. It was a day that those who witnessed it will never forget.
The following Wednesday, the number 7 Speed 8 was guest of honor at a celebration dinner held at the Savoy in London, the same venue and identical menu and drinks list as the Le Mans dinner in 1927.
Since then Bentley has made some of the most desirable road machines. Whether it is the glamour, speed and power of the pre-war Bentley era or the imposing 'Blower' Bentley with it's 4 ½ Litre Supercharged engine that went like a rocket, there is no shortage of amazing road cars from this brand.
The Basics
Founding: January 18, 1919

Founded: London, United Kingdom




Founders: W. O. Bentley, H. M. Bentley

Parent org: Volkswagen Group

Headquarters: Crewe, England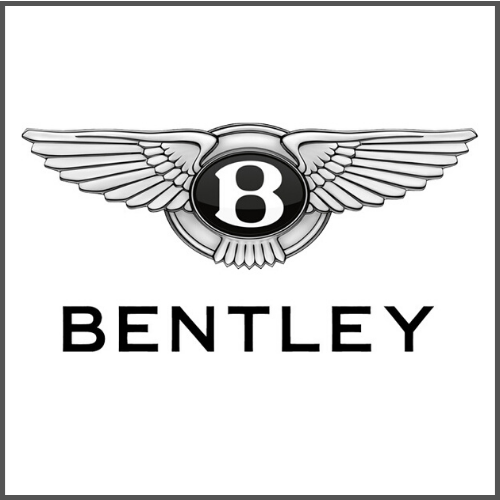 What does the Bentley logo mean?
"Big B" emblem of Bentley consists of 2 flying wings that signify the Bentley's oblique, proud claim which Bentley is the nearest a car can become to having wings. Among these 2 wings there is a circle that placed which contains Bentley initials in a famous manner.
We take a look at the Bentley model list and take a deep dive into the models that make this marquee so special. We have primarily focused our in depth guides on the classic, iconic Bentley models. This is only a handful of the Bentley models over the years, so please checkout our full Bentley model list here.
Every Bentley Car Ever Made
In-depth guide to every Bentley model worth knowing about
Bentley Prices, Rumors, Reviews, News & More
We're always trying to keep up to date on all important things Bentley related. While other sites give you every piece of news or viral video they can find, we take a more measured approach. We only bring you the Bentley news, reviews, galleries and content that really moves us. Only the important things.
Our weekly email newsletter gives you all the supercar news, reviews, videos, rumors and much more. Only the best cars on the planet.