[2023 Edition] Current McLaren Model Lineup
Everything You Need to Know About 2023 McLaren Model Range. The Ultimate McLaren Buyers Guide, With Prices, Specs, Reviews As Well As Our Opinion On the Good & Bad from McLaren This Year
At the 2019 Canadian International Auto Show, McLaren's chief of design operations, Mark Roberts, confirmed that the British automaker would expand its model offerings by at least 18 new cars in the next six years.
That was in February 2019. Until now, we have had six releases - the 765LT Coupe and Spider, Elva, Speedtail, GT and Artura. The limited-series Sabre was only manufactured for 15 customers in the United States and does not count in this case. and the limited-series Sabre. If McLaren keeps up this pace, we can expect a couple of brand-new models for 2022 though nothing has been confirmed at this point.
McLaren heads into 2023 with a trimmed-down lineup consisting of its supercars, ultimate series hypercars and the single GT model, with a new Solus GT "Legacy" model, an ultra-exclusive $3.5 million track-only car. You also have the McLaren customer race cars; hardcore performance machines explicitly developed for track use.
A noticeable absentee is the Sports Series lineup, comprising at least seven different models. The entire model lineup was discontinued in 2021 and replaced by the hybrid McLaren Artura. It is all part of a broader McLaren strategy to field an all-hybrid model portfolio by 2024.
2023 McLaren Model List & Pricing
McLaren Super Series Models
2023 McLaren 750S (Starts at $331,740)

2023 McLaren 750S Spider (Starts at $352,740)

2023 McLaren 765LT (Starts at $368,000)

2023 McLaren 765LT Spider (Starts at $382,500)
McLaren Hybrid Models
2023 McLaren Artura ($238,000)
McLaren Legacy Series Models
2024 McLaren Solus GT (Starts at $3,500,000)
McLaren GT
2023 McLaren GT (Starts at $209,990)
McLaren Ultimate Series Models
2023 McLaren Elva (Starts at $1,700,000)




2023 McLaren Speedtail (Starts at $2,250,000)

2023 McLaren Senna (Starts at $960,000)

2023 McLaren Senna GTR (Starts at $1,800,000)



McLaren Customer Race Cars
2022 McLaren 720S GT3

2022 McLaren 720S GT3X

2023 McLaren 570S GT4
Current McLaren Grand Tourer - Buyers Guide
2023 McLaren GT Model
McLaren's grand tourer. The McLaren GT is McLaren's answer for executives looking for a high-performance luxury car. The team emphasized qualities that make for a top-class grand tourer: luggage space, cabin comfort, and elegant style. However, the twin-turbocharged V8 engine under the skin is proof that performance was not exactly relegated to the back burner.
Updates for 2023
The McLaren GT was introduced in 2020 and carries no significant update for the 2023 model year. It continues to challenge rivals such as the Aston Martin DB11, Maserati MC20 and Porsche GT3 for a slice of the Grand Tourer market.
Base price: US$209,990

Engine: 4.0 L M840TE twin-turbocharged V8

Power: 612 hp @ 7,500 rpm

Torque: 465 lb-ft @ 5,500 rpm

0-60 mph: 2.8 s

0-124 mph: 9.0 s

Top Speed: 203 mph
The McLaren GT fits the mould of a comfortable daily cruiser with a 7.0-inch portrait-style touchscreen enhanced with private jet-inspired graphics. Then there's a four-speaker sound system (A 12-speaker Bowers & Wilkins system is optional). The seats can be optioned with rich leather upholstery, and you even get decent luggage space for a weekend trip. The GT can rapidly drop that guise under a heavy foot on the throttle. The twin-turbocharged V8 is full of intent and can deliver supercar-level performances on command.
Current McLaren Supercars - Buyers Guide
2023 McLaren Super Series Lineup
The McLaren Super Series has been given new life by the introduction of the 750S Coupe and Spider models, which are based on the the same chassis and platform as the now discontinued 720S, but made with 30% all new parts. The McLaren Super Series models use the best of McLaren technologies to deliver uncompromising performance, whether on public roads or out at the racetracks.
Updates for 2023
The 750S replaces the 720S in both coupe and spider forms in 2023. The 765LT continues on without change, in what is expected to be its last year of production
Base price: US$331,7400

Engine: 4.0 L twin-turbocharged V8

Power: 740 bhp @ 7,500 rpm

Torque: 590 lb-ft @ 5,500 rpm

0-60 mph: 2.8 s

0-124 mph: 7.2 s

Top Speed: 206 mph
The 750S is the replacement for the outgoing 720S. Lighter weight, with more power, it took all the lessons learned in the 7 years of the 720S' life and applied them to make the ultimate Super-series McLaren. This is exemplified in the supercar being a sort of "Greatest Hits" collection from models past, combined with new materials and technologies, for example the active aerodynamics from the P1, combined with the (optional) carbon-ceramic brakes from the Senna, while keeping the basic shape of the 720S, but made with lighter and stronger carbon fiber in what they label "Carbon Fiber Monocage ver. II"
2023 McLaren 750S Spider
Base price: US$352,740

Engine: 4.0 L twin-turbocharged V8

Power: 740 bhp @ 7,500 rpm

Torque: 590 lb-ft @ 5,500 rpm

0-60 mph: 2.8 s

0-124 mph: 7.3 s

Top Speed: 206 mph (top up or down)
The convertible variant of the 750S comes with a folding hardtop. The Spider retains the same DNA as the Coupe, with the new Carbon Fiber Monocage Ver. II adding a boatload of torsional rigidity. This allows for the Spider to be able to perform just as well as its brother, including reaching a top speed of 206 mph with the top either up or down. That folding hardtop, by the way, will lower or raise in under 13 seconds, and can be operated at up to 31 mph.
Base price: US$368,000

Engine: 4.0 L twin-turbocharged V8

Power: 755 bhp @ 7,500 rpm

Torque: 590 lb-ft @ 5,500 rpm

0-60 mph: 2.7 s

0-124 mph: 7.2 s

Top Speed: 205 mph
The 765LT replaced the 675LT as the newest limited-production track car in McLaren's Super Series range and the latest addition to the 'Long Tail' family. As with previous LT models, weight savings is the key focus for the 765LT, and it loses over 160+lbs compared to the 720S. Aerodynamic enhancements help the supercar deliver 25% more downforce than the 720S. The result is a car that delivers the ultimate thrill without compromise - not for the faint of heart. In typical ' LT ' fashion, McLaren will make only 765 units of this lightweight supercar.
Base price: US$382,500

Engine: 4.0 L twin-turbocharged V8

Power: 755 hp @ 7,500 rpm

Torque: 590 lb-ft @ 5,500 rpm

0-60 mph: 2.7 s

0-124 mph: 7.2 s

Top Speed: 205 mph
The 765LT Spider offers all the goodies found in the Coupe; only this time, there's the added excitement that comes with a folding hardtop. That cover can be retracted in just 11 seconds and can be operated while the car is moving at speeds up to 31 mph. The 765LT Spider comes with a $14,500 premium over the Coupe, but that will not deter customers who will surely be scrambling to secure one of the 765 available build slots.
2023 McLaren Hypercars - Buyers Guide
2023 McLaren Ultimate Series Lineup
This is the pinnacle of the McLaren model range, responsible for cars like the formidable McLaren P1 and the barely road-legal McLaren Senna. The current crop of Ultimate Series McLaren models includes both the McLaren Speedtail and the open-top Elva. These are hypercars with seven-figure price tags and the exclusivity to match. They define the best of what McLaren has to offer in terms of design, technology and performance.
Updates for 2023
No updates for 2023 have been confirmed. The Elva and Speedtail will continue production in 2023, although all build slots were sold out at least a year, if not more, ago.
Base price: US$1.8 million

Engine: 4.0-liter twin-turbo V8

Power: 804 hp @ 7,500 rpm

Torque: 590 lb-ft @ 5,500 rpm

0-60 mph: 2.6 s

0-124 mph: 6.7 s

Top Speed: 203 mph
The Elva is completely roofless and sports a design inspired by race cars designed by the legendary Bruce McLaren in the late '60s. McLaren now offers a windshield option, but otherwise, the occupants are completely exposed to the elements. According to the carmaker, the Elva was created to deliver the 'purest possible driving experience.' That intention is given a boost by McLaren's famous twin-turbocharged V8, tweaked to produce over 800 hp. Initially, the plan was to build 399 Elvas, but that has since been cut to 149 units. McLaren claims that is to preserve the car's exclusivity, but some say it's because the British carmaker struggled to find buyers for the roofless hypercar.
Base price: US$2.25 million

Engine: 4.0-liter twin-Turbo V8 with parallel hybrid system

Power: 1,035 hp @ 7,500 rpm

Torque: 848 lb-ft @ 5,500 rpm

0-60 mph: 2.9 s

0-124 mph: 6.6 s

Top Speed: 250 mph
The Speedtail is the successor to the McLaren F1, incorporating that iconic 3-seat layout and similar mind-boggling performance. In pure terms, the Speedtail is often described as a hyper-GT. It comes loaded with creature comforts, but that does not come at the cost of performance (aka speed). The McLaren Speedtail is the carmaker's most aerodynamic car ever, with a 'slippery' design that allows it to slice through the air on its way to a 250 mph max speed. That makes it the fastest, and with over 1,000 hp on tap, the most powerful road-going McLaren yet. Production is limited to 106 units, and they have all been sold.
McLaren Artura - Buyers Guide
2023 McLaren Hybrid
In December 2021, McLaren confirmed that customer deliveries of its hybrid supercar had been pushed out yet again to July 2022 due to the ongoing semiconductor shortage. However, as of August 2022, the Artura started to leave the McLaren Technology Center one car at a time, built and shipped as parts arrived. Since then, as the shortage has stabilized and even started to reverse, production of the car has sped up. The Artura is the first car built on McLaren's new Carbon Fibre Lightweight Architecture (MCLA) and the carmaker's first series-production hybrid (the P1 and Speedtail are limited run models).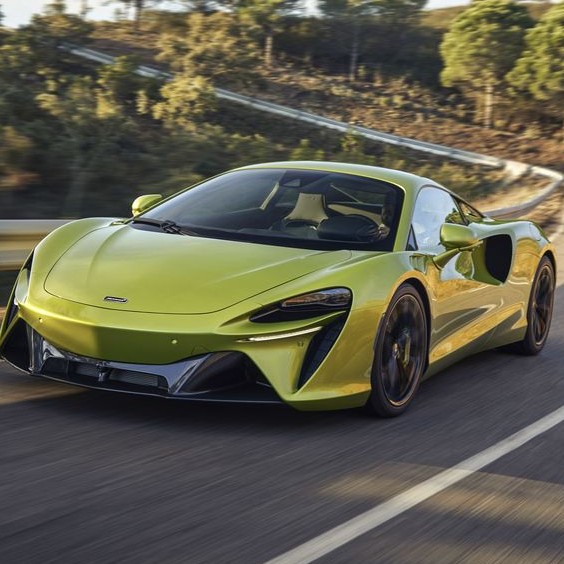 Base price: $238,000

Engine: 3.0L M630 Twin-Turbo V6 + hybrid electric

Power: 671 bhp @ 7,500 rpm

Torque: 531 lb-ft @ 2,250 rpm

0-60 mph: 3.0 seconds

0-124 mph: 8.3 seconds

Top Speed: 205 mph
The latest entry from McLaren is packed full of new stuff. The Artura combines an all-new twin-turbo V6 with a battery-electric powertrain to create a plug-in hybrid model. The design is still unmistakably McLaren with the signature headlights and prominent air vents. This is the model that will spearhead McLaren's charge as the carmaker aims to convert to an all-hybrid lineup by 2024. Customer deliveries are expected to start in the latter half of the year, but initial impressions of the car have been generally positive.
2023 McLaren Legacy Series - Buyers Guide
2023 McLaren Legacy Series Car Lineup
In Q2 2023, McLaren announced a new car series for extremely limited production, known as the Legacy Series. Cars in this series will be some of the most extreme and hardcore cars that customers can be invited to buy, built exclusively in the skunkworks of the company, McLaren Special Operations (MSO). The first car available is the Solus GT, originally designed for the PlayStation 4 game Gran Turismo Sport as the McLaren Ultimate Vision Gran Turismo.
2024 McLaren Solus GT
Base price: $3,500,000

Engine: 5.2L naturally aspirated V10

Power: 830 bhp

Torque: TBD

0-60 mph: 2.4 seconds (est)

Top Speed: 200+ mph
The McLaren Solus GT is the realization of a completely digital concept and design process, as it is the real-world version of what was known as the McLaren Ultimate Vision Gran Turismo. Released with the game Gran Turismo Sport for the PlayStation 4, the car was a study by McLaren to produce their ultimate concept race car. Now, 6 years later, the MSO skunkworks team have realized the concept into an extremely limited series 25 unit production run.
Make no mistake, this is a hardcore track monster. Using the same ultra-lightweight but ultra-strong carbon fiber composite that the Formula One race cars use, it comes in at under 1,000 kg (2,204 lbs). Using a bespoke 5.2L naturally aspirated V10, it has been tweaked and tuned to the maximum, screaming to over 10,000 RPM and producing a hefty 830 HP. The entire car has also been shaped and refined from the Ultimate Vision concept so that every single surface of the car produces downforce, to the tune of 1,200 kg (2,646 lbs) worth at 130 or more mph. McLaren themselves state that the Solus GT, which is limited to track-use only, is as close as one can get to a Formula One car in terms of power, speed, braking, and aerodynamics.
2023 McLaren Racers - Buyers Guide
2023 McLaren Customer Racing Car Lineup
No, we are not talking about F1 cars. Many people may not realize that McLaren also builds racecar derivatives from some of its roadgoing vehicles. The McLaren Customer Racing program allows the carmaker to manufacture ready-to-race GT cars that its customers use to compete in racing circuits all over the world. It should be noted that as of this update, no new version of the GT3 is available, only the 2022 edition. A 750S GT3 is expected to be coming for 2024, and the GT3X was only sold up through 2022, so we have not updated the year for either GT3 car.
The McLaren 720S GT3 made its competitive debut with customer teams during the 2019 racing season. It is based on the McLaren 720S, but about 90 percent of its components have been optimized in some way for better track performance. These include changes to its bodywork, chassis and aerodynamic packages, ultimately creating a racecar that can withstand the extreme stress of competitive racing.
The 570S GT4 takes its bearing from the now-discontinued 570S sports car. The model is homologated to full GT4 specification and is sold in a ready-to-race configuration, eligible for all GT4-regulated series globally. It is also the model used for the newly launched Pure McLaren GT Series.
Welcome to the dark side. This otherwordly looking machine ranks among the wildest creations from McLaren's Customer Racing program. In fact, it is so extreme that it is banned from competitive racing. However, this also means the 720S GT3X is free from the regulations which shape the performance of its 720S GT3 counterpart. It has allowed the engineers to exploit the limits of the 720S platform in creating a track monster that elevates the performance benchmarks to a whole new level.