1934→1936 Bentley 3½ Litre
Following the acquisition of Bentley Motors in November of 1931, Rolls-Royce had the task of transforming their 20/25HP into a distinct sports car that W.O. Bentley would approve of.
As a result the Bentley received a cross-flow cylinder head and signature SU Carburetors that made it a sporting alternative to Rolls-Royce 20/25HP.
Ernest Walter Hives worked hard with his team to make the best sports car possible and upon testing a prototype, W.O. Bentley said "taking all things into consideration I would rather own this Bentley car than any car produced under that name."
The sales department first released the car at the 1933 Olympia Motor Show and described it as the Silent Sports Car with a top speed of 95 mph.
Both the 20/25HP and 3½ Litre were built at the Rolls-Royce factory in Derby England as a rolling chassis, complete with scuttle and radiator to be bodied by a coach builder of the customer's choice.
Many were completed as Park Ward Sports Saloons as Rolls-Royce had partial ownership of Park Ward during production which led to almost half the production going to them. Many 3½ Litres were fitted with coachwork that was common on the Rolls-Royce Phantom II from designers like Barker, Hooper, H.J. Mulliner, Gurney Nutting, Thrupp & Maberly and Vanden Plas.
The 3.675-liter engine used a higher compression ratio than that of the Rolls and when combined with two SU carburetors could raise the top speed to 145 kph. It's relative smooth running operation befit the cars Silent Sportscar nickname.
The model was first announced in the 1933 but customer deliveries began in 1934 with Rolls-Royce's technical support. Eddie Hall drove a sporting example in the 1934 Tourist Trophy right before the model was offered to the public.
In 1937 the model was replaced outright by the 4½ Litre.
In Detail
| | |
| --- | --- |
| type | Series Production Car |
| production years | 1934 – 1936 |
| released at | 1933 Olympia Motor Show |
| built at | England |
| engineers | Ernest Walter Hives |
| production | 1191 |
| succeccesor | 1929 Bentley 4½ Litre |
| engine | Inline-6 |
| position | Front, Longituinal |
| aspiration | Natural |
| block material | Cast Iron |
| fuel feed | Twin SU Carburetors |
| displacement | 3675 cc / 224.26 in³ |
| bore | 82.5 mm / 3.25 in |
| stroke | 114.3 mm / 4.50 in |
| power | 82.0 kw / 110 bhp @ 4500 rpm |
| specific output | 29.93 bhp per litre |
| body / frame | Body over Nickel-Steel Chassis |
| driven wheels | RWD |
| wheel type | Spoked Wire |
| front brakes | Drums w/Servo Assist |
| rear brakes | Drums w/Servo Assist |
| steering | Worm and Nut |
| f suspension | Solid Axle w/Semi-Elliptic Leaf Springs, Hydraulic Dampers |
| r suspension | Live Axle w/Semi-Elliptic Leaf Springs, Ride Control Hydraulic Dampers |
| transmission | 4-Speed Manual |
| top speed | ~152.85 kph / 95 mph |
| fuel capacity | 68.13 litres or 18 gal |
Auction Sales History
1934 Bentley 3½-Litre Sports Saloon by Park Ward B160CR – sold for $99,000
Extensive body-off, ground-up, correct mechanical and cosmetic restoration completed in 2002. Original coachwork, engine, and gearbox; well-documented. CCCA Premier award winner. Long-term California ownership by knowledgeable Bentley collectors.
Auction Source: RM Sotheby's Monterey 2015
1934 Bentley 3½ Litre Mann Egerton Saloon B-151-BL – sold for €53,640
Found in a castle in the Châteauroux region where it had been forgotten by the consumer society, this elegant Bentley saloon exudes a strange scent of mystery. The Bentley we are offering is equipped with an aluminum body made by Mann Egerton, a coachbuilder also known for its aircraft manufacturing capabilities. It is in a remarkably original condition and mechanicals are performing perfectly well, but, it will still need an overhaul. The interior and the dashboard are complete. This car represents an interesting opportunity to acquire a Derby Bentley, which has been registered in France for a long time, and preserved in a rare state of original condition.
Auction Source: Rétromobile 2015 by Artcurial Motorcars
1936 Bentley 3½-Litre Windovers Sedanca Coupe B111FC – sold for $374,000
Offered from the estate of Charles "Chuck" Swimmer. One of the most beautiful Bentleys ever produced. Lightweight one-off coachwork. Ordered by its original owner for a Royal Automobile Club tour. A 2003 Pebble Beach Concours d'Elegance award winner. Featured in most of the important Bentley reference texts.
Auction Source: Amelia Island 2014 by RM Auctions
1934 Bentley 3½-Litre Park Ward Drophead Coupe B203AE – sold for $156,750
B203AE is by no means built up from other Bentley components. Simply put, it is an original 1934 Bentley chassis with an original 1935 Park Ward drophead coupe body. The car comes complete with the original fitted hand tool tray, road tools, owner's manual, and its original British registration plates, MG 6666. Even more remarkable, this car retains its original, factory-specified "knock-off" racing wheels. Even the under-seat tool kit is substantially complete.
Auction Source: 2013 Amelia Island by Rm Auctions
1935 Bentley 3½ Litre Rippon Brothers Aerodynamic Sports Saloon B-103-CW – sold for $275,000
One of Only Two Built Featuring the Stunning Rippon Brothers Aerodynamic Coachwork. An Exacting and Sympathetic Restoration with Recent Mechanical Attention. Complete with Period Radio, Tools and Fitted Luggage. A Well-Known and Documented Derby Bentley. A Superb International Concours and Driving Event Entry.
Auction Source: The Amelia Island Auction 2012 by Gooding & Company
1934 Bentley 3½ Litre Park Ward Drophead Coupe B203AE – sold for $155,000
Period-correct Park Ward DHC body. Matching-numbers car with original tools, license plates and manuals. Fitted with period-correct Park Ward DHC body. Five original Rudge-Whitworth wheels. $400,000 restoration completed in 2009. Photo-documentation of restoration with 160 images.
Auction Source: 2011 Monterey Auction by RM
1935 Bentley 3½ Litre Sportsman's Coupe B58DG – sold for $407,000
Stunning One-Off Derby Bentley. Original Engine per Factory Build Sheets. Body-Off Restoration to Show Standards. The Only Bentley Bodied by Bertelli.
Auction Source: 2011 Pebble Beach Auctions by Gooding & Company
1935 Bentley 3 1/2 Litre Rippon Aerodynamic Sports Saloon – sold for $192,500
B103CW is one of only two Bentley 3 1/2-Litre models bodied in this remarkable aerodynamic style by Rippon, and its sister car was featured on the Rippon stand at the 1935 Olympia Motor Show in London. This car, however, is believed to be the sole surviving example. Previously thought to have been lost, B103CW was discovered by well- known collector Steve Hamilton in the mid-1990s. Recognizing its significance, he set about a complete restoration which spanned the next five years. Kevin Kay Restorations painstakingly brought the car to concours condition and well-known trimmer Ken Nemanic crafted the beautiful oxblood interior. As a result, the car received a class award at the 2002 Pebble Beach Concours d'Elegance.
Auction Source: 2011 Scottsdale Auction by Gooding & Company
1935 Bentley 3½ Litre Barker Saloon – sold for €123,750
This 1935 Bentley reminds one of how different the world used to be – and not only regarding motor cars. During these years, India was still under British rule, and its elites enjoyed many of the same luxuries as their peers in England. The Barker-bodied Bentley chassis B32EF attests to this. As supported by copies of original factory documentation, the car was originally built for an Indian dignitary and was delivered to the Nawab
Auction Source: 2009 RM Auctions' Automobiles of London
1934 Bentley 3½ Liter Drophead Coupé Chassis no. B93AE – sold for $122,500
The attractive and practical Park Ward drophead coupé coachwork handsomely complements the 3½ Liter Bentley drivetrain and chassis, particularly finished in its restrained livery of burgundy with black beltline accent and burgundy leather upholstery. The design is enhanced by Park Ward's dropped boot compartment in which the top nestles when folded almost level with the window sills. Righthand drive, it has brightly polished wheel discs, Lucas "King of the Road" headlamps and an enclosed spare wheel/tire on the rear deck giving the flowing skirted front fenders an uninterrupted sweep into the small running boards and flared rear fenders.
The object of a quality older restoration it has been consistently and carefully maintained in Sid Craig's collection. The cosmetics including paint, interior, top and interior wood are in excellent condition by any standard and particularly for their age. While some use and age is evident in the engine compartment the presence of splash pans and a high level of care and attention has kept it in good condition both mechanically and cosmetically. It needs nothing to be used and enjoyed with pride and confidence.
Auction Source: 2009 Bonhams Exceptional Motorcars at Quail Lodge Resort
1934 Bentley 3½ Litre Vanden Plas Sports Tourer B152AH – sold for $429,000
Desirable Vanden Plas Tourer Coachwork. Extensively Documented In Bira's Bits And Pieces And Chula's Wheels At Speed And Currently Finished In The Distinctive White Mouse Stable Blue. Used By Bira For Transportation Between Races, Hill Climbs And Unofficial Testing For The 1937 Le Mans 24 Hours.
Auction Source: 2008 Monterey Preview
1934 Bentley 3.5-Liter Tourer B90CR – sold for $54,990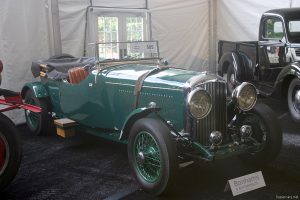 'B90CR' was originally bodied as a sedan by F W Plaxton of Scarborough, the well-known seaside resort on the North Yorkshire coast. Founded in 1919 and still in existence today, Plaxton is best known for its motor coach bodies but was active in the car body trade during the 1920s and 1930s. The car has since been re-bodied as a four-seat tourer, in a style somewhat reminiscent of the Vanden Plas-bodied Le Mans-winning Bentleys of the 1920s, and was acquired by the vendor in November 1987. The body is constructed in the traditional manner – aluminum panels on an ash frame – and was repainted in British Racing Green in 1999; a new clutch, wiring and turn signals being fitted at the same time. Representing the opportunity to enjoy vintage-style, fresh air motoring at a relatively modest price, this unique Derby Bentley is offered with owner's handbook and Certificate of Title.
Auction Source: 2006 Monterey Preview