Whenever I see a new luxury GT launch, I sometimes wonder what a GT car is anyway, since the definition of what makes a GT car (grand tourer) has always been loose.
In its purest form, it typically refers to a fast, comfortable coupe or roadster big enough to accommodate a driver and passenger (sometimes four passengers), and enough cargo space for a weekend road trip.
Since the early GT cars, which came out of Europe in the mid-twentieth century, were mainly designed for driving pleasure, the emphasis was on refined high-speed cruising rather than racetrack performance. Luxury GTs gracefully merge comfort and speed rather than focusing solely on speed.
The grand tourer's definition shows tangible differences in performance, comfort, and amenities between GT cars and other vehicles. Grand tourers are more refined than traditional sports cars, translating into refinement, luxury, and utilitarianism without sacrificing driver engagement or excitement.
These are 25 of the Best New Luxury GTs you can buy today.
Lexus LC 500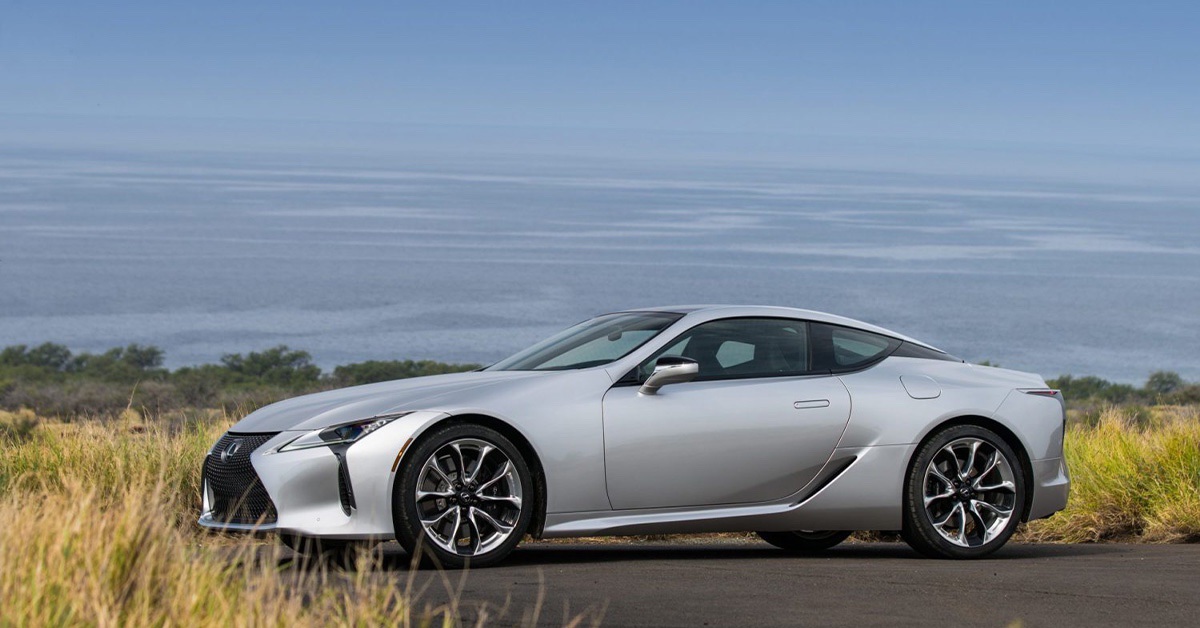 MSRP: $93,050 USD
The Lexus LC500 is a luxury GT from the brand's 2022 lineup that knows how to pique the interest of car enthusiasts of all ages, even those with more "sustainable" tastes, thanks to its exciting powertrain options, including a hybrid version.
You can get a hefty V8 engine with 467 horsepower and 398 lb.-ft. of torque mated to a ten-speed automatic transmission or the most refined and efficient alternative, yet less powerful, hybrid LC 500h. The latter combines a 295 horsepower 3.5-liter V6 gasoline engine with an electric motor for a total output of 354 horses, paired with a CVT and a four-speed automatic transmission that, combined, simulate the feeling of 10 gears.
The optional active four-wheel steering allows the rear wheels to turn slightly, in the opposite direction to the front wheels at low speeds, giving increased agility, and in the same direction at high speed for increased stability. The result is excellent steering response, accurate to the driver's inputs, with a prominent feeling of rear tire grip and instantaneous response in high-speed cornering that gives a greater sense of security.
The LC 500 is more communicative and engaging to drive but perhaps not quite as balanced in the corners as a pedigree sports car.
Volvo Polestar 1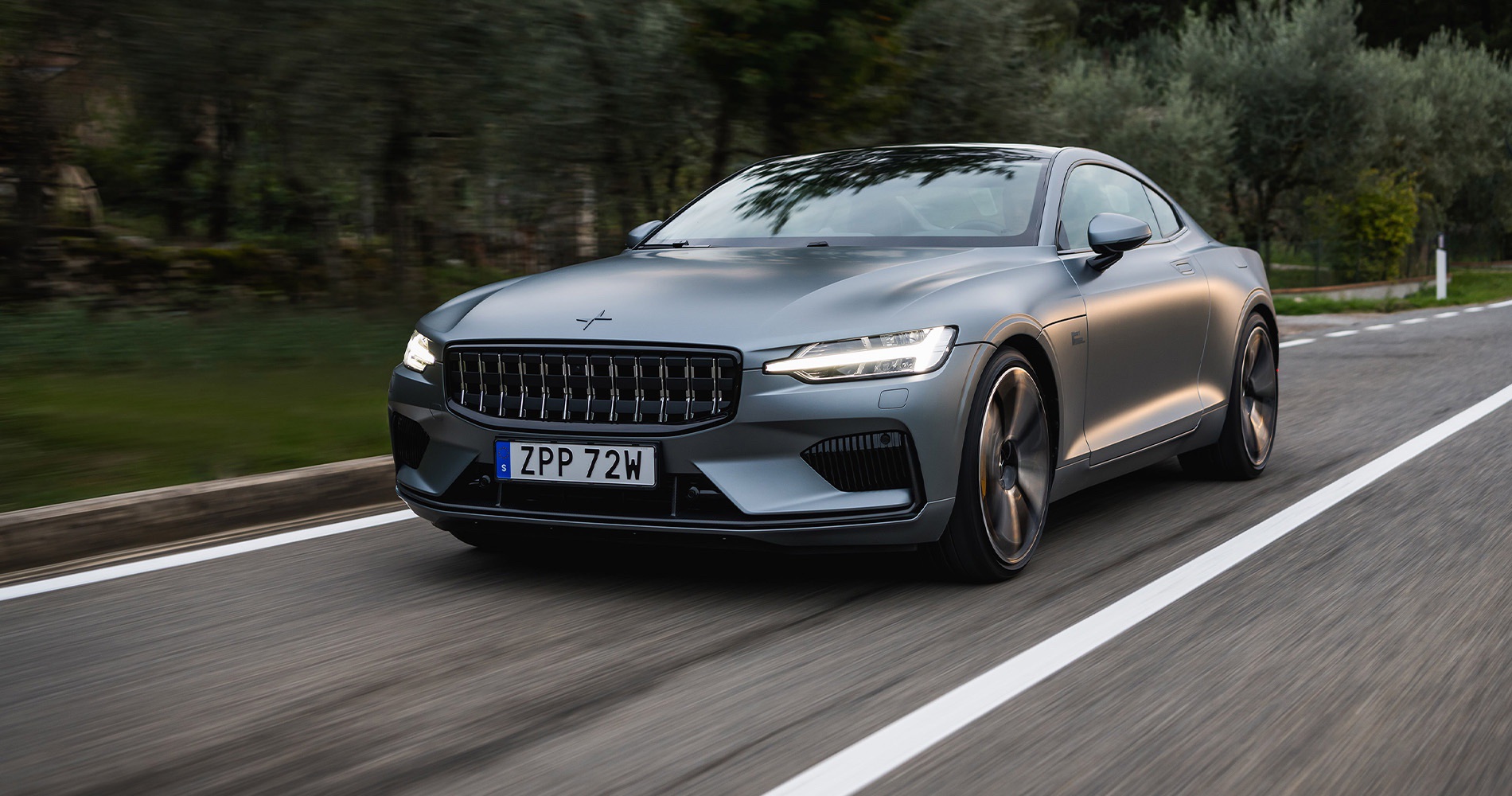 MSRP: $156,500 USD
In 2019, the production of a Swedish car with exceptional capabilities and technology began. This vehicle showed the world what Polestar could do as an independent Volvo brand. And although Volvo is discontinuing the Polestar 1 in 2022, you can still get your hands on this fantastic plug-in hybrid.
The Volvo Polestar 1 is a 2+2 plug-in hybrid luxury GT with a powerful propulsion system that delivers a range in an electric mode of around 77 miles, according to the WLTP protocol.
The car is built on a carbon-fiber monocoque, giving it remarkable dynamic abilities. In addition, it comes with adjustable Öhlins shock absorbers and Akebono brakes with six-piston calipers. Still, given its 5,180 pounds, Polestar engineers had to develop a proper propulsion system that could be up to the task. The result of Polestar 1's engineering work is the car's 2.0-liter four-cylinder engine paired with electric motors on the rear axle. This power unit generates 609 horsepower and 737 lb.-ft. of torque.
Another highlight is its two battery packs totaling 34 kWh, which delivers the most extended electric range of any plug-in hybrid vehicle. It also features torque vectoring, all-wheel-drive, and 21-inch wheels mounted on Pirelli P Zero tires.
Mercedes-AMG GT 63 S E Performance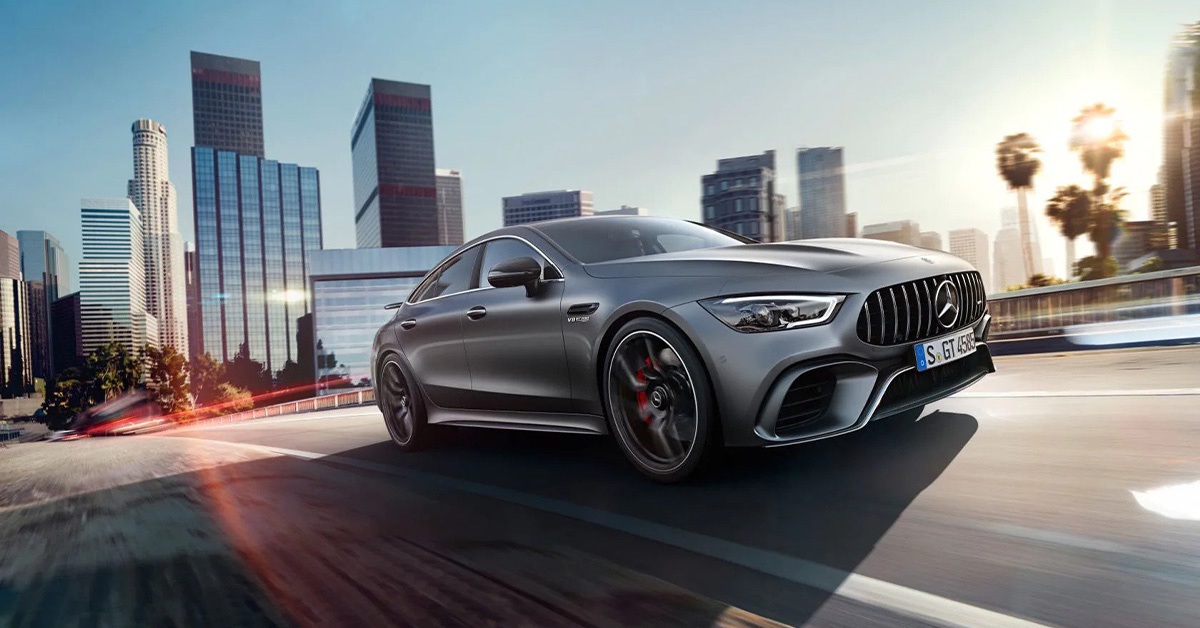 MSRP: $221,888 USD
When Mercedes-AMG introduced their hybrid GT 63 S E Performance, they made it clear they were after raw power with performance numbers that would blow everyone's mind but with an "eco" label.
This results from its mighty gas engine, a 4.0-liter biturbo V8 that produces 630 horsepower and 663 pound-feet of torque mated to an electric motor that adds another 201 horses to the rear axle and 236 lb-ft of torque for stretches of up to ten seconds.
The combined output is a staggering 831 horsepower and 1,032 pound-feet of torque, most of it available from startup. A nine-speed automatic transmission controls the gas engine while the electric motor is mated to a two-speed transmission.
Its battery is only 6.1 kWh, which looks small next to an EQA (65 kWh) or other plug-in hybrids from Mercedes, such as the GLC (13.5 kWh). Still, the Mercedes-AMG GT 63 S E Performance doesn't pursue significant electric range figures. Instead, it has a battery small enough to avoid unnecessary weight but large enough to power its high-performance electric motor.
It's worth highlighting that the battery technology featured in the Mercedes-AMG GT 63 S E Performance was born in the Mercedes-AMG Formula 1 team, just like the Mercedes AMG One.
Porsche Taycan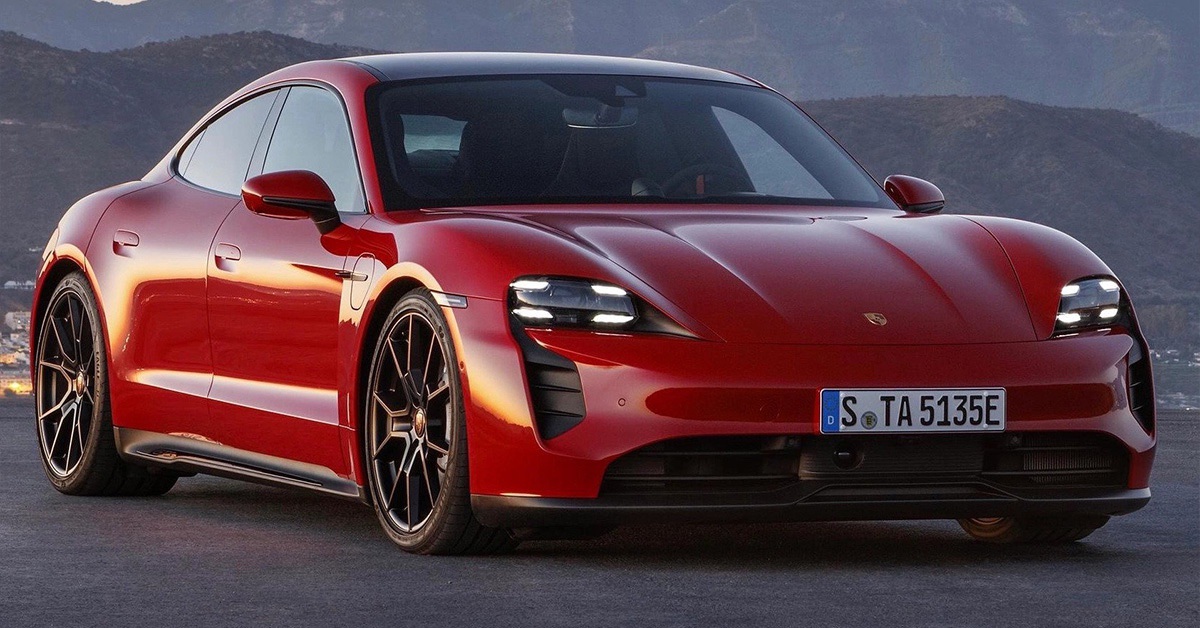 MSRP: $84,050 USD
It's no secret that Porsche has bet heavily from the beginning with the Taycan EV, and the move has paid off so far. For 2022 the Stuttgart automaker introduced some changes for the Taycan 2022, including an improved range in daily use.
Although there's no homologation for new consumptions for the updated 2022 version of the Taycan, the range values do not vary according to the Worldwide Harmonized Light Vehicle Test Procedure (WLTP).
However, the new Taycans have a more extended range in daily use thanks to technological improvements. For example, when throttle demand is low, the front electric motor on all-wheel-drive variants is almost fully decoupled in Normal and Range modes. Likewise, neither axle receives power when the car is coasting or stationary.
This freewheeling function reduces losses resulting from friction. For instance, if the driver demands more power or changes the driving mode, the motors activate in milliseconds.
The 2022 base Porsche Taycan puts out 402 horsepower and 254 lb.-ft. of torque from its 79.2-kWh battery pack and permanent-magnet synchronous electric motor that sends all the power to the rear axle. If these numbers do not suffice, you might want to look at the most powerful Taycans, the Turbo and Turbo S.
McLaren GT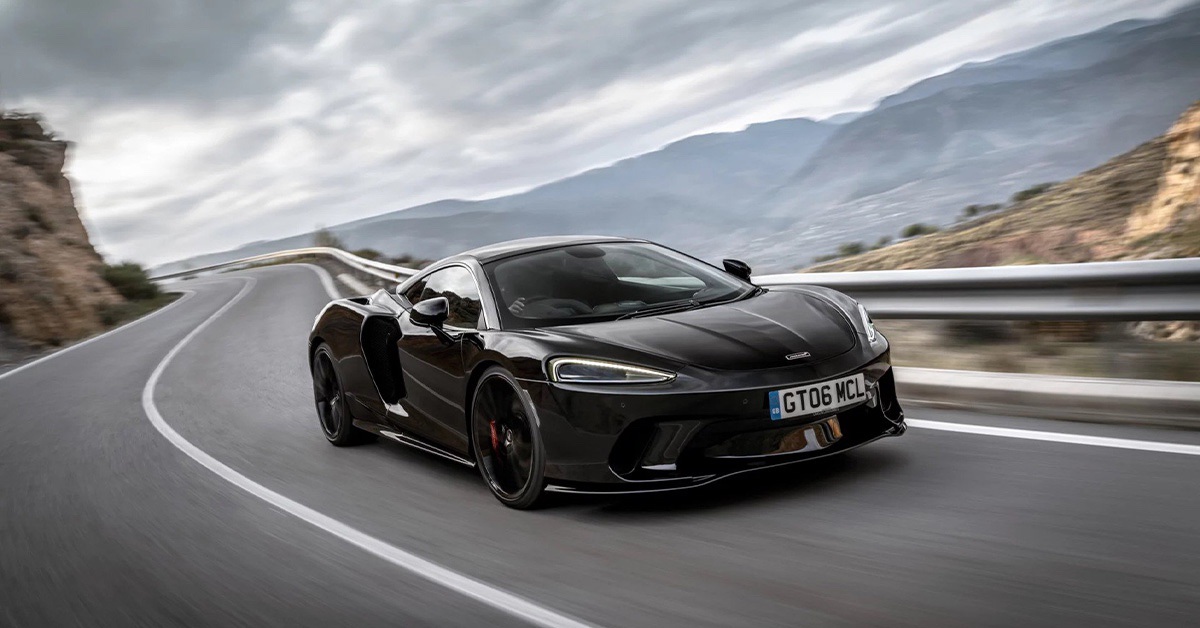 MSRP: $213,195 USD
The McLaren GT checks every box required to be a supercar. It has a V8 twin-turbo engine placed in a central position, producing 620 horses and 465 lb.-ft. of torque sent to the rear wheels. It has a carbon monocoque chassis and is also a strict two-seater. Still, McLaren claims the GT is the most comfortable and stylish road-going McLaren ever made. And we couldn't agree more.
The McLaren GT was born to satisfy a type of customer looking for the sportiness that the models of the British brand have always displayed, but without giving up class.
The design of the McLaren GT follows the lines of the MP4-12C that Frank Stephenson drew 11 years ago, but the GT has its own personality. Overall, the GT is the most discreet car in the current McLaren lineup, if there's such a thing as a 'normal' McLaren. In addition, the front is powerful without taking it to the extremes of other McLarens, such as the Elva.
For all it offers, McLaren is correct, and its GT is a stately, exclusive, and luxurious Gran Turismo. A car with an undeniable behavior halfway between the bourgeois on the highway and the sporty in curves, surprising agility for its approach and devilish acceleration.
Ferrari GTC4 Lusso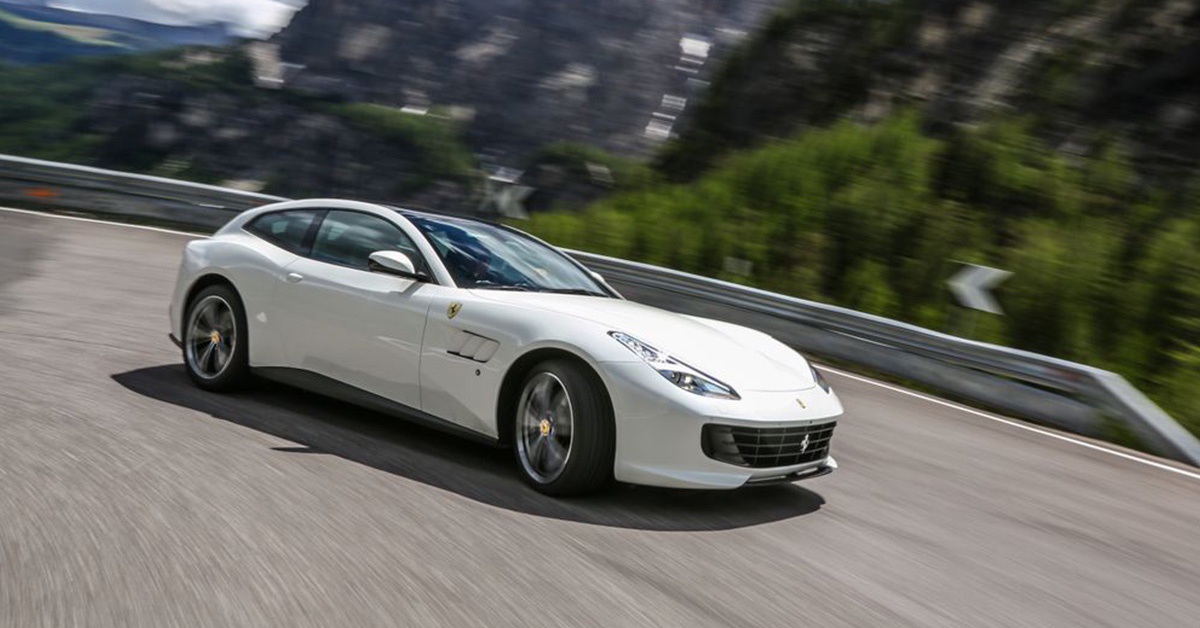 MSRP: $ $301,650 USD
The Ferrari GTC4 Lusso is a serious monster outside of personal aesthetic opinions. Beneath that hatchback-like body sits a 6.3-liter V12 that produces 690 bhp and 514 lb.-ft. of torque and a high-pitched howl of over 8,000 rpm.
The model that most represents usability and practicality in the Ferrari lineup is a car that people configure to go unnoticed. So, if you find a GTC4 Lusso on the street, it may be black or silver and not very flashy.
The Ferrari GTC4 Lusso features a mighty, naturally aspirated V12 engine that combines power with efficiency delivering a great soundtrack. The sound emanating from the V12 excites high-performance driving but is also discreet and harmonious in everyday driving.
Crafted by the Ferrari Design team, the GTC4 Lusso features the refinement of the classic shooting brake lines but is reinterpreted in a highly aerodynamic way to give it a powerful silhouette, almost like a fastback.
Underlining the strong ties between Ferrari's engine division and the world of motorsport, the V12 can reach redline at a class-leading 8,250 rpm. This gives the car an excellent response at low revolutions and makes it incredibly versatile. As a result, the GTC4 Lusso feels comfortable in sporty driving and GT-type contexts, such as long road trips.
Bentley Flying Spur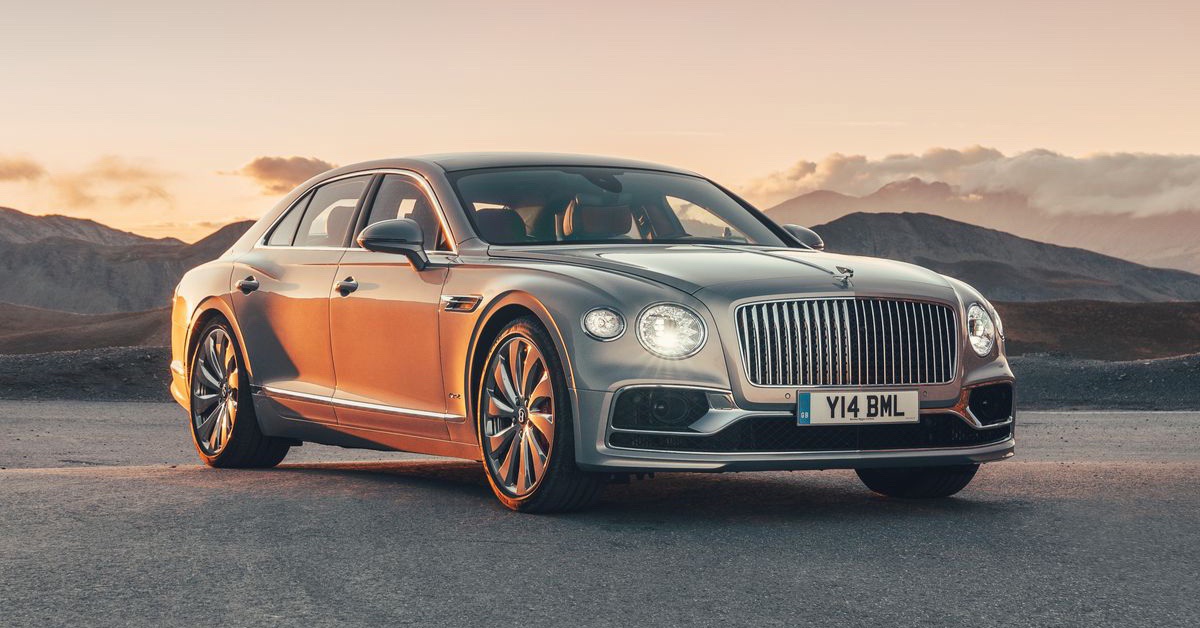 MSRP: $200,825 USD
Designed and hand-built at Bentley's home in Crewe, England, the Bentley Flying Spur also embodies the design language seen on the Continental GT to become Bentley's 'small' four-door limousine. As a result, the Flying Spur combines breathtaking performance with majestic luxury and refinement.
Bentley's Flying Spur is one of the British automaker's most technological and safest models, thanks to its aluminum chassis, four-wheel drive, and driver assistance features. This results in a vehicle with a unique combination of luxury, performance, and state-of-the-art technology.
The Bentley Flying Spur's infotainment system features a massive 12.3-inch touchscreen borrowed from Porsche, making it one of the best of its kind. Built-in sat-nav, Bluetooth, DAB radio, Apple CarPlay, and Android Auto are all included.
The heart of the new Flying Spur is an upgraded version of Bentley's twin-turbocharged 6.0-liter W12, mated to an eight-speed dual-clutch transmission for quicker, smoother shifts. This TSI engine offers 626 horsepower and 664 pound-feet of torque.
And like all Bentley models, the Flying Spur has a beautiful interior finish with the finest wood and leather trim, so it can carry occupants in absolute comfort at high speeds.
Rolls Royce Dawn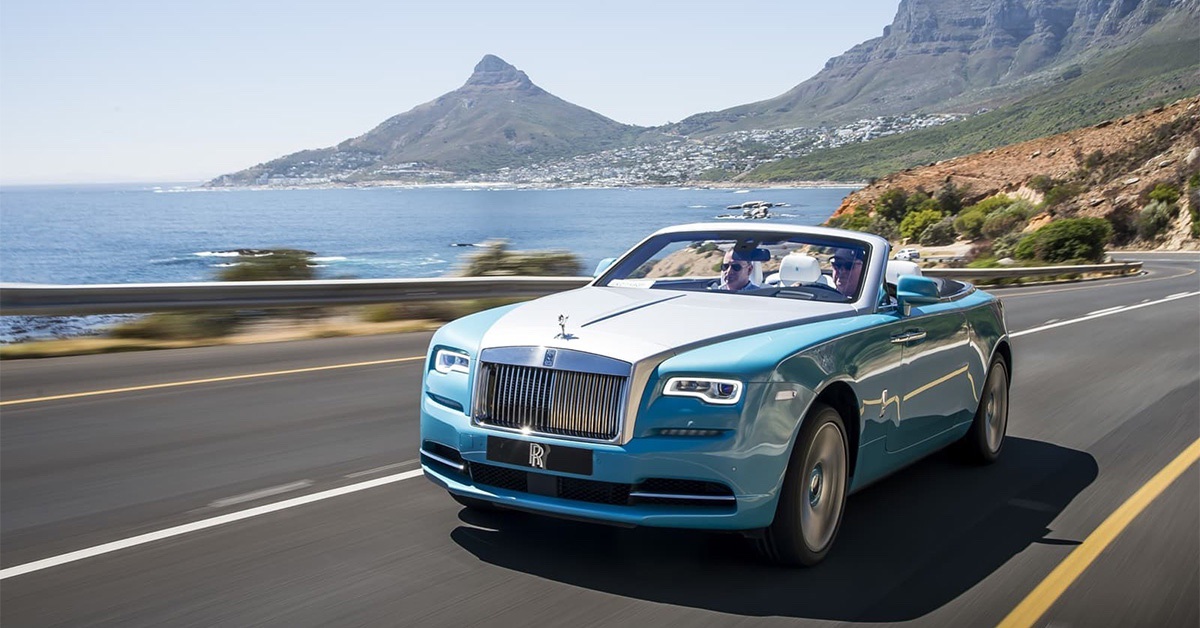 MSRP: $359,250 USD
The Rolls-Royce Dawn is the super-luxury convertible from Rolls-Royce. It is a variant developed on the Rolls-Royce Ghost that defends the convertible alternative to the Rolls-Royce Wraith.
The brand insists the Dawn is a true four-seater, not a 2+2, to reaffirm its status as a GT fit for four adults. Of course, the Dawn carries all the characteristics of any other Rolls-Royce car, like ultra-comfort, luxury, and a mighty powertrain but with a soft folding top. Still, with the roof off, you might think it doesn't look as refined and supreme as its siblings; nevertheless, this car is a mobile monument to luxury.
Rolls Royce introduced the Dawn for the 2016 model year and effectively replaced the Phantom Drophead Coupe in their lineup. The result is a customizable car with a beautifully designed body and exceptionally luxurious interior.
The Rolls-Royce Dawn is one of the most powerful luxury convertibles of the moment (see Rolls-Royce Dawn test), along with the Bentley Continental GT Convertible and the Mercedes-AMG or Mercedes-Maybach S Cabrio. Its engine is a 6.6 V12 twin-turbocharged, which develops 563 horsepower and torque of 575 lb.-ft.
Porsche Panamera (All Models)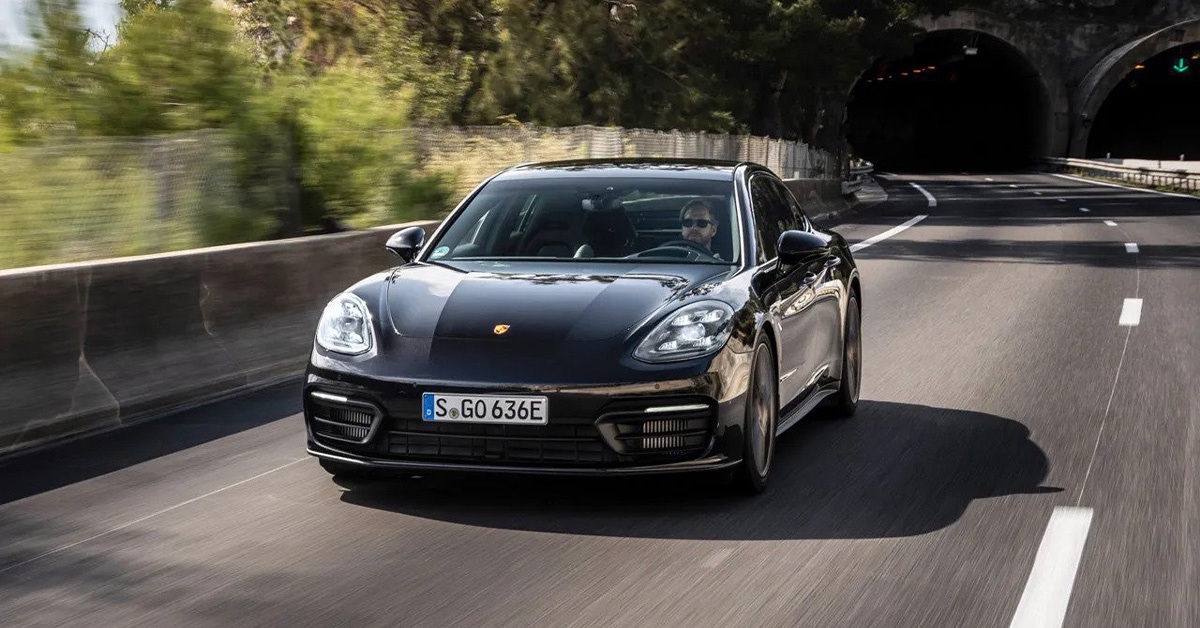 MSRP: $105,000 USD (E-Hybrid) / 201,550 USD (Panamera Turbo S)
With the new Panamera, Porsche continues delivering a unique mix of opposing concepts: the Panamera lineup combines the performance of sports cars with the comfort of luxury executive sedans.
The new Panamera is a sports car that defies conventional and goes for something new and challenging: power with four doors, power with remarkable comfort, power with greater efficiency, and, of course, power with the bold character of any Porsche.
Porsche's new Panamera is available in a trio of plug-in hybrids. The top of the range is the Panamera Turbo S E-Hybrid with 690 horsepower and 641 lb.-ft. of torque. This version combines a 3,996 cubic centimeter twin-turbocharged V8 engine that delivers 563 horsepower (420 kW), plus a 134 hp (100 kW) electric motor. In addition, its electric range increased by up to 30 percent thanks to a new 17.9 kWh battery and optimized driving modes.
The other two plug-in hybrids available benefit from the well-known 2,894 cubic centimeters V6 biturbo engine, which in the case of the Panamera 4S E-Hybrid offers a total system power of 552 horses (412 kW). It provides 456 horsepower (340 kW) in the Panamera 4 E-Hybrid.
Aston Martin Vantage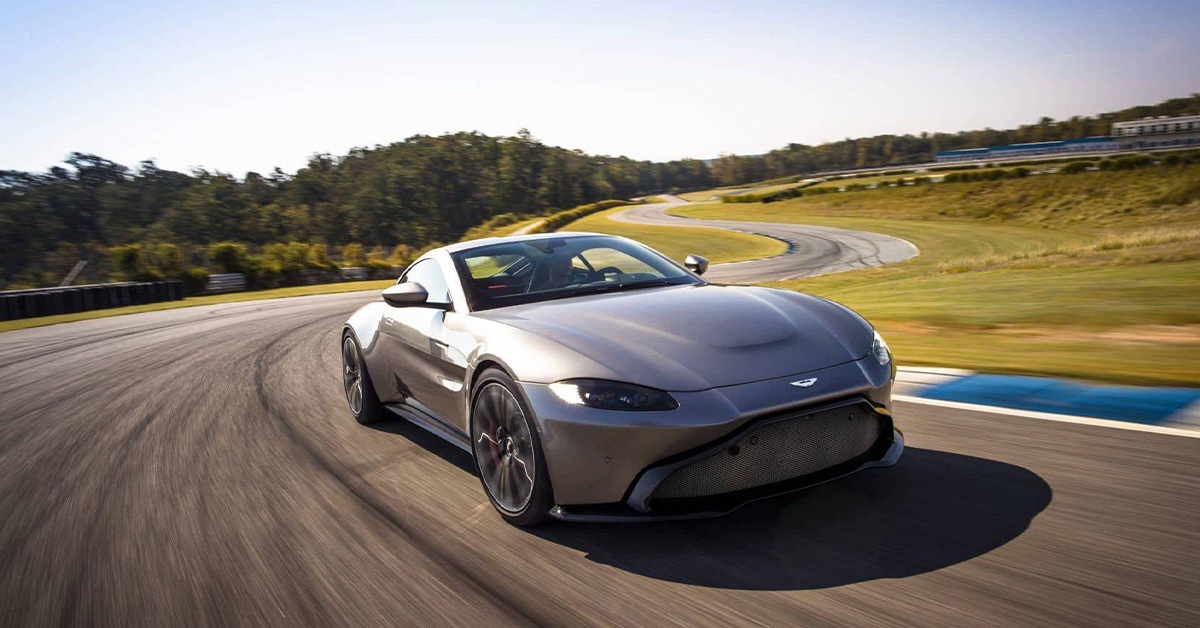 MSRP: $142,086 USD
Aston Martin is a manufacturer dedicated to conveying exclusivity to its customers. And to achieve this, it's necessary to maintain a defined style capable of being renewed—precisely what they did with the current Aston Martin Vantage V8.
The Aston Martin Vantage V8 is a car with balanced lines. Inside, the combination of elegance and sportiness offers the elements to get the most out of the car's performance. In this aspect, the Vantage delivers fun for race track enthusiasts without giving up a comfortable driving experience for a ride around town like a proper grand tourer should.
Under the hood of this British rear-wheel-drive GT lies a 4.0-liter twin-turbocharged V8 engine with 503 horsepower and 505 lb.-ft of torque paired with an eight-speed ZF automatic that translates into an excellent response. Additionally, the Vantage offers speed and curve stability, so whether you take it for a ride or want to put it to the test on a track, the Vantage will perform at its best every time.
For some, the only complaint in performance has to do with the gear shifts, because especially when moving from first to second speed, the car feels stiff—but this does not significantly impact the experience that Aston Martin offers its customers.
BMW M8 Competition Gran Coupe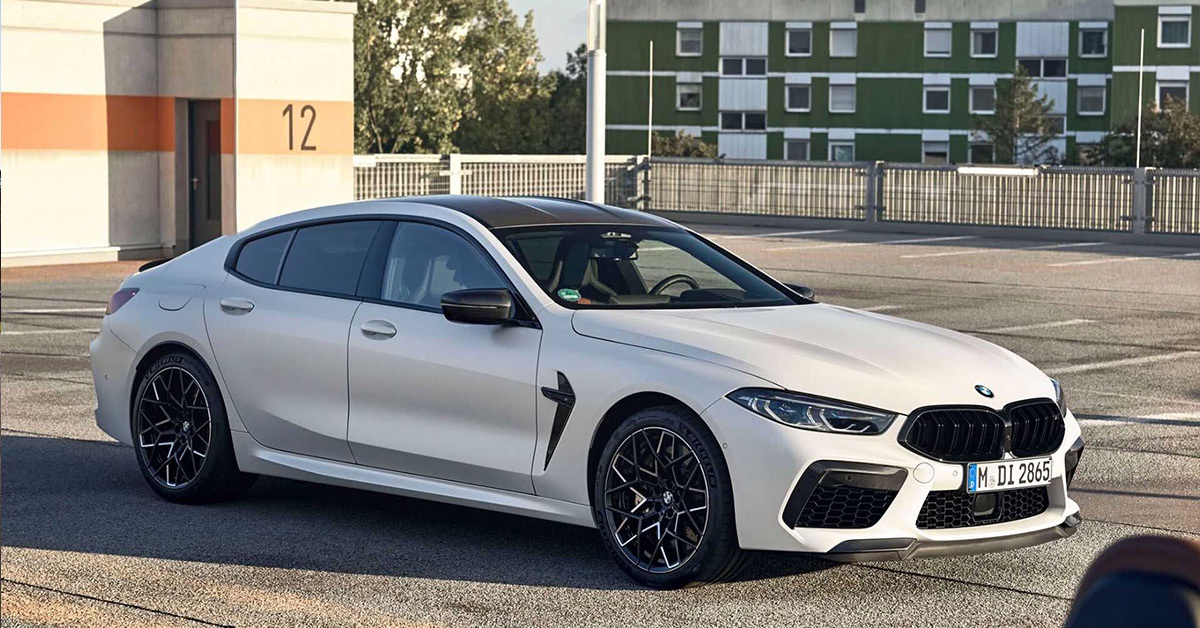 MSRP: $131,995 USD
The BMW M8 Competition Gran Coupe 2022 is the most spacious option of the German brand's most luxurious and technologically advanced model. It received a restyling in January 2022 with several cosmetic changes on the outside and inside but retains the same engine lineup. As a result, the BMW M8 Competition Gran Coupe 2022 is essentially a renewal of the 2020 model but with an extended body.
Among its rivals are three other German cars: the Audi RS 7 Sportback, the Mercedes-AMG GT 73 4-door Coupe, and the Porsche Panamera Turbo. In fact, because of its level of power, the Panamera Turbo S E-Hybrid can even be considered an alternative.
In the performance department, the BMW M8 Competition Gran Coupe 2022 relies on the well-known 4.4-liter V8 twin-turbo that produces 625 horses and 553 lb.-ft. of torque. An electronically controlled multi-disc clutch provides the torque distribution between the axles.
The active M differential distributes the engine's power between the rear wheels. The xDrive all-wheel-drive system is the same as the BMW M5 and prioritizes traction on the rear axle. In addition, we have at our disposal a 2WD mode to turn the 2020 BMW M8 Competition Gran Coupe into a genuine muscle car.
Bentley Continental GTC S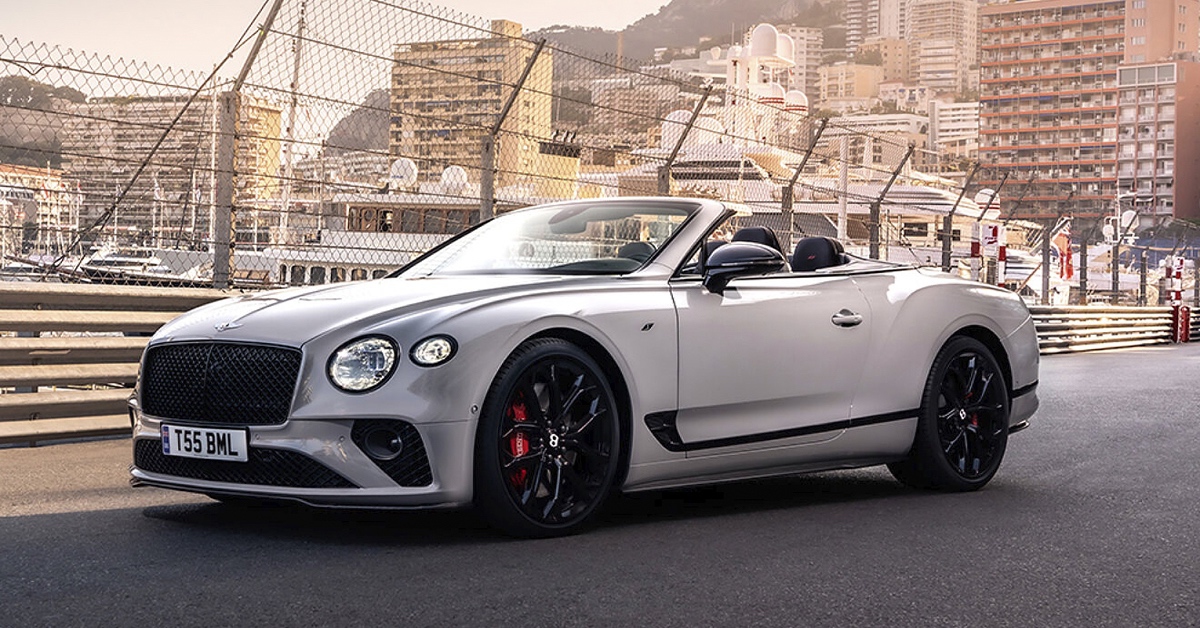 MSRP: $277,625
The Bentley Continental GTC S expands on the sporty 'S' range we know from the Bentayga and Flying Spur by adding a suite of enhancements focusing on sporty styling and driving pleasure.
The aesthetic traits include gloss black exterior elements, black chrome grille, black headlight, and taillight bezels, side inserts, diffuser, quad exhaust pipes, and the S badge on the front fenders.
The interior features two-tone upholstery specific to these models. It combines Dynamic upholstery on the steering wheel, gear lever, seat cushion, and backrests with Bentley leather on the seat cushions, doors, instrument panel, and center console.
The sports seats have optional padding and can be embroidered with the S emblem or the Bentley emblem on the head restraints. Illuminated running boards, new graphics for the screen, and the S badge on the dashboard are also new. Under the hood rests the V8 engine without modifications.
It's a 4.0-liter twin-turbocharged V8 that produces 550 hp and 568 lb.-ft. of torque. This allows the models to go from 0 to 60 mph in just 4.0 seconds. In addition, the sports exhaust includes new features that accentuate the car's exquisite sound. Also standard is the Bentley Dynamic Ride 48V active anti-roll system.
Rolls Royce Wraith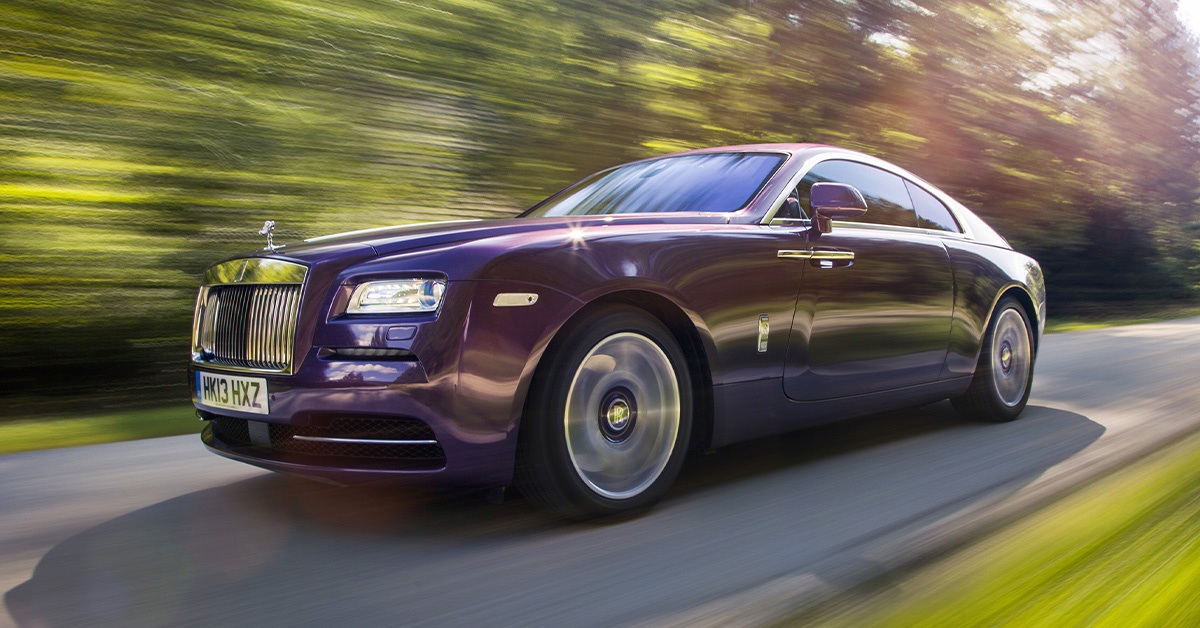 MSRP: $340,000
A perfect balance between elegance and sportiness. The Rolls-Royce Wraith is full of details that ratify its exclusivity beyond its price. Although it was one of the brand's most ambitious and transgressive models when it debuted at the Geneva Motor Show in 2013, by 2023, Rolls Royce will cease production of the Wraith. However, this has only increased the personality and legend of this jewel on wheels.
The model went down in history for being the most powerful, fastest, and most dynamic model in the Rolls-Royce lineup. A 6.6-liter, 624 hp V12 engine with 605 lb.-ft. of torque propels this luxury GT and allows it to go from 0 to 60 mph in just 4.5 seconds with an electronically limited top speed of 155 mph. The engine is mated to an eight-speed satellite-aided automatic transmission. This way, the computer analyzes the driving and road conditions to select the right gear.
Additionally, its exterior shape is more fluid, dynamic, and contemporary than the models in the Rolls-Royce range, closer to sportiness without sacrificing elegance. Inside, the materials are of the highest quality: the best leathers, the best woods, the best metals, virgin wool rugs, and hand-sewn seams. It even has a compartment that comes with an umbrella.
Lotus Evora GT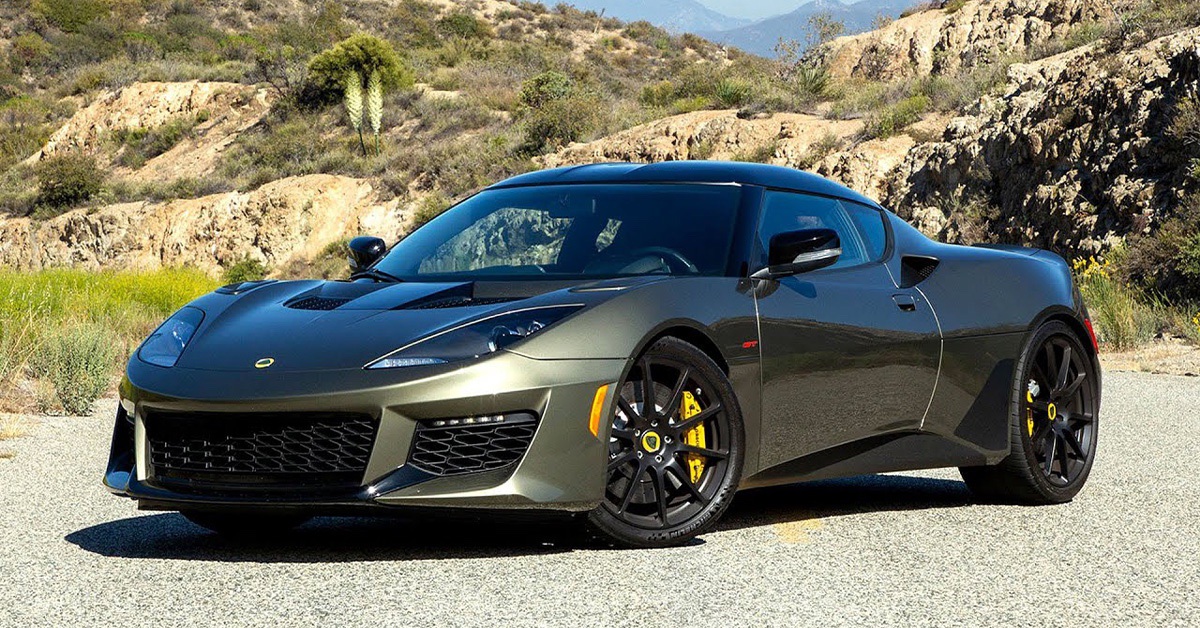 MSRP: $133,000
Driving the 2022 Lotus Evora GT is a medieval experience compared to other modern mid-engined sports cars. Yet that's precisely what's so special about the Evora GT.
While the Porsche 718 Boxster and Cayman are fantastic to drive and more feature-rich, the Evora GT is more rewarding for drivers who prefer a rawer experience. With its supercharged V6 and primary controls that sync up with a superb chassis, the action behind the wheels is visceral.
While the Evora GT's interior isn't laden with frills, and its hefty starting price can go even higher with options, this is a machine made to excite the senses rather than make perfect sense.
Its mid-mounted supercharged 3.5-liter V6 Toyota-sourced engine generates 416 horsepower and 317 lb.-ft of torque in the manual version. The automatic increases torque to 332 lbs. This power is channeled to the rear wheels and a limited-slip differential to improve traction. The car launches from 0 to 60 mph in 4.0 seconds and runs the quarter mile in 12.4 seconds at 111 mph.
The Evora GT rides on 19-inch wheels up front and 20-inches in the rear wrapped in a set of super sticky Michelin Pilot Sport Cup 2 tires.
Ferrari 812 GTS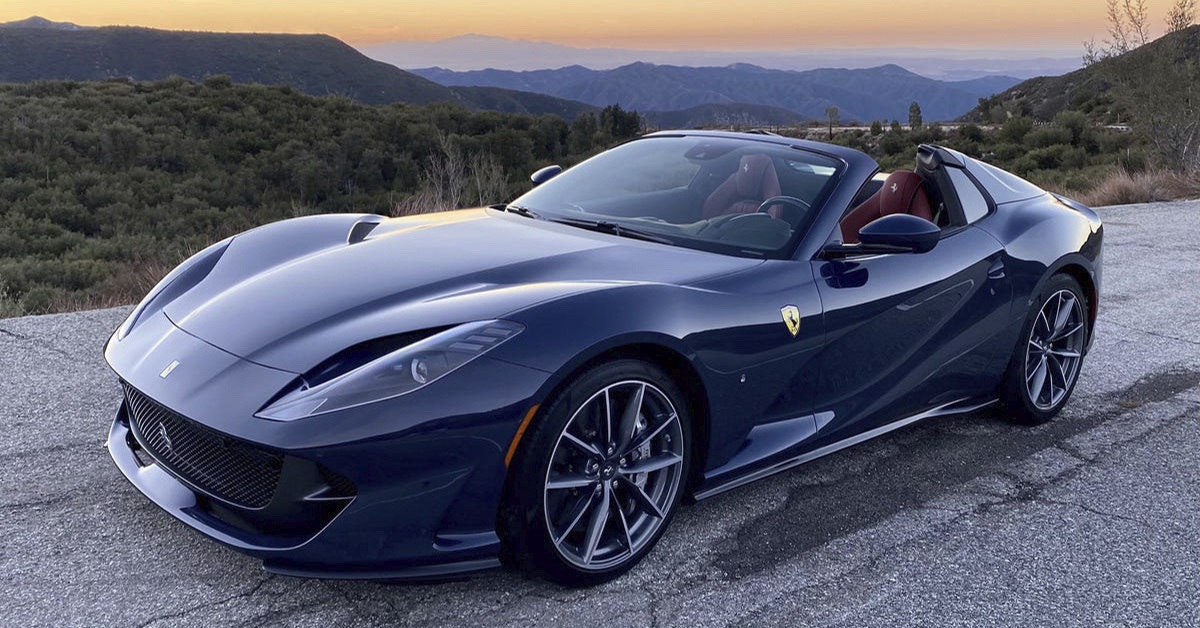 MSRP: $404,494
The Ferrari 812 GTS is an 800-hp convertible supercar based on the Ferrari 812 Superfast. These 812 series are the most powerful in history and represent the top of the brand's range.
The 812 GTS comes with a high-performance GT configuration. Moreover, it is the only exponent of V12 engines in the brand's current lineup. So technically, the Ferrari 812 GTS has no direct rivals as no car comes close to this power with a V12 setup.
Inside we find a simple and absolutely racing classic Ferrari cabin with a large central tachometer behind the steering wheel (with manettino) accompanied by several digital screens. The roof's folding process takes 14 seconds and can be done on the move up to 28 mph.
This Ferrari mounts a V12 engine that develops 800 horsepower and a torque of 530 lb.-ft. of torque., incredible figures for a naturally aspirated engine of 6.5 liters of displacement. Its trans-axle architecture allows a perfect distribution of masses between both axes.
The Ferrari 812 GTS has 4-wheel steering and the first electric steering assistance in the brand's history. Despite being rear-wheel drive, the car can go from 0 to 60 mph in less than 2.9 seconds and reach a top speed of 211 mph.
Audi RS 7 Sportback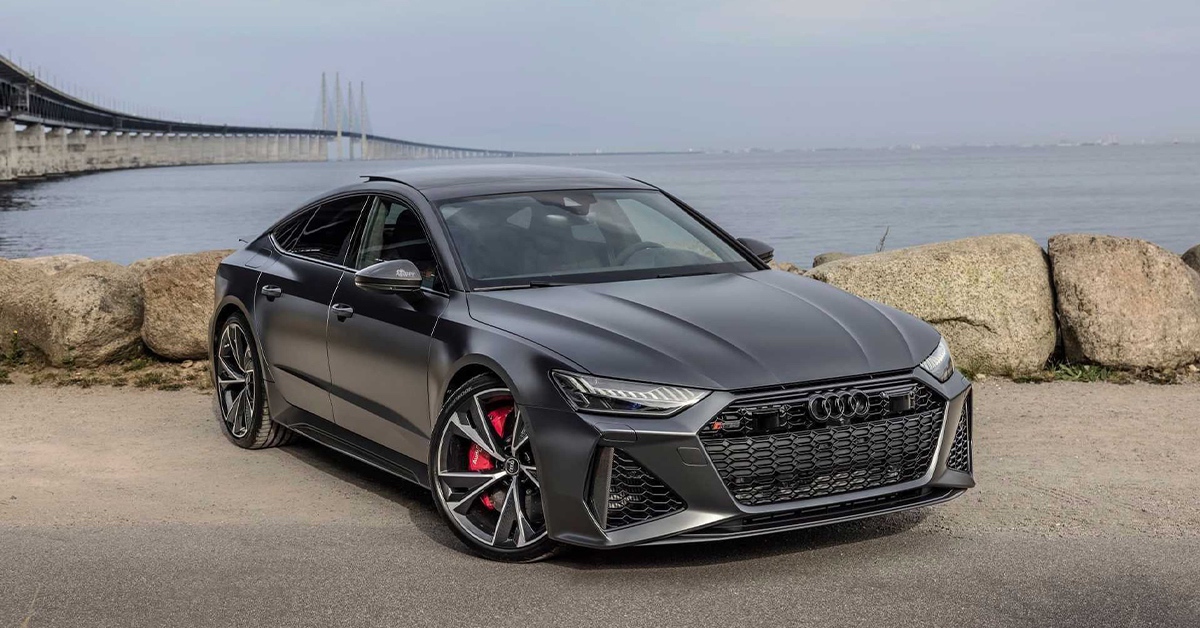 MSRP: $119,595
When it comes to sports cars with room for four people, there aren't too many options. One is the Audi RS7. The RS 7 Sportback promises an exciting experience for five passengers. Audi combines the elegant design lines with the brute force of the 4.0-liter V8 twin-turbo mild hybrid engine, quattro, 600 hp, and 590 lb.-ft of torque.
This engine allows the RS 7 Sportback to go from 0 to 60 mph in 3.6 seconds, and with the optional dynamic plus package, it reaches a top speed of up to 189 mph.
The new Audi RS 7 Sportback is equipped with surrounding cameras, intersection assistant, a dual-circuit braking system for front and rear axles, RS adaptive air suspension, and progressive steering for enhanced safety on all journeys.
It has an exclusive and spacious interior for five occupants and a boot capacity of 535 liters. It allows you to experience the fascination of grand sports tourism accompanied by your family or friends, comfortably facing life's daily challenges.
On the outside, we find a widened body, characteristic RS side skirts, large air intakes, progressive lighting technology, HD Matrix LED headlights, dynamic turn signals, and 22-inch alloy wheels.
Aston Martin DBS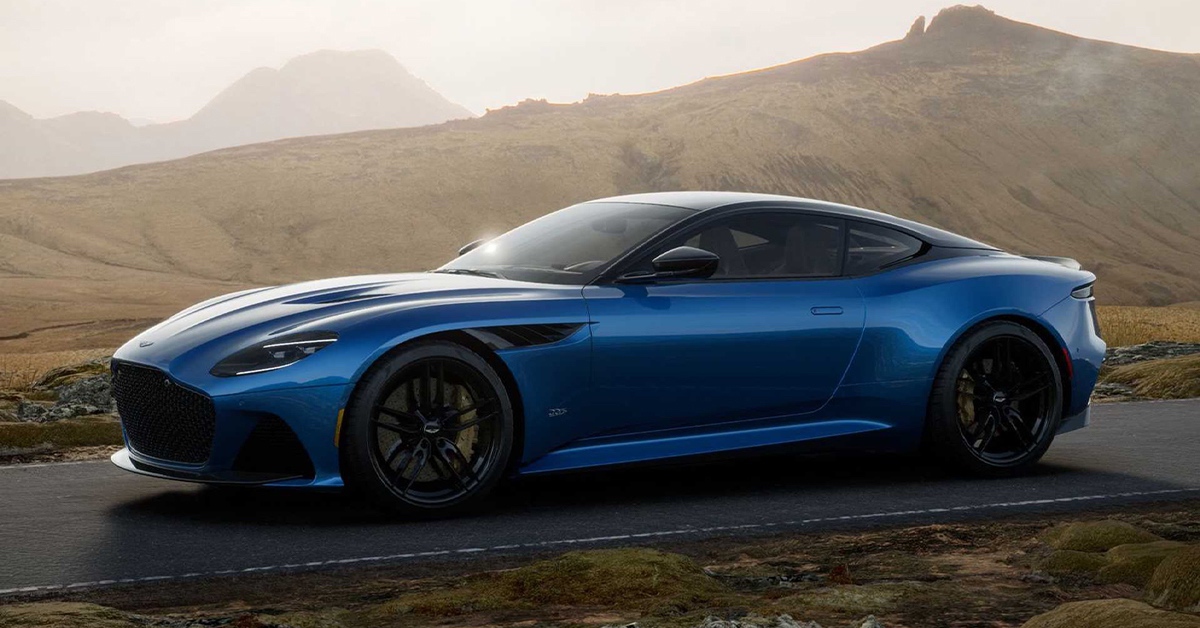 MSRP: $319,125
The Aston Martin DBS is essentially a sportiest and more exclusive version developed based on the Aston Martin DB11. Despite sharing chassis, mechanical elements, and other components with the DB11, the DBS offers a sportier and more radical vision, which allows it to be one step above in performance and focus.
Among the models that aspire to rival the Aston Martin DBS, we find supercars of the stature of the Ferrari 812 Superfast, the Lamborghini Aventador S, and the McLaren 720S.
Under the hood lies a 5.2 V12 Twin-Turbo with 725 horsepower and 663 lb.-ft. of torque. The gearbox is an eight-speed ZF, located in the transaxle position and with specific gear ratios for this version. An electronically controlled differential is also included. The suspension has a specific calibration and height for the DBS and the carbon-ceramic brake equipment that improves its performance.
Thanks to all the enhancements introduced, the DBS can go from 0 to 60mph in 3.2 seconds and reach a top speed of 211 mph. This performance improvement adds a more radical behavior and greater effectiveness, which allows the DBS to be used even on a track.
Aston Martin DB11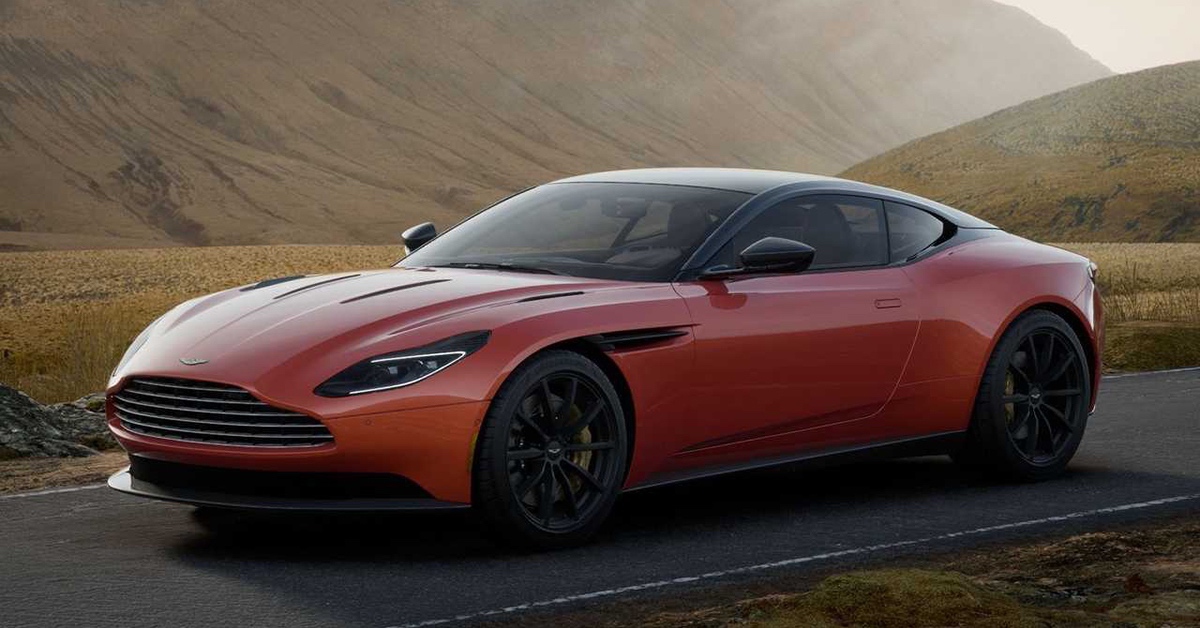 MSRP $248,986
The DB11 is the middle ground within Aston Martin's lineup, a high-performance Gran Turismo, heir to the legendary Aston Martin DB9 that helped the British manufacturer establish its reputation. It shares the same chassis with the Aston Martin DBS, body elements, and base components. Its main rivals are the Bentley Continental GT, the Ferrari 812 SuperFast, or the Rolls-Royce Wraith.
At the design level, the Aston Martin DB11 represents an evolution of what is already known from the British manufacturer, which reminds us of the Aston Martin DB10 and DBX. Its lines are sculpted with elegance and are combined with functionality and a good dose of engineering. Proof of this is the aerodynamic work of the DB11. This model does not have spoilers, but it has the AeroBlade, a rear spoiler camouflaged inside the tailgate and fed by the air that enters through intakes subtly integrated into the C-pillar.
The Aston Martin DB11 is available with two engine options. First is a large 5.2-liter V12 twin-turbo with 630 horsepower and 516 lb.-ft. of torque designed by Aston Martin. Then there's a 4.0-liter V8 twin-turbo,  developed by Mercedes-AMG that pumps out 528 horses and 513 lb.-ft. of torque. Both engines rely on an eight-speed ZF automatic transmission that debuted in the Aston Martin Vanquish.
Porsche 911 GT3 Touring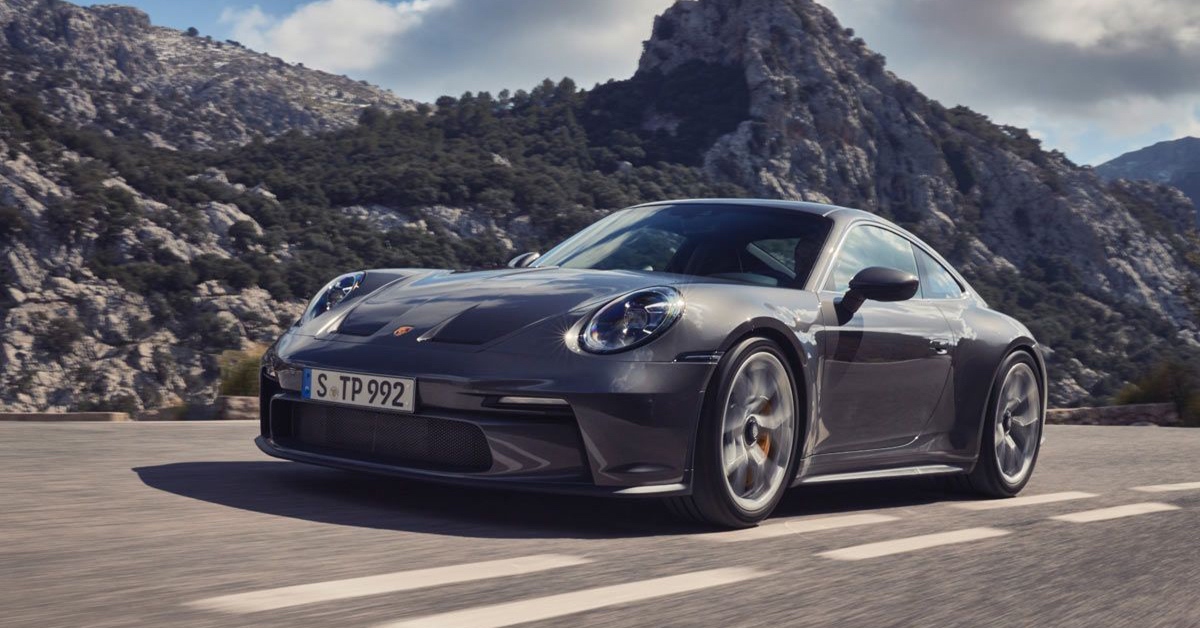 MSRP: $169,700
Lovers of sports driving and of the Porsche 911 are the most enthusiastic about this special edition of the iconic German sports car. It's called the GT3 Touring, and its naturally aspirated in-line six engine, manual gearbox, and rear-wheel drive are the perfect recipe for driving excitement.
The best way to distinguish this version is by the absence of the fixed rear spoiler that characterizes the 911 GT3 Touring, replaced by another that unfolds automatically. This is not the only novel detail on the exterior, as the Touring sports silver-colored window frame moldings made of high-gloss anodized aluminum. The front is also fully painted in body color, while the sports exhaust outlets use a silver tone.
In addition, Porsche offers glossy satin black as an option and darkened headlamps. On the technical side, Porsche relied on racing solutions such as the independent double-wishbone front suspension and the rear diffuser, which come from the 911 RSR GT.
Under the hood, the same six-cylinder boxer engine from the standard GT3 is still present: a 4.0-liter naturally aspirated engine that produces 510 horsepower and 346 lb.-ft. of torque. The engine is mated to a six-speed manual gearbox; however, a seven-speed PDK dual-clutch automatic transmission is available at no additional cost, allowing GT3 Touring to reach 60 mph in 3.4 seconds.
Ferrari Roma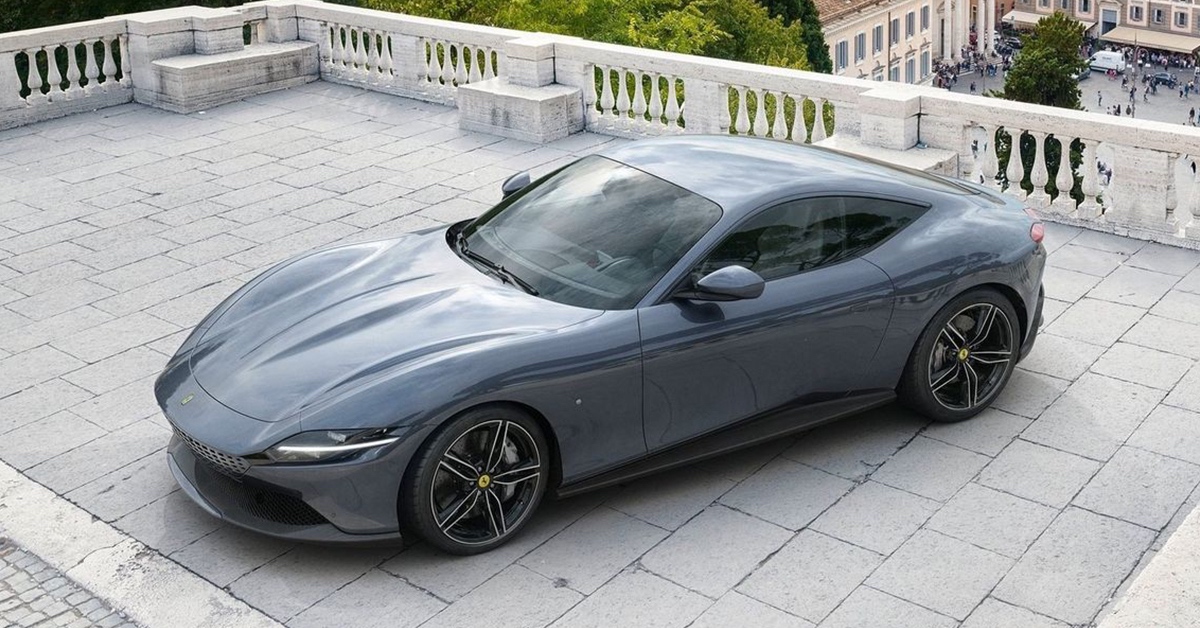 MSRP: $226,570
Many of you would agree that most car enthusiasts dream of having a Prancing Horse in their garage. And considering the vast Ferrari product portfolio, there's something for everyone.
Ferrari's current lineup ranges from access sports cars like the Portofino to extreme sports cars like the Ferrari LaFerrari. The Ferrari Roma sits in the middle, right between the in-house introductory model and the Ferrari F8. It's a high-performance Gran Turismo that allows you to travel long distances without feeling the car wants to kill you.
Like the rest of Maranello's products, the Roma is not intended for the general public. Neither its performance, heritage, nor price makes it accessible. The Roma is based on the same platform as the Portofino. Despite this, the engineers made it 440 pounds lighter than the Portofino.
The Ferrari Roma mounts a turbocharged 3.9-liter V8 engine made of aluminum that develops 620 horsepower and 560 lb.-ft. of torque. This engine is paired with an eight-speed dual-clutch automatic gearbox that sends all the power to the rear axle.
Although it is not the most performant Ferrari model, the Roma has performance figures worthy of a supercar. For example, acceleration from 0 to 60 mph is 3.4 seconds, and a top speed of 199 mph, partly thanks to a dry weight of only 3,245 pounds.
McLaren Speedtail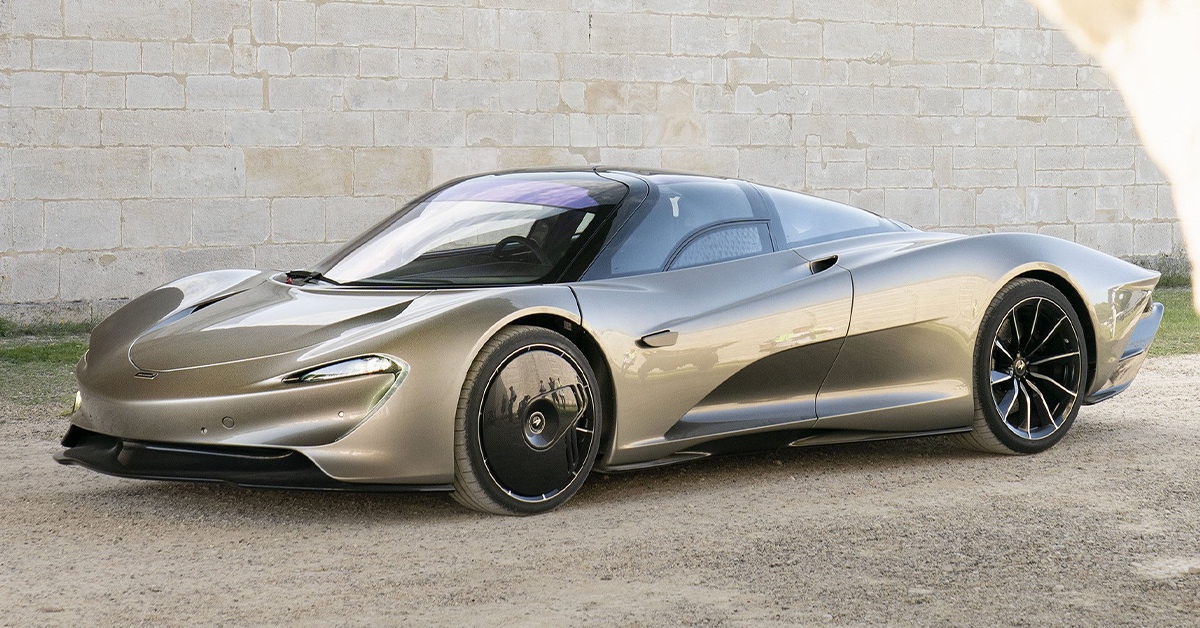 MSRP: $2,250,000
At the end of 2018, McLaren presented its engineers' spectacular interpretation of what a 'Hyper-GT' vehicle should be; the Speedtail.
Despite having very simplified (even discreet) lines, McLaren marked a milestone in automotive design with the Speedtail, disrupting a segment in a way only a few manufacturers can. In McLaren's own words: There has never been a car like the new Speedtail. The Speedtail is a fusion of art and science. This is where the McLaren design mantra "everything for a reason" comes in, and we can see it in every detail of the car. The design of this hypercar is of maximum elegance and aerodynamics.
The heart of the Speedtail is a hybrid power unit comprising a 4.0-liter twin-turbocharged V8 with parallel hybrid system eMotor that together develops 1,040 horsepower and 1,150 lb.-ft. of torque. The Speedtail can reach a top speed of 250 mph, the highest speed ever achieved by a McLaren. Furthermore, as the most powerful and aerodynamically efficient McLaren, the new Speedtail exceeds the top speed of the legendary McLaren F1 of 243 miles per hour.
The McLaren Speedtail has a curb weight of just 3,152 pounds. So, if we add that together with the immense force and torque of the hybrid scheme, we get an absolutely first-rate exercise in engineering.
Jaguar F-Type R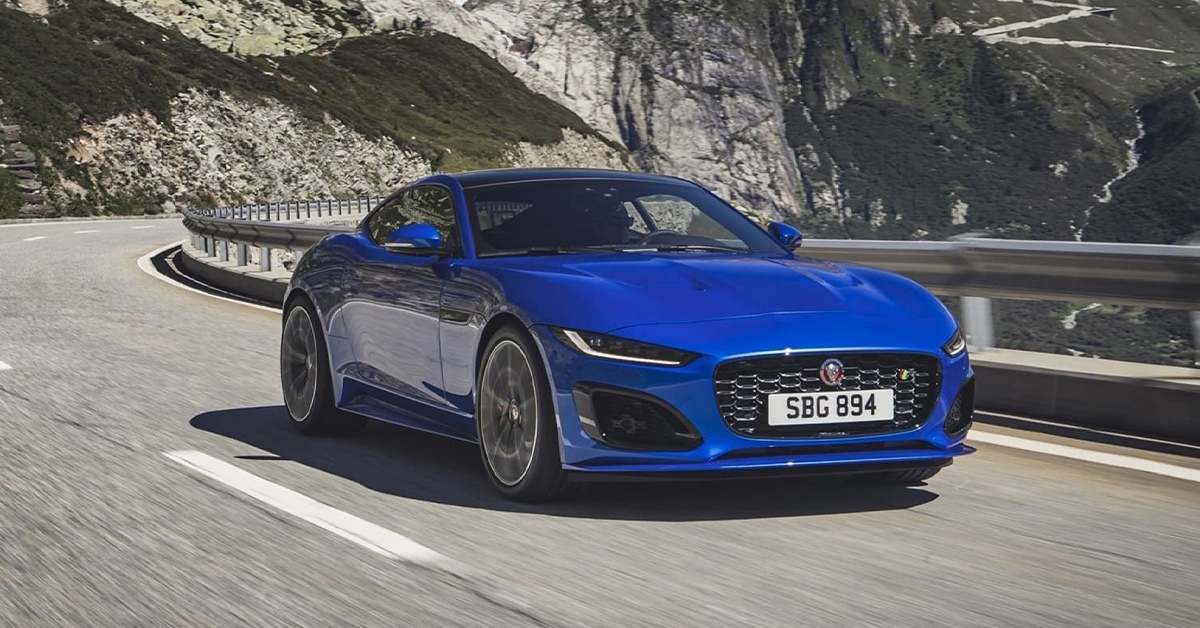 MSRP: $109,775
When the Jaguar F-Type was introduced in 2014, the automotive world praised the design exercise carried out by the brand's then Design Director, Ian Callum. As a result, the car was considered a reincarnation of the legendary E-Type, undoubtedly one of the most stylized sports cars in history.
Callum's retirement two years ago gave way to other design experts responsible for shaping the new F-Type R. Luckily, the only car part where substantial changes have been made is at the front, leaving the rear intact.
Under the hood is a 5.0-liter supercharged V8 engine, now delivering 575 horsepower and 516 lb.ft. of torque, 25 hp, and 15-pound feet, more than the previous equivalent model. We are talking about supercar territory. So much so that, to find a close rival in size and power, we have to look at the Porsche 911 Turbo, Audi R8 V10, or the Mercedes-AMG GT S. And this is precisely what Jaguar was aiming for with the Type-R—a car that would be a serious contender for those pieces of German artillery.
Also, the F-Type Now features a Quiet Start system that eliminates engine noise—although if you want it to sing, you can just activate the Sport mode (or press the sports exhaust button to make a lot of noise when starting it).
Alpine A110 GT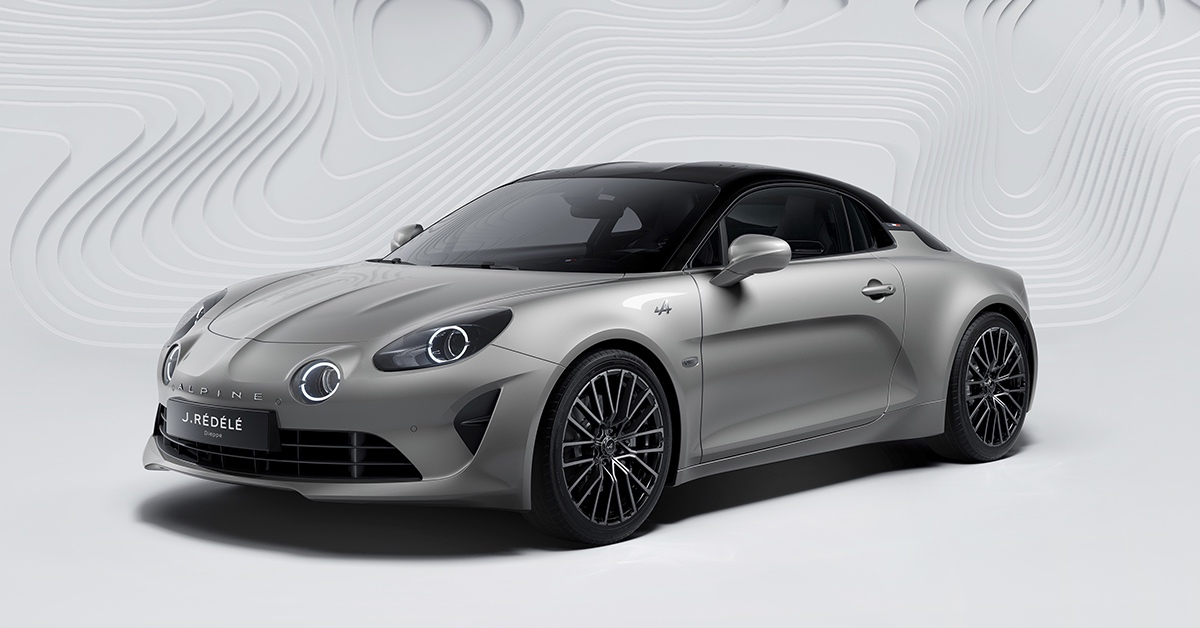 MSRP: $84,000
The A110 GT is a sportier version of the Alpine A110 model, which received an update in November 2021 with a new engine calibration to increase power.
The Alpine A110 GT is the middle ground between the conventional Alpine A110–it has 48 more horsepower–and the Alpine A110 S, which has a more comfort-oriented chassis. Based on this version, Alpine launched in May 2022 the special edition limited to 100 units called J. Rédélé, which pays tribute to the fact that the brand's founder was born 100 years ago.
The Alpine A110 GT J. Rédélé sports the Montebello Gray color on its bodywork, gloss black roof, 18-inch Grand Prix wheels, and silver brake calipers. Under the hood lies a 1.8-liter turbocharged four-cylinder engine with 300 horsepower with 250 lb.-ft. of torque, which means a gain of 48 horsepower and 15 pound-feet compared to the conventional A110.
The car goes from 0 to 60 mph in 4.2 seconds and has a top speed of 155 mph. In addition, the GT version comes with a Sport exhaust and high-performance Brembo brakes. But perhaps the most significant difference compared to the A110 S is in the suspension, which is less rigid and more comfort-oriented. On the A110 S, the coil springs are 50% stiffer.
Audi RS e-tron GT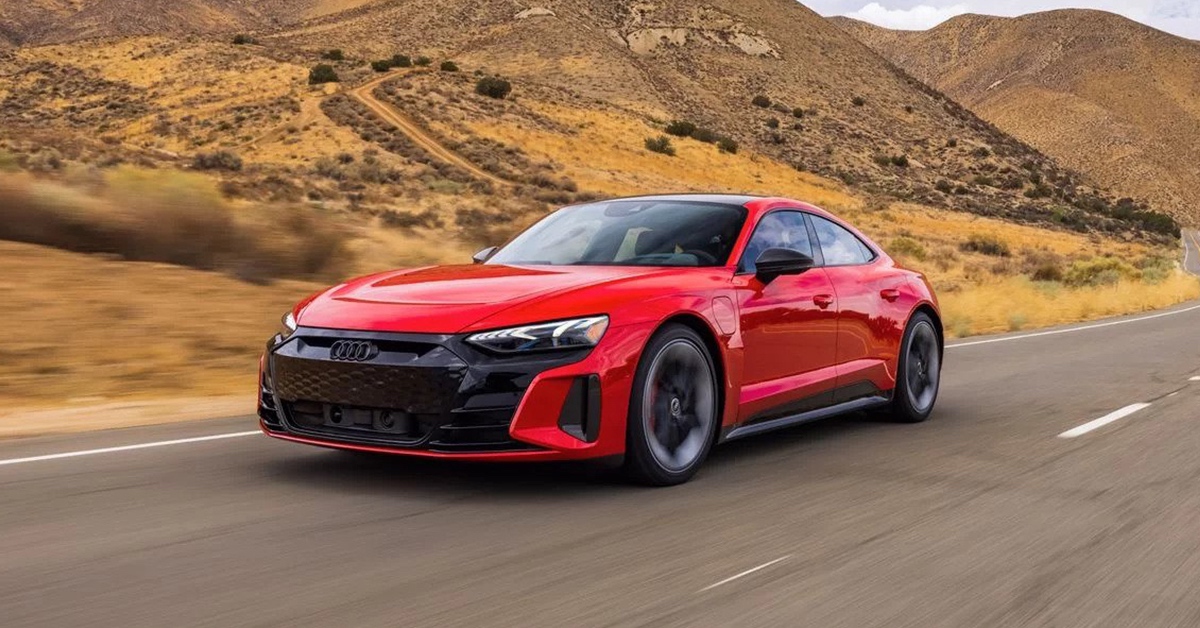 MSRP: $147,000
Within the list of car brands that will exclusively offer electric cars, there's Audi, which has started an ambitious plan for electric mobility. Initially, the German brand is confirming that the sportiness and high performance it offers through its models equipped with gasoline engines can be replicated in electric vehicles.
In fact, models like the Audi e-tron GT in its RS version are superior in power, torque, acceleration, and handling. Perhaps the only thing missing is exhaust sounds, but this will be forgotten over time.
The acceleration in the RS e-tron GT is brutal. Another example of the capabilities of this electric car is that its 598 horsepower, which momentarily rises to 646 with over-boost mode, can take it from 0 to 60 mph in just 3.3 seconds—sometimes even less.
The RS e-tron GT is not only sporty but also dynamic and comfortable. This is due to the drive mode selector that modulates air suspension, chassis stiffness, rear axle differential lock, four-wheel steering, and engine strength.
On top of its avant-garde appearance, the exterior is highly technological. Highlights include HD Matrix LED headlights with laser light, LED tail lights, and dynamic turn signals.
Mercedes AMG E53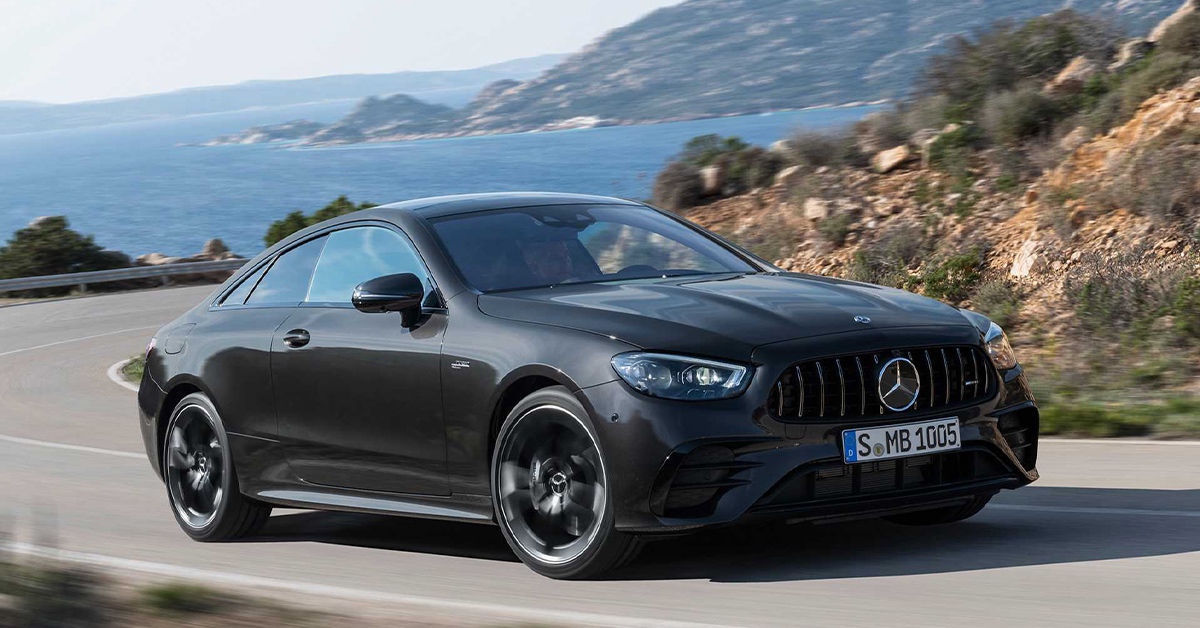 MSRP: $76,050 USD
The Mercedes-AMG E 53 Coupé and Cabriolet were updated in 2021 in design, technology, and performance to satisfy a premium customer seeking a balance between luxury and high performance.
This year, the design remains in tune with the rest of the E-Class: a front with more rounded headlights and retouched taillights with a strong AMG GT flavor. Both variants reflect the sporty treatment in a new 12-bar Panamericana grille, four exhaust outlets, and up to 20″ wheels.
One highlight of this update is the AMG Performance steering wheel with integrated performance control knobs that come with their own screen. The instruments, as expected, are fully digital. They can display information in Modern Classic, Sport, and Supersport formats; the AMG menu allows access to engine information, a gear indicator, a stopwatch, a G-force indicator, and more.
Under the hood, we find a 3.0-liter turbocharged V6 engine, generating 435 hp and 383 lb-ft. In addition, it has an EQ Boost electric generator that momentarily provides an additional 21 hp and 184 lb-ft. The set is operated through a nine-speed automatic transmission.
Another important feature to highlight is the AMG Performance 4MATIC+ all-wheel-drive system, which is fully variable to offer a high level of control on dry, wet or slippery surfaces. In addition, the electronics can distribute power equally to all four wheels or send all the power to the rear axle as needed.