As a brand, Alfa Romeo has looked to reinvent itself with a concerted resurgence in the North American markets, after a somewhat brief and unextraordinary appearance in the later half of the 20th century.
This movement officially kicked off in 2014, when the company introduced its affordable, lightweight, mid-engined sports coupe – the Alfa Romeo 4C – to the region. Never lacking in charisma or personality, the 4C would go on to become the brand's poster model.
Alfa Romeo's brand-rebuild was not going to be a one-man team, with the company unveiling its 4-door saloon model – the Alfa Romeo Giulia – at the 2015 Los Angeles Auto Show. Fast forward another year, and the Alfa Romeo Stelvio crossover SUV would also make its debut.
On a relatively small, but considerably effective scale, Alfa Romeo has made some ground in the North American markets thanks to this strategy. However, as we've crested into 2021, there have been some notable changes in direction that the company is taking going forward.
Alfa Romeo has officially axed production of the 4C Spider – having already taken the 4C Coupe off the market a year prior – with nothing in the pipeline for a direct successor. Production ended in December 2020 with a special limited edition Alfa Romeo 4C Spider 33 Stradale Tributo. It pays tribute to the 33 Stradale; the extremely rare and iconic Italian mid-engined sports car of the late 1960s and the production run has been capped for the U.S. market at just 33 units.
Their focus will now be on their more mainstream and profitable models, such as the aforementioned Giulia and Stelvio. It is important to note as well, that there will still be an Alfa Romeo 2-door coupe – known as the GTV – joining the roster later on, which will be built upon the same architecture as the Giulia and Stelvio. Their new compact crossover SUV called the Tonale has already been slated for production in 2021, and will slot into the line-up as Alfa Romeo's entry-level offering. Both the GTV and Tonale are expected to debut as 2022 models.
Here are the best brand new Alfa Romeo models you can purchase today.
Alfa Romeo Giulia GTA / GTAm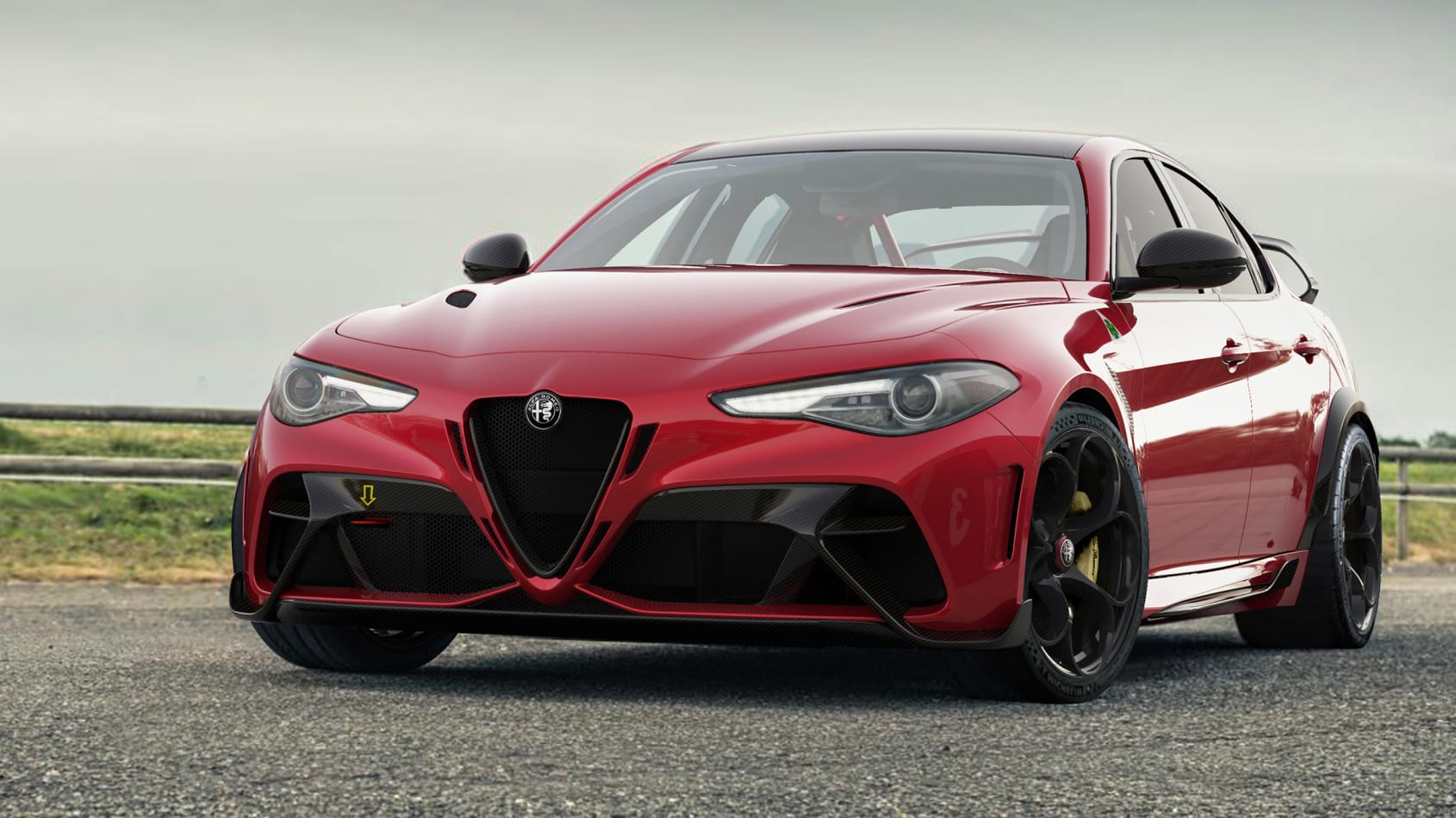 Base MSRP: $204,000 USD (GTA), $225,000 USD (GTAm)
We really have a sweet tooth for cars like this, and the GTA and GTAm are certainly the most indulging models in Alfa Romeo's current lineup. This hardcore version of the Alfa Romeo Giulia can be had standard with Sabelt six-point harnesses, a roll bar taking the place of the rear seats, a more spartan interior, carbon fiber bucket seats, and a redesigned front splitter and rear wing.
Designed to compete against the best and brightest from BMW M and Mercedes-AMG, the GTA is an exclusive variant of the Giulia of which only 500 units will be produced worldwide. The GTA and GTAm are about as track-ready as any production car can get, thanks to its up-tuned 540 hp Ferrari-derived engine, and its insanely aggressive aerodynamic and chassis upgrades. It's ready to dominate the track. It's exclusive. It's quite simply incredible.
Base MSRP: $81,250 USD
It wasn't long ago when the Stelvio Quadrifoglio owned the Nürburgring SUV record, setting a lap time of 7:51.7 in the process. While that title has since been usurped, that still tells you everything you need to know about this astonishing performance SUV. Minor updates for the 2021 MY bring about additional luxuries and convenience features, while more impressive technologies round off this epic and complete package of an automobile.
Collectively, this is one of our favorite SUVs on sale today, as it makes its often bigger and more powerful competitors look sluggish and clumsy. While this admittedly comes at the cost of some utilitarianism relative to its competition, we're never going to fault an SUV that drives like a sports car. After all, its best-in-class 505 hp also gives it the most horsepower per liter in its category. It truly is, epic.
Alfa Romeo Giulia Quadrifoglio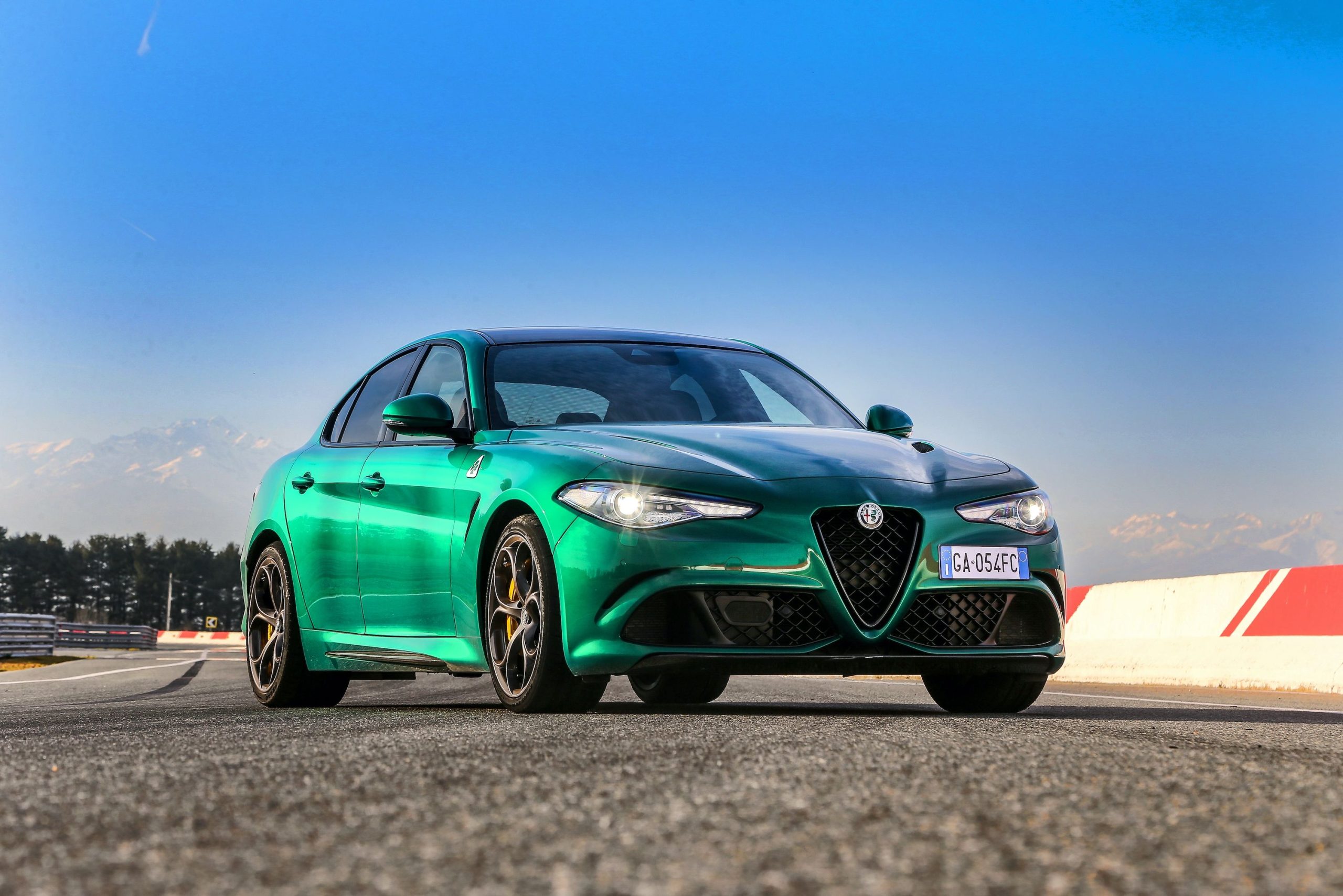 Base MSRP: $75,250 USD
The Alfa Romeo Giulia Quadrifoglio's legitimate performance cred starts with its engine, which is upgraded to a 2.9L twin-turbocharged V6 with over 500 hp. It has the handling to match, with substantive upgrades which allow the Quadrifoglio to negotiate turns on the racetrack or back country roads with aplomb. In fact, everything is turned up a few notches in the sportiness department, with aggressive styling and a fantastic sounding exhaust to boot.
There were several changes in 2020 that carry over into 2021, including a new driver-focused cockpit and impressive technology including available Level 2 autonomy features and an 8.8 inch touchscreen.
Alfa Romeo GTV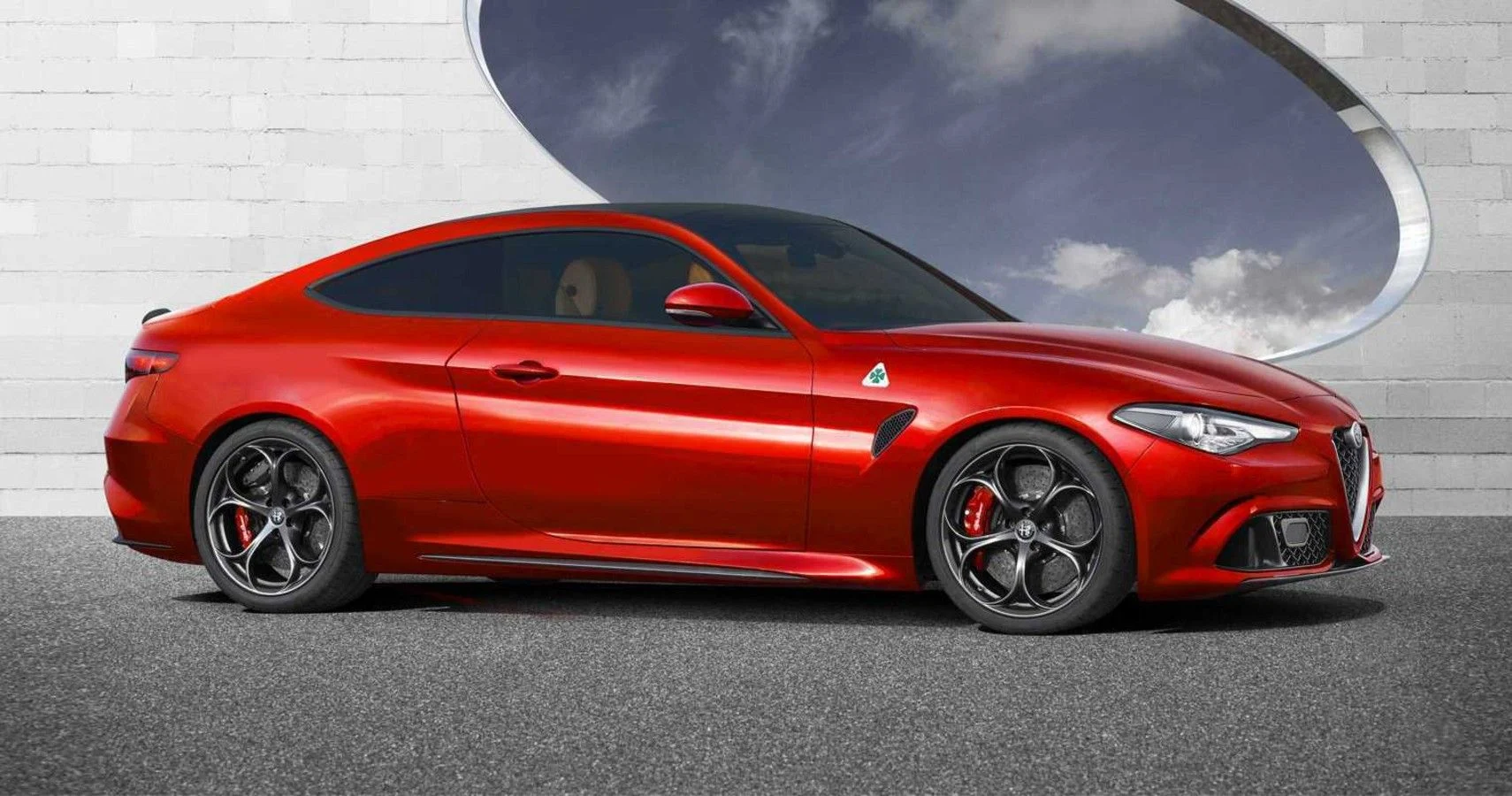 Base MSRP: $70,000 USD (est.)
Ok, so the Alfa Romeo GTV isn't out just yet – but it will be, and you can already put a deposit on one (meaning you can technically buy one today). The brand new GTV looks set to really inject some energy into Alfa Romeo's lineup, especially with the 4C now discontinued. The (hopefully) inevitable Quadrifoglio model could be the one which brings the most fanfare, with a hybrid drivetrain rumored to be part of the car's main infrastructure.
Various other configurations, including a drop-top Spider version, would make the model more palatable to a broader audience. It should also feature similar powertrain offerings as the rest of the current line up, with a base version coming equipped with a 2.0L turbocharged four-banger. Further up the chain, the inevitable Quadrifoglio trim will offer the more powerful (and possibly hybridized) 2.9L twin-turbocharged engine. All indications point to this being a proper car from Alfa Romeo.