Top 4 Aston Martin Zagato Cars
What happens when a British car maker partners with an Italian coachbuilder over a period of five decades? Magic, that's what happens. At Supercars.net we've always been huge fans of the Aston Martin and Zagato collaboration. They build exclusive, gorgeous and powerful cars that we lust over.
From the iconic DB4 GT Zagato of 1960s through to the V12 Vantage Zagato of 2011, every collaboration has accentuated key aspects of Aston Martin's design journey and brought them together with Zagato's own race-inspired design language.
We decided to pull together our favorite Aston Martin Zagato cars below: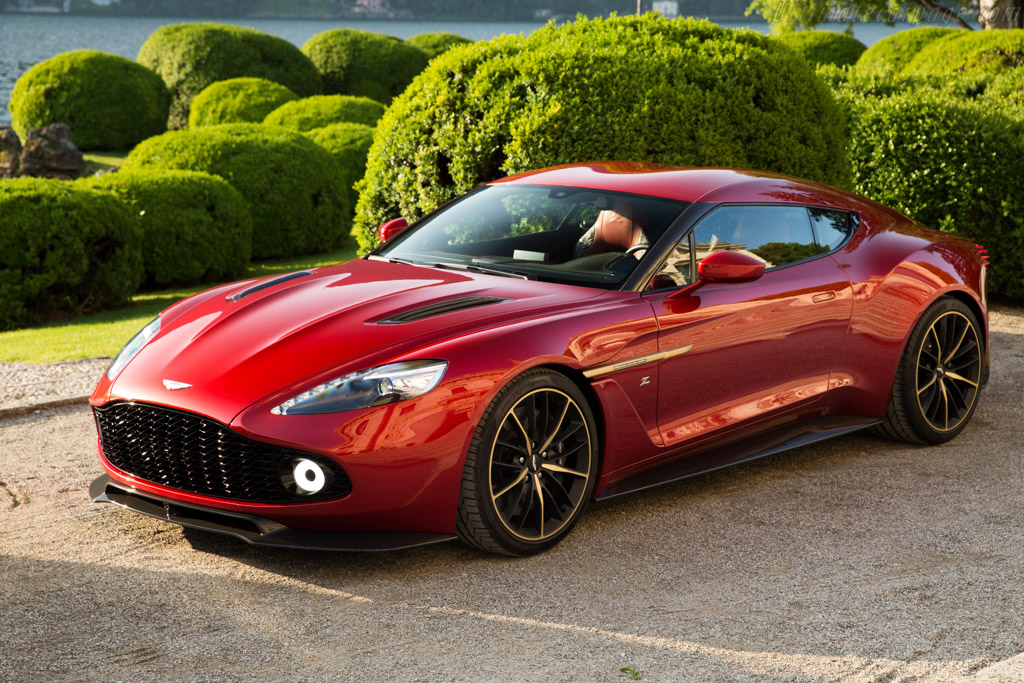 Aston Martin Vanquish Zagato Concept (2016)
The latest creation is the Vanquish Zagato Concept and was released a few weeks ago at the Concorso d'Eleganza Villa d'Este, held at Lake Como in Italy.
The concept features new bodywork that is entirely shaped from carbon fibre, with the split lines on the body reduced by the use of large one-piece panels. New lights include round tail light reflectors that evoke the classic rear view of a Zagato design, incorporating the same 'bladed' LED technology as the Aston Martin Vulcan track-only supercar.
Aston Martin Executive Vice President and Chief Creative Officer, Marek Reichman said 'Over the years, we have developed and refined our own design language and we have always gone that little bit further with our special series cars like CC-100, One-77 and Aston Martin Vulcan. The Vanquish Zagato Concept shows how our two companies can come together and push the definition of Aston Martin design.'
'We pride ourselves on our strong partnership and the creation of the Vanquish Zagato Concept was a true shared experience,' says Zagato's CEO, Andrea Zagato, 'it represents the essence of an important design relationship that dates back over fifty years.'

Aston Martin V12 Zagato (2012/2013)
The Aston Martin V12 Zagato was also introduced at the Concorso d'Eleganza Villa d'Este in 2011. This one was special as it celebrated the 50 year partnership anniversary since the Aston Martin DB4 GT Zagato.
The V12 Zagato was awarded with the competition's "Design Award for Concept Cars and Prototypes". The concept car V12 Zagato is based on one of our favorite cars ever, the awesome V12 Vantage.
Creating each V12 Zagato takes approximately 2,000 man-hours to complete. Just like the One-77, the V12 Zagato is constructed from a combination of hand crafted aluminium and carbon fibre. The bonnet, signature 'double-bubble' roof and doors are hand-crafted aluminium, while the front and rear fenders, door sills and boot lid surround are made from carbon fibre.
It was pretty popular. So much so, that the two companies decided to build a limited batch of 65 V12 Zagatos.

Aston Martin DB7 Zagato (2002/2003)
Introduced in 2003 the DB7 Zagato had a limited production run of only 99 cars. The idea of a modern DB7 Zagato came out of a conversation between Ulrich Bez, chief executive of Aston, and Andrea Zagato when both were judges at the 2001 Pebble Beach Concours d'o/oolégance.
DB7 Zagato is 8.3 inches shorter and 130 pounds lighter than the standard DB7. The 5.9-liter V-12 engine develops 434 horsepower, 20 more than the Vantage and 20 less than the Vanquish. The bodyshell featured a distinctive, large front grille aperture, and the signature Zagato 'double bubble' roof line with sculptured rear window.
The rear end was completely unique and had single round tail lights and a drop down boot lid. Zagato styled 5 spoke alloy wheels and a unique leather interior completed the striking looks of this very special car.
Like the DB7 Vantage on which it is based, the Zagato is powered by a 6.0 L V12 engine and controlled via a 6-speed manual transmission. It has a top speed of 186 mph (299 km/h) and a 0–60 mph acceleration time of 4.9 seconds.

Aston Martin DB4GT Zagato (1960)
In late 1960 the DB4GT Zagato was unveiled at the London Motor Show, clothed in a stunningly beautiful and lightweight body (including aluminium components as well as Perspex window). Only 19 examples were produced.
The engine power increased from originally 240bhp to a claimed 314bhp.
The DB4GTZ's interior was clean, but still featured traditional Aston elements such as the wooden Nardi steering wheel with its satin-black spokes, Smiths instruments in the crackle-black dashboard and Connolly leather.