Vodka martinis (shaken, not stirred), perfectly tailored bespoke suits, Walther PPK pistol, and a life on the edge- that is what it is like to be James Bond. But, what really makes James Bond the envy of every petrol-head is his swanky set of wheels?
Over the years, we've seen James Bond driving countless stylish, expensive and exotic cars. Which of these classy cars is truly worthy of a man of such caliber and skills? Let's pull back the curtains and reveal the coolest cars driven by Bond with mind-blowing specs which truly reflect the Casanova.
Lotus Esprit S1
Movie: The Spy Who Loved Me, 1977
Affectionately named 'Wet Nellie', this beast can transform into a submarine and is also fully equipped with anti-aircraft missiles. This special piece is on display at the National Motor Museum in Beaulieu and was auctioned at $865,000 in 2013.
Specs
Designed by Giorgetto Giugiaro, the Esprit Series 1 weighed less than 1000 kgs upon its release in 1976.

The sturdy steel backbone chassis of the car was the foundation for a wedge-shaped fiberglass body which was very light.

The solid powertrain comprised of a 4-cylinder engine with 1,973cc of power, with transmission Citroën C35 5-speed manual.

The top speed was 222km per hour, with acceleration from 0-96.6 kmph in 8 seconds.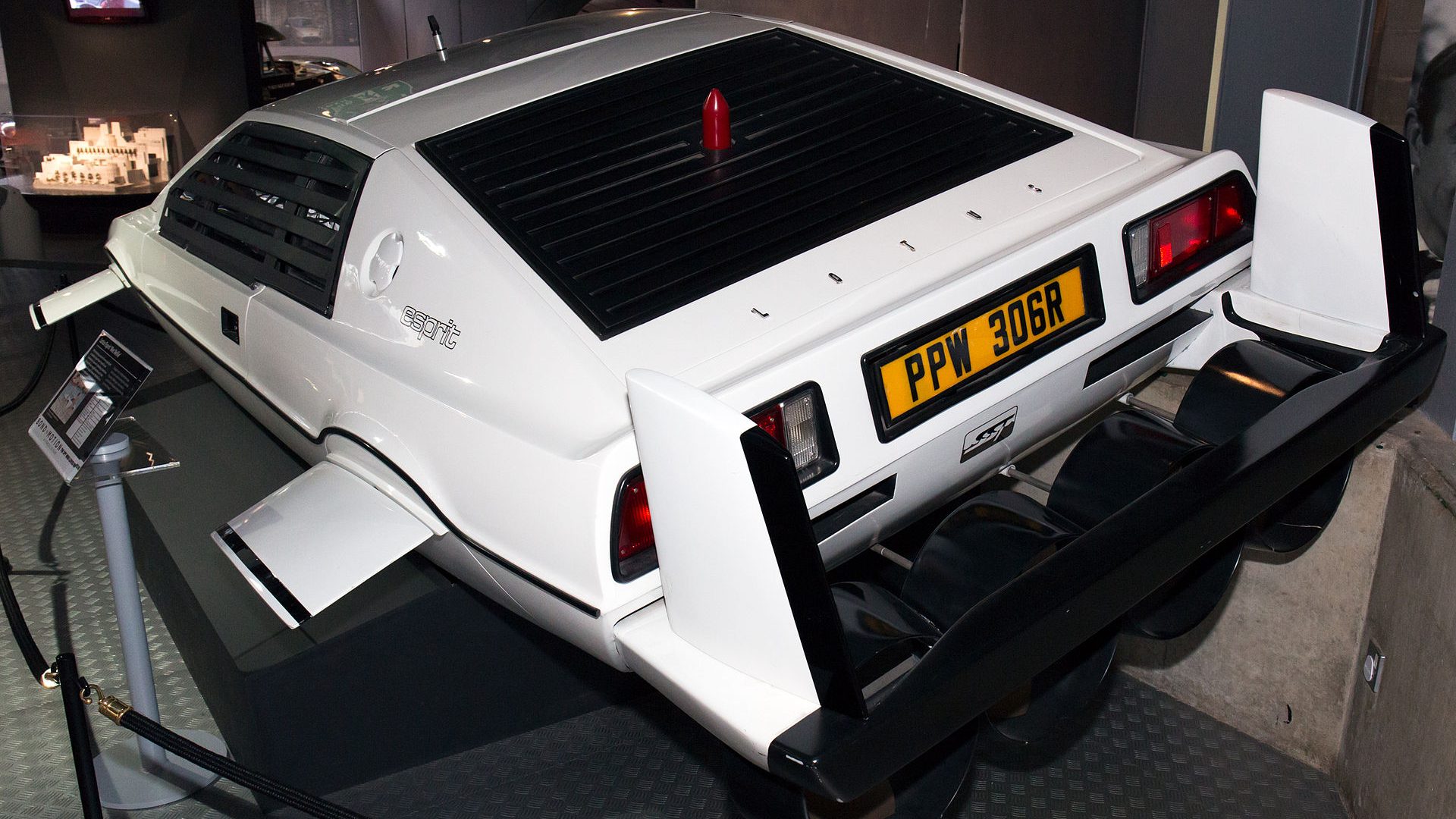 Alfa Romeo Alfetta GTV6
Movie: Octopussy, 1983
In a thrilling scene, while being chased by two Bavarian BMW police cars, Bond races ahead in his grey Alfa Romeo GTC6. Bond also drives an auto-rickshaw in the movie, flying through tightly packed streets and alleys when in Rajasthan, India. Perhaps, Bond couldn't get a car for that sequence because car insurance in India is mandatory, and paying claims to Bond, with his reputation for car-crashing, would be a nightmare for any company.
Specs
The model came out with a 60° V6 engine from the Alfa 6 on a shortened chassis.

Ventilated disks govern the front breaks while the rears were inboard.

Its 2,500-cc 4-cylinder engine, 160 horsepower, acceleration of 0-60 in 8 seconds, and 206 km per hour top speed make it a truly athletic beast.
BMW Z8
Movie: The World is not Enough, 1999
This beauty sees a fatal end in the movie as it is cut in half by a chopper after firing a shot.
Specs
Designed by Henrik Fisker and Scott Lempert, this two-seater sports car has a 6-speed manual transmission.

The S62 engine is situated behind the axle giving the car a balanced weight distribution.

The Z8 accelerates from 0 to 96km in 4.6 seconds, with a top speed of 250km per hour.
Aston Martin DB5
Movie: GoldenEye, 1995
The sequence of the movie excited fans in theatres as it opened with Bond in his Aston Martin DB5 racing a Ferrari, and in true Bond style, leaving it behind.
Specs
The DB5 boasts an inline-6 engine with a 3,995cc displacement.

It offers a top speed of 230km per hour, accelerating in 8 seconds from 0 to 97km per hour.
Aston Martin V8 Vantage
Movie: The Living Daylights, 1987
The convertible gleams first with an open top, and later is covered with a hard top- but both ways it glows. It is fully equipped with all technological advancements and also can self-destruct if needed.
Specs
The engine runs at a 424 kW Horsepower, and the fuel tank offers a capacity of 78 liters, while average mileage is 8km per liter.

The 2-seater has an automatic transmission, powered by a 5935cc 12-cylinder petrol engine.
Ford Mustang Mach 1
Movie: Diamonds Are Forever, 1971
In the famous Las Vegas chase scene, the Ford Mustang Mach 1 balances on two side-wheels to go through a narrow valley. Only Bond can do that.
Lotus Esprit Turbo
Movie: For Your Eyes Only, 1981
This car makes its appearance not once but twice in this movie. First dressed in white in Spain, and later in bronze at a ski resort in Northern Italy. However, these were two different cars of the same model and not one car which was repainted – as was rumored.
Specs
The S3 has a 2.2 L Type 912 engine producing a 2174cc displacement and a Citröen 5-speed manual transmission.

The top speed of the car is 241km per hour, accelerating from 0 to 97km in 6.1 seconds.
Aston Martin V12 Vanquish
Movie: Die Another Day, 2002
The usual refinements of a Bond Car are all there in this Aston Martin V12 Vanquish. The car was fully equipped with spike-producing tires, hood-mounted target-seeking shotguns, front-firing rockets between two machine guns, and a passenger ejector seat. But what was unique was that it also had a cloaking device called "adaptive camouflage" which made it invisible to the outside world with the push of a button.
Specs
Ian Callum designed the First Generation of the Aston Martin V12 Vanquish, strongly inspired by the Project Vanquish Concept.

Its 5.9-liter V12 engine produces 353kW of power with 5935cc displacement and rests on a strong aluminum/carbon fiber chassis.

Controlled by a drive-by-wire throttle and a six-speed EMT.

Apart from the electrohydraulic manual transmission (EMT), the maximum speed of the engine is 306km per hour, accelerating from 0 to 100km in 5 seconds.
In the books, Bond was always an Aston Martin man, but the screenplay adaptations let him try out several other machines; and none of them were to disappoint. Like him, the sleek automobiles Bond drives balance delicate panache and tremendous capacity. Perhaps, that's what makes them so sensual and exciting.
Together, they are a combination that is absolutely irresistible. Don't trust us? Ask the Bond babes!