DAIMLER-BENZ T80
World-renown German auto racer Hans Stuck's pet project was to take the world land speed record and he convinced Mercedes-Benz to build a special racing car for the attempt. Officially sanctioned by Hitler himself (a race car fan influenced by Stuck), the project was started in 1937.
Automotive designer Dr. Ferdinand Porsche first targeted a speed of 550 km/h (340 mph), but after George Euston's and John Cobb's successful LSR (Land Speed Record) runs of 1938-39 the target speed was raised to 600 km/h (373 mph). By late 1939, when the project was finished, the target speed was a much higher 750 km/h (465 mph). Since this would also be the first Land Speed Record attempt on German soil, Hitler envisioned the T80 as another propaganda triumph of German technological superiority to be witnessed by the entire world courtesy of German television.
By 1939, the T80 was fully completed at a cost of RM 600,000. It was powered by a massive 44.5 liter Daimler-Benz DB 603 inverted V12, a derivative of the famous DB-601 aircraft engine which powered the lethal Messerschmitt Bf 109 fighter in production at the time. The DB-603 fitted was just the third prototype (V3) engine of this variant and tuned up to an amazing 3,000 hp. The engine ran off a mixture of methyl alcohol (63%), benzene (16%), ethanol (12%), acetone (4.4%), nitrobenzolo (2.2%), avgas (2%), and ether (0.4%) with MW (methanol-water) injection for charge cooling and boost pressure. The vehicle also had three axels, the powerful engine running the rear two axles for maximum traction of the heavy six-wheeler.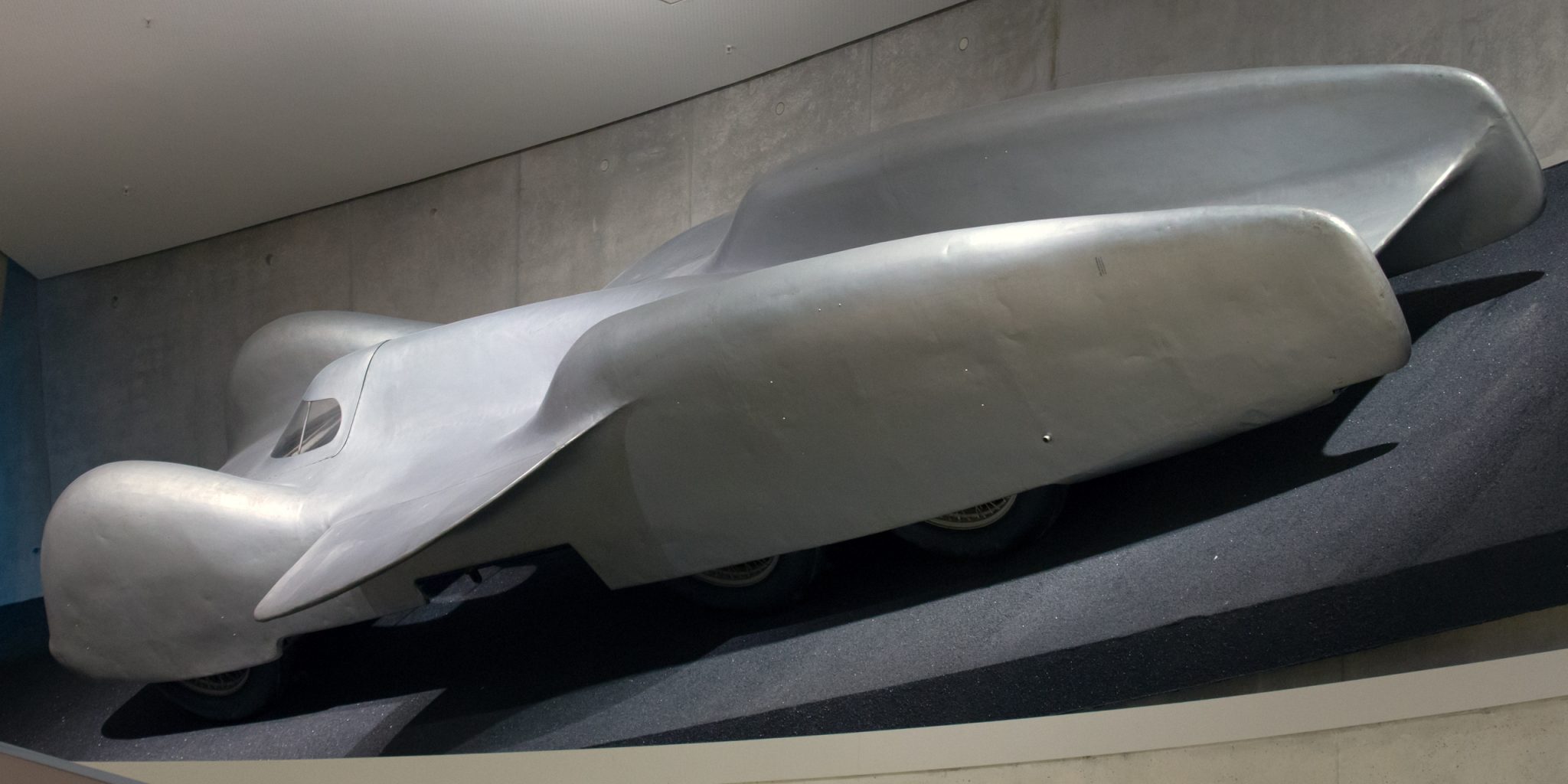 Story by Costea Dorel
In Detail
| | |
| --- | --- |
| type | Record Car |
| production years | 1939 – 1940 |
| built at | Germany |
| body stylist | FERDINAND PORSCHE |
| engine | V12 |
| position | REAR |
| aspiration | SUPERCHARGER |
| fuel feed | INJECTION |
| displacement | 44500 cc / 2715.56 in³ |
| power | 2210 kw / 2963.6 bhp @ 3200 rpm |
| specific output | 66.6 bhp per litre |
| bhp/weight | 1023.34 bhp per tonne |
| body / frame | STEEL BODY |
| driven wheels | RWD |
| front brakes | DRUMS |
| rear brakes | DRUMS |
| curb weight | 2896 kg / 6385.68 lbs |
| length | 8240 mm / 324.4 in |
| width | 3200 mm / 126 in |
| height | 1700 mm / 66.9 in |
| top speed | ~634 kph / 393.71 mph |
| drag | 0.18 Cd |