1998→2007 Dauer EB 110 Supersport
The Bugatti EB110 was billed as the supercar to end all supercars when it debuted in the early `90s, but rushed development and the company´s shaky financial footing left it a flawed jewel. But now the folks at Dauer Sportwagen have delivered on the original promise.
The Bugatti EB110 was billed as the supercar to end all supercars when it debuted in the early `90s, but rushed development and the company´s shaky financial footing left it a flawed jewel. But now the folks at Dauer Sportwagen have delivered on the original promise.
Every time we see a Bugatti EB110, we wonder just how good this car could really have been. We visited the factory in Campogalliano twice in the early 1990s to meet the people and drive the cars. The buildings were wonderful, the atmosphere hummed with enthusiasm. The overriding impression was that too much was being attempted with too little, in too short time.
Fate certainly seemed to agree with that, and when the company went into liquidation in 1995, over 100 owners around the World were left with cars they were afraid to drive. If something broke, they would not be able to get spares.
Existing or would-be EB110 owners can rest easy now, because of every single last nut and bolt form the Bugatti factory is now in the hands of Dauer Sportwagen in Nuremberg, Germany. A complete spare parts catalogue, with exploded diagrams and part numbers to make ordering easy, is now available form Dauer Sportwagen. The company can also source a pre-owned car, which will be fully serviced and warrantied.
If the Dauer name sounds familiar, think back to Le Mans 1994. The Porsche 962LM that crossed the finishing line first was prepared and run by Jochen Dauer and his team, who subsequently build half a dozen road-legal 962 Le Mans cars for wealthy enthusiasts including the Brunei royal family.
Now, nearly four year after he brought all the EB110 parts up from Italy, Jochen Dauer has broken cover with the Dauer EB110, a limited-edition car built form the handful incomplete chassis left over at Campogalliano.
See the full 1998 Dauer EB 110 Supersport Gallery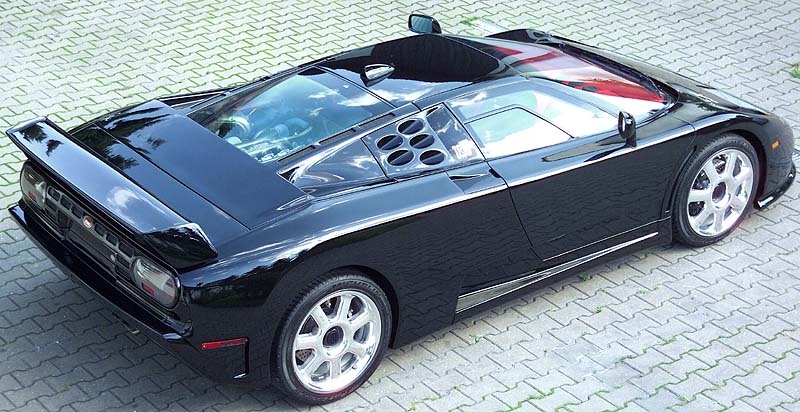 "I always believed the EB110 was basically a great car that just needed a bit more development work," Jochen Dauer explained. "The idea of four small turbos to cut lag was a good one, but Bugatti needed more time to make it work properly."
"The body construction was overly complex," he said, showing us around a stripped-out original EB110 next to one of the five completed cars. "It was also heavy with ist aluminium skin. We use carbon fibre for the bodyshell now," he said, easily lifting the whole one-piece roof/sill/front inner fender section with one hand.
"The original inner fenders were made up form several bits of aluminium sheet welded together. This made them labor intensive and expensive to produce. With our experience of designing and building Group C sports cars, we decided it would make sense to simplify things and produce sections like this from one piece of carbon fibre., which also cuts weight. Another over-complicated section was the area behind the rear panel. Again, the original is assembled from several metal components and many brackets, and we simplified and lightened it with just two carbon fibre mouldings." The heavy roof structure of the original was also rationalized, with carbon fibre used for the skin instead of aluminium. An original complete door assembly weighed 110 pounds. Building it the Dauer way saves 33 pounds per side.
The final weight saving is spectacular, with the Dauer EB110 tipping the scales a significant 507 pounds less than the 4,233 pounds of the original US-spec Bugatti. The European version weighed 4,145 pounds, but the Dauer car weighs only 3,726, despite adopting the longer US-style bumpers, which protect the car better and, for once, actually improve the aesthetics. The crash beams behind the bumper skins are also made from carbon fibre.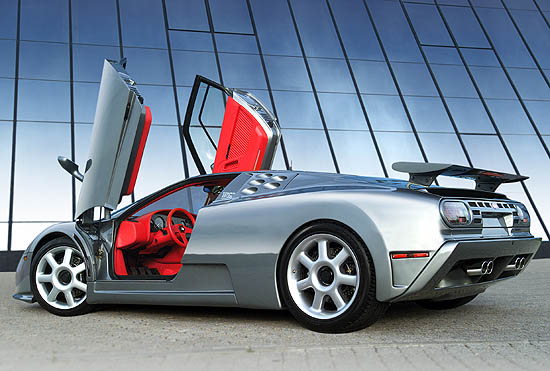 The Bugatti engine is a 3.5-litres, quad-cam, five-valves-per-cylinder, 60-degree V12 with four IHI turbos. It originally came in two forms, with the "normal" EB110 GT showing 560bhp at 8,000rpms and the "Supersport" delivering 610bhp at 8,250rpms.
One of the big problems of the original EB110 was turbo lag. When we drove the first EB110 Supersport in 1992, we noticed that the car was very tractable around town, but when you put your foot down, the engine hesitated big time while the turbos spooled. Then it happened all in one go.
Dauer blueprints each motor to improve gas-flow within the turbo installation. But the 645 bhp that his company´s modifications produce is not the end of the story. An optional REMUS sports exhaust and modified ECU release an additional 60 bhp. But whether you are talking 645bhp or 705 bhp, this is Le Mans Group C level of power, albeit in a car that is much heavier than a pure race car.
With 4WD optimizing traction, the Dauer EB110 Supersport gigs in and launches itself to 60mph in just 3.3 seconds, blast past the standing kilometer in under 19 seconds and tops out an estimated 230mph, some 12kph faster than the original thanks to lower weight and greater power. Dauer says, he has seen 400kph (250mph) indicated on the autobahn, but we would need to time it at Nardo to verify that.
As we got into the Dauer car, memories from when we drove the first production EB110 Supersport, eight years before, came flooding back. Our impression then was a car with light, responsive controls, that was easy to drive around town compared to any contemporary mid-engined supercar.
The same applies to this evolutionary Dauer EB110 Supersport, except that it is immediately obvious how much better the car is finished and resolved in its details. The cabin of the original EB110s often varied form car to car and was too much like an upscale Lancia. The Dauer uses the finest German leather applied by Italian craftsmen, far surpassing the the original cars for quality. The Dauer EB110 Supersport caes with the latest Kenwood navigation system including a DVD player and TV tuner.
The original Bugatti had one major ergonomic failing. The narrow footwells squashed the pedals too closely together, and the pedals pads had square corners, which meant that even if you wore a modest size eight show, you could easily catch the brake and accelerator at the same time – not a good thing when the right pedal can unleash over 500 horsepower. Unfortunately, constraints of the original cockpit tun mean nothing has changed in this regard with the Dauer EB110 Supersport.
Apart from that, the car is easy to drive as ever. Throttle response is better than before, but tubro lag is still not completely banished. Low-speed tractability is excellent and the car takes little effort to drive in the urban grind. When you find a clear stretch of a road and push the throttle to the floor, it takes a second or two to build up a head of steam. Then all hell breaks loose, and as the 645 horses gather for their charge, you have a second or tow to be grateful that they reach the road via all the wheels.
The slight turbo lag is only really noticeable when you accelerate from low speeds. Once the motor is on the boil, throttle response is instantaneous and the 480lb/ft of torque peaking at 3,750rpmsdelivers an intoxicating kick in the back that you don´t forget in a hurry, no matter what road car you drive now. Taking the Dauer EB110 Supersport to its 8,000rpms redline through the gears is an amazing experience. It´s like being in a 3D arcade game with sound and motion set to maximum sensory stimulation.
The basic sound of the motor is more akin to a Lamborghini than a Ferrari. It´s a deep purposeful growl that rises with crankshaft rotation speed. Adding to the soundtrack are the turbos as they blow off excess boosts on upshifts. The scream of the cam drives and the howl of the exhaust is something to be experienced. It is by no means as loud or as raw as a Diablo, but it´s unique and priceless in ist own way.
Like almost all mid-engined supercars – even Lamborghini´s brand-new Murciélago – the Dauer EB110 Supersport suffers from restricted rearward visibility. However, in terms of the lightness of its controls, the EB110 was well ahead of its time. The weight of the controls – steering, clutch, throttle brakes and gearshift – is around the same as a BMW 3 series, which makes driving in modern-day traffic not too much of a bind. In this regard, the EB110 is the antithesis of earlier supercars such as the Countach.
When you get the chance to play on the open road, the combination of the EB110´s low, wide stance and 4WD makes it exceptionally stable in corners. In this regard, the Bugatti was also ahead of its times. The car takes high-speed lane changes in stride. All that traction gives you confidence to use the throttle like you never would in a RWD car with this much of power. The ability of the chassis to deliver on-rails cornering and blinding acceleration in the most unlikely places gives a feeling of virtual invincibility. You just need to remember that the laws of physics are immutable – the Dauer EB110 Supersport does have limits.
There was not much wrong with the original EB110 in the suspension department, but the level of grip in noticeable better in the Dauer car and tire noise has been reducec as well. "We have not altered the chassis appart from using slightly softer Eibach springs to offset the weight decrease," Dauer eplained. "But the new Michelin Pilot tyres are a quantum leap over the original early ´90s Michelins, and make a big difference to handling and grip." The tyres measure 245/40ZR18 in front and 325/30ZR18 in the rear.
The five cars that Dauer has built for sale are finished in Bugatti blue, black with clear lacquer, silver, dark silver and our test car in carbon fibre with clear lacquer. The asking price is about $400,000 more than the EB110 sold for in the day. Since there were only five exsisting chassis, Dauer cannot build anymore of these significantly improved EB110s.
Thanks to Dauer´s modifications, the EB110 has finally delivered on its original promise. In terms of performance and refinement, the Dauer EB110 Supersport can hold its own against today´s supercars.
Thanks to Dauer´s modifications, the EB110 has finally delivered on its original promise. In terms of performance and refinement, the Dauer EB110 Supersport can hold its own against today´s supercars.
Story by By Ian Kuah, Sports Car International magazine
See full 1998 Dauer EB 110 Supersport Gallery here
In Detail
| | |
| --- | --- |
| production years | 1998 – 2007 |
| built at | Nuremberg |
| coachbuilder | Dauer |
| production | 8 |
| price $ | $ 450,000 EUR |
| predeccesor | 1992 Bugatti EB110 SS |
| engine | V12 |
| position | mid longitudinal |
| aspiration | 4 IHI Turbi Chagers |
| block material | Alluminium Alloy RR 350 Cu/Titanium |
| valvetrain | 4OHC, 5 valves per cylinder |
| fuel feed | Bugatti Multitronic Electronic Injection |
| displacement | 3500 cc / 213.58 in³ |
| bore | 81 mm / 3.2 in |
| stroke | 56.6 mm / 2.2 in |
| compression | 7.65:1 |
| power | 645 kw / 864.9 bhp @ 8250 rpm |
| specific output | 247.11 bhp per litre |
| bhp/weight | 584.39 bhp per tonne |
| torque | 611 nm / 450.6 ft lbs @ 3750 rpm |
| body / frame | Carbon fibre single block |
| driven wheels | 4WD |
| wheel type | BBS 5-spoke aluminium |
| front tires | 240/40 ZR 18 |
| rear tires | 335/40 ZR 18 |
| front brakes | ventilated disk |
| rear brakes | ventilated disk |
| front wheels | F 45.7 x 22.9 cm / 18 x 9 in |
| rear wheels | R 45.7 x 30.5 cm / 18 x 12 in |
| f suspension | double wishbones with pull rod |
| r suspension | double wishbones |
| curb weight | 1480 kg / 3263.4 lbs |
| weight distro | 40 % / 60 % |
| wheelbase | 2550 mm / 100.4 in |
| front track | 1550 mm / 61 in |
| rear track | 1618 mm / 63.7 in |
| length | 4400 mm / 173.2 in |
| width | 1940 mm / 76.4 in |
| height | 1114 mm / 43.9 in |
| transmission | 6-speed manual |
| tran clutch | Single dry plate hydraulic power assisted |
| gear ratios | 3.06:1, 2.19:1, 1.59:1, 1.24:1, 1.1:1, 0.082:1 |
| top speed | ~351 kph / 217.97 mph |
| 0 – 60 mph | ~3.35 seconds |
Auction Sales History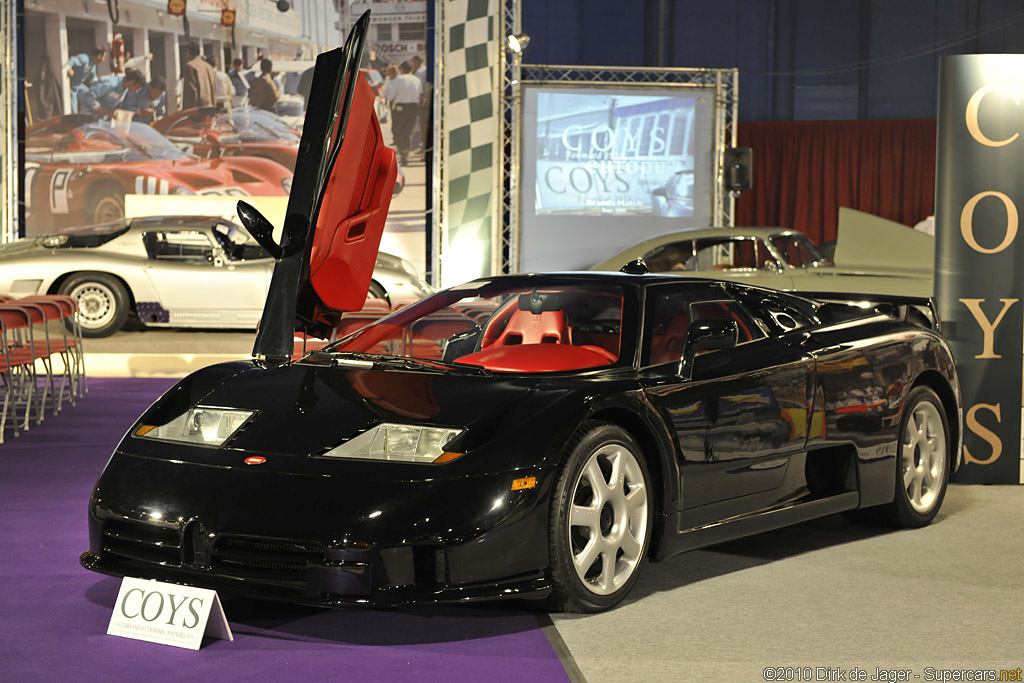 1998 Dauer EB 110 Supersport TP1214117498 – sold for €394,850
This practically new example, 1 of only 35 SS models built, came off the production line in 1995. The SS models were lighter and more powerful than the standard GT car. This car has had only two German owners from new and has merely covered 700 km until now. This important piece of Bugatti history, the missing link between the recent Veyron and the prewar Bugattis, is being offered with German registration documents.
Auction Source:
Coy's 2010 Legende et Passion Auction