1946→1952 Delahaye 135 MS
In the immedaite post-war period Delahaye resumed production of the 135 MS which began began in 1939. This model kept many of the great French coachbuilders such as Figoni et Falaschi, Chapron, Saoutchik and Franay in business.
The post-war 135 retained Delahaye's familiar straight-six engine fitted with a '84R' high lift camshaft offering 125 bhp @ 4000 rpm. This power was routed through a MK38 Cotal pre-selector gearbox.
Of the custom-bodied cars to emerge out of the immediate post-WWII era, our feature 135MS Faget Varnet Cabriolet ranks among the very best. With its original two tone paint scheme, streamlined fenders and uncluttered lines, it was made to impress at the Salon de Paris in October of 1949.
Faget Varnet was one of the rarer coachbuilders of their time, usually limiting work to truck manufacture on the Paris outskirts of Levallois-Perret. They rarely worked on automobiles, but made an exception with our feature car built on Delahaye chassis 801077. The design was one of the first built as a monocoque, using the outside panels as a stressed member of the body/frame structure.
After being launched at the Paris Salon, Faget Varnet updated the car to include small vents beside the grill and a large front bumper. It appeared this way at the Salon de Paris of 1949 and the company stated a second car was being built. After the show, Henri Varnet gifted the car to his daughter to use during her honeymoon in 1950.
The record of 801077 doesn't become clear again until 1983 when it was registered in Sallanches, France. Before this time it may have been owned by King Mohammed V of Monaco. He was photographed beside a Faget Varnet Cabriolet in the early 1950s.
By 2006, the car was purchased by Cathy and Jerry Gauche who enthusiastically had the car restored back to its original 1948 configuration. The process took Alan Taylor in California two years to complete with help from Rod Jolley Coachbuilders in Engand. The original two-tone blue paint was discovered and matched for the restoration.
The car was completed in time for the 2008 Pebble Beach Concours d'Elegance and it won first place in the O-2 Postwar Touring class. It was subsequently displayed at the 2009 Amelia Island Concours d'Elegance.
See full 1946 Delahaye 135 MS Gallery here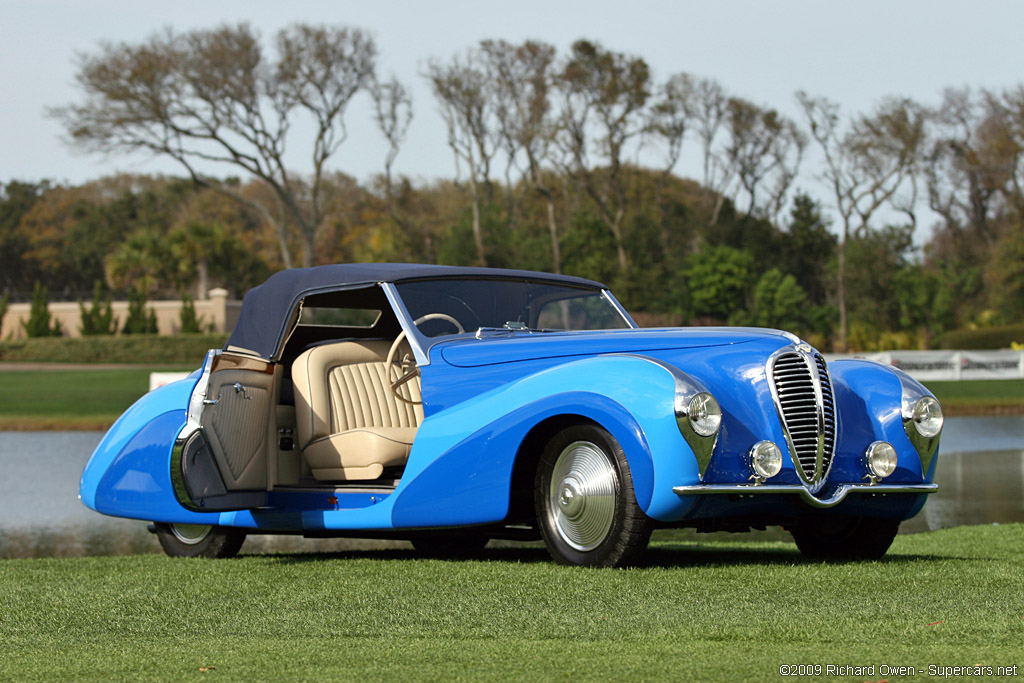 In Detail
| | |
| --- | --- |
| type | Series Production Car |
| production years | 1946 – 1952 |
| released at | 1949 Paris Motor Show |
| built at | Levallois-Perret, France |
| engine | Inline-6 |
| position | Front, Longitudinal |
| aspiration | Natural |
| block material | Cast Iron Black with Aluminum Cylinder Heads |
| valvetrain | OHV, 2 Valves / Cyl |
| fuel feed | Triple Down-Draft Solex 40PAI Carburetors |
| displacement | 3557 cc / 217.00 in³ |
| bore | 84 mm / 3.3 in |
| stroke | 107 mm / 4.2 in |
| compression | 8.4:1 |
| power | 96.9 kw / 130 bhp @ 4000 rpm |
| specific output | 36.55 bhp per litre |
| body / frame | Steel BOdy over Steel Pressed Frame |
| driven wheels | RWD |
| wheel type | Rudge Wire Wheels |
| front tires | 17 x 5.5 |
| rear tires | 17 x 5.5 |
| front brakes | Aluminum Drums w/Servo Assist |
| rear brakes | Aluminum Drums w/Servo Assist |
| steering | Worm & Nut |
| f suspension | Wishbones w/Transverse Leaf Springs, Transverse Rexaf Friction Dampers, Radius Rods |
| r suspension | Live Axle w/Semi Elliptic Leaf Springs & Transverse Rexaf Friction Dampers |
| wheelbase | 2950 mm / 116.1 in |
| front track | 1380 mm / 54.3 in |
| rear track | 1495 mm / 58.9 in |
| transmission | 4-Speed Cotal MK38 Preselector |
| tran clutch | Single Dry Plate |
Auction Sales History
1950 Delahaye 135 M Caberiolet Atlas Guilloré 801636 – sold for $363,000 One of five four-seater examples constructed. Believed to be the sole remaining Atlas Cabriolet. Recently owned by the Delahaye Club founder. Displayed at the Pebble Beach Concours d'Elegance. Exquisite French styling.
Auction Source: 2015 Quail Lodge Auction by Bonhams
1949 Delahaye 135M Cabriolet Antem 800 755 – sold for €322,000 Chassis number '800 755' was first owned by a Mr Poncet and secondly by Mr Rolland Poncet, son of the president of Puiforcat, the famous Parisian silversmiths. The third owner, from August 1972 to 1982, was François Jolly, a prominent member of the Delahaye Club. In 1985 the car is sold to Maurice Marcaud and in 1994 passed to a Mr Singer. The current owner purchased the Delahaye from Mr Jacques Dufau, who had owned it since 2004. Complete lrestored to 'as new' condition in 2011, the car comes with Yann Carratt Automobiles' illustrated report detailing some aspects of the work carried out. In 2012 the Delahaye was awarded a prize for its authenticity by Club Auto, and it has also been a winner at the Boulogne Concours d'Élégance. Offered with restoration invoices and French Carte Grise, this most elegant Grande Routière would make a fine addition to any important private collection
Auction Source: 2015 Les Grandes Marques du Monde au Grand Palais
1948 Delahaye 135 MS Coach Chapron 801250 – sold for €79,864 Ex Roger Ballion Collection. According to the records, it shows just 27,410 km in 1961, 38,180 km in 1963 and 43,776 today. It has a beautiful Chapron body in the car's immediate post-war design that keeps elaborates on the elegant movement of the wings, before the rather massive "pontoon" design became the vogue. It seems relatively to be in a relatively sound condition and complete, its dashboard wearing an amazing Philips radio from the period. All instruments are present, including a clock, and many details reveal the luxurious finish of this top-end car. The leather seats, though dusty, has an attractive patina, and this car features a Cotal box. This interesting car should appeal to enthusiasts.
Auction Source: The Baillon Collection at Rétromobile
1947 Delahaye 135 MS Langenthal Coupe 800490 – sold for $330,000 Possessed by its present caretakers for over a decade, the Delahaye was voted Most Photogenic at the Concours d'Elegance of America at St. John's in 2011, and in 2012, it graced the lawns of Pebble Beach, Palos Verdes, and the Louisville Concours d'Elegance. In addition to its show appearances, the car was featured in the October 2002 issue of Collectible Automobile magazine, as well as in Stuart Leuthner's book, Wheels: A Passion for Collecting Cars. Importantly, it has made these appearances as it appears today, as one of the most original Delahayes extant. It is believed that the silver paint was redone some time ago, with the blue stripe added to the flanks sometime later. With the exception of that repaint, the car remains in largely unrestored condition, as it was delivered in 1947, and it is still in outstanding form, as it should be with only 14,000 actual miles on the odometer. Mechanical work in the present owner's care has been limited largely to the replacement of the rear axle and the installation of whitewall tires.
Auction Source: 2013 Amelia Island by Rm Auctions
1946 Delahaye 135MS Competition 'Special Course' Replica – sold for €99,480 The car offered here was created on a triple-carburettor Delahaye 135MS chassis in its native France in the late 1950s as a replica of the limited production 'Special' and fitted with door-less, two-seat, competition bodywork. '80048' later went to the USA where it was fully detailed to concours standard and shown twice, gaining a 1st place award both times. It is understood that the engine, starter motor and dynamo were fully rebuilt and newBorrani wire wheels fitted in 1996. The instruments were overhauled in the UK and correct Marchal lights are fitted all round. Described a 'very fast', this car completed the demanding California Mille event in 1996, crossing the finishing line in 3rd place.
The current vendor purchased the car at Brooks' Quail Lodge Sale in 1998 (Lot 102) and imported it into France (EU duties paid). Between 2003 and 2006 the engine overhauled and balanced; the original wheels and brakes refurbished; and a new original-type gearbox installed. Finished in red with beige/brown leather interior, the car is described as in generally very good condition and offered with EU import documentation, Delahaye factory correspondence, and (copy) Commonwealth of Pennsylvania Certificate of Title.
Auction Source: 2010 Collectors' Motor Cars at Goodwood Revival by Bonhams
1947 Delahaye 135 MS Cabriolet 800484 – sold for $375,500 This classic roadster on the 135 MS chassis with Cotal gearbox, its flowing lines emphasized by the chromed beadings, reminiscent of a stylized meteorite, on the body sides and rear wing spats, was restored some years ago by Hinds Automotive gallery and Auto Europa, with upholstery by Ken Nemanic using top quality leather and carpets. We are informed that the powertrain was rebuilt, the chromework, electrics and suspension were renewed and man
y parts were reproduced to complete the car; documented costs of the restoration are said to exceed $127,000.
Although having been a museum exhibit for a number of years, this beautifully presented Delahaye has enjoyed a recent and modest road test where engine, gearbox and brakes were reported to be in good working order.
Auction Source: 2006 Monterey Preview