Ferrari 250 GT Lusso
Ferrari 250 GT Berlinetta Lusso
Introduction
When it made its debut at the 1962 Paris Salon, the Ferrari 250 GT Lusso was unveiled as the final iteration of the 250 GT series of cars. The Lusso – which translated from Italian, means "Luxury" – was positioned somewhere between the more hardcore racing models and ultra-luxury variants within the Ferrari lineup. It aimed to offer the experience of top-tier Ferrari sports car performance, while being well-appointed with an arsenal to combat the demands of daily use.
Often referred to simply as the 'GT/L', the successor to the 250 GT coupe was a larger and more luxurious version of the outgoing design and is considered by many to be one of the most beautiful cars to don the prancing horse badge. Its sporty nature is derived from the use of a Short Wheel Base (SWB) chassis – shared with some of the previous competition cars – and a V12 engine fueled by three Weber carburetors.
The overall design elements of the car were groundbreaking for their time, and the Ferrari 250 GT Lusso would soon become one of the most recognizable automobiles in the world. Exquisitely proportioned, the GT/L had an elegant silhouette which comprised of its elongated profile, curvy fenders, slim pillars, truncated rear and charismatic three-piece front bumper.
The Ferrari 250 GT Lusso was imagined by Pininfarina and brought to life by Carrozzeria Scaglietti under the direction of Enzo Ferrari.  While the GT/L was intended to be a road-going grand tourer in every sense of those words put together, many owners ended up outfitting their cars for racing anyway. This is because the GT/L inherently possessed race car DNA, which is shared with the 250 GTO – including its SWB, disc brakes, suspension, and engine – making it a viable track toy when the latter was not an option.
Though well-received and sought after, the GT/L would ultimately have a brief production run spanning just 18 months between the years 1962 and 1964, with only 350 examples made by the end. At the tail end of 1964, the Ferrari 250 GT Lusso – and by extension, the entire 250 GT line – would be succeeded by the incoming Ferrari 275 GTB.
This would by no means signify the end for the GT/L, as it has become a hot collectors' item in recent times, with examples selling for as much as $2,447,500 USD.
Engine & Performance
The Ferrari 250 GT Lusso was the beneficiary of a Colombo-designed short block V12 engine that utilized three twin-choke Weber 36DCS carburetors.
The single overhead cam, 2953 cc capacity engine had a bore and stroke of 73 x 58.8mm and produced 240-horsepower @ 7,500 rpm and 178 ft-lb of torque @ 5,500 rpm. The power unit had an 'outside the V' spark plug design with a rear-of-engine mounted distributor ignition system.
The front-mounted engine was mated to a synchromesh 4-speed manual transmission – with two choices of final drive ratios – which delivered power to the GT/L's rear wheels. Overall, these attributes allowed the car to accelerate from 0 to 60 mph in just 8.0 seconds and reach an impressive top speed of 240 km/h.
As the final iteration of the 250 GT line, the GT/L would ultimately become the last Ferrari to be equipped with the iconic Colombo V12 engine, making it both a highly desirable and exceedingly rare masterpiece the moment it left the assembly line.
Out of the factory, essentially all examples delivered to customers were of identical specifications, though some would opt for a 5-speed gearbox with custom final drive ratios, and competition-spec carburetors after the fact – for racing, of course.
Chassis & Handling
The Ferrari 250 GT Lusso's tubular chassis was constructed using steel, with aluminum used on some of the paneling, such as the doors and front bonnet. Compared to other 250 GT variants, the GT/L had its engine mounted further forward in the frame in order to increase the amount of space in the cabin. Interior comfort was clearly a priority for Ferrari as they sought to have the 'Lusso' live up to its name.
However, the GT/L was also geared towards performance, with significant chassis upgrades – inspired by the Ferrari 250 GTO race car – coming as standard fare on the car. Built around the sporty 2,400 mm SWB chassis, the most notable improvements were reserved for the suspension setup – this consisted of concentric springs with telescopic shocks, a live rear axle, and Watts linkage. The GT/L also shared the same four-wheel hydraulic disc brakes used on the aforementioned.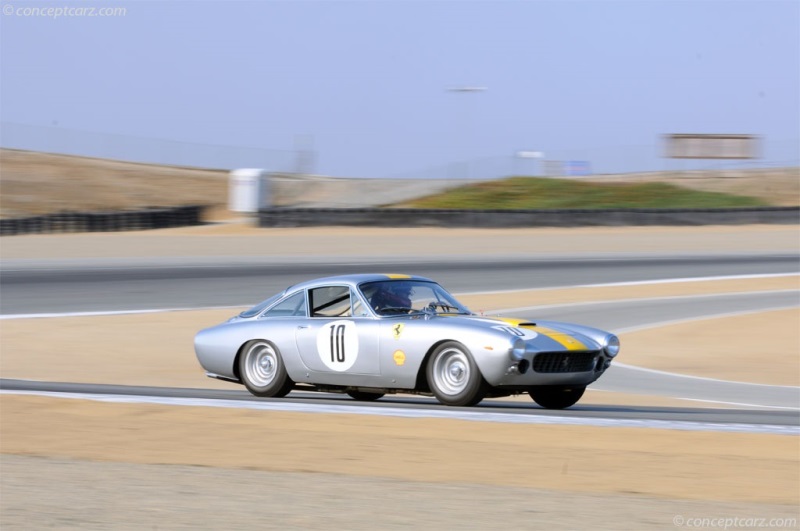 Nimble, firm and with outstanding handling characteristics, this lightweight SWB design would go on to outlive the Lusso and serve as a template for its successor – the Ferrari 275 GTB.
Design, Styling, & Interior
With all the great things it has going for it, the overall design elements of the Ferrari 250 GT Lusso are likely to be the biggest talking point.
The car would garner immediate praise from journalists and enthusiasts alike for its gorgeous silhouette which was highlighted by features such as a three-piece front bumper with 'egg crate' grill, flowing lines over its wheel arches and doors, and a Kamm tail with a subtle rear lip spoiler.
The fine looks would not preclude it from aerodynamic capabilities, as its design would see to it that airflow would be channeled efficiently to the rear.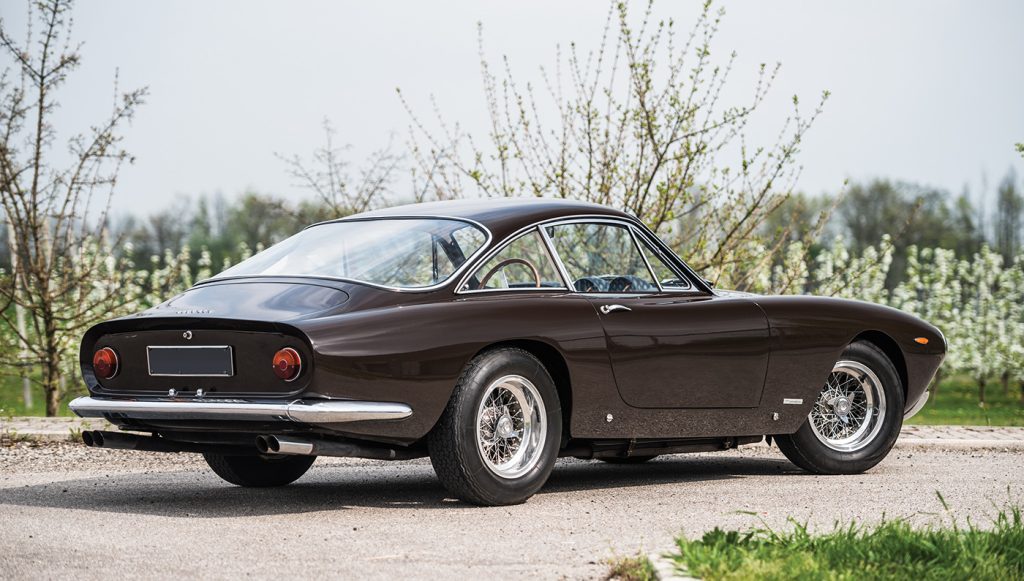 As was the case for all the other 250 GT series automobiles, the construction of the Lusso was a collaboration of Pininfarina and Scaglietti – two of Enzo Ferrari's preferred coachbuilders.
The 250 GT/L was created to fill a gap between the sporty 250 GT SWB and the more luxurious 250 GTE (2+2), combining the best of both worlds. The GT/L was available in just one configuration, although some customers were able to opt for custom body and interior customizations, which included anything from faired-in headlights to air-conditioning.
The Lusso passes the test as a grand tourer with flying colors. The car was suitably comfortable at high speeds and long distances alike, which was helped in large part by the cabin's spacious and luxurious design.
The interior was lavished with the highest-grade Italian leathers, with chrome trim accents provided where necessary. The GT/L also came with the iconic Nardi wood steering wheel and most unforgettably, a quilted leather rear luggage shelf with retention straps.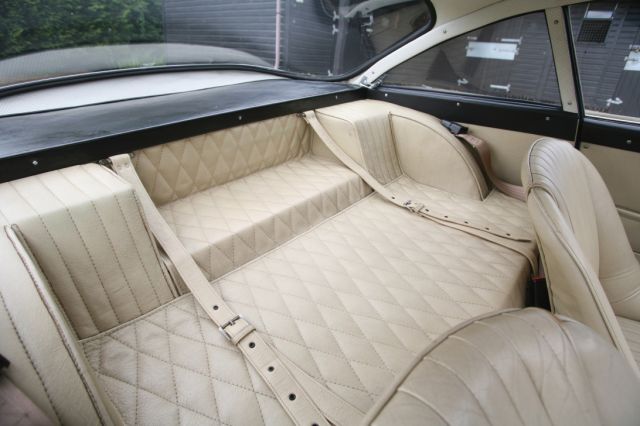 Thanks to its slender A-pillars and B-pillars, excellent visibility for the driver and passengers would be one of the Lusso's defining attributes as a proper GT. This allowed glass to surround the driver on all sides, and permitted the implementation of a true panoramic rear window. This design element offered the driver a nearly unobstructed 360-degree line of sight, and is a characteristic exclusive to the Lusso amongst the other 250 GT series cars.
The instrument cluster was also unlike any of the previous production Ferrari models, featuring an exaggerated large-diameter tachometer and speedometer; both of which were also angled towards the driver for an enhanced level of legibility.
Pricing
In 1962, a brand new Ferrari 250 GT Lusso would have cost you $13,375 USD. While this is still a bargain compared to what you would have to pay for one now, that amount of money back then is the equivalent of about $112,000 USD in today's dollars. As a Ferrari, it was still very much priced as you would expect, all things considered.
Fast forward to the year 2010, and the first big wave of serious car collectors began to have their eyes on the GT/L. There were a few sales between the $400,000 to $500,000 mark at this time, with things really starting to gain momentum by around 2013 when values would soar to well into the 7-figures.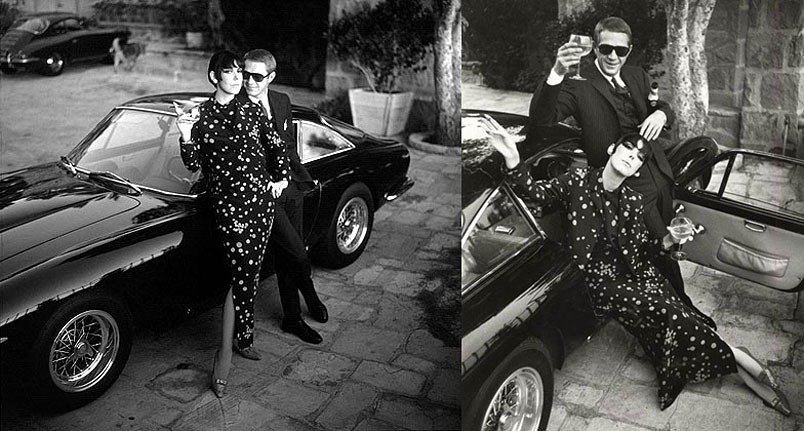 Steve McQueen and Neile Adams with Ferrari 250 GT Lusso
Some of the most notable mentions with regards to sale prices for the GT/L would include an example which sold for $2,300,000 USD in 2007, and the record sale of $2,447,500 USD in 2014. The former – which would be the most expensive after considering inflation – was Steve McQueen's old car. The latter was sold through an RM Sotheby's auction in Arizona.
Today, there is no sign of things slowing down with regards to valuations and asking prices, with examples consistently selling for upwards of $1.5 million USD.
Performance & Specifications Summary
Engine
| | |
| --- | --- |
| Type | Front-mounted, Longitudinal 60° V12 |
| Bore/stroke | 73 x 58.8 mm |
| Total displacement | 2953.21 cc |
| Compression ratio | 9.2 : 1 |
| Maximum power | 240 hp @ 7,500 rpm |
| Power per liter | 81 hp/l |
| Maximum torque | 215 ft-lb @ 5,500 rpm |
| Valve actuation | Single overhead camshaft per bank, Two valves per cylinder |
| Fuel feed | Three Weber 36 DCS carburettors |
| Ignition | Single spark plug per cylinder, Two coils |
| Lubrication | Wet sump |
| Clutch | Single-plate |
Chassis
| | |
| --- | --- |
| Frame | Tubular steel |
| Front suspension | Independent, Unequal-length wishbones, Coil springs, Telescopic shock absorbers |
| Rear suspension | Live axle, Radius arms, Semi-elliptic springs, Co-axial coil springs, & Telescopic shock absorbers |
| Brakes | Discs |
| Transmission | 4-speed + reverse |
| Steering | Worm & sector |
| Fuel tank capacity | 114 liters |
| Front tires | 185 x 15 |
| Rear tires | 185 x 15 |
Weight & Dimensions
| | |
| --- | --- |
| Type | Two-seater Berlinetta |
| Wheelbase | 2400 mm |
| Front track | 1395 mm |
| Rear track | 1387 mm |
| Weight | 1020 kg (dry) |
Performance Figures
| | |
| --- | --- |
| Top speed | 240 kph (149 mph) |
| 0 – 60 mph | 8.0 s |
| 0 – 100 mph | 19.5 s |
| 1/4 mile | 16.1 s |
Gallery & Videos
Image Gallery
I don't think it is much of an exaggeration when hearing anyone say that the Ferrari 250 GT Lusso is one of the most beautiful cars ever made. It seems to take on a simple shape from a distance, but a closer look reveals a detail-oriented exquisiteness that one can't help but appreciate. Its elegant proportions form a timeless design that is fundamentally rooted in the creation of an objectively stunning creation.
Even its utilitarianism garners plenty of visual appeals, with a roomy, thoughtfully designed, and well-appointed cabin acting as the foundation upon which the ideal grand tourer was built. The GT/L is simply astonishing, inside and out. There is really no other way to put it.
Video Gallery
Doug DeMuro's Full Review, Published on Dec 27, 2017 – "The Ferrari 250 GT Lusso is one of the most beautiful vintage Ferrari models. Today I'm reviewing this Ferrari Lusso to show you why the 250 Lusso is worth $3 million"
Petrolicious provides an excellent documentary of James Chen (owner of Axis Wheels), who takes us through the ritual of owning and driving a Ferrari 250 GT Lusso. He is as passionate as he is knowledgeable and meticulous when it comes to his pride and joy.
Wonderful presentation of an RHD example by Australian reviewer, CarTorque – "One of the most beautiful Ferraris ever built. The 250 GT Lusso is the elegant beauty of the stable and captured the hearts of some famous car nuts including Steve McQueen and more recently Eric Clapton. "
Final Verdict
In 1964, the Ferrari 250 GT Lusso would draw the curtain on the Prancing Horse's legendary 250 series as its final iteration; and by this time, it was clear that the absolute best was saved for last.
Widely regarded as one of the most exquisitely proportioned Ferraris ever made, the GT/L has approached cult status amongst wealthy collectors and enthusiasts who all want to own this timeless piece of automotive history. It is top of the bucket list for anyone who fancies themselves a Ferrari collector, and doesn't already have one.
Along with celebrity endorsements through the likes of Steve McQueen and Eric Clapton and the extremely limited-production run of just 350 examples, it didn't take long for the writing to be on the wall in the creation of one of the most sought after classic cars today.
The Lusso was way ahead of its time and would set the standard for grand touring cars. Its legacy lives on to this day, where it continues to embody the golden age of Ferrari in its purest and most elegant form.