Ferrari 250 GT SWB Berlinetta Competizione
At the 1959 Paris Salon, Ferrari introduced the short-wheel-base (SWB) Berlinetta as an out-and-out competition car. On the stand was 1539GT, a car which is sometimes referred to as the prototype due to its distinguishing features (or lack thereof).
1539GT was devoid of fender vents, fender blinkers, front cooling ducts and recessed license plate holder on the trunk-all features which would be common on later models. Of all the SWBs, this chassis has the least interrupted lines. Sergio Pininfarina called it "the first of our three quantum leaps in design with Ferrari."
The Paris car was based off a series of Interim models which were designed by Pinin Farina for the 1959 24 Hours of Le Mans. The final SWB version was drawn up in 1:1 scale at Pinin Farina, however the design remained uncredited and the bodies were manufactured at Scaglietti & C. who typically worked without drawings. Later Scaglietti would take over complete control his company and rename it Carrozzeria Scaglietti in 1960.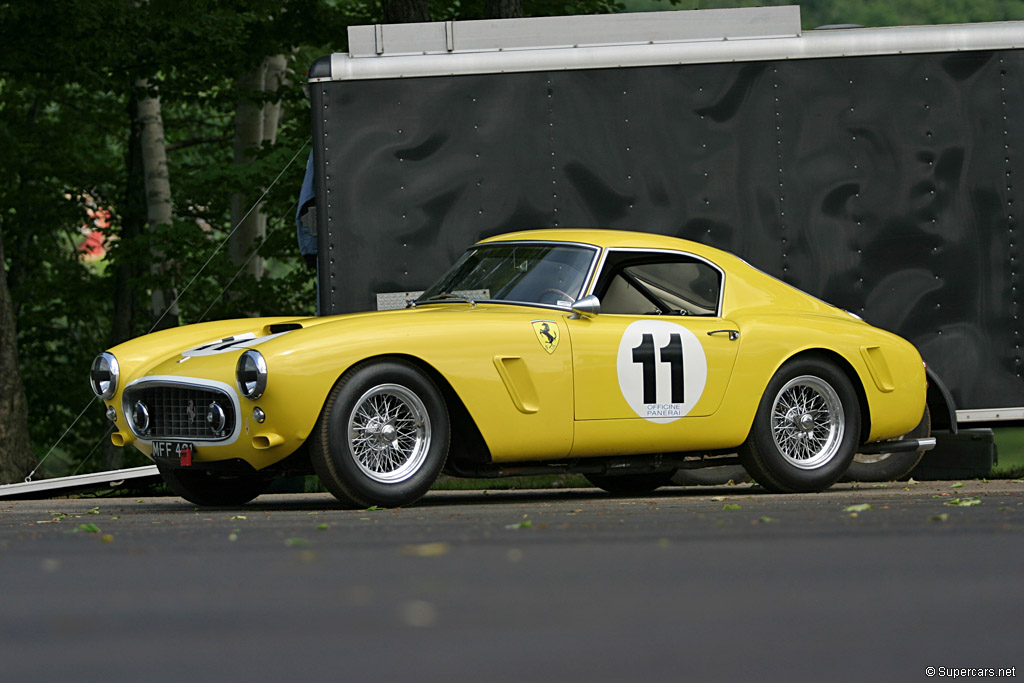 Details
Strictly a race car, the first versions of the SWB featured an all-aluminum body. In 1960 Ferrari introduced their Touring model, sometimes call Lusso, which had larger-diameter frame tubes, a full interior and a steel body. Some cars such as 1993GT and 1995GT were delivered new to Maranello Concessionaires with all the competition features, but with a steel body. These cars were named Semi-Competizione by author Jess Pourret.2
Building on the successful long-wheel-base Berlinettas, better known as the 'Tour de France', Giotto Bizzarrini developed the SWB from the Interim model.
Much work was done on the engine which was upgraded with used 'outside plug' cylinder head with 12 intake ports. Known as Tipo 168B, these also had regular coil-springs on the valves which made room for more cylinder-head studs that could effective seal the copper gasket which "previously, but only very occasionally, leaked."4 Generally the SWB V12 produced 250 to 280 bhp depending on state of tune.
Competition models were produced up until 1962 with minor updates. Later cars can be distinguished by their door windows which are straighter across the top and more pronounced rear fenders.
Racing
In 1959 only the prototype and Turin Show car, chassis, 1613GT were fabricated. Not long afterward, four cars appeared at the 1960 12 Hours of Sebring. The cars placed 4th, 6th and 7th overall behind the winning 1.6-liter Porsche 718 RS60 Spyder.
Late in production, the SWB was finally homologated by the FIA as a production car just in time for the 1960 Le Mans. This meant the cars didn't get six Weber 38DCN carburetors until the test weekend at Le Mans.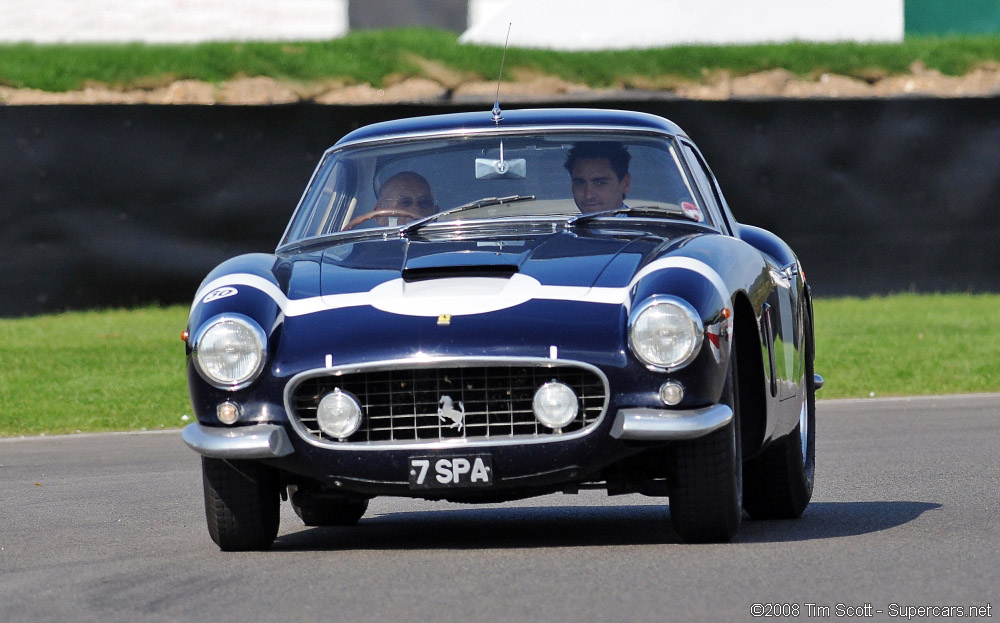 The next appearance was that the 1960 Targa Florio. Held over the tight 44.7-mile course, smaller cars were favored. Four SWBs placed well behind the much more suitable Ferrari Dino 246 S. The same could be said about the Nürburgring 1000km were the cars placed behind the works Ferraris, the factory Porsches and the winning Camoradi Maserati Tipo 61.
For Le Mans, the Weber 38DCN specification, really paid off when the cars placed 4th, 5th, 6th, 7th and first in the GT3.0 class. The SWB of Fernand Tavano and Pierre Loustel won the class and was the highest placed GT car.
Stirling Moss scored the SWB's first major overall victory at the 1960 Tourist Trophy which was not a championship round that year. Chasing the slower Aston Martin DB4GTs, he used the Rob Walker-entered car which was painted dark blue with a big blue band up front. In the same car, Moss won the Redex Trophy at Brands Hatch just a week later.
The 3200 mile Tour de France was practically built for the SWB. Seven were entered, and the cars swept the podium with the Garage Francorchamps car of Willy Mairesse and Georges Jojo Berger placing first overall. Once completed, the car had been in two separate accidents.
The final major race of 1960 was the Paris 1000km at Montlhéry. It was won outright by Olivier Gendebien and Lucien Bianchi. As a footnote to the season, the Rob Walker SWB won the Nassau Tourist Trophy at the Bahamas Speed Weeks with Stirling Moss again at the wheel.
An ultimate version of the SWB was made in 1961 for the Lemans race effort. These cars are sometimes referred to as the 'SEFAC Hot Rod' specification which was Ferraris team name at the time. Many differences set the SEFAC cars apart from the regular Competizione models, included a lighter body, Testa Rossa-spec engine and a stripped interior with Plexiglas windows.
See full 1959 Ferrari 250 GT SWB Berlinetta Competizione Gallery here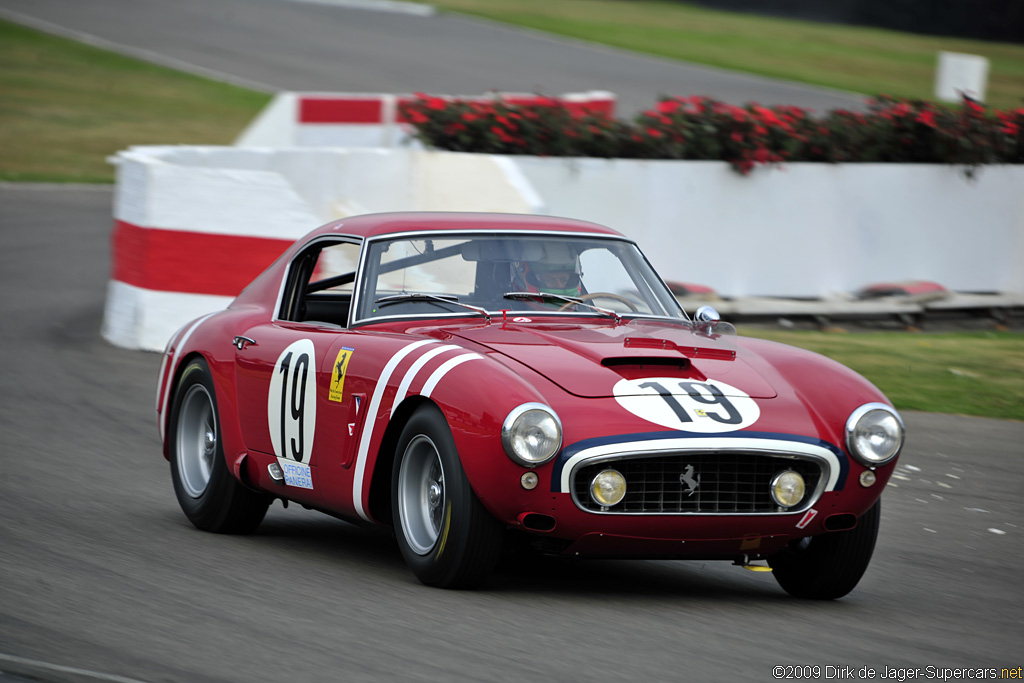 Ferrari 250 GT SWB Video
More Awesome Ferrari Videos Here
Specs & Performance
| | |
| --- | --- |
| | |
| type | Racing Car |
| production years | 1959 – 1962 |
| released at | 1959 Paris Auto Show |
| built at | Modena, Italy |
| body stylist | Pinin Farina |
| coachbuilder | Scaglietti & C |
| engineers | Giotto Bizzarrini |
| engine | Tipo 168B Colombo 60° V12 |
| position | Front Longitudinal |
| aspiration | Natural |
| valvetrain | SOHC, 2 Valves per Cyl |
| fuel feed | 6 Twin-Choke Weber 38DCN |
| displacement | 2953 cc / 180.2 in³ |
| bore | 73 mm / 2.87 in |
| stroke | 58.8 mm / 2.31 in |
| compression | 9.2:1 |
| power | 205.1 kw / 275 bhp |
| specific output | 93.13 bhp per litre |
| bhp/weight | 250.0 bhp per tonne |
| body / frame | Aluminum Body over Tipo 539 Steel Tube Chassis |
| wheel type | Borrani Wire |
| front tires | 185×15 |
| rear tires | 185×15 |
| front brakes | Discs |
| rear brakes | Discs |
| steering | Worm & Wheel |
| f suspension | Double Wishbones w/Coill Springs |
| r suspension | Live Axle w/Leaf Springs |
| curb weight | 1100 kg / 2425 lbs |
| wheelbase | 2400 mm / 94.5 in |
| length | 4430 mm / 174.4 in |
| width | 1980 mm / 78.0 in |
| height | 1130 mm / 44.5 in |
| transmission | Ferrari 4-Speed Manual |
| race victories | 1960 Tourist Trophy, 1960 Tour de France, 1960 Paris 1000km |
| class victories | 1960 24 Hours of Le Mans |
Sources & Further Reading
1.Pourret, Jess. Ferrari 250 GT Competition Cars. Haynes, 1977.
2. Mergard, Harald et al. Barchetta.cc. Retrieved January 2011.
3. Anselmi, Angelo et. al. Making a Difference, Le Edizioni Dell Opificio: 2006.
4. Pritchard, Anthony. Ferrari 250 GTO: The Definitive History of a Legend. Haynes Publishing Group: 2010.