Ferrari 250 GT SWB Berlinetta 'Lusso'
At the 1960 Geneva Motor Show, Ferrari introduced a touring version of their potent SWB race car and many owners could then buy near-copies of the cars they saw on the tracks for weekend drives. Ferrari underlined performance potential of these cars by giving them all odd-numbered chassis numbers which were typically reserved for competition cars.
The SWB was the first Berlinetta body that was suitable for production on the 2400mm short-wheel-base chassis. Sergio Pininfarina called it "the first of our three quantum leaps in design with Ferrari."
Ferrari offered the SWB in distinct specification which would be suited for for the demands of the racetrack, highway or sometimes both. Cars varied to suit individual customers' requirements. Some of the very fastest models were called competitzione and used lightweight aluminum-alloy bodies, while the lusso road-going version had a fully trimmed interior, softer springing and steel body.
The engine was a version of the Ferrari V12 used on earlier 250 GTs, but for 1959 it used the 'outside plug' cylinder head with 12 intake ports. Generally this produced 250 to 280 bhp depending on state of tune.
Early versions had drum brakes while Dunlop discs were used to the model in 1960.
Like these early 250 GTs, the SWB enjoyed a string of success on the track which led to continual development that culminated with the 250 GTO. Right before the GTO was released, Ferrari was preparing SWBs with very light-gauge aluminum and near 300-horsepower engines for exclusive factory use. Known as the SEFAC hotrods, these were the ultimate derivative of the SWB before being replaced by the much more aerodynamically efficient GTO.
Pictures
See full 1960 Ferrari 250 GT SWB Berlinetta 'Lusso' Gallery here
Sources & Further Reading: 1. Anselmi, Angelo et. al. Making a Difference, Le Edizioni Dell Opificio: 2006.
Specs & Performance
| | |
| --- | --- |
| | |
| type | Limited Production Car |
| production years | 1960 – 1963 |
| released at | 1960 Paris Auto Show |
| built at | Maranello, Italy |
| body stylist | Pinin Farina |
| coachbuilder | Carrozzeria Scaglietti |
| engine | Tipo 168, Colombo, Aluminum Alloy 60 Degree V12 |
| aspiration | Natural |
| valvetrain | SOHC, 2 Valves per Cyl |
| fuel feed | 36 DCL Carburettors |
| displacement | 2953 cc / 180.2 in³ |
| bore | 73 mm / 2.87 in |
| stroke | 58.8 mm / 2.31 in |
| compression | 9.7:1 |
| power | 186.4 kw / 250 bhp |
| specific output | 84.66 bhp per litre |
| bhp/weight | 224.82 bhp per tonne |
| body / frame | Steel Body with Aluminum Hood, Fenders over Steel Tube Frame |
| driven wheels | RWD |
| wheel type | Borrani Wire Wheels |
| front brakes | Discs |
| rear brakes | Discs |
| steering | ZF Worm & Wheel |
| f suspension | Double Wishbones |
| r suspension | Live Axle |
| curb weight | 1112 kg / 2450 lbs |
| length | 4430 mm / 174.4 in |
| width | 1980 mm / 78.0 in |
| height | 1130 mm / 44.5 in |
| transmission | 4-Speed Manual |
Auction & Sales History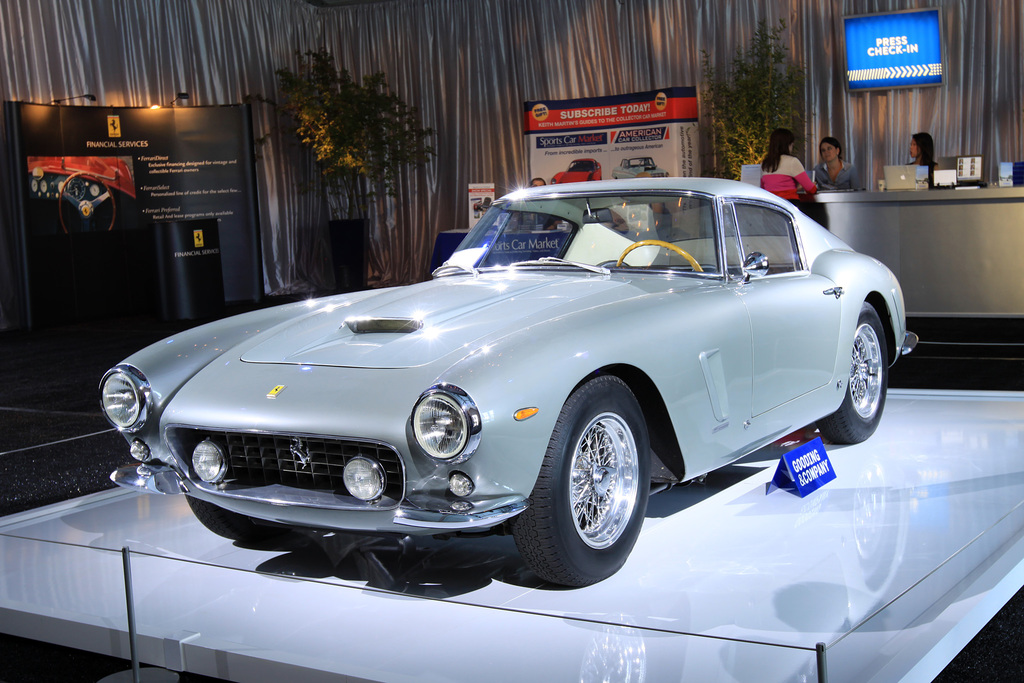 1962 Ferrari 250 GT SWB Berlinetta 3113 GT – did not sell for $10,000,000 An Exceptionally Original 250 GT SWB Berlinetta. Rich, Well-Documented History and Provenance. Splendid As-Delivered Color Scheme. Less than 35,000 Miles from New. Offered with Books, Tools, and Important Records. Documented by Ferrari Historian Marcel Massini. Auction Source: 2014 Pebble Beach Auctions by Gooding & Company
1962 Ferrari 250 GT SWB Berlinetta 3409GT – did not sell for $3,200,000 Formerly the Property of Peter LeSaffre. Late-Production 250 GT SWB Berlinetta. Well-Appointed "Lusso" Specifications. Sensational Presentation and Color Scheme. Campaigned with Success at Laguna Seca and Moroso. Beautifully Maintained Paul Russell and Company Restoration. $350,000 Concours Preparation by Bob Smith Coachworks. FCA Platinum Award and La Bella Macchina Winner at Cavallino. Offered with Tool Roll and Restoration Invoices. Documented by Ferrari Historian Marcel Massini. Auction Source: 2011 Pebble Beach Auctions by Gooding & Company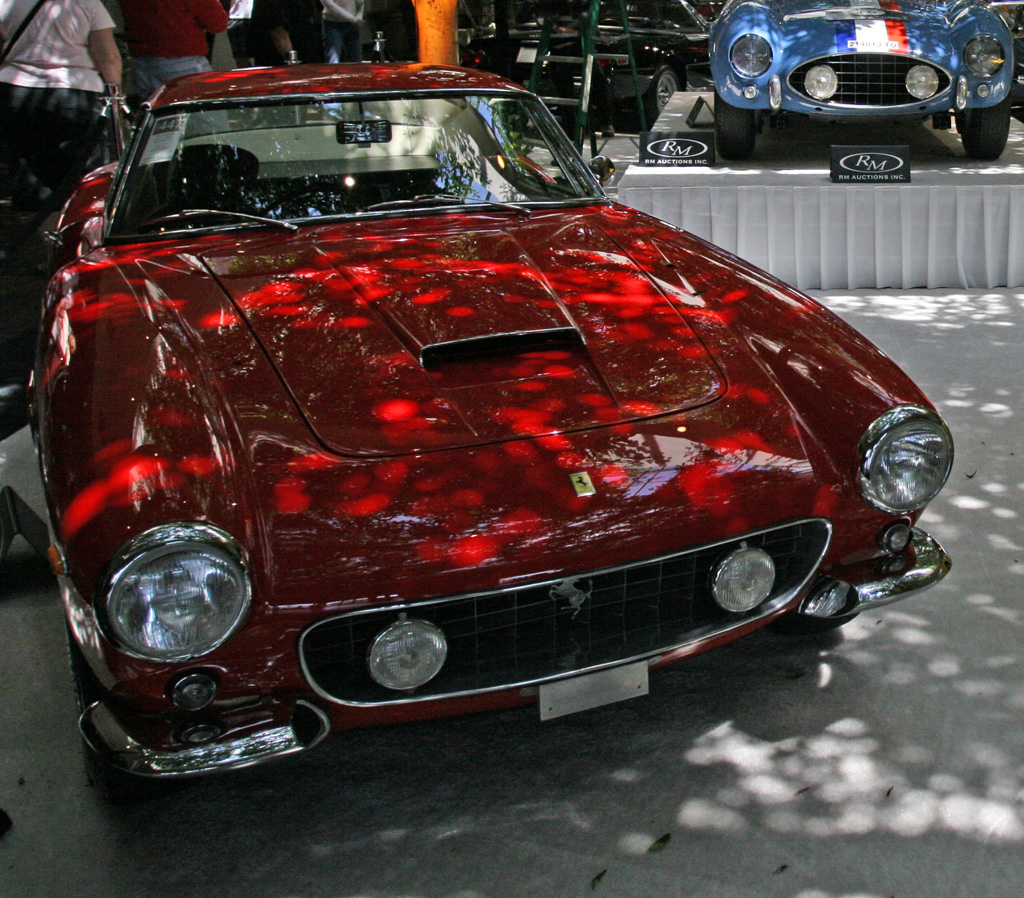 1961 Ferrari 250 GT SWB Berlinetta 3087GT – sold for $4,510,000. The spectacular 250 GT SWB Berlinetta presented here, chassis 3087 GT, is the 117th of the total 165 units built. A left-hand drive example, it was assembled as a "Lusso" street version and was sold new to its first owner Otello Feretti of Bologna, Italy before eventually being exported from Italy to the United States. In 1974, it is known to have been owned by G. Cole before being acquired the same year by Bill Rudd, a resident of Los Angeles, California and Reno, Nevada. Thereafter, the car was sold in 1978 to Chuck Reid, with whom it remained for several years, before being offered for sale in the 1980s by John Hajduk of Bensenville, Illinois.
The car was eventually acquired by a German gentleman who kept the car in the United States and had it stored at Shelton Ferrari in Fort Lauderdale. Heinrich Fries, also of Germany, later owned the Ferrari although it continued to remain in the United States and was eventually sold to its present owner.
As presented, 3087 remains in show-quality condition throughout. It has benefited from a no-expense-spared restoration at Shelton Ferrari – a restoration that reportedly cost $600,000 and was honored with Platinum Awards and the prestigious Excellence Cup at several events, including the Cavallino Classic. Having been driven only sparingly since completion of its nut-and-bolt, ground-up restoration, it continues to be a concours-level show car throughout, beautifully presented in red with a black interior. Moreover, it benefits from an owner's manual and a tool kit as well as a complete binder, documenting the aforementioned professional restoration in photographic detail. Auction Source: 2008 Monterey Preview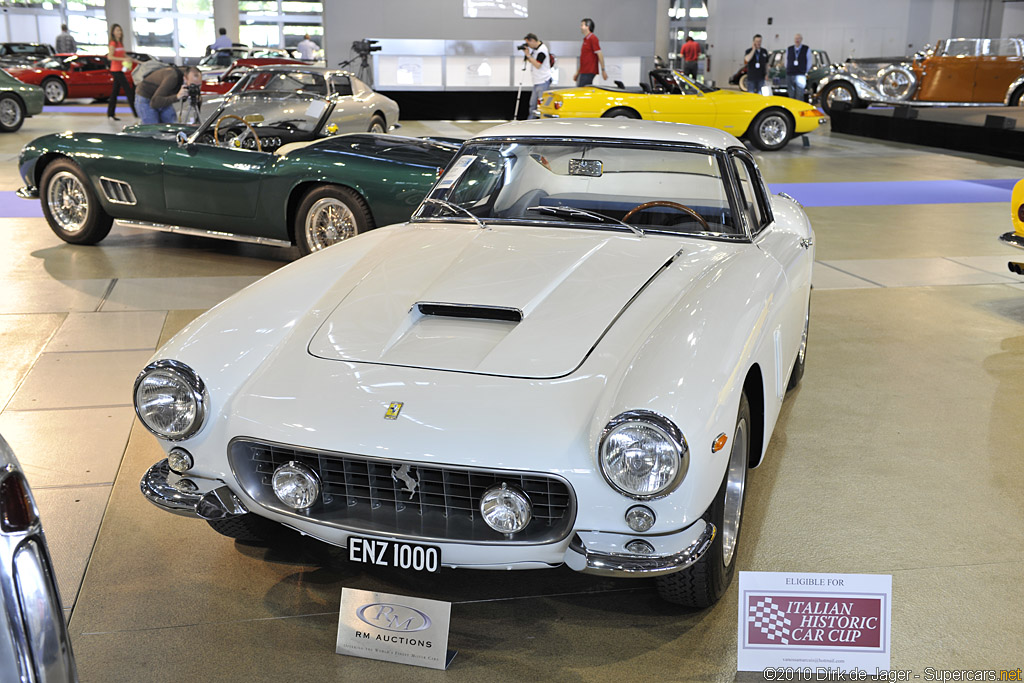 1962 Ferrari 250 GT SWB Berlinetta 3401GT – sold for €2,632,000. The 135th of 165 250 GT SWB Berlinettas built, 3401 GT was sold new on 21st April 1962 to an Italian gentleman, Sig. Molgara, and registered on Milan plates numbered "MI 651485." One of just 36 examples completed in 1962, its original colours were green with a black Lusso (luxury) interior.
Molgara did not keep the car for very long as he sold it to Distillerie Lombarde di Catania of Milan, which in turn sold the car in 1965 to third owner Paolo Dal Pozzo. Fourth owner Stefano Pallavicino of Genova bought the car in 1969 before it was sold the following year to Hans Wiemuller of Munich, Germany. Two years later, in 1972, he sold the car to its next long term owner, Georg Amtmann, also of Germany.
Amtmann had the car fully restored and changed the colour to Rosso Corsa. He enjoyed the car for the next 13 years before 3401 GT went to its fourth owner, Swiss collector Erich Traber via dealer Albrecht Guggisberg's Oldtimer Garage in 1985. The restoration was updated in 1987 by Sportgarage Graber in Wichtrach, Switzerland.
Later in 1987, 3401 GT was purchased by Italian car enthusiast Eugenio Amoruso, who used it in a variety of events for the next two years. It was even featured on the cover of the September/October 1989 issue of Ferrari World magazine. In November 1992, 3401 GT was purchased by dealer Edgar Herbert Engel of Haltern, Germany, who sold it a few months later to Dirk-Rainer Ebeling of Wiesbaden. Ebeling had the car completely restored again and kept it for about three years before selling it to Franco Meiners in August 1996.
In 1997, Meiners decided to use the car in vintage racing. He had the original engine (no. 3401) removed from the car and set aside while a race-prepared engine from a 250 GTE was installed; it is believed that the external fuel filler was added at this point. The car was inspected and homologated by GIPI Cars in Opera-Milan, Italy, following which FIA Homologation Certificate #1538 was issued for the car.
For three years, Meiners and his partner Bernard Duc raced 3401 GT at various historic events, eventually deciding to offer the car for sale through dealer Axel Schuette. The original engine was reinstalled, and the car was offered on and off by Schuette until July 2002, when it joined the renowned collection of Bruce McCaw of Seattle, Washington, U.S.A. In August 2005, Seattle-based developer Ken McBride acquired 3401 GT in a trade deal with Bruce McCaw before selling it shortly thereafter.
In 2007, at RM's inaugural Ferrari: Leggenda e Passione auction in Maranello, the car was sold to a Dutch collector and was later acquired by famed British radio presenter and devoted Ferrari collector Chris Evans. Following its acquisition, Mr. Evans commissioned a restoration from marque specialists DK Engineering in England at a cost of over £220,000, finishing the car in white with a light blue leather interior – a striking colour combination that was likewise executed on five of his other high-end Ferraris. Auction Source: 2010 RM Auctions Sporting Classics of Monaco