Ferrari 250 GT SWB 'SEFAC Hot Rod'
A year before the 250 GTO would make its seminal mark, Ferrari created the ultimate SWB and it was later nicknamed the 'SEFAC Hot Rod'. Internally known as the Comp/61, a handful of the unbeatable 250 SWB competition cars got a mechanical makeover for the 1961 season. At the time there was little competition that could rival the SWB in the GT class and it often embarrassed the Jaguar E-Type and Aston Martin DB4 on British soil.
Although Ferrari was way ahead of the 1960 pace and faster than anything Aston Martin or Jaguar could produce, they still upgraded the SWB for specific clients and the factory team. Since Ferrari was known as SEFAC in 1961, these cars naturally took on the team's name. While specification varied slightly from car to car, most SEFAC Hot Rods featured the lighter Tipo 539/61 chassis and more powerful Testa Rossa-spec engine.
The Tipo 539/61 chassis was similar to the regular SWB unit, but featured revised rear suspension pickup points. Furthermore, it had smaller diameter tubing and extra bracing points for rigidity. This lighter chassis supported a body which was made of exceptionally thin 1.1mm aluminum. As the most evolved version of the SWB, this body features wider wheel arches, a flat trailing edge on the side windows and occasionally a fuel protection flap over the driver's side exhaust.
Based on the Testa Rossa, the SEFAC Hot Rods exclusively received the Tipo 168B/61 engine with Testa Rossa cylinder heads, high lift tipo 130 camshafts, larger intake tracts and two-piece large diameter exhaust headers. With six twin-choke Weber 46 DCF/3 carburettors, nearly 300 bhp was realized. Some of the engine castings including the sump, valve covers and timing case were casted from Magnesium. Even with the standard 4-Speed mandated by homologation, the Hot Rods could reach 60 mph in just 5.0 seconds and had a top speed of 160 mph down the Mulsanne Straight at Le Mans.
Inside, these cars were naturally stripped of all amendments and sound deadening. Plexiglas side windows were fitted and only operated manually by pulling up on a strap. Bare aluminum was visible on the floorboards, front firewall and rear parcel shelf. Some of the cars featured hood-mounted bug deflectors, competition fuel-filler cap and left side muffler protectors as per the Le Mans regulations.
It has been reported that anywhere from eight to twenty SEFAC Hotrods were produced. It is generally thought that around 20 of the cars received the potent Tipo 168B, but were missing some of the other important competition features.
On the track, these cars racked up considerable wins including a first in class at the 1961 LeMans as well as outright victories in the 1961 Targa Florio and RAC Tourist Trouphy.
1961 Ferrari 250 GT SWB 'SEFAC Hot Rod' Gallery
See full 1961 Ferrari 250 GT SWB 'SEFAC Hot Rod' Gallery here
250 GT SWB 'SEFAC Hot Rod' Specs & Performance
| | |
| --- | --- |
| | |
| type | Racing Car |
| production years | 1961 – 1963 |
| built at | Modena, Italy |
| body stylist | Pininfarina |
| coachbuilder | Carrozzeria Scaglietti |
| engine | Tipo 168B/61 Colombo 60° V12 |
| position | Front Longitudinal |
| aspiration | Natural |
| block material | Aluminum Alloy |
| valvetrain | SOHC, 2 Valves per Cyl |
| fuel feed | Six Weber 46 DCF/3 Carburettors |
| displacement | 2953 cc / 180.20 in³ |
| bore | 73 mm / 2.9 in |
| stroke | 58.8 mm / 2.3 in |
| compression | 9.5:1 |
| power | 220 kw / 295 bhp @ 7000 rpm |
| specific output | 99.9 bhp per litre |
| body / frame | 1.1mm Aluminum Body over Tipo 539/61 Steel Tube Chassis |
| driven wheels | RWD |
| wheel type | Borrani Wire |
| front tires | Discs |
| rear tires | Discs |
| steering | Worm & Wheel |
| f suspension | Double Wishbones w/Coill Springs |
| r suspension | Live Axle w/Leaf Springs |
| transmission | Ferrari 4-Speed Manual |
| top speed | ~257.44 kph / 160 mph |
| 0 – 60 mph | ~5 seconds |
250 GT SWB 'SEFAC Hot Rod' Chassis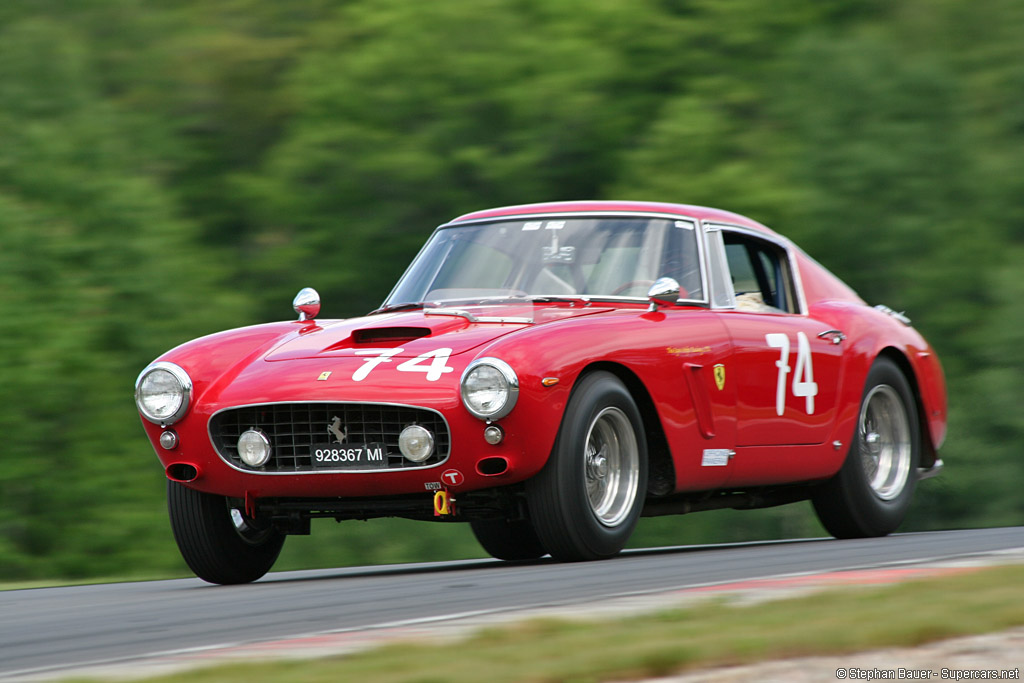 2701GT – Used by factory at Le Mans practice in April but crashed heavily. Was later sold and licensed MI 928367. The car was restored in the mid-eighties, and the car was offered at RM's 2002 Monterey Sportscar auction.
2439GT – Described as "the second of only 20 'SEFAC Hot Rods' built", 2439GT "was ordered by first owner Gunnar Andersson, a successful Swedish gentleman driver, with the intention of competing in the 1961 Targa Florio in Sicily." It arrived in Bianco Avorio red with red seats, a 130 liter fuel tank and 286 bhp engine. By 1989, the car was restored, and in 1996, the original engine was refurbished Bob Wallace. At Bonham's 2004 Gstaad Ferrari sale this car was offered but did not sell. It was later offered as a private treaty for €2.5 million. Owned by Jean-Pierre Slavic is was displayed at the 2005 Quail Gathering.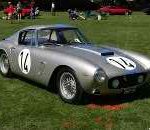 2689GT-Painted silver with a blue stripe, 2689GT was driven to 3rd overall and first in class at the 1961 24 Hours of LeMans by Pierre Noblet and Jean Guichet. They continued to race the car and racked up probably the most desirable record of all the SWBs. In 1984 a nine-year restoration was complete and it appeared at the 1984 Pebble Beach Concours. Since then, it has made prestigious showings at Coys Historic Festival, Ferrari's 50th Anniversary and the 1999 Goodwood Festival of Speed..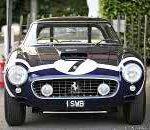 2735GT-Painted Dark Blue with a distinctive white front band, 2735GT was delivered new to Rob Walker and heavily campaigned in the UK by Stirling Moss. In this car he embarrassed the best British efforts from Aston Martin and Jaguar. Moss failed to finish at Le Mans, but took first overall at events like the the British Empire Trophy at Silverstone, Peco Trophy at Brands Hatch and Tourist Trophy at Goodwood. After Campaigning extensively in Britain, the car was rebodied by Carrozzeria Drogo for Chris Kerrison. This remained on the car until 1980 when a replica body by Grand Prix Metalcraft was fitted. The Drogo body was later fitted on 250 GTE 2+2 3611GT.
Long time owner Clive Beecham raced the car with the replica body with the '1SWB' UK registration. IN 2007 he sent it to Ferrari Classiche in Maranello for a full restoration. The 20-month job included casting a new competition spec 250 engine since the original was long gone. Further modifications were done to the replica body to get the exact details and dimensions correct to delivery specifications as it was in 1961. Stirling Moss was reunited with the car and it later appeared during the parade laps at the 2009 Goodwood Revival.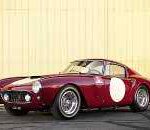 2845GT-Sold new to Count Volpi under the manager's Scuderia Serenissima. At the request of Maurice Trintignant it was fitted with passenger vents for its racing debut at the 10th Tour de France. Finishing 3rd overall, the car was then campaigned in the Paris 1,000 at Montlhéry and the Daytona 3-Hour Continental. Later owners included Paolo Ferraro and Benito Mantegani. The car was a regular fixture in 1980s Historic Events. In 1997 a replica body was made for Steve O'Rourke, but after his death, the original body was restored and fitted by Ferrari Classiche.
250 GT SWB 'SEFAC Hot Rod' Sales & Auction History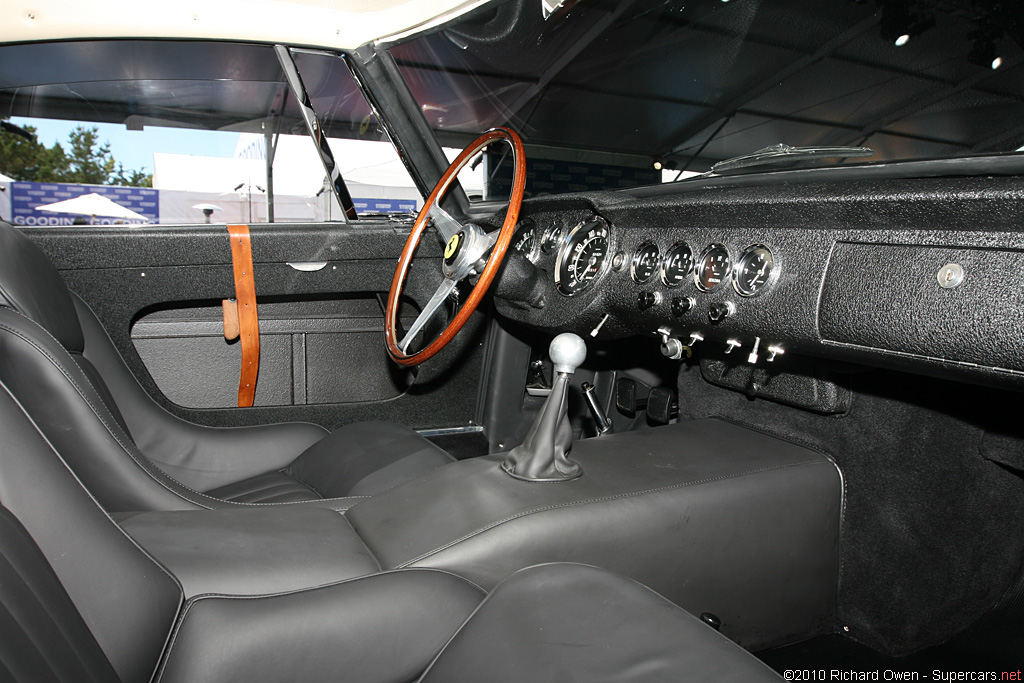 1961 Ferrari 250 GT SWB Berlinetta SEFAC Hot Rod 2845GT
. Today this exquisite SEFAC hot rod appears just as it left the factory in 1961, finished in the original Scuderia Serenissima livery and, amazingly, complete with the majority of its original alloy bodywork, its matching-numbers Tipo 168 Comp/61 powerplant and lovely details such as wide Borrani wire wheels wrapped in XWX tires, SNAP exhausts and beautiful Marchal headlamps and auxiliary lights.
In its current condition, very little preparation would be needed to make this a successful concours contender – after all, it is a car that would be warmly received at almost any major international venue from the Cavallino Classic to Villa d'Este. It remains as fresh and tidy as the day it left the Ferrari factory and has the significance and immediate visual impact to make it stand apart at any show. Not only is it ready for the finest concours events on the calendar, it is eligible for the top historic events including the Ferrari Historic Challenge, Goodwood Revival, Tour Auto, Le Mans Classic, Modena Centro Ore and the Monterey Historic Races.
Although only 20 of these important racing cars were produced, in fulfilling their intended purpose, many were treated as beasts of burden and suffered hard lives as a result. Among the survivors, it is exceedingly rare to find an example that has not been damaged beyond recognition, burned to the ground or had its valuable driveline poached.
Despite a successful racing career in period and active existence as a vintage racer, 2845 GT has survived with its integrity intact, placing it in the minority of the remaining examples. Offered with Factory Certification and an extensive report produced by Ferrari historian Marcel Massini, few would dispute its overwhelmingly positive credentials.
It has become increasingly rare to see a genuine SEFAC hot rod available for public sale. Presented here is an opportunity to acquire a superb example that can claim a notable international racing history, a long list of famous drivers, an unbroken ownership history and a stunning restoration completed by the factory. It is, without question, a prize for the serious Ferrari collector. Auction Source: 2010 Gooding & Company Pebble Beach Auction