1964→1966 Ferrari 250 LM
At the 1965 LeMans, Ferrari's 250LM sports car fulfilled its purpose by winning the race it was named after. Drivers Jochen Rindt and Masten Gregory had much to celebrate since it was the 250LM's greatest moment as well as their own. They were piloting Ferrari's ideal sports-racing car which had the the successful hallmarks of the mid-1960s design with a mid-mounted V12 engine in a low-drag body. Even before the 1965 victory, factory sales brochure listed the model as a 'Berlinetta 250/Le Mans' and internally the car was listed as a 250/LM.
At Ferrari, the years leading up the 250LM's success was exciting. During this period, Mario Forghieri and other designers were hard at work trying to make the Ferrari V12 fit behind the driver while maintaining balance and reliability. They successfully completed this task in 1963 with the 250P which was the first rear-engine car to win Le Mans.
After the success of the 250P, Ferrari wanted to take the rear engine formula a step further by creating a version that would run the sports car class for road-going cars. In doing so, he needed to make the 250P look like road car, and convince the governing FIA of this. Ferrari said the model "embodies all the experience and features which have been most successful in the recent world long distance competitions." They were confident about the design saying "the reliability and power of its 12 cylinder engine have become legendary, and the rigidity and strength of the chassis have been amply demonstrated. The body work is the result of careful aerodynamic study by Pininfarina. All these ingredients have been combined into the 250 Le Mans Berlinetta to offer the Customer the best possible opportunity of success in competitions. "
See full 1964 Ferrari 250 LM Gallery here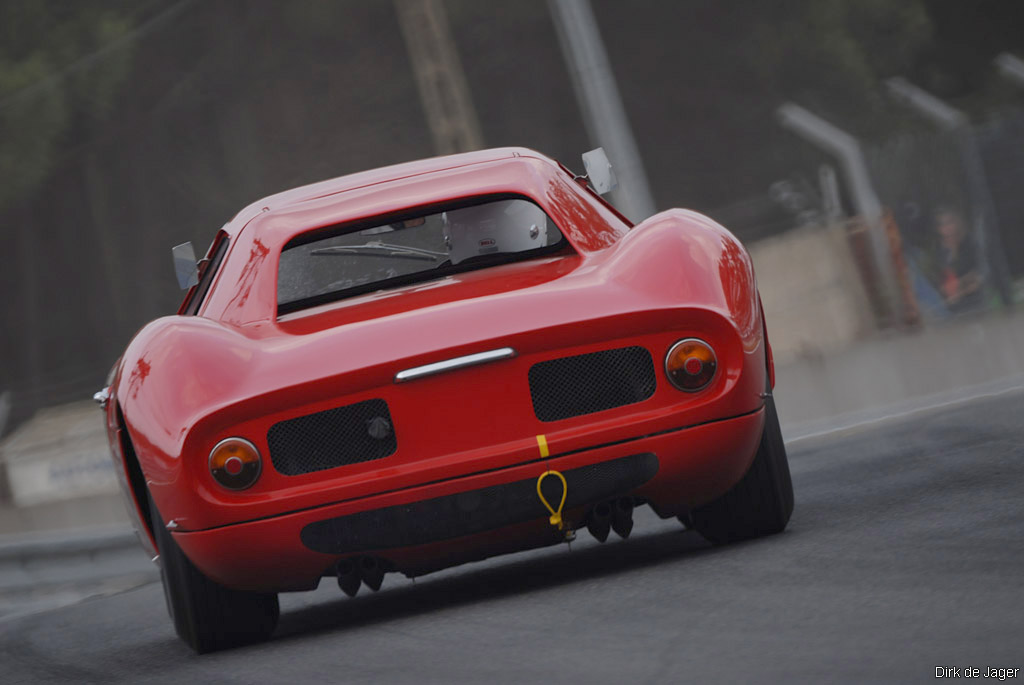 Ferrari and Pininfarina revealed the 250LM at the 1963 Paris Motor Show. Aside from the generous appointments added by Pininfarina just before the show, the 250LM was very much like the Ferrari 250 P with a roof.1 Both cars shared the same lengthened Dino sports prototype (SP) chassis and the well tested 250 GT V12. Since this engine fit well within the three liter limit for racing cars, it was an easy choice.
Chassis detail was quite complex and robust. It included four tubes that carried oil and water to the front-mounted radiators. This helped maintain a better weight balance, but did make both systems venerable to accident damage while also increasing cockpit heat. To further balance weight, two 65 liter fuel tanks were located in front of the rear wheels. Fully independent suspension was fitted, as was inboard rear brakes which demanded very strong half shafts to cope with the load. In the end, Ferrari had a small car that weighed only 850 kg when dry.
Unfortunate for Ferrari, the FIA and was not convinced that the rear engine 250LM was a version of the front-engine 250 GT which had the necessary production figures for homologation. While both the cars shared the same engine, they were radically different in concept. Ferrari's attempt to bully the FIA by threatening to boycott several events, including F1 entries, did not sway the officials; the 250LM would race as a prototype instead of a road car.
See full 1964 Ferrari 250 LM Gallery here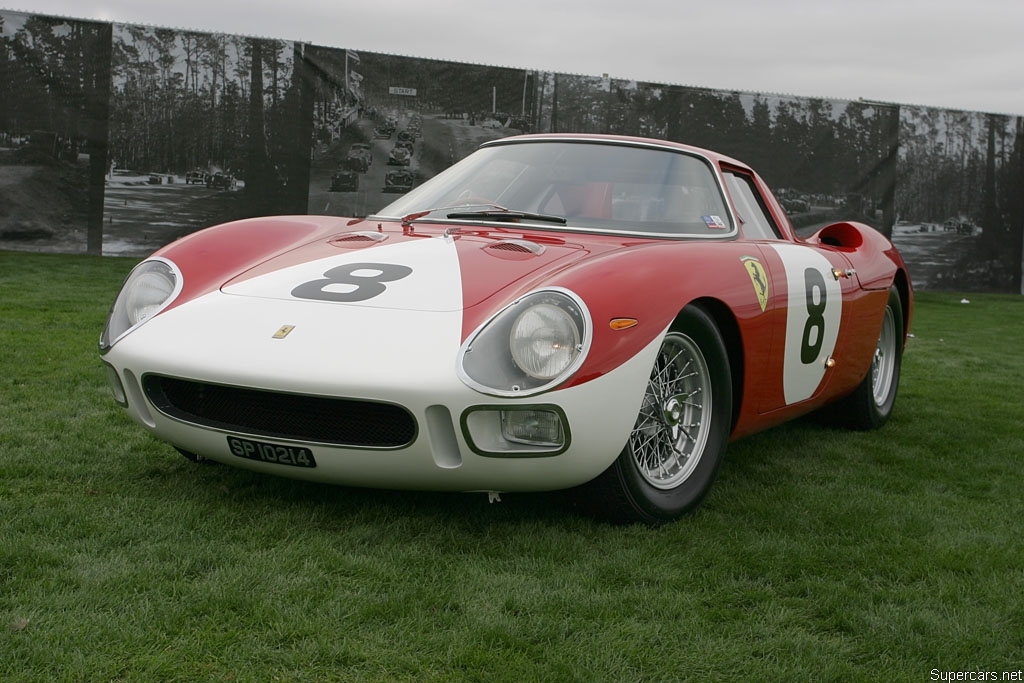 Since Ferrari had much faster prototypes available for the 1964 season, the 250LM seemed classless and the 250GTO didn't have a proper replacement. The whole ordeal would have looked like one of Enzo's big mistakes had he not prepared a couple very potent versions of his 275 GTB called the Competizione Speciale.
In May 1963, Ferrari increased displacement from the prototype's 3.0 liter engine to 3.3 liters and started selling copies to private teams like NART, Maranello Concessionaires, Scuderia Filipenetti and Ecurie Francorchamps. These teams drove the LM home to many overall victories in support races and hill climbs. By 1965, Ferrari was desperate, and a luxurious road car was made by Pininfarina on chassis #6025 complete with red leather interior and electric windows. This become the only 250LM that never raced.
The resulting 1964 racing season was lackluster for the 250LM which often lagged behind the prototypes it was forced to race with. Complete vindication came at the 1965 LeMans. During the event all of the prototype cars dropped out with reliability problems and the 250LM raced by Luigi Chinetti's NART team took first overall. Jochen Rindt and Masten Gregory drove the winning car, 5893. Earlier in the season Ecurie Francorchamps also won the Spa-Francorchamps 500km with a 250LM.
By 1966 the 250LM was finally homologated as a sports car, but only after it was almost outdated by the GT40.
See full 1964 Ferrari 250 LM Gallery here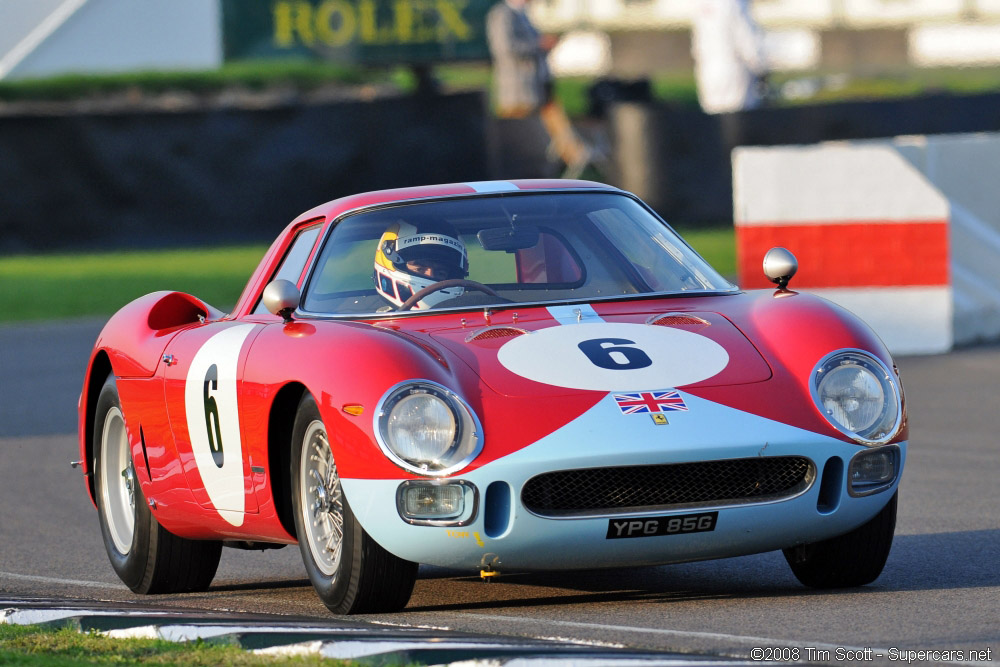 Ferrari 250 LM Specs & Performance Data
| | |
| --- | --- |
| | |
| type | Racing Car |
| production years | 1964 – 1966 |
| built at | Maranello , Italy |
| body stylist | Pininfarina |
| coachbuilder | Scaglietti |
| engineers | Michael Parks |
| production | 32 |
| predeccesor | 1963 Ferrari 250 P |
| engine | 60º V12 w/Dry Sump Lubrication |
| position | Front, Longitudinal |
| aspiration | Natural |
| ignition | Twin Distributors |
| block material | Silumin w/Silumin Cylinder Heads |
| valvetrain | SOHC 2 Valves / Cyl |
| fuel feed | 3 Weber Carburetors |
| displacement | 3285 cc / 200.5 in³ |
| bore | 77.0 mm / 3.03 in |
| stroke | 58.8 mm / 2.31 in |
| compression | 9.7:1 |
| power | 238.6 kw / 320.0 bhp @ 7500 rpm |
| specific output | 97.41 bhp per litre |
| bhp/weight | 390.24 bhp per tonne |
| body / frame | Aluminum Body over ubular Steel Chassis |
| driven wheels | RWD |
| wheel type | Allow Wire Wheels or Cast Aluminum |
| front tires | Dunlop 5.50×15 |
| rear tires | Dunlop 7.00×15 |
| front brakes | Dunlop Discs w/Servo Assist |
| rear brakes | Dunlop Discs w/Servo Assist |
| steering | Rack & Pinion |
| f suspension | Double Wishbones w/Coil Springs over Telescopic Shock Absorbers, Anti-Roll Bar |
| r suspension | Double Wishbones w/Coil Springs over Telescopic Shock Absorbers, Anti-Roll Bar |
| curb weight | 820 kg / 1808 lbs |
| wheelbase | 2400 mm / 94.5 in |
| front track | 1350 mm / 53.1 in |
| rear track | 1340 mm / 52.8 in |
| length | 4090 mm / 161.0 in |
| width | 1700 mm / 66.9 in |
| height | 1115 mm / 43.9 in |
| transmission | 5-Speed Manual |
| tran clutch | Single Dry Clutch |
| top speed | ~289.7 kph / 180.0 mph |
| fuel capacity | 130 litres or 34.32 gal. |
| race victories | 1965 24 Hours of Le Mans |
Auction Sales History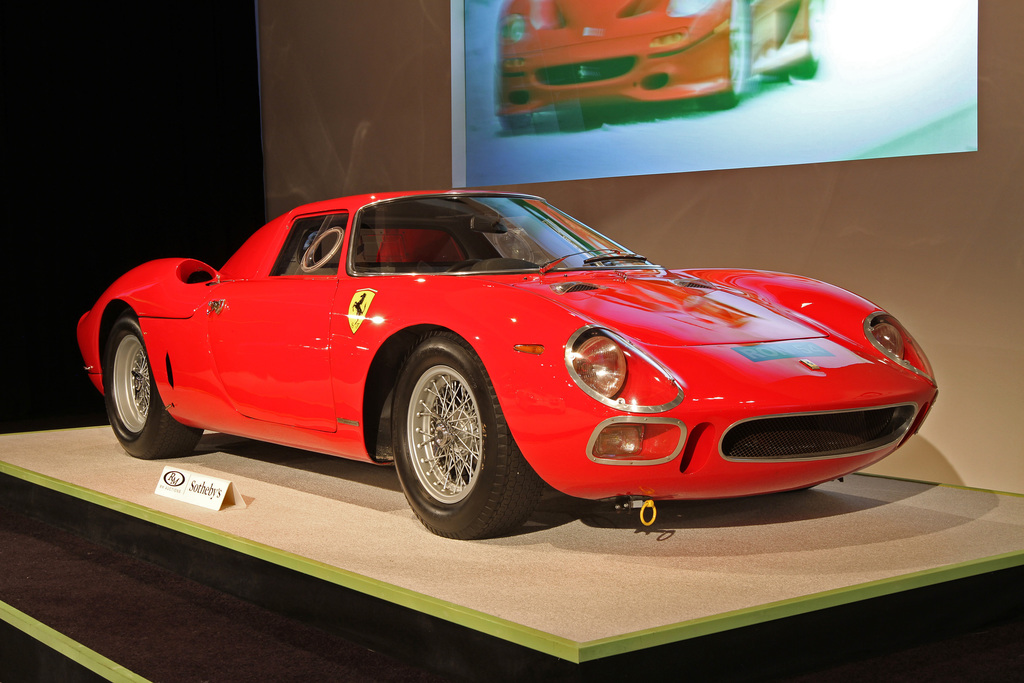 1964 Ferrari 250 LM 6105 – sold for $17,600,000. The 23rd of only 32 examples produced; considered one of the very best in existence. Shown at the Earls Court in 1966. Successfully and frequently campaigned by Ron Fry, David Skailes, and Jack Maurice throughout England, with countless 1st place finishes. Formerly of the renowned Matsuda Collection in Japan. Ferrari Classiche certified; retains all of its original mechanical components. An exceptional 250 LM in every regard; one of the most important and sought after of all Ferraris. Auction Source: RM Sotheby's Monterey 2015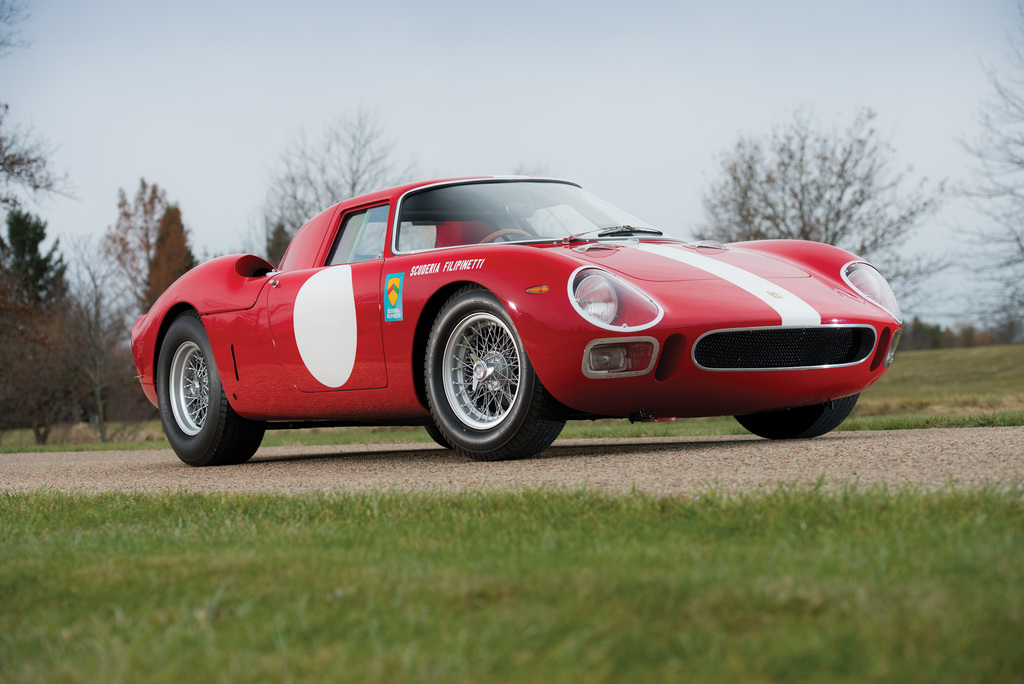 1964 Ferrari 250 LM 5899GT – sold for $9,625,000 The ninth of thirty-two examples constructed. Delivered new to Scuderia Filipinetti; raced by Ludovico Scarfiotti and Nino Vaccarella. Extensive racing history. Ferrari Classiche certified; matching-numbers engine. Unbroken ownership history from new, including Paul Schouwenburg, Lord Irvine Laidlaw, Federico Della Noce, and Henri-Louis Maunoir. Documented by Ferrari historian Marcel Massini. Auction Source: Arizona 2015 by RM Auctions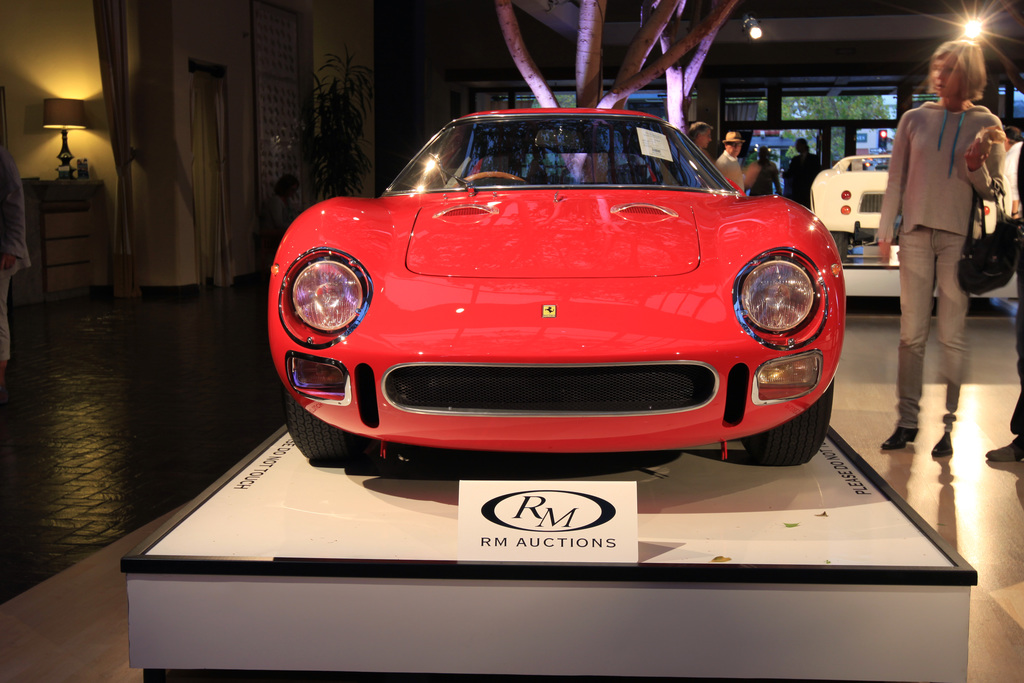 1964 Ferrari 250 LM 6045 – sold for $11,550,000 The 19th of 32 examples constructed. Retained for personal use by William F. Harrah. Presented with Red Book Certification by Ferrari Classiche. Multiple-award winner at 2014 Cavallino Classic. Displayed at the 1969 Pebble Beach Concours d'Elegance. Frequent concours and historic racing entrant. Auction Source: 2014 Monterey by RM Auctions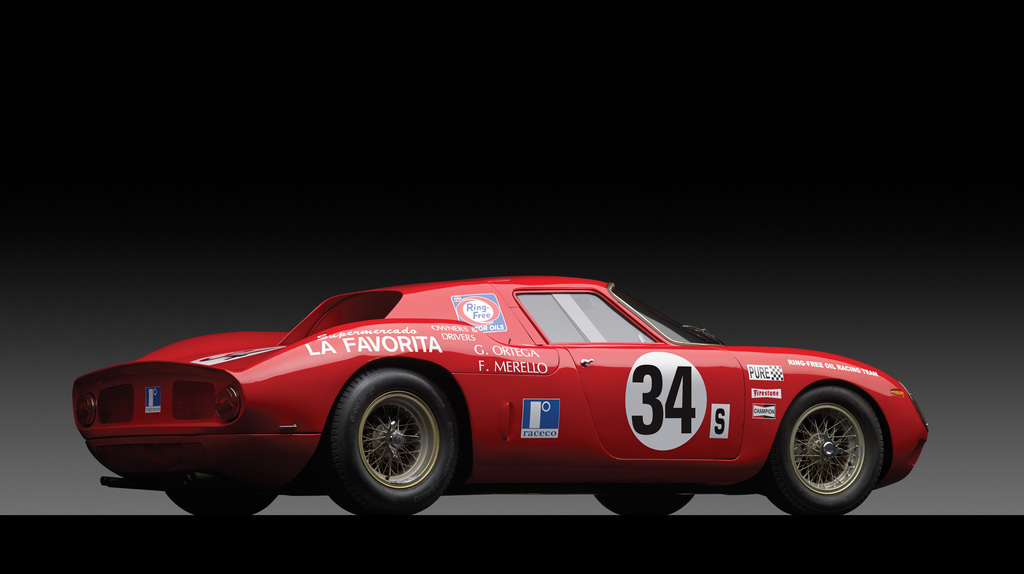 1964 Ferrari 250 LM by Carrozzeria Scaglietti – sold for $14,300,000 1964 Ferrari 250 LM by Carrozzeria Scaglietti Chassis no. 6107. An Italian operatic masterpiece of sound and color. One of the finest original examples of Ferrari's first mid-engined car. Finished 8th overall and 1st in class at the 1968 24 Hours of Daytona. A time capsule that is being publicly seen and offered for the first time in decades. Auction Source: RM's Art of the Automobile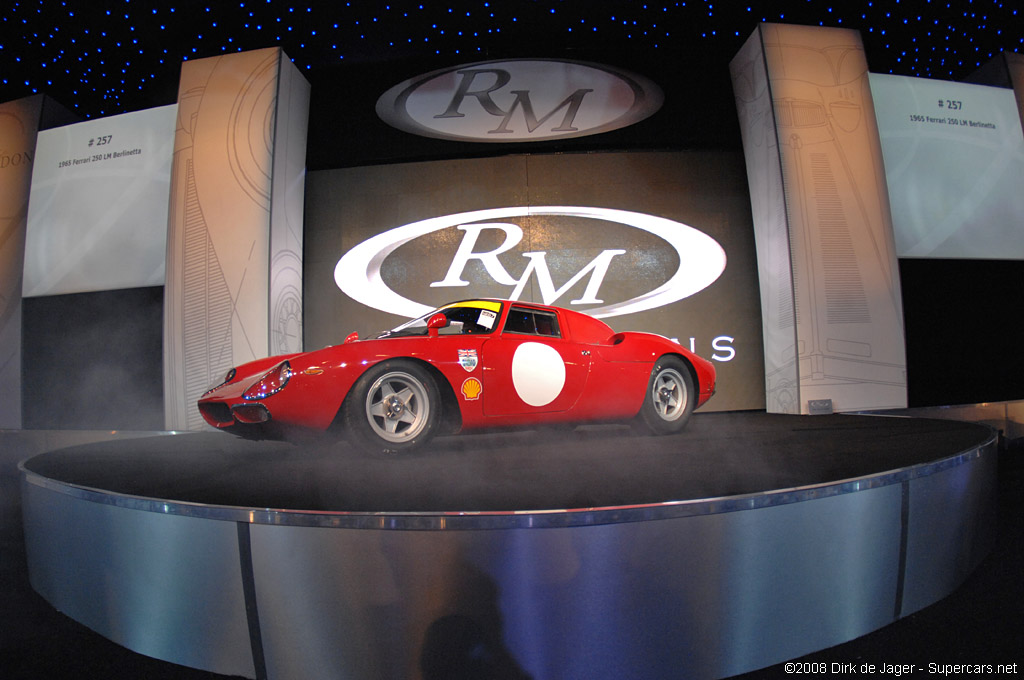 1965 Ferrari 250 LM Berlinetta 06173 – sold for €2,897,675. Today, the 250 LM remains in very excellent race ready condition with its proper red paintwork showing the appropriate wear from a car that has been raced and used regularly. It shows the expected wear of stone chips and the like but overall is highly presentable. The interior is equally well appointed and shows no tears or scuffing throughout. The engine and bay are well presented and in keeping with the appearance of a car that has been regularly used and exercised and on a recent short distance test drive the 250 LM performed without fault and ran well.
In short, chassis 6173LM presents itself as a significant opportunity to acquire an example of one of the most legendary Ferrari competition cars of the period, one that can claim exceptional provenance with single ownership for over 25 years as well as being one of the most exhilarating, exciting and singularly powerful and nimble Ferraris ever produced. Auction Source: 2008 RM Automobiles of London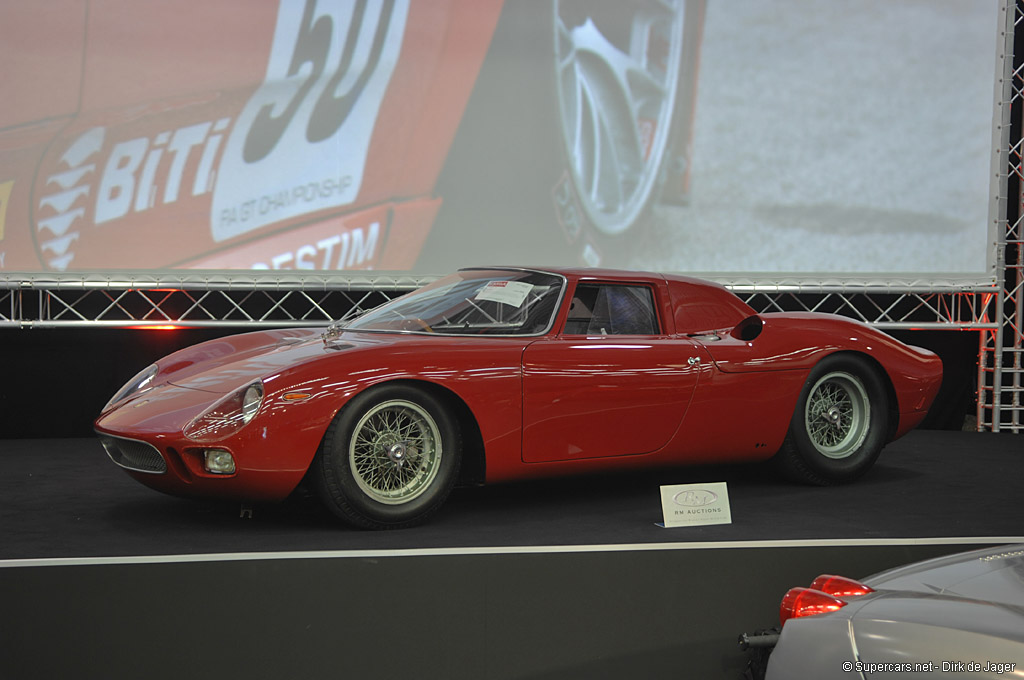 1964 Ferrari 250 LM 5845 – sold for €4,510,000. The ex-Jochen Rindt, Austrian Grand Prix winning. Delivered in 1964 and driven by Jochen Rindt to outright victory at the 1965 Austrian Grand Prix against the Maranello Concessionaires 365 P2. Later it was purchased by Arthur Swanson of Squadra Bardahl who raced it in white with a center stripe. He contested 1966 Sebring 12, 1966 Monza 1000km and the Targa Florio in 1967 with co-driver Robert Ennis. By 1967 the car had a new Drogo nose and competed for the second time in the Monza 1000km.
It was later shipped to the USA and not long afterward the car was sold to Hisashi Okada in New York. He converted the car for road use including wind-up windows, and seat belts and carpets. In this guise it was regularly spotted in and around New York. In 2002 the car was sold much as Okada had left it, but it was completely restored to short-nose configuration and painted in red. Auction Source: 2008 Leggenda e Passione
Sources & Further Reading
1. Massini, Marcel. Ferrari 250 LM. Osprey Publishing Limited: 1983.