1966 Ferrari 275 GTB/4 Alloy Berlinetta
Primarily a road car, steel was the choice material for Ferrari's 4-cam GTB, but a select group of customers got the car delivered with an aluminum alloy body. These became the ultimate 275 when the model was replaced outright by the 365/4 Daytona.
In the early sixties, Ferrari's sports racing cars were exclusively built in aluminum and many of their road cars were also built in this material to go racing. This trend began with the 250 GT SWB which would be outfitted with either steel or aluminum bodies. It was replaced by the 275 GTB which was again offered as an aluminum GTB/C for competition or the regular road road car in both steel and aluminum. In 1966, when Ferrari greatly updated the GTB into the GTB/4, aluminum bodies were still made, but in very few quantities. A select group of customers, as little as 16 received an GTB/4 Alloy Berlinetta.
The differences between the regular GTB/4 and its alloy counterpart are actually few. To fashion the roof in aluminum, it had to be shaped in multiple pieces which meant a crease was placed at the top of both the A-pillar and C-pillar. Of course the major advantage to the GTB/4 is its reduced weight and resistance to rust.
Chassis & Sales
275GTB09501 – Completed on January 30, 1967. Delivered new to Luigi Chinetti Motors of Greenwich, Connecticut in March 1967 and displayed at the 11th New York Auto Show not long afterward. First owner was Kirk F. White. Sold to Samuel Overby Hoffman of Miami in late 1972 and painted red. Lost control on I-95 and damaged the left rear quarter.
Purchased by Wayne and Lorene Sparling from the insurance company. Kept for several decades until a proper repair could be made. The car was completed in 2001 in its original color. Was regularly driven by Sparling to and from events like Amelia Island, Cavallino Classic XII and the DC Nationals. Sold for $1,265,000 USD at RM's 2010 Automobiles of Amelia Island Auction.
Photo & Image Gallery
See full 1967 Ferrari 275 GTB/4 Alloy Berlinetta Gallery here
Specs & Performance
| | |
| --- | --- |
| | |
| type | Limited Production Car |
| production years | 1966 – 1967 |
| built at | Maranello, Italy |
| engine | Tipo 226, Aluminum-Alloy, 60 Degree V12 w/Dry Sump Lubrication |
| position | Front Longitudinal |
| aspiration | Natural |
| valvetrain | DOHC, 2 Valves per Cyl |
| fuel feed | 6 Weber 40 DCN 9 Carburettors |
| displacement | 3286 cc / 200.52 in³ |
| bore | 77 mm / 3 in |
| stroke | 58.799999 mm / 2.3 in |
| compression | 9.1999998:1 |
| power | 223.7 kw / 300 bhp @ 8000 rpm |
| specific output | 91.3 bhp per litre |
| body / frame | Aluminum Body over Tipo 596 Tubular Steel Chassis |
| driven wheels | RWD w/Limited Slip Differential |
| wheel type | Light Alloy Slotted |
| front tires | 205VR14 |
| rear tires | 205VR14 |
| front brakes | Dunlop Solid Discs |
| rear brakes | Dunlop Solid Discs |
| front wheels | F 35.599998 x 17.799999 cm / 14 x 7 in |
| rear wheels | R 35.599998 x 17.799999 cm / 14 x 7 in |
| steering | Worm & Roller |
| f suspension | Unequal Wishbones w/Coil Springs over Koni Shocks, Anti-Roll Bar |
| r suspension | Unequal Wishbones w/Coil Springs over Koni Shocks, Anti-Roll Bar |
| transmission | Rear-Mounted 5-Speed Transaxle |
Auction & Sales History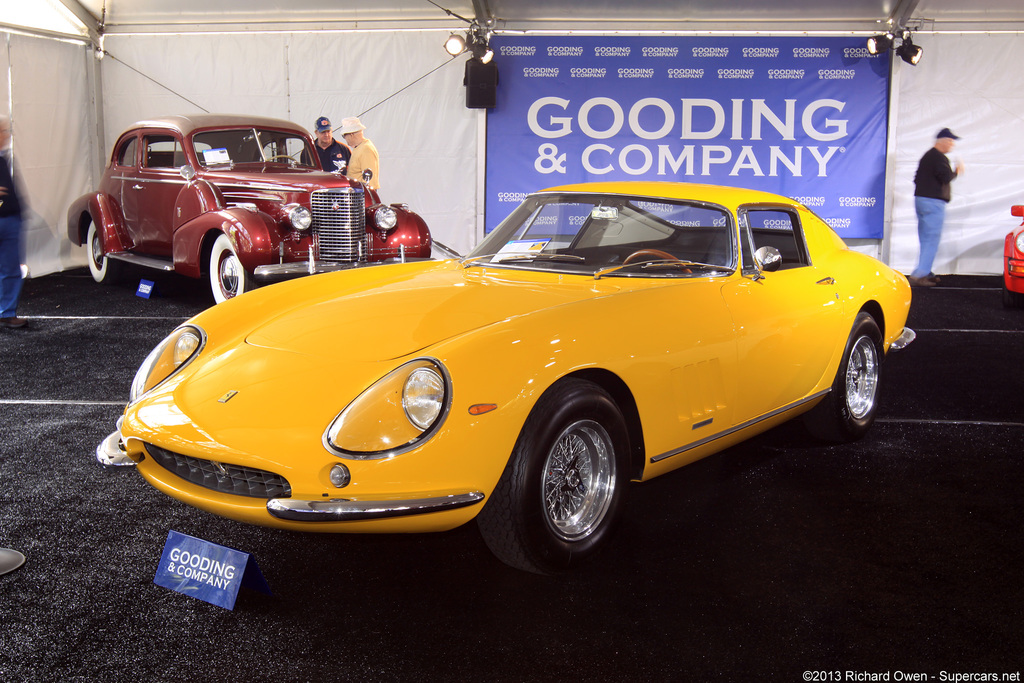 1966 Ferrari 275 GTB Long Nose Alloy 8057 – sold for $2,365,000 One of Approximately 25 Alloy-Bodied 275 GTBs. Matching-Numbers Example with Factory Six-Carb Upgrade. Distinguished Chain of Knowledgeable Owners. Beautifully Maintained Restoration with Recent Mechanical Attention Offered with Borrani Wire Wheels, Tool Roll, and Handbooks Ideal Candidate for Leading Tours, Rallies, and Concours Documented by Marque Historian Marcel Massini. Certified by Ferrari Classiche. Auction Source: The 2013 Amelia Island Auction by Gooding & Company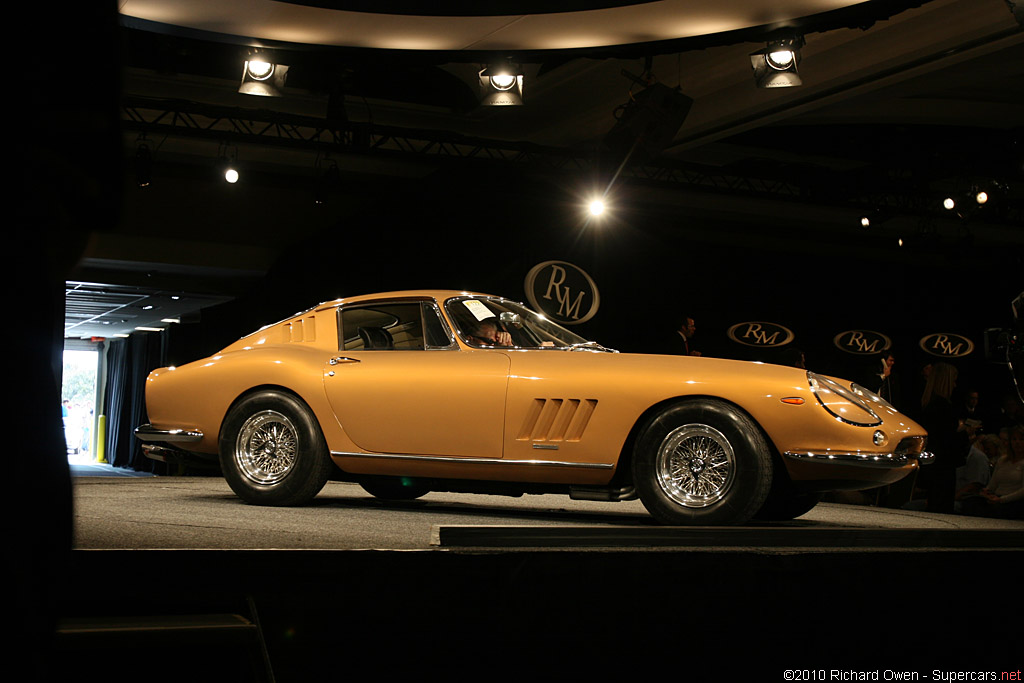 1967 Ferrari 275 GTB/4 Alloy Berlinetta – sold for $1,265,000.
According to the factory build sheets, our 275 GTB/4 was completed on January 30, 1967 and delivered new to Luigi Chinetti Motors of Greenwich, Connecticut in March 1967 – just in time for Chinetti's display of the car at the 11th New York Auto Show held from April 1- 9, 1967.
(Air conditioning, not originally supplied, was retro-fitted in the 1972 -1976 period, using the 330 GT/Daytona system, but upgraded by the present owner in the late '90s to incorporate a contemporary rotary compressor.)
This GTB/4 was originally sold to John Annis of Tampa, Florida who had it delivered in Chinetti's race transporter to Sebring. Annis complained about an "engine noise," so Chinetti took the car back for rectification, replacing it with another 275 GTB/4 (chassis no. 10017).
After Chinetti's repairs, the car was sold to the real first owner, entrepreneur, auto dealer and race car sponsor Kirk F. White who used it as his "daily driver" from 1968 to 1972. White had by 1968 established Auto Enterprises in Flourtown, Pennsylvania with two partners who also drove four-cams. In a recent interview he recalled, "At first I didn't know that 09501 was an alloy GTB until I noticed the peculiar roof seams that these cars have. A great car and I have very fond memories of it – it was an absolute rocket ship and reliable as an anvil and I drove it everywhere and almost everyday for about four years. Those were the days."
Two dealers, Waldron Motors and Ferrari dealer Cressman-Baumgarten of Ft. Lauderdale, Florida became the next owners prior to the later selling 09501 to Samuel Overby Hoffman of Miami in late 1972. Hoffman kept it a further five years, painting it red and displaying it at the 11th FCA Detroit area National in 1973. In 1976 Sam Hoffman "ran out of talent" on a rain-slicked entry to I-95 near Miami and backed the four-cam into a cloverleaf guardrail, denting the left rear quarter-panel in the trunk area and bending the rear wheel and suspension arm. (We mention this since a database describes the car as "badly crashed and written-off.") In those days, a ten year old Ferrari which sold new for $12,000 was valued at four figures and was often written off instead of repaired, even if the damage was relatively modest.
The present owners, Wayne and Lorene Sparling, purchased 09501 from the insurance firm on January 6, 1977. It was relegated to the "back burner" for some two decades while Sparling worked on other Ferraris in his collection. In about 1998 he started a total two year restoration and debuted the GTB/4 at the Orlando area Concorso Portofino in 2001 where our car won a First Place Trophy. Other prizes accumulated as the Sparlings displayed their car at Amelia Island, Marco Island, Cavallino Classic XII and FCA Sebring and Washington, DC Nationals in the 2001 to 2006 period. In all instances, the car was driven to and from these events. Road rallies and substantial road trips were also undertaken – one of the longest being the Sparlings' 2004 return journey from central Florida to RM's 25th Anniversary Celebration in Chatham, Ontario with a stopover in New England, adding about 4,000 miles to the four-cam's odometer! Auction Source: 2010 RM Automobiles of Amelia Island Auction