When you read figures like 0 to 100 km/h in just 2.9 seconds, 0 to 200 km/h under 10 seconds, and a top speed of 316 km/h (or 196 mph) from a 4-Liter V8 engine, I'm sure you are thinking about a supercar, something low and wide that barely fits two people, offering just the bare necessities on the interior while being seated in some rather uncomfortable but lightweight bucket seats with a multi-point racing harness fixing you in place?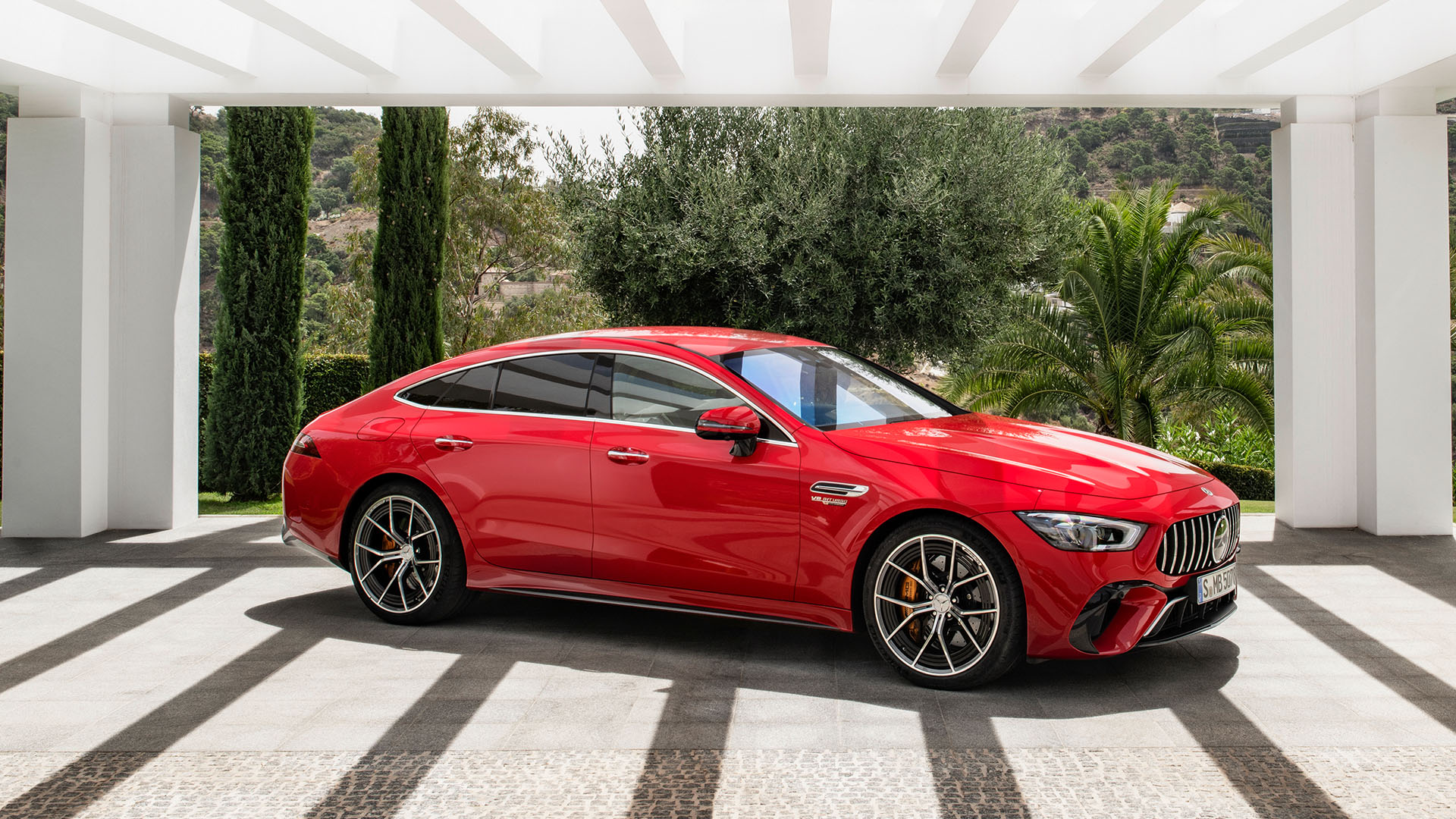 In this case, you couldn't be more wrong, we are looking at the numbers for the new 2022 Mercedes-AMG GT 63 S E PERFORMANCE, which is a four-door, four-seat sports sedan, granted those seats might not look to be the most comfortable out there, but they are surprisingly good to fix you in your seat in the end, and you are rewarded with an amazing experience driving Affalterbach's most powerful production model ever, period.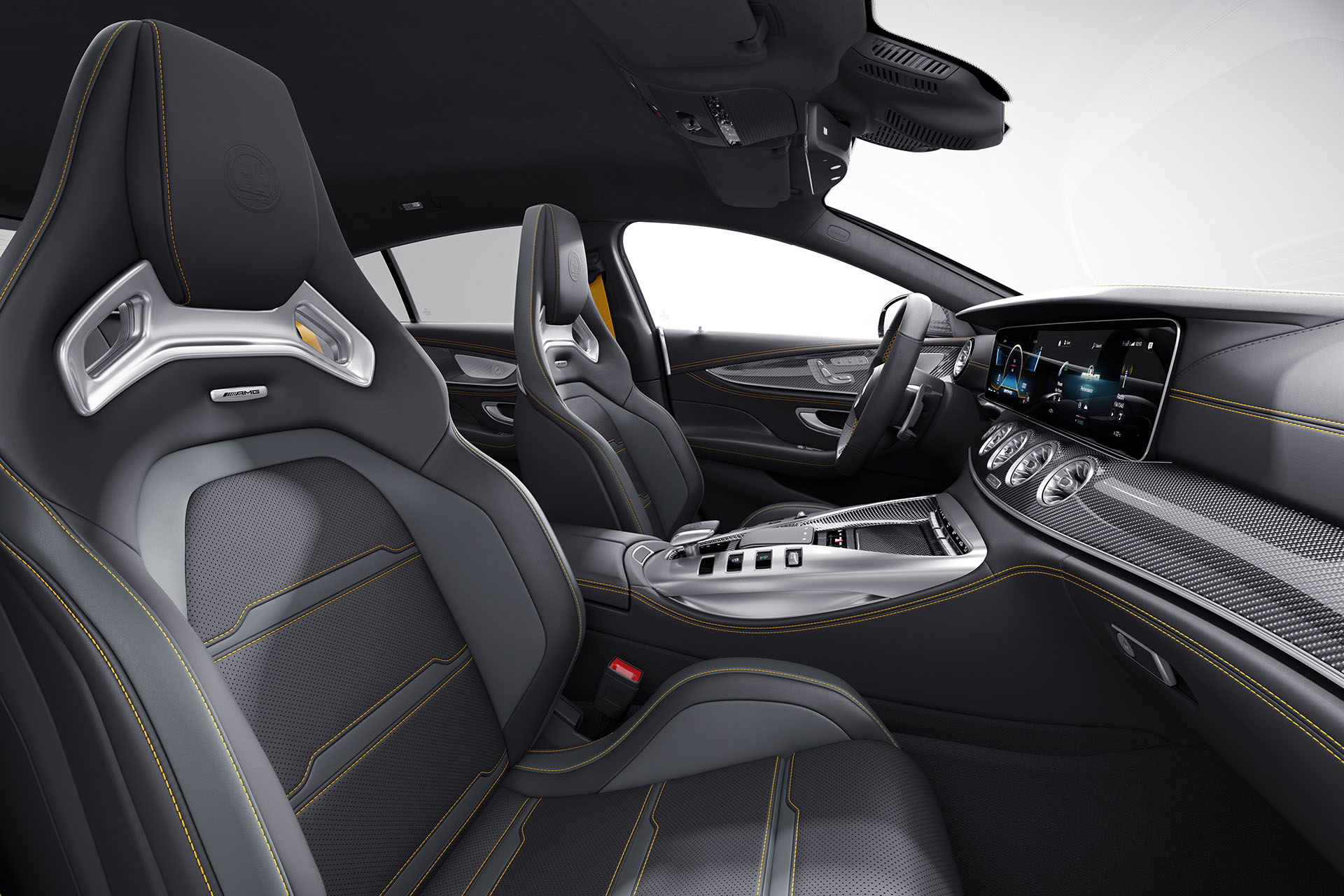 We all know the Mercedes-AMG GT 63 does come with four doors, but with that sloping roofline to mimic a coupe shape, those rear passengers better not be too tall or they'll be hitting their head against the headliner, Mercedes-AMG does call this a four-door coupe, so there are some compromises to be made, still this car comes with a rear hatch to allow ample access to the rear luggage area to store that weekend bag for you and three passengers.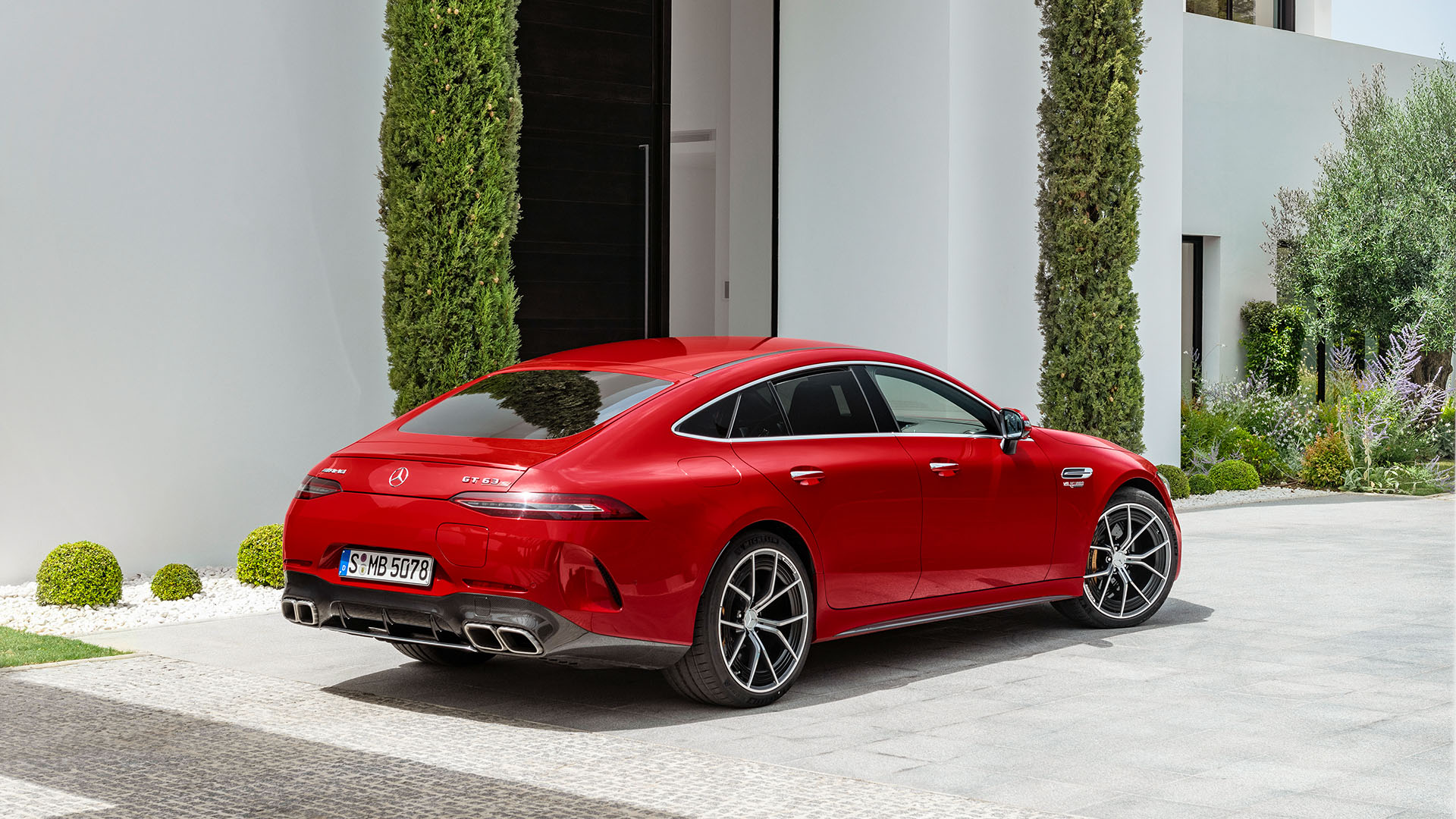 For this 2022 Mercedes-AMG GT 63 S E PERFORMANCE we not only find the famous 4-Liter V8 biturbo engine under the front hood, delivering a healthy 639 hp on her own, but for this version, we see an additional 204 hp from the two-speed hybrid motor for a total of 620 kW (843 hp) and a maximum system torque in excess of 1400 Nm, fortunately, there is the fully variable AMG Performance 4MATIC+ all-wheel-drive system to keep it all in check when you hit that right pedal under your foot.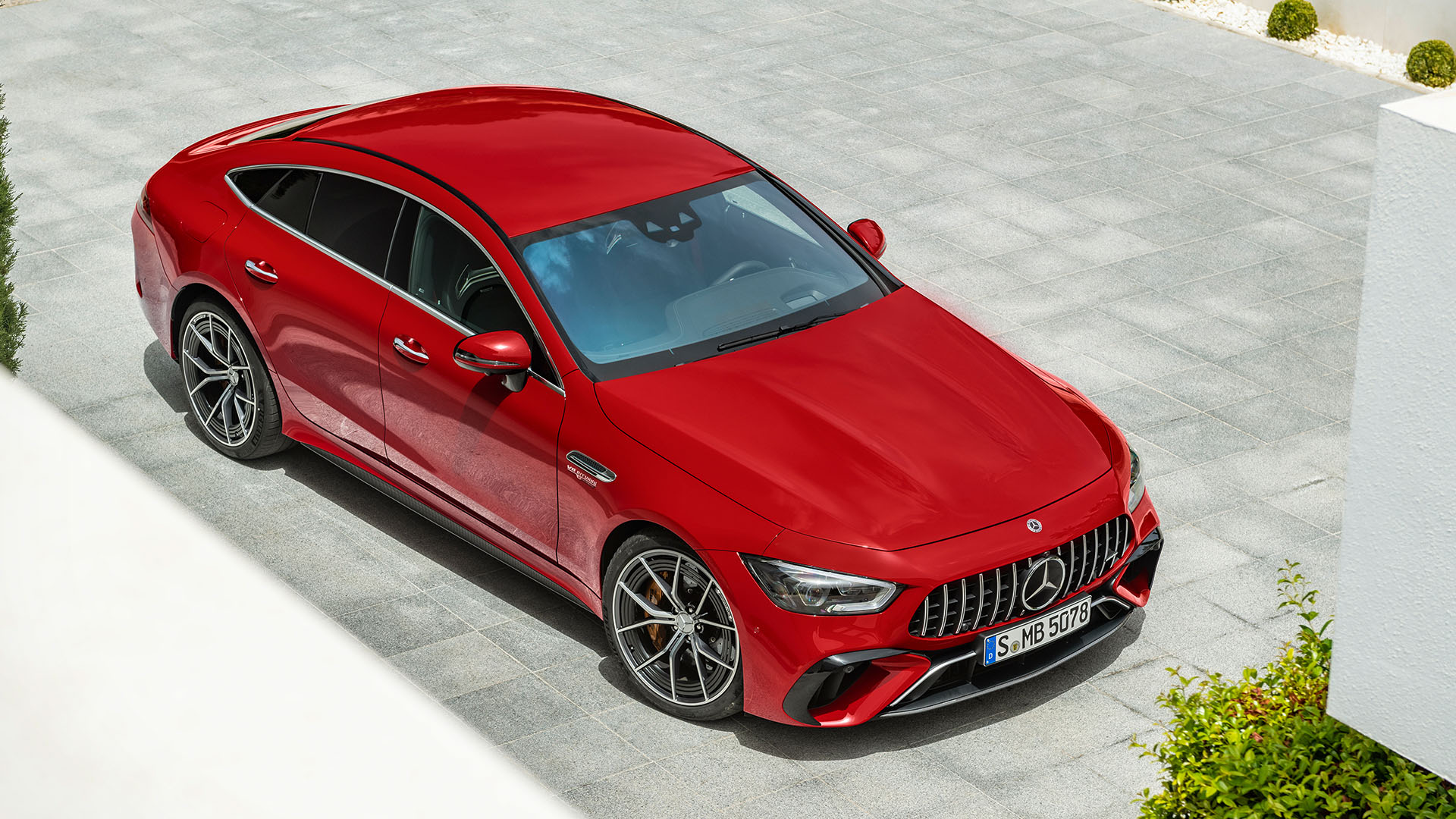 The Mercedes-AMG GT 63 S E PERFORMANCE was originally introduced back in September 2021 already, but she's only now going on sale, in early February 2022, with the European market launch in April 2022 at an MSRP of €196,897.40 (which includes the 19% German VAT), at the current exchange rate this would result in US$ 225,387.36, and we're not done yet, as usual from Mercedes-AMG there is a 'first edition' model with lots of otherwise optional equipment, specifically created for early adopters, in this case simply called 'Edition', for a premium that starts at €21,777 (or$25,000).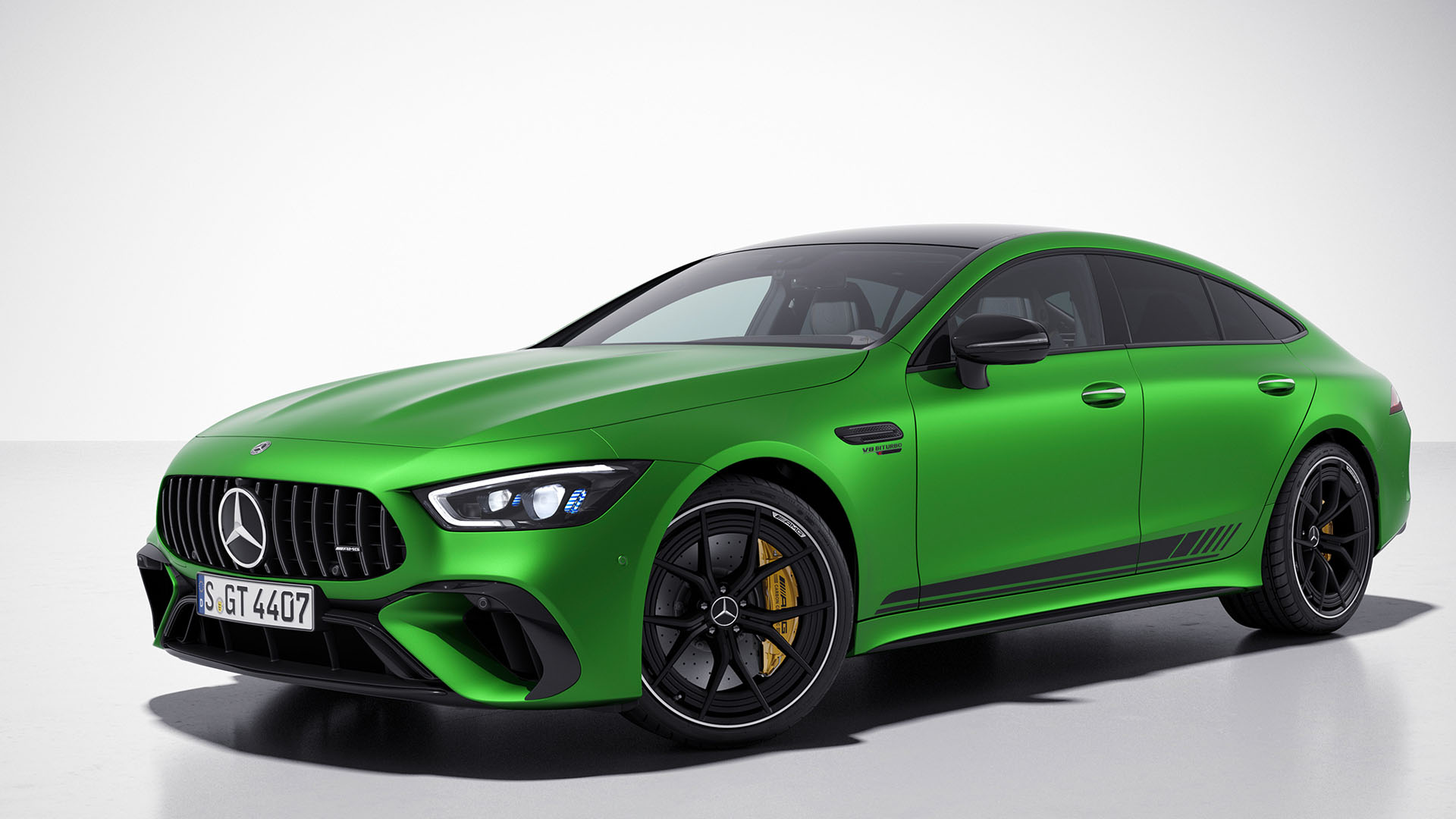 And that's just the starting point when it comes to ordering your very special Mercedes-AMG GT 63 S E PERFORMANCE, there is a massive list op customization options available on this latest model from Affalterbach, like a new, exclusive AMS Special Edition AMG green hell magno paint finish, which you just have to complement with the 21-inch forged AMG 5-twin-spoke wheels. And just in case you're not a fan of chrome on the outside of your new Mercedes-AMG GT 63 S E PERFORMANCE, fear not, there is an option to go for a gloss black finish, or you select the AMG Exterior Carbon package for some lightweight parts on the outside.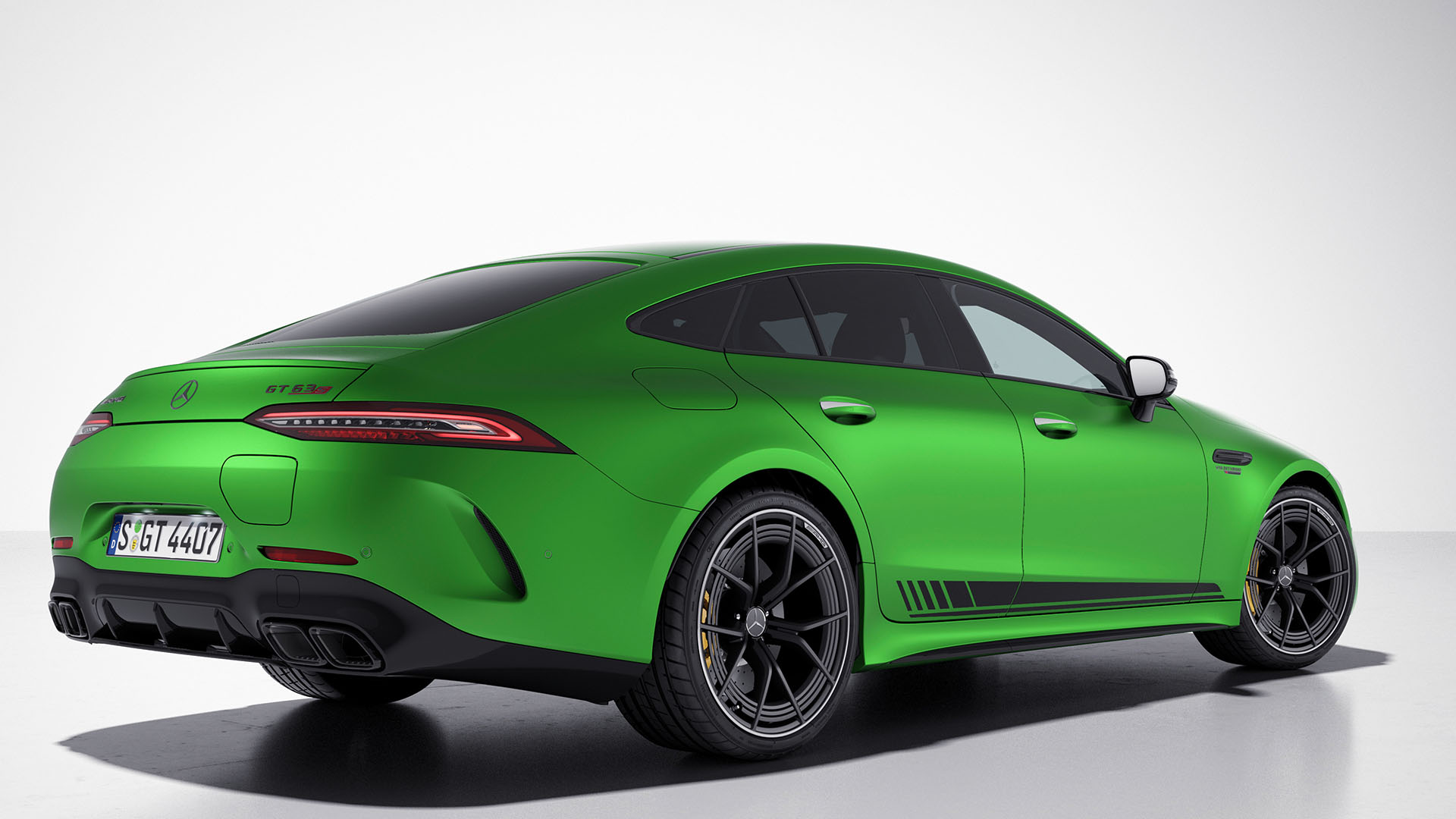 On the inside, you can get the optional AMG Performance seats, complete with two-tone titanium grey pearl/black and contrasting yellow stitching, again with trim in either piano black lacquer or carbon fiber, whichever you prefer, naturally, there will be an 'Edition' badge so your passengers know they are seated inside a special model. And then there is the luxurious Special Edition model in Rubellite Red with chrome exterior accents, but if you really want to go bespoke you'll end up with the MANUFAKTUR label, offering the highest degree of individuality and luxury with selected materials that are predominantly processed by hand. Going this route will allow you to select very special paint finishes, like the MANUFAKTUR classic grey uni, MANUFAKTUR olive metallic, or MANUFAKTUR copper orange magno (matt version) but also a broad selection of leather colors for the interior.
If you want to add the most powerful AMG ever to your driveway, head over to your local dealership and get that order form filled out, so you're on the list for the new Mercedes-AMG GT 63 S E PERFORMANCE Edition, you won't regret it, and just to sweeten the deal, let's go over some of the specifications again:
Mercedes-AMG GT 63 S E PERFORMANCE
System output
620 kW (843 hp)
System torque
1,010 – 1,470 Nm
Combustion engine
4.0-litre V8 with direct injection and exhaust gas turbocharging
Displacement
3982 cc
Max. output, combustion engine
470 kW (639 hp) at 5500 – 6500 rpm
Max. torque, combustion engine
900 Nm at 2500 – 4500 rpm
Max. output, electric motor
150 kW (204 hp)
Max. torque, electric motor
320 Nm
Drive system layout
AMG Performance 4MATIC+ all-wheel drive with fully variable torque distribution and Drift Mode
Transmission
AMG SPEEDSHIFT MCT 9G
Fuel consumption – weighted, combined

combined

combined

7.9 l/100 km
CO2 emissions – weighted, combined
180 g/km
Electrical consumption – weighted, combined
12.0 kWh/100 km
Efficiency class
B
Energy capacity
6.1 kWh
Electric range
12 km
Acceleration 0-100 km/h
2.9 s
Top speed
316 km/h
Kerb weight acc. to EC
2,380 kg