Established in 1994, Koenigsegg is a pioneer in automotive technology, consistently creating "World's Fastest Car" contenders. The 2010 Agera succeeded the CCX and CCXR, boasting advanced aerodynamics and a focus on lightweight construction. Over 8 years, it spawned variants like the track-oriented One:1 and the more road-friendly Agera S.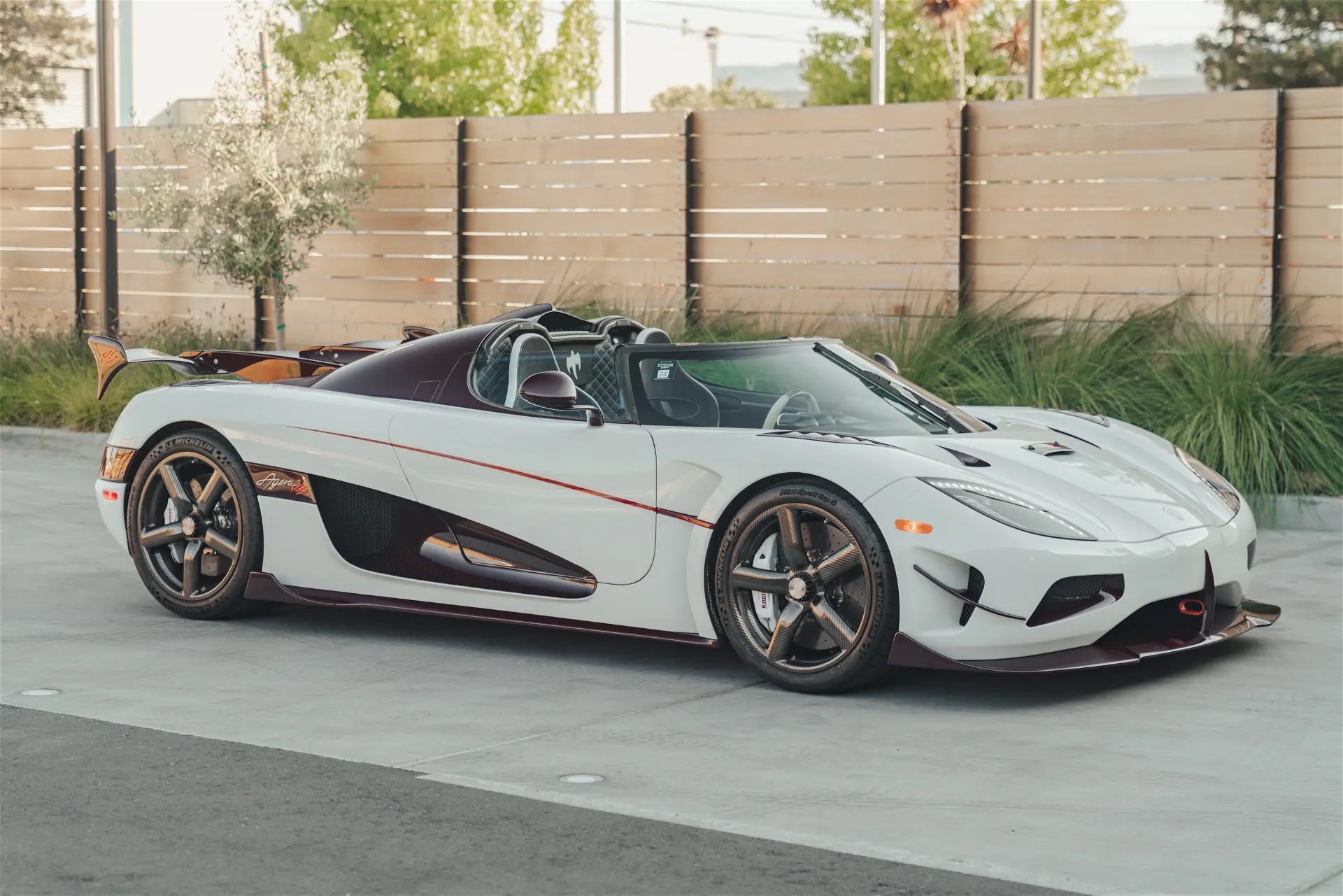 This 2018 Koenigsegg Agera RS, number 23 of 25, underwent extensive factory customization over 3 years. Dressed in Archite White with deep red carbon fiber accents, this Agera RS displays Koenigsegg's carbon fiber expertise and stunning design. Red carbon fiber adorns the splitter, vents, skirts, and spoiler, creating a striking look.
Inside, clear coated carbon fiber combines with leather, Alcantara, and detailed stitching. Heavily bolstered seats feature black Alcantara with white diamond stitching and white leather bolsters. The 2-spoke steering wheel, adorned with exposed carbon fiber and white leather, controls various functions. Polished shift paddles and stalks exude quality. Koenigsegg's rotary control centers the stack, managing functions like window switches, lights, and defrost. Above, HVAC controls and an infotainment screen offer comfort and entertainment. Despite weight savings, interior appointments impress.
The Agera RS boasts the "1-Megawatt Package," elevating power to 1,341 horsepower. Weighing just 3,075 lbs, it achieved a top speed of 278 mph during a record-setting run. Powered by a twin-turbocharged 5.0-liter V8 and a specially designed 7-speed Dual-Clutch gearbox, it features advanced aerodynamics for stability at high speeds.
Koenigsegg aimed to produce 25 Agera RS models but delivered 27, each with a unique specification. This Agera RS, with its 1 Megawatt package and distinctive finish, is a standout choice for collectors seeking one of the world's fastest cars.
You can grab this 2018 Koenigsegg Agera RS on ISSIMI with an asking price of $4,750,000. Click here for more details of this Koenigsegg hypercar.
Source: ISSIMI