Screw the purists, Here are 60+ Absurdly Cool Restomod, Outlaw & Custom Porsches
I generally like modern cars versus older cars. The speed of innovation and technology development is so fast that it is hard for me to get excited about a 30 year old supercar that can be beaten by a Toyota Camry in any performance test. I would rather dream about the the new McLaren Speedtail. However, about six months ago I bought my first Porsche and all of a sudden things started to change. I found myself talking to guys at local Porsche shows who had build or bought restomodded 911s and 356s and couldn't help but lust for one myself.
The classic and custom Porsche market is really interesting when you dive into it. There are lots of little niches that I am slowly starting to learn about. You have rich collectors who will pay insane amounts to get their hands on period-perfect Concours levels cars that are stock to the bone. You also have other rich Porsche fans who want to spend equally absurd amounts of money on recreation restomod 911s from shops like Singer and Emory Motorsports, cars that are jaw-droppingly beautiful and have attention to detail that is truly unbelievable. Then there are everyday folk trying to build their own perfect Porsche through backdating, forward dating and even "Outlaw" creations, each car distinctly personal to its owner.
There are many reasons and its not just about style differences. The reality is that matching numbers and absolute originality are coveted by collectors, which puts them out of reach to anybody outside the one percent richest in society (check the prices of the most expensive Porsches as evidence). Singer and other companies at the top end of the market have tapped into the old Coachbuilder model, serving the richest by building them the perfect modern creation with a strong dose of nostalgia too. 'Outlaw' cars go against the grain in a crusade for individualism. Owners of these Porsche's are proud, they love to drive and most don't care about the value of their classic 911. Magnus Walker is their poster child, the Urban Outlaw himself has one of the coolest collections on the planet, all hand-crafted and designed to please one man, Walker himself. He drives them, he hammers them and he shares it all with the wider Porsche community.
This post celebrates them all. We celebrate the Porsche restomod shops and their fanatic founders. We applaud every RSR clone and hot-rod 911 and we support people like the R Gruppe, a counter-culture band of hot-rodders in Southern California that builds hot rod Porsches, purists be damned. We stare and smile at RAUH-Welt Begriff (RWB) Porsches, nodding in awe at Akira Nakai's designs that harken back to many of Porsche's early race cars with huge power, preposterously wide rear fenders, and massive wings.
While these cars may polarize Porsche purists, we say the community is stronger and richer because of this diversity. So here it is, our list and gallery of the best restomod, outlaw and just crazy cool custom Porches.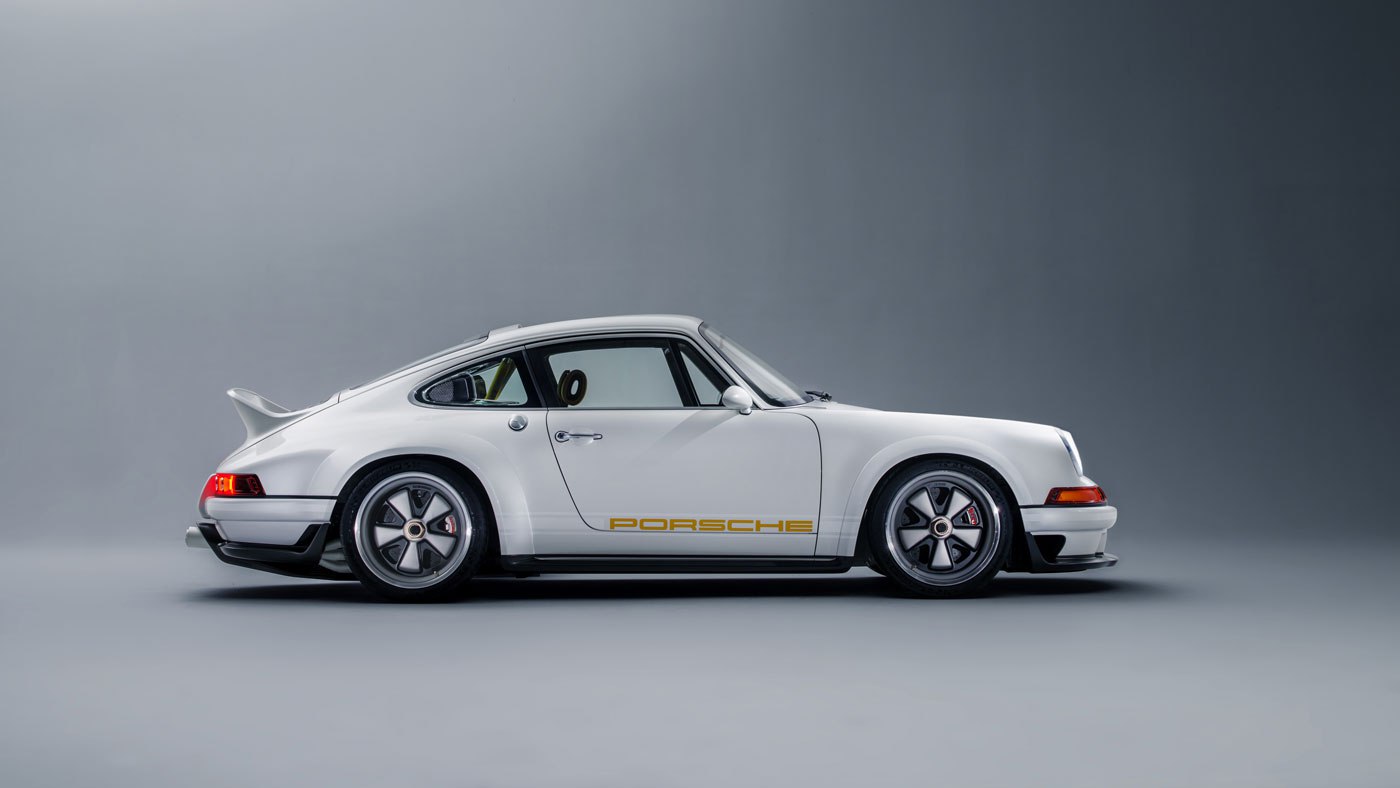 Singer Vehicle Design DLS
Company: Singer Vehicle Design
Located: Los Angeles, CA (United States)
Website: Singer Vehicle Design
Singers most recent creation is an absolute masterpiece. Called the Singer Vehicle Design DLS (DLS stands for "Dynamics and Lightweighting Study"), it is a 1990 Porsche 964 whose owner requested Singer and Williams restore and modify his car. The long hood of the Porsche 911 classic replaces the shorter hood of the Porsche 964. Price point is a cool $1.8 million.
The engine is a 4.0-liter naturally aspirated flat six worked on by Williams and is good for 500 horsepower at 9,000 RPM. The motor boasts lightweight throttle bodies with supposedly F1-inspired upper and lower injectors, a unique oil lubrication system and it has dual overhead cams and four valves per cylinder. The suspension was also optimized by Williams. The interior is absolutely stunning, the body is perfect, the nuts and bolts and little things are just outstanding.

Singer Rowayton Commission
Company: Singer Vehicle Design
Located: Los Angeles, CA (United States)
Website: Singer Vehicle Design
It would be really easy to include every Singer Porsche ever made in our list, but we have decided to limit the company to three entries. The Rowayton Commission Singer Porsche is one of our favorites. That dark paint, the perfect stance and the interior are just perfect.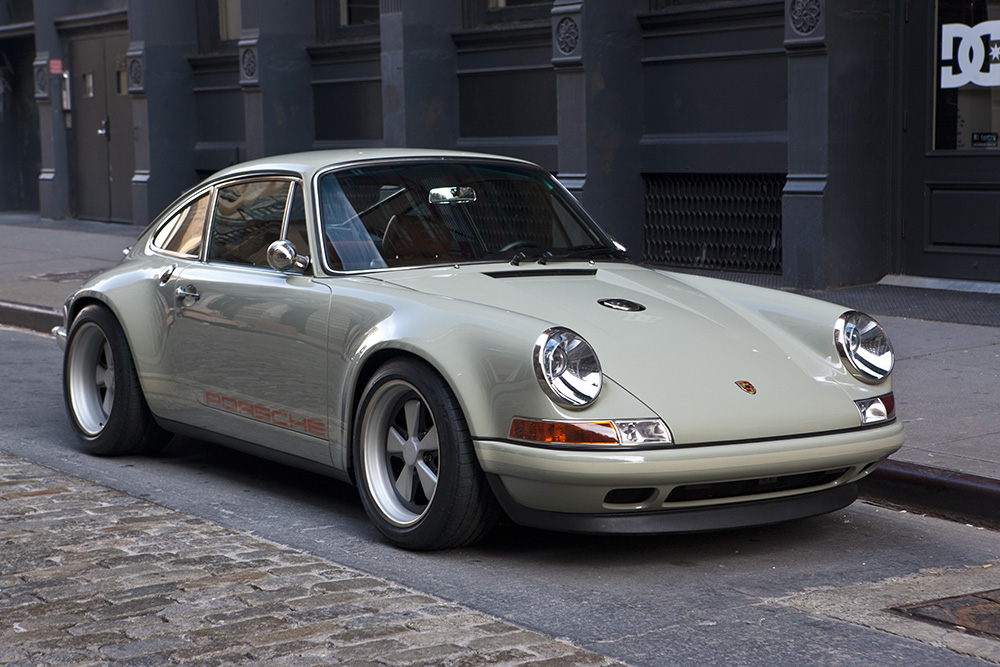 Singer New York Commission
Company: Singer Vehicle Design
Located: Los Angeles, CA (United States)
Website: Singer Vehicle Design
The other Singer entry is the New York Commission. I don't know if it is the Singer just sitting on the streets of New York that does it for me, but it stands out on the Singer website.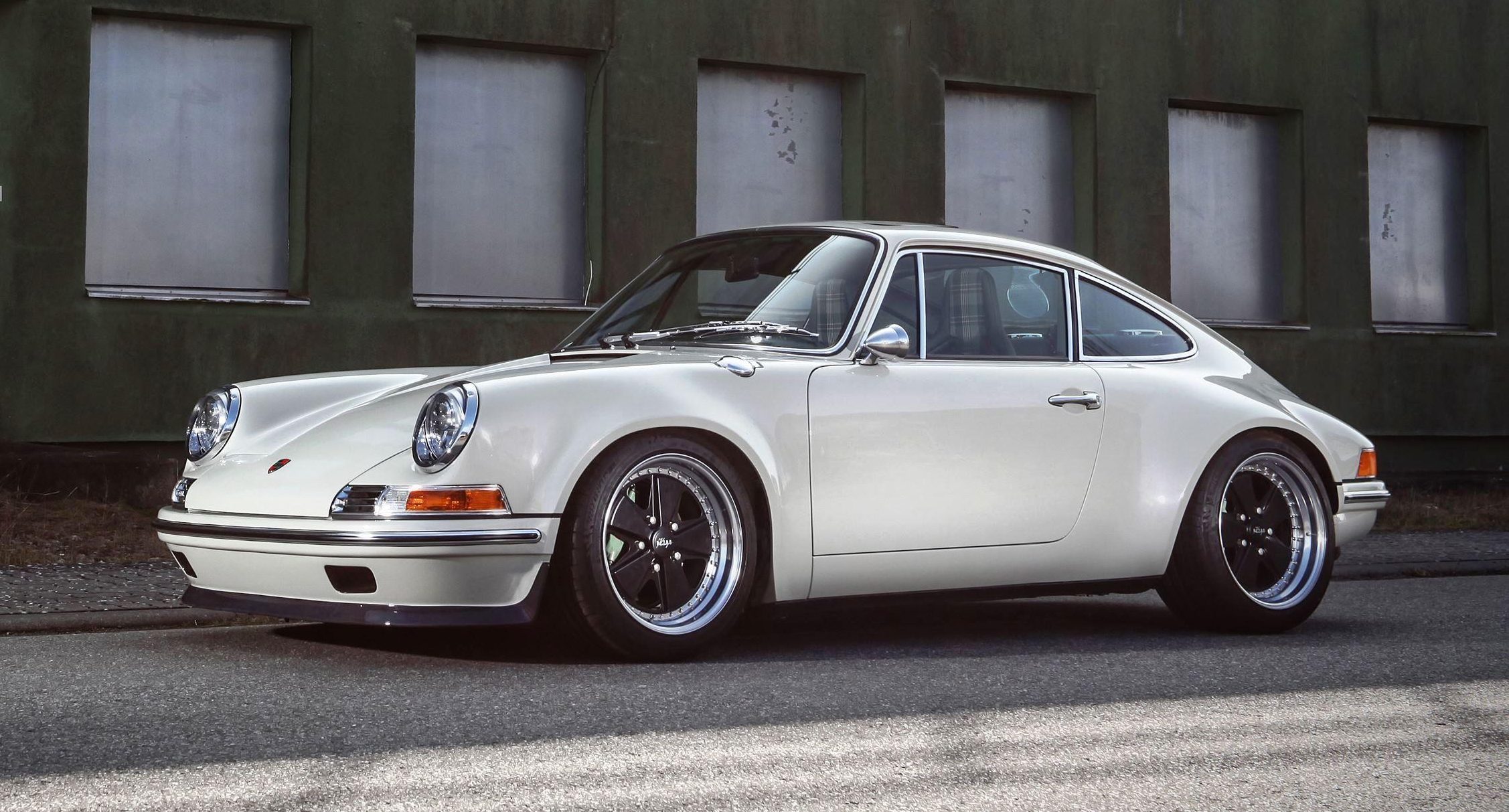 Kaege Retro
Company: Kaege
Located: Stetten, Bavaria (Germany)
Website: Kaege Retro
Roger Kaege is our kind of guy. Roger (like the rest of us) saw a Singer Porsche in a magazine back in 2009 and was fell in love with the way it looked. He (like the rest of us) immediately checked out the price and said "oh shit that's expensive" (I'm paraphrasing). As a vehicle and chassis engineer by training Roger decided (unlike the rest of us) to just build his own restomod Porsche. His Kaege Retro took the body of a 1972 911 combined with the platform and mechanicals of a rear wheel drive 993 and added 2,000 man hours building it into his perfect car.
Kaege started with an F-Series 911 body and goes to work widening the body significantly. Kaege replaced many of the stock body panels like the front bumper, hood and rear end of the car in carbon fiber. Thanks to those carbon parts and the Kaege Retro tips the scales at 2,634 lbs (400 lb lighter than a stock 993). While the look is vintage 911, big three-piece Fuchs wheels, modern Osram LED projector headlights and a carbon-fiber front splitter add some aggressive modern touches to the exterior and really help with the Retro's great stance.
DP Motorsport 911 RS 3.5 Evolution
Company: DP Motorsport
Located: Overath, Germany
Website: DP Motorsports
Dubbed the "911 RS 3.5 Evolution," the heavily modified Porsche gets a custom body made from a combination of carbon fiber and glass fiber reinforced plastic (GFRP). To keep the weight low, the doors' windows are made from hardened plexiglass while the 80-liter fuel tank is built from carbon fiber. The end result is a 911 tipping the scales at just 2,072 pounds (940 kilograms, dry) — also possible by installing a lightweight motorsport-spec battery. Output stands at 365 horsepower (268 kilowatts) after fitting the 3.5-liter engine with a dual ignition system, a mechanical fuel injection with individual throttle valves, and 911 RSR-sourced camshafts. The engineers also tweaked the Porsche transmission by shortening the gear ratios to boost acceleration.

Canepa 959
Company: Canepa
Located: Scotts Valley, CA (United States)
Website: Canepa 959
Called the 959SC, Canepa's latest restomod project thoroughly restores the original 959 and in the process adds boatloads more power. Porsche 959 owners in the U.S. can have Canepa perform all these upgrades for an undisclosed sum (ie if you need to ask how much…). The highlight is a 763 hp engine upgrade. The boost in power is thanks to new Borg-Warner turbos (now parallel and not sequential), a new engine management system, bespoke exhaust system, titanium heat shields, new fuel system, more powerful ignition system and a custom clutch pack. The added power results in a 0-60 mph time of just 2.4 seconds and a top speed exceeding 230 mph. That is modern hypercar performance.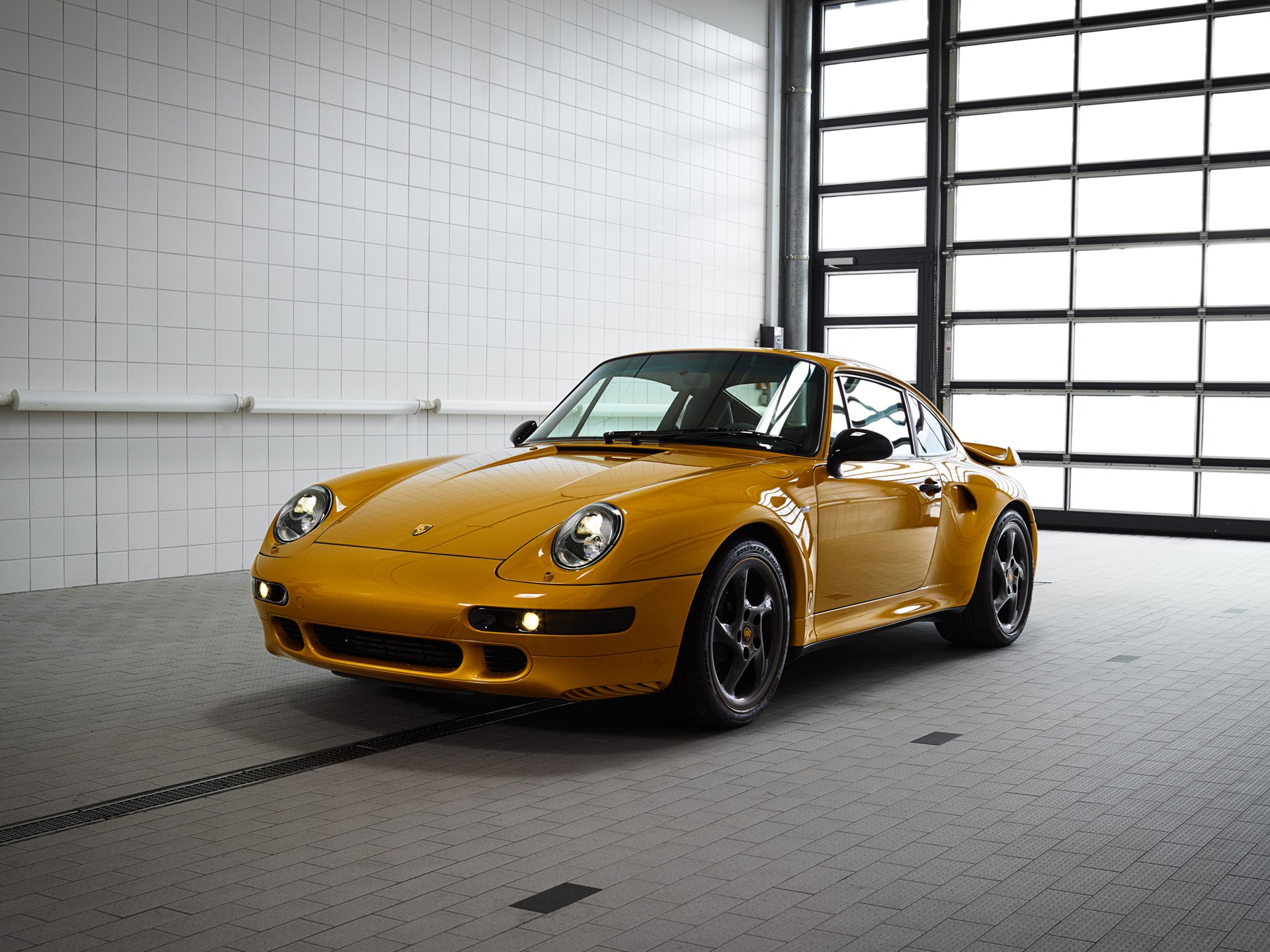 Porsche Classic
Company: Porsche
Located: Germany (with local partners worldwide)
Website: Porsche Classic Project Gold
Porsche announced earlier this year that the marque's 70th anniversary would in part, be celebrated with the release of a special 'restomod' car. Dubbed 'Project Gold', this endeavor was delegated to Porsche Classic, the company's department in charge of restorations. The finer details of this project were kept under wraps, until it was finally unveiled during the 2018 Monterey Car Week taking place in Pebble Beach, California.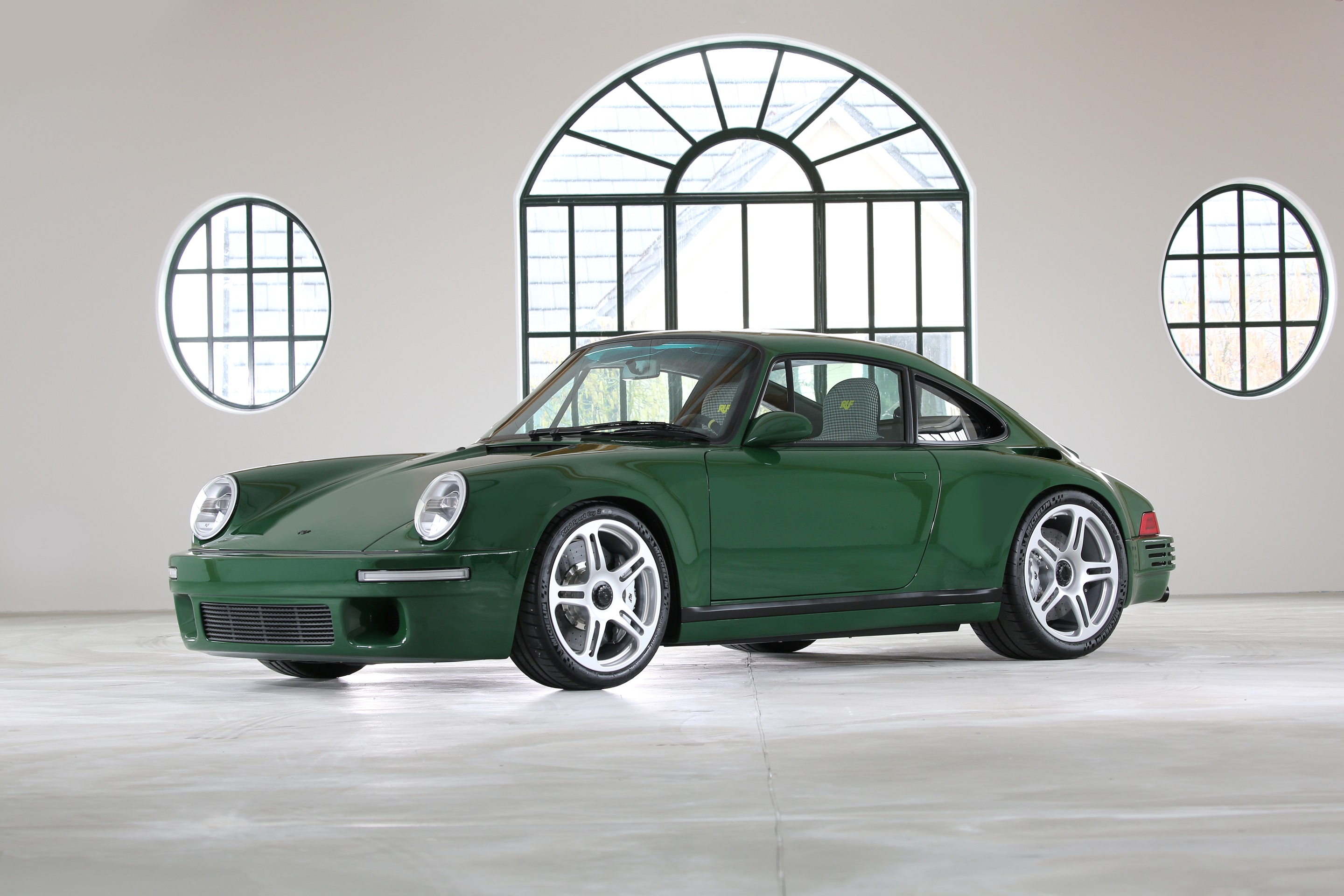 RUF SCR 2018
Company: RUF
Located: Pfaffenhausen, Germany
Website: RUF SCR
Called the RUF SCR 2018 it is a stunner. More power, less weight, more driving safety and 4 liter naturally aspirated engine that have 510 hp, all wrapped in a classic Porsche 911 shape. Yes please. Their goal with the SCR 2018 is to create a "unique state-of-the-art sports car for experienced connoisseurs and sports riders who do not want to miss the furioso of a naturally aspirated symphony". The carbon fiber monocoque is further reinforced by the integrated steel cage (IRC), pushrod suspension on all four wheels corresponds to the chassis of the Formula 1, and in the middle of the works more as a 500 hp six-cylinder engine with full four liters of displacement. Ready to drive, the new SCR weighs less than 1300 kilograms; The timeless and elegant body is made of a fantastically lightweight, solid composite material: carbon fiber.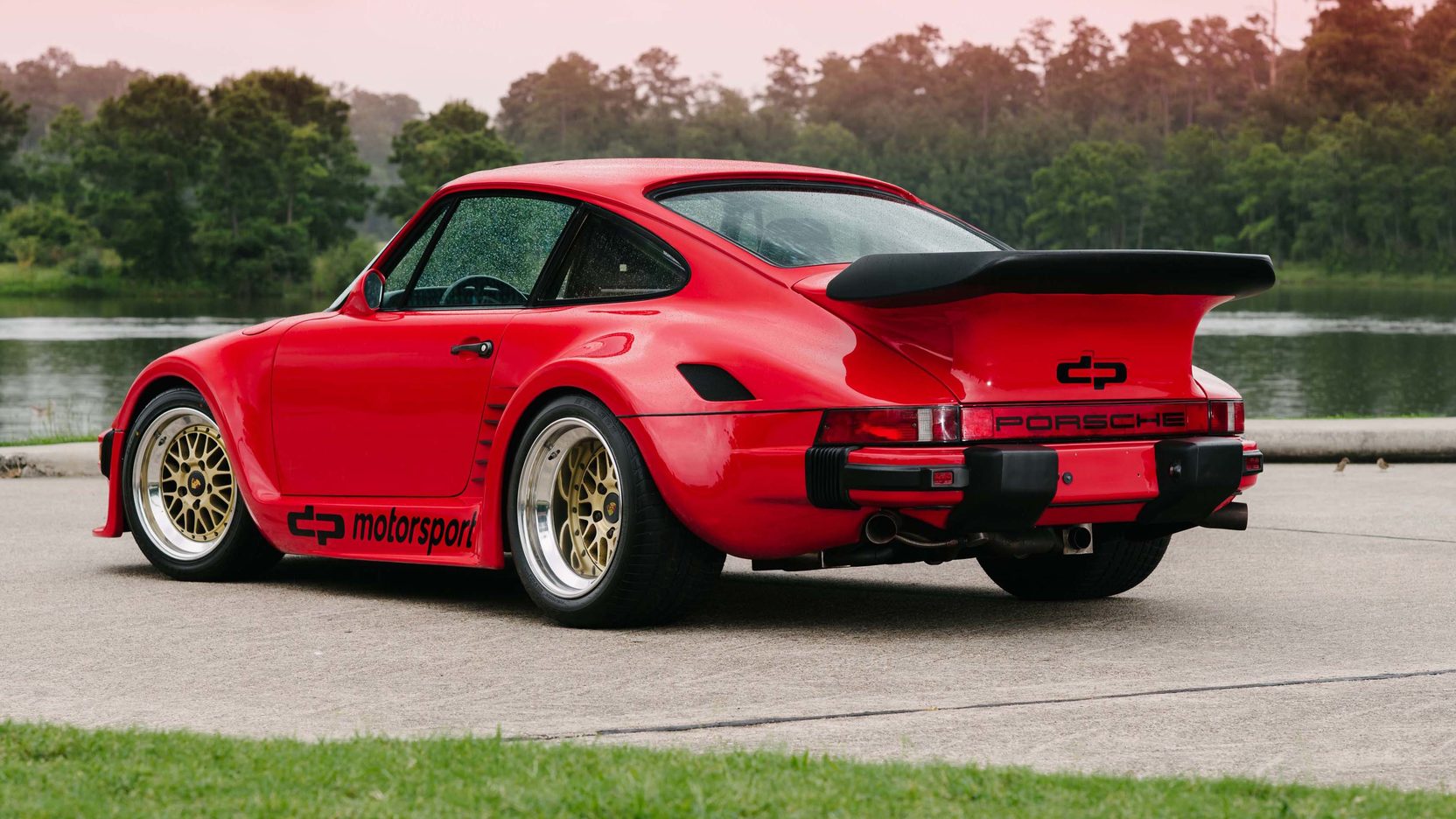 DP Motorsport DP935
Company: DP Motorsport
Located: Overath, Germany
Website: DP Motorsports
Ekkehard Zimmermann's DP Motorsport has been building slantnose 911s before every Porsche fan thought it was cool. Inspired by the 935s (DP built the bodywork for the 1979 Le Mans-winning K3), the DP935 series was a close to the original racer as possible.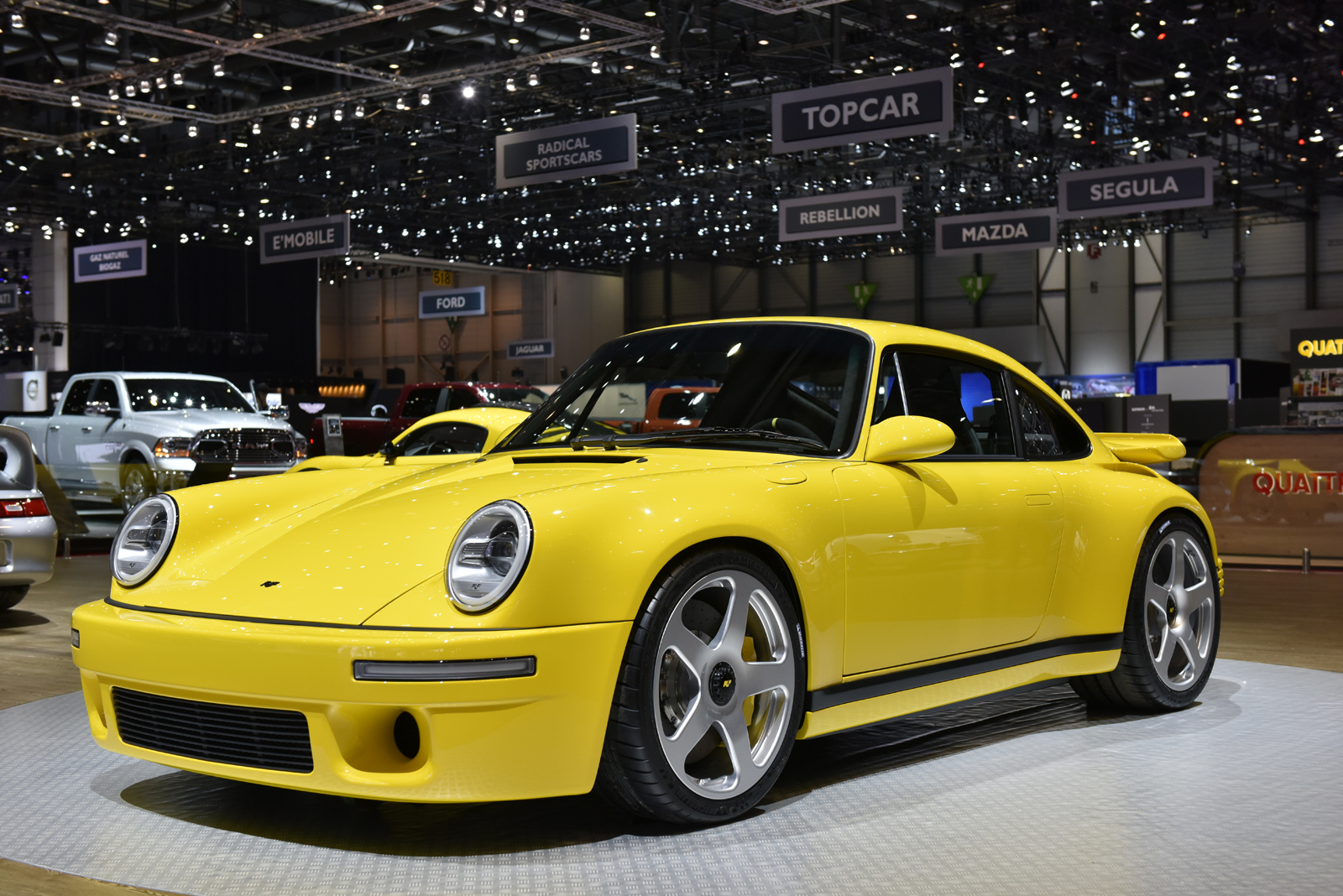 RUF CTR
Company: RUF
Located: Pfaffenhausen, Germany
Website: RUF CTR
The RUF CTR debuted in 1987. Capable of incredible speed, the 469-bhp twin-turbo CTR reached 342 km/h (213 mph) during testing on the Nardo Ring, a shocking speed for its time that is still impressive to this day. Entering its fourth generation, the latest high-performance RUF supercar pays homage to the 1987 CTR Yellow Bird in both form and function. A weight-to-power ratio of only 3.46 lbs per horsepower, a first-ever rear-wheel drive bespoke carbon fiber monocoque chassis and an incredibly powerful engine are only some of the ingredients that make the latest CTR such a compelling work of automotive art.
Magnus Walker's 1972 Porsche 911 STR II
Magnus Walker knows how to build a Porsche to get people like me excited. His STR II build has "Brumos-inspired color scheme, replica Campagnolo wheels and classic wide body stance". There are the many external modifications, evoking ST and R models of the period. The car has about 280 hp from what began life as a 3.2-liter SC engine with a 915 transmission built by Team VDS. Suspension is thoroughly modernized to cope with the power. Walker's stated intention was to "build a comfortably streetable race car".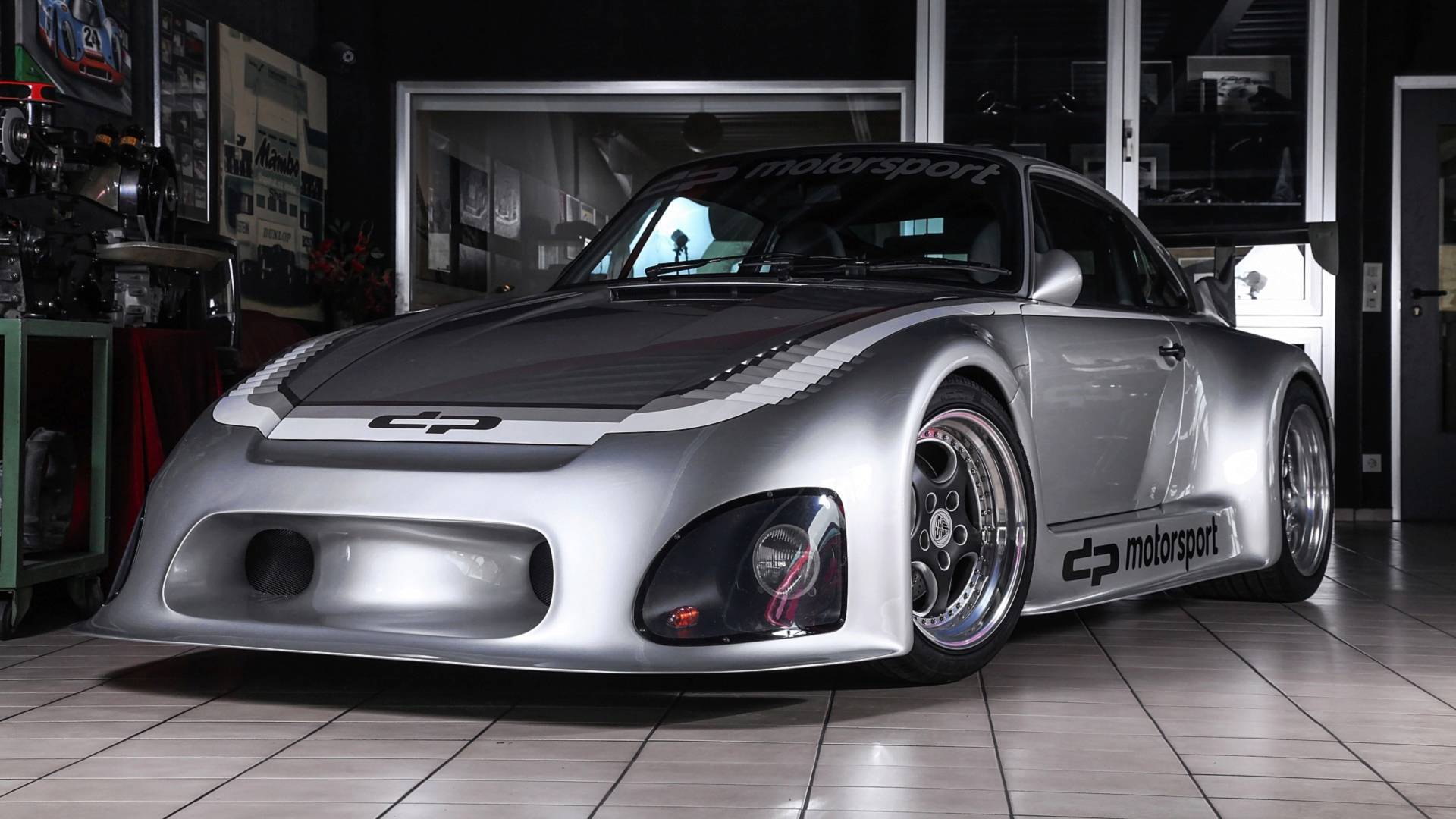 DP MOTORSPORT 935 DPIII
Company: DP Motorsport
Located: Overath, Germany
Website: DP Motorsports
As a base car this time a Porsche 965 Turbo in black with 3.3 liters of displacement from the year 1992 "serve". To the history of the vehicle is to say that until 1997 his existence as an untouched production car in Germany lasted. In the same year – commissioned by the second owner – at DP Motorsport the conversion to the 935 DPIII race car replica with street legalization in polar silver took place. One of a kind.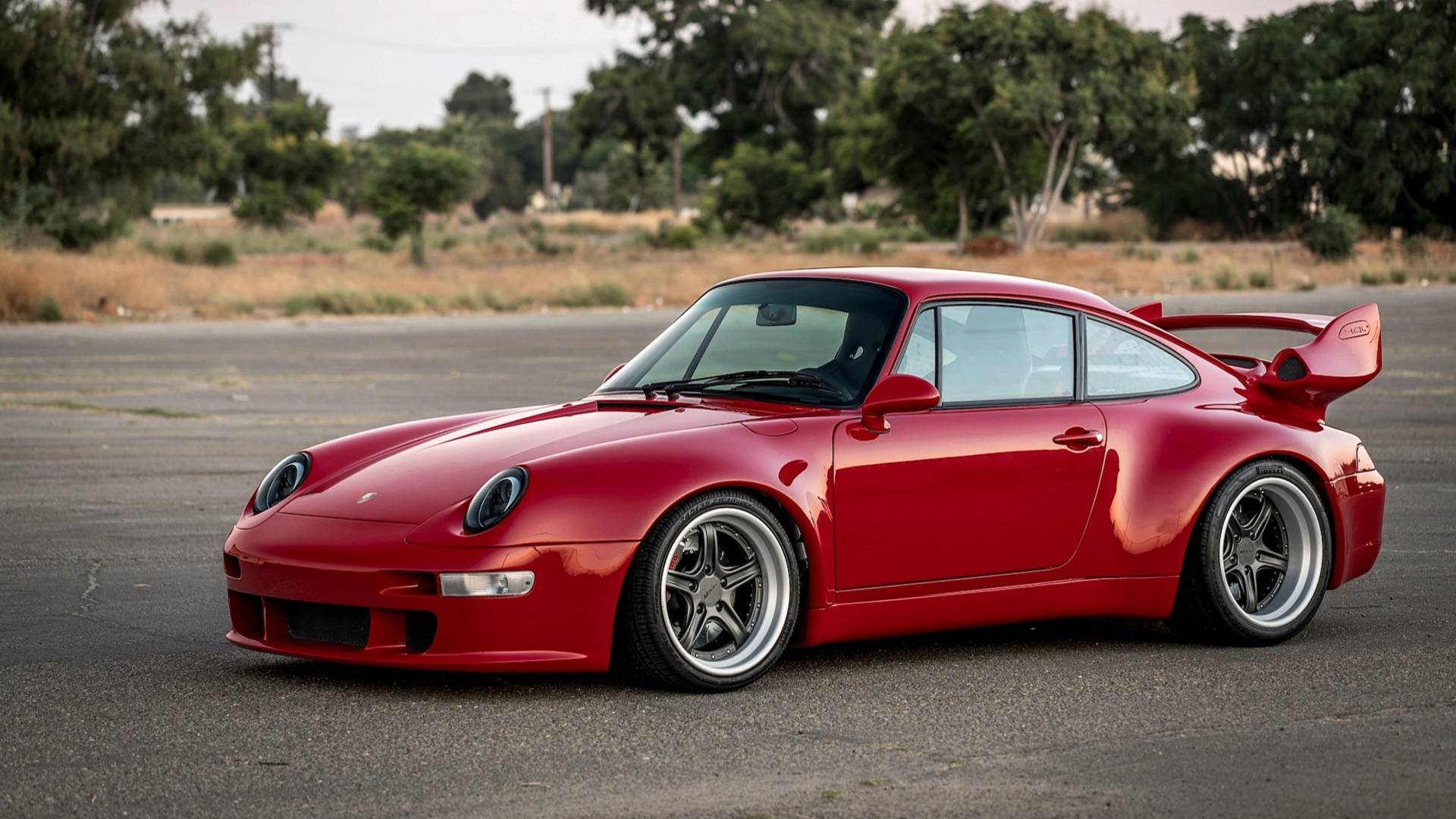 Gunther Werks 400R
Company: Gunther Werks
Located: Southern California (United States)
Website: Gunther Werks
The Gunther Werks 400R is a modern version of Porsche's last air-cooled 911 and is the first car from the new Gunther Works outfit based out of southern California. Limited to only 25 units and with a price point of $525,000 this is a seriously expensive and rare restomod. Every 400R will be entirely one of a kind. Customers select the vehicle interior materials, accent colors, and finishes. Gunther Werks then create an interior that bridges the gap between modern and classic design. Customers start with a 1995-1998 Porsche 993-era 911 and Gunther Werks goes nuts from there. Nearly all of the steel bodywork is thrown out; only the doors remain, and the rest is all carbon fiber panels, made in house. Gunther Werks also has a custom 4.0-liter engine. Developed by Rothsport from Oregon it is a tasty high end machine producing 400+ horsepower at 7800 rpm redline. Prices start north of $500,000.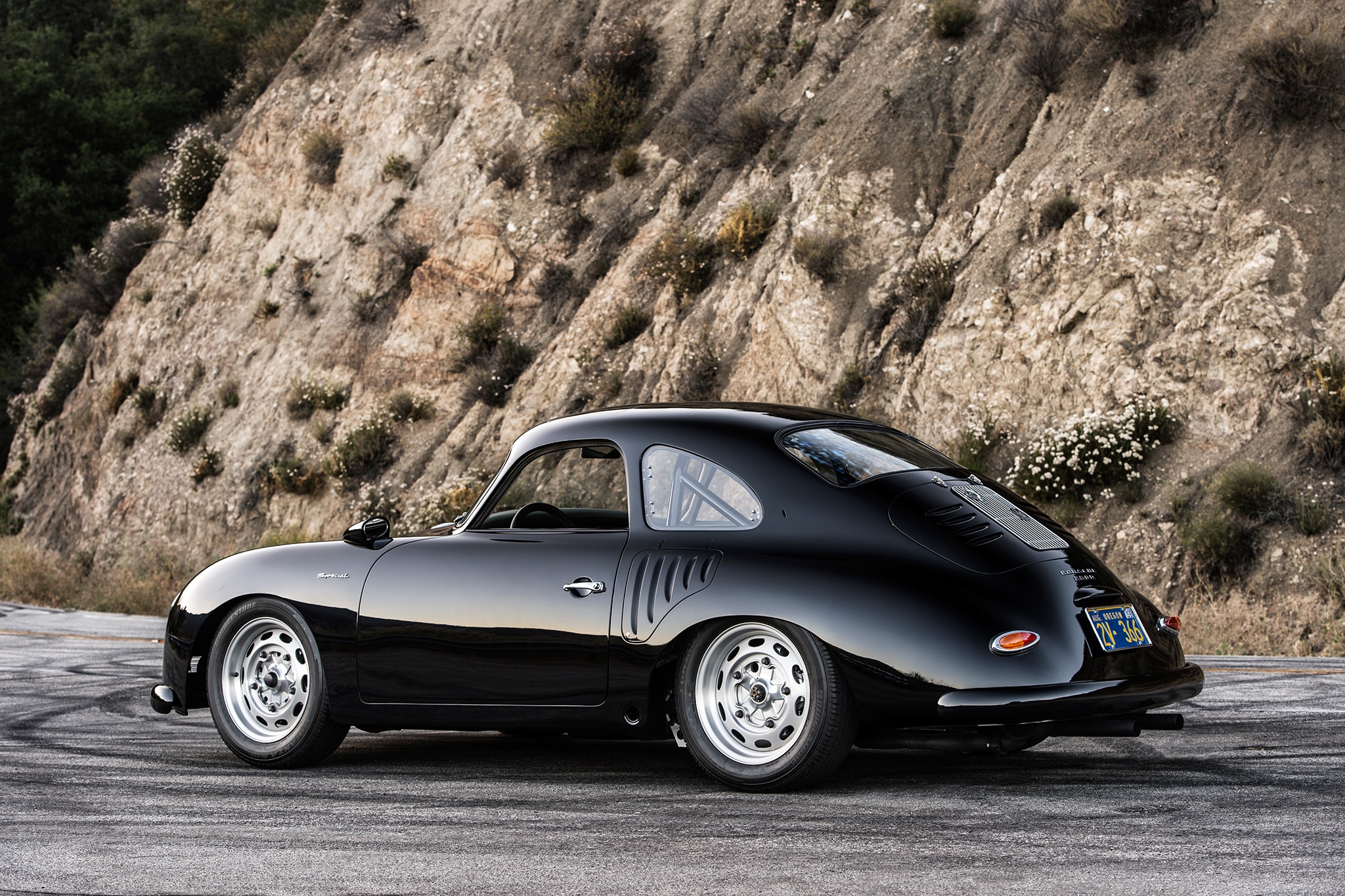 Porsche 356 Emory Special
Company: Emory Motorsports
Located: McMinnville, OR, N Hollywood, CA (United States)
Website: Emory Motorsports
This the the Porsche 356 restomodder you want. Rod Emory and Emory Motorsports are steadfast in their devotion to the Porsche 356 and invented the Porsche "Outlaw," rearranging 964-series Porsche 911 internals to fit under the Porsche 356 body. Rod Emory builds the most iconic, yet personalized Porsche 356s on the planet and to deliver a customer experience unlike any other in the Porsche marketplace. He has a built quite a few cars, but our favorite is easily the Emory Special.
It is a one-off creation, each tastefully bespoke to an owner's wishes and with Rod Emory's signature eye for aesthetic enhancement. An Emory Special is a car whose specific design will never be expressed the same way again; it is unique. A Special benefits from all of our standard restoration excellence, but with body modifications that will set this car apart from its Outlaw brethren. The changes are proportional, subtle and unless you are fluent in the design language of Porsche, you'd be hard pressed to identify exactly what has been done. Every Special is outfitted with an Emory-Rothsport Outlaw-4 engine as standard equipment.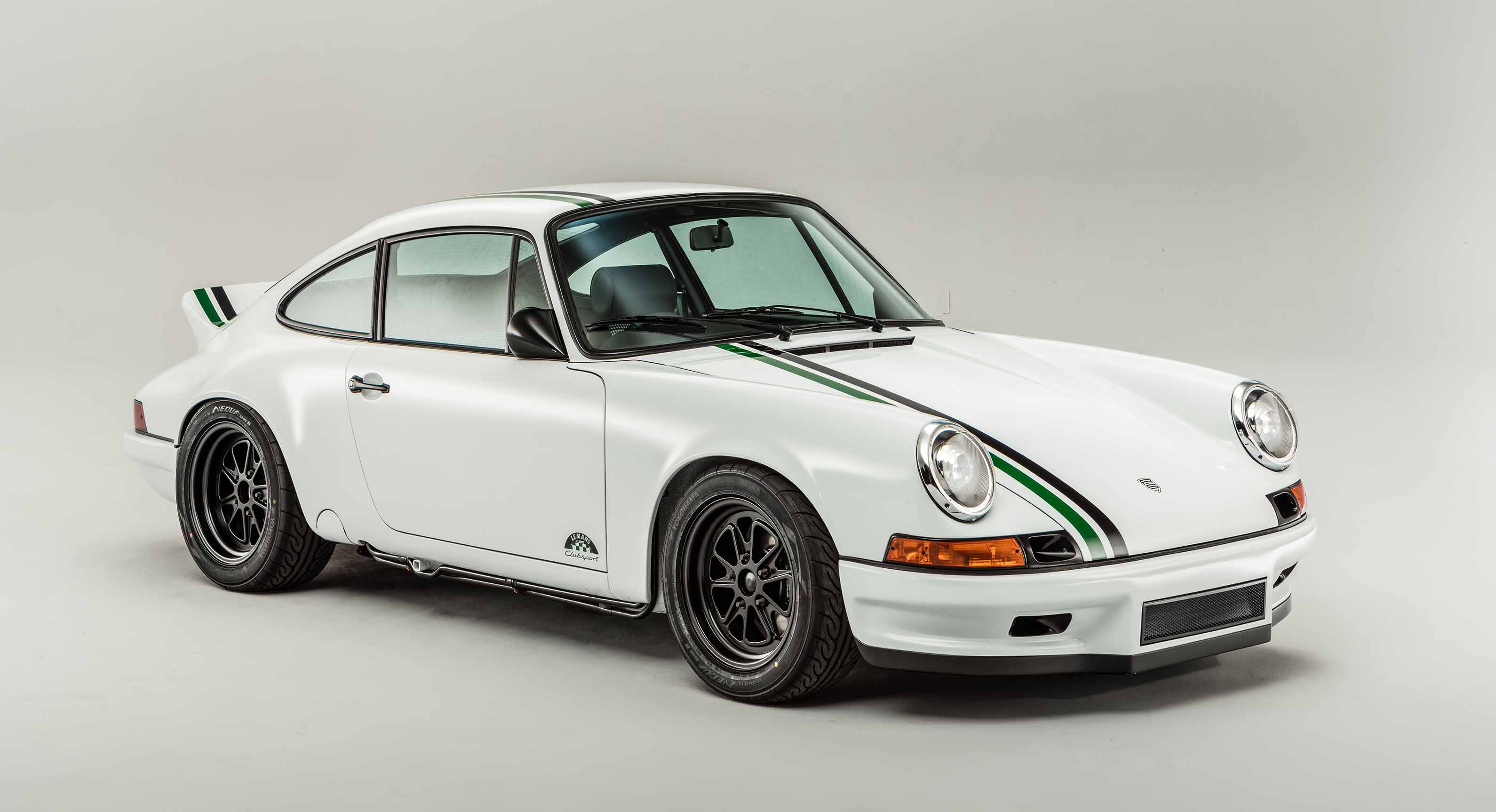 Paul Stephens AutoArt
Company: Paul Stephens
Located: Essex (United Kingdom)
Website: Paul Stephens
Paul Stephens LeMans Classic Clubsport
Paul Stephens is considered THE Porsche guy in the UK. Recently, Paul Stephens shared his latest creation, the new special edition Le Mans Classic Clubsport. This $350,000 special-edition gives you a 300 horsepower 3.4 flat-six (courtesy of an advanced injection system, a reprogrammed ECU, GT3 RS-specification camshafts, a lightened and balanced crankshaft and lightweight conrods) connected to a G50 manual gearbox with lightweight flywheel and a limited-slip differential. 0 – 60 mph is over in 4.4 seconds and the Classic has a top speed 170mph. You also get a de-seamed roof panel, an aluminum bonnet, composite bumpers and engine cover, a ducktail and aerodynamically optimized mirrors. All this totals to a weight figure of 2138 lbs as long as you choose the Lightweight spec (instead of Touring).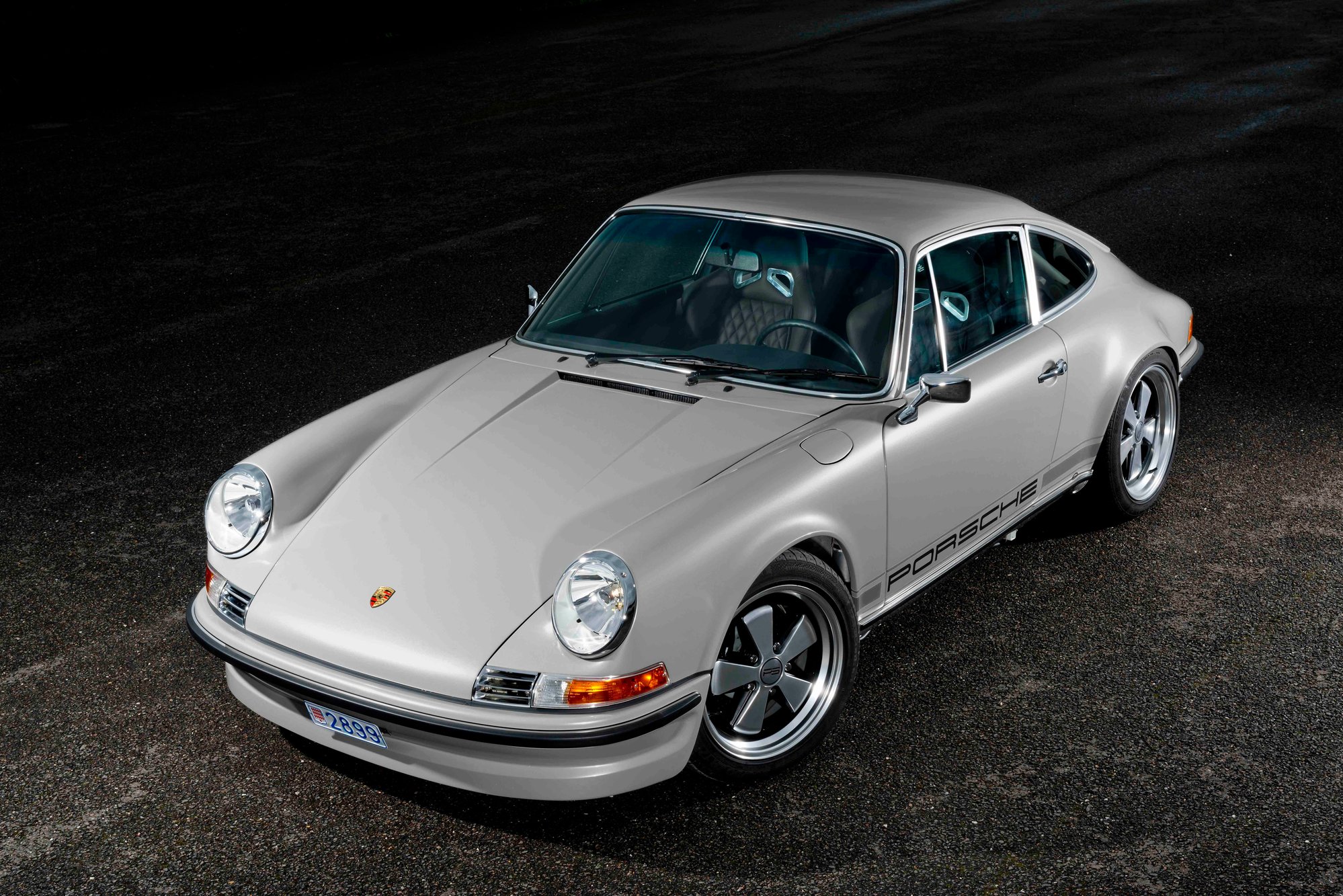 Paul Stephens Touring R series II
Company: Paul Stephens
Located: Essex (United Kingdom)
Website: Paul Stephens
The Touring R series II is a fusion of styling and technology where old meets new, a high performance sports car with unique exterior design, that is available with the option of 2wd or 4wd and manual or tiptronic transmission, whilst perfectly weighted power steering and powerful brakes with ABS are standard. These are combined with a choice of powerful 3.6 or 3.8 litre engines to ensure that however you specify your Touring R, each journey will be an occasion to remember.
The Touring R has three power options, ranging from a strong 3.6 275BHP in the 275R through to a thoroughly invigorating 350BHP from the 3.8 350R, whilst where fitted the RS specification brakes provide truly inspired stopping power. The exterior has been designed with a restrained but toned aggression, the twin exit exhausts and subtle flaring for the arches to cover the 8.5" and 10.5" Fuchs style wheels, just giving a hint to the observant of its true capabilities. Carefully developed suspension combined with reduced weight ensures the Touring R performs like a toned athlete on your favorite road.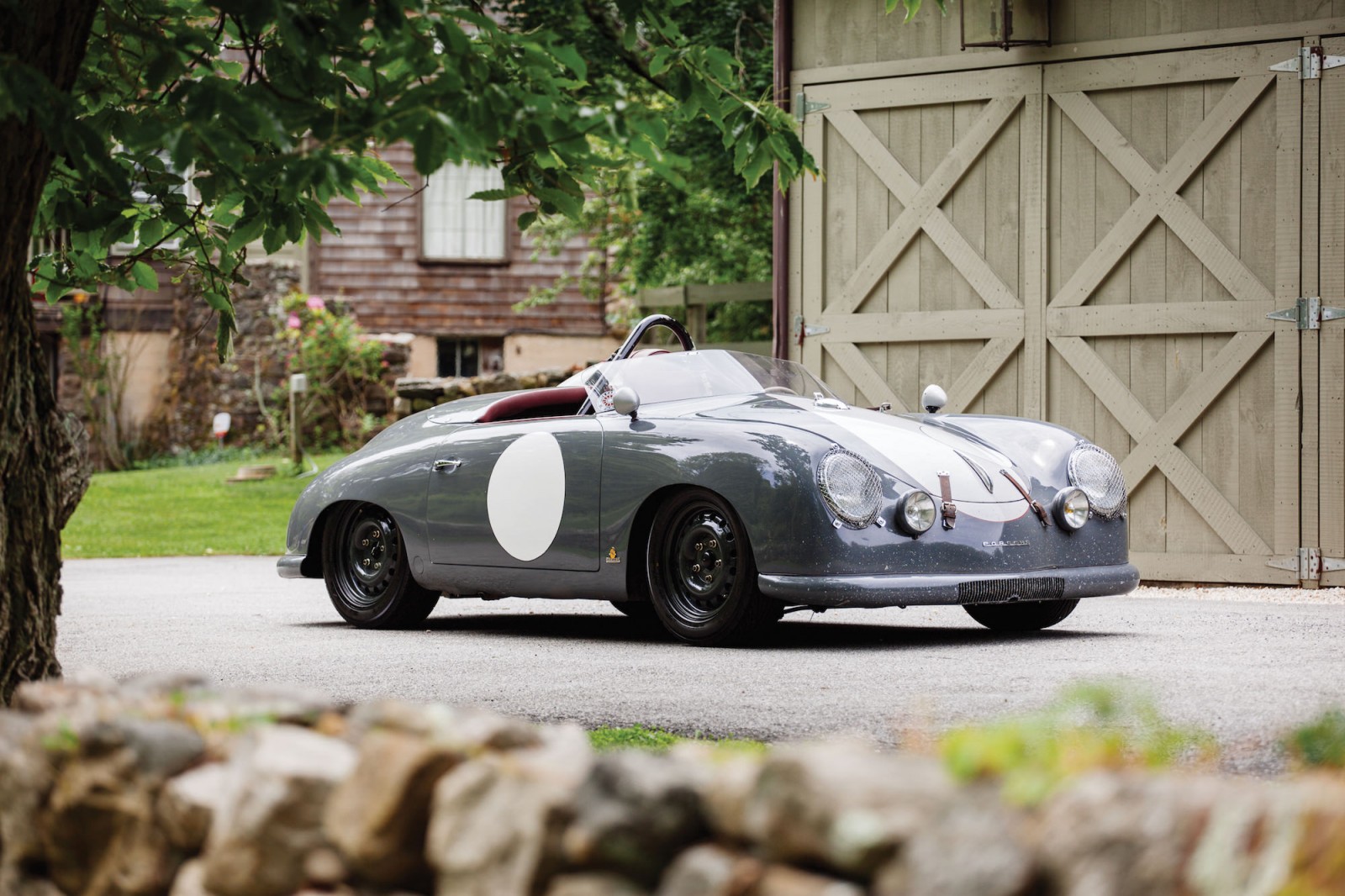 Porsche 356 Emory Outlaw
Company: Emory Motorsports
Located: McMinnville, OR, N Hollywood, CA (United States)
Website: Emory Motorsports
The first and original category is the Emory Outlaw. Its body and chassis are all steel, just the way it left the factory in Germany. We perform a concours-quality restoration to the metal while stiffening the chassis in preparation for its modified 911 suspension and proprietary Emory-Rothsport 4-cylinder engine. Its styling cues are rally- or race-inspired, but the body shape remains stock in appearance. Within this category we can "Outlaw" the Coupe, Speedster or Roadster models. Every Outlaw is outfitted with an Emory-Rothsport Outlaw-4 engine as standard equipment.
Come in hardtop and roofless application, but we love the above topless one best. The Porsche 356 Emory Outlaw you see here started life as a 1954 Pre-A model, it was pulled apart and the conversion to the sacrilegious ranks of Porsche Outlaw royalty began. The full story of the car's new specification is below the images – for those of you who'd like a little light reading.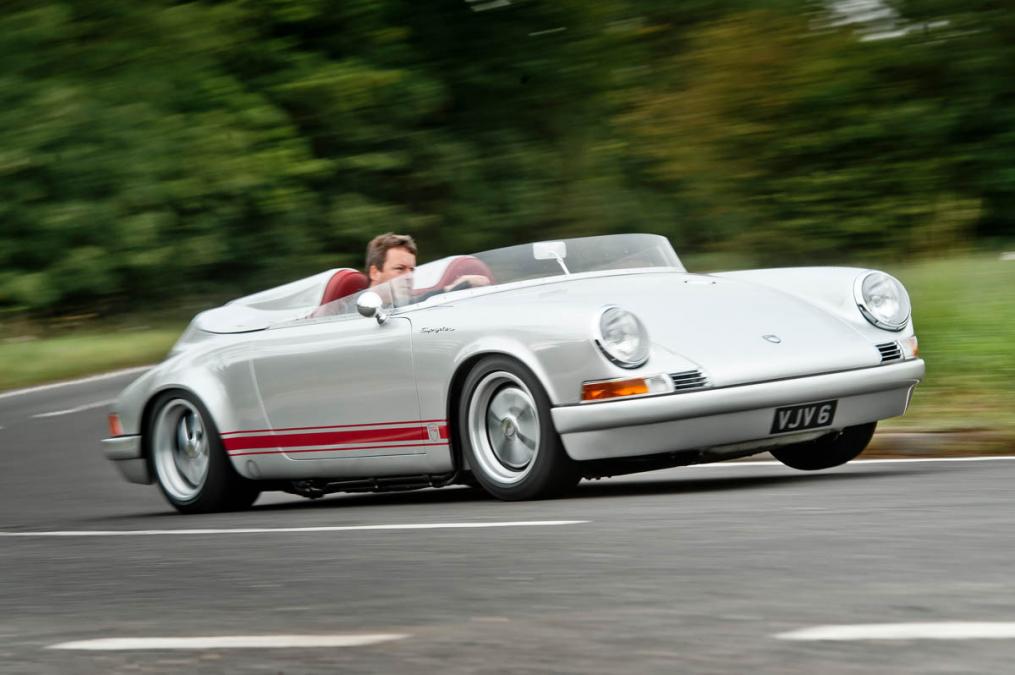 Paul Stephens Porsche 911 Spyder
Company: Paul Stephens
Located: Essex (United Kingdom)
Website: Paul Stephens
A unique one-off car created to show what is possible if you push the boundaries of your imagination. With its aluminum body, simple wrap around cockpit with minimal machined aluminum controls, the PS Spyder was light, sure footed and quick. A perfect example of our sports purpose ethos – less really is more.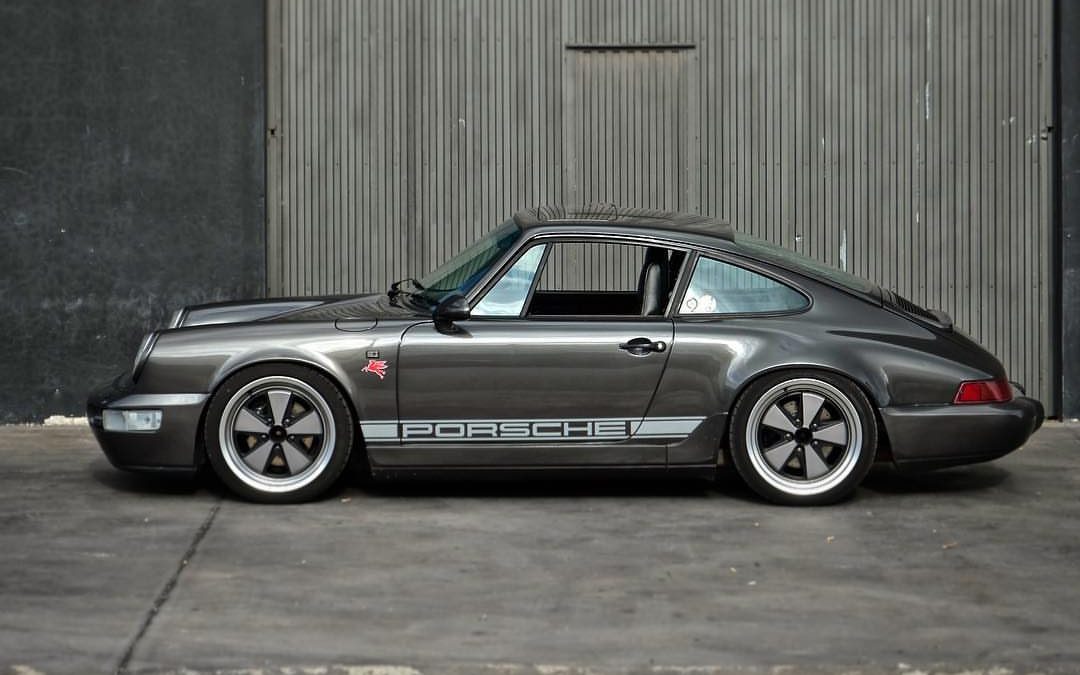 Instagram Hottie 964
No idea on the specs of this custom 964, but we found it on instagram and fell for it immediately. Check it out jaf_964.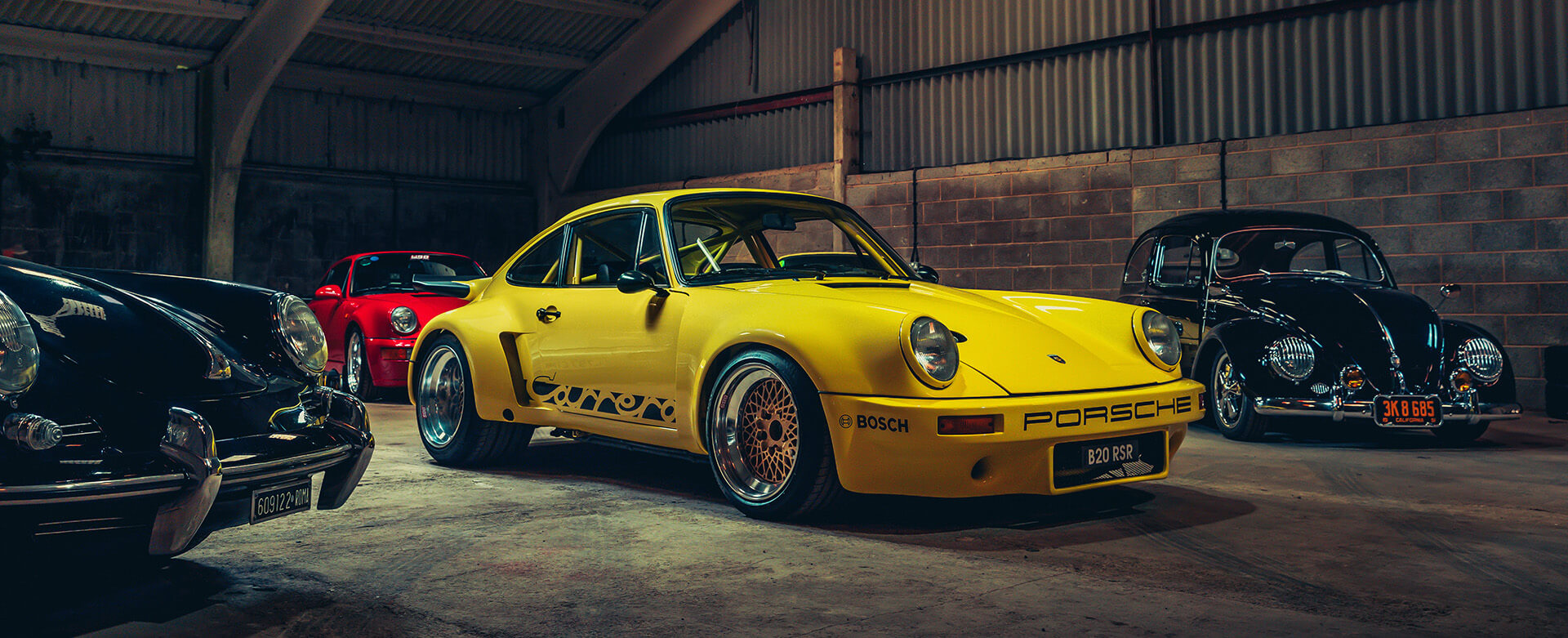 Frank Cassidy's RSR-inspired 911 'Outlaw'
Frank Cassidy's RSR-inspired 1974 911 'Outlaw' is the perfect representation of this. Visually the Porsche looks identical to the RSR which inspired it – a car limited to just 49 models and created as a more hardcore version of the potent RS. This is thanks in part to the genuine bodywork and wheels which were painstakingly sourced to create a period-correct look. But delve under the lightweight skin and you'll soon find upgrades far beyond its inspiration! Peek under the huge boot-mounted spoiler and you'll find a forged 3.5-liter engine, aircooled and naturally aspirated just like its inspiration. However unlike the RSR, Frank's Outlaw 911 develops 350bhp to the super-wide BBS E50 wheels, a cool 50bhp more than the real deal. In the handling department, Frank's 911 benefits from coilover suspension front and rear utilizing BILSTEIN technology based around a B16 coilover suspension kit to ensure maximum performance in all driving situations.

Paul Stephens Road legal RS Replica
Company: Paul Stephens
Located: Essex (United Kingdom)
Website: Paul Stephens
This road legal RS Replica is based on a genuine RHD 911 2.4E and was converted to RS LWT specification in 1990 for racing in the BF Goodrich production Porsche championship. Results sheets in the history file confirm it was a front running car in the 90s in the hands of Stephen Radcliffe. From there it headed to Northern Ireland competing in hillclimbs and sprints with Bertie Carruthers. It then moved onto Robin Titterington where again results sheets show it to have been front running in HRCA Historics in Northern Ireland before returning to the UK 2005 where it has been used for fast road use and track days. In May 2014 the car was submitted for FIA papers which it was granted, so is now eligible for a number of historic motorsport events.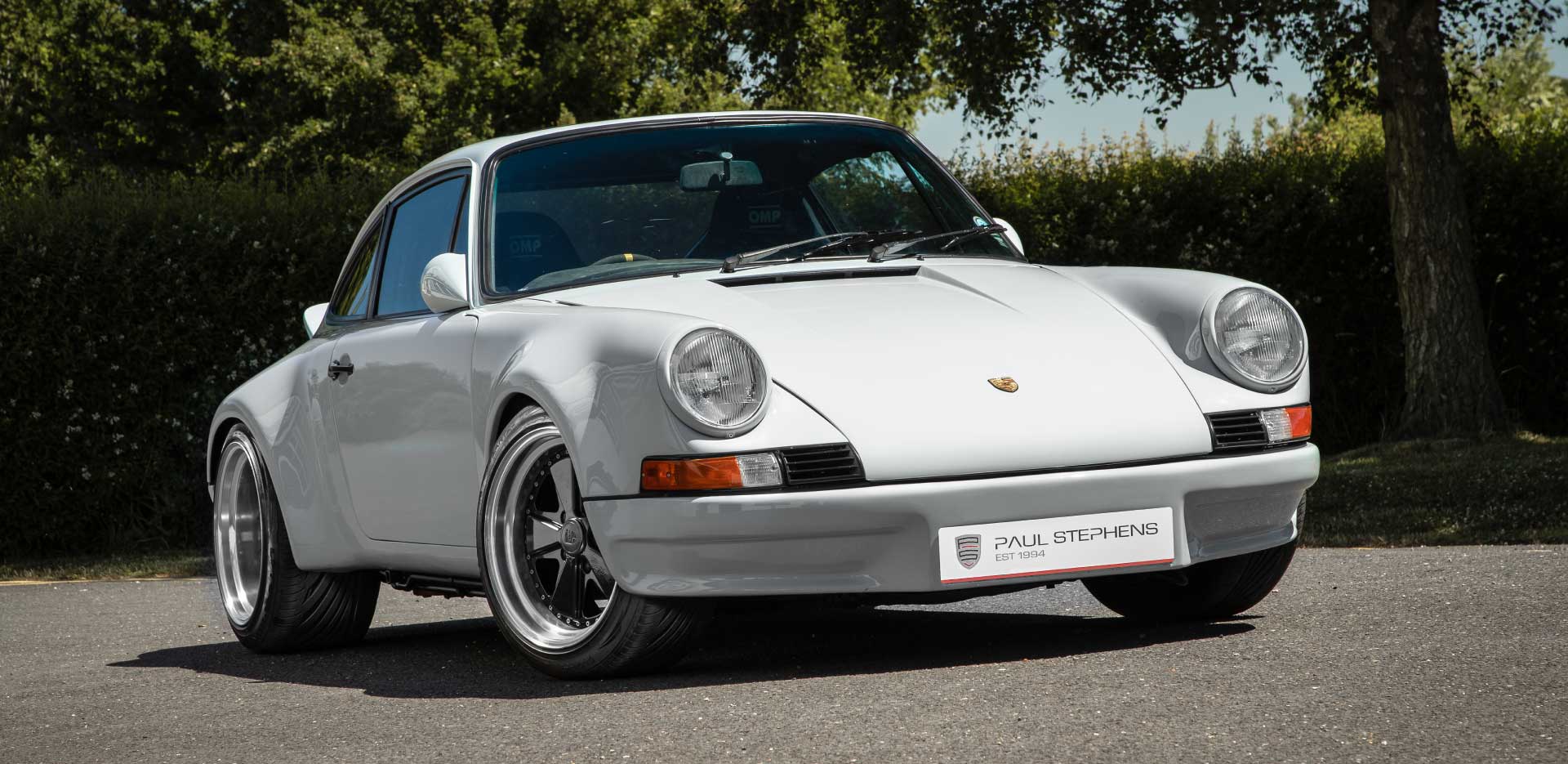 Porsche 911 Resto-mod by RS Teknik (1984)
As a company Paul Stephens recognized a few years ago that there was another market for a cheaper product to allow enthusiasts to get on the restomod ladder. So, they created a series of fiberglass body panels under a new brand RS-Teknik, specifically for the 911SC and 3.2 Carrera models. These could be purchased separately, or as a complete kit allowing individuals to personalize their own 911. This particular car is a mechanically sound 1984 3.2 Carrera with 78,000 miles from new, that has been fitted with a widebody conversion inspired by the 70s 911RSR. Originally painted by Carrera bodyworks in Bury St Edmunds and finished in sport classic grey which is an original limited edition Porsche color, it is fitted with black centerd 17" split rim Fuchs inspired alloys, RUF CTR style door mirrors and soft tint side windows to give a subtle but aggressive look.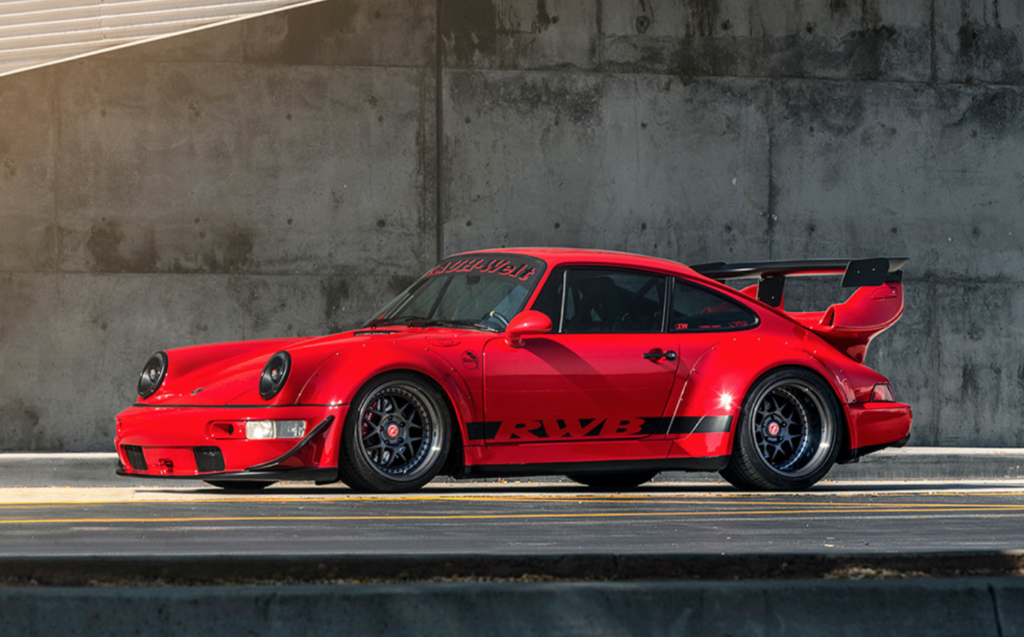 Rauh-Welt Begriff 911 Carrera 4
If the name Rauh-Welt Begriff (RWB) doesn't ring any bells, you probably know the cars well. Known for wide fenders and a massive spoiler, these cars are hard to miss. While some think they ruin a classic Porsche, other see them as pure art. We found one on Bring a Trailer a while ago and fell for its sheer aggression.
The cool body kits is crafted by Akira Nakai in his body shop located in Chiba Prefecture near Tokyo. Not surprisingly, this handcrafted gear comes with a rather steep price tag (basic kit starts at $24,000 but it quickly climbs to almost $40,000 for the whole hog). This car started its life as a 1989 Porsche 911 Carrera 4. Widened fender flares were fitted at all four corners along with front/rear bumpers, side rockers, a Kamiwaza double-decker spoiler, fender wings, Rotana-style extended canards, and RWB lettering. This 964 is said to have been featured at SEMA in 2015/2016 and is now being offered with a clean California title in the seller's name.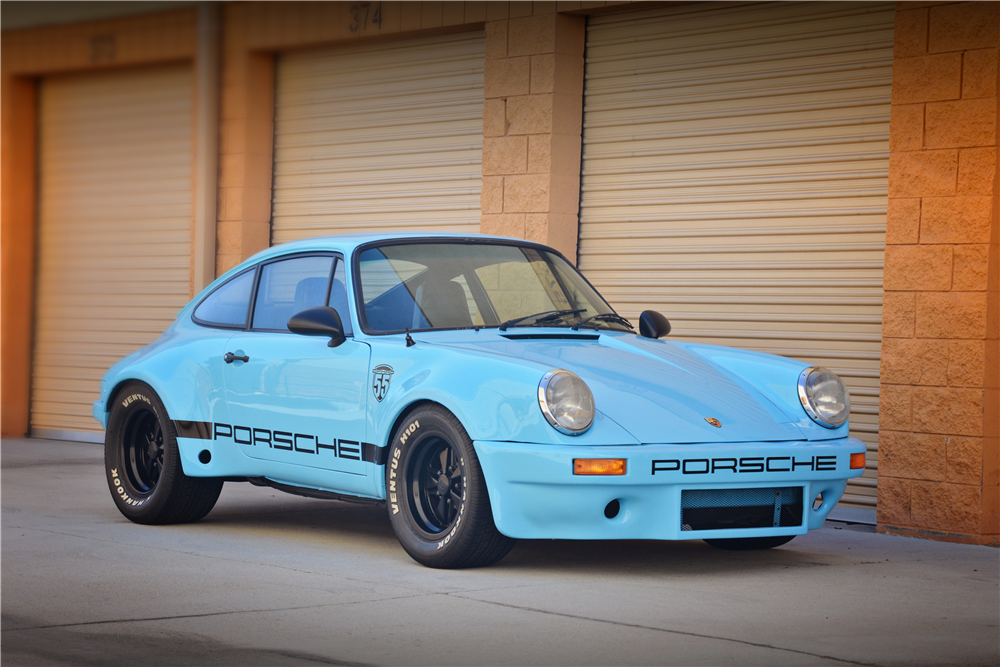 1971 Porsche 911T Custom Coupe
We found this beautiful blue 911 on barrett-jackson.com. This custom 1971 911T has a Certificate of Authenticity from Porsche. Approximately 77,092 miles (mileage not indicated on title) on the matching-numbers factory 2.2-liter engine matched to a 5-speed 901 manual transmission and Dansk headers connected to megaphone pipes. The engine runs strong and clean on the car, which has had a fresh, high-end respray of the stunning factory color of Pastel Blue (per the COA), contrasted by black vinyl decals and black powder-coated Fuchs wheels with new Hankook white-letter tires – stanced perfectly under steel, butt-welded, Turbo fenders. Very clean interior.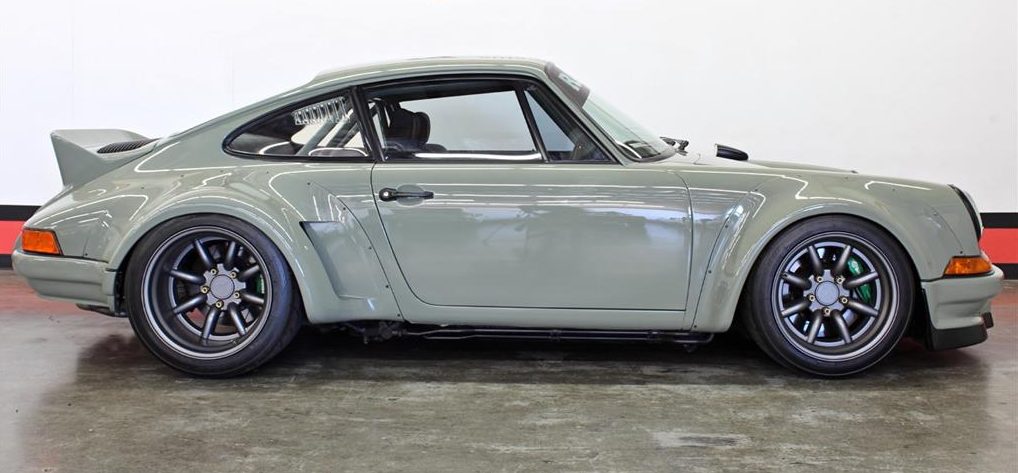 1990 Porsche 911 RWB "Pandora One"
Porsche RWB #1 in Mignonette Green. Wide body hand crafted and installed by the famous Nakai-san of Rauh-Welt Begriff. This particular 911, known as Pandora One, was the first RWB Porsche built in the United States. Unlike many RWB's, this car has the performance to back up it's looks. A 3.6L flat six engine with a custom FFTEC turbo kit provides over 450hp. This RWB has been backdated to the styling of an early long hood 911.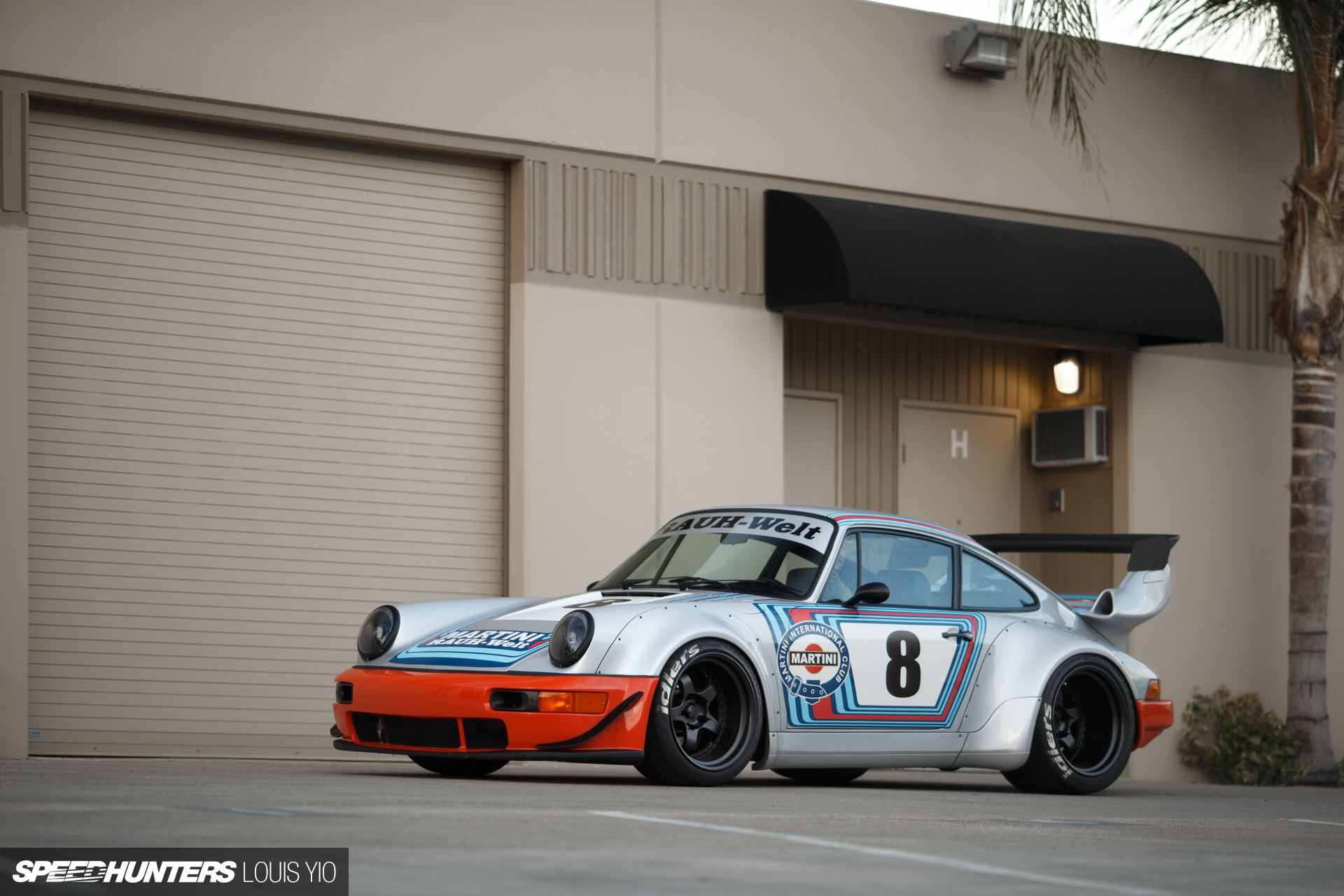 "The Highest Star" 1989 Silver Anniversary Carrera
The car is based on a 1989 Silver Anniversary Carrera. Porsche intended this to celebrate 25 years of 911 production, and it was a limited edition which featured cosmetic changes over a normal Carrera. From there, the car was stripped down to its bones and prepared to be transformed into Ichiban Boshi, The Highest Star, as named by Akira Nakai of RAUH-Welt Begriff. The engine is a 1991 964 3.3-liter long block from Martine Altolaguirre, who's considered one of the best Porsche 935 engine builders. Learn more about this car at SpeedHunters.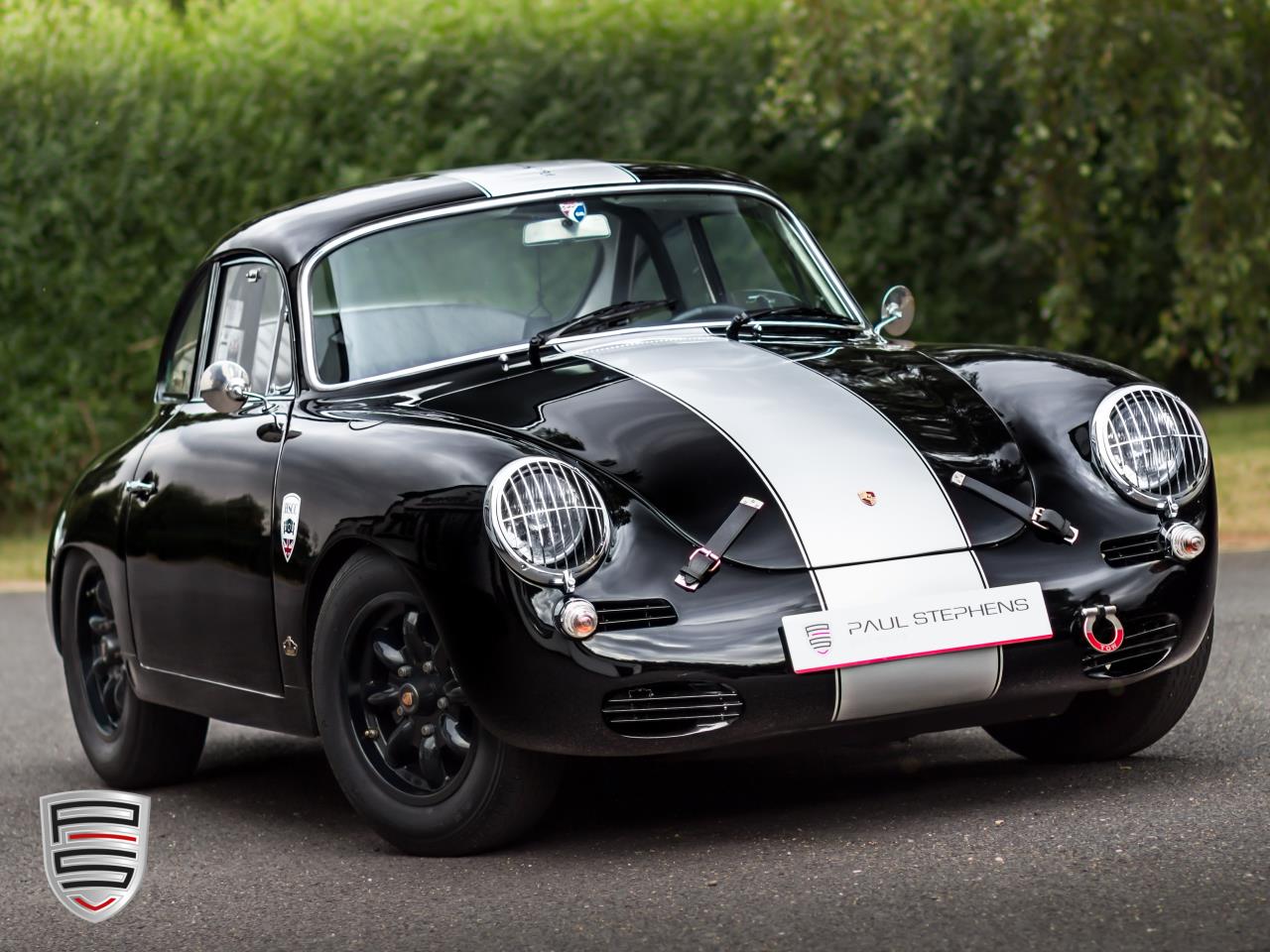 Paul Stephens 356 "Poco Bastardo"
Company: Paul Stephens
Located: Essex (United Kingdom)
Website: Paul Stephens
Even though the name is shared between this 356 and the American actor's 550 Spyder, "'Poco Bastardo' is a nickname used to describe the 356 for its giant slaying capabilities against more powerful machinery" in the Carrera Panamericana. That said, what makes the Outlaw Coupe so special. Other than the badass exterior and no-nonsense interior revamp, the "Poco Bastardo" boasts xenon headlights, black bison quilted leather, a bolt-in half roll cage, fully rebuilt suspension with adjustable Koni shocks, electric power steering, disc brakes all around, a manual with a long 4th for highway cruising, as well as a 110 bhp boxer with Shasta pistons and Solex carbs.
RWB "Jittakorn 57"
Company: Terror Garage
Located: Indonesia
Website: Terror Garage
We talked about the RWB movement earlier and we just love how it has combined Japanese and Euro tuning elements, creating the distinct RWB style for Porsche chassis. Starting off as a small countryside body-shop in Chiba-Ken, RAUH-Welt 911's are now a common sight on both the streets and racing circuits of Japan. All RAUH-Welt Bodykits are made in Japan and then shipped to a local shop. This build here is by the team in Indonesia who have some other cars on this list.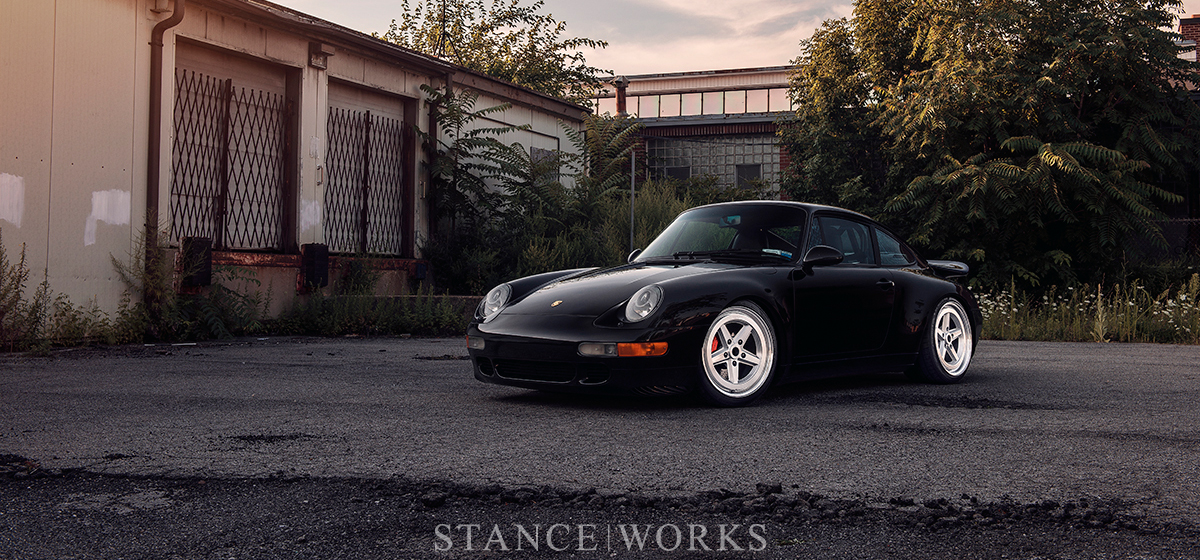 Stephano Bueme's Porsche 993 911
From the outside, Stephano has kept things rather modest so why is he on the list. Well, we love the subtlety and the rim, color, stance combo. An OEM Euro Turbo front bumper and an RS whale tail look really cool. The rims are awesome. They are Fifteen52 Outlaw 003s built for the car and measure 18×9 and 18×11 front and rear. The factory 3.6-liter lump has been fitted with an RS-inspired carbon intake system, Fabspeed headers, exhaust, and a Promotive ECU tune, giving the aircooled 6 some extra grunt. For the suspension, Stephano has H&R RSS Club Sport coilovers provide the basis for the changes, and Elephant Racing bump steer-correcting tie rods begin the list of additions. Rennline rear toe arms, front drop links, rear drop links, Rothsport steering rack bushings, and a 2-way front strut bar all help stiffen things up and have allowed Stephano to fine-tune his suspension. Learn more about this car at Stanceworks.com.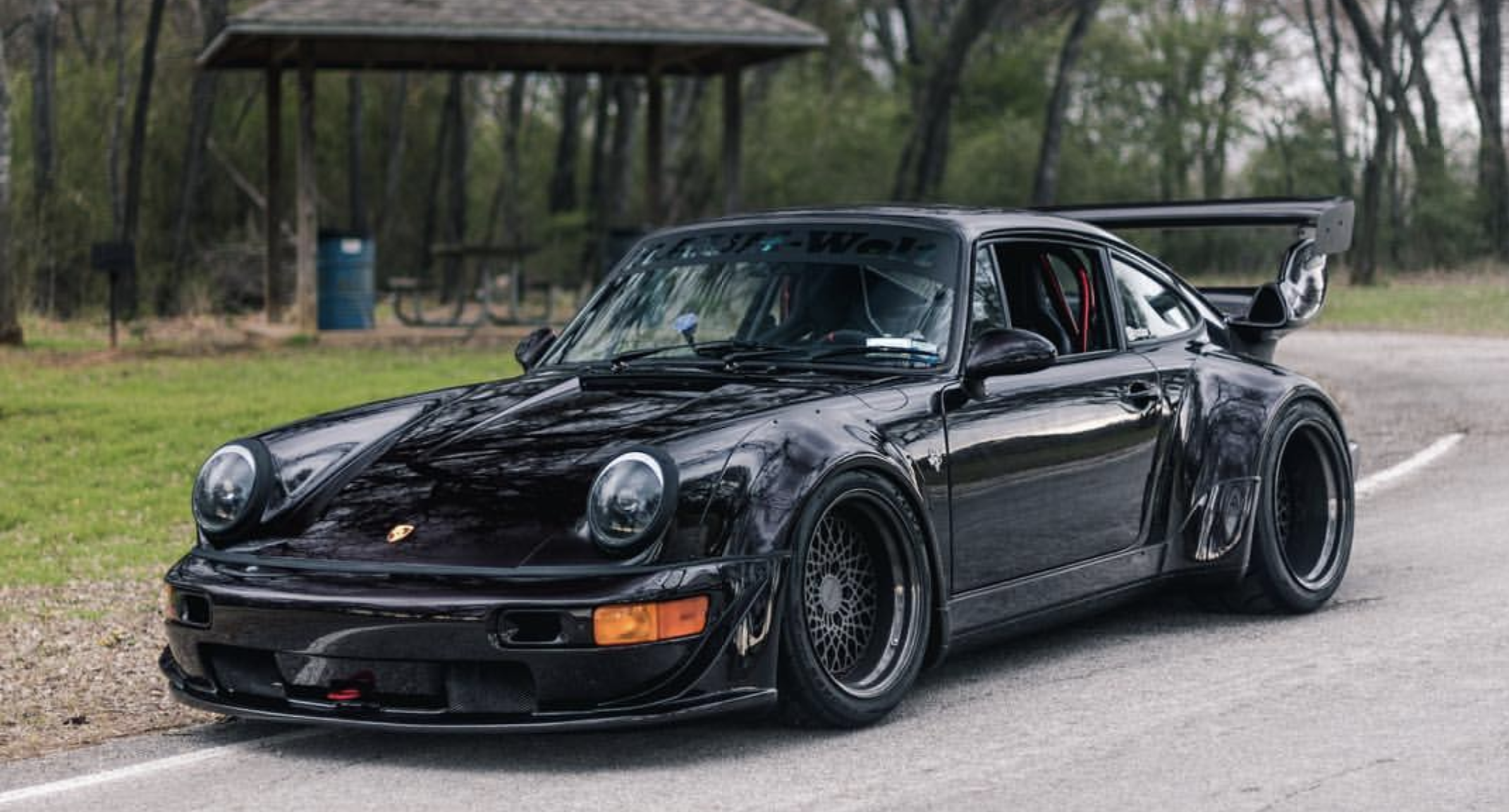 RWB "Unknown"
Another RAUH-Welt 911 special but we couldn't find any information on this one. We loved how aggressive this car looks. If Batman had a Porsche, this would be it.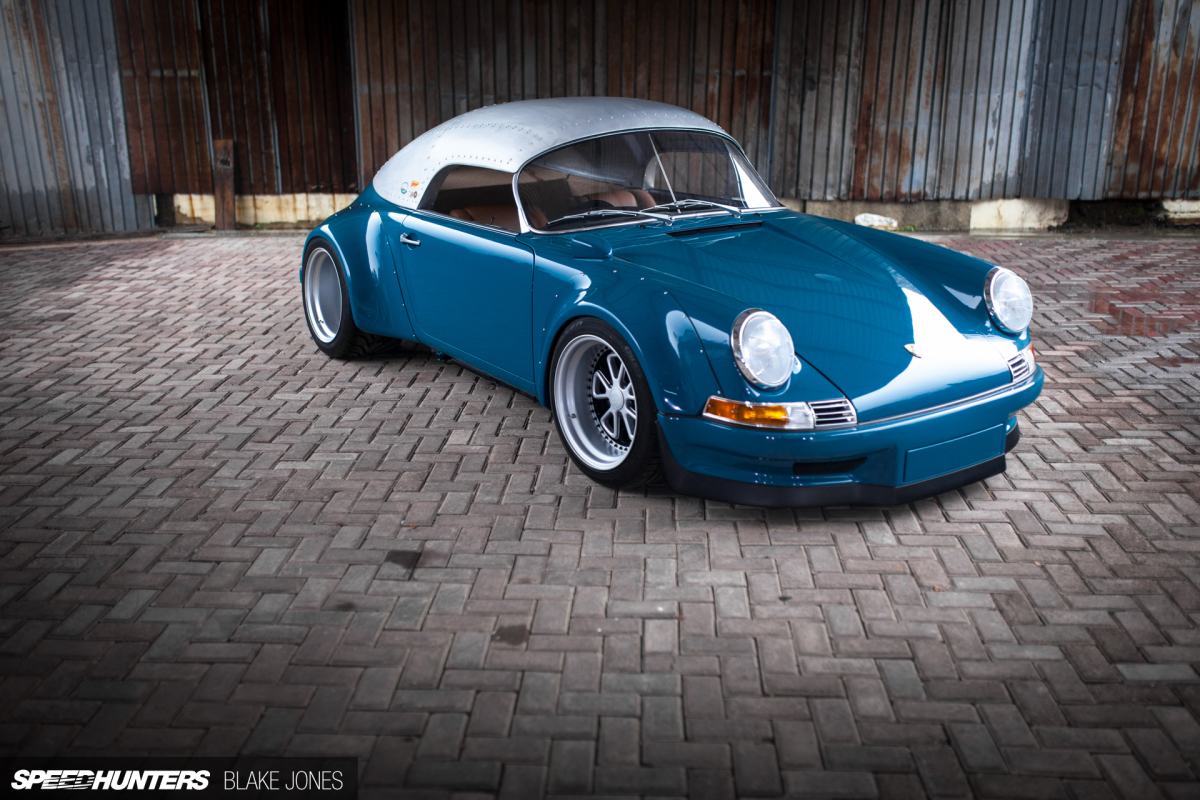 The Terror Garage RWB Speedster
Company: Terror Garage
Located: Indonesia
Website: Terror Garage
The Terror Garage folks build the RWB Indonesia cars (they are the exclusive local arm for RAUH-Welt Begriff's Porsche modification operation). This car makes our list for obvious reasons, it is totally unique and there is nothing else like it. The final product seems to exist more in the realm of the concept cars that grace motor show stages. Learn more about this car at SpeedHunters.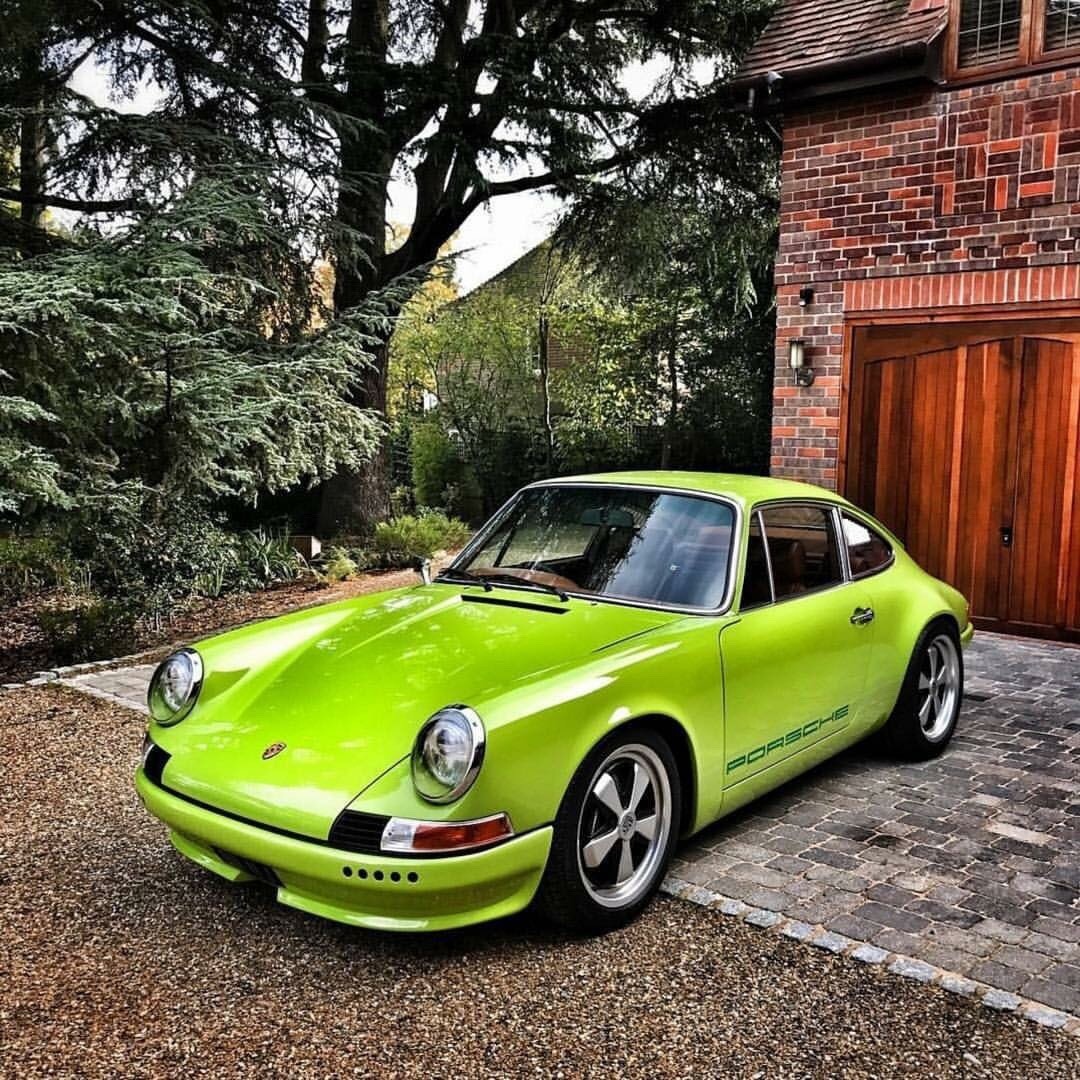 Random Hulk Porsche
Ok so we are not very creative when it comes to naming custom Porsches. Frankly we know nothing about this car other than we love it and we found it on Tumblr. To check it out you can find on Tumblr here.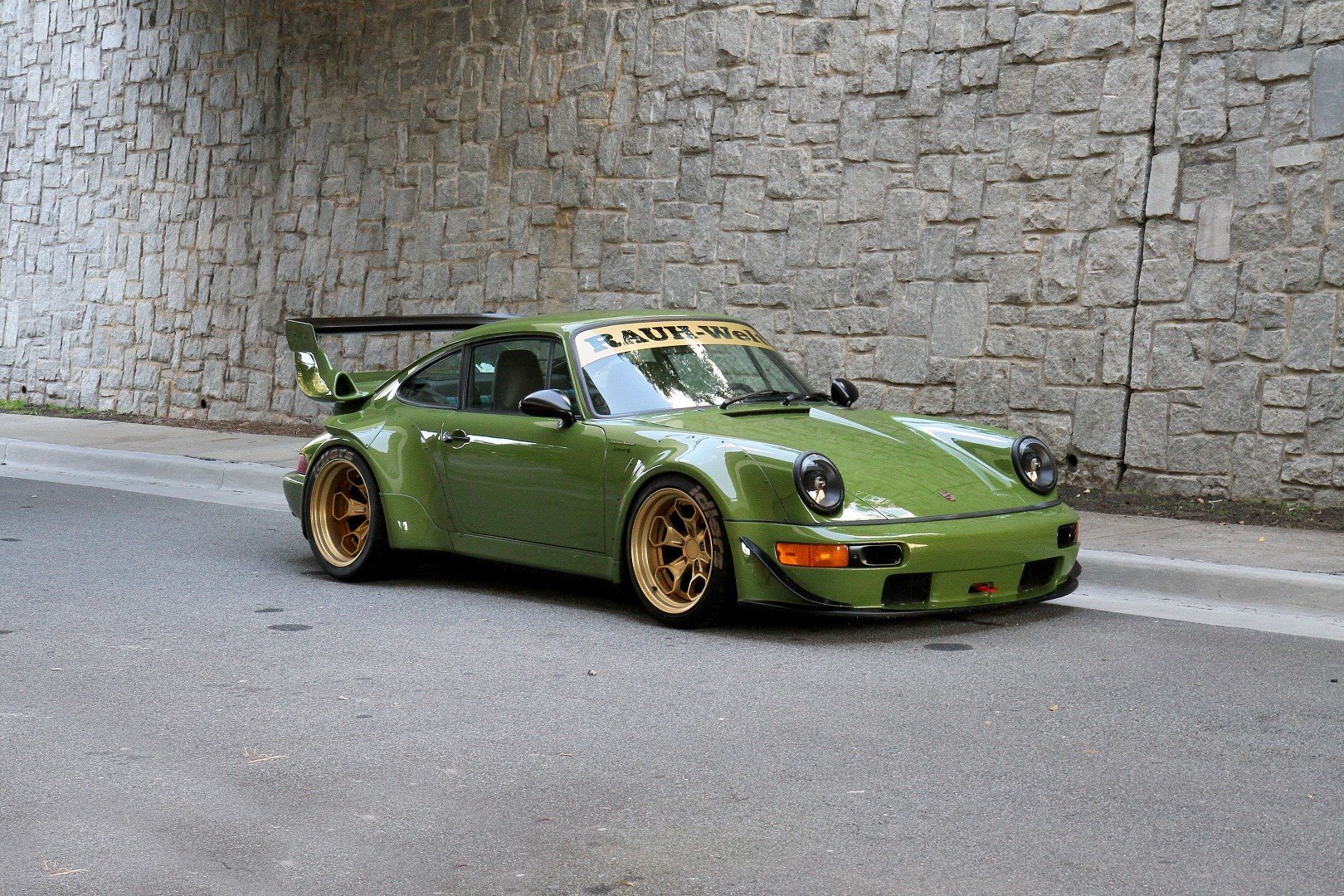 1992 Porsche 911 C2 Manual Coupe (964) RWB
This is Akira Nakai of Rauh-Welt Bergiff's first RWB Porsche on East coast. It was built in Atlanta, Georgia for Tate Askew at MotorCarStudio. Several specialist shops were involved with the build and this car is very well known on the show circuit. The owner started with a clean, black 1992 C2 Coupe that was stripped down to a rolling shell before going to a fabricator for a carbon fiber sunroof delete panel, then finished in Olive Green (a 1978 Porsche color). Rotiform produced the custom-designed wheels and the car wears KW V3 coilovers with hydraulic lifting option. The stock 3.6 liter engine was completely rebuilt to 3.8 liter RSR specs by Martine at Auto Europe. Custom exhaust was fabricated by Turbocraf. The interior was finished in Scottish Tartan — the driver's seat is a vintage Recaro.
Slammed Black 911
With found like black slammed custom Porsche on Flickr. No information on this one but definitely check it out here.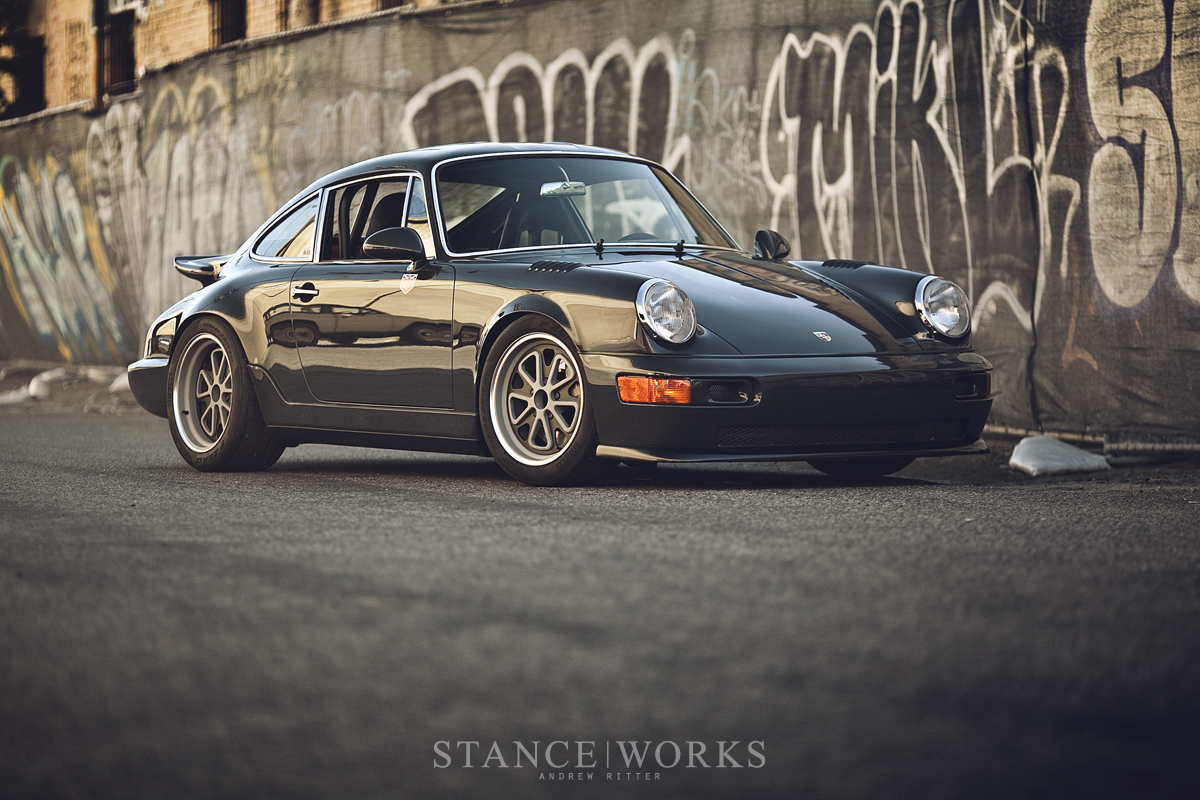 Magnus Walker Porsche 964 (dvmechanics)
Company: DV Mechanics
Located: Montebello, CA (United States)
Website: DV Mechanics
Dorian Valenzuela worked in aerospace and then at Singer before going out on his own in 2015. The core and passion of DV Mechanics is restoration and custom building of Alfa Romeo and Porsche motorcars. In many ways, Magnus Walker's Porsche 964 project is a departure from what we've come to expect from him, but underneath its veil, you'll still find his touch in the details that play a monumental role in the presence of his latest work. Magnus wanted to refrain from straying too far from the original car's DNA. Rather than backdate it or attempt to form it into a wild widebody, Magnus chose to expand upon the sporty demeanor of the 964 and accentuate the cars original lines with the narrow body and big bumpers.

Porsche 911 Speedster Recreation By DP Motorsport
Company: DP Motorsport
Located: Overath, Germany
Website: DP Motorsports
Germany's DP Motorsport is undertaking a multi-part project that aims to create the ultimate version of the 1989 911 Speedster. The car still awaits the major mechanical upgrades, but the aesthetic upgrades show that this could be an incredibly impressive creation when the job is complete. The car belongs to an owner in Berlin, Germany. He bought it in California with the conversion from a 1989 911 Targa 3.2 to a Speedster body already complete. However, this person thought that the vehicle looked "too modern," so the vehicle went to DP Motorsport for further modification for a more retro appearance. The firm installed a body kit that took close inspiration from the F-model 911 of the early 1970s but with much wider rear fenders. The tweaks also included a lower front bumper and revised side sills for hiding the oil lines. For an understated but very attractive appearance, painted the body Nardo Gray, fitted black badges, and added black and orange graphics. The cabin has remained largely stock other than a new, Alcantara-covered steering wheel and stylish, metal shift knob.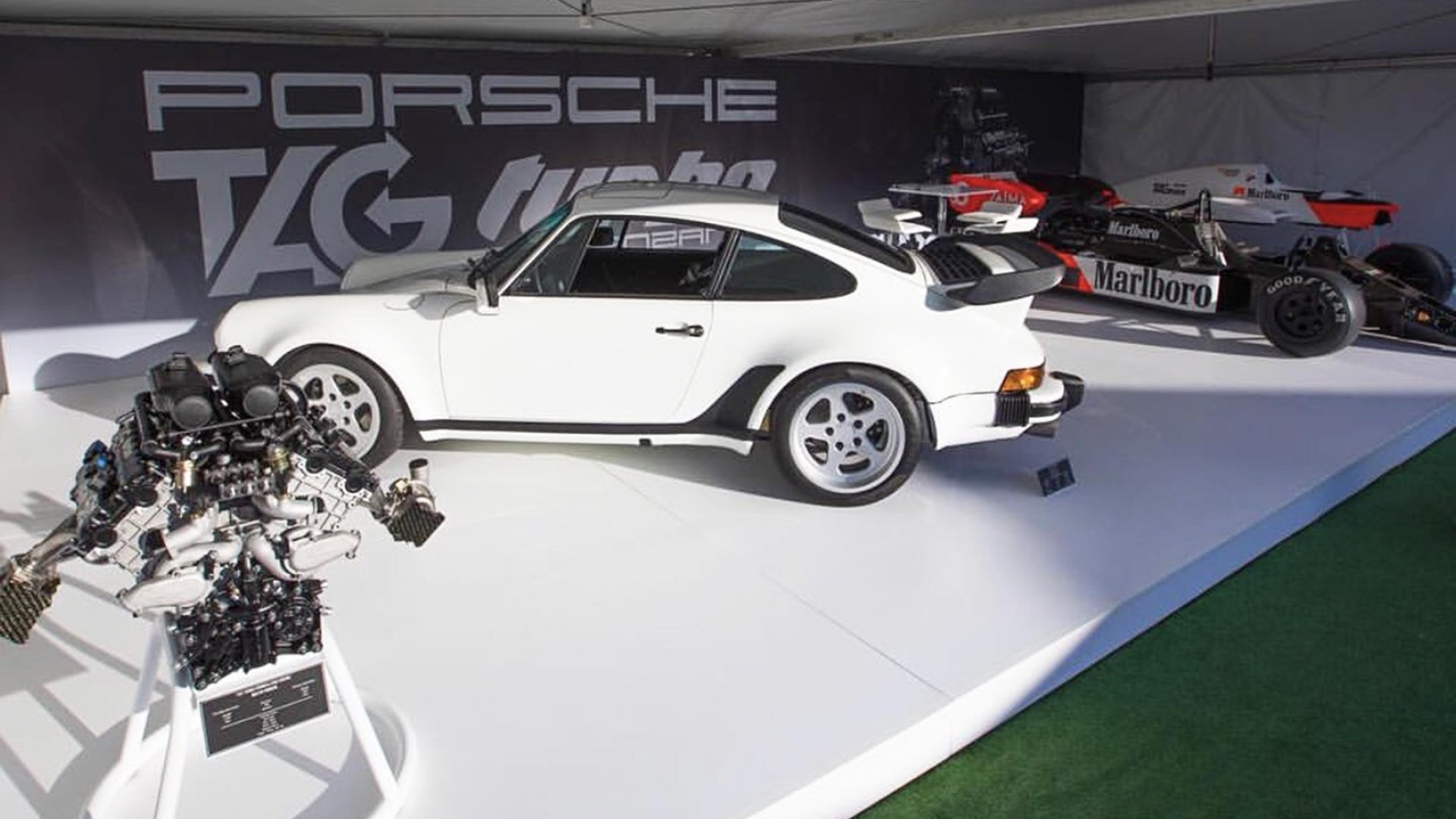 Lanzante
Company: Lanzante
Located: Petersfield (United Kingdom)
Website: Lanzante
The English engineering firm is building 11 eighties-era Porsche 930s with genuine TAG-branded Porsche engines that the McLaren Formula One team used to win 25 races. Yes, real V6 TAG F1 Turbo engines. Imagine being able to tell your friends at the pub that your classic Porsche is powered by an engine that has won an F1 race. Baller. Despite the insanity under the hood, the F1-powered Porsche 930 restomod is rather subdued in terms of looks (the first one was showcased at the Rennsport Reunion recently). Wearing just a set of RUF wheels it is understated. The interior is basic with a set of bucket seats and a bunche of new gauges including a 9,000 RPM taco (did we mention it is powered by a real F1 engine).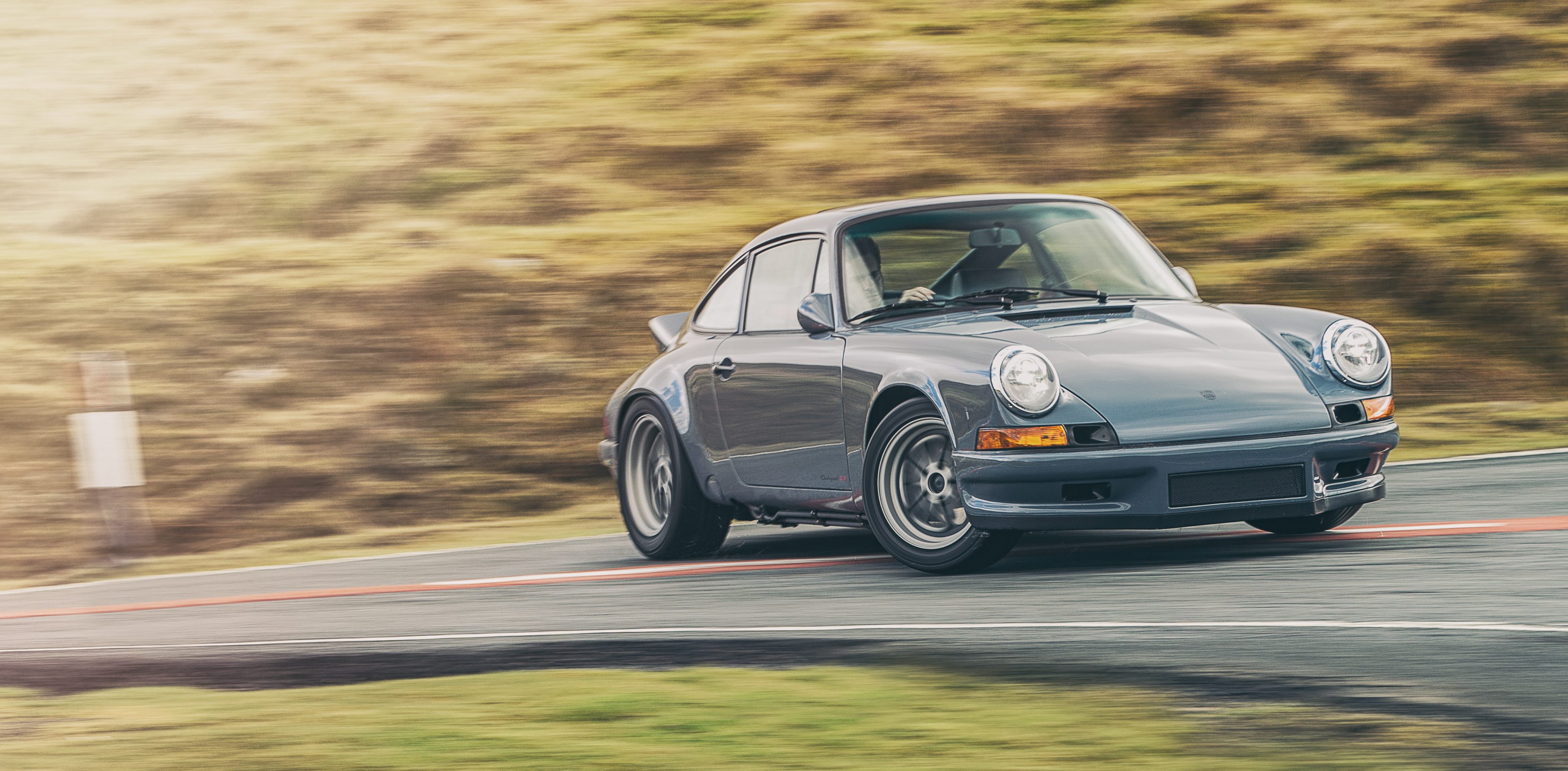 PS Works Clubsport Series II
Company: Paul Stephens
Located: Essex (United Kingdom)
Website: Paul Stephens
In 2007 Paul Stephens introduced a lightweight coupé called the Clubsport. Created from the ethos of 'less is more', the Clubsport was a very light formidable car capable of showing a clean pair of heels to more modern machinery on a twisty road or circuit. The Clubsport takes you back to an era where electronic aids to help you drive faster had not been considered necessary. Instead it has the traditional values of a true performance car featuring lightweight, communicative steering and chassis together with a healthy power to weight ratio in all variants to create a formidable road car. Whilst performance is important, driver comfort is paramount and the Clubsport has been designed with long fast continental road trips in mind.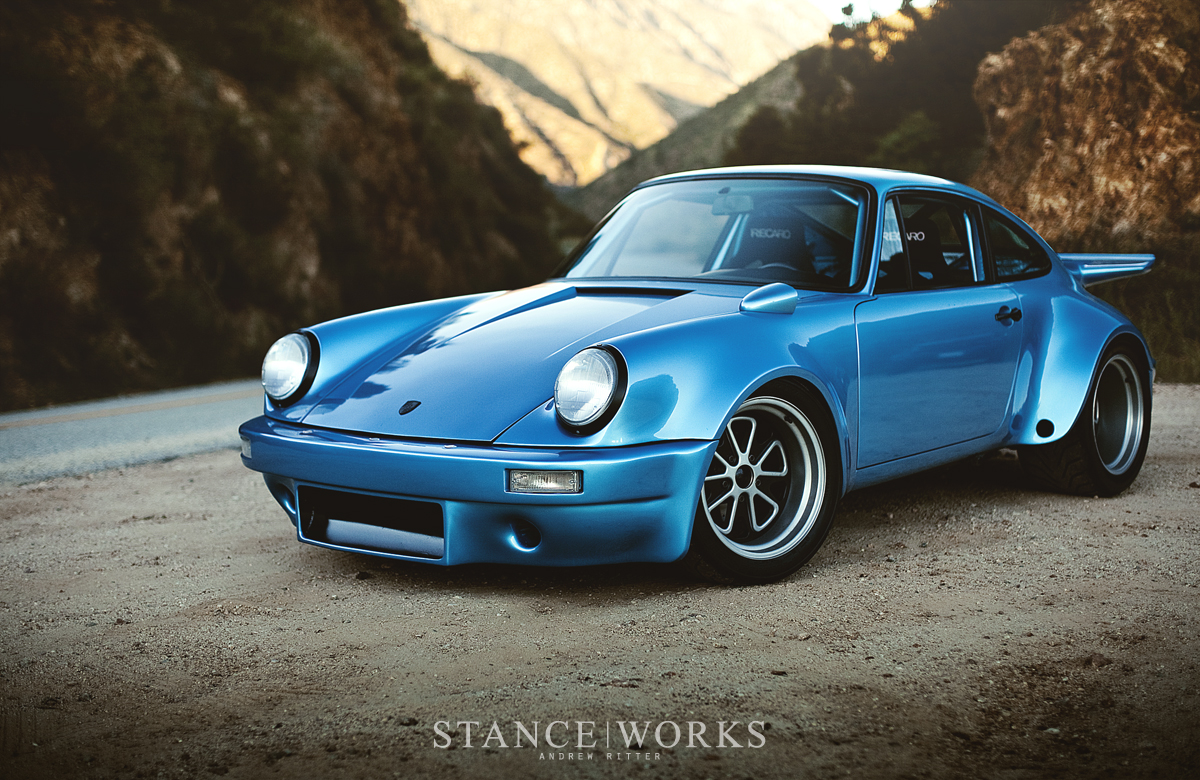 Bisimoto's 800 WHP Watercooler Porsche 930
Bisimoto has become a company known for applying carefully designed parts to often-overlooked drivetrains to illicit unheard of power. The retro-styled 911 gets its punch from a much more recent powerplant. Behind the rear wheels sits a watercooled M96 from the Porsche 996, posing the largest hurdle in the build with its size and additional cooling system requirements. Add twin Bisimoto/Turbonetics BTX5857 ball bearing turbochargers and a ton of other upgrades and this monster is an 800 horsepower beast. Learn more about this car at Stanceworks.com.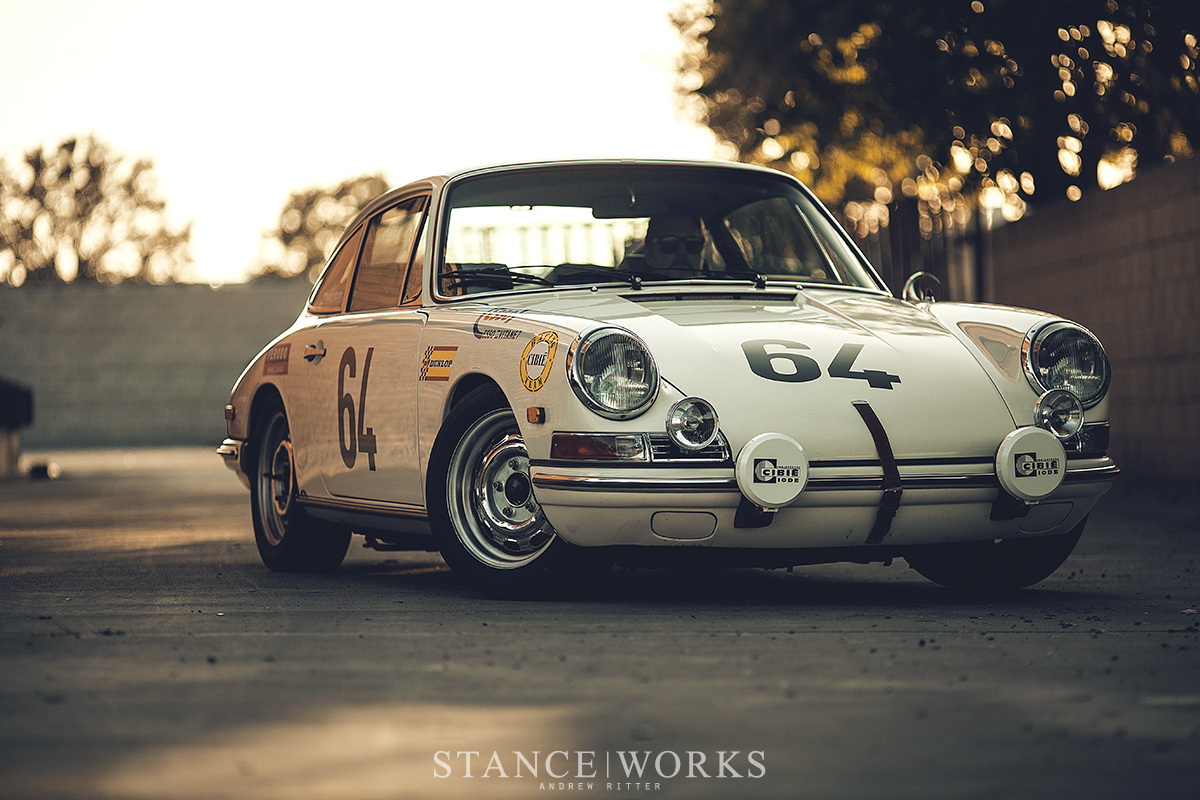 Benton Performance's Porsche 912
Company: Benton Performance
Located: Anaheim, CA (United States)
Website: Benton Performance
John's 1968 Porsche 912 is beautiful. John Benton, dedicated to the 4-cylinder 912s that is often overlooked in the shadow of the iconic, flat-six 911. In many ways, the 912 is a true evolution to its predecessor, the Porsche 356. With its skinny tires and 4-cylinder engine, it retained the same nimble driving characteristics that Porsche owners came to expect. As it sits today, the '68 912 is powered by one of Benton Performance's 1.7L twin-spark engines, outfitted with ported heads, an aggressive cam profile, forged pistons on custom rods, and a knife edged crank. To keep everything in order, an ECU mates with a crank-triggered ignition and fuel injection while a re-geared box transmits the power to match John Benton's driving style. Adjustable spring plates and Konis ensure that the car maintains its composure in the corners while a strut bar and swaybars front and rear allow it to stay planted. Widened steelies often go unnoticed by the untrained eye but allow the wider rubber necessary to keep John on track while he's giving it his all.
Magnus Walker's '72 Porsche 911 STR

The name says it all. This orange and light ivory 911 featured a combination of 911R and ST-inspired touches, including the ubiquitous flared rear arches. Aesthetically, the Minilite wheels looked perfect while the 2.7-litre MFI flat six meant there was menace to match the visuals.
Magnus Walker's '72 Porsche 911 STR II
The STR II was probably Walker's most well thought out build. Once again inspired by the R and ST, the str ii's color scheme became instantly iconic, while those gorgeous Campagnolo replica alloys once again made an appearance.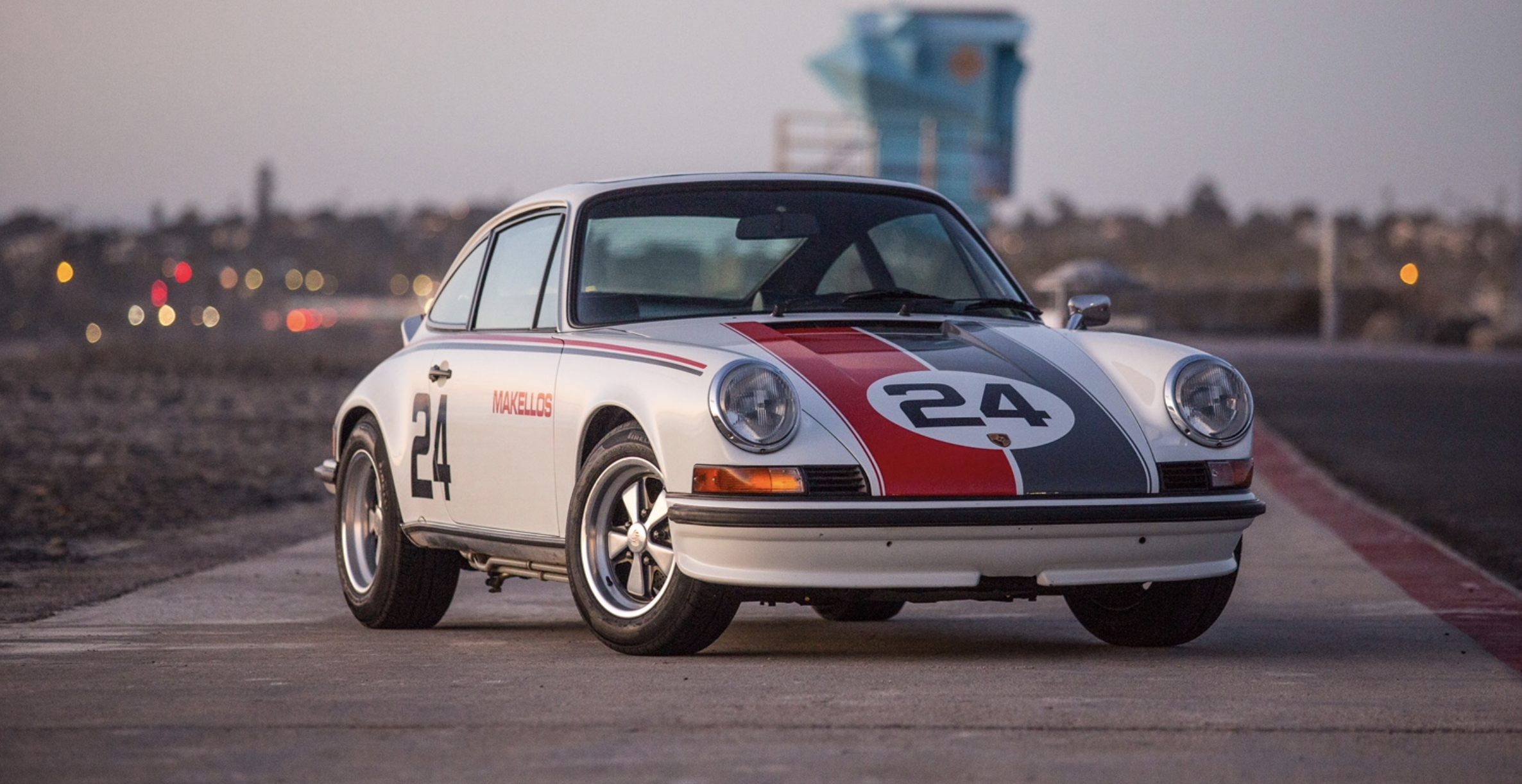 Makellos Classics 1973 Porsche RS-Inspired Hot Rod 911T
Company: Makellos Classics
Located: Escondido, CA (United States)
Website: Makellos Classics
This build started as a low-mileage, numbers matching 1973 911T and was fitted with steel RS flares (butt welded), steel RS Touring rear bumper, steel 911S front bumper and a fiberglass ducktail. The Brumos-style race livery really pops against the crispness of the Grand Prix White paint. The original 2.4L motor was rebuilt to 2.7L specifications including 90mm pistons, performance cams, ported/polished intake manifolds and Weber 40IDA carburetors with custom jetting. The factory 915 transmission was bolstered with a Quaife limited-slip differential, lightweight flywheel and factory short-shifter. The interior has been refreshed in a lightweight but not barebones fashion.
Magnus Walker's #277 Porsche 911T
Bought in 1999, this 911T – dressed up in a racing inspired livery – has become Walker's trademark Porsche, appearing on t-shirts and stickers around the world. It may not be the prettiest, but we admire Magnus' workmanlike attitude to #277, a continual work in progress.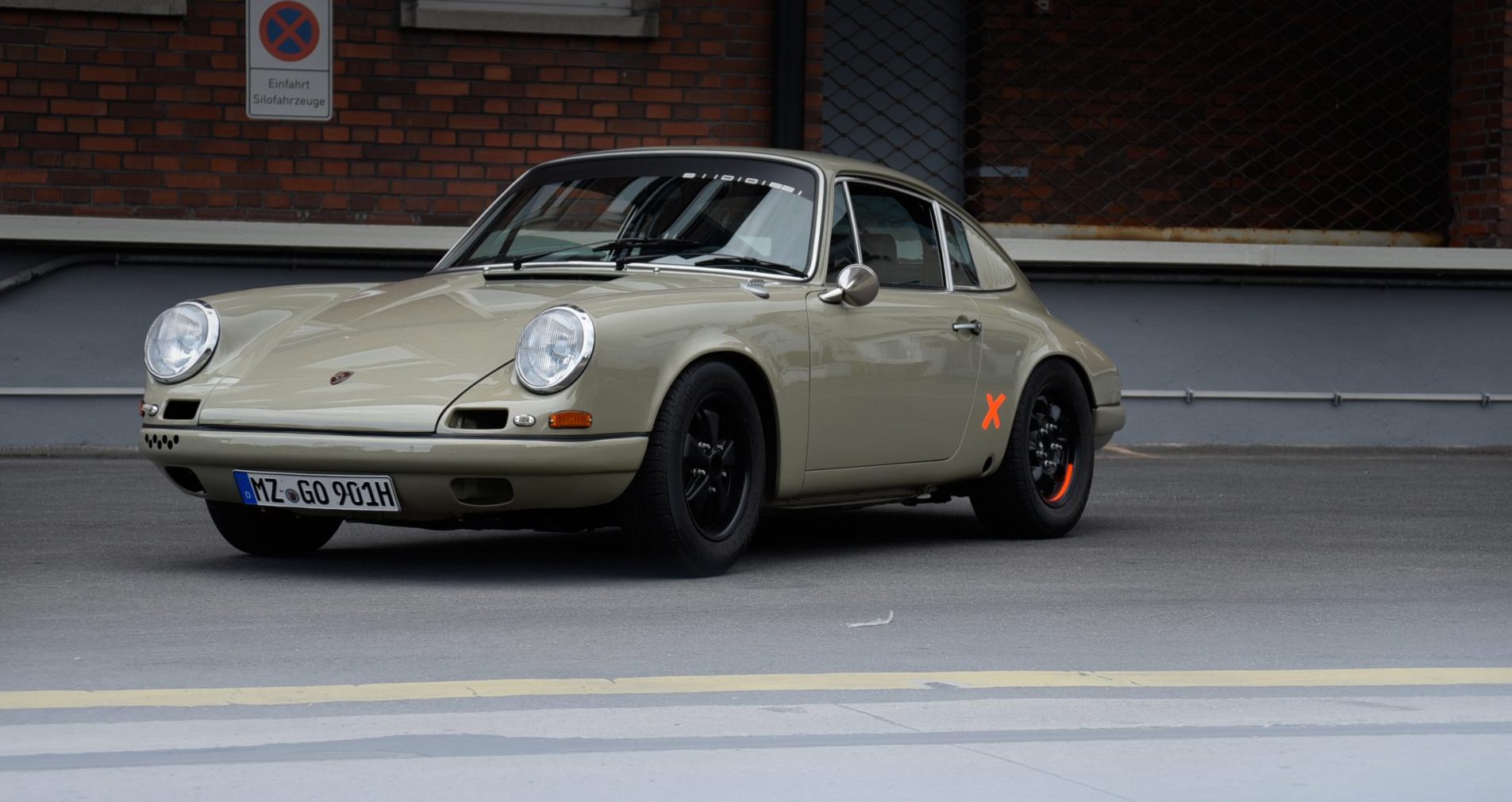 Markus Haub's Hot-Rodded Porsche 911
Markus' story is about an old rusty 2.2-liter F-series that he wanted to turn into his perfect Porsche. The full story on Petrolicious is worth reading, but the basics re taking an old rusted out F-Series and turning into a beautiful hod-rodded 911. The engine was completely rebuilt in the workshop of Matthias Hoeing in Hamburg, and was also expanded from 2.2 liters to 2.4 liters during that time. Equipped with carburetors and "Kremermodifikation" on the crankcase, it should all be work to produce almost 200HP. The color is stone grey (paint code 7510), which is originally a 356 color, but was available as "special paint" for the 911 in 1966/67. The idea was to give the car a very unique look and some original details in the interior and exterior: the customized instruments with the modified rev-meter and clock dials for instance, and then the round fuel-cap in the fender and the rear side window with its new louvers for example.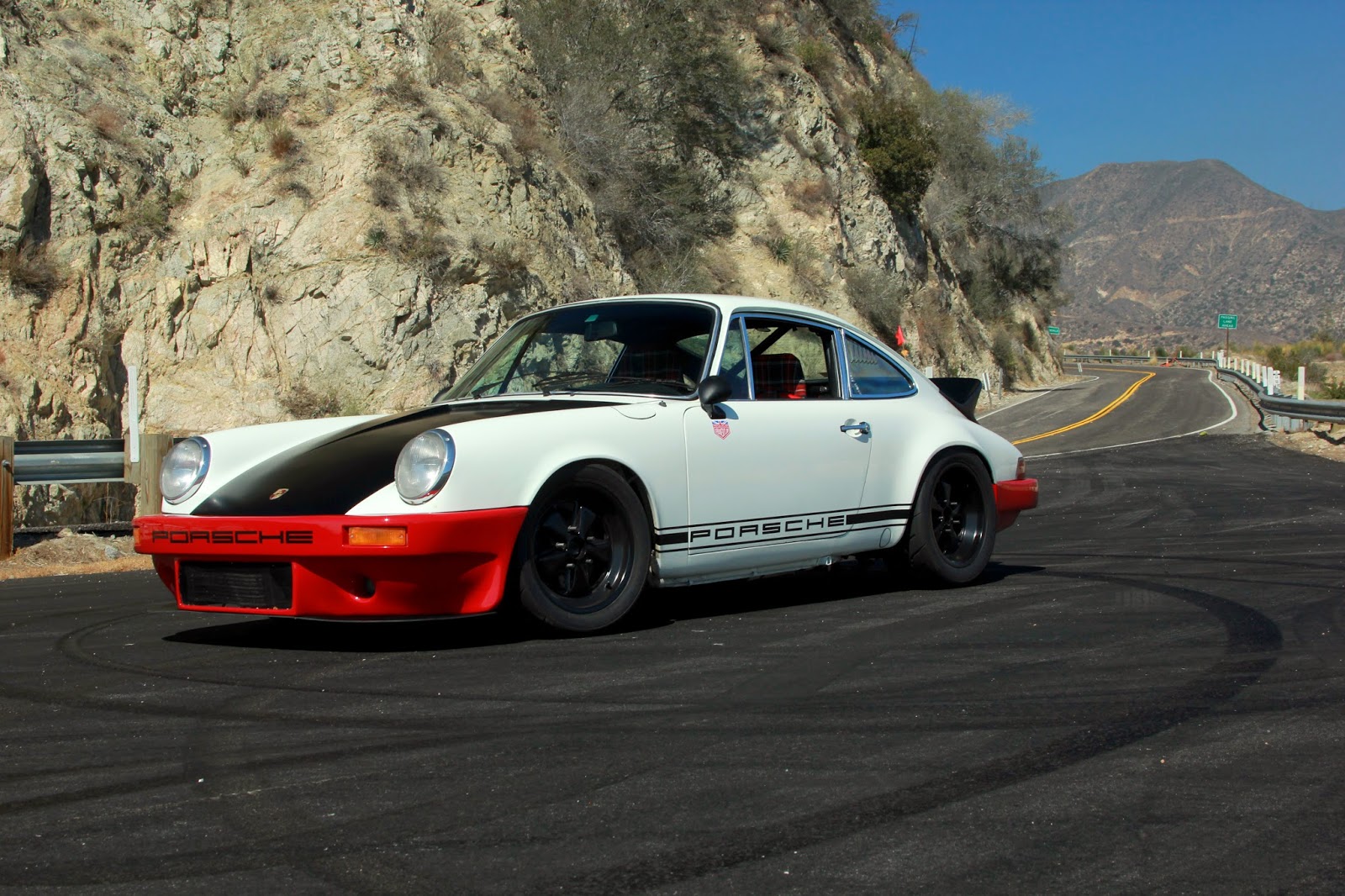 Magnus Walker's Porsche 78SCHR
Magnus' goal for this car back in 2014 was for it to be a relatively quick and easy build. It is one us regular fans can relate to and be inspired by. Magnus is "just another car guy" like us, he just has bigger means so it is nice for him to do a quick, cheap build. Receiving only subtle visual changes, the 911SC retains much of the character and charm that makes its older, long hooded siblings so appealing. With its debut 15 years after the original 911 entered the market, the SC was equipped with some of the modern advancements of the 70s.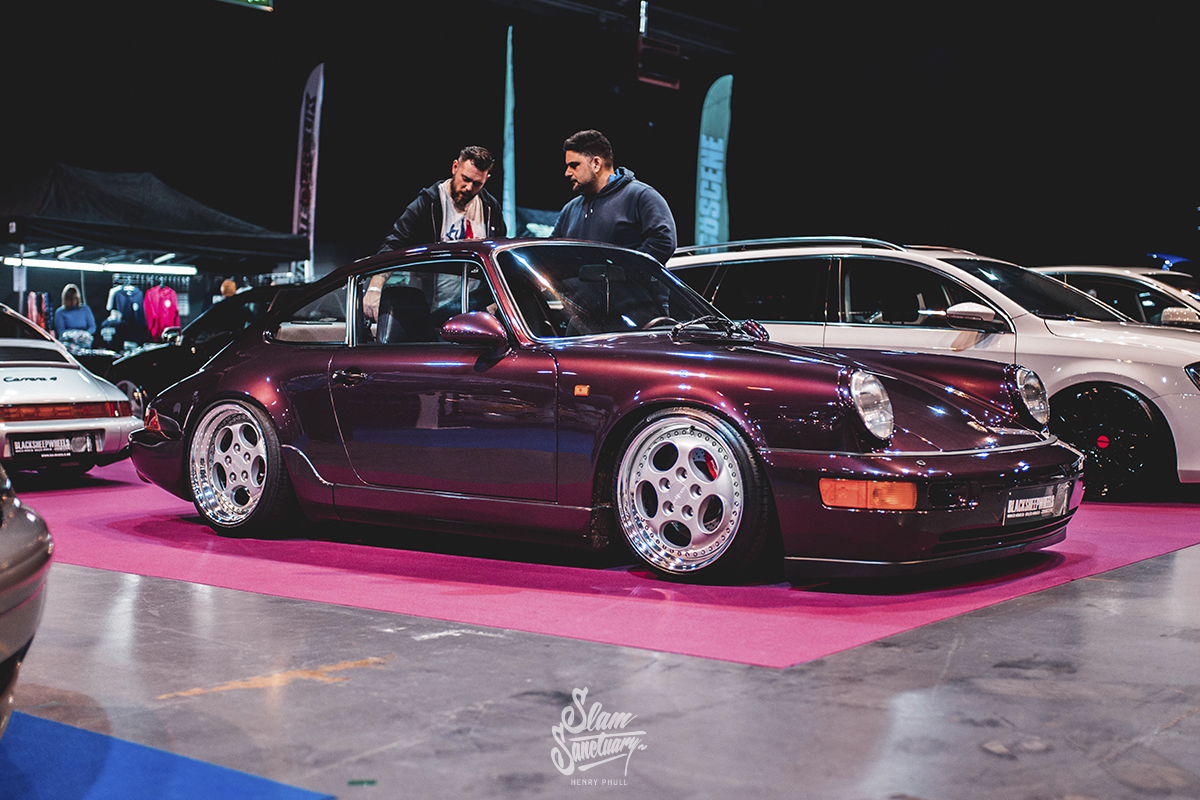 Kristof Mombaerts Porsche 964 (1991)
Belgian owner Kristof Mombaerts has built on cool 964. We picked it for our list because its a nicely balanced, low stance car. It isn't swimming in a sea of mods, but we love the color (its called Amethyst). Kristof put his modding efforts into the suspension and wheel departments and thats the other thing we love, the unique Rotiform BS Wheels.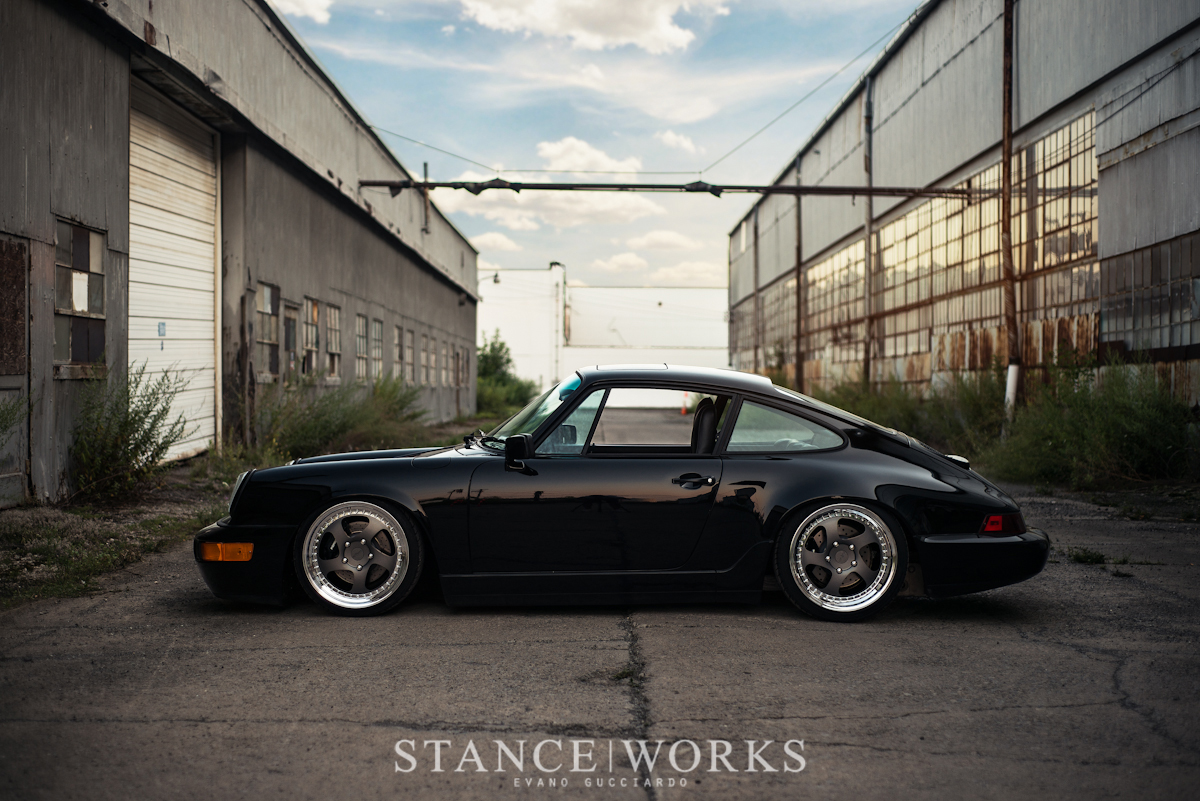 Jason Morabito's Slammed Porsche 964
Jason's new 1991 Carrera C2 is a classic slammed custom. Jason went through the effort of replacing the front headlights, fogs, and amber corner lamps with OEM Bosch originals. The rear tail lights were refinished, painted, and cleared, paired with new gaskets, and installed to clean up the tail end of the car. The pitted and weathered windshield was replaced with OEM glass. After the restoration came modification, and first on the list was a set of AH Exclusive H&R coilovers. This allowed him to plant the the body of the car just over the pavement while retaining the the drive-ability and handling you expect out of a 911. After dropping the car, Jason added 5-spoke twist design wheels which are synonymous with Porsche.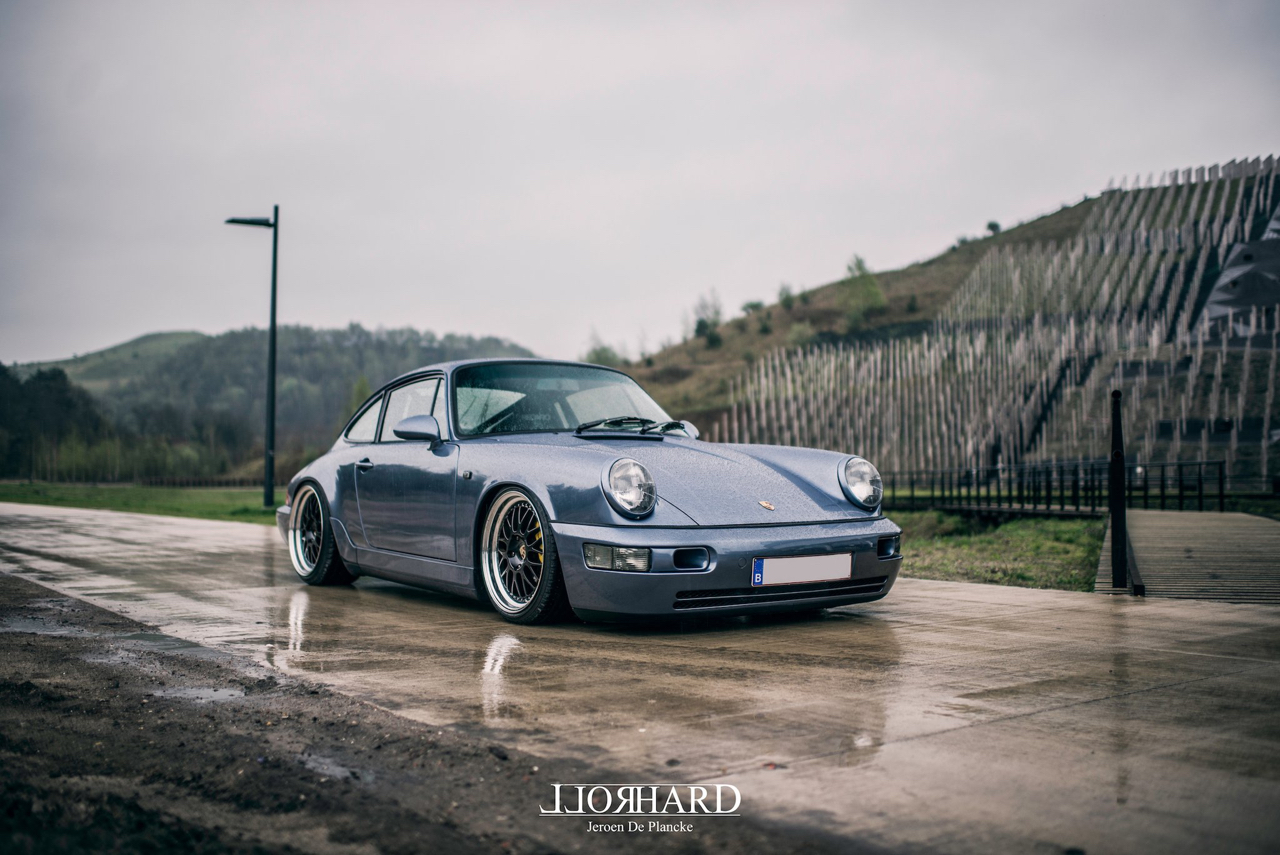 Porsche 964 Carrera 4 – Belgium Outlaw!
The tuning market for Porsche is big outside the U.S too and for evidence just take a look at this Blue Baltic colored 964 from Belgium. At 4 corners, Cargraphic Racing 18 ' wheels in black with chrome offset and the slammed stance make this 964 really cool and unique. Under the back cover, the Flat 6 aircooled engine is basically untouched (other than aesthetic treatment).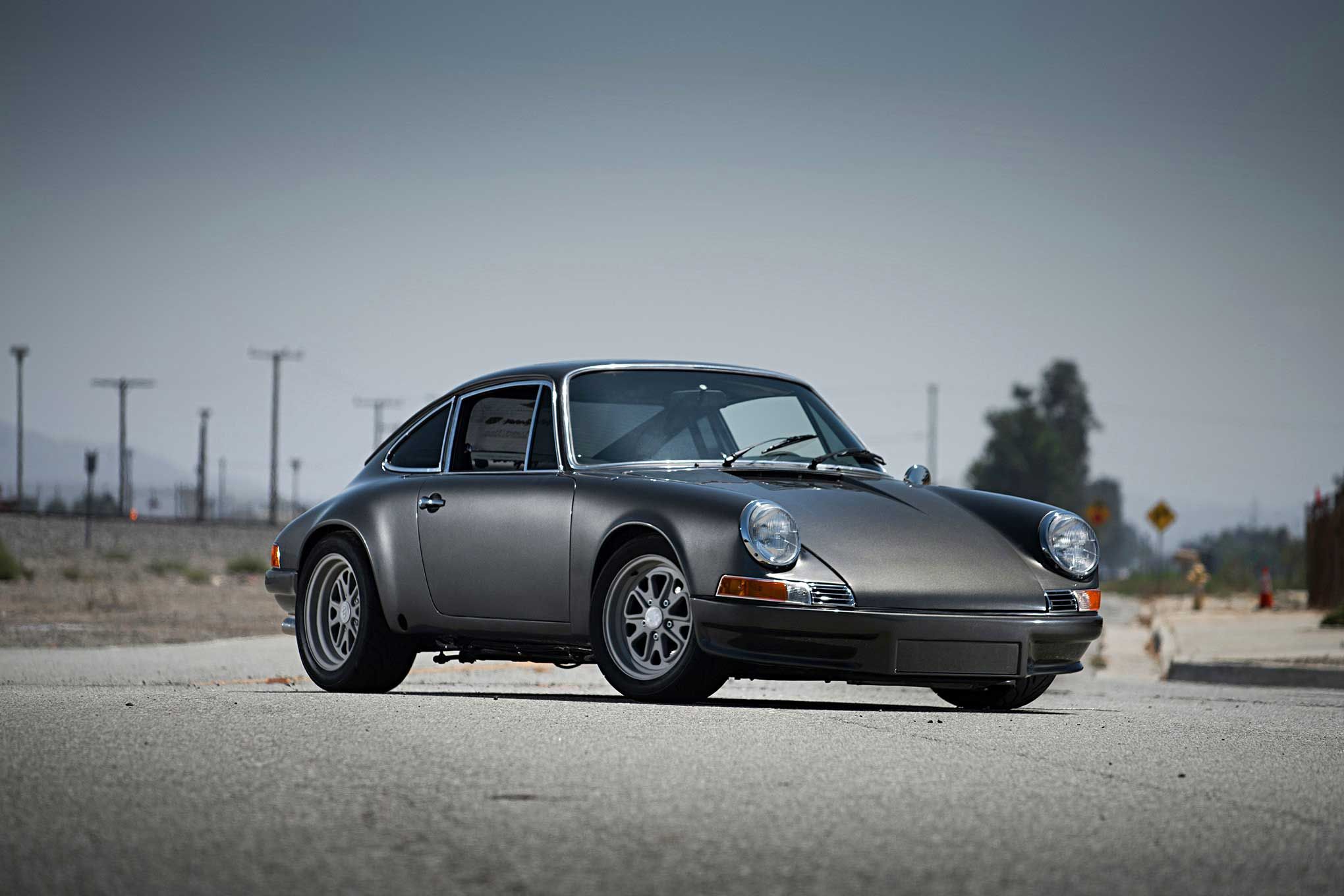 Bisimoto '80 Porsche 911 BR
Bisi Ezeriohia—founder and chief engineer at Porsche tuning firm Bisimoto—didn't construct the car he calls Project 911 BR to satisfy Porsche purists. Bisi built this car as a node to Steve McQueen and said, "It's something McQueen might've driven today". It includes touches like the late actor's racing number—48—that's been emblazoned about, most notably on the center caps of the semi-period-correct, Fuchs-inspired wheels by way of celebrated maker fifteen52. For everything that dates Bisimoto's most current exploit, there's a sophisticated piece of electronics that delivers it into the 21st century. As with so many air-cooled builds these days, the 3.0L engine has been tossed not in favor of anything era-specific but instead for a 964's 3.6L. Unlike most of those straightforward swaps, this engine uses a 996 GT3 intake manifold feeding individual Jenvey throttle bodies that have been situated atop the cylinder heads. To make the tuning of the custom assemblage possible, an AEM Electronics computer is in command of the entire operation. All of this is good for north of 300 hp. Learn more about this car at superstreetonline.com.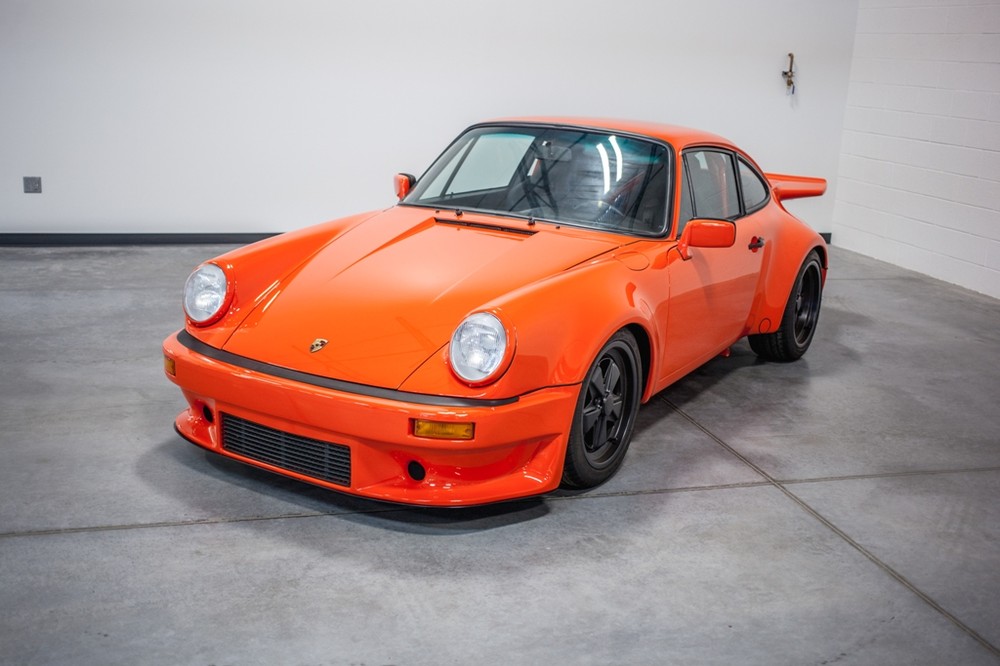 911 RSR IROC Street Racer
Company: Patrick Motorsports
Located: Phoenix, AZ (United States)
Website: Patrick Motorsports
This original 1979 930 chassis has been expertly converted to a lightweight 1974 911 RSR IROC inspired street racer! This chassis is fitted with a 1997, 993 Carrera 3.6L DME engine then converted to a high torque 3.8L displacement! Featuring hydraulic billet sport cams and married to a specially prepared, 1986 915 Euro transaxle gearbox with LSD and euro oil cooler system.
1991 964 RSR Twin Turbo
Company: Patrick Motorsports
Located: Phoenix, AZ (United States)
Website: Patrick Motorsports
This 964 RSR was built to win with a 3.8L twin turbo engine, 993 6spd, Wavetrac differential and more!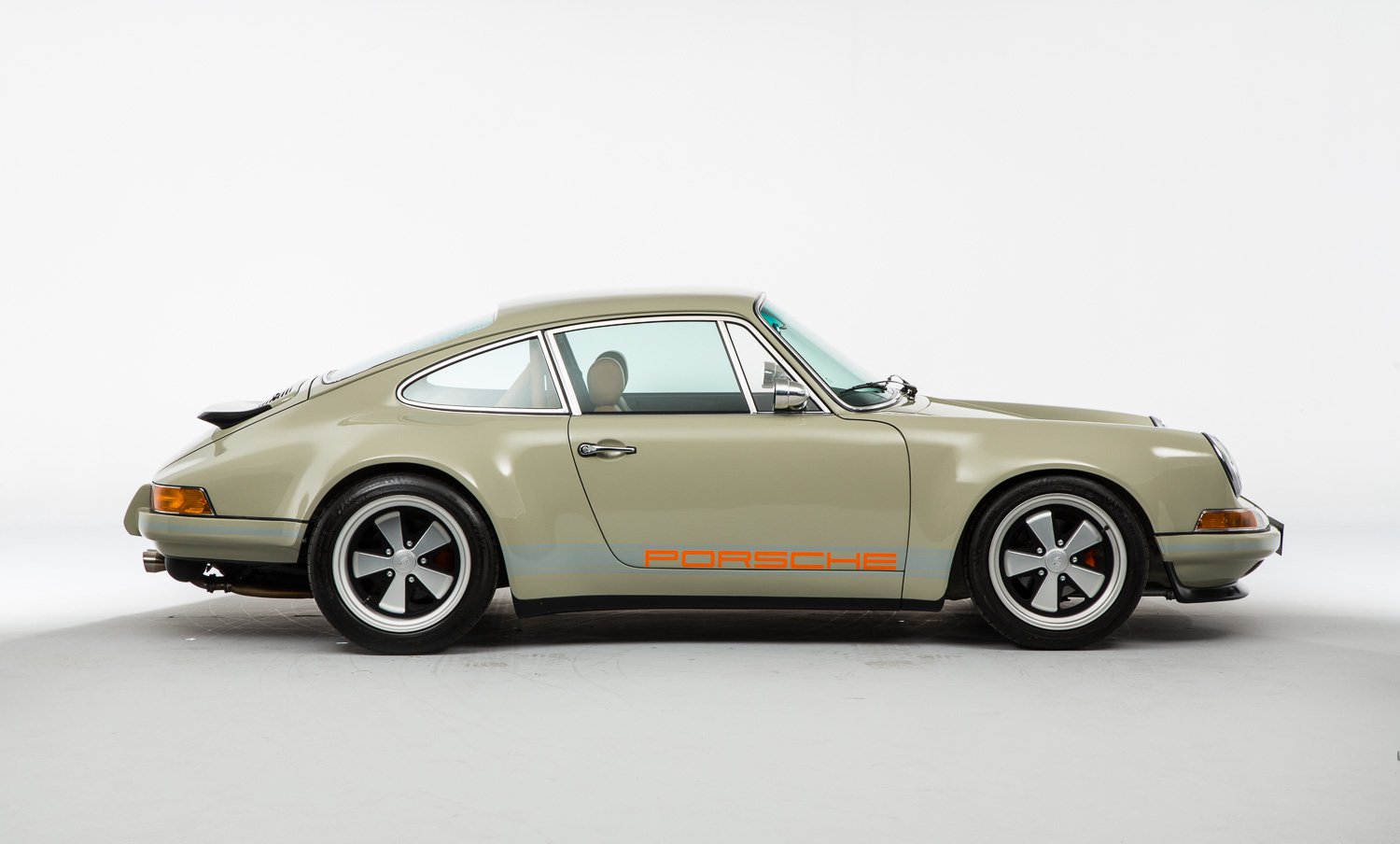 Porsche 993 SuperCup By Theon
Company: Theon Design
Located: Deddington (United Kingdom)
Website: Theon Design
What started life as an original 1979 930 3.0SC has changed a lot under the somewhat new Porsche shop called Theon Design. This particular 911 combines the classic bodywork of the original car with a bespoke interior and drive-train combination. Well, for starters, apart from the hand stitched leather interior, bespoke body modifications, custom 17-inch Fuchs wheels, custom coil-overs and other mods, the vehicle features a Porsche motorsport RS engine. The powerplant, originally destined to race in the 993 SuperCup Series, was supplied by Porsche Motorsport and it was built to RS specifications. That includes equal length stainless steel manifolds (among other stuff), and a power output of 300 HP.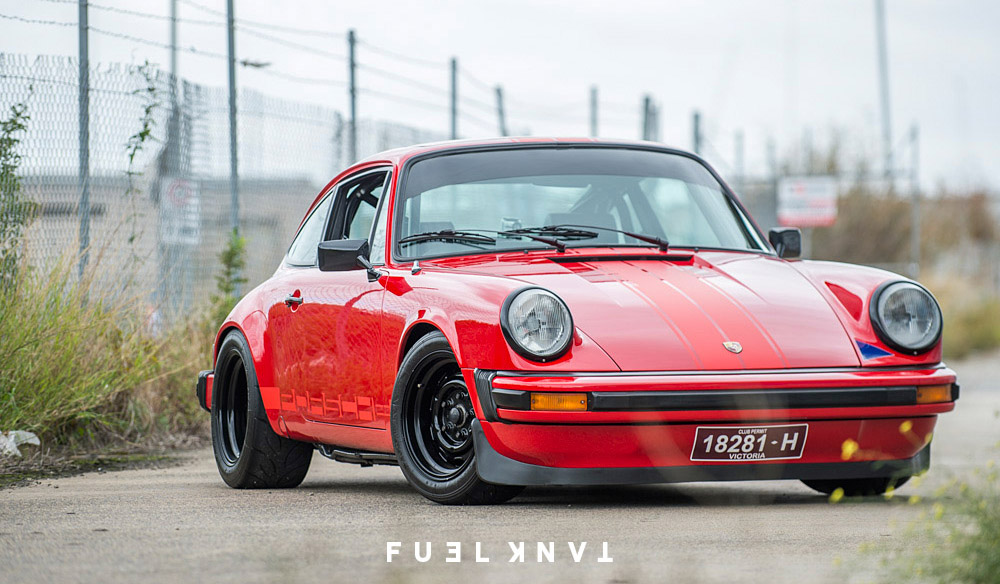 Melbourne Outlaw: Hugh Feggans' Custom 1977 3.0L Porsche 911
The return of the impact bumpers. This mild custom 911 is a personal project that marked the beginning of a lifelong passion for architect Hugh Feggans. It's a 1977, 3.0L Porsche 911. These are the earlier 3.0s 911s, prior to '76 the capacity was 2.7L. He kept the impact bumpers as it resembles the original little red 911 he fell in love with as a kid. The interior has been completely redone and the engine is the original 3.0L but has been completely rebuilt to a high performance but still reasonably driver friendly specification.
Magnus Walker's '76 Porsche 930 Euro
Magnus' turned to the 3.0-litre Porsche 911 Turbo era for this car. This Euro-spec 930, finished in Minerva Blue was the perfect example of simplicity. Lowered and on a set of gold Group 4 Campagnolo replica wheels, it looked perfect.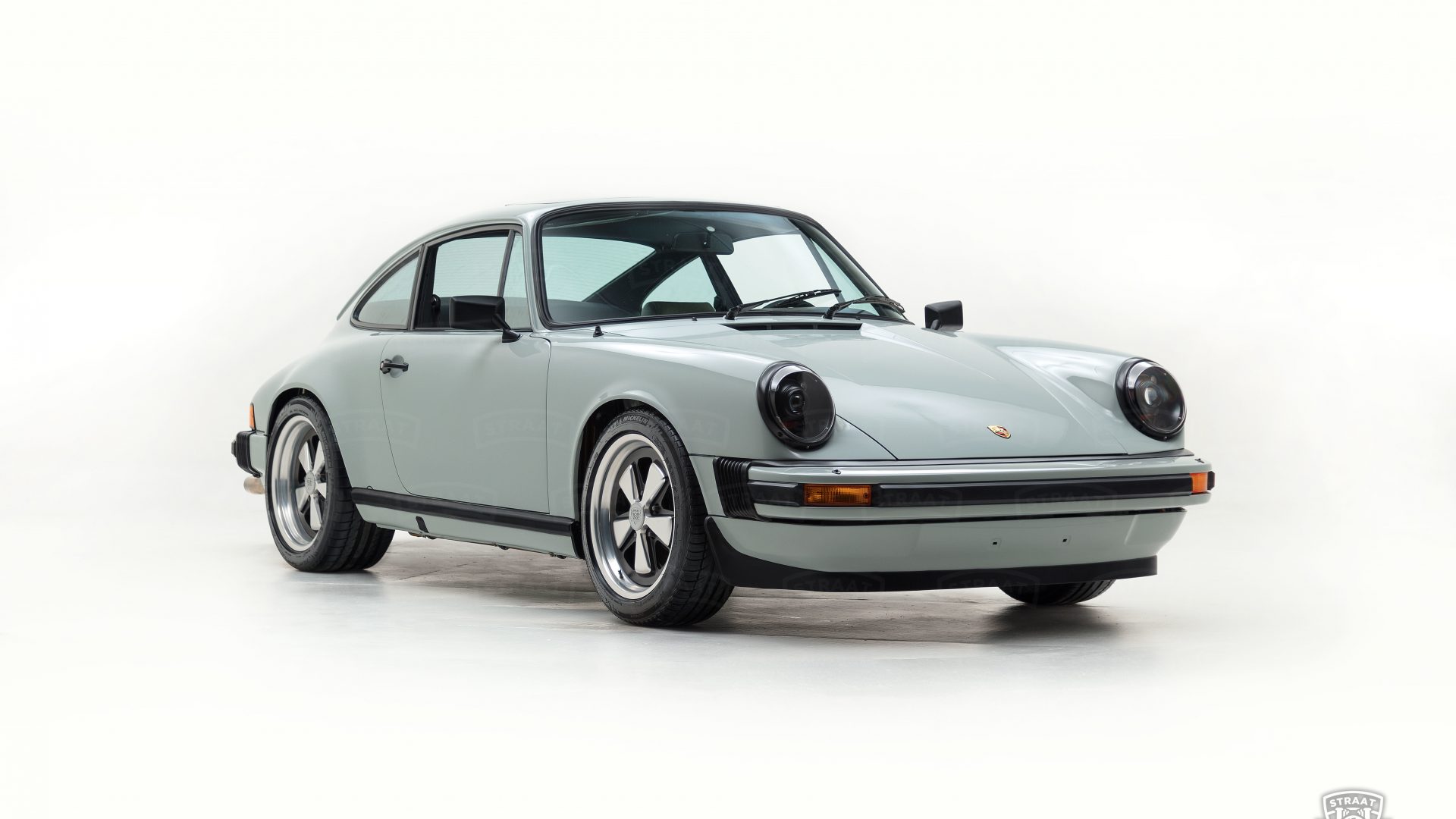 1983 Porsche 911 by Straat
Company: Straat
Located: Miami, FL (United States)
Website: Drive Straat
This ice-cool custom ride began as a classic 911 from the early 1980's with a clean record. Our goal for this project was to perfect its iconic looks and fine-tune its features for modern-day drivers. The exterior is a clash of opposing forces, classic and modern, light and dark. The original body with its fender flares and iconic lines was fitted with a modern drivetrain and classic Fuchs-style wheels. Blacked-out LED headlamps and exterior accents balance out the icy-cool, high-gloss finish of this classic 911, giving it a custom look influenced by the world of vintage racing. The 3.0-liter flat-six is one of Porsche's finest air-cooled engine, and this one gets an extra dose of power and efficiency with PMO electronic fuel injection that's been sport-tuned by our experts. But power is not the reason to buy a 911. You buy it for that race car feel and unparalleled connection to the road. Here, that feeling is amplified by the 915 gearbox's spirited shifting, its sport-tuned coil-over suspension, sticky tires that grip every curve, and the big 930 brakes with plenty of stopping power.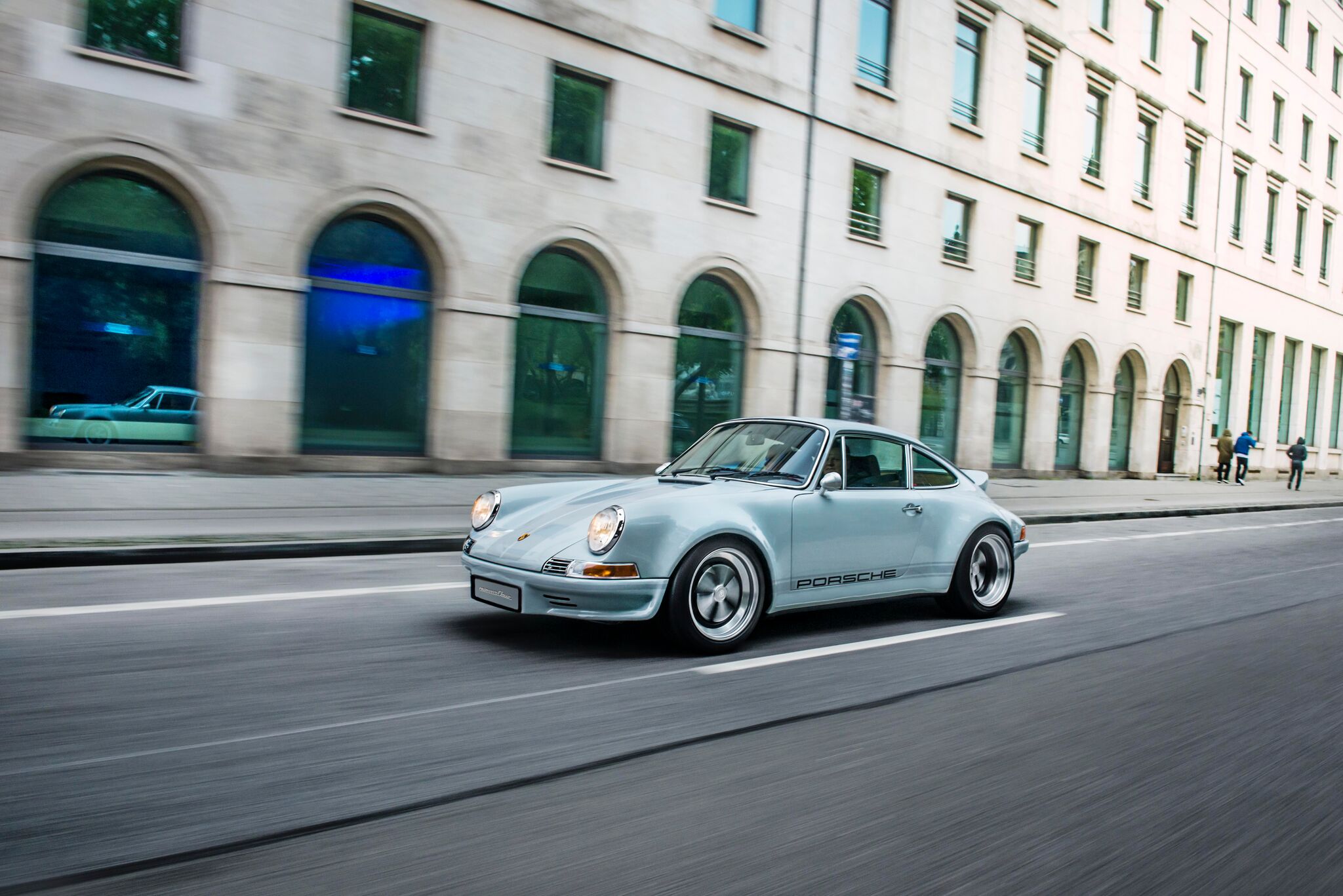 Lightspeed Classic – Sport Classic Grey
Company: Autoactive Motorsport
Located: Taufkirchen (Germany)
Website: Lightspeed Classic
Lightspeed Classic is not meant to be taken off the ground for occasional summer rides; they are built to be driven – day in, day out. A case of classical beauty meets modern technology and performance that does not look out of place next to a 997 GT3. The Lightspeed Classic 911 is a meld of '90s and 21st Century tech wrapped in a '70s look. The formula is simple – reduce weight, increase power and give cars that classic stance. Like a lot of other Porsche restoration shops, the Lightspeed Classic crew likes the 964 as a startpoint. In their words it is the "first production 911 to use coil springs that can easily be swapped out for fully adjustable coilovers and other competition-based components and the 964's G-Series derived bodyshell can be easily modified to evoke the look of the earlier long bonnet cars that my clients want."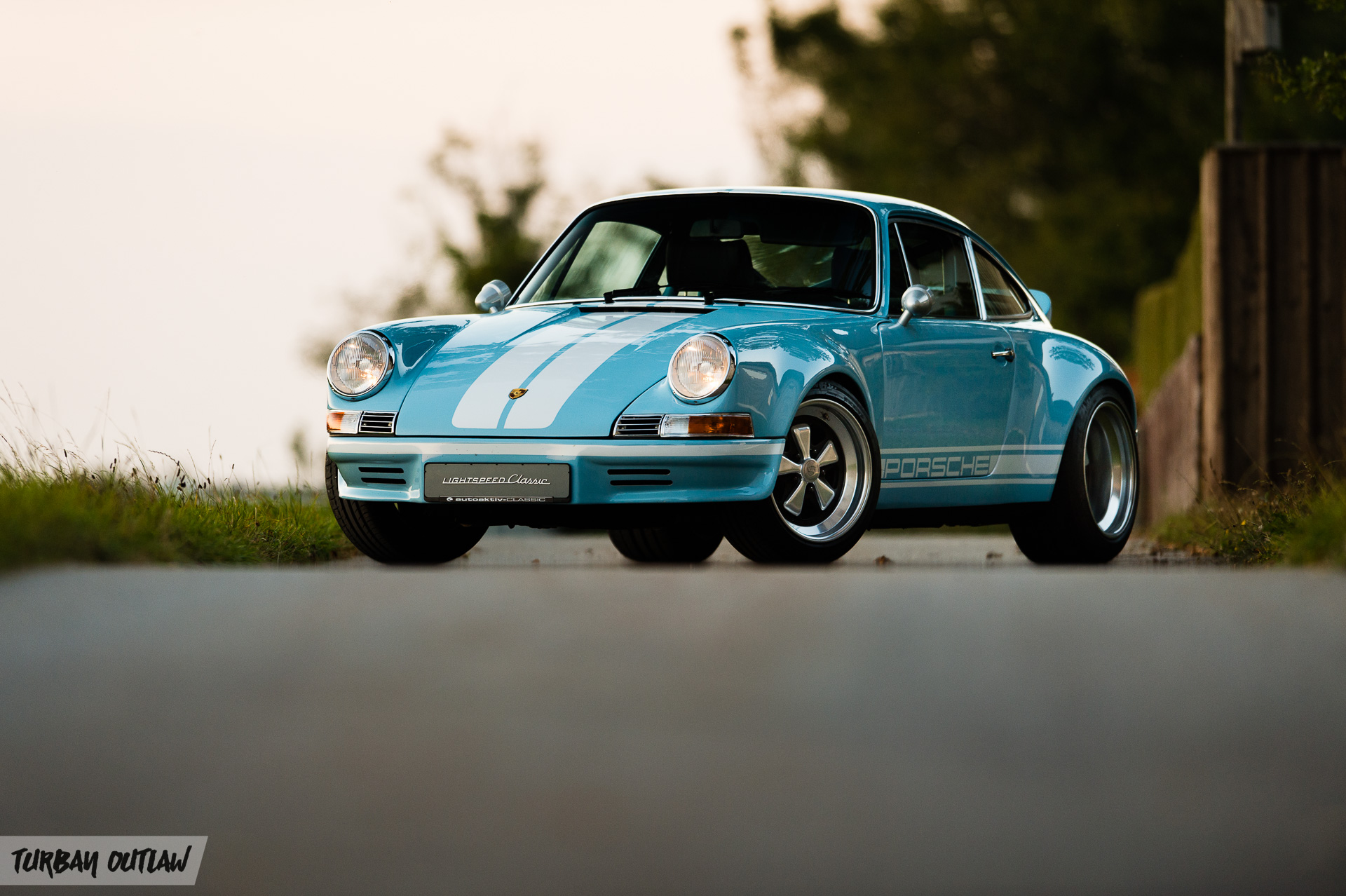 Lightspeed Classic – Baby Blue
Company: Autoactive Motorsport
Located: Taufkirchen (Germany)
Website: Lightspeed Classic
Lightspeed Classic is not meant to be taken off the ground for occasional summer rides; they are built to be driven – day in, day out. A case of classical beauty meets modern technology and performance that does not look out of place next to a 997 GT3. The Lightspeed Classic 911 is a meld of '90s and 21st Century tech wrapped in a '70s look. The formula is simple – reduce weight, increase power and give cars that classic stance. Like a lot of other Porsche restoration shops, the Lightspeed Classic crew likes the 964 as a startpoint. In their words it is the "first production 911 to use coil springs that can easily be swapped out for fully adjustable coilovers and other competition-based components and the 964's G-Series derived bodyshell can be easily modified to evoke the look of the earlier long bonnet cars that my clients want."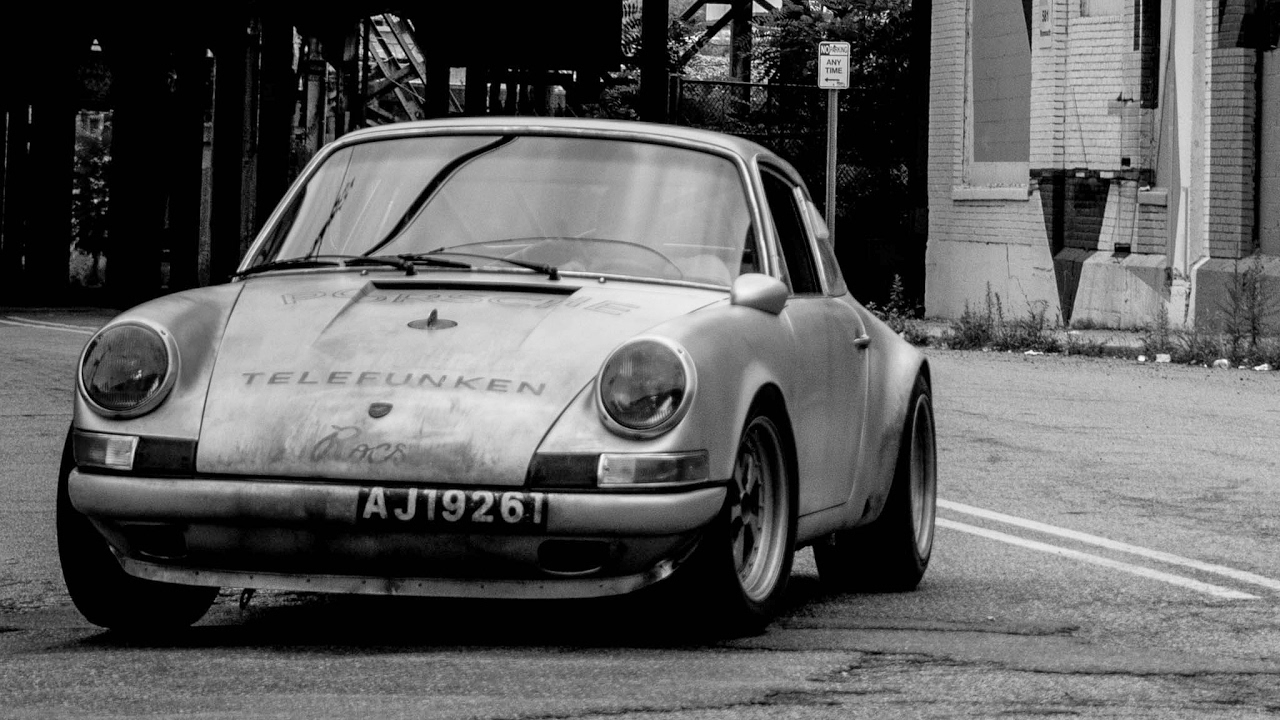 ROCS 3.8L Panamericana
Company: ROCS Motorsport
Located: Belleville, NJ (United States)
Website: ROCS Motorsport
The ROCS 3.8L Panamericana Palo Alto Art Car. A tribute to Fletcher Aviation and the Mexican Pan-Am race.
Restomod 944
We could not find any information on this slammed 944 but sometimes a picture is worth a thousand words. Just look at that set of rims and that stance. That sinister glistening black paint completes the picture.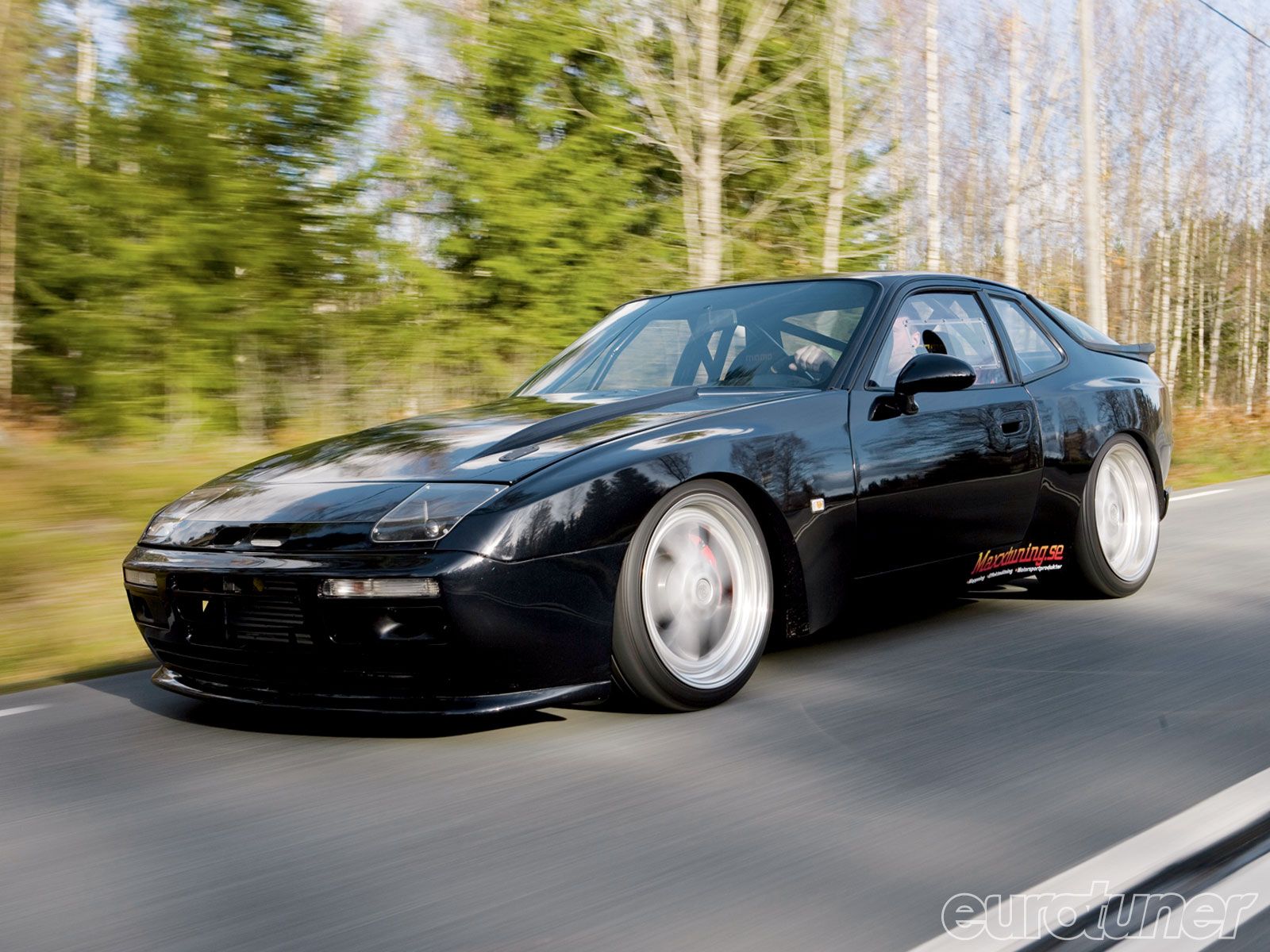 720hp 944 with five-cylinder Audi Quattro engine
Porsche purists will likely hate this restomod 944 the most out of all cars on this page. It is a 720hp 944 that is going to make their blood boil. Roger Fyhrlund's '85 Porsche 944 has bolder front-end and bigger wheels, however Roger's 944 isn't your typical 944 porker. And that's because he's one of the Nordic nutters from Sweden and under the bonnet is a 727hp five-cylinder Audi quattro engine.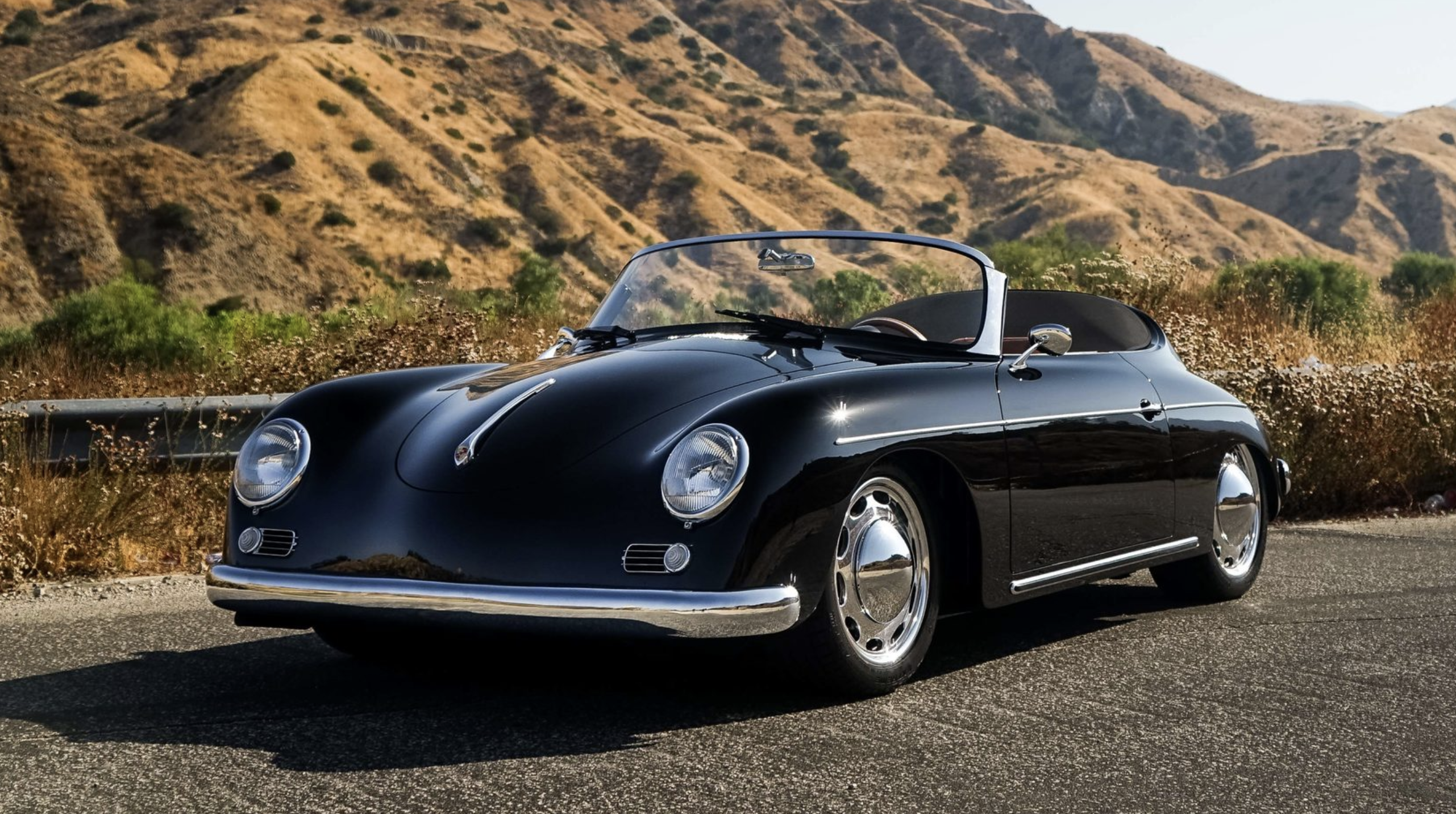 West Coast Customs 1965 Porsche 356 Restomod
This Porsche has been radically transformed by West Coast Customs into a car that gracefully merges modern-day performance with the classic body style of a 356. A 2008 Porsche Cayman was used as the platform for the build, requiring a 9-inch section removal from the chassis to accommodate the shorter-wheelbase 356 Coupe body. The Cayman drivetrain and suspension was retained utilizing its 2.7L 240HP flat-6 engine and automatic transmission. This Porsche 356 Cayman is the result of a labor-intensive 3,000-hour build, and the final presentation reflects that level of quality and attention to detail. This radical Porsche has a high-impact presence that few cars can match.