I guess most of you will instantly have recognized the famous Lamborghini we're talking about from the header photo, a smashed-up, white Countach 25th Anniversary like that can only mean one thing … the famous Wolf of Wall Street car that was involved in multiple collisions with none other than Jordan Belfort behind the wheel, masterfully played by Leonardo DiCaprio in Martin Scorsese's masterpiece depicting the life of Mr. Belfort, how we went from being a simple employee at a broker's firm right up to the top of his own company, only to fall back down after being brought into court, and I have to admit, I've seen this movie more than once, it is really good, it might not be correct to what happened in real life, but it's a movie 'based on real events', so it has to be entertaining, and if this movie is one thing, it sure is entertaining.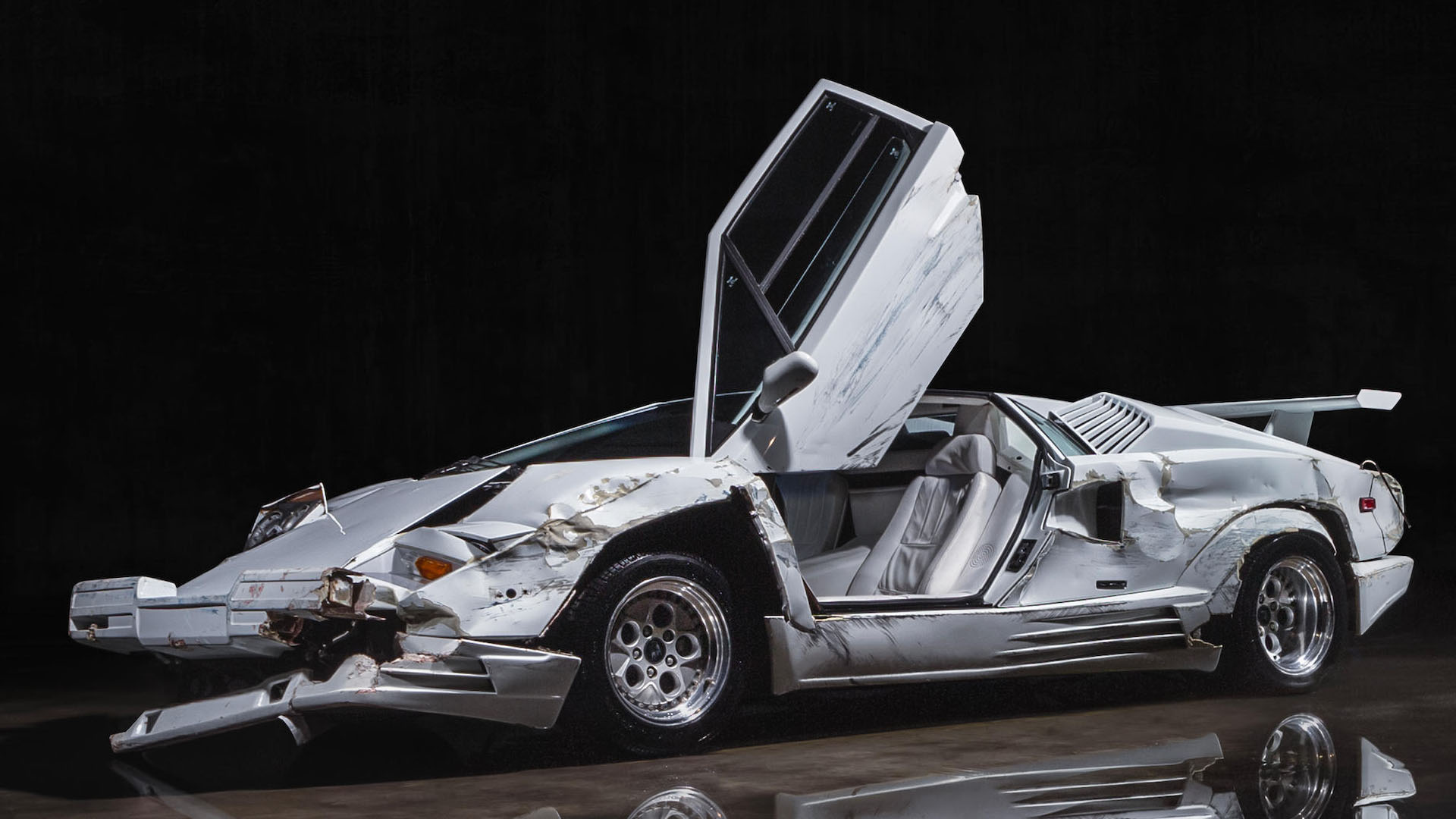 For car enthusiasts the movie has several amazing cars, the opening credits start with a Ferrari Testarossa, first, a red one, but then Jordan Belfort corrects it by stating he had a white one, just like the one from Miami Vice, and while later on in the movie he will also have a yellow Diablo Roadster on his driveway, the absolute star of the movie, besides the beautiful Margot Robbie off course, is a white on white Lamborghini Countach 25th Anniversary, an absolutely stunning car which is the epitome of late 80's styling, that he unfortunately wrecks during a short drive home from the country club, under the influence of some strong … let's call it 'medication'.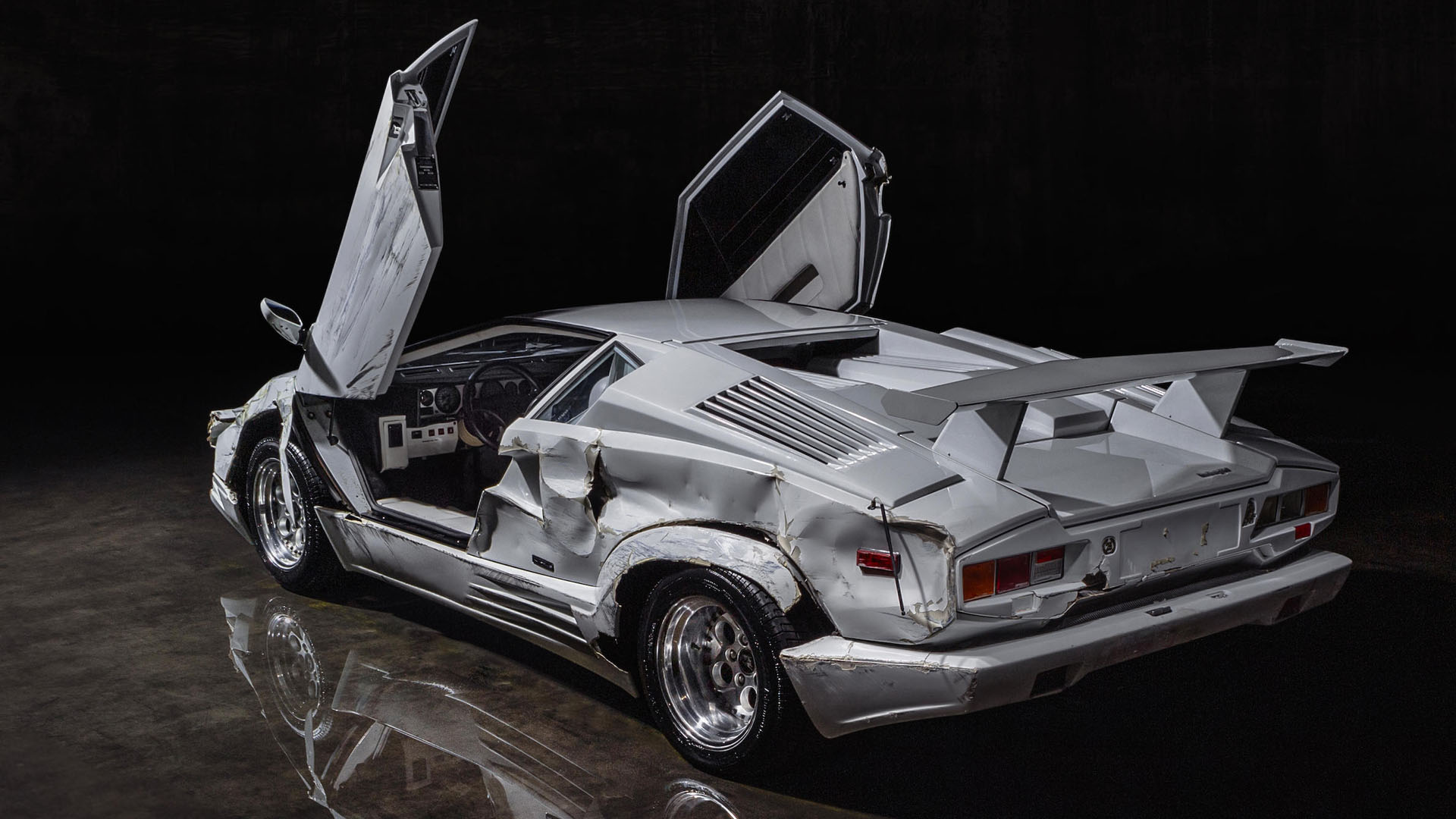 Who can forget the scene where Belfort rolls down the stairs at the country club and tries to open the scissor doors on his white Countach with his foot, only to climb inside from the passenger side and still manage to get behind the wheel, now I don't know if many of you have been inside a Lamborghini Countach already, but it is a very low car with rather limited space inside, so getting from the passenger side to the driver's seat would have taken some serious effort in the first place, also driving a Countach requires a strong left push on the clutch pedal … somehow Jordan managed to do all that and get the car onto the road and back home safely … or so he thought.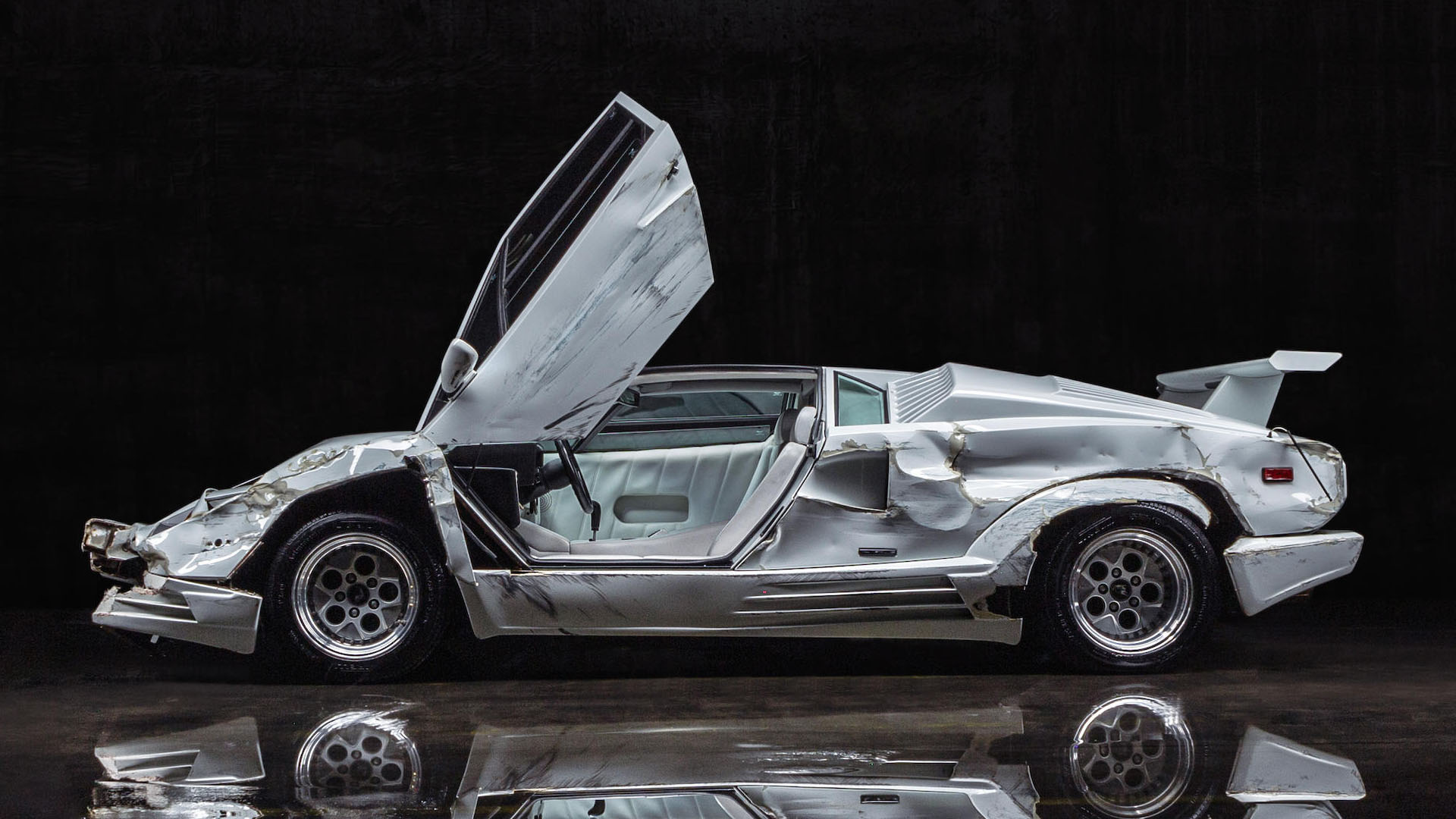 In fact, he was so 'out of this world', that he never realized he crashed into multiple cars, several mailboxes, and road signs, only to arrive at his home with a seriously damaged Countach, but according to Martin Scorsese, the damage endured during the actual recording of this drive just wasn't severe enough, so they used an additional car and a truck to get the almost totally wrecked look they were going for, once recording was finished, this poor Lamborghini Countach 25th Anniversary, chassis ZA9CAOSA6KLA12692, was taken off-site … and kept 'as is' in storage.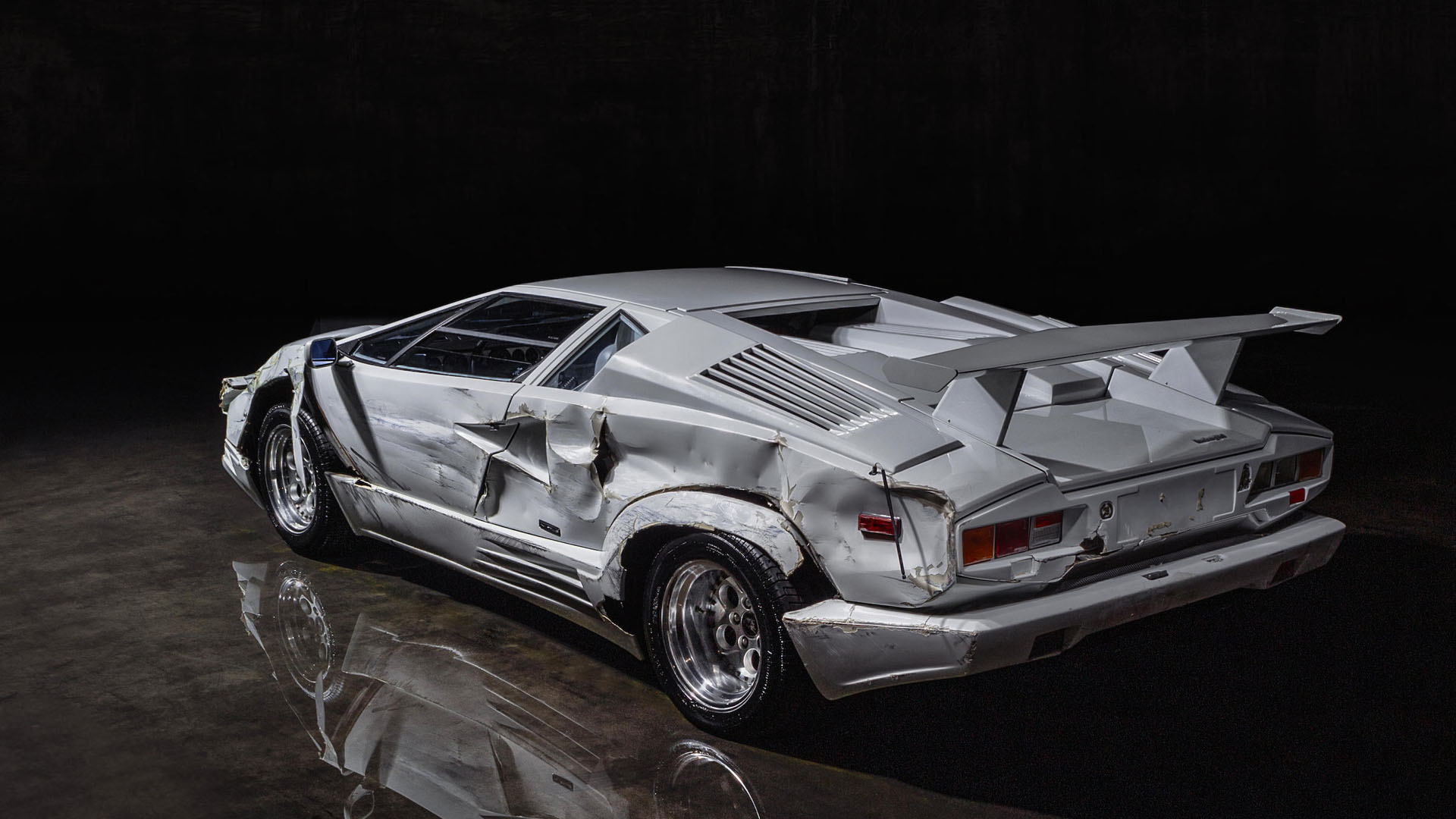 So you might wonder why they would use a real Lamborghini Countach if they were going to crash it anyway, wouldn't that be a total waste of money? Well, you'll have to put that into perspective, a good-condition Lamborghini Countach 25th Anniversary is worth some serious money today, but the Wolf of Wall Street was shot in 2013, that's 10 years ago and values were a lot lower back then, overall the movie would earn a staggering $406.9 million, DiCaprio allegedly got $10 million for his role, Margot Robbie would get 'only' $347,000 according to sources, as she was not that popular back in 2013, so in the grand scheme the price of a Countach wasn't really that massive compared to the numbers involved.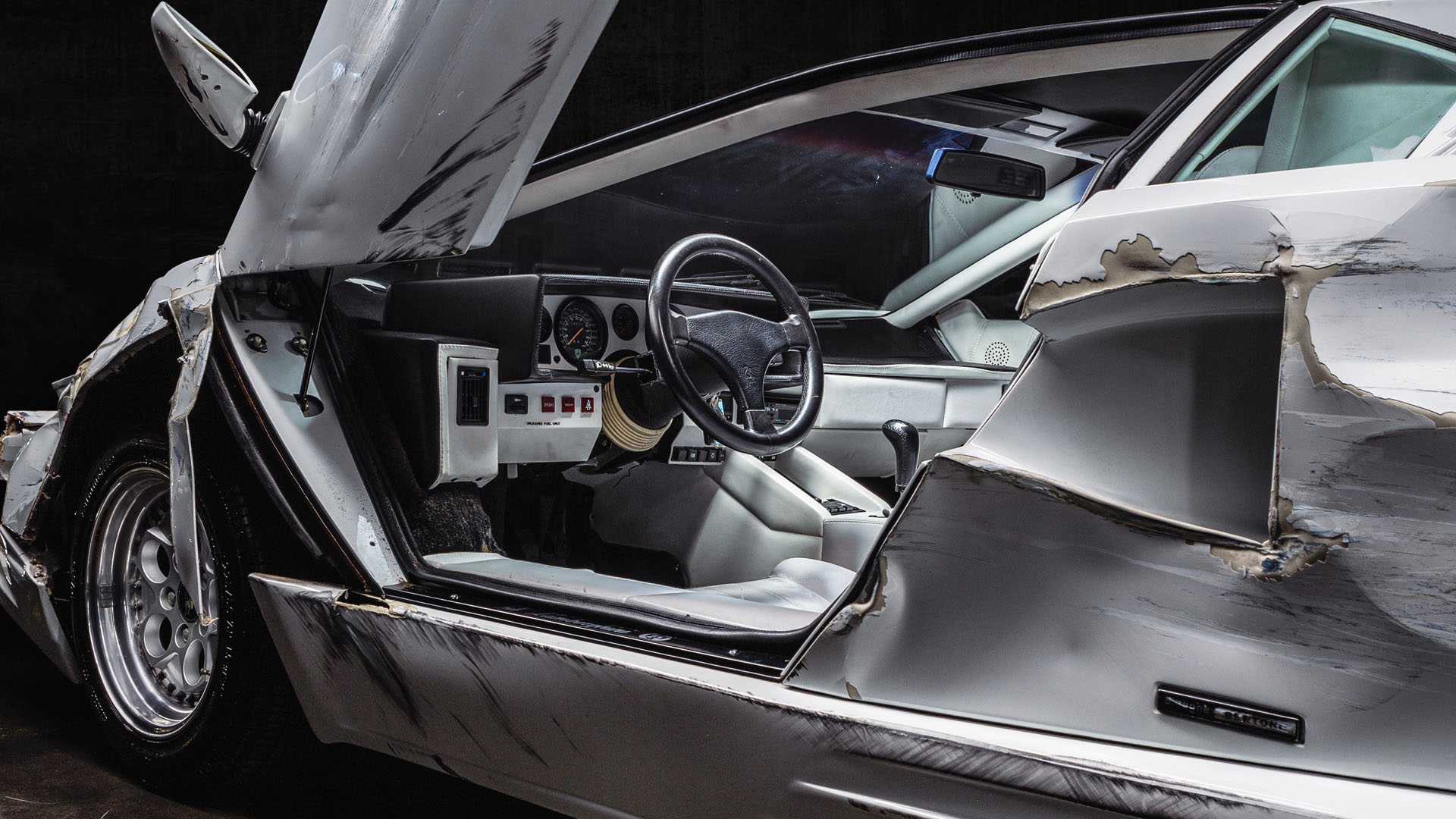 And get this, there were two Lamborghini Countach used, the production rented chassis ZA9CA05A0KLA12722 as a backup car, but it only featured for a mere 16 seconds in the actual movie while the hero car, chassis KLA12692 that is being offered at auction was seen for 3 minutes and 11 seconds, and more importantly, eagle-eyed movie goers would have spotted some major differences between both cars, the backup car didn't have the US-Spec front bumper and had a two-tone, Bianco and Nero steering wheel fitted, that car also left the set without a scratch on her, something that couldn't be said about the hero car, but it is exactly this damage that now makes this movie memorabilia worth considerably more than a regular, pristine Countach 25th Anniversary, Bonhams, who will feature this car at their On the Grid The Abu Dhabi Auction in late November has estimated this car between $1,500,000 and $2,000,000.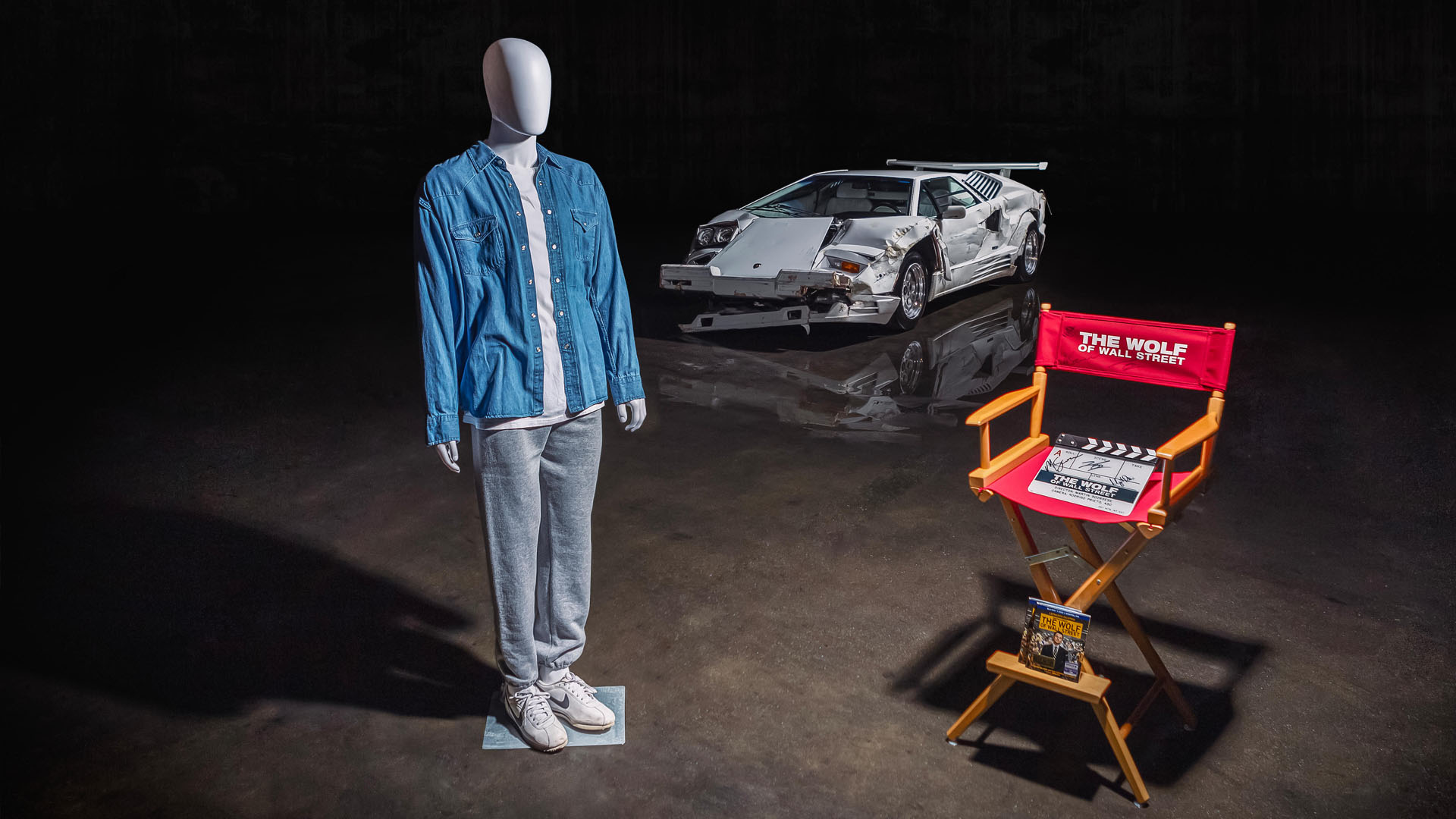 Part of this valuation is mostly driven by the fact this is a 'screen-used' car as they call it in the movie business, but it will also come with some amazing movie memorabilia, like one of the four costumes DiCaprio had on during the filming of this scene, the blue shirt, white t-shirt, sweat pants, and even the Nike shoes. But that's not all, the car will also come with a director's chair, an authentic clapboard from the movie signed by Martin Scorsese, Leonardo DiCaprio, and Margot Robbie, furthermore two crew hoodies and two DVDs of the movie … this truly is a movie collectible, which will reflect in the final bid when the hammer comes down.