1950 Italmeccanica IT160
Based in Turin, Italmeccanica was part of the large cottage industry of custom cars and this IT160 Coupe was their answer to the ideal sports car. The model used a Ford flathead V8 engine in a new tubular chassis. The company probably took advantage of the many fabrication shops in Torino to design the body and interior.
Richard Adams was an investor in the project and wrote a four page article for the December 1952 issue of Speed Age. He said "We sought to manufacture a sports car combining the chassis, suspension, and luxurious body of European cars with the ease of maintenance and simplicity of the best American models. The IT160 is designed to take its place among the best American and foreign automobiles for speed and performance, but it may also be driven into an American garage and left with the simple instructions, 'Fix it!'"
The aluminum body is similar to the Cisitalia of the period and is currently credited to Stabilimenti Farina. The cars weighs 2,450 pounds and is estimated to have a top speed of 140 mph.
RM Auctions Sale
At their 2010 Sports & Classics of Monterey Sale, RM Auctions sold this coupe. They described it as "Painted a metallic red/copper with red vinyl and ivory cloth interior and tan headliner, the car is believed to be mostly original with upgrades as-needed. The chrome presents nicely as does the paint with few imperfections. The engine bay appears as original, and the car rides on period-correct bias-ply tires. Inside, the dash has Brevettato gauges including tachometer and speedometer. It is also equipped with an AM radio and a wire-bound two-spoke steering wheel.
Simple Ford mechanicals make this Italian-American hybrid reasonable to repair and maintain. From the collection of noted Ford enthusiast Clyde Ensor, Sr., its uniqueness and limited production will certainly raise eyebrows at any vintage car show or concours. And, its highly original condition makes it a strong contender in any HPOF or survivor class in which it will compete."
In Detail
| | |
| --- | --- |
| type | Concept / Prototype Car |
| built at | Torino, Italy |
| body stylist | Stabilimenti Farina |
| production | 2 |
| engine | Cadillac V8 |
| position | Front Longitudinal |
| aspiration | Natural |
| fuel feed | 2-bbl Carburetor |
| body / frame | Aluminum Body over Tubular Steel Chassis |
| front brakes | Drums |
| rear brakes | Drums |
| f suspension | Dubonnet |
| r suspension | Live Axle w/Longitudinal Leaf Springs |
| curb weight | 1112 kg / 2450 lbs |
| transmission | 3-Speed Column-Shift Manual |
| top speed | ~225.26 kph / 140 mph |
| 0 – 60 mph | ~10.0 seconds |
Auction Sales History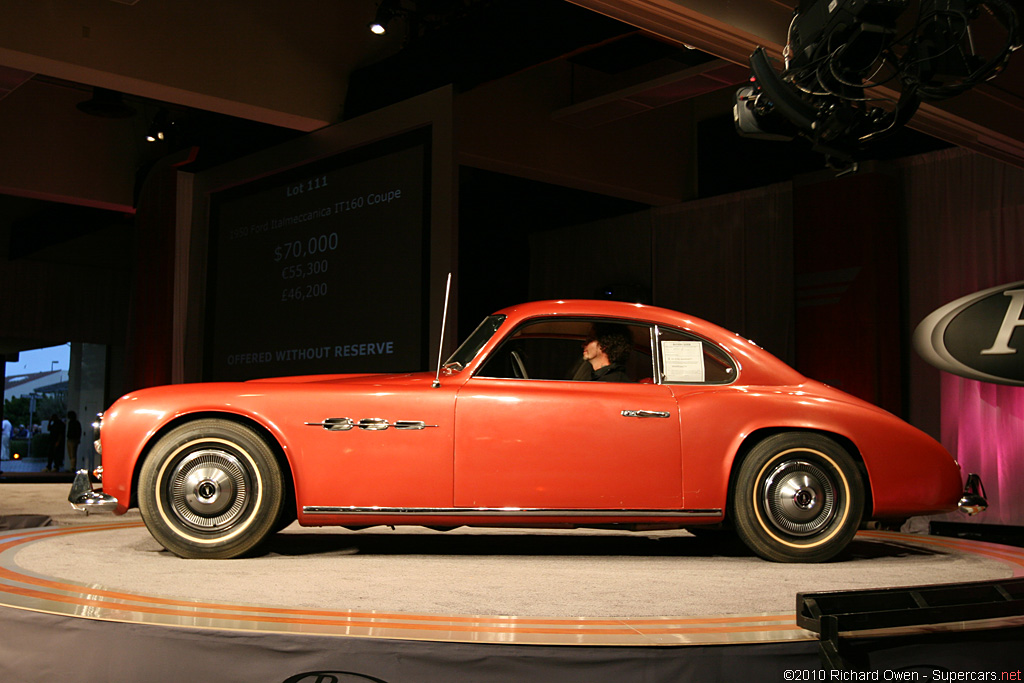 1950 Ford Italmeccanica IT160 Coupe – sold for $143,000 Painted a metallic red/copper with red vinyl and ivory cloth interior and tan headliner, the car is believed to be mostly original with upgrades as-needed. The chrome presents nicely as does the paint with few imperfections. The engine bay appears as original, and the car rides on period-correct bias-ply tires. Inside, the dash has Brevettato gauges including tachometer and speedometer. It is also equipped with an AM radio and a wire-bound two-spoke steering wheel. Auction Source: RM Auctions' 2010 Sports & Classics of Monterey