Jaguar XK120 Alloy Roadster
With its French curves, 120 mph performance and a price tag of £988, the XK120 was Jaguar's most important roadster. In 1948 it set a new standard of post-war performance which progressed into a comprehensive motor sports campaign and won the 24 Hours of Le Mans five times in seven years. Before it was allowed to race, Sir William Lyons personally tested an XK120 at Silverstone himself. He called it the 'Super Sports Two Seater', but after reaching 120 mph in Belgium, it was simply known as the XK120.
Inspired by Italian sports cars and the streamlined styling of the French design houses, Sir William Lyons personally sketched out the basic silhouette for the 120. In what must have been a difficult task, the panel beaters slowly embodied the simple steel chassis with a sweeping hand-hammered aluminum body. The resulting prototype was timeless, simple and instantly recognizable.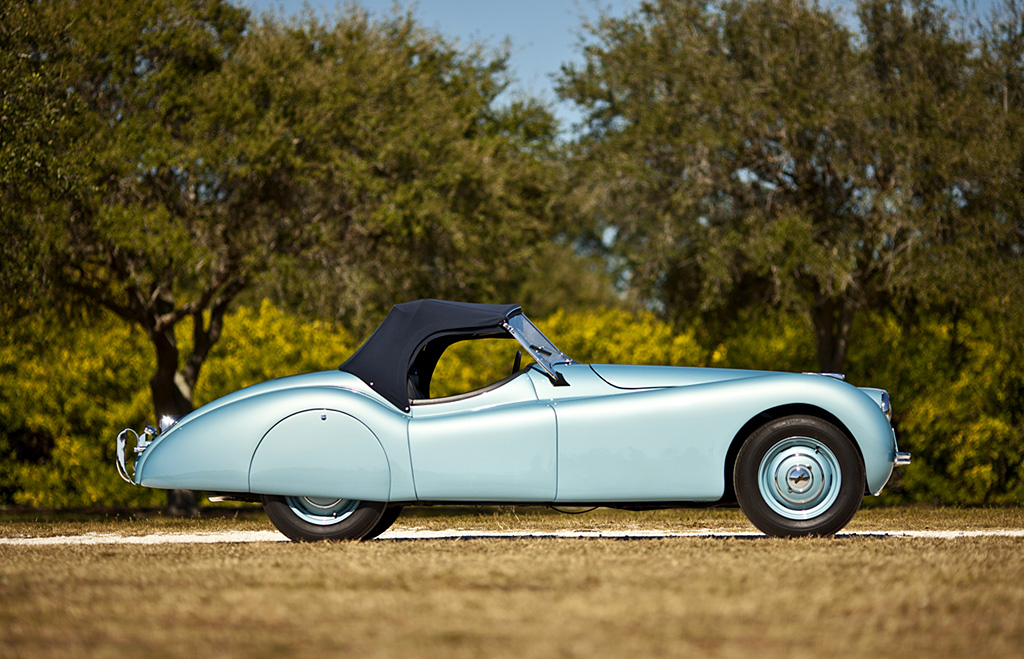 What began as a design exercise for the first postwar London Motor Show in 1948, quickly turned into a rushed production car once the public got a glimpse and fell in love. The first XK120 prototype, chassis 660001, was made without production tooling or testing and after the show it was actively raced. Not long afterward, Sir William Lyons printed up a brochure and announced immediate production plans. Like the prototype, the first cars were made from scratch. They were intended to complement Jaguar's Mark V which was a much heavier and luxurious car.
To bring the XK120 to market, Jaguar relied on technology developed during the war for the upcoming Mark VI saloon. This included their existing chassis members and XK engine which was the world's first affordable and mass-produced twin-cam unit. Developed during war by Chief Engineer Bill Heynes, Claude Baily and Wally Hassan, Jaguar's 3.4-liter 'XK' engine was more than sufficient for the aluminum-bodied XK120 compared to the larger MK VI Saloon it was originally intended for. So much so, Lyons thought it was enough to take the roadster up to magical 120 mph mark. Eventually, over 12,000 would be built and derivatives of the XK engine powered Jaguar to five wins at Le Mans.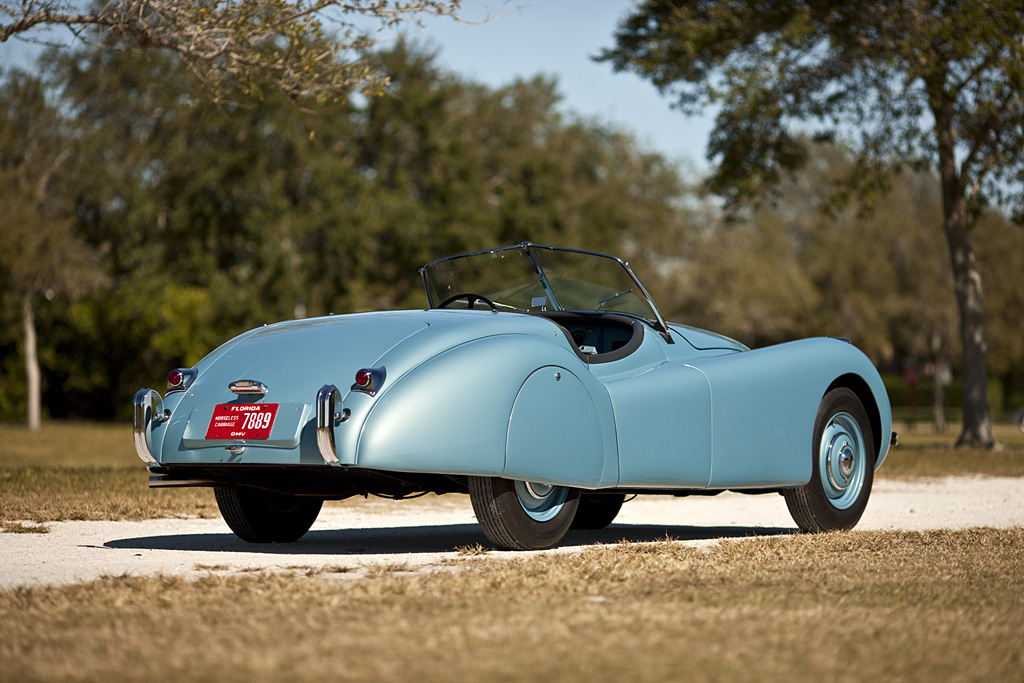 120MPH Performance
After its introduction to the world, the XK120 gained further acclaim during a high-speed test, when Ronald Sutton, Jaguar's test driver, achieved a speed of 133 mph (214kph) during a press preview on the Jabbeke-Ostend highway in Belgium under the official observation of the Royal Automobile Club of Belgium. Not only did this boost the car beyond its advertised 120mph, it established the XK120 as the world's fastest production car.
Many of the first XK120s were entered in motor sports races from the onset of production. After Lyons personally tested an XK120 on the Silverstone circuit in 1949 he had Walter Hassan prepare three pre-production cars for the upcoming production car race. Painted red, white and blue, Leslie Johnson won at Silverstone with chassis 670002 and Peter Walker took second place in 67001. Not long thereafter, every racer wanted an XK120, but a slow production meant it was hard to get a hold of one. The following year, three privately entered XK120s raced LeMans with impressive competitiveness and encouraged the legendary XK120C or 'C-Type'.
Success at Lemans encouraged Jaguar to build a specially designed XK120 which would lead the company into its most successful year. The XK120C (or C-Type) endurance racer used a tube frame chassis and streamlined body with the familiar XK120 drive train. This combination was quite successful and claimed Jaguar's first outright victory at Le Mans.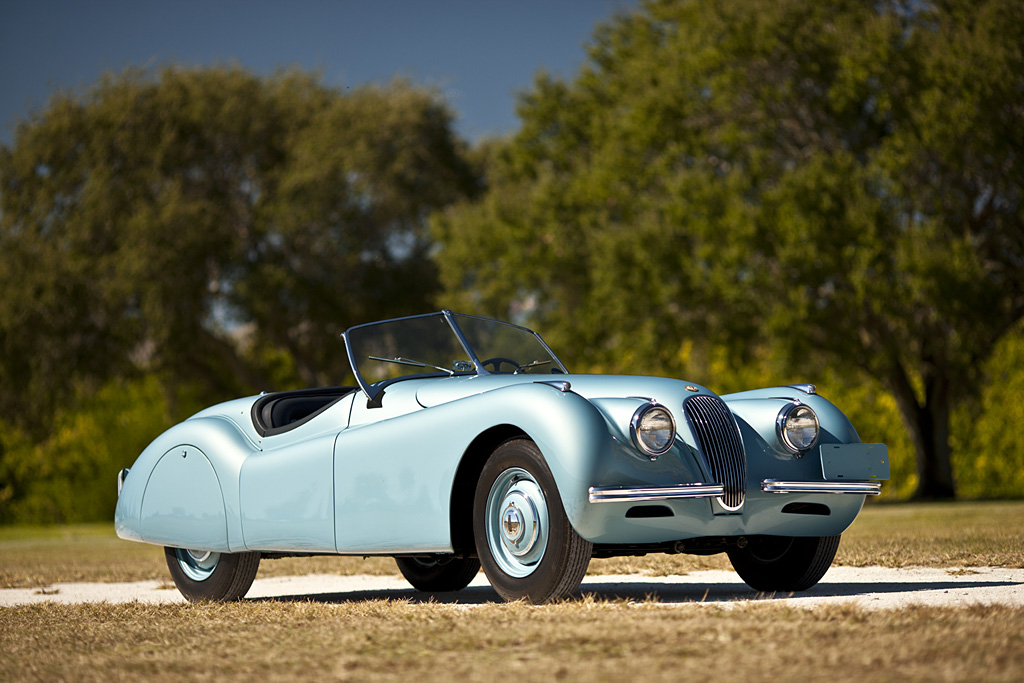 Aluminum Alloy to Steel
By 1950, Jaguar took necessary steps to move towards large-scale production of the XK120. Originally intended only as a limited-production model of 200, initial demand for the 120, fueled by its low price, forced Jaguar to replace the expensive and time-consuming aluminum body with a steel counterpart. This reduced the production delays, enabling Jaguar to produce over 12,000 examples. Only 240 aluminum-bodied roadsters were completed and they were outwardly identical to the steel cars.
In 1951 the range was extended with a Fixed Head Coupe which was followed up by a Drophead Coupe in 1953. The later had luxuriously crafted soft tops with burled wood veneer trim and rollup windows inside. Around 1,800 XK 120 Drophead Coupes were produced.
Our feature car is number 670005 and was probably the first XK120 in the United States. Imported by Hoffman Motors in June 1949, it was used as a display vehicle at a number of races and has a unique Blue Sheen paint job and specially painted engine bay. It was fully restored and displayed at the 2009 Amelia Island Concours d'Elegance. It will offered for sale the the 2011 Amelia Island Sale by Gooding & Company.
Jaguar XK120 Alloy Roadster Gallery
Specs & Performance
| | |
| --- | --- |
| type | Series Production Car |
| production years | 1948 – 1950 |
| released at | 1948 London Motor Show |
| built at | Coventry, England |
| production | 240 |
| price £/td> | £988 |
| engine | Cast Iron, Inline-6 |
| position | Front Longitudinal |
| aspiration | Natural |
| valvetrain | DOHC, 2 Valves per Cyl |
| fuel feed | Twin SU H6 Carburettors |
| displacement | 3442 cc / 210.04 in³ |
| bore | 83 mm / 3.3 in |
| stroke | 106 mm / 4.2 in |
| compression | 7.0:1 |
| power | 119.3 kw / 160 bhp @ 5000 rpm |
| specific output | 46.48 bhp per litre |
| bhp/weight | 133.33 bhp per tonne |
| torque | 264.4 nm / 195 ft lbs @ 2500 rpm |
| body / frame | Aluminum over Steel Frame |
| driven wheels | RWD |
| wheel type | Steel |
| front tires | 16×6.00 |
| rear tires | 16×6.00 |
| front brakes | Girling Hydraulic Drums |
| rear brakes | Girling Hydraulic Drums |
| steering | Re-circulating Ball |
| f suspension | Double Wishbones w/Torsion Bar, Telescopic Shock Absorbers |
| r suspension | Live Axle w/Half Elliptic Springs, Girling Hydraulic Shock Absorbers |
| curb weight | 1200 kg / 2646 lbs |
| wheelbase | 4394 mm / 173.0 in |
| front track | 1562 mm / 61.5 in |
| rear track | 1245 mm / 49.0 in |
| length | 2591 mm / 102.0 in |
| width | 1295 mm / 51.0 in |
| height | 1270 mm / 50.0 in |
| transmission | 4-Speed Manual |
| top speed | ~214 kph / 132.89 mph |
| 0 – 60 mph | ~9.8 seconds |
| 0 – 100 mph | ~30.0 seconds |
Auction Sales History
1949 Jaguar XK120 Alloy Roadster 670060 – sold for $407,000 Originally finished in black with a Biscuit and Pigskin interior and a black roadster top. The car's older rotisserie restoration is documented in an accompanying pictorial history. It has recently been given a cosmetic touch-up by Muncie Imports and Restoration, Jaguar specialists in Muncie, Indiana. Its Heritage Certificate from the Jaguar Daimler Heritage Trust confirms that the restoration colors are as original. The present owner purchased the car in Pennsylvania in 2001; its former owners have included the well-known enthusiasts Terry Larson and Mark Smith. Auction Source: RM Sotheby's Monterey 2015
1949 Jaguar XK120 Alloy Roadster 679902 – sold for $346,500 The 25th of 242 alloy-bodied XK120s produced. Extensive restoration by marque specialists. Finished in correct Battleship Grey, with C-Type seats. Features tasteful upgrades and modifications for enhanced touring. Proven performer as a past California Mille and Colorado Grand participant. Auction Source: 2015 Amelia Island by RM Sotheby's
1949 Jaguar XK120 Alloy Roadster 670015 – did not sell for €270,000 The 15th LHD XK120 built; one of 240 alloy-bodied examples. Recently restored to original specifications. An excellent vehicle for vintage tours or rallies. Auction Source: 2014 Monaco by RM Auctions
1949 Jaguar XK120 Alloy Roadster 670061 – sold for $495,000 Offered from the estate of Charles "Chuck" Swimmer. The most desirable XK120 variant; one of 184 left-hand drive alloys built. Matching numbers. Documented by its Jaguar Daimler Heritage Trust Certificate. A two-time Colorado Grand and California Mille veteran. Auction Source: Amelia Island 2014 by RM Auctions
1949 Jaguar XK120 Alloy Super Sport 670005 – sold for $451,000 The Only XK120 Originally Finished in Blue Sheen. Used by Max Hof fman for Promotional Purposes. 1949 Watkins Glen Grand Prix Parade Car. Matching-Numbers Example Throughout. Multiple Award-Winning 100-Point Restoration. Recipient of the Prestigious XK60 Diamond Award for Excellence. JCNA Slalom Record Holder for 1949–1961 XK120, 140, and 150. One of the Most Significant XKs in Existence. Auction Source: Gooding & Company's 10th Anniversary 2013 Pebble Beach Auction
1949 Jaguar XK120 Alloy Roadster 670025 – sold for $242,000 The 35th of Only 240 Alloy-Bodied XK120s. One of the Earliest Examples Delivered to the US. Fascinating Provenance and Competition History. Exceptional Show-Quality Restoration by Mike Wilson and Terry's Jaguar.
Thoughtful Mechanical Upgrades and Competition-Style Features. Best in Class at the 2009 Carmel-by-the-Sea Concours on the Avenue. Displayed at the 2010 Amelia Island Concours d'Elegance. Successful Colorado Grand and California Mille Participant. Auction Source: The 2013 Amelia Island Auction by Gooding & Company
1949 Jaguar XK120 Alloy Roadster 670059 – sold for $280,500 One of 148 left-hand drive alloy roadsters. Comprehensively restored and well maintained since. Original delivered colors, as per Jaguar Heritage certificate. Vintage rally veteran. Auction Source: Monterey 2012 by RM Auctions
1950 Jaguar XK120 Alloy Roadster 670124 – sold for $291,500 Known history from new. Extremely rare alloy body with early racing provenance. Jaguar Daimler Heritage Trust certified. Awarded 98.5 points in JCNA judging. Auction Source: Amelia Island 2012 by RM Auctions
1950 Jaguar XK120 Alloy Roadster 670146 – sold for $319,000 One of Only 240 Alloy XK120 Models. Well-Maintained 1998 Restoration. Highly Decorated Concours Award Winner. Magazine and Calendar Cover Car. Three-Time JCNA National Champion.DHT Heritage Certificate
Auction Source: 2011 Pebble Beach Auctions by Gooding & Company
1949 Jaguar XK120 Alloy Super Sport – sold for $385,000 The Only XK120 Originally Finished in Blue Sheen. Used by Max Hoffman for Promotional Purposes. 1949 Watkins Glen Grand Prix Parade Car. Matching-Numbers Example Throughout. Multiple Award-Winning 100-Point Restoration. Recipient of the Prestigious XK60 Diamond Award for Excellence. One of the Most Significant XKs in Existence.
Auction Source: 2011 Amelia Island Auction by Gooding & Company
1950 Jaguar XK 120 Alloy Open Two Seater 660053 – sold for $225,000 TToday this XK 120, still largely unrestored and definitely unmolested, is presented in show-worthy condition (Best in Class, Jaguar Owners Club, Washington D.C. area, September, 2006), if not to international concours standard. From its proper disc wheels, Avon bias plies and rear spats, to the lovely Brooklands racing screens it certainly looks the part. Complemented by its classic British Racing Green livery and patinated original red leather upholstery, it is a joy to behold. However the real thrill of owning this car is in the driving. Fully sorted mechanically and having received an engine overhaul in June of this year, this car invites one to experience the performance provided by its C-type engine spec in the lightweight body – a powerfully desirable combination. Auction Source: 2008 Monterey Preview