Automobili Lamborghini, in the year of the brand's 60th anniversary, creates an exclusive and luxurious Lounge in Porto Cervo for the fifth summer in a row. During this summer the Lamborghini Lounge Porto Cervo, located on Promenade du Port via Porto Vecchio, will welcome Lamborghini owners traveling to Costa Smeralda as well as greeting new customers in exclusive events and driving activities on some of Sardinia's most beautiful roads and scintillating landscapes, under extraordinary sunsets. The lounge will remain open until September 10th, open to clients by appointment, and serving as the hub for test drive opportunities of the 'lifestyle' Super-SUV Urus S, and the Huracán Tecnica.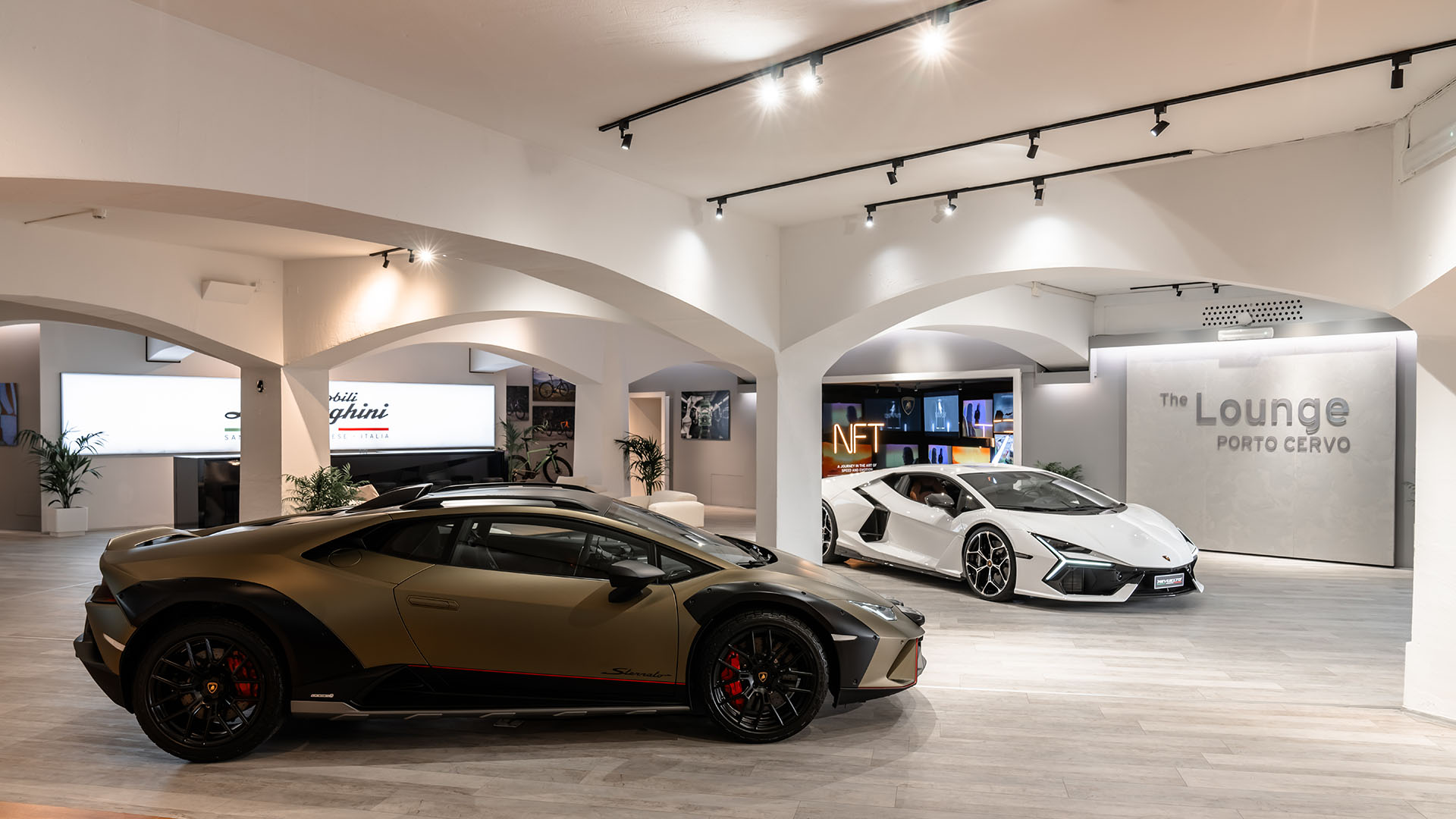 All Lamborghini Lounges, whether permanent (such as New York and Tokyo) or temporary (such as Doha or Dubai) are a point of reference for Lamborghini VIP customers and guests, combining the lifestyle of Lamborghini with the latest products, and embracing the brand's DNA. The Lounge Porto Cervo, with its 600-square-meter inside area and the additional private patio, offers an immersive 360˚ brand experience via several elements, with furnishings designed together with partner Living Divani; designed accessories; and further Automobili Lamborghini branded projects.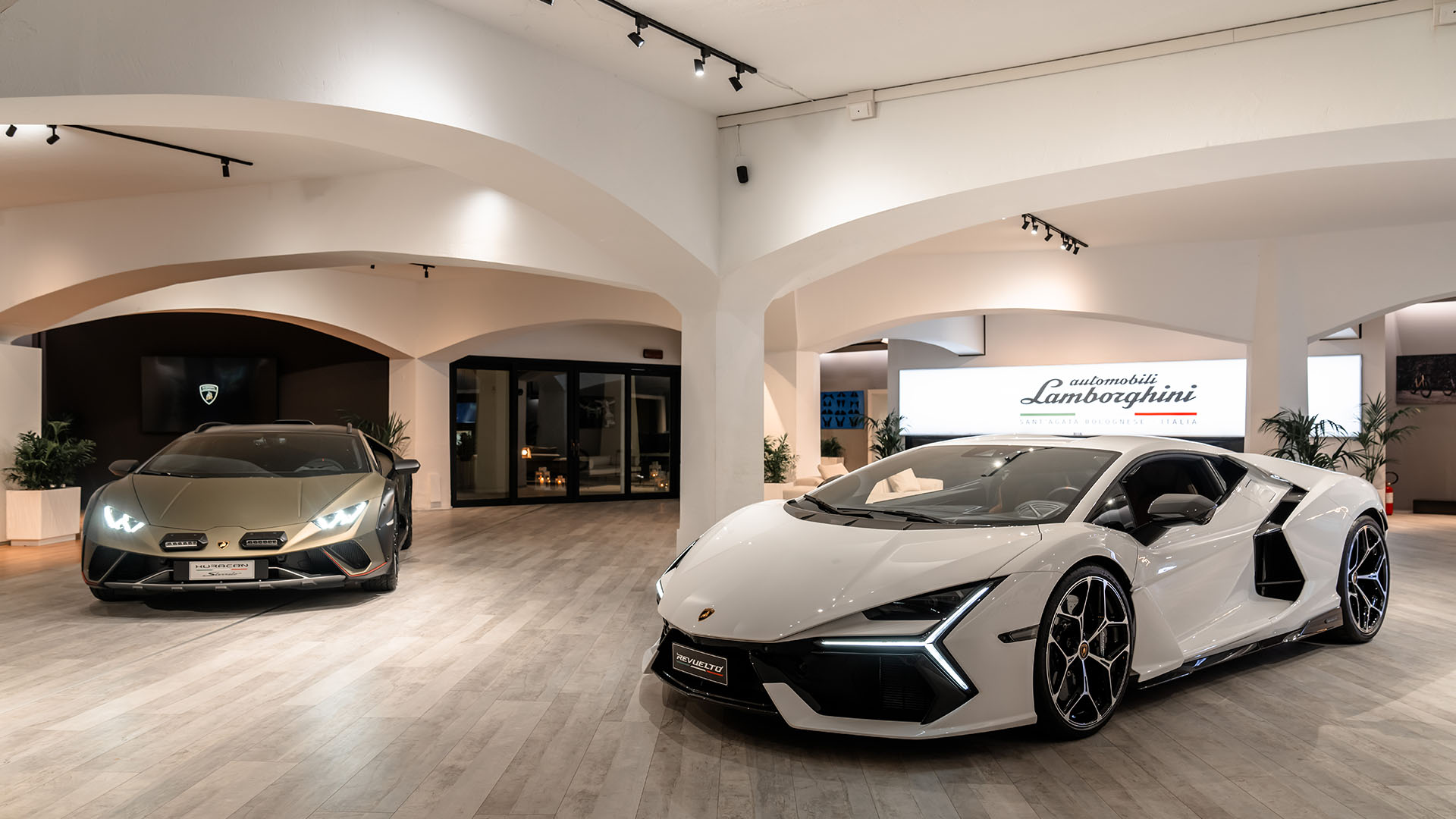 Once inside, the main stars are two of the most recent super sports cars from Sant'Agata Bolognese. The new Lamborghini Revuelto shines in Bianco Monocerus as the marque's first V12 super sports plug-in hybrid HPEV (High-Performance Electrified Vehicle) and represents the next step towards electrification as per the company's strategy Direzione Cor Tauri. At its side, the Huracán Sterrato in Verde Gea goes beyond the expected, being the eclectic first all-terrain car, produced in just 1499 pieces (all sold out).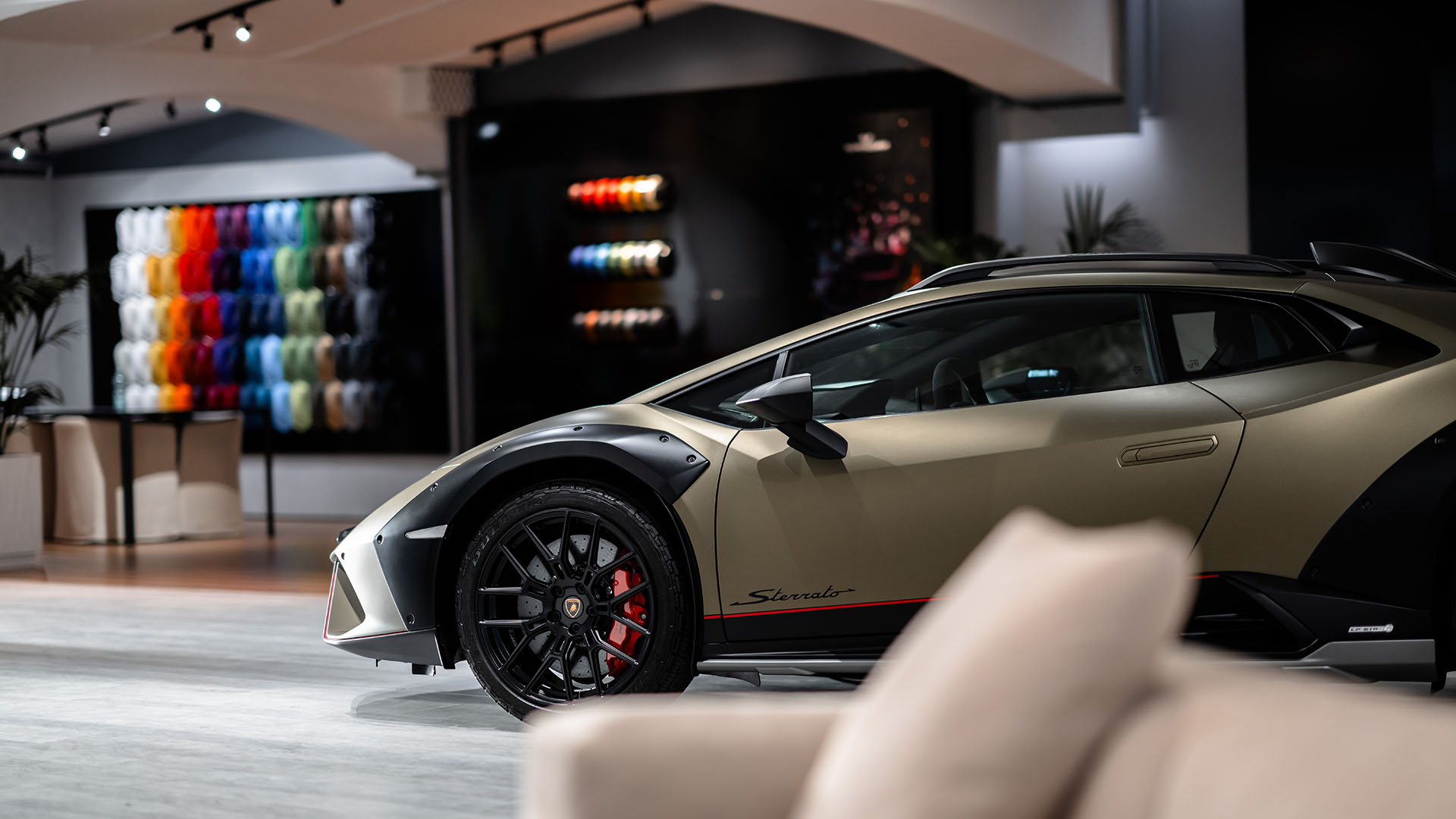 Welcomed by Lamborghini scent in every corner of the lounge, guests can sip an Italian espresso in the living area furnished by the brand's Italian partner Living Divani, or take a closer look at the 3T bike Exploro Racemax x Huracán Sterrato, painted in Verde Gea mirroring the all-terrain V10-powered super sports car. The experience continues with visitors' immersion into the Lamborghini "Epic Road Trip" NFT projects, where Lamborghini super sports cars are the unmissable protagonists in places that virtual travelers can discover thanks to a QR code explaining the campaign.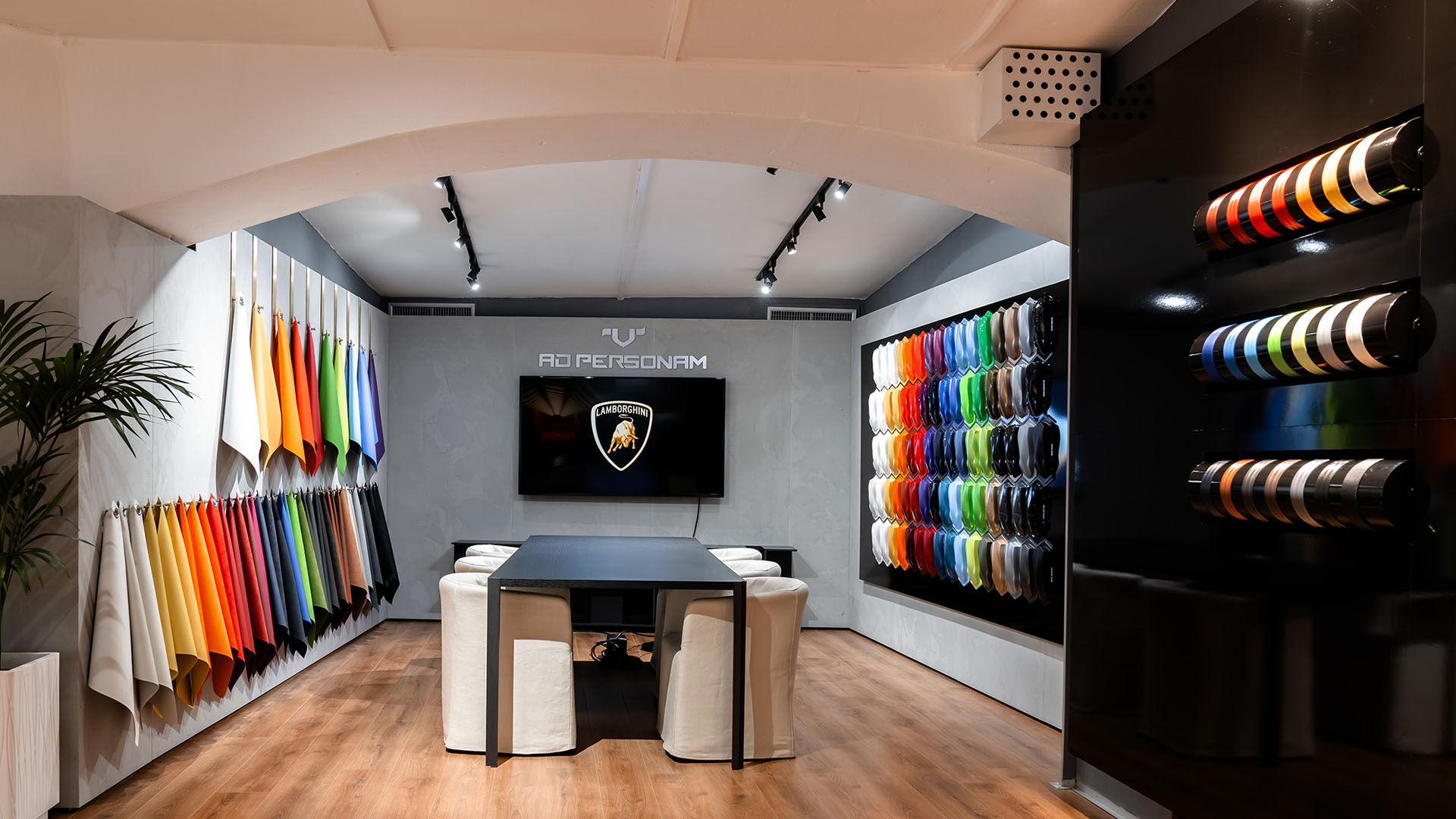 A key area of the Lounge Porto Cervo is the seasonal Ad Personam Studio: the dedicated area where even the most demanding Lamborghini customers can release their creativity to configure the super sports car of their dreams. In a vast assortment of samples, a plentitude of exterior colors, interior upholsteries, finishes, and details available at Lamborghini can be selected in the virtual configurator with a Lamborghini product specialist. The brand's main Ad Personam Studio located in Sant'Agata Bolognese re-opened to customers at the beginning of June after a major expansion. With a new setting and customer experience, it is an essential facet for the brand, showcasing more than 400 colors in its portfolio, and offering customers infinite possibilities to express their own personality in their new super sports cars.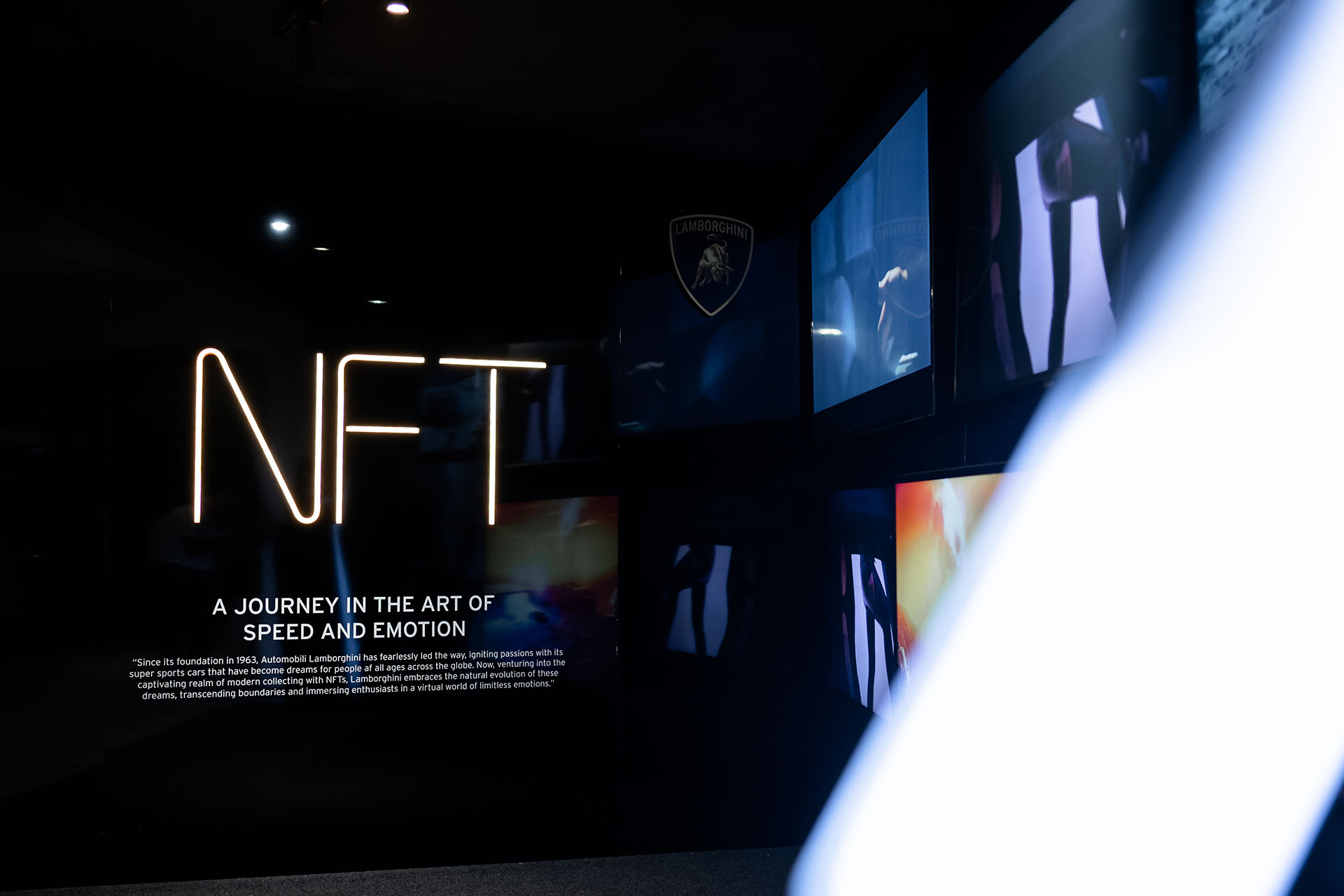 The Lounge experience in Porto Cervo is completed by an artistic representation of a core topic in both the strategy and the daily activity of Lamborghini: sustainability. Five artworks from the project "Inside Lamborghini" composed by Italian photographer Lucrezia Roda are exhibited here, showcasing emblematic examples of how the factory in Sant'Agata Bolognese became C02 neutral in 2015. It has stayed so ever since, even despite doubling the size of the production site: the state-of-the-art paint shop where all Urus are painted with 95% water-based paint, as well as the leather and carbon fiber upcycling process, are fully in line with the company's philosophy of sustainability.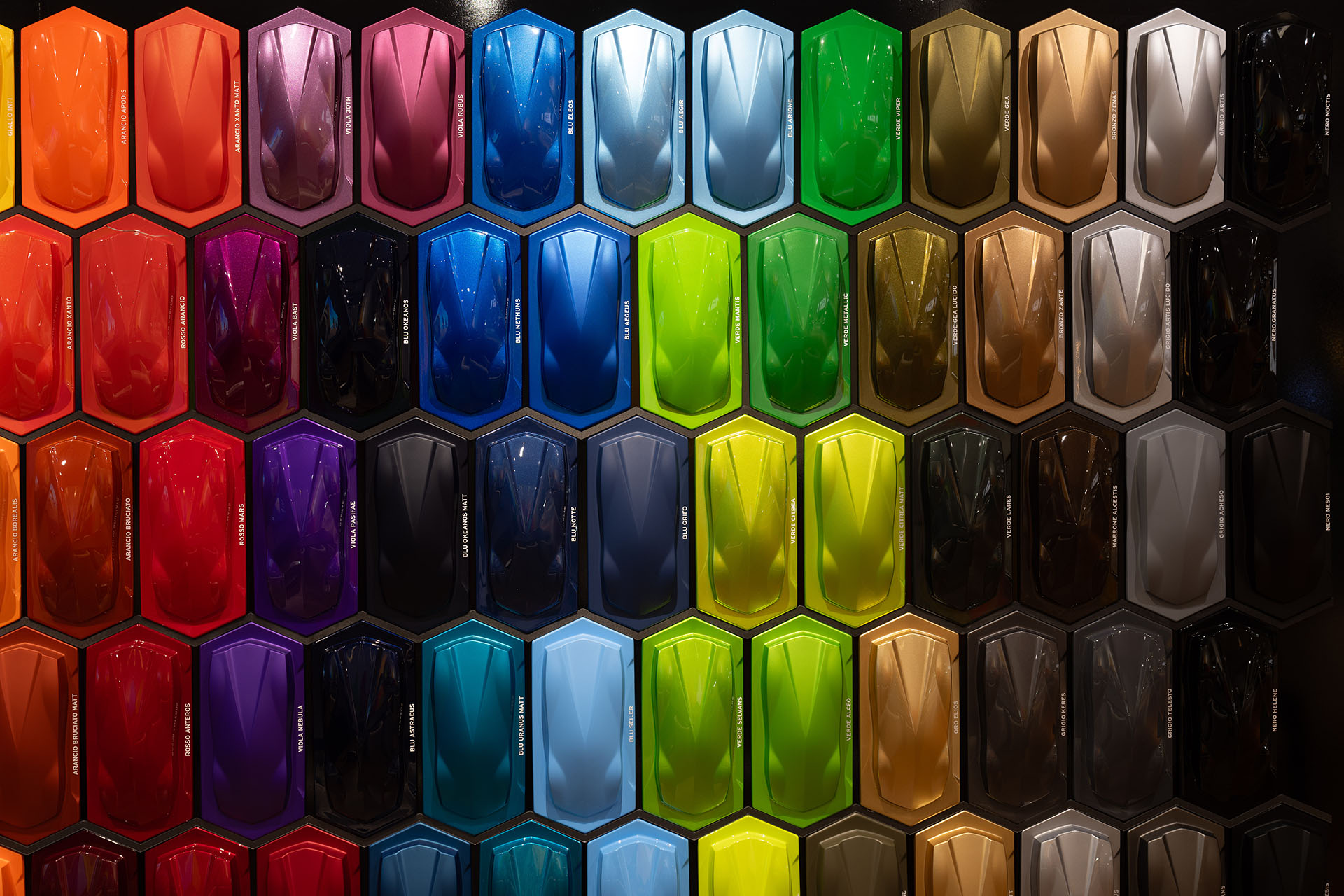 Originally from Lombardy, Lucrezia Roda's vision, personal projects, and commissions are mainly devoted to industry and the transformation of matter during industrial phases, which she processes and interprets through photography. Her artistic vision is defined by her command over colors and meticulous attention to detail. With industrial landscapes and abstract images, she blurs the lines between industrial photography and personal research.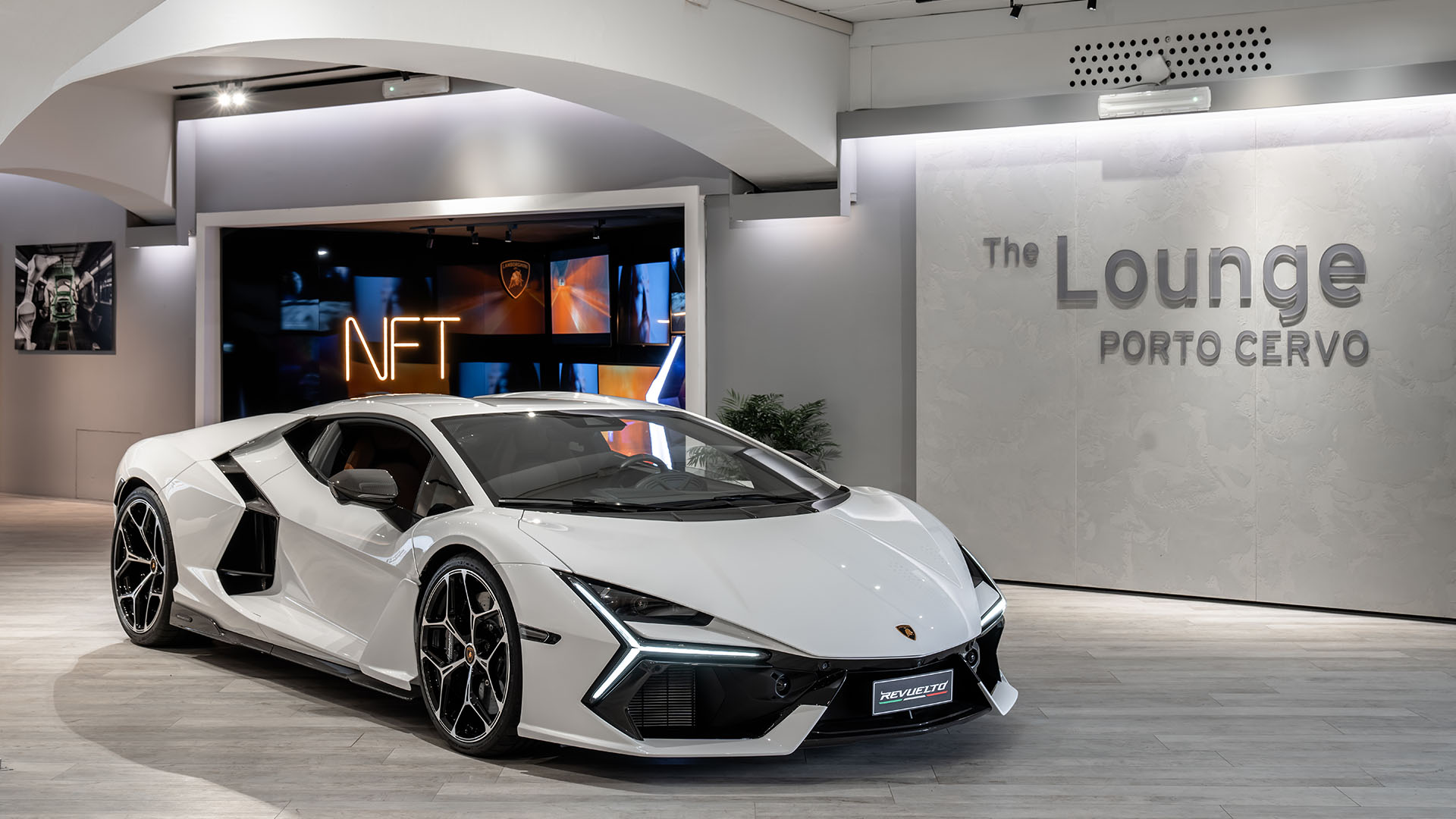 Unveiled at the end of March 2023, the Lamborghini Revuelto is the first super sports V12 hybrid plug-in HPEV (High-Performance Electrified Vehicle). Revuelto defines a new paradigm in terms of performance, sportiness and driving pleasure from its unprecedented new architecture; innovative design; maximum-efficiency aerodynamics; and a new carbon frame concept. An output of 1015 CV is delivered from the combined power of an entirely new combustion engine together with three electric motors, alongside a double-clutch gearbox that makes its debut on a 12-cylinder Lamborghini for the first time.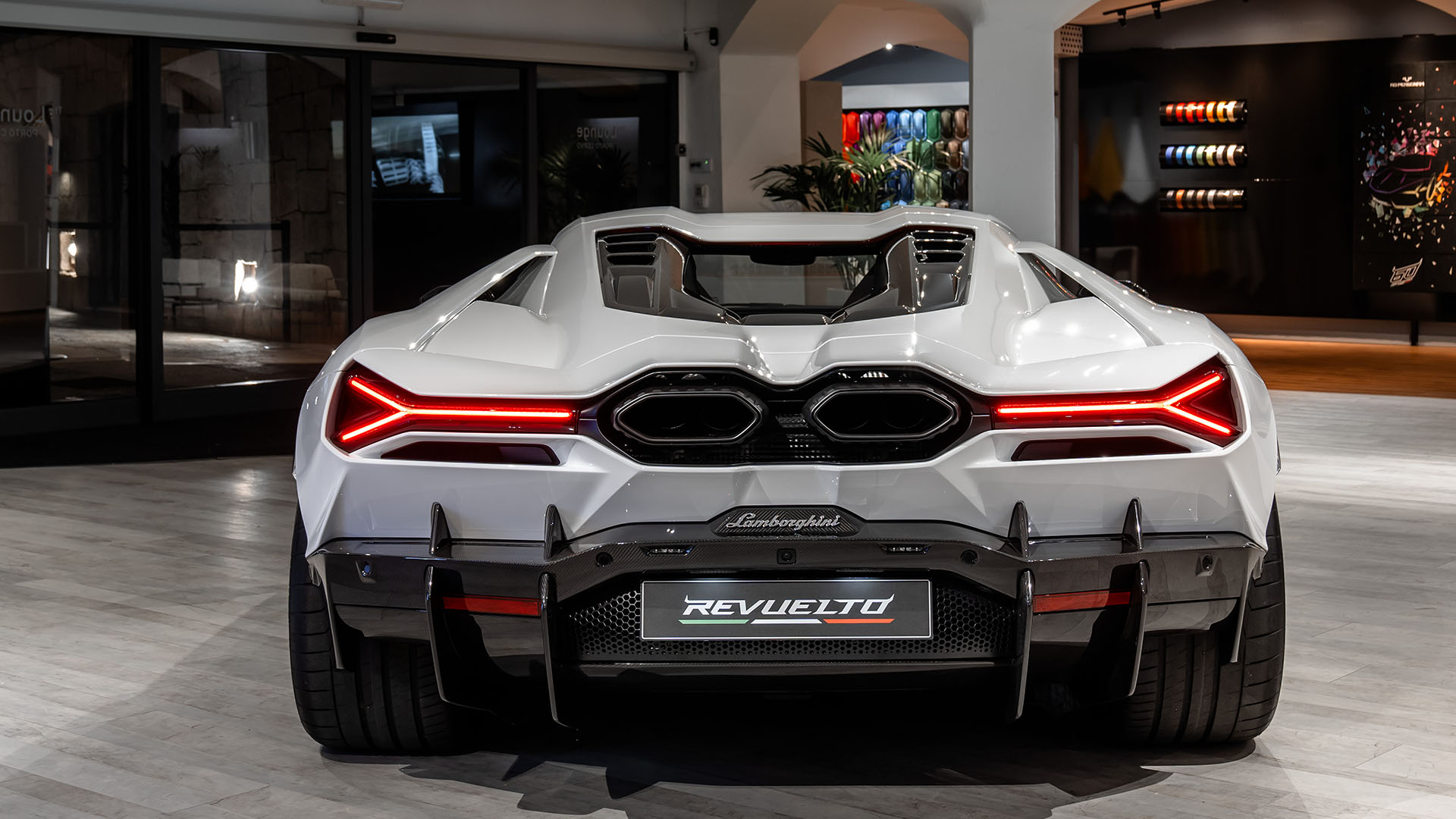 The powertrain combines high-specific power elements: the new 128 CV/liter combustion engine works synergically with two front axial flux motors that deliver an outstanding weight-to-power ratio, with a radial flux electric motor positioned above the first eight-speed double-clutch gearbox debuting on a 12-cylinder Lamborghini. The three electric motors are powered by a lithium-ion high-specific power (4500 W/kg) battery pack that also supports a fully-electric drive mode.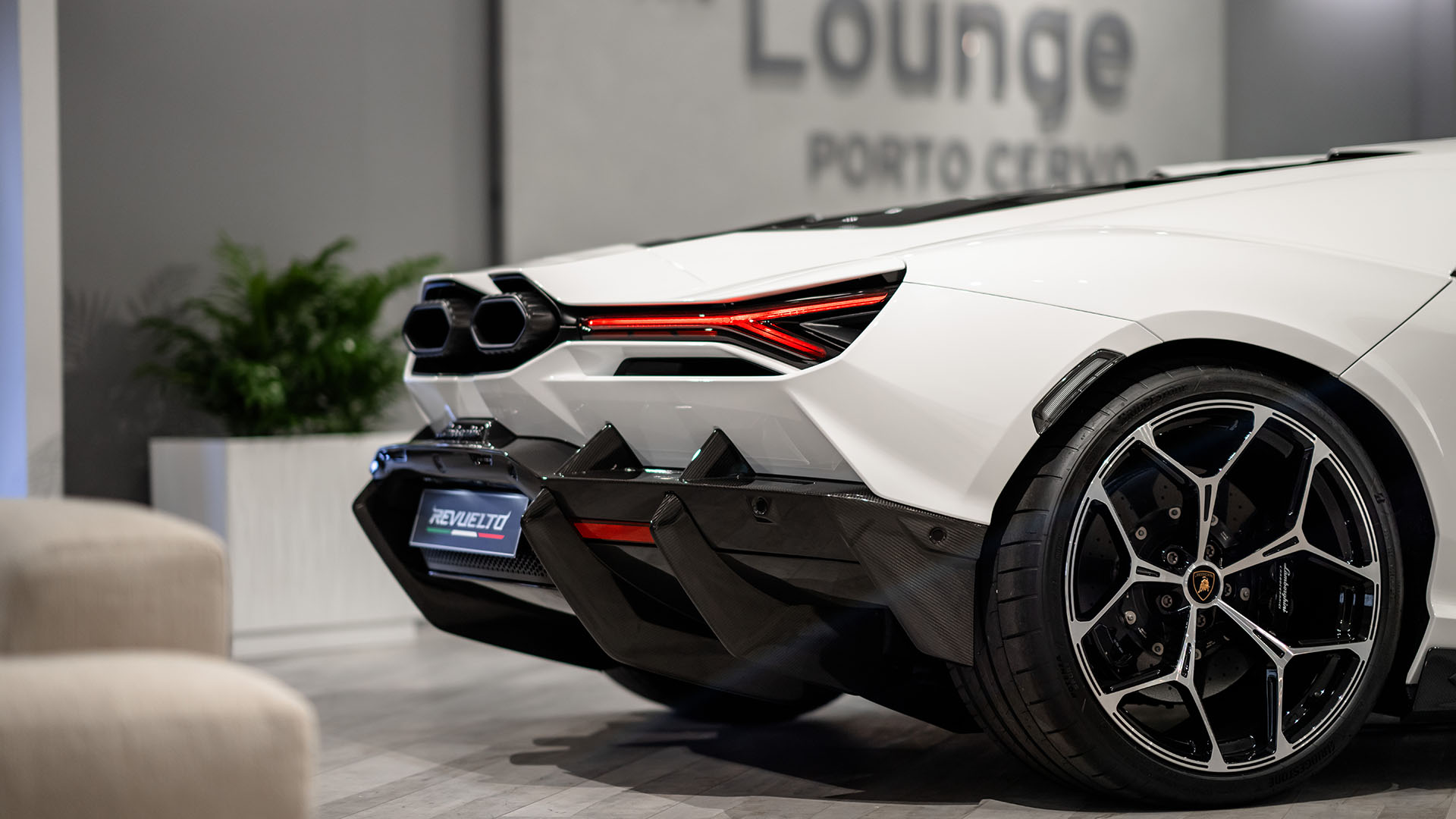 Carbon fiber, produced via artisan craftmanship in the Sant'Agata Bolognese factory, is the principal structural element within the new car, used not only in the monofuselage and frame but also in all elements of the bodywork apart from the doors and bumpers. The extensive use of carbon fiber and lightweight materials, combined with the potent engine power, contributes to achieving the best weight-to-power ratio in the history of Lamborghini: 1,75 kg/CV.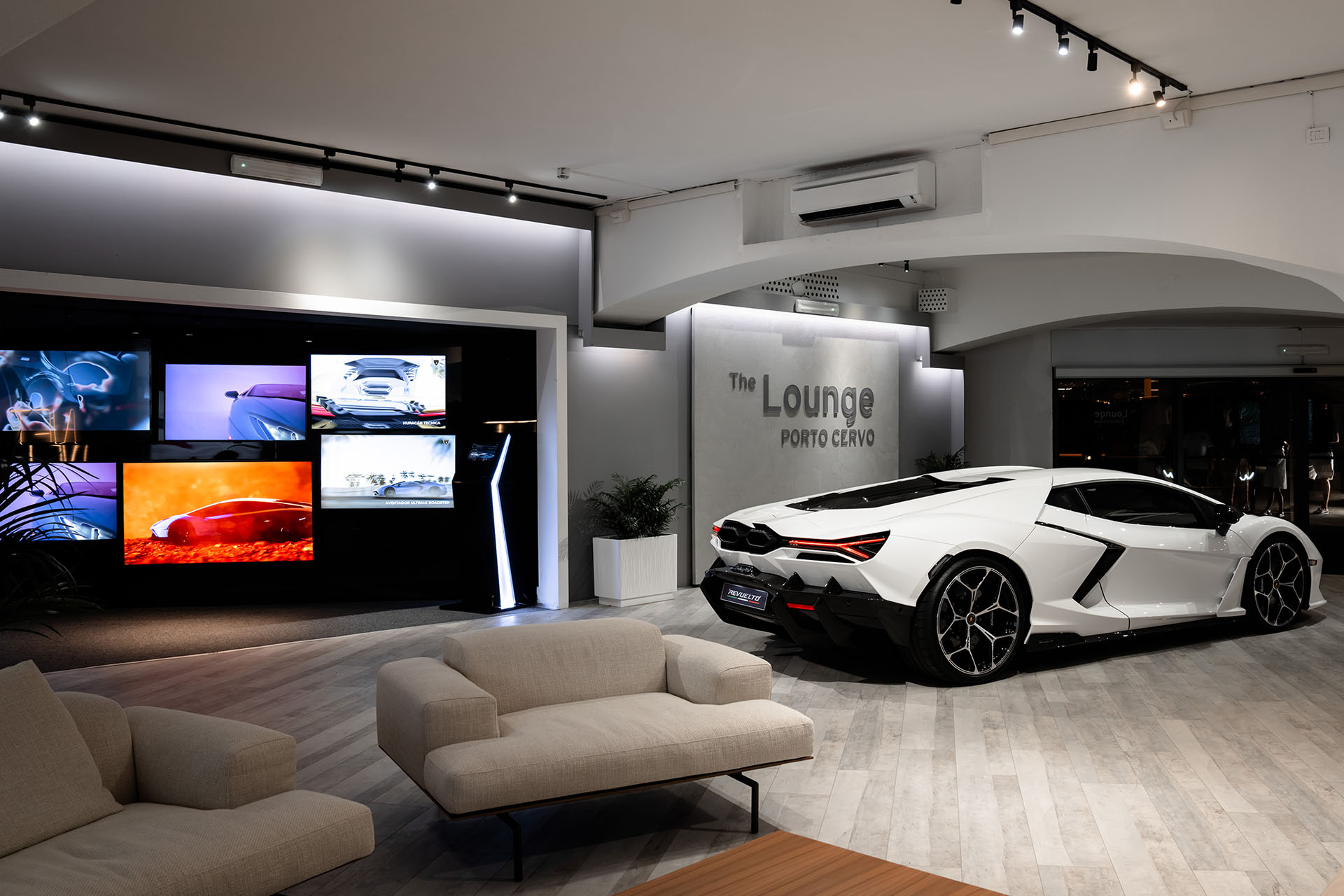 The new Revuelto combines these attributes together with an outstanding new aerodynamic design to deliver performance figures at the peak of its segment: acceleration from 0-100 km/h in only 2,5 seconds; 0-200 km/h in less than seven seconds; and a top speed of more than 350 km/h. These numbers combine with its exceptional dynamism thanks to the introduction of electric torque vectoring, and four-wheel drive available also in fully-electric drive mode, ensuring the Revuelto super sports car expresses its amplified qualities both on track and in daily driving.