Lister Motor Company announces a limited run of 10 special edition handmade magnesium-bodied Lister Jaguar Knobblys
The Lister Motor Company just announced the launch of a very special run of hand made Lister Jags that collectors will likely scramble to get access to. None of the original magnesium-bodied Lister Knobbly 'works' cars survive today so this is a pretty interesting opportunity.
The 10 Stirling Moss editions will celebrate Moss's races for Brian Lister in the 'works' racing cars in the 1950s. The Stirling Moss edition will also be the only car in the world to feature a body made entirely from lightweight magnesium.
We love the classic racing green and yellow color-scheme and the lines are just gorgeous.
The10 very special cars will be available in either full race or road specification and will be priced from £1 million.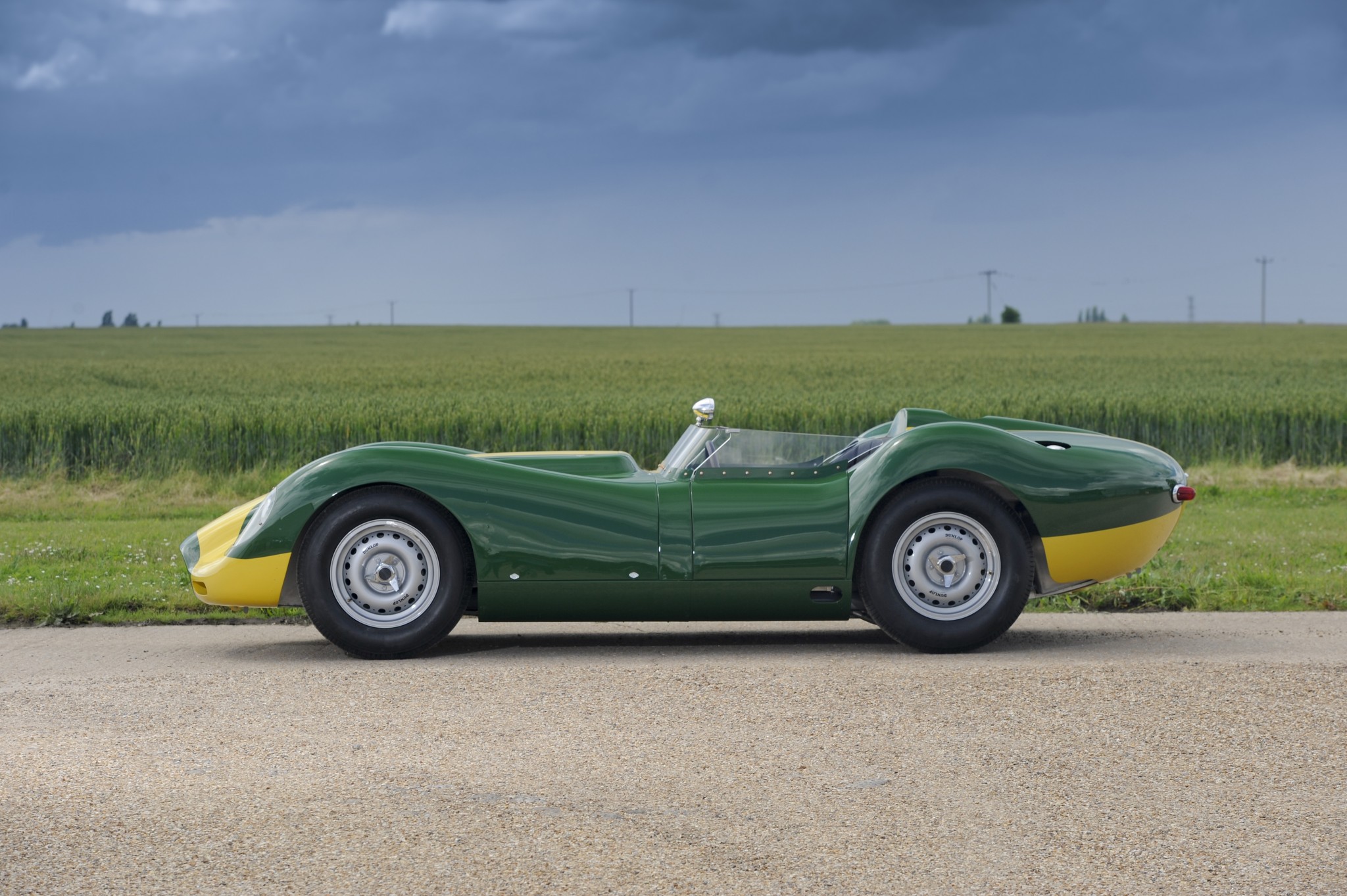 Press Release
London – June 28th 2016
Lister Motor Company is proud to announce the launch of a limited run of 10 special edition cars, the Lister Knobbly Jaguar Stirling Moss, with each car featuring a handmade magnesium body and special lightweight specification – just like the original 'works' racing Knobblys of the 1950s.
These cars follow on from an initial run of 10 aluminium-bodied continuations – now all sold out – production of which began in 2014 at George Lister Engineering. Each is built using the same techniques as the original 1950s Knobbly, following the acquisition of Lister Motor Company by Andrew and Lawrence Whittaker in 2013.
The 10 Stirling Moss editions will celebrate Moss's races for Brian Lister in the 'works' racing cars in the 1950s. While some original Lister Knobblys are still campaigned in historic racing, none of the original magnesium-bodied 'works' cars survive, making this limited run an incredible opportunity for collectors and Lister enthusiasts.
To keep ahead of customer cars and other rivals in the 1950s, Brian Lister reserved a special lightweight specification for his 'works' Knobbly racing cars – with one of the main features being a magnesium body.
Magnesium is an exceptional material, lightweight but difficult to source and expensive. It is also time-consuming to work with as it is very hard to form, requiring incredible skill and craftsmanship. As a result, Lister has invested hugely in research and development into how to work with magnesium and produce perfect, hand-turned bodywork.
All 10 Lister Jaguar Knobbly Stirling Moss editions will faithfully feature the same specification as the 'works' car with which Moss won at Silverstone in 1958. Key features of the Lister Jaguar Knobbly Stirling Moss edition are:
Bodyshell manufactured from lightweight magnesium with aerodynamic low-drag Long Wing Design front wings
Engine sump manufactured from magnesium
Clutch and differential casing manufactured from magnesium
Lightweight tubular steel chassis
Solid sterling silver number plaque 1 to 10 with Sir Stirling Moss's signature engraved
Classic Lister green and yellow paint, matching the original 1950s design
Each one of the 10 owners will receive a handover from Sir Stirling Moss and a personal welcome letter from the legendary racing driver.
Every Stirling Moss edition will be built at exactly the same factory as the standard lightweight Knobbly: George Lister Engineering in Cambridge. The chassis will be made using exactly the same jig as was used for the first Knobbly, while the bodies will be formed around the same styling buck too.
Customers can choose to have their car in racing specification or as a fully type-approved road car, with a bespoke interior tuned to their individual tastes whatever specification they choose. Historic racing versions will come with a full FIA HTP passport, allowing entry into the Stirling Moss Trophy among other blue riband races on the historic racing calendar.
Each car will be priced from £1 million with first deliveries in autumn 2017.
Lawrence Whittaker, CEO Lister Motor Company, said: "The launch of these Stirling Moss editions represents a truly unique opportunity. None of the original magnesium-bodied 'works' Lister Knobblys survived from the 1950s, so the fortunate few who get to own a Stirling Moss edition will be getting a period-correct continuation 'works' Lister made using the same techniques as the original.
"Secondly, as magnesium is such a difficult-to-source material and requires incredible skill and craftsmanship to form, the Lister Jaguar Knobbly Stirling Moss edition will be the only magnesium-bodied car you can buy – either as a road or racing car – anywhere in the world.
"Thirdly, this is only the second time in history that Sir Stirling Moss has put his name to a car. And this is truly limited run – we are only making 10. Ever. There will be no more. Factor in a personal hand-over from Sir Stirling Moss himself – a true British hero and a man who played a huge role in putting Lister on podiums in the 1950s – and you have an unrivalled, very personal experience. And an instant classic."
Sir Stirling Moss said: "The Knobbly remains one of my favourite racing cars. I remember getting into it in 1958 and thinking 'who is going to beat me in this?' At the time I knew they were quick but I never realised, until now, that they were so different to the customer cars.
"These magnesium-bodied continuations redefine the word 'special': they are hugely collectible and they will be very fast indeed. They will be winners on the track – just as they were in their day. I'm looking forward to meeting the new owners and seeing some of these amazing cars on the historic racing circuit being driven flat out as there were designed to be."
Lister Jaguar Knobbly Stirling Moss edition – In detail
Brian Lister met Sir Stirling Moss in the summer of 1954 and the two became great friends, their mutual respect immediately binding them. Moss raced for Lister on three occasions: Goodwood on 25th September 1954, Silverstone on 19th July 1958 and Sebring, USA, on 21st March 1959.
In 1958, the Lister works team was locked in an intense battle with works cars from Aston Martin, Jaguar, Ferrari, Lotus and customer Listers run by Scottish racing team Ecurie Ecosse. Tragedy struck in May that year when Brian Lister's much-loved star driver, Archie Scott Brown, crashed at Spa and died later from his injuries. Overcome with grief, Brian Lister initially wanted to leave the sport, but realising he had customer commitments, continued and kept Lister racing.
Keen for a victory at the sports car race of the British Grand Prix round at Silverstone on 19th July, Brian Lister employed the services of Stirling Moss, who was racing for Vanwall in the F1 world championship. Moss took pole in the magnesium-bodied Lister, which wore the famous number plate 'MVE 303' and, against a field which included Roy Salvadori and Graham Hill, took victory at an average speed of 97.92mph.
As well as a magnesium body, the car that Moss drove had a lighter chassis and many other modifications. With the works cars, Brian Lister's aim was to reduce weight and improve performance. So it goes with the Lister Jaguar Knobbly Stirling Moss edition.
Whereas the standard continuation Knobblys run a three-inch outer diameter tubular steel chassis with a 14 gauge, the Stirling Moss editions run an even thinner wall: a 16 gauge. This tubing is not readily available so George Lister Engineering hollows out existing tubing to gain the required thickness. Every chassis is built using exactly the same jig used on the original 1950s cars.
The body of the Stirling Moss edition car is also different to the standard Knobbly. It features lower, more aerodynamic front wings, known as the Long Wing Design, which help the car slip through the air more easily while also improving stability, by reducing front-end lift at high speed.
This modification is the sole aesthetic difference between the Stirling Moss editions and the standard cars. The other main difference is the material out of which the body is made: magnesium.
Lighter than aluminum by around 30 per cent, magnesium is much harder to manipulate into different shapes. And whereas aluminum can be re-formed, magnesium cannot. It is also more expensive and harder to come by.
The skill of the body former is therefore crucial: he must make sure there is no waste material, yet also turn perfect panels again-and-again. As a result, the process is more painstaking and requires even more expert craftsmanship.
It takes around 4-6 weeks to form an entire aluminum-bodied Knobbly – the magnesium-bodied Lister Jaguar Knobbly Stirling Moss editions require 12-18 weeks, three times as long. The panels are formed using the same styling buck as was used on the original works cars. This bodyshell is then painted the same classic green and yellow as the original car that Moss raced back in 1958 at Silverstone.
Magnesium is not just used in the body. It is also used for the clutch and differential casings and the sump of the 3.8-litre Jaguar D Type Racing Engine, the same engine that appears in the continuation Knobbly.
Produced by Crosthwaite and Gardiner, the wide-angle straight-six produces 337bhp at 6,750rpm and 295 lbs ft of torque at 4,250rpm. Drive goes to the rear wheels via an original specification four-speed Jaguar D Type gearbox, again produced by Crosthwaite and Gardener.
Overall, the Lister Jaguar Knobbly Stirling Moss edition weighs just 841kg. Zero to 60mph takes less than four seconds, 0-100mph comes up in under 10 seconds and maximum speed is up to 184mph.
The Lister Jaguar Knobbly Stirling Moss edition features a bespoke leather interior, with the final touch being a solid sterling silver individually numbered plaque – ranging from 1 to 10 – with Sir Stirling Moss's signature engraved and located on the dashboard.
Every Lister Jaguar Knobbly Stirling Moss is truly hand-built. Like the Knobbly continuation, George Lister Engineering in Cambridge uses original production techniques while some of the original mechanics from the 1950s are still employed as consultants. It takes 4-5 months to build a Lister Jaguar Knobbly Stirling Moss from scratch, some 1-2 months longer than an aluminum-bodied continuation car.
Lawrence Whittaker, CEO Lister Motor Company, continued:"With this limited run of 10 Stirling Moss editions, we are continuing the tradition of hand-building cars at George Lister Engineering in Cambridge, using many of the traditional methods that were used in 1954, as well as some of the original engineers. We are keeping Brian Lister's legacy alive – and that is so important to us all."
Sir Stirling Moss added: "Brian Lister's cars were always engineered to an incredible degree. His passion for technical excellence and dedication to staying ahead of the pack was without equal, yet he was always such a complete gentleman. I thrived on that – it was always a real pleasure to drive for him. I wouldn't put my name to anything that wasn't the real deal and having been to the factory in Cambridge, I've seen first-hand how George Lister Engineering is continuing to use the same skills and techniques that were employed in the 1950s."