On October 23, 2021, Mazzanti Automobili founder Luca Mazzanti unveiled the new Evantra Pura at the XIII Florence Biennale Art+Design. The President of the Tuscany Region, Eugenio Giani was in attendance during the debut.
The name of the hypercar was deliberately chosen. The hypercar is fast, light, essential, and it focused on the real driving experience. Simply put, the hypercar is "Pure".
Powering the Evantra Pura is the new V8 6.2-liter dual injection supercharger that can produce 761 hp at 6,600 rpm/min. It has a maximum torque of 970 Nm. The engine is matched to a new 7-speed manual gearbox.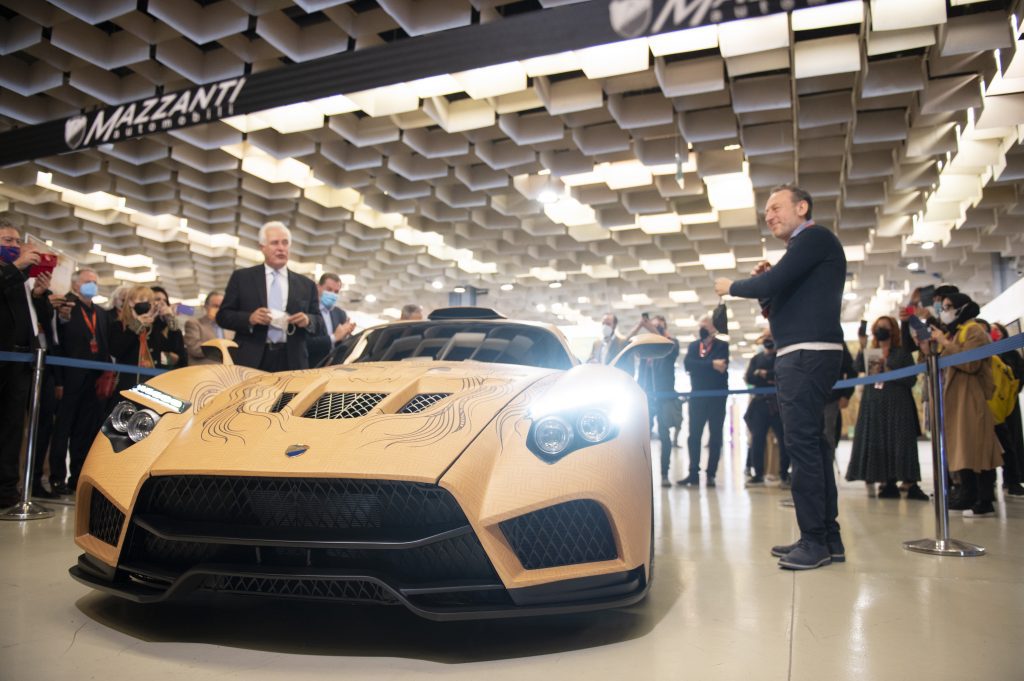 The hypercar is extremely lightweight at only 1,280 kg, and matched with a powerful engine, it is not surprising that the hypercar can go beyond 360 kph. The Pura can also go from 0 to 100 kph in just 2.9 seconds.
The hypercar is radically designed with innovations seen in the headlights, the front, the mirrors, bonnet, air conveyors, rear headlights, airscoop, exhaust, splitter, and the spoiler.
One of the most notable design is the "Mazzanti" grille, wherein a new design can be noticeably seen on the grills of the air intakes, repeating the compass motif symbol that displays the company's Mazzanti Automobili logo.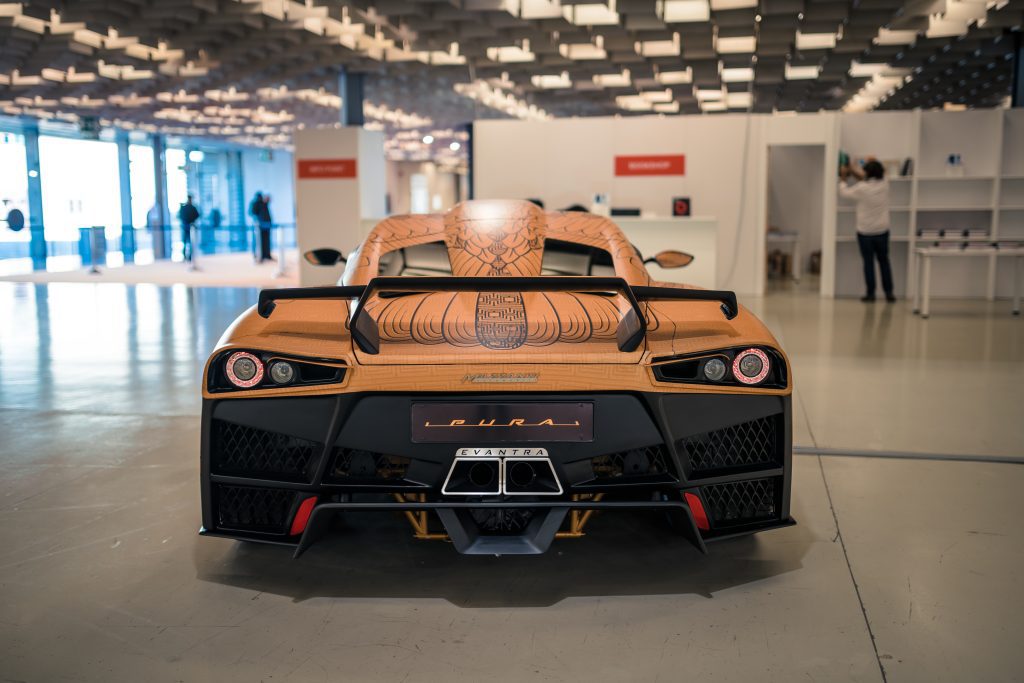 The Pura presented was given a special "mustard" yellow finish done by Wrap Road specifically for the XIII Florence Biennale. The exhibition had an "Eternal Feminine / Eternal Change. Concepts of Femininity in Contemporary Art and Design" theme. Using the theme as a guide and the Etruscan tradition as inspiration, the team tried to pay tribute to the origin of the name "Evantra", the Goddess of Immortality. The Goddess can be seen on the bonnet of the car along with a bird of prey that is known as "Biancone" or the Eagle of the Snakes.
As the example is sporting a unique livery, the Evantra Pura will be part of an international design contest, "Wrap like a king" wherein industry experts, as well as technical specialists pick the most impressive and the most beautiful wraps. They will then pick regional winners and "Local Wrap Kings" for each continent.
The exhibit of the Evantra Pura at the Spadolini Pavilion, Fortezza da Basso Florence for the XIII Florence Biennale Art+Design lasted from October 23 and ended Sunday, October 31.