As people have a lot of time to spend at home, some have taken the opportunity to go through old things and sort them.
YouTuber 19Bozzy92, who you really should subscribe to if you like raw track-side sounds and supercars, hypercars, and racing cars on tracks, found a gem in his old files.
Coming from the Nurburgring GP-Strecke Oltimer Weekend, from August 8 to 10, 2019, he managed to capture a trio of rare beasts: McLaren M1B Group 7 Can-Am Racers!
Can-Am, or Group 7 in Europe, was a highly unrestricted series that saw some of the most deranged, mental, and powerful race cars from inception in 1966, until the series was cancelled in 1987.
It was also, infamously, a Can-Am prototype, the M8D, that took the life of Bruce McLaren in 1970 when it broke apart during testing, crashing at very high speed into Woodcote Corner on the Goodwood Circuit.
However, the M1B was a shining star of the inaugural season. McLaren had been contacted to develop a prototype for the series as a proof of concept, developing the M1A, in 1965. When interest from other manufacturers arose, the M1B was evolved from the M1A and was entered into competition.
1966 was a very good year for the M1B's, losing only to Lola T70's entered by Surtees Racing and Roger Penske Racing. Bruce McLaren himself finished third in the inaugural season, behind two legends in Mark Donahue (second) and John Surtees (Champion).
The McLaren M1B was also a success of American and European cooperation. While the chassis, aerodynamics, handling, and development was handled by McLaren, Chevrolet provided the engine.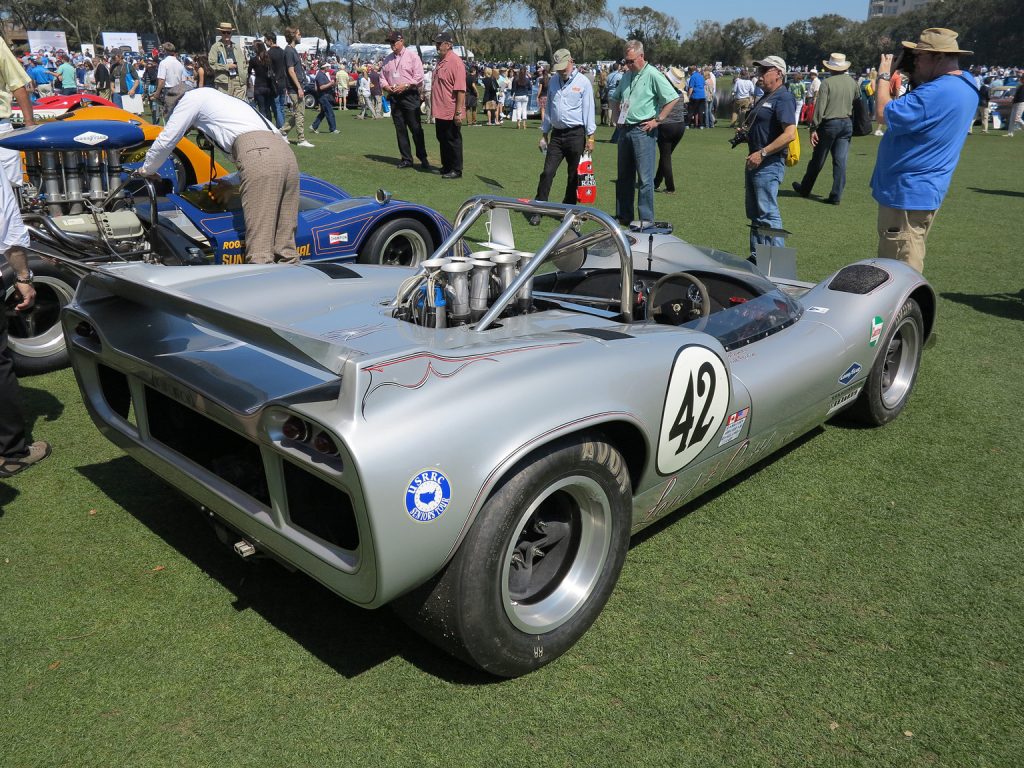 A Chevrolet Small Block gen I 327/331 90 degree four stroke V8, it developed 550 HP from 6,178 cc (377 cubic inches). It had 4 Weber 48 IDA carburetors, and pushed all its power through a Hewland/ZF 4 speed manual transmission.
With the lightweight fiberglass and tubular steel frame carrying that much power, the M1B was a bit of a handful in the corners, but was an absolute monster down the straights.
Only 28 of them were ever built, and as far as records show, three have either been crashed or otherwise lost to time, leaving only 25 remaining. That is what makes the sighting of not one, not two, but three at the same track so remarkable.