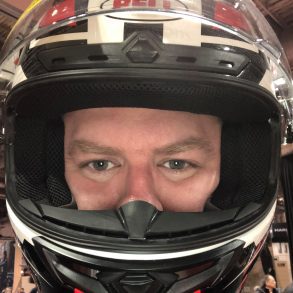 If it goes fast, Simon likes it. Computers, cars, rockets, it doesn't matter, as long as there is speed involved. Apart from his love of sim racing in virtual reality, Simon also loves to drive his '17 Fiesta ST through the mountain roads near his home city of Calgary, AB.
As we have just learned here at SuperCars, Ken Block, co-founder of DC Shoes, founder of Hoonigan, professional rally and...
By now, we all know about the Aston Martin Racing (AMR) Valkyrie Pro, the track-only version of the Valkyrie hypercar....
7 months and a handful of days ago, Ferrari's embargo on video and print reviews of their new 2022 296...
Before anything else, just from the title alone, we know that there are about as many opinions about which race...
The Auburn Auction, hosted by Worldwide Auctioneers, is just a week away, and one of the most recent listings for...
The Auburn Auction, hosted by Worldwide Auctioneers, is just a week away, and more and more lots are getting added...
Despite appearances, designing a car is an extremely challenging proposition. Companies like Ford, Honda, and the behemoth that is the...
It might surprise you to know that McLaren Automotive, as an entity, has only been around for 12 years. While...
Supercars are quite often very aesthetically pleasing, have great engines, produce a lovely sound, and become either status symbols or...
Take a moment. Think back through the years that you've been a fan of supercars, be it as a kid...
With the announcement earlier today of the Gordon Murray Automotive T.33, some popular vlogging magazines and one very lucky YouTuber...
Today, January 27, 2022, at 12:00 EST, Gordon Murray Automotive will be revealing their next car, the T.33 supercar to...
2021 has been, for all intents and purposes, a fairly slow year in terms of new cars, newly announced projects,...
Like many of you, we here at Supercars.net are fans of the motoring trio of Jeremy Clarkson, Richard Hammond, and...
We all know that the McLaren 720S is a superb supercar, able to hold its own against Italian challengers. We...
All photos courtesy of Mazzanti Automobili In the world of supercars and hypercars, it has become a bit of a...
Those of us that follow Formula 1 woke up to the news today that Frank Williams, the namesake of the...
As part of the recent "Green Promise" that many car manufacturers are heading for, we all know that the most...
Throughout the history of supercars, safety has, at times, seemed like more of an afterthought than an actual priority. Power,...
Photography by Kristina Cilia Monterey Car Week is just over a month in the past at this point, and still,...
Photography by Kristina Cilia Monterey Car Week 2021 is already almost 3 weeks gone, and there were some amazing events...
If time travel were possible, going back to the middle of the first decade of the 2000's and mentioning the...
Let's all face facts here. Despite the fact that we all admire purely petrol-powered speed machines, the fact of the...
Mercedes-AMG is on a bit of a roll these days. Their cars often sound like Thor gargling some gravel, and...
Lotus Cars, famous for the names of everything they make starting with the letter E, and for making some of...
McLaren F1 Sells for More Than $20 million Monterey Car Week is all about celebrating motoring, in whatever form it...
While the recently announced Aston Martin Valkyrie Spider is the talk of the town, there was one specific image that...
There are many cars out there in the world that are deemed to be "classic cars," from restored and Concours...
Earlier this month, we here at Supercars.net were lucky to be invited by Mazzanti Automobili to watch an introduction to...
Every once in a while, McLaren likes to open up their vaults, pack up a few of their historic Formula...
The Hillsborough Concours d'Elegance has, for 65 years, been the premier place to see exotic, rare, and beautiful cars in...
The Lamborghini Aventador, in one way or another, has been around for a decade now. Throughout that time, it has...
Peugeot has over the past couple of years, after the prototype hypercar class was announced for the 2022 FIA World...
One of our favorite YouTubers, 19Bozzy92, has come out with yet another amazing compilation of race cars screaming around Monza....
Buying a car is always an exciting thing to do. You felt the little pang of pride when you bought...
There is a fairly infamous saying about speeding, one that both highlights and makes light of the simple facts of...
Lawyers. They are either your best friend, or your worst enemy, depending on what type of attorney you need. There...
While driving, it is often left out of one's thoughts that the only things giving you any turning ability and...
Insurance is one of those really finicky things about driving. You select your coverage, select your deductible, find the right...
Ferrari announced today the return of their Ferrari eSports Championship, a dedicated spec series that is raced online, for a...
Let's face facts: If you can successfully pull off a restomod, it automatically becomes a cool car. If the car...
Many of us that love supercars and hypercars today, grew up watching the incredible machinery of various racing championships duking...
When one thinks of supercars, the mind automatically wanders towards names like Ferrari, Porsche, Aston Martin, and the like. It...
In the mid 1960s, the 2+2 coupe was all the rage amongst the rich and famous. Aston Martin was producing...
The year was 1996. Summer blockbuster season was upon the USA, and a Michael Bay film premiered with a massive...
We all know the excitement and freedom that owning a car can bring to the average American. It allows one...
We all love the freedom of the road. Be it a long interstate drive or a quick Sunday blast around...
Few names in the history of motoring hold the respect and awe given to the Porsche marque. From the early...
Mark your calendars! Pagani has let slip that their ultimate version of the Huayra will be revealed on November 12,...
For those not aware, there are about to be a bunch of both super- and hyper-cars on the horizon. This...
Rimac Automobili, already famous for the C_One Prototype and C_Two production electric hypercars, last year received a $90 million US...
Koenigsegg is one of those car companies that like to push limits and use technology to make their hypercars faster,...
YouTuber Automotive Mike, who has posted videos of the Porsche Type 992 911 GT3 and a possible Sport Classic before,...
Ladies and gentlemen, this is one of those drag race videos that no matter who makes it, you watch it....
Canoo EV is one of those electric vehicle manufacturers that hasn't been as up front and in the news as...
Audi, as many know, is a German company. In Germany, there is a racing series with the super long name...
When the McLaren 765LT was announced earlier this year, it was seen by some as just a 720S with extra...
Ahead of even BMW's own press reveal of the BMW G20 M3 and G84 M4, Top Gear was able to...
The Pagani Huayra, when it was released, was hailed as one of the most beautiful cars ever made. This is...