The Best Ever Cars From Mercedes AMG
Two of the most celebrated brands on the supercar scene have their half-centenery in 2017. Aufrecht Melcher Großaspach, or AMG as it's known these days, was founded by Hans Werner Aufrecht and Erhard Melcher, both ex-Mercedes engineers, in 1967. Few would have predicted then that in its first five decades, the company would grow from independent tuner to the in-house performance experts of one of the biggest names in the business – Mercedes-Benz.
To celebrate this milestone, we've picked out some of our favourites from Mercedes-AMG over the years. We're quite fond of the work of the Affalterbach-based tuners here at Supercars.net so brace yourself – this is quite a long one…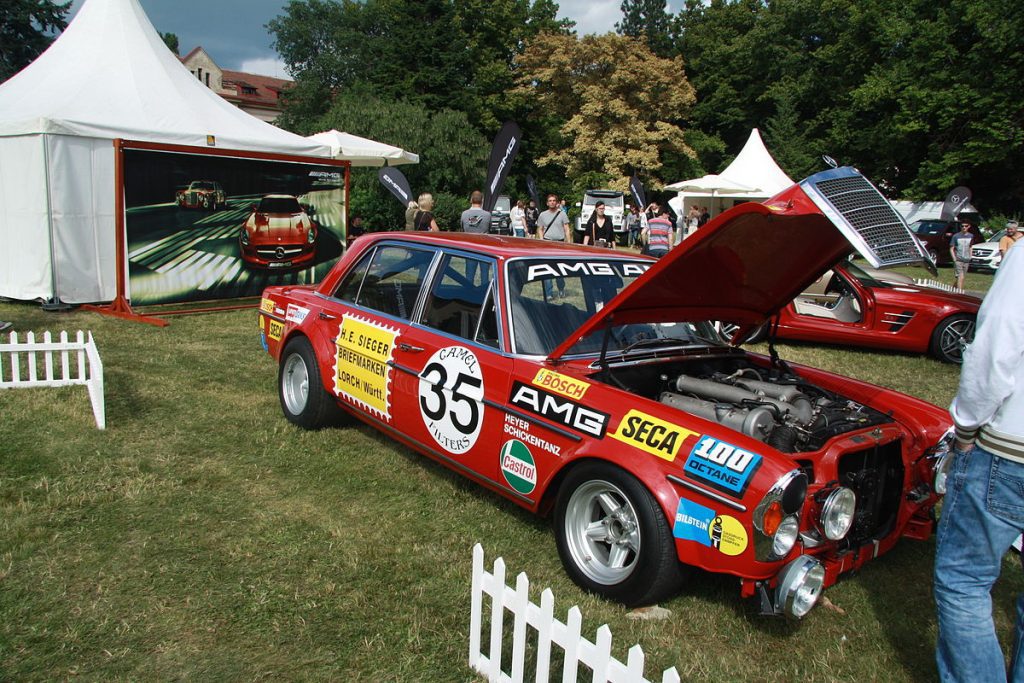 Few first creations embody the phrase "start, as you mean, to go on" as well as the 300 SEL 6.8L AMG. It was heavy, loud, and very fast – but you won't find any Chapman-esque lightness-adding here.
Starting out with a 1960s W109 saloon, the then-newly-formed AMG took a bored-out 6.8-litre V8 and went racing. "The Red Pig" was thus born, attacking Le Mans with all the subtlety and grace of a sledgehammer.
That engine was good for around 420bhp – a lot for 1971, but it had a lot of car to lug around with it. It was almost twice the size of its competitors, sizing up against a field made up of lightweight Ford Capris and Alfa Romeo GTAs. Weight problems also meant the pig chewed its tires almost as fast as it emptied its fuel tank.
That didn't stop it achieving success – it took 2nd in its class at Le Mans in 1971. That car has since disappeared into obscurity, with the rumor being that AMG sold it to an airline as a rig for stress-testing jumbo jet tires, as few vehicles combined strength, size and speed like the Red Pig.
See the replica of that Le Mans legend in the video below: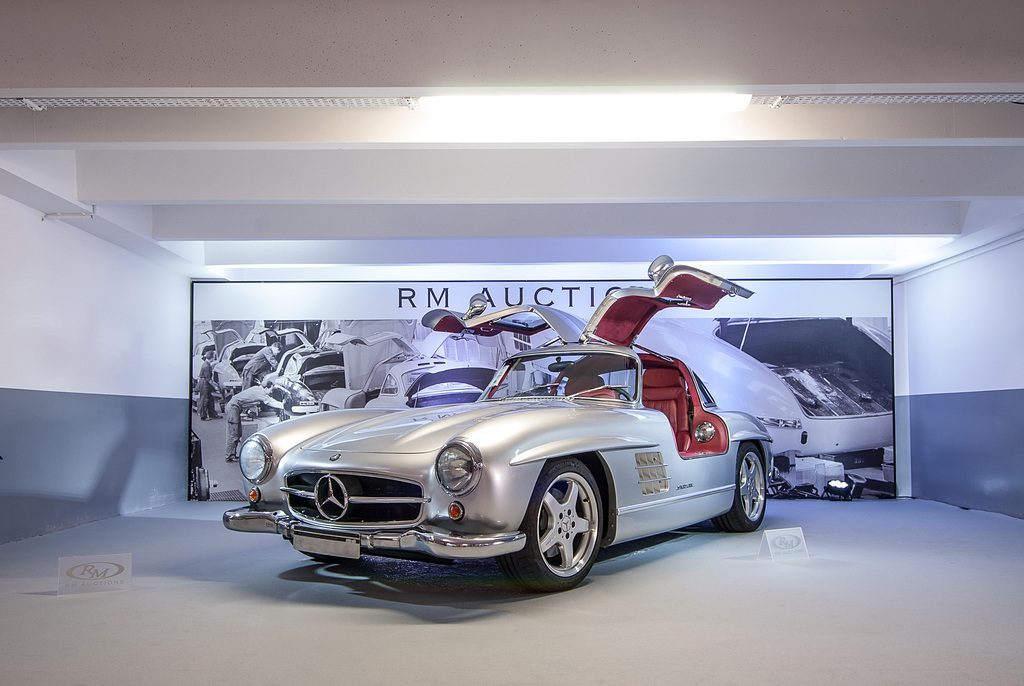 When AMG got their hands on Mercedes-Benz's sleek 300 SL coupe, they wanted to apply their usual technique of fitting the biggest engine they could get their hands on, if only to see how fast and loud it made it. Sadly, their 6.3-litre V8 wouldn't fit in the Gullwing's considerable beak, so they had to make do with a 4.5-litre V8.
That engine was still tuned to produce 280hp, making the prototype one-off 300SL AMG rapid nonetheless. The combination of those doors, some tweaks to lower the incredible body closer to the floor CHECK and the addition of the typical AMG noise combined to create something very special in the AMG Gullwing, which makes it such a shame that they didn't produce more than a single car.
Apparently, they didn't though; in the late nineties and early naughties, AMG apparently produced 11 more, this time with a 380bhp 6-litre V8 squeezed under the bonnet. Those lucky enough to get their hands on one had to fork out for the $1 million price tag, though given the exclusivity it's likely that they've more than recouped their investment.
Sightings are rare of this ultra-exclusive motor, but the video below shows a lucky spotter getting up close with one of the few made: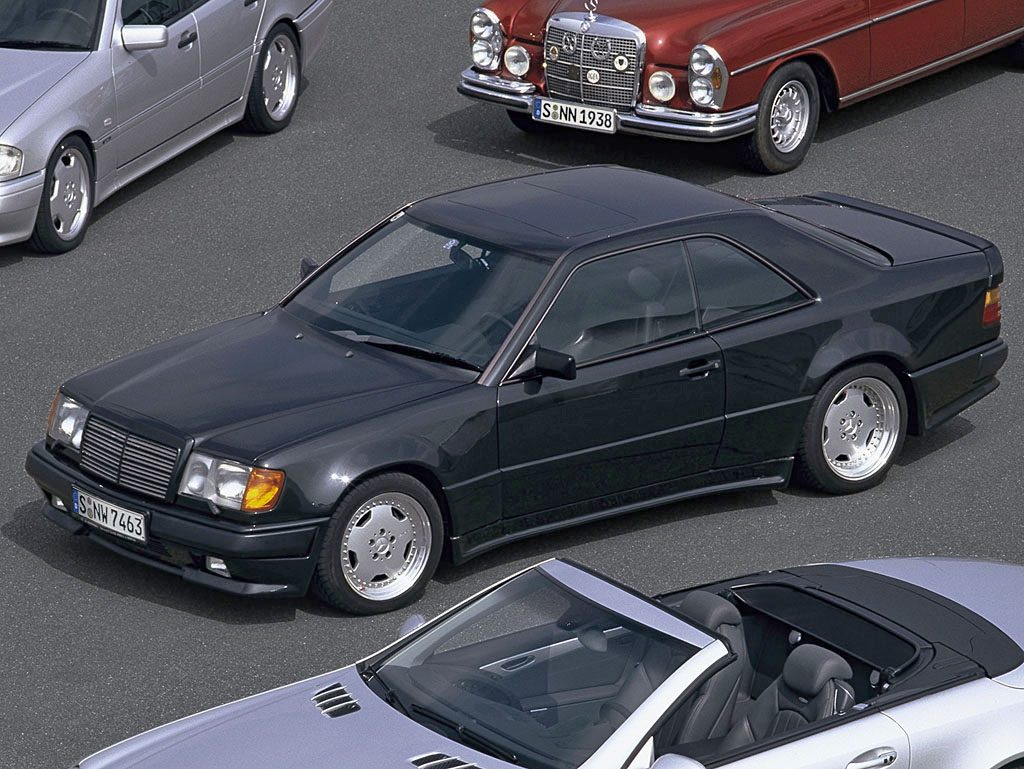 Autobahns quaked under the might of The Hammer. Taking the sedate-as-you-like W124 saloon and adding a 6.0 V8 is enough to keep anyone awake on an overnight schlep across the restricted motorway. 0-60 in 5 seconds and a top speed of 186mph are at the disposal of anyone worthy of wielding it.
That V8 was lifted from the SEC luxury coupe, before being bored out by AMG's engineers and tuned to produce 375bhp and maximum torque of 407 lb-ft. Aero tweaks helped this slab of German power achieve an apparent drag coefficient of 0.25, despite its upright stance.
That and a stealthy all-black paint job meant it could easily sneak up on lesser vehicles in the outside lane of the autobahn, before blasting them to kingdom come in an onslaught of noise.
Watch Chris Harris get very sideways in the wet in a coupe version of The Hammer:

1995-1997 C36 AMG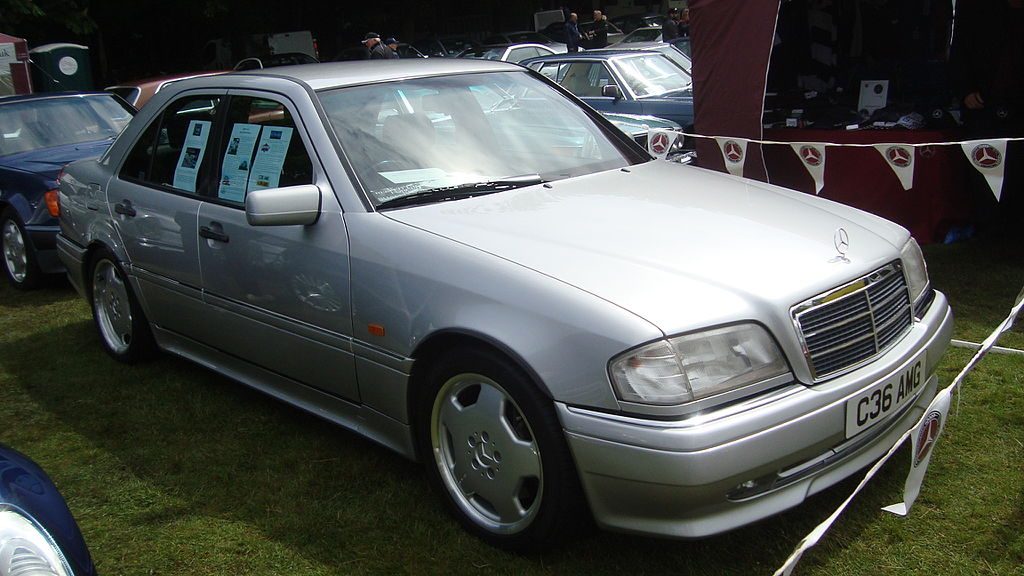 The mid-nineties C-Class was the first car to be developed ground-up in tandem between Mercedes-Benz and AMG; up until then, all AMGs had been aftermarket projects, with the Affalterbach tuners having to wait until Mercedes-Benz released a vehicle before they got their skilled hands on it.
The 268bhp, 3.6-litre straight-six may seem tame by modern AMG standards, but still represented a strident statement-of-intent. In its day it wasn't quite as quick as the 282bhp E36 M3, but it was one of very few to come close.
Arguably this was the car that gave Mercedes-Benz the confidence that there was a market for performance versions of its normally sedate saloons. Solidifying their relationship with AMG by buying a 51% stake in the tuning company, the two quickly followed it up with the C43 V8 saloon, and haven't looked back since. Put simply, without the C36 we might not have the fire-spitting, tyre-shredding AMGs we know today. And, in a world of downsizing, turbocharging and impending hybridization, that would be a real shame.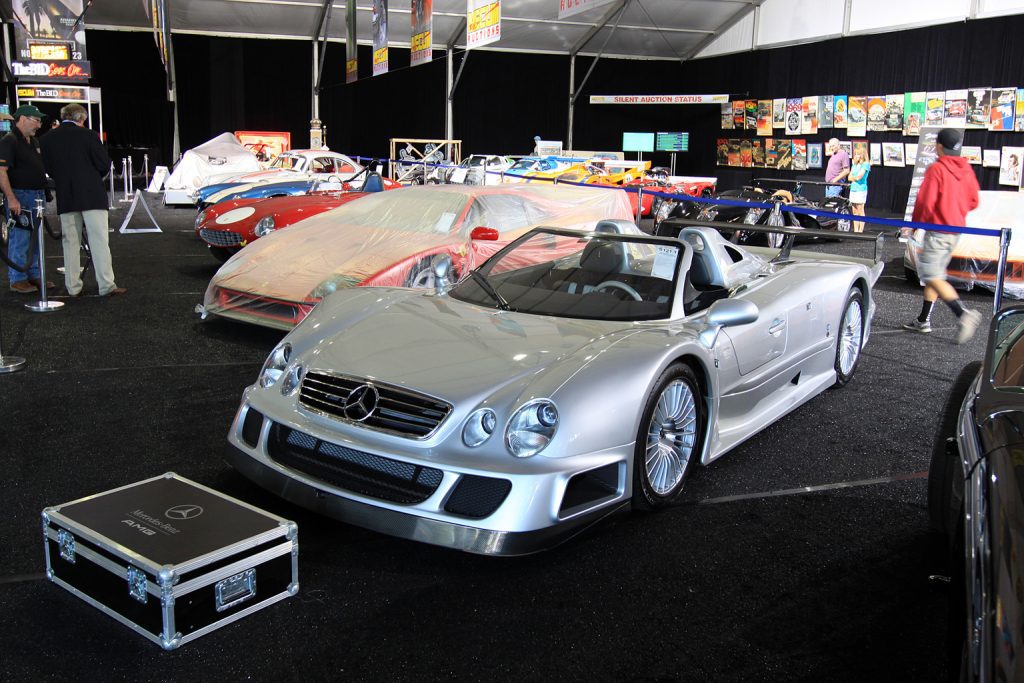 The CLK GTR's story began when, at the end of the 1996 racing season, Mercedes-Benz made the decision to switch their focus from touring cars to sports cars. This sudden shift left just 128 days in which to develop, test and demonstrate not just a racer, but due to strict homologation rules for entry to the GT1 class, a road-going version as well.
AMG was keen to preserve the racer's excellent handling refinement and raw speed, and so turned in their papers with what appears at first glance to simply be the racer with its decals removed. Vitally, the road car retained a lot of the racing car's DNA, making it an unbridled manic machine on the road. Not for the faint of heart.
Despite looking not dissimilar to the CLK coupe, the racer was mid-engined and borrowed the 6.9-litre V12 from the SL600. In the roadster, power output was a staggering 640bhp, giving the CLK GTR the racing capability to match its credentials.
Only six versions of the roadster were ever produced, and of those, Mercedes-Benz held on to one until 2014.
Would you be brave enough to take your one-of-six V12 hypercar down some narrow forest tracks at full pelt? This guy was: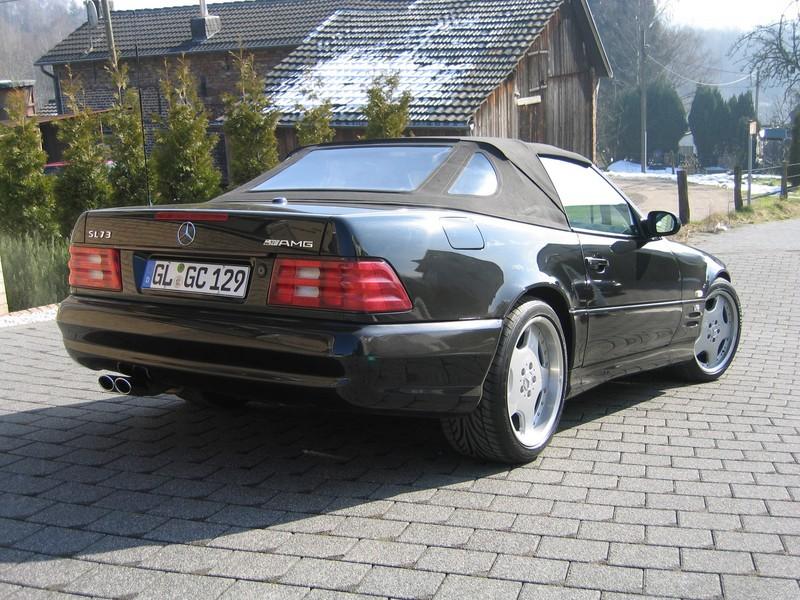 Go big or go home would be a fitting mantra for AMG's efforts over the years, and few cars embody this ideology like the SL73 AMG of 1999-2001.
This monster featured, as befits the name, a 7.3-litre V12 engine mounted up front – the same M120 motor that would go on to feature in the Pagani Zonda, so naughties petrolheads owe this turn-of-the-century supercar a lot.
This combination wasn't available directly from Mercedes-Benz, however, if you wanted your SL to have the full-on fire-and-brimstone treatment, owners had to first fork out for a stock SL600, before taking it to AMG (with around $50,000) who would happily oblige to bore it out.
518bhp and 533 lb-ft of torque gave all two tonnes of the SL73 quite the shot of adrenaline. 0-60 took 4.8 seconds, with the SL's top speed the usual 186mph. Oh, and plenty of noise: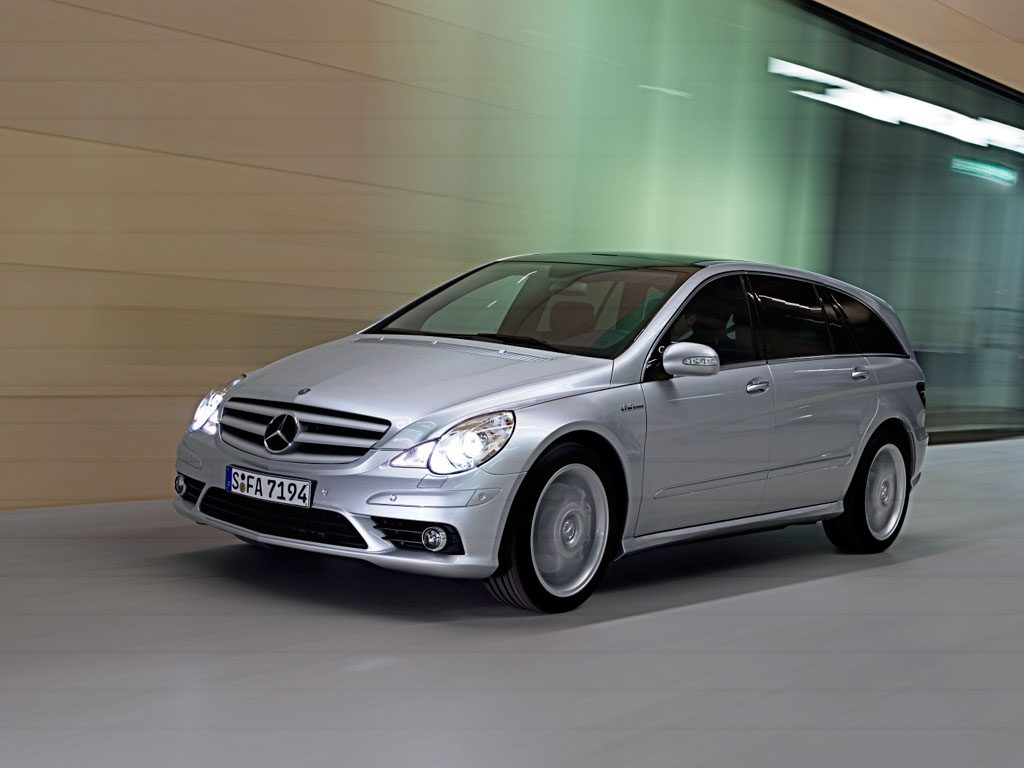 An MPV may seem like an odd addition to the supercar site, but one that can do what the R 63 can do is absolutely welcome.
Taking their 6.2 V8 and fitting it to their sedate, seven-seat luxo-barge, Mercedes created something so devilishly ill-advised, yet stomach-churningly brilliant that it's positively irresistible – if you can get past the slightly lardy looks of the thing.
0-60 in 5.1 seconds and a de-restricted top speed of 185mph for all the family thanks to 503bhp and 464 lb ft. Maybe not one for cross-continental schleps on a budget; its asking price new was around £75k and 17.3 mpg means a tank will last just 250 miles.
2.5 tonnes seems like it would be unwieldy through the bends, but the R63 had upgraded suspension, fat tyres and Mercedes' 4matic AWD system to keep it glued to the road. That AWD means the chances of tire-smoking fun are limited in the rapid R-Class, but no matter – it still comes with that ear-splitting AMG soundtrack as standard.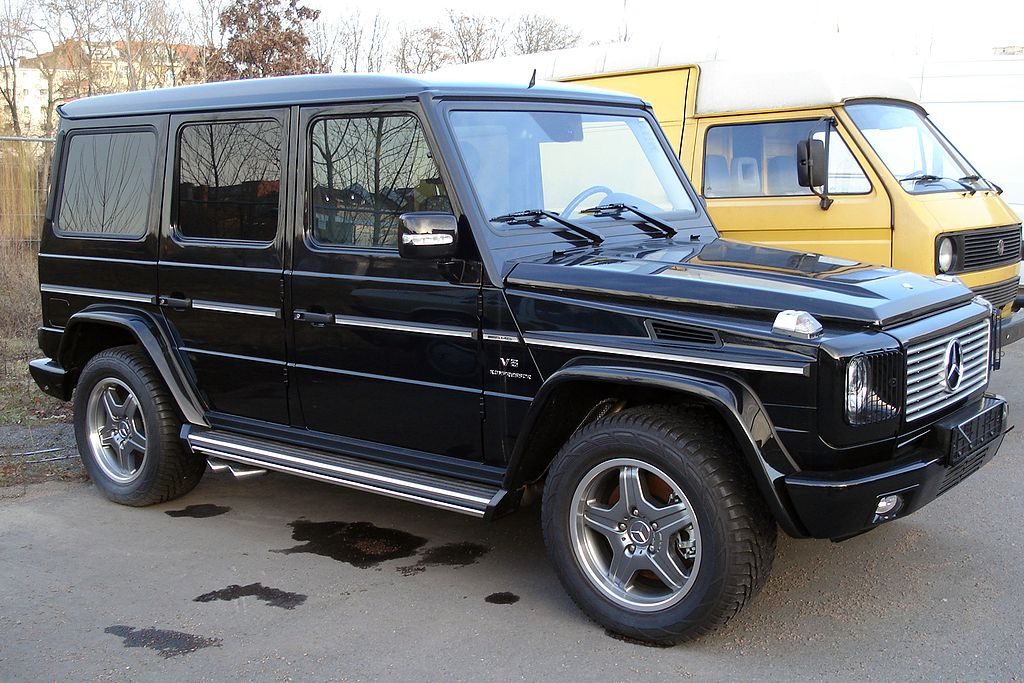 'If a tree falls in the woods and no one's around to hear it, does it make a sound? If you're driving (or, indeed, anywhere near) a Mercedes-Benz G55 AMG along a woodland pass, then you'd never know as you'll be pretty much deaf by the time it hits the floor.'
The G55 was AMG's way of warming up Mercedes' army-primed SUV. Combining the rugged, slabby exterior with full-on luxury interior may seem juxtaposed at first but for some reason, the combination just works. Sure, it's not as refined as a ML-Class, but then refinement was never in the G55's brief.
With a 5.4-litre AMG V8 fitted, this behemoth could lug its entirety from 0-60 in just 5.5 seconds. Top speed was limited, more by the verticalness of the G-Class' surfaces than by any electronic limiter, to Xmph. The full brunt of all eight cylinders is offered in stereo via side exit exhausts which run the length of the G55's footplates.
With Merc having launched the X-Class pickup this week, how long until we see an AMG variant of that? If so, change those quad side-exit exhausts for upward, truck-style ones for full-on lunacy.
Watch this Norwegian journalist take the cartoonish G 55 off road in its natural habitat, like a big shiny angry yeti: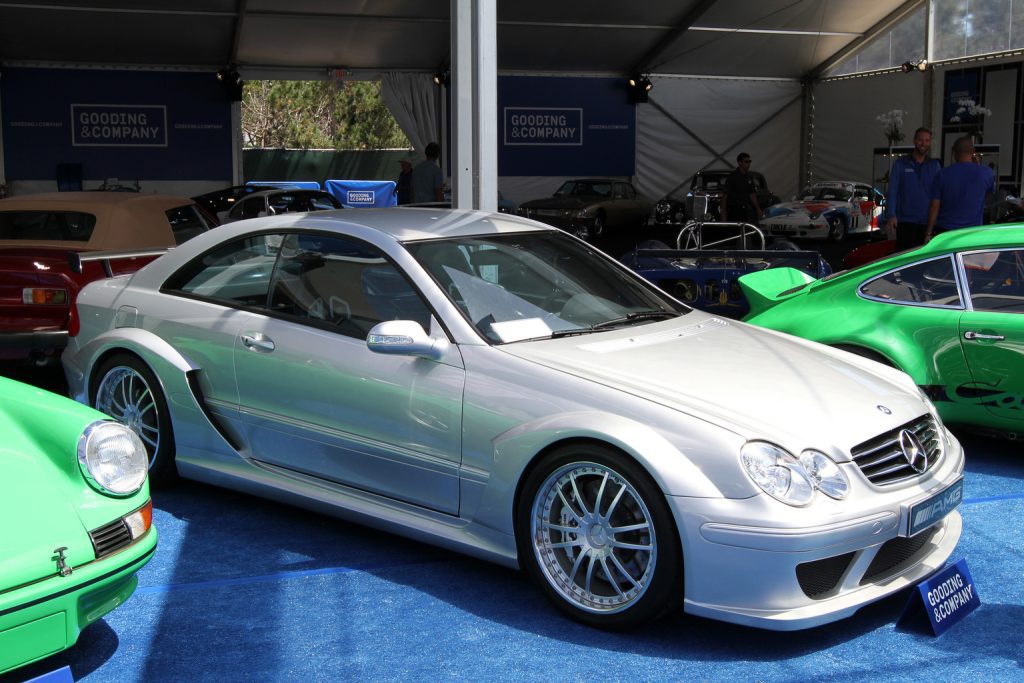 Mercedes and AMG's relationship doesn't just stretch to road cars. Their racing division has seen considerable success, and looking to the German touring car championship it's not hard to see that DNA stretching into its road cars.
Embodying the full lunacy of the DTM's hyper, flame-spitting fury in a road car was the obvious next step. In 2003, the CLK DTM AMG was revealed to the world, with an asking price into seven figures. This limited run looked like it was only a few decals away from dicing it with genuine touring cars; swollen arches and a muscular body kit bestowed it a steroidal stance, while most of the standard CLK's creature comforts were stripped out, and racing buckets and a roll cage fitted in their place.
Sitting behind the wheel, all of this adds up to remind you that the car you're sitting in is no ordinary road car – if firing up the 5.4-litre supercharged V8 doesn't do the trick.
That engine has been breathed on to produce 574bhp, enough to launch this lightweight silver missile from 0-60 in 3.9 seconds. Top speed? Near enough 200mph.
Now watch the CLK DTM AMG tear around New Zealand: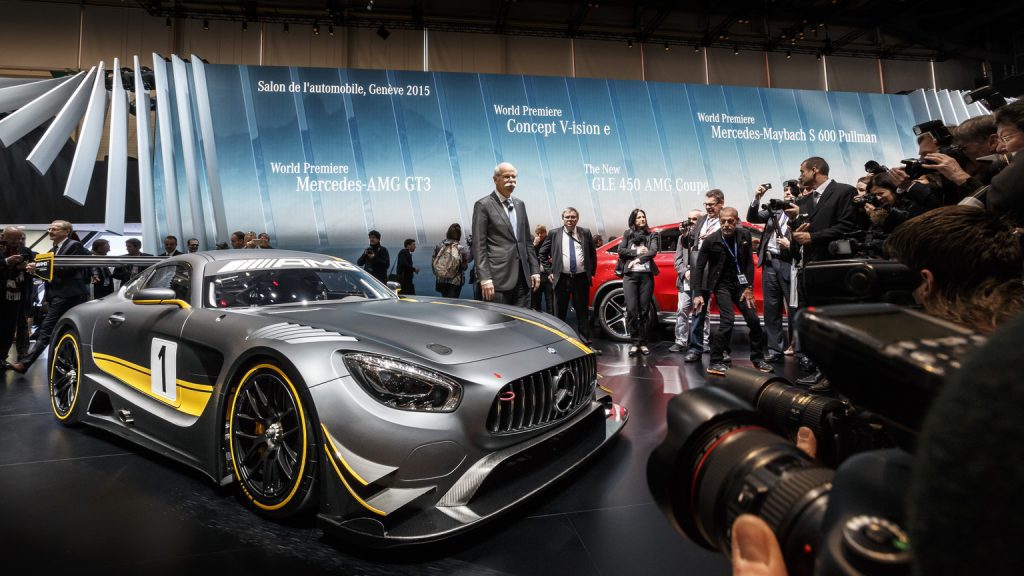 Mercedes and AMG teamed up for a track special more recently, producing the 2016 Mercedes-AMG GT3 as a racer for customer teams. Starting at around $400k, the AMG GT3 is based on and built at the same factory as the AMG GT and GT S road cars, but features the older 6.2-litre V8 in place of the road car's 4.0-litre turbocharged unit.
That 6.2 isn't left stock though – AMG has upped the redline to 7,500rpm, giving the AMG GT3 a truly athletic feel, with the added (and very welcome) side effect of unleashing the full fury of those eight cylinders on the eardrums of spectators.
Behold the full fury of the AMG GT3: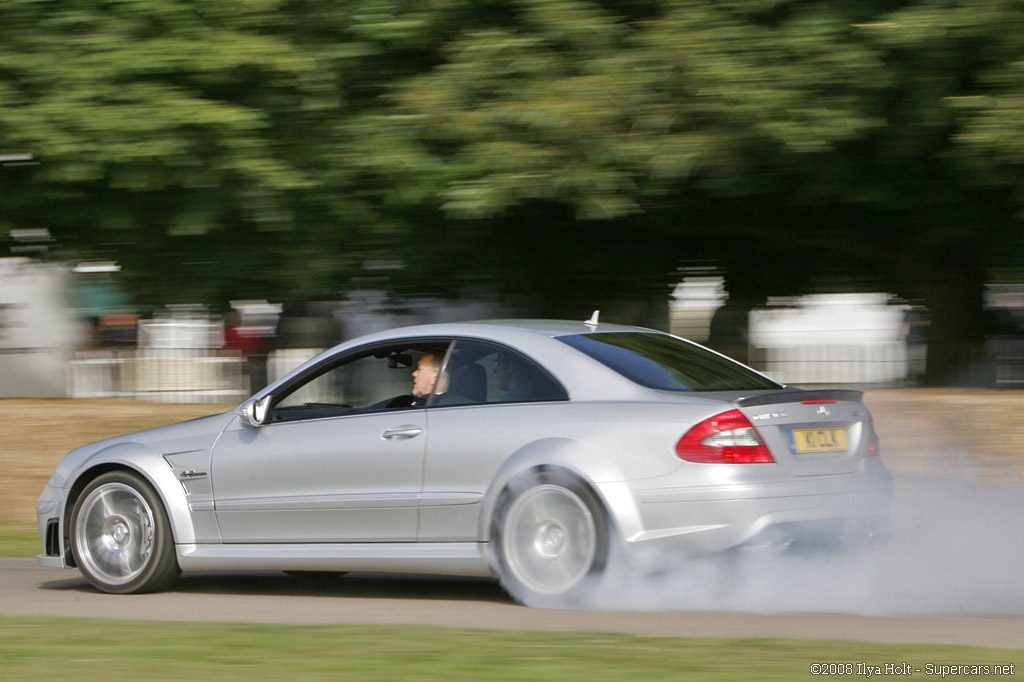 Thought to be one of AMG's finest efforts, the CLK 63 AMG Black Series took the same mentality of the CLK DTM before it. Based on the then-Formula One safety car, the CLK Black was a stripped out, hardcore version of the standard CLK with a focus purely on driving pleasure and excitement.
The 2008 hardcore CLK carried Merc's 6.2-litre V8, which produced 507bhp and 465 lb-ft of torque – 370 lb-ft of which is available from just 2000rpm, which helps make sideways the new forwards in the bend.
Only 700 were made, sizing up to the 911 GT3 RS at the time as a track car you could take on the road, scaring the bejesus out of any mere mortals who dared go close enough to the loud pedal. Despite the extra power, the Porsche was quicker to 60 than the black series, hitting the mark in 4.1 seconds to the Black Series' 4.3.
Arguably though, the driver in the Merc would have a lot more fun getting there, and make a hell of a lot more noise; the AMG Black Series produced a fabulous, blistering, thunderous roar which no flat-six could ever hope to match.
Try not to get too jealous of Alex Goy as he takes us through some notable models to receive the Black Series treatment, including the CLK 63: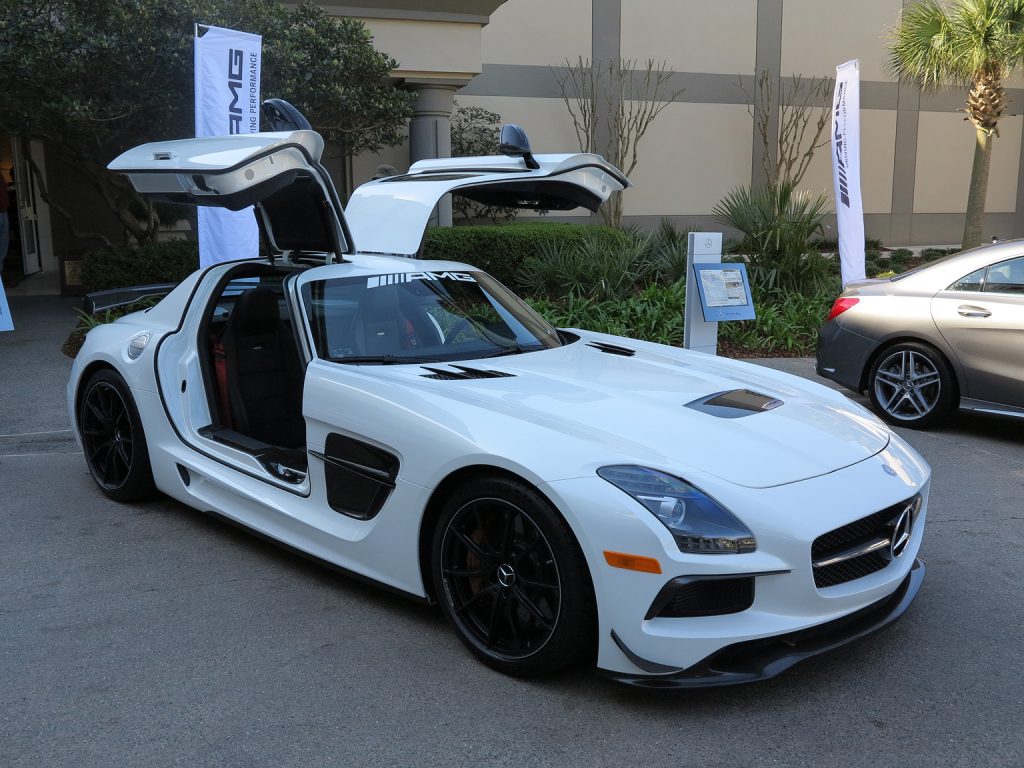 Mercedes-Benz's gull-winged retro supercar was no slouch,but once AMG got their hands on it and gave it the Black Series treatment, it became a full-on track hero.
Power output from the 6.2-litre naturally aspirated V8 was upped from 584bhp in the standard car to 622bhp, while weight was saved wherever the engineers could find it. All of this combined for one of the quickest and most focused track weapons to come out of Affalterbach.
0-60 in just 3.5 seconds despite a drop in torque over the standard car, and a top end of 196mph. Most impressive is the 8000rpm redline, taking that enormous V8 power plant stratospheric.
AMG also widened the track front and new, and enhanced the suspension for track work, as well as adding aero touches to help the SLS Black Series stick to the track; that hasn't removed its tendency to drift in wide, maddening arcs until its huge tires are down to the cambers.
Here's a video of Chris Harris doing just that, as well as exploring some of the weight-saving methods employed in the SLS Black's design: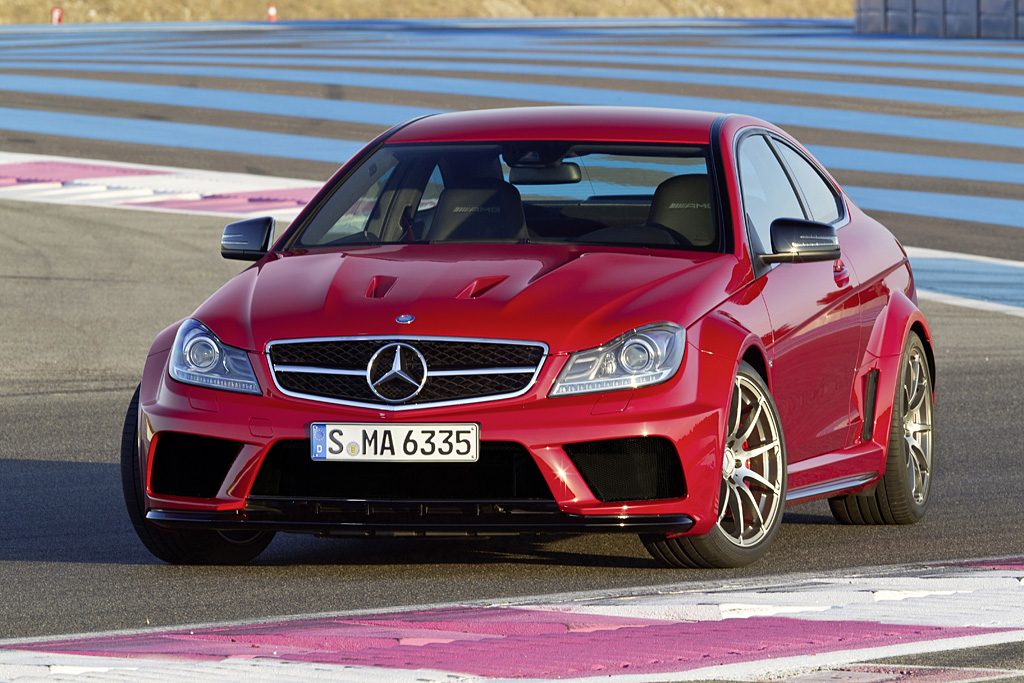 Continuing in the mold of previous Black Series cars, the C 63 AMG Black Series of 2012 was another fire-spitting smoke machine. Powered again by the 6.2 V8, AMG fitted the engine with SLS parts to increase power to 510bhp and 457 lb-ft of torque.
While the 7,200rpm redline isn't as high as the Black Series SLS's 8,000rpm, the C 63 Black Series is still quite the athlete. 0-60 in 3.7 seconds is hardly slow, and it receives similar treatment to its suspension as the SLS, with a widened track to aid handling and adjustable suspension for those that want to get really geeky about their lap times.
The removal of much of the interior, including the rear seats, and a generous application of Alcantara help reinforce the C 63's racey feel, but for such a serious bit of kit, it's very easy to act incredibly silly in it, as shown in the video below:

Let us know what your favorite Mercedes-AMG car from the last fifty years is!
Save
Save
Save