1956 Nash Rambler 'Palm Beach' Coupe
This is a one-of prototype developed by Pinin Farina at the request of Nash designer George W. Mason. It was intended as the production replacement for the Nash-Healey, but the project never reached fruition. Never-the-less, the sole prototype has many interesting details that Pinin Farina envisioned for the American market and it is a fully functioning car.
Named after Palm Beach, Florida, this car was built on the Nash Rambler planform which was also George Mason project. He was interested in small-car designs such as the Metropolitan which he developed in conjunction with Austin of England. The Palm Beach Coupe used a similar chassis, but had a built-up box section around the sills that the body attached to.
Pinin Farina's design lent from the Jet Age of American design, particularly with its prominent rear tail fins and circular front intake from the PF 200 Lancia also design by Pinin Farina earlier in 1953. Rambler "R" emblems on the hubcaps are one of the only cues that hint at this car's roots. Palm Beach scripts are placed on the trunk and the side of the fins.
Inside the car has ample room for two with bucket seats and leather upholstery. The driver is treated to a two-spoke wooden steering wheel that sits in front of a custom binnacle & Nash-Healey gauges. Other features include a floor mounted 3-speed manual gearbox, deep pile carpets and adjustable bucket seats.
Painted in metallic emerald green, the Palm Beach first appeared at Pinin Farina's stand at the Turin Auto Show alongside the Alfa Romeo Super Flow I and the Lancia America. It eventually made it to the Henry Ford Museum in spring of 1957. Later, it graced the cover of Motor Trend's August 1957 magazine.
By the time the Palm Beach had made an impression, AMC canceled both the Nash and Hudson brands. Chairman and CEO of American Motors, Roy Chapin Jr. kept the car in his personal collection and it eventually was acquired by Joe Bortz for his collection for dream cars. He kept the car intact up until 2007 when Mr. Jacques Harguindeguy acquired the car an embarked on its first restoration. He passed away before the car was completed and it was subsequently shown at the 2009 Pebble Beach Concours.
At the 2010 Amelia Island Auction, Gooding & Co. sold the only Palm Beach with an estimate of $700,000 to $900,000 USD, but it did not sell with a top bid of $500,000 USD.
1956 Nash Rambler 'Palm Beach' Coupe Gallery
In Detail
| | |
| --- | --- |
| type | Concept / Prototype Car |
| released at | 1953 Turin Auto Show |
| built at | Italy |
| coachbuilder | Pinin Farina |
| production | 1 |
| engine | Inline-6 |
| fuel feed | Single Weber Carburetor |
| displacement | 3212 cc / 196 in³ |
| power | 61.1 kw / 82 bhp @ 3800 rpm |
| specific output | 25.53 bhp per litre |
| front brakes | Drums |
| rear brakes | Drums |
| f suspension | Independant |
| r suspension | Live Axle w/ Leaf Springs |
| transmission | 3-Speed Manual |
Auction Sales History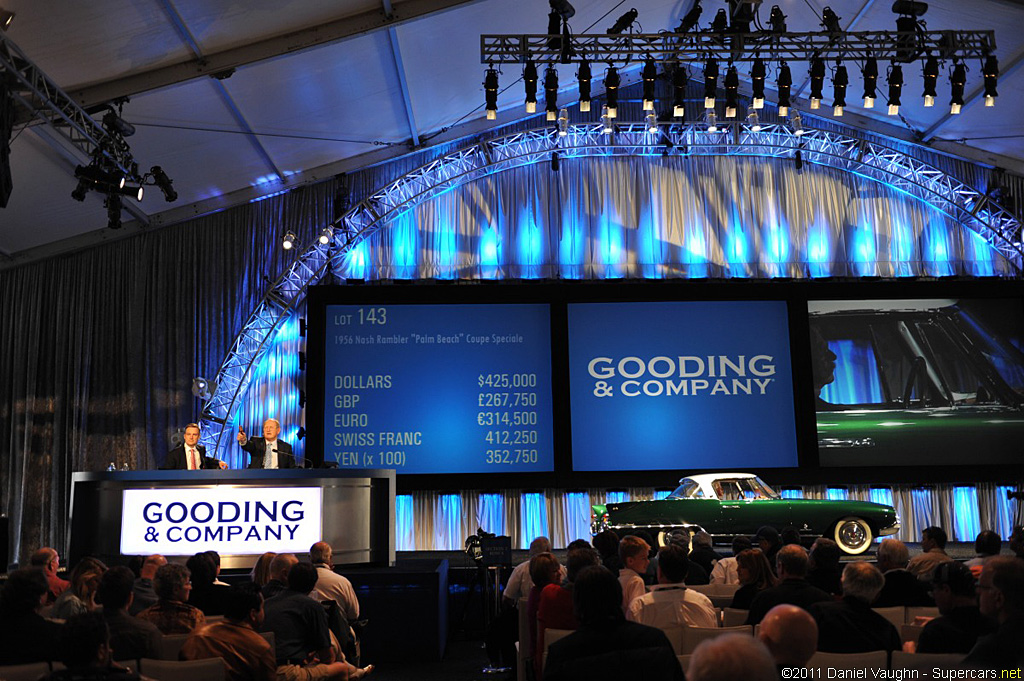 1956 Nash Rambler 'Palm Beach' Coupe – sold for $528,000 A One-Off Pinin Farina Show Car. Radical Jet-Age Styling. Fully Functioning Production Prototype. Featured on the Cover of Motor Trend Magazine. Exceptional Restoration to Original Appearance. Displayed at the 2009 Pebble Beach Concours d'Elegance. Auction Source: 2011 Scottsdale Auction by Gooding & Company