Memorable & Notable 1990s Cars That Totally Hit the Mark and We Totally Miss
No fancy introduction needed, these are the most fun, memorable and hilarious cars from the 1990s. We also threw in some awesome cars too because this is a website about supercars. Please note that this isn't an exhaustive list of the best 1990s cars, it is a fun list of iconic '90s cars.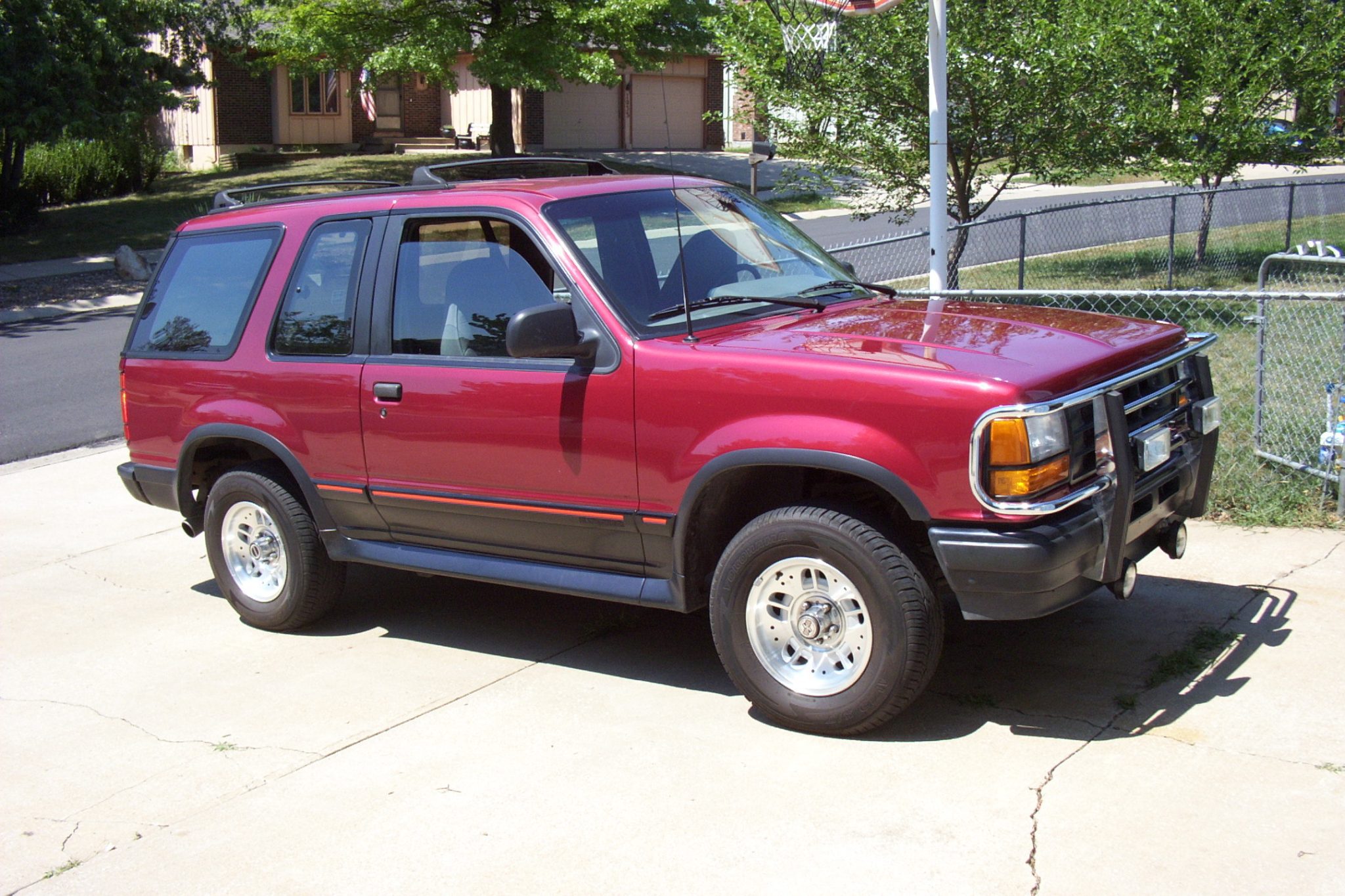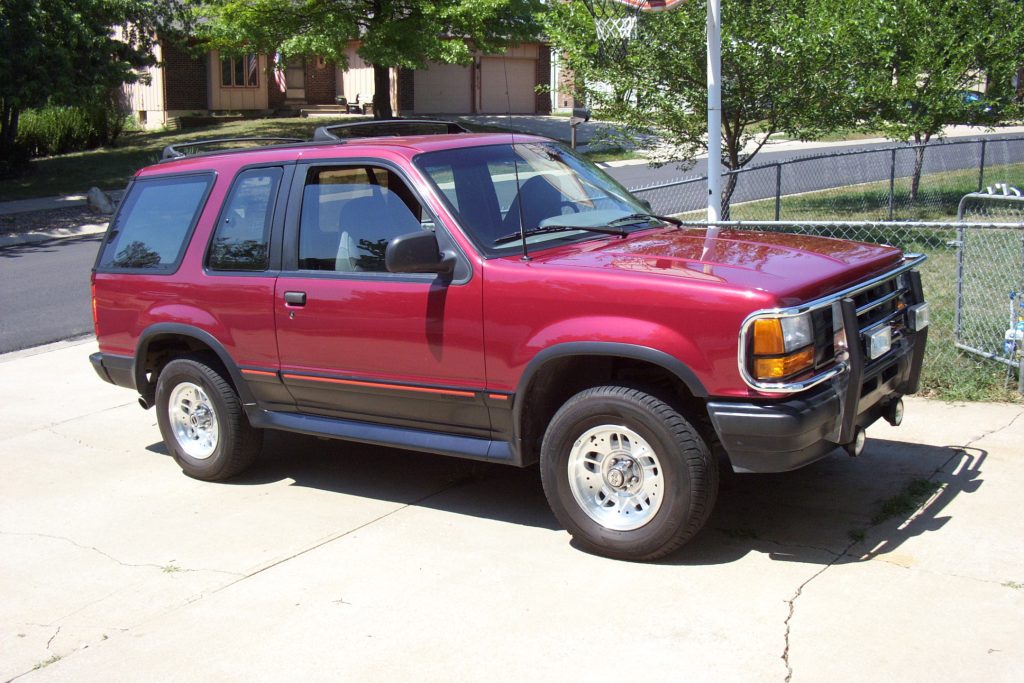 1993 Ford Explorer
A replacement of the Ford Bronco II, this sport-utility vehicle was instrumental in turning the SUV from a special-interest vehicle into one of the most popular vehicle types on the road. Being in the movie Jurassic Park helped with the sales as well. Remember some kids being attacked by a T-Rex? Tour Vehicles in the film version were 1991-1992 Ford Explorer XLTs.
1993 Ford Explorer saw another redesign of its engine resulting in additional horsepower; the new version of the 4.0 liter V-6 delivered 160 hp. A new high-end trim, the Limited, was added to the Sport, XL, XLT, and Eddie Bauer, but this new trim set a new standard for SUV luxury. Full time all wheel drive system becomes available only for the V-8 powered models.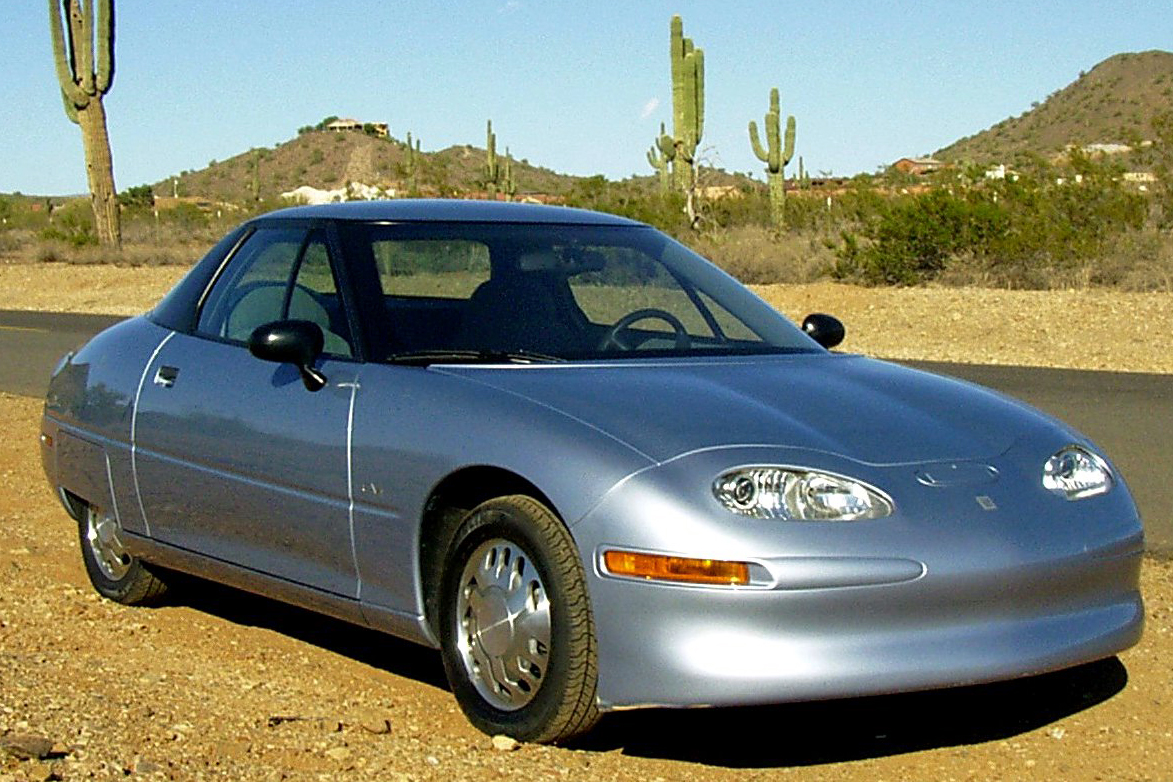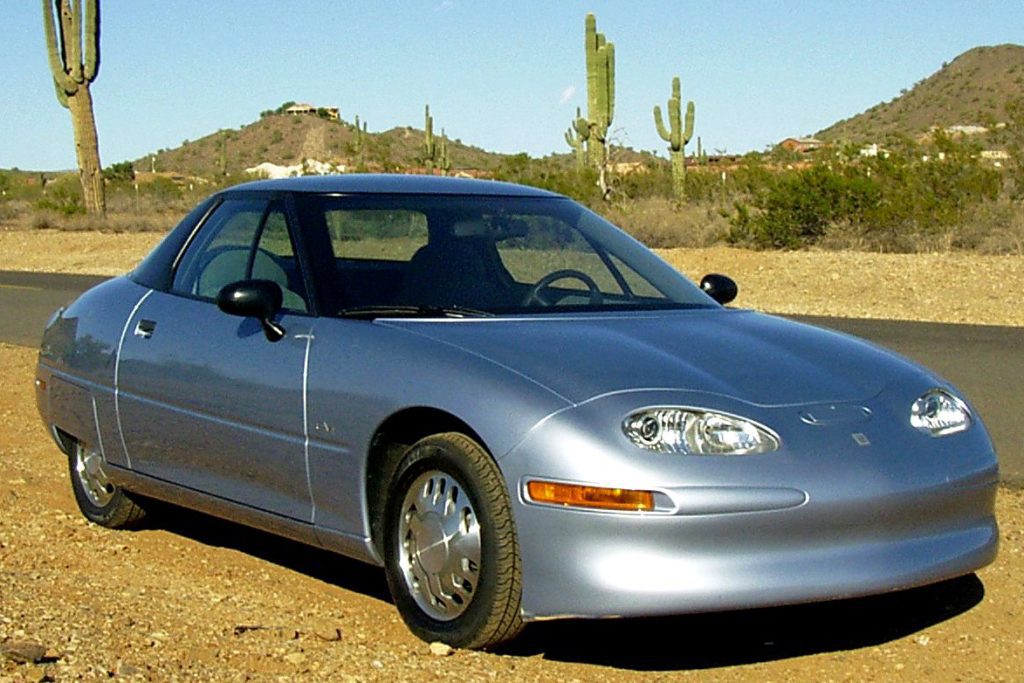 1997 GM EV1
The all-electric GM EV1 could be the car that started the downfall of GM. Remember GM filed for Chapter 11 bankruptcy in June 2009, following the recession of 2008, 2009.
The first-generation of 660 EV1s were powered by lead-acid batteries and had a stated range of 70 to 100 miles, available via a leasing program, with the option to purchase the cars specifically disallowed by a contractual clause and the suggested retail price of $34,000. Leasing rates for the EV1 ranged from $399 to $549 a month. The first lessees of these nineties autos included celebrities, executives and politicians.
The history of GM EV1 started in 1990 when GM introduced the "Impact" concept car at the Los Angeles Auto Show. The Impact was the first car with zero emissions. The Impact was eventually produced as the EV1 for the 1996 model year leased by the General Motors from 1996 to 1999. Having available through dealers located in only a few regions, the idea was to lease, rather than sell, the EV1 to individuals. Hence some thought that demand for these 90s cars was artificially deflated.
In 1999 GM decided to stop production of the EV1s. When the individual leases had expired, they declined to renew the leases or allow the lessors to buy them. With the exception of a few which were donated to museums, all were destroyed by GM.
It was reported that as a result of the forced repossession and destruction of the majority of EV1s, an intact and working EV1 is one of the rarest cars from the 1990s. An intact EV1 recently sold for US$465,000. Soon after the death of EV1, the Prius took over as the halo 'green car'.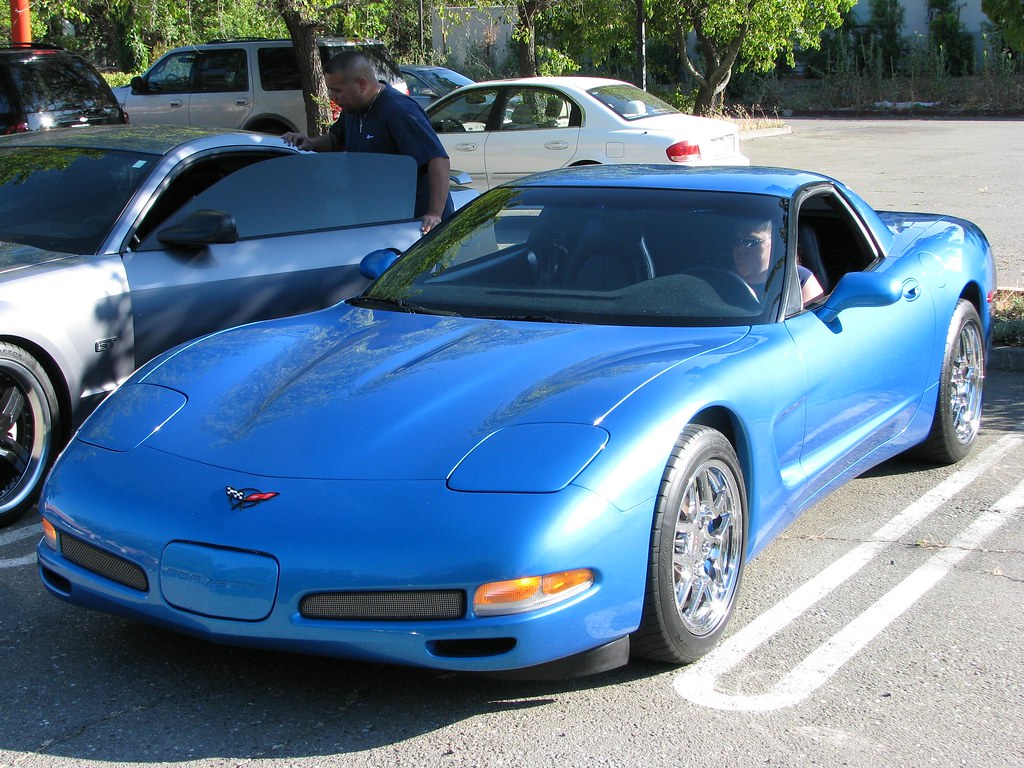 1997 Chevrolet Corvette (C5)
The C5, a sports car produced by the Chevrolet division of General Motors for the 1997 through 2004 model years was a major change from the previous generation. The striking difference that these 90s cars had was the hydroformed box frame, which was an elegant solution to the complex frame design. Now there was less noise in the interior. Gone were the squeaks and rattles of the C4 replaced by a stronger frame that would last for at least two more generations.
1997 Corvette is known as the most retooled version of the historic car since 1953. Of particular note is the use of a "transaxle," the transmission was moved to the rear of the car to form an integrated, rear-mounted transaxle assembly which was connected to the C5 engine, an all-new LS1 engine via a torque tube; this engine/transmission arrangement helped facilitate a desirable front-rear weight distribution for the vehicle.
Despite its "exotic" look and performance, consumers consistently applaud the C5's exceptional cornering ability, good price/performance characteristics and its head turning styling. Many feel that this is the great "American" sports car, one of those trendsetting nineties automobiles.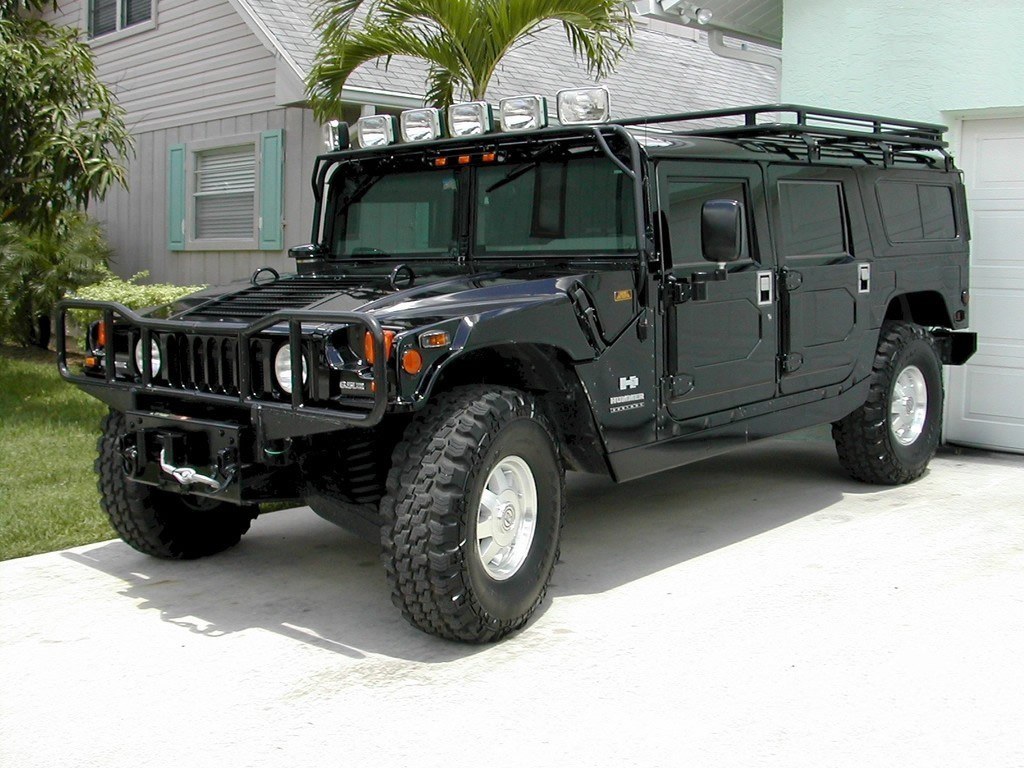 1994 GM Hummer H1
Hummer H1 is a civilian off-road vehicle based on the M998 Humvee, which was created by AM General. The vehicle was produced from 1992 through 2006, and was the first of what became the Hummer line. In 1999 in a joint venture between General Motors and AM General. AM General continued to manufacture these 90s cars while GM did the marketing.
With the ability to maul unpaved roads, the original Hummer was everything a car enthusiast could want in a vehicle: Impractical, expensive, and rare. Riding on a Hummer is how would you better choose to engage in extreme off-roading and Interstate intimidation.
Popularized by photos from Operation Desert Storm, actor Arnold Schwarzenegger owns several variants of the Hummer vehicles.
The Hummer H1 shares some common driveline parts with its Humvee brethren. Hummer H1s are unique in the way they handle off road and in their interior arrangement. Passenger and highway comfort are sacrificed for maximum mobility. On June 1, 2009, as a part of the General Motors bankruptcy announcement, the company revealed that the Hummer brand would be discontinued.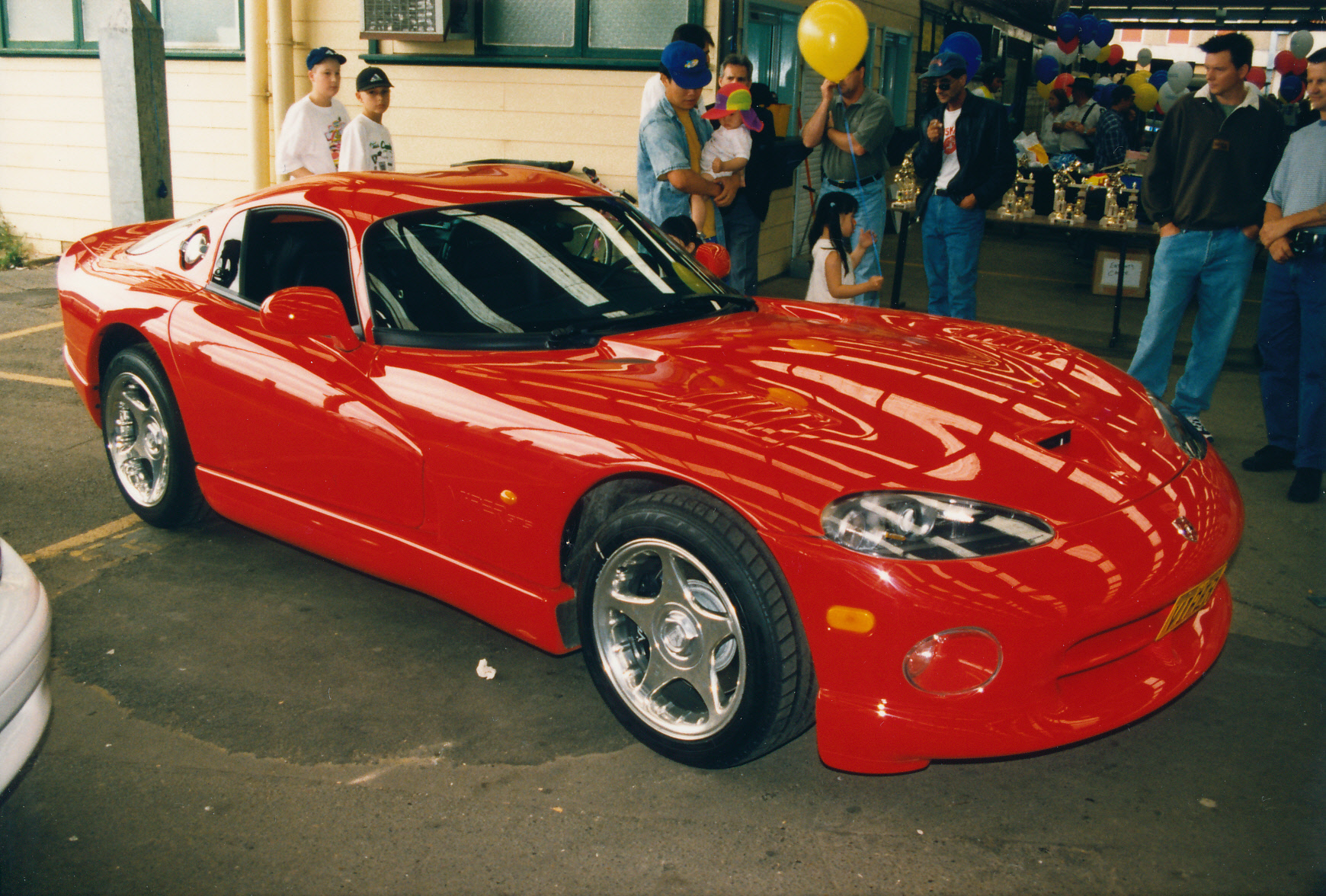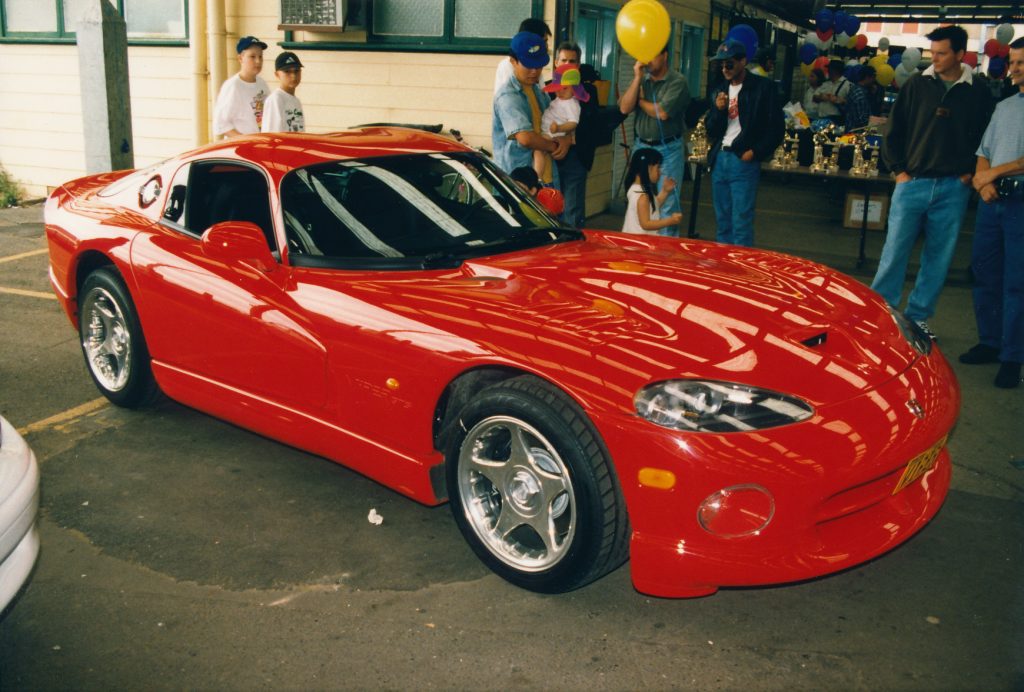 1992 Dodge Viper GTS
The Dodge Viper is a V10-powered sports car, manufactured by the Dodge division of Chrysler. With a top speed of 164 mph, it was able to compete with most of the exotics of the time at a fraction of the cost. With a 8.0-liter, 10 cylinder engine that's pumping out 400 hp, 1992 Dodge Viper is built for acceleration. However, the car proved tricky to drive at high speeds, specially for the unskilled.
With the legendary Carrol Shelby hired as a consultant, these 90s cars came out with a unique and truly timeless design which makes it a very thought after car of the 1990's.
Along with the absence of exterior door handles, the vehicle lacked side windows and a roof. It also didn't come out with AC out of the factory. Despite those, the Chrysler corporation sold almost 10,000 of these 90s cars to the public.
The car even spawned a TV series, Viper. Viper is an action-adventure TV series about a special task force set up by the federal government to fight crime in the fictional city of Metro City, California that is perpetually under siege from one crime wave after another. The car featured is an assault vehicle that masquerades as a Dodge Viper RT/10 roadster and coupe (later, the Viper GTS replaced the RT/10).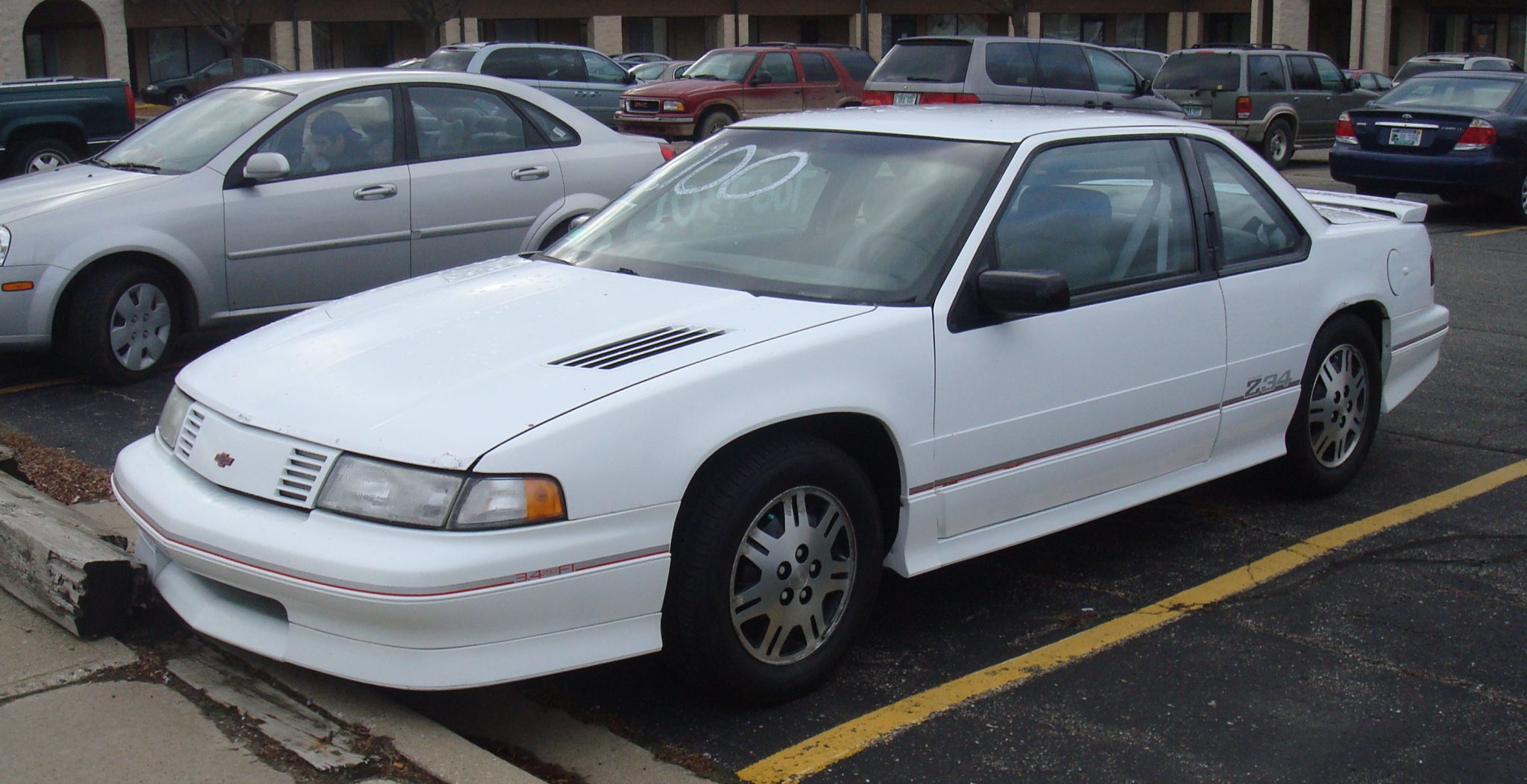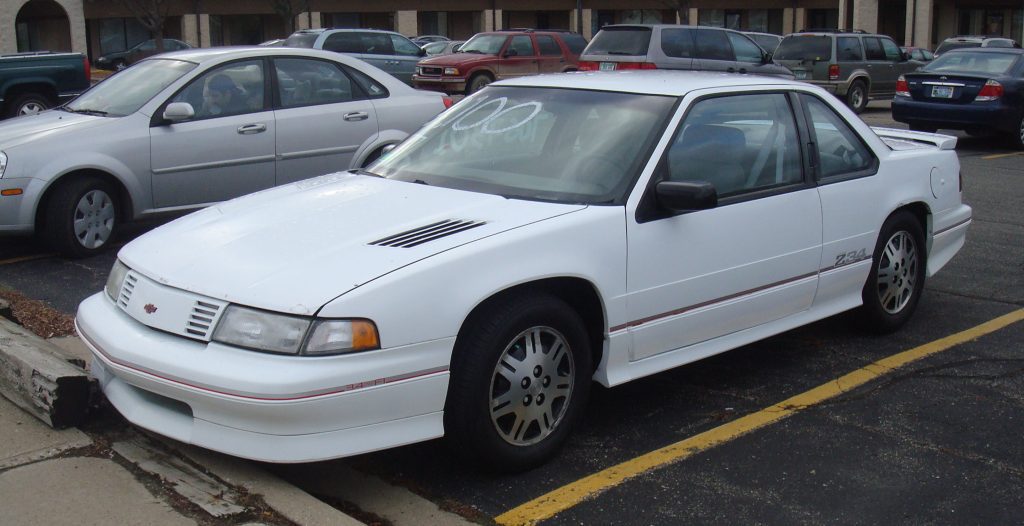 1991 Chevy Lumina Z34
In production from 1991–1994, these 90s cars replaced the Monte Carlo to become the company's official car of NASCAR. Big improvements in aerodynamics and body design helped support confidence when the Lumina was driven to victory a majority of the Winston Cup Circuit. The Z34 had a beefier front and rear stabilizer bars and a special rear suspension derived partly from the Corvette. It was the first Chevrolet sedan equipped with four-wheel disc brakes. Not only did the Z34 stop quickly, it was made with the curves in mind. It had a good ride with just enough firmness to communicate road feel.
The Twin Dual Cam V-6 is the most respectable upgrade in the Z34. As for acceleration, the Z34 could manage a 0 to 60 time of 7.2 seconds and reach a top speed of 134mph.
Today the Z34 has managed to maintain a small, but devoted following among fans of all things Chevy. Not bad for these 90s cars that were in production for only three short years.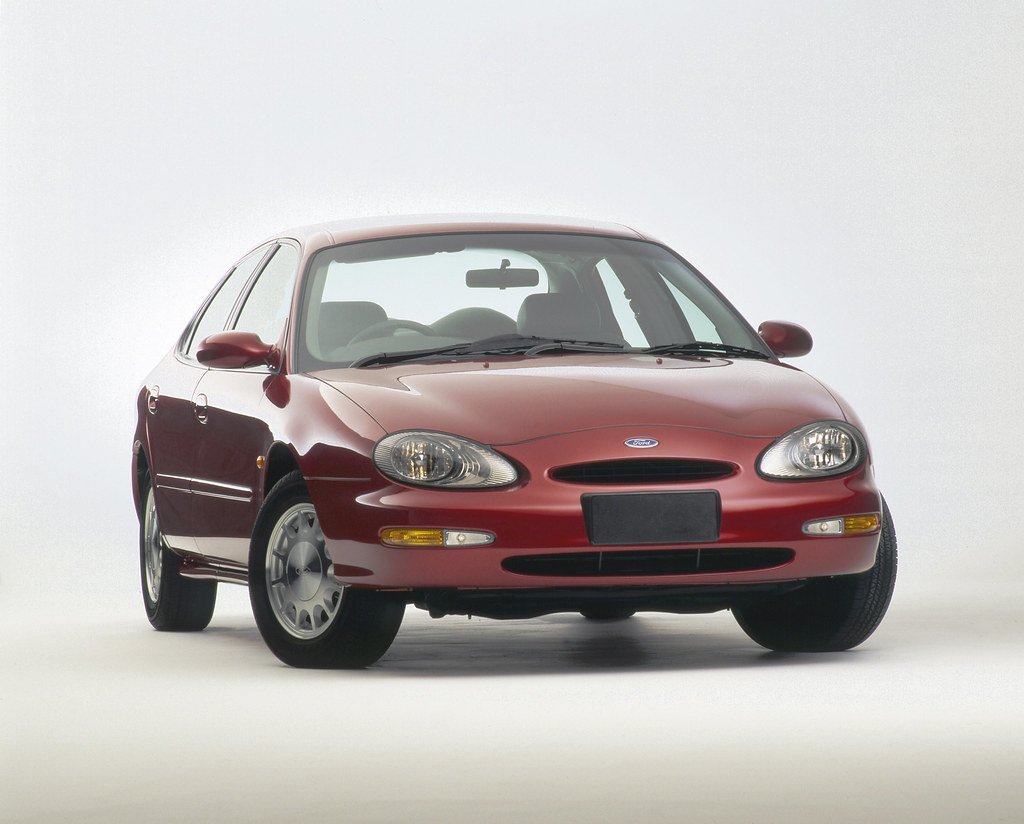 1996 Ford Taurus
In 1996, the Ford Taurus was redesigned into an extreme oval shape, a complete redesign from the previous flat, streamlined one. Jack Telnack, Taurus's chief designer, claimed it was to make the Taurus stand out to sedan buyers. Reaction to this new generation of Taurus was mixed. Ford found that customers were turned off by the car's oval shape, and although it managed to retain its title as the bestselling car in the United States, this was only because of heavy sales to rental fleets. 1997, the Taurus would lose its bestselling status to the Camry.
Taurus sales had slumped significantly, losing significant market share to Japanese sedans. Production ended on October 27, 2006 of these 90s cars that had done so much to revitalize Ford and the US industry.
It was after the ascendancy of Alan Mulally, Ford's new CEO named in late 2006 that the Taurus car was revived. The Ford Taurus went into production in 2007 as a 2008 model.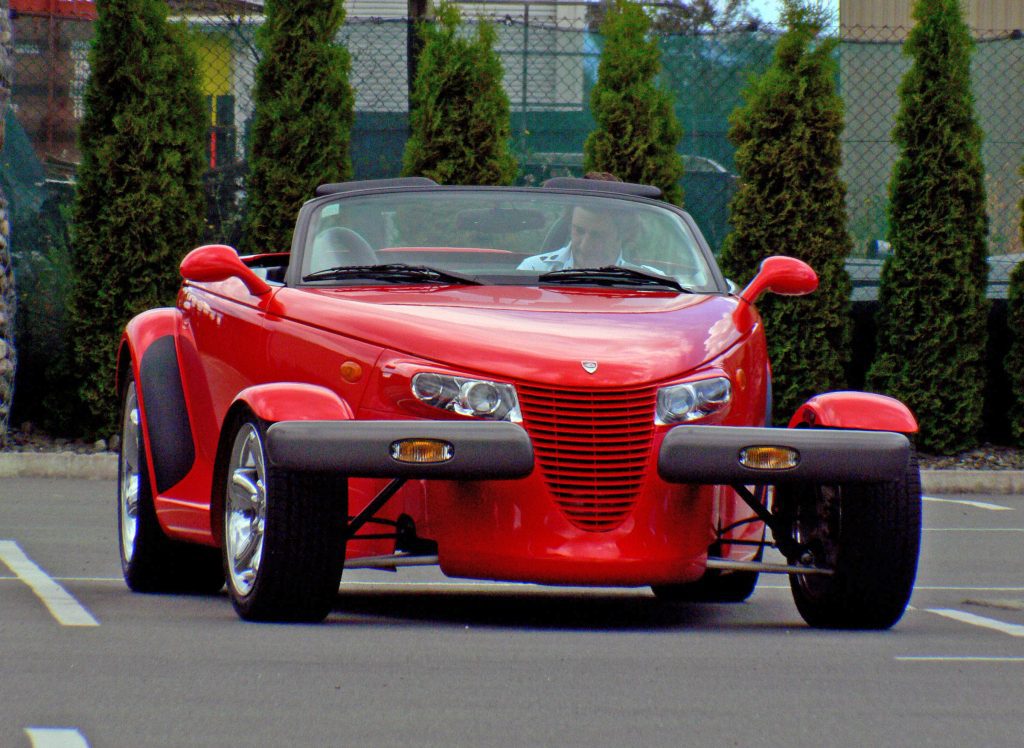 1997 Plymouth Prowler
A mass-produced (1997 and 1999-2002) 2 seater hot rod, marketed by Plymouth, the Plymouth Prowler are a direct throwback to the 1930s, with Its open, Indy racer style front wheels. They came with standard-issue 3.5-liter V6 under the hood, but good for only 214 hp. (The 1999 models came with a more powerful, aluminum block engine with an output of 253 hp).
These 90s cars didn't even come with a manual transmission. The transmission was a 4-speed 42LE automatic. Similar to that used by the C5 Corvette, Porsche 944 and Alfa Romeo 75, the transmission was located at the rear of the vehicle and joined to the engine by a flexible driveshaft that rotated at engine speed. This configuration produced a desirable 50-50 front-rear weight distribution.
Unable to produce much torque, Prowler's light weight translated into very impressive performance figures, 0-62 mph (0–100 km/h): 7.2 seconds with a top speed: 118 mph.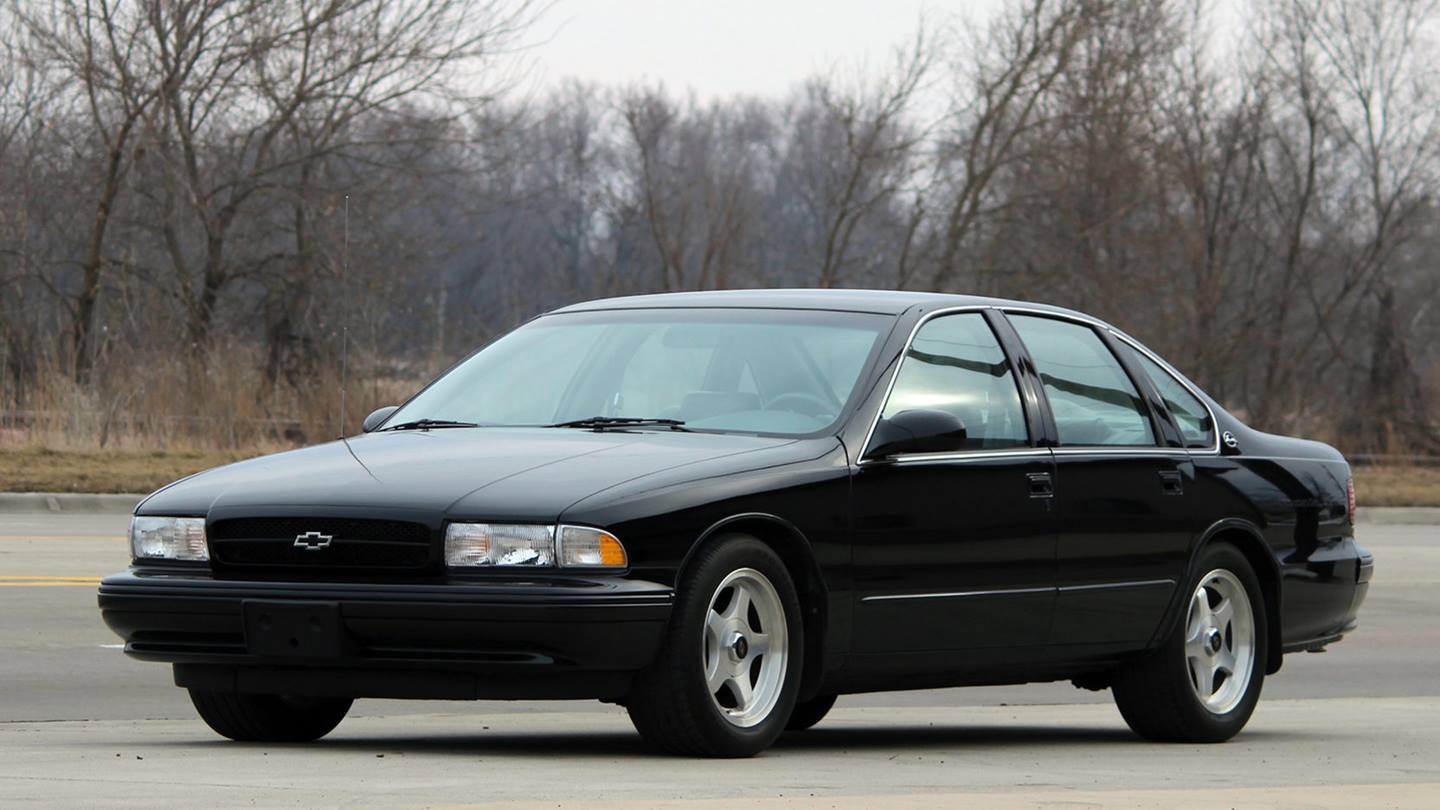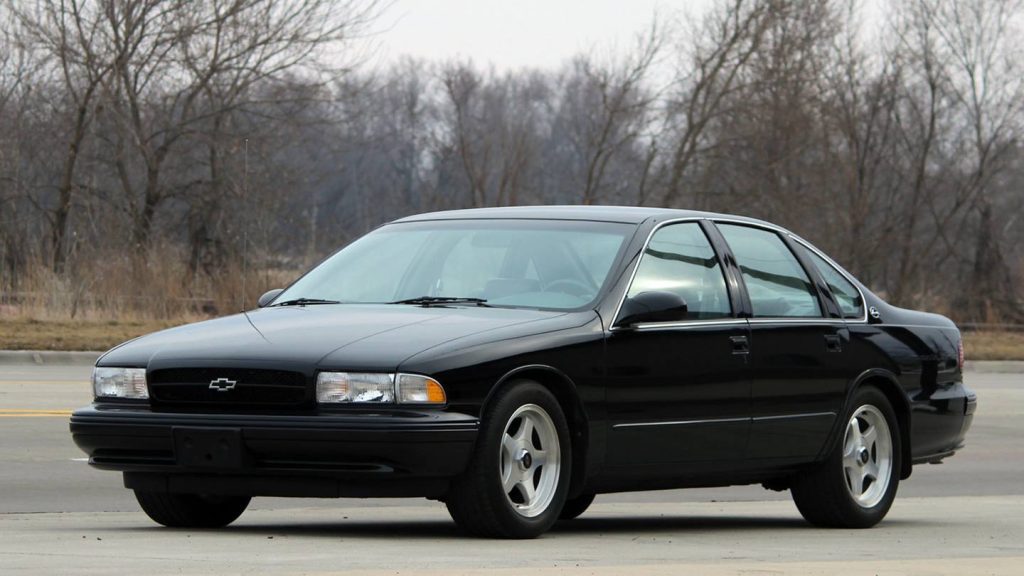 1996 Chevy Impala SS
The last of the third generation of Impalas has base engine remained a 5.7-liter V8 LT1 rated at 260 horsepower, 17 inch wheels, blackout body trim, and four doors. Some argued that it's the best of the third generation of Chevy Impala SS. 1996 Impala received improvements borrowed from a variety of Chevies, including a Z28-like instrument panel featuring race-car-reminiscent gauges.
The low suspension of these 90s cars could make it feel even faster with enhanced driving experience because of the road-hugging features. It sounds great with that mellow V8 rumble and provides amazing performance.
Those who want roominess & muscle, these 90s cars had it all. The last of the third generation of Impalas was arguably the best: The 1996 Impala received improvements borrowed from a variety of Chevies, including a Z28-like instrument panel featuring race-car-reminiscent gauges.
Of course, Chevy raised consumer hopes and expectations. After the '96 model year, the Impala would be discontinued – again – until 2000. The entire B-body line, consisting of the Chevrolet Caprice, Impala SS, and Buick Roadmaster, was discontinued by General Motors, as GM wanted more assembly lines to be able to produce more profitable SUVs.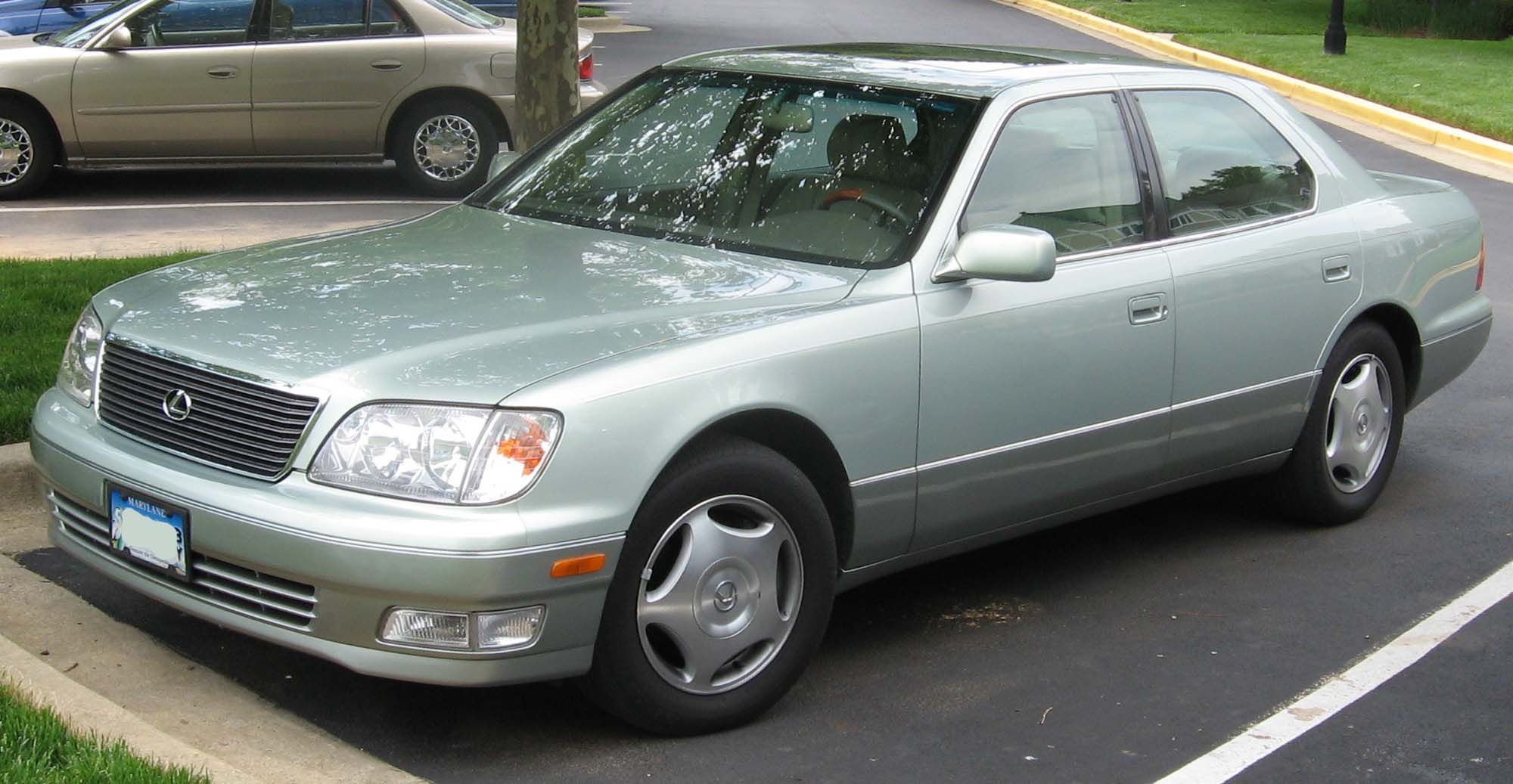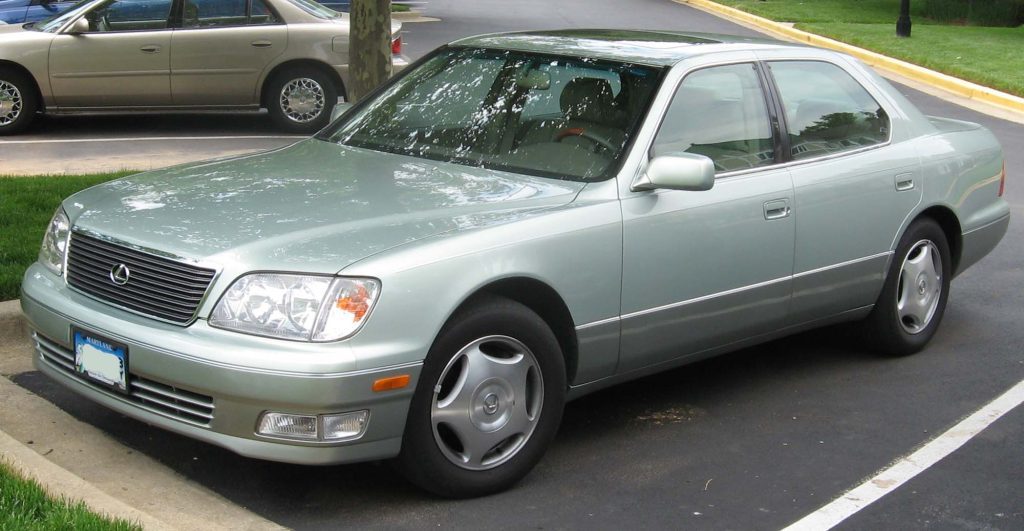 1998 Lexus LS 400
Lexus' flagship model is recognized as one of the most reliable vehicles ever built, having held the top ranking in J.D. Power and Associates' U.S. Vehicle Dependability Survey from 1994-2009 and receiving Consumer Reports' highest rankings for vehicle.
The 1998 LS 400 received a new engine and some additional interior features: the cabin received upgrades, including a trip computer, HomeLink, retractable rear headrests, reading lamps, and ultraviolet-tinted glass while the climate control gained a micron filtration feature with a smog sensor.
The new four cam 4.0 liter V-8 featured Toyota's Variable Valve Timing + intelligence technology. VVT+i boosted engine power, while lowering emissions and improving fuel efficiency.
The LS400's V-8 now produced 290 horsepower and 300 pound-feet of torque plus a new 5-speed automatic transmission. It could now go 6.5 second from 0-60 and braked from 60 mph to a stop in just 118 feet.
Experiencing success with its upper class Lexus, Toyota, just like Honda with its Acura brand, did just what the Germans do best: quality, quality, quality. Who could have imagined that these Japanese car makers, who just some decades back, were making cars made of little tin cans, could whip up a hyper luxury cars just like Benz and BMWs. Who could have thought that their creations would be one of those 1990s imports into the US? By 1998, the smooth and quiet ride atop these 90s imported cars had put a dent into sales of Lexus's competitors.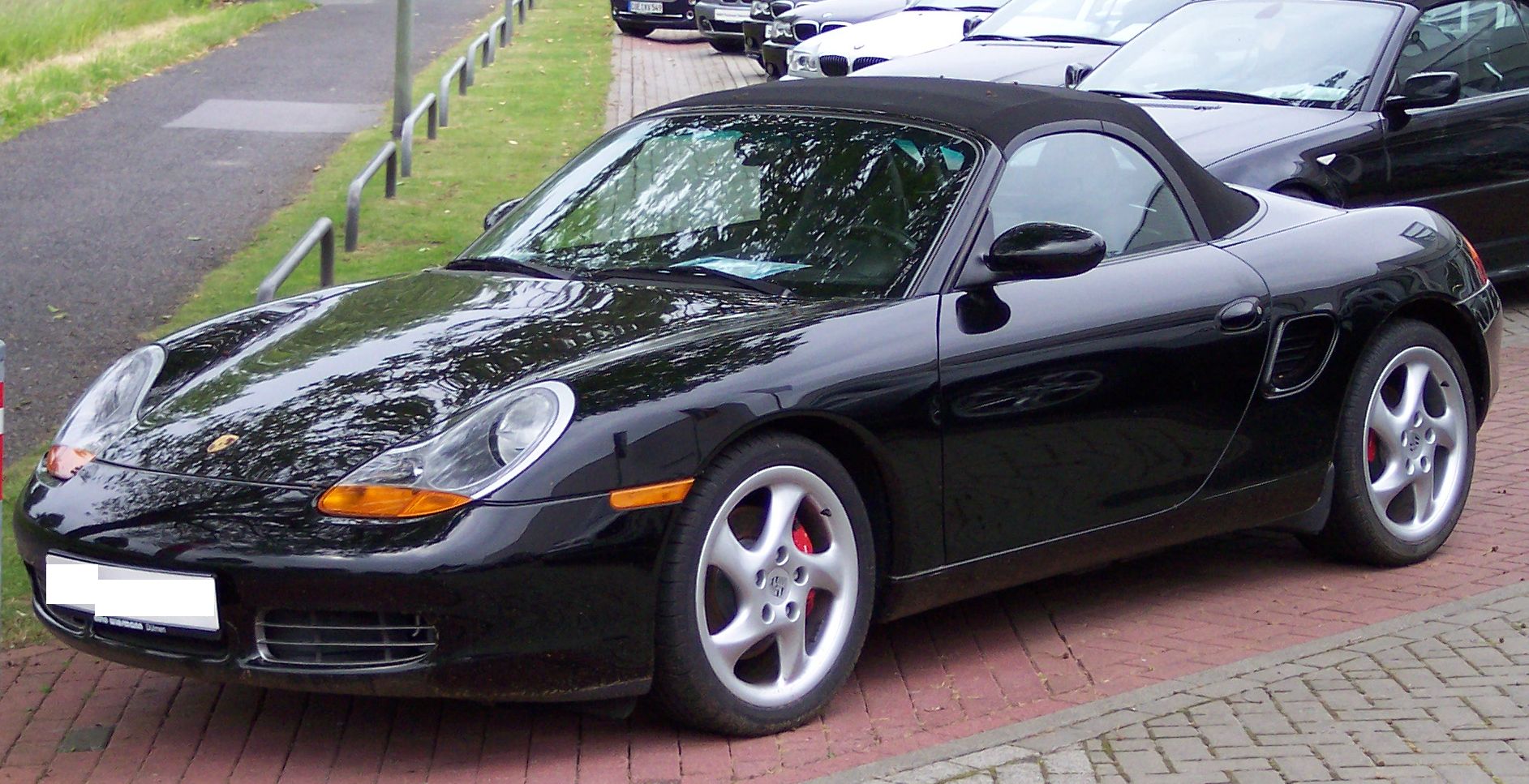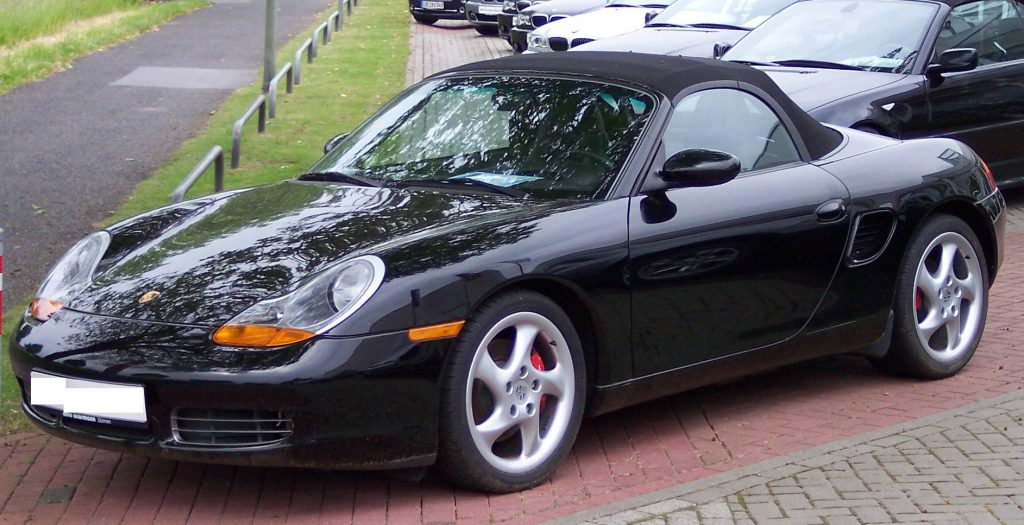 1997 Porsche Boxster
The Porsche Boxster is a mid-engined two-seater roadster built by Porsche. The Boxster is Porsche's first road vehicle to be originally designed as a roadster since the 550 Spyder.
The car that Porsche has been wanting to create for 30 years. Following the footsteps of the fabled 911, the Boxter came out with awesome handling, precision steering, adequate power, and a open-top motoring experience. These 90s imported cars were an immense hit. Porsche first made 5,000 Boxster a year, then increased it to 10,000 in 1998. It was opined that without the Boxster, Porsche as we know it would not exist today.
These 1990s imports were extremely popular at the time, picking up countless end of year awards, and who wouldn't love a car with excellent acceleration, braking and handling. Acceleration was brisk – Car and Driver clocked 6.2 and Road & Track got 6.1.
It was powered by a 2.5 liter flat six-cylinder engine named the M96, a water-cooled, horizontally opposed ("flat"), six-cylinder engine. It was Porsche's first water-cooled non-front engine. In the Boxster, it is placed mid-engine which provided a low center of gravity, near-perfect weight distribution, and neutral handling.
Having demand exceed supply was doubtless a happy problem for Porsche after its recent lean years, and with the development of these 90s imported cars, one happy fan enthused: enthused: "No other roadster offers the same dazzling blend of performance, handling, ride and refinement." These were great 90s imported cars and these quick 1990s imports would still grace the roads until today.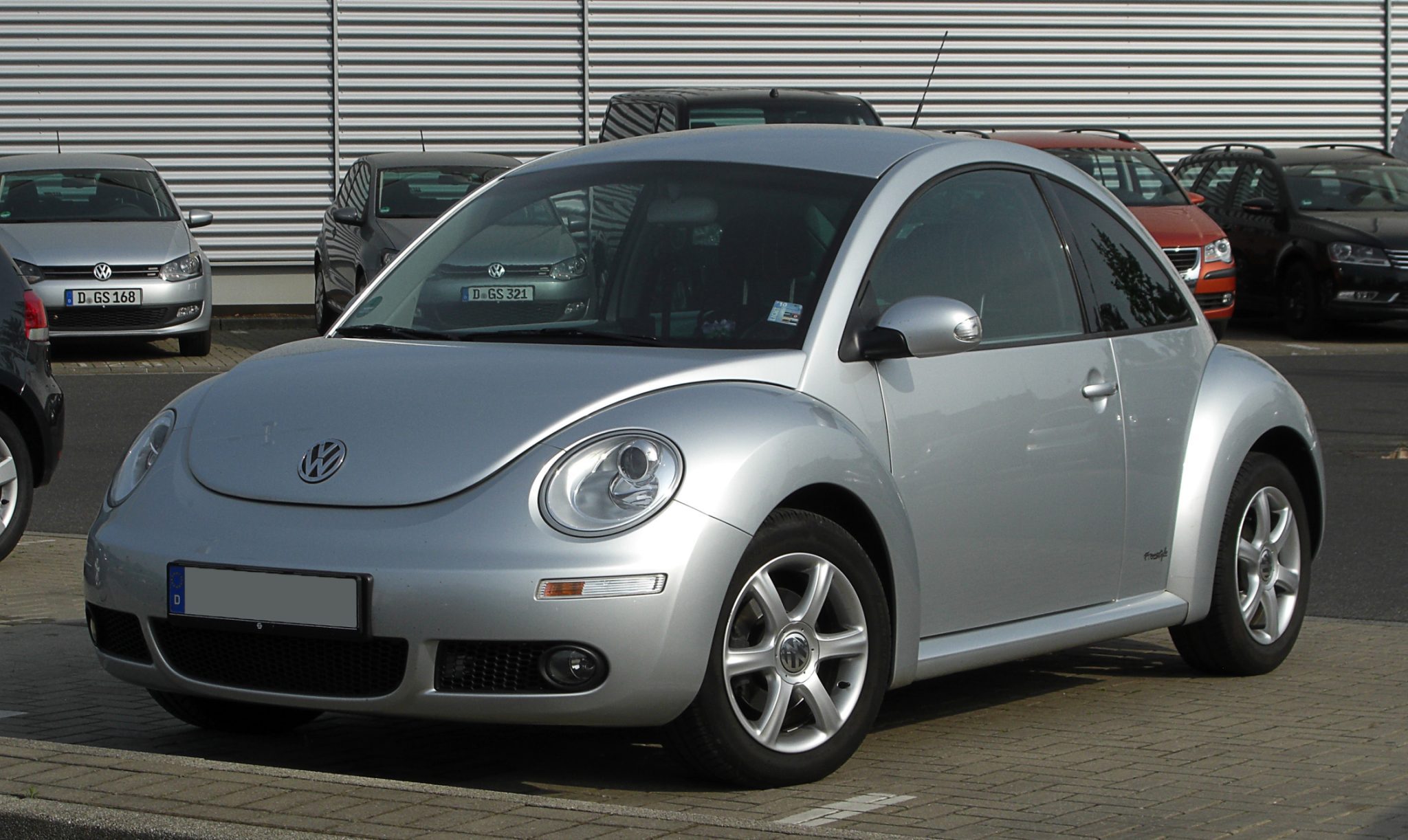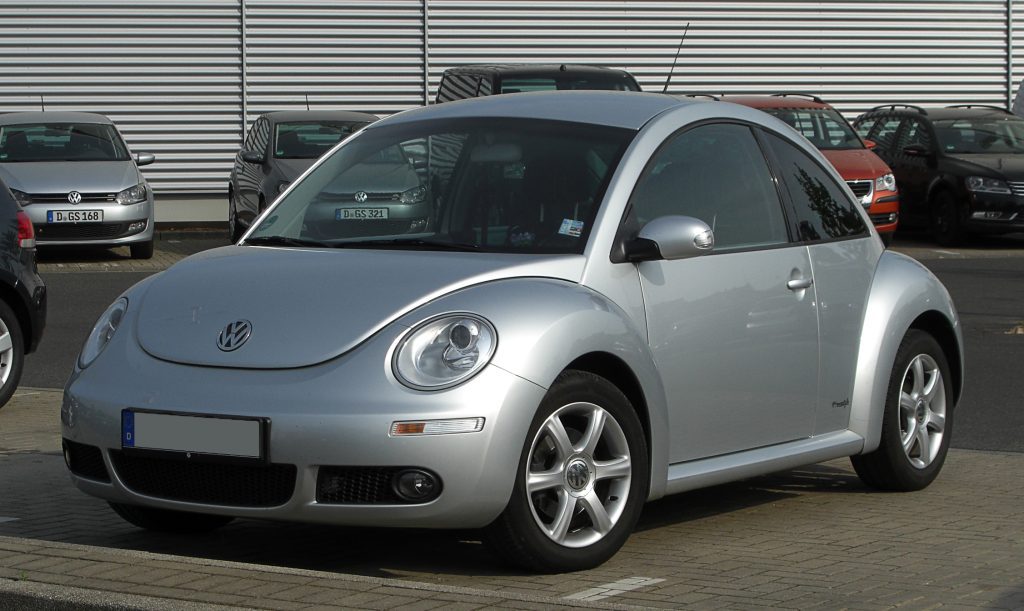 1998 VW New Beetle
The Volkswagen Beetle made a triumphant return to North American showrooms in 1998, after having been discontinued (in the U.S., at least) in the late 1970s. With a look that mixed contemporary styling with a retro attitude, it was still distinctively a Beetle, and American drivers loved it.
The New Beetle carries many design similarities with the original VW Beetle: separate wings, vestigial running boards, sloping headlamps and large round tail lights, a high rounded roofline.
The VW New Beetle's comeback was based on the idea that the public as a whole buys cars on looks as well as nostalgia. And there is no smarter way to pack your showrooms than remake a car everyone loved. A lot of the baby boomers remember and are still fond of the cars of their youth. They came and viewed the new incarnation of their beloved Bugs. And these 90s imported cars pleased them.
A single New Beetle model was offered for 1998, a two-door hatchback (in two trim levels, base and TDI) riding a 98.9-inch wheelbase. Overall length was 161.1 inches; width was 67.9. The car was 59.5 inches tall. Curb weight was 2,712 pounds. These great 90s imported cars were assembled at Volkswagen's plant in Puebla, Mexico.
Power was provided by a 2.0-liter, 4-cylinder, 115-hp gas engine or a 1.9-liter, 4-cylinder turbodiesel engine (called a TDI, or Turbo Direct Injection) that generated 90 hp and got an impressive 48 mpg on the highway. Available transmissions were either a five-speed manual or a four-speed automatic.
The New Beetle was built on the VW Golf platform, and a lot of its features were lifted from that model. Power steering, power brakes, power heated mirrors, front and side airbags, air conditioning, cruise control, keyless entry, and an anti-theft alarm system were among the standard features.
But the look was definitely similar to that old iconic cars that were a staple of American roads. And yes, they came in bright colors like red, blue, and lime green.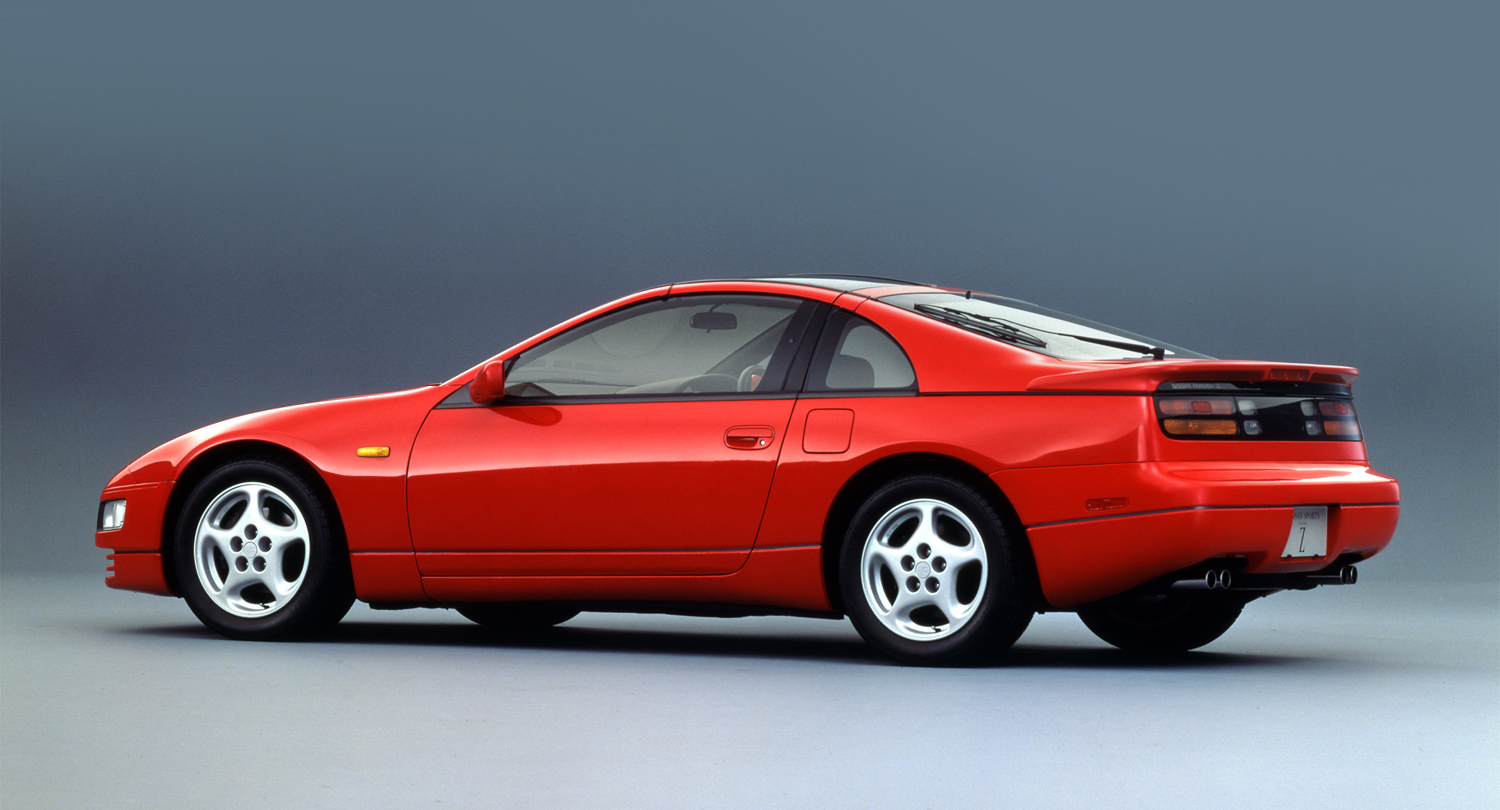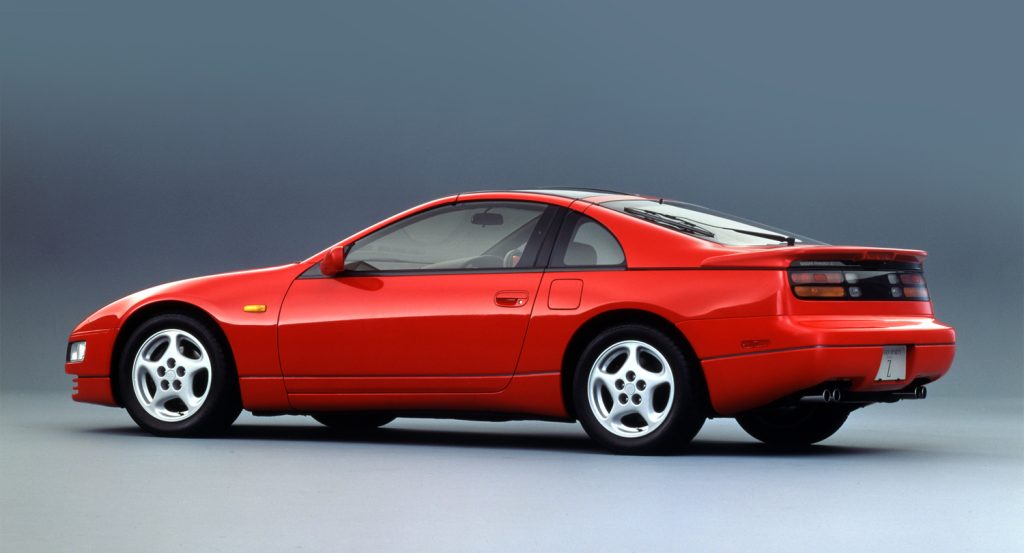 1990 Nissan 300ZX Turbo (Z32)
Nissan redesigned the 300ZX, part of the company's beloved Z sports car line, for the 1990 model year. Nissan utilized the Cray-II supercomputer to completely design the new 300ZX with a form of CAD software. This made the 300ZX one of the first production cars to be developed in a CAD program. In return, it featured a whole host of technological advancements.
An instant hit, the ZX won Motor Trend's "Import Car of the Year" in 1990 as well as "One of the Top Ten Performance Cars". Automobile Magazine honors the 300ZX/300ZX Turbo as its "Design of the Year" and adds it to their "All Stars" list. Road & Track names the 300ZX Turbo "One of the Ten Best Cars in the World", and Car and Driver adds it to their 10 Best for the seven years in which it was in production in America. These 90s imported cars reached the one million sales mark in the 1990 model year, making it the all-time best selling sports car.
Low slung, wide, powerful, smooth handling, powerful engine, solid reliability, it also featured timeless design – classic, sporty looks. It was a showcase of superb Nissan engineering. It not only revitalized the Z fan-base, but it attracted a whole generation of buyers. The Z had a twin turbo engine and a 4-wheel steering system, the two features that the Japanese rivals copied.
Available in three trim levels: the 2+2 hatchback, the GS hatchback, and the turbo hatchback they all came similarly well-equipped, with power windows and doors and air conditioning. The main differences among the trims were body style and engine. The GS and the 2+2 shared a 3.0-liter, 222-horsepower V6, and the turbo had a 3.0-liter, 300-horsepower V6. Fuel economy of these 90s imported cars was about 18/24 mpg.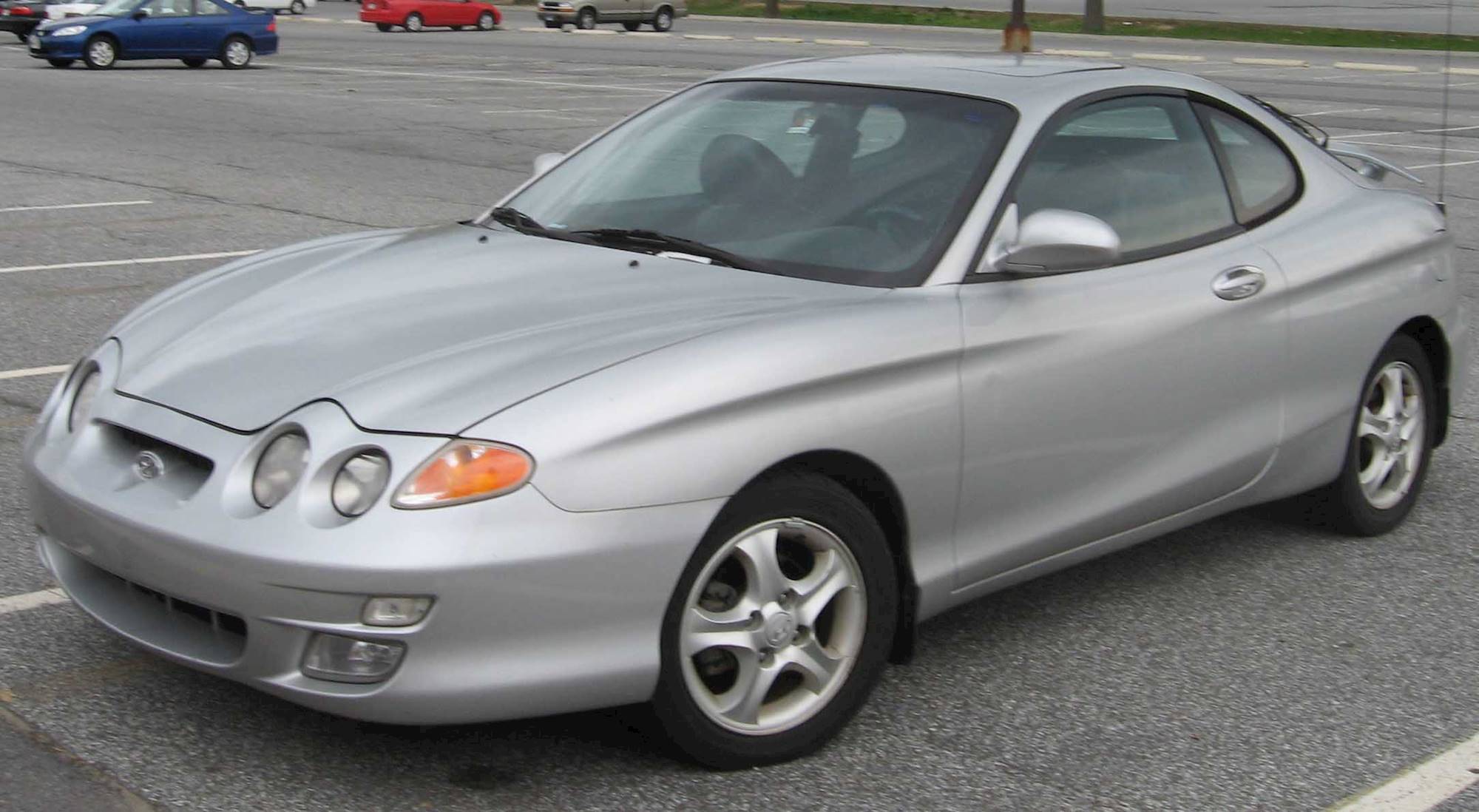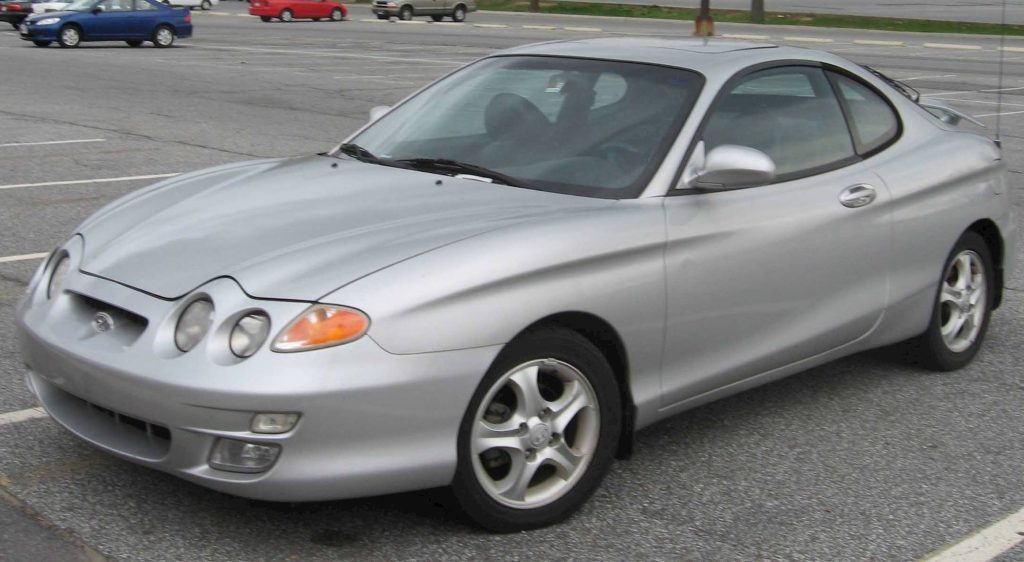 1997 Hyundai Tiburon
The Hyundai Tiburon, is a compact coupe (sports car) that was produced by Hyundai Motor Company. Buyers in America who heretofore thought of Hyundai as that Korean company which produced cheap, junky cars, saw a better quality car. These 90s imported cars changed some minds as The New York Times Magazine described a car which is "the best combination of comfort/grip and sport feeling, at this vehicle's class".
With production starting in late 1996 Tiburon was first offered in 1997 with base models using the Elantra's 1.8L 130 hp engine while the upscale FX received a 2.0L four-cylinder engine. The 2.0L was rated at 140 hp, base weight was around 2,550 lb, giving the RD Tiburon a higher power-to-weight ratio than the newer GK 2.0L. The 2.0L produces a 0–60 mph time of ~8.3. In 1998 the Tiburon lost its weaker 1.8L engine, giving both models the 2.0L. All versions of the Tiburon manufactured from 1996 to 2002 are known as "RD" Tiburons.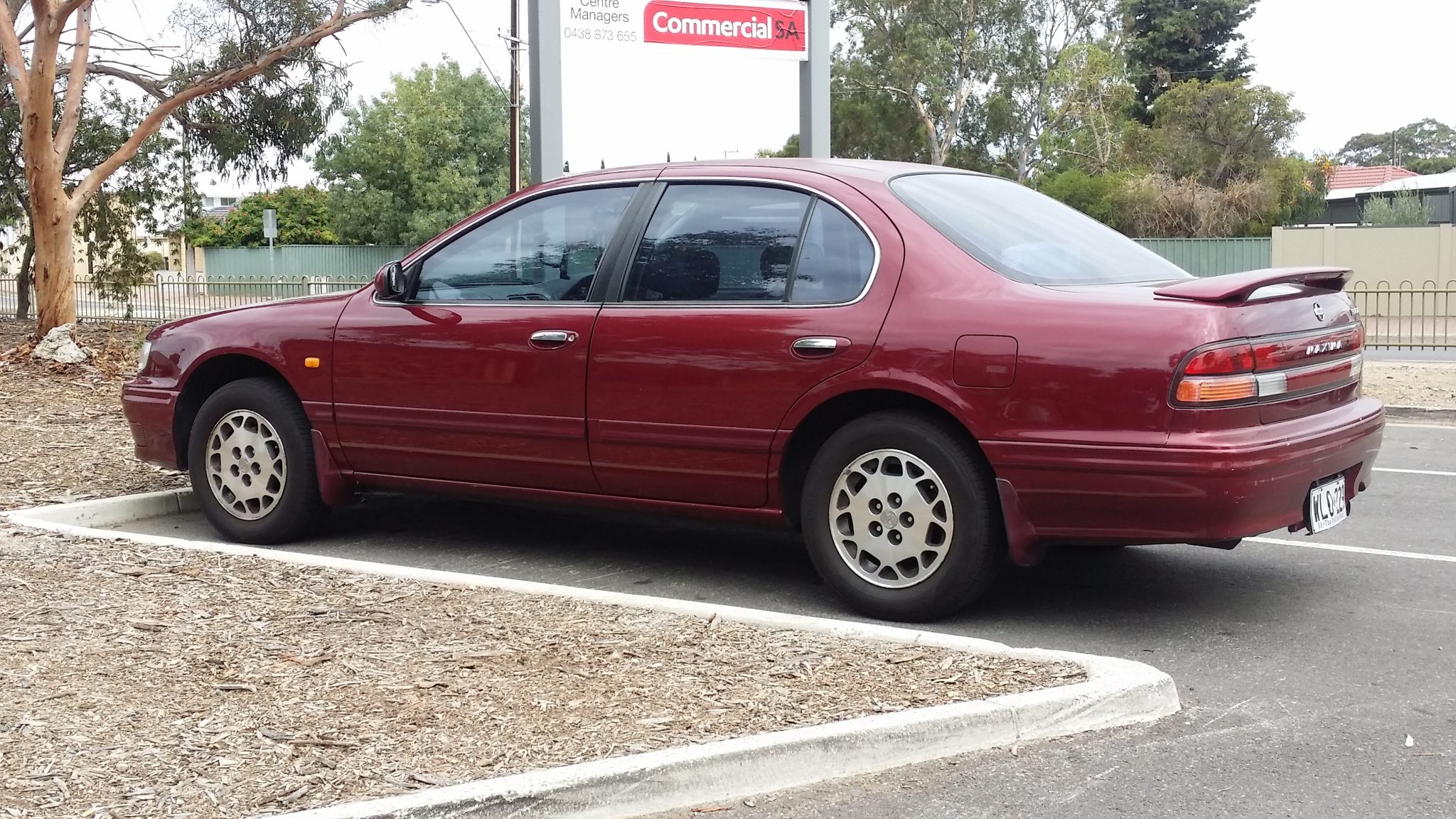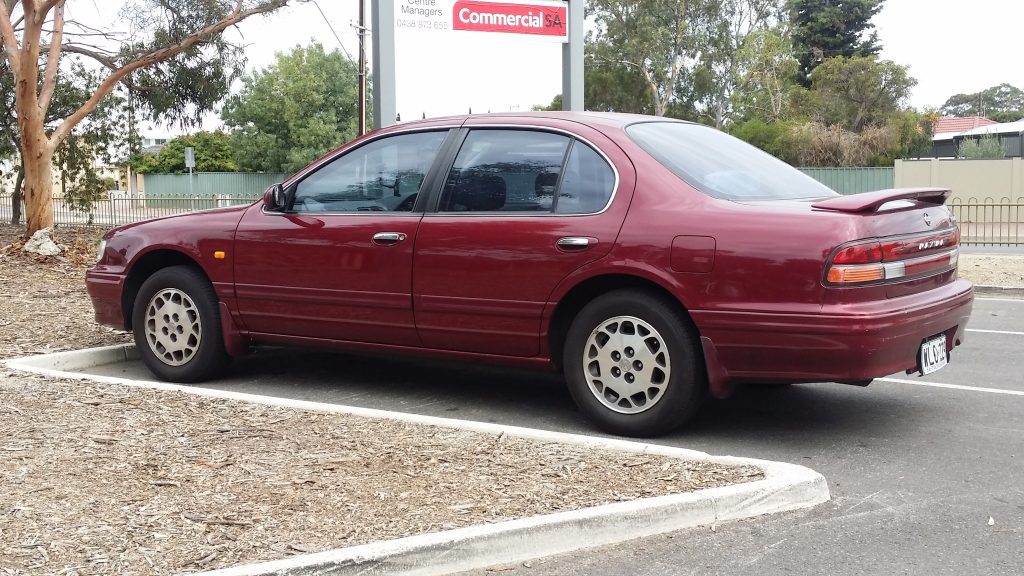 1995 Nissan Maxima (A32)
This Maxima was Motor Trend's Import Car of the Year for 1995. The Maxima SE again made Car and Driver magazine's Ten Best list for 1995 and 1996. The secret to this success was the VQ30DE engine which might be the most important engine in the last two decades. This ordinary-looking Japanese mid-size car can hit 0-60 in 6.5 seconds, all thanks to its engine.
The car was redesigned again for 1995 as the A32. The new VQ30DE 190 hp, 3.0 L V6 was the only engine option for the North American market.
Meanwhile, Maxima's primary competitor, the Toyota Cressida, was discontinued after the 1992 model year, with FWD Toyota Avalon, a stretched version of the Toyota Camry introduced in 1994, as its replacement.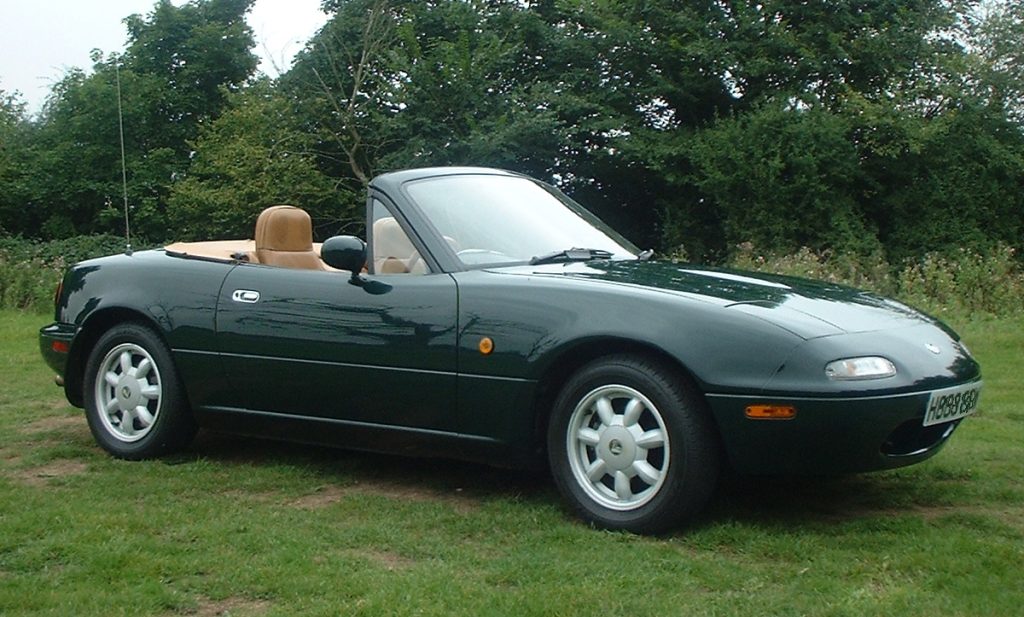 1990 Mazda Miata
The MX-5, also known as Miata is a lightweight two-seater roadster, of front-engine, rear-wheel-drive layout, built by Mazda in the tradition of small British and Italian 60s roadsters – Triumph Spitfire, MG MGB, Fiat 124 Sport Spider, Alfa Romeo Spider and Lotus Elan.
In its first year, the MX-5 Miata was powered by a 116-horsepower, 1.6-liter, double-overhead-cam four-cylinder engine with multi-port electronic fuel injection. It was linked to a five-speed manual transmission, which was standard. A four-speed automatic was optional.
Right from the start, drivers and reviewers alike were impressed with the MX-5 Miata, citing its responsive handling, sporty styling, and reliability as positive points. The Miatas of the early '90s may now have high mileage, but many drivers note they are still going strong. They are plentiful, inexpensive, extremely durable, and these 90s imported cars are still silly fun to drive, even for the inexperienced.
The MX-5 has won many awards including Wheels Magazine 's Car of the Year for 1989 and 2005; Sports Car International's "best sports car of the 1990s" and "ten best sports cars of all time".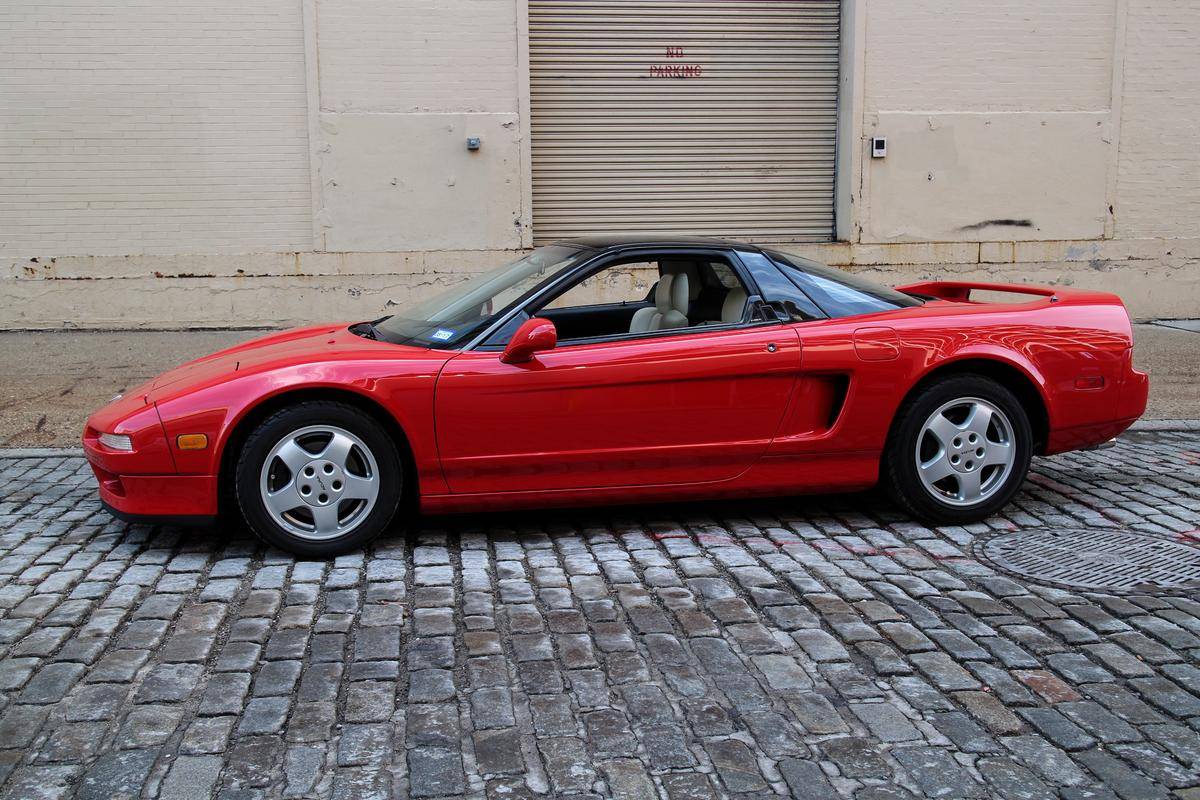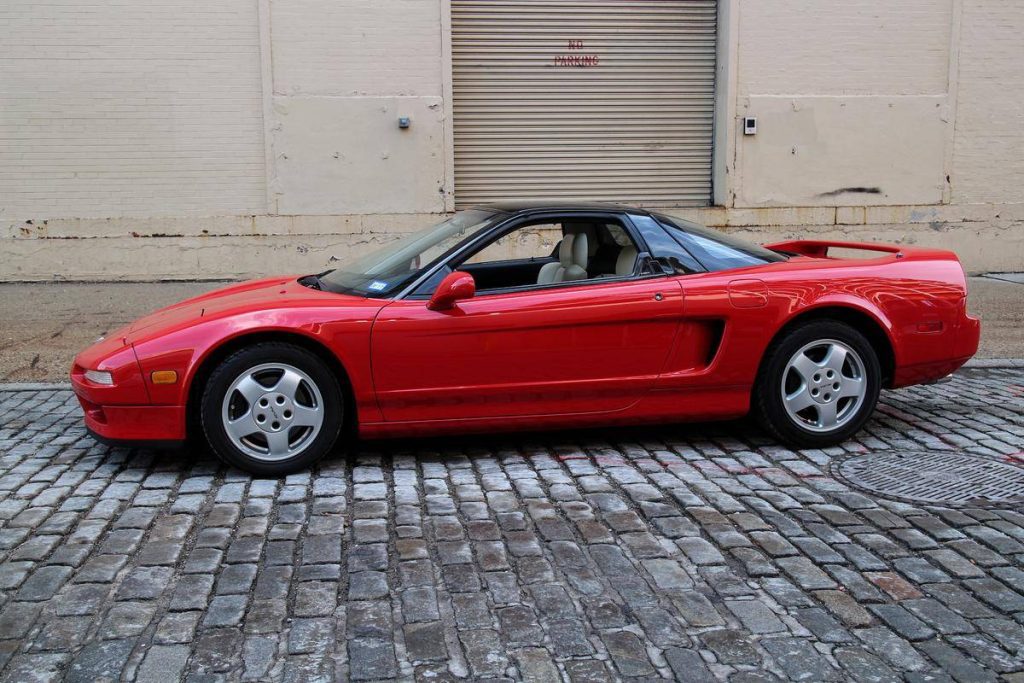 1991 Acura NSX
The Acura NSX in North America and Hong Kong) is a sports car that was originally produced between 1990 and 2005 by Japanese automaker Honda. It was equipped with a mid-engine, rear-wheel drive layout, powered by an all-aluminum V6 gasoline (petrol) engine featuring Honda's Variable Valve Timing and Lift Electronic Control (VTEC) system
Honda got it right with the first Japanese supercar that it remained in production, virtually unchanged, for 15 years. The all-aluminum Acura NSX was an amazing feat of engineering for a company known mainly for its engine manufacture. With a high-revving 3-liter, 270-hp V-6 in mid-engine configuration and a sub-3,000-pound weight, the NSX was quick (0-60 mph in 5 seconds flat) and well balanced. And like every Honda, these 90s imported cars were reliable.
Built by Japanese automakers who could bring to it a level of production quality, it brought reliability and durability the Europeans couldn't. It looked like a supercar should; it was low and sleek, well balanced and athletic. Despite the original NSX ceasing production in 2005, the marque still has a strong base of fans and supporters worldwide with owners clubs flourishing in Asia, the USA and across Europe.
Today the NSX is still considered by owners of the marque as one of the most reliable exotic cars ever manufactured. Great, great 90s imported cars.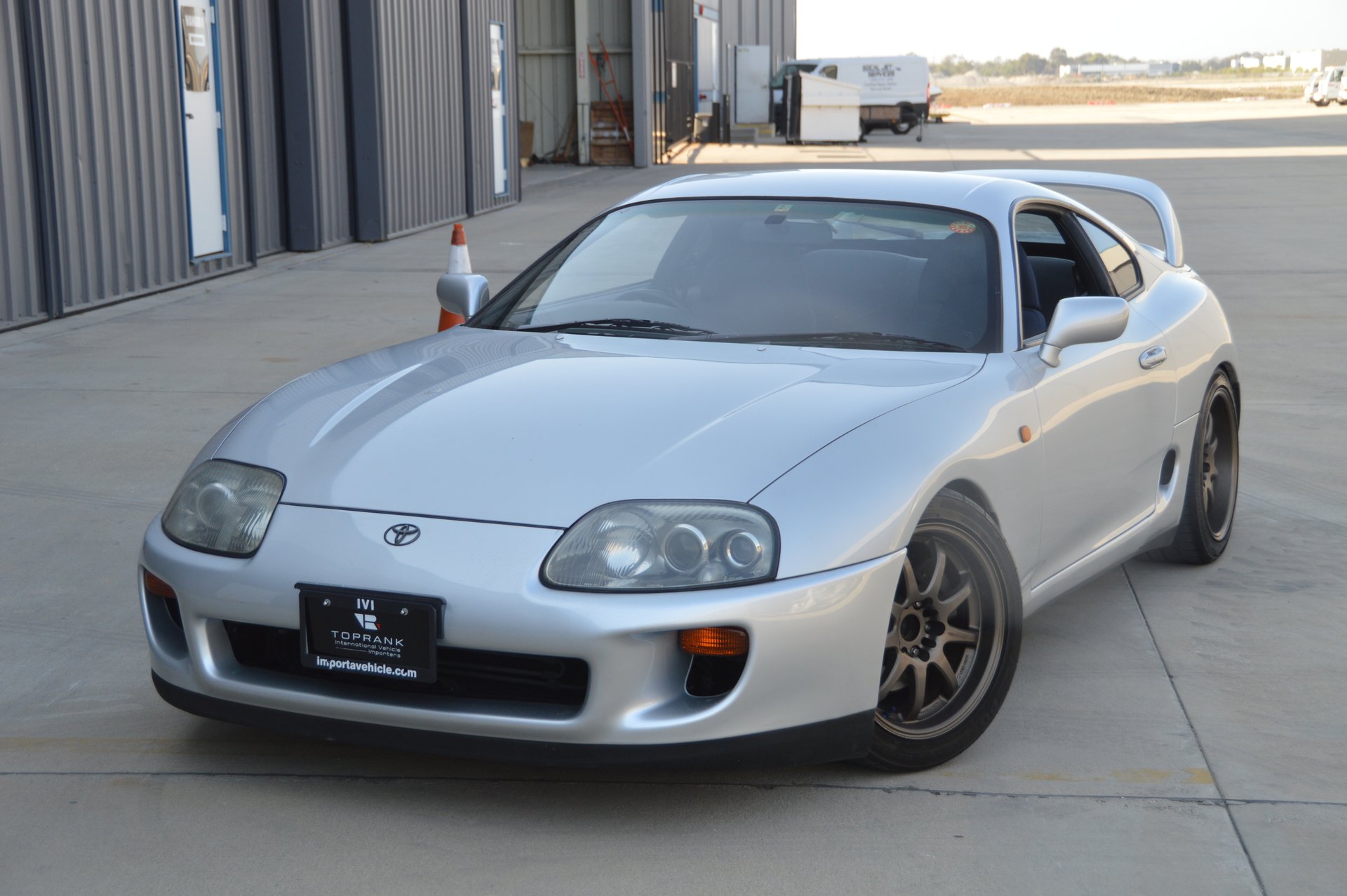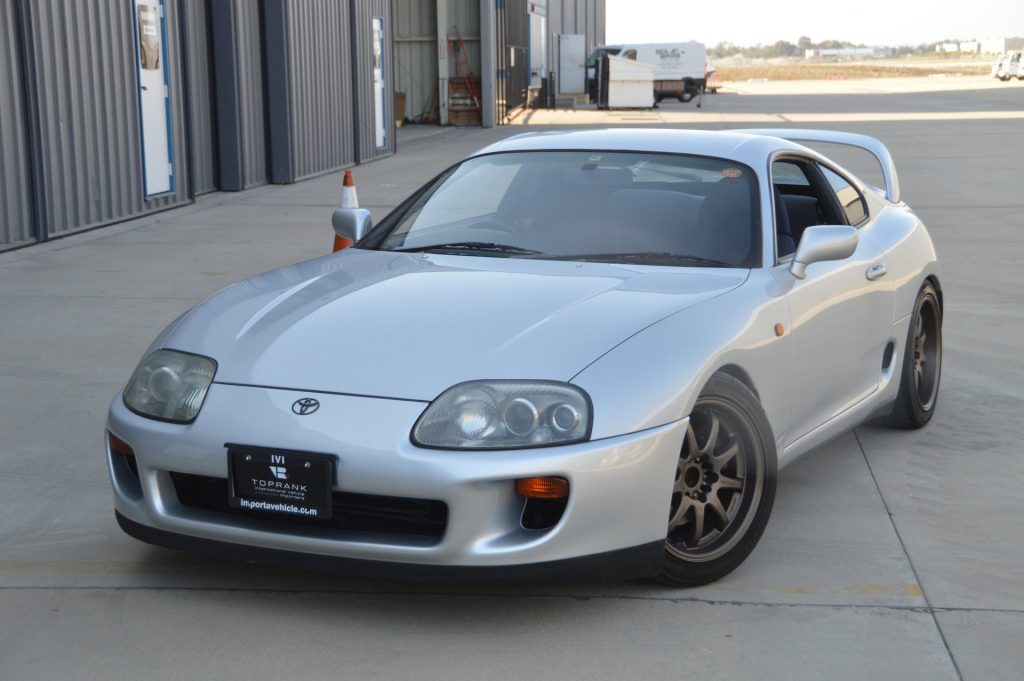 1993 Toyota Supra
The 1993 Toyota Supra had a 3.0-liter, six-cylinder engine with 220 horsepower. The turbo came with a twin turbocharged engine with a 320-horsepower engine and a six-speed manual transmission. For fuel economy, the 1993 Supra got about 17 to 23 miles per gallon.
It was totally redesigned The Toyota Supra was totally redesigned for 1993 resulting in an even more powerful car. The new body style was much rounder and more modern. These 90 imported cars came with conventional headlights, out was the pop-up signature Supra headlights. Airbags and antilock brakes now came standard. The "Mark IV" generation Supra gained almost cult status, especially after a starring role in the film The Fast and the Furious.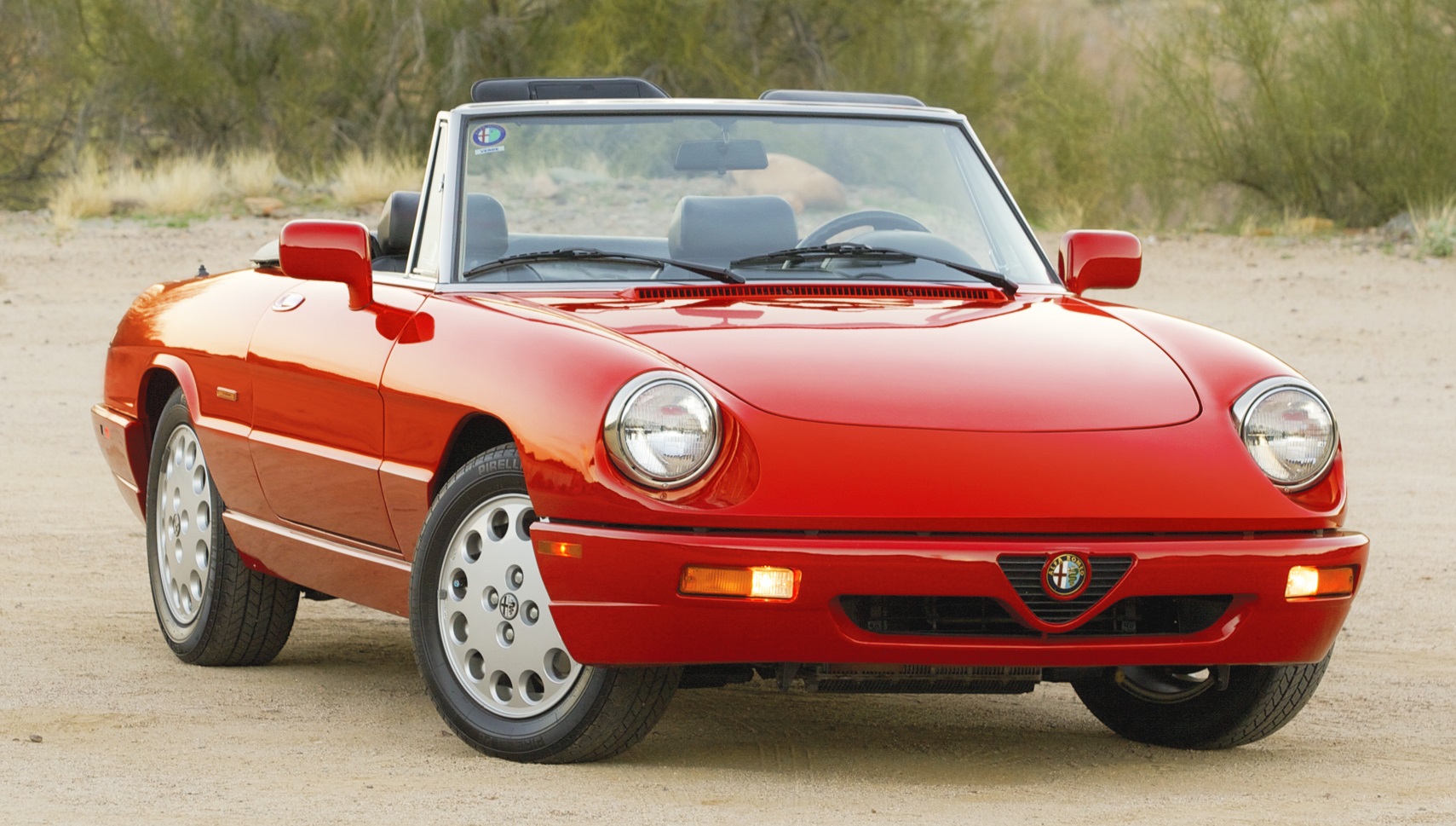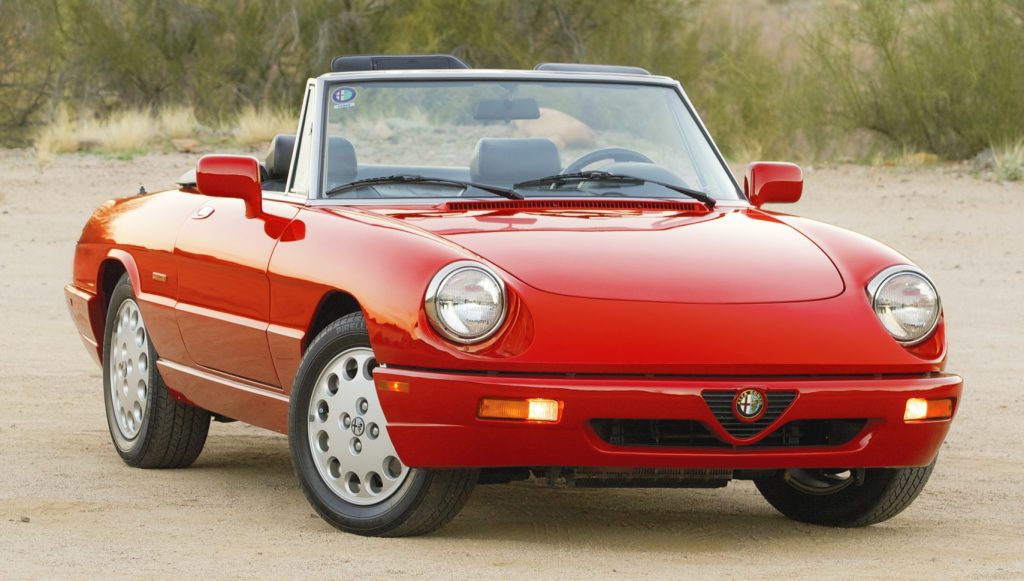 1991 Alfa Romeo Spider
This Alfa Romeo is a no-excuses, love me or leave me car, one of those sophisticated 90s imported cars that deserve the respect of its owner. While the fourth series of the Spider differed a bit from the original, with cosmetic "upgrades" and an electronic fuel-injection system for its 2-liter, 124-hp four cylinder, it is still the quintessential Italian sports car for the masses.
By the early '90s it had been surpassed in quality and performance by the Mazda Miata. But the classic, Pininfarina-designed lines are as classy looking today as they were when first drawn in 1964. These 90s foreign autos have a very nice shape and the last real spider with rear wheel drive. These 1990s imports are loved by car enthusiasts.