When you maintain the same iconic outline to your car for over 50 years, and yet innovate with other models around it, it's only natural that people want to identify with it. You can walk up to nearly anyone and say "Porsche 911" and they will instantly know what you're talking about.
One of the easiest ways to show your affinity for Porsche is through shirts. Porsche themselves, as well as many fans around the world, produce amazing designs that any supercar fan would be happy to wear. In fact, there are so many shirts out there, we decided to dig in and find the best ones you can buy today.
Note: we have posted links to the products we call out here. Some of these products are available on Amazon or eBay, where we have an affiliate relationship. If you purchase a shirt via these links, we may receive a small commission (at no additional cost to you). This is how we fund our site 🙂
Men's/Unisex
Porsche RWB "One Love"
While the Porsche 911 has been around for many years, tuning companies have existed for nearly as long. One of the youngest such companies, Rauh-Welt Begriff from Japan, has quickly cemented itself as singular in their designs and modifications to 80's and 90's era 911's. Taking the sleek shape of the 911, they lower the car, build specific fenders and wings, and keep adjusting and tuning each car in the pursuit of making each car the product of "one love," the passion of perfection, the motto of founder Akira Nakai.
Porsche Motorsport Team Shirt
Leave no doubt to anyone around you who you support at the next big race. Designed to be comfortable yet cool, these team shirts have the logo printed not on the shirt, but in the shirt using pigment printing, which injects the color directly into the cotton of the shirt. In simpler terms, the logo won't fade or peel off with repeated washes, meaning you can wear this shirt on every race day you go to. It also means your love for Porsche will still be as bright as the first time you wore it.
Porsche 911 RSR Pink Pig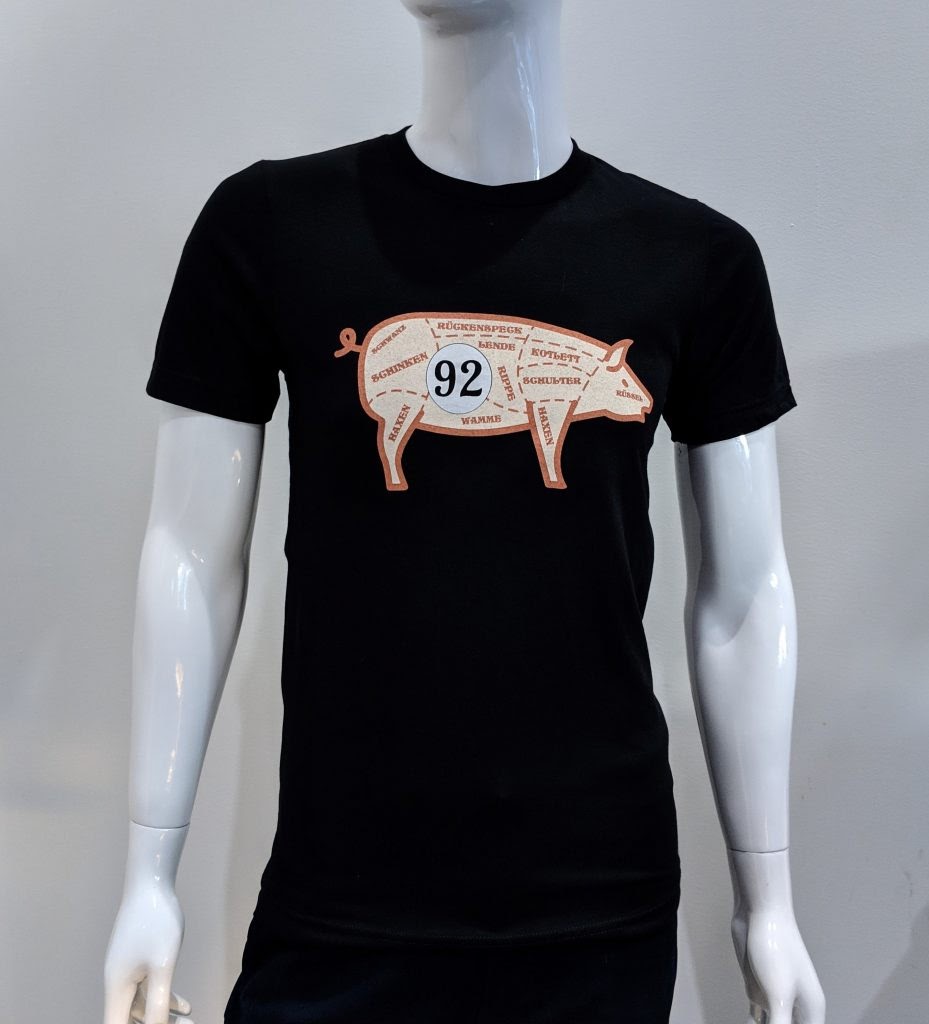 Anyone that watched the 2018 24 Hours of Le Mans will remember the Porsche RSR #92 decked out in the classic "Pink Pig" livery that was first worn over 30 years earlier by the 917/20 Le Mans race car. Not only did the #92 win the LMGTE Pro category, Porsche's first category win since 2013, it did it in style, with the famous howl of the RSR's engine echoing across France. And not only did it win at Le Man's, it then, quite literally, went to the Goodward Festival of Speed and put on a show. This shirt both shows the enduring love of 70 years of Porsche Motorsports with the Pink Pig, and celebrates the victory at Le Mans. And only those who are true fans will know when they see you wearing this shirt.
Women's
Porsche Design Martini Racing Ladies Longsleeve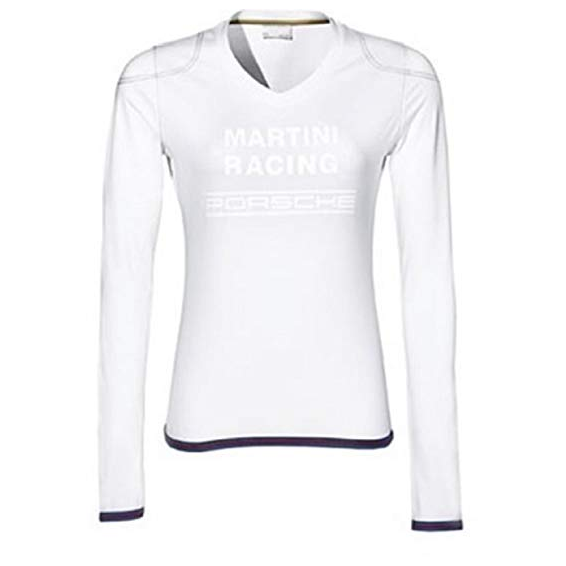 In the history of racing, very few partnerships were as productive as Martini Racing joining forces with Porsche. Several classic cars and famous victories are etched into the minds of Porsche fans worldwide, such as the #21 917 Long Tail winning at LeMans, or the 911 Long Tail "Moby Dick" tearing up racetracks wearing the classic red, white, and blue stripes of Martini. This shirt hearkens back to the days of elegant but simple, of flowing lines and tight handling, with a subtle etch on the front of both the Martini Racing and Porsche logos, and a comfortable stretch fit that ensures comfort.
Porsche Motorsports Black Team Shirt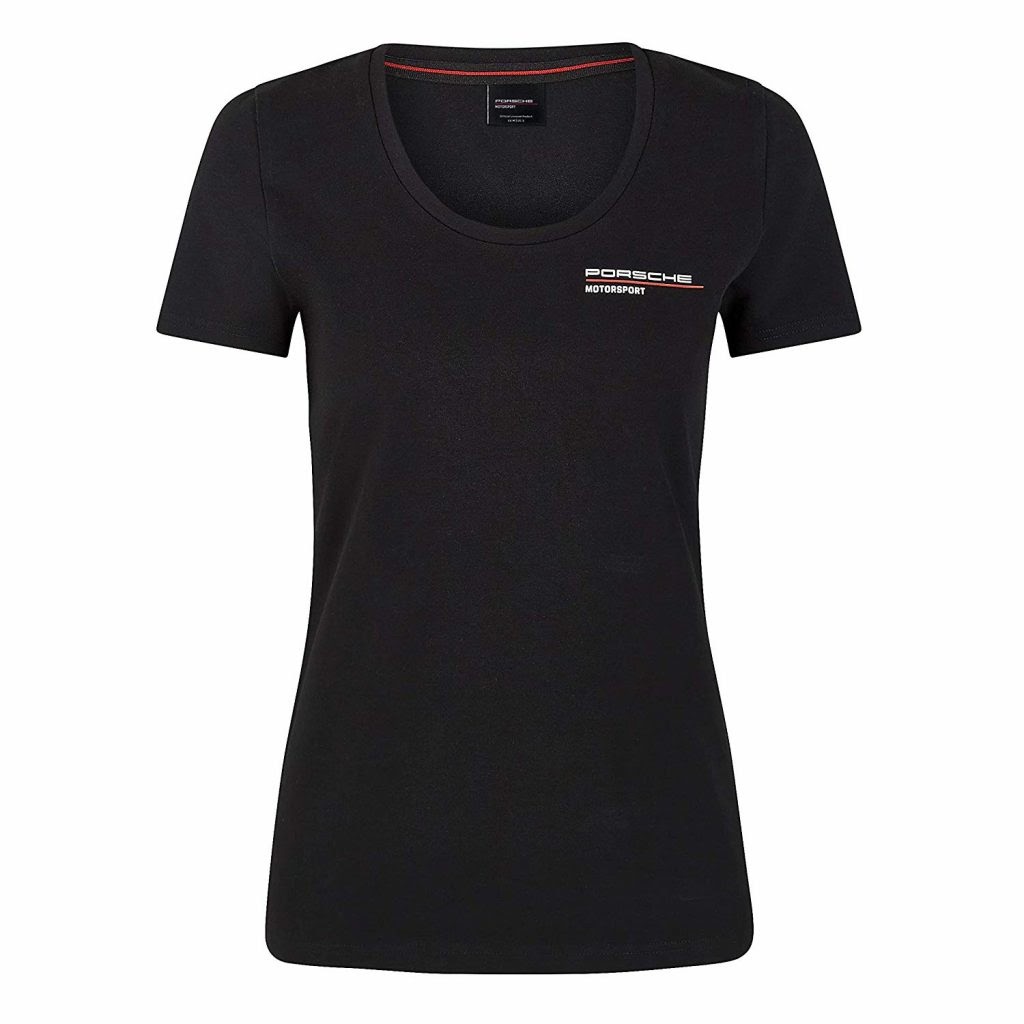 These days, Porsche has their foot in many pools of motorsport, including World Endurance, Blancpain GT, Formula E, IMSA, GT-LeMans… you name it, they've either historically participated, or are pushing the boundaries today. With such a pedigree, Porsche Motorsport has become an identifiable sub-brand of the Porsche name, and this comfortable cotton shirt with a little bit of stretch follows their design philosophy, that of  "simple yet elegant." Subtle identification on the front, and the Porsche logo placed vertically on the back in dark grey, following up along the spine, is a simple but effective touch reminding us all who the backbone of any motorsport is: the fans.
Porsche 918 Hypercar Silhouette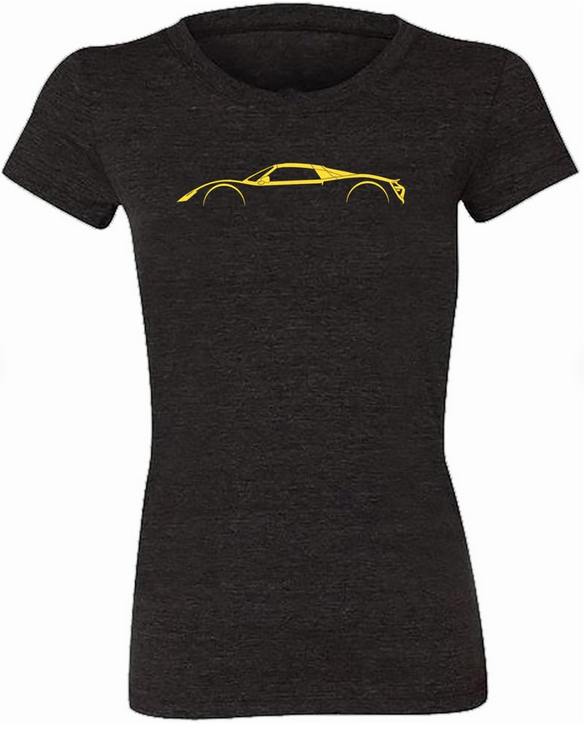 Low. Sleek. Fast. Just a few words that come to mind when seeing the Porsche 918 Spyder hypercar. While not made of carbon fiber, this shirt is made of cotton and has a stretch comfort fit, looking sleek and fast. No other call outs on the shirt need to be made, either. Just the side profile of the 918 is all that is needed to let you know which manufacturer you are a fan of. Even though it's a mid-engine car, it's still unmistakable, undeniably Porsche.