Greetings, everyone. It has been a busy past few weeks for me and I had meant to update the blog sooner. However, the timing couldn't be better for this post!
I just received my latest energy bill which recorded electricity usage from June 25 to July 27. I was eagerly anticipating it so I could compare it to the previous month's bill.
As many of you have also been wondering, I was really eager to see what it costs to keep the Taycan juiced up when charging from home.
I took delivery of the Taycan on June 26, meaning the latest bill is measuring based on exactly one month of ownership, which worked out very nicely.
Comparing this latest bill with the previous month's bill (May 27 to June 25) yields rather encouraging results as far as costs are concerned. I've posted screenshots of them below.
First, note the following disclaimer:
I drove the Taycan nearly 3,000 km in that one month time span, doing all charging from home besides this one instance.
I only charge up to 85% of maximum, as is recommended by the Porsche Connect app for promoting battery longevity.
The last actual reading on the meter was taken on June 25, which means that the usage measured up to July 27 is a current estimate.
The readings are for my whole household, not just for charging the car itself.
I live on my own and also work from home, so there shouldn't be any other influential variables at play when comparing these two summer months (i.e. electricity consumption during the cold winter months goes way up, for obvious reasons).
I'm aware that a larger sample of data will be required to make a more definitive comparison. I will provide a longer term study for this after more time has passed. If the July 27 actual reading is way off – which I will probably know by the next billing cycle – I will also share the findings.
Sensitive information has been erased for privacy reasons…duh.
May 27 – June 25: 227 kWh, $57.95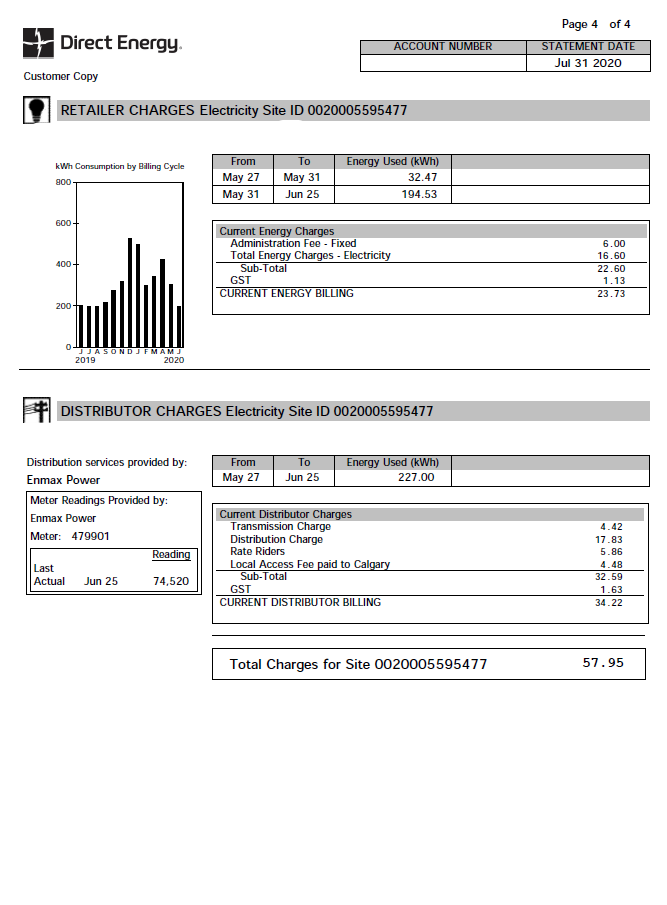 June 25 – July 27: 249 kWh, $65.02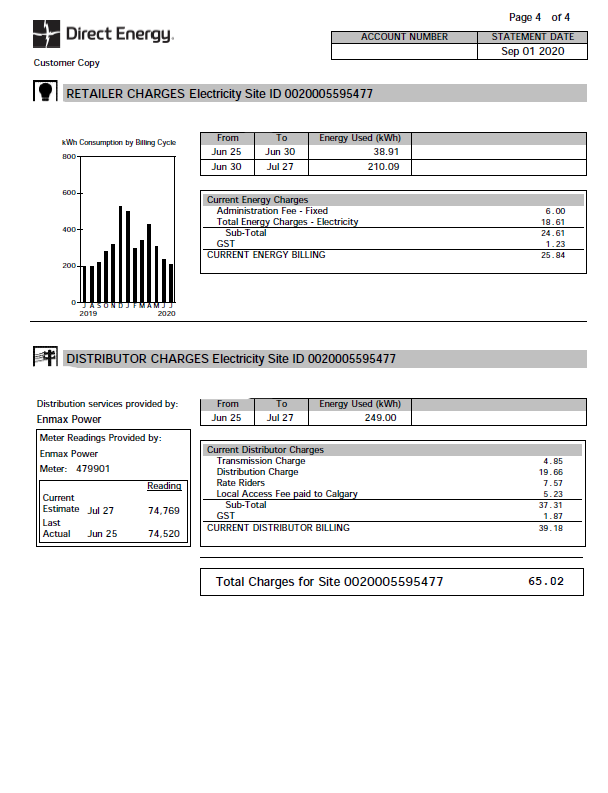 Conclusion
As you can see (with all other things being equal), it only cost me an extra $7.07 for the month in which the Taycan became one of my household appliances. I realize there are many things still yet to be determined – as I outlined in the disclaimer – but this is certainly not a bad start!
Here's some food for thought. For a comparable (performance-wise) sports car here, it would cost about $80 CAD to fill up a tank with Premium gas which would let's say…. last roughly 500 km, which is quite conservative. To get that same 3,000 km on the odometer as I did in the Taycan for that month, I would've paid [$80 x 3,000 km / 500 km] = $480 in fuel costs.
I think it's pretty safe to say at this point, that the savings an electric car can net you are potentially significant when comparing electricity costs vs. fuel costs.
-T