Welcome to Part 2 coverage of my first long distance trip in the Porsche Taycan 4S. As a quick recap, I made a ~270 km trip – mostly highway driving – to attend an HPDE. So far, things had gone relatively smoothly (though not ideally), with lots of take-aways and useful knowledge gained for the future trips.
You can read the full version of Part I, here.
Picking up where we last left off, I finally made it to my destination – Castrol Raceway – for an open-lapping event. The ultimate goal here was to see how the Taycan 4S would fare during a spirited high-performance driving session, particularly outside the boundaries and laws of public roadways. The main measuring sticks approach this from both a performance and viability standpoint – namely, how fast (and fun) it was, and what challenges it has as an EV; particularly in a world where the overall infrastructure currently provides more conveniences to an ICE car.
To this point, I've enjoyed every moment on the street when I have driven the car with some gusto. Based on those experiences, I had little doubts that removing the shackles by taking it to the race track, would enhance that feeling even more. I am pleased to say that after tracking the car, I can confirm this was indeed the case.
This was not without some significant drawbacks – which are solely EV-related – as I softly alluded to before. I am both hopeful and expecting that such circumstances will get better, as the infrastructure and technology continues to evolve along the trajectory that vehicle electrification is on.
During my time on the race track, I had the opportunity to take an indy shop Porsche mechanic and another Porsche enthusiast along for a ride, each in separate sessions. Both are track junkies themselves, and are also familiar with Porsches in this context – the former normally drives a track-prepped 986 Cayman, and the latter a brand new Cayman GT4 (and Alfa Romeo 4C). Needless to say, both gentlemen were in a position to offer qualified perspectives and assessments as passengers. All of us would end up sharing very much the same impressions of the car.
For those who have been following my blog, there have been no modifications done to the car other than a new set of wheels and tires. However, since the new tires are OEM-spec 20″ Michelin Pilot Sport 4 XLs, the car is by all accounts "from the factory". On that note, I would be extremely keen on driving the car on r-compound tires, but that's likely not going to happen anytime soon for reasons I will go over below.
Either way, everyone (myself included), was ultimately impressed by the Taycan 4S's performance on the race track and we are all excited to see what's in the pipeline from Porsche's EV program.
Electric Motor/Battery & Drive Train Performance
Key Talking Points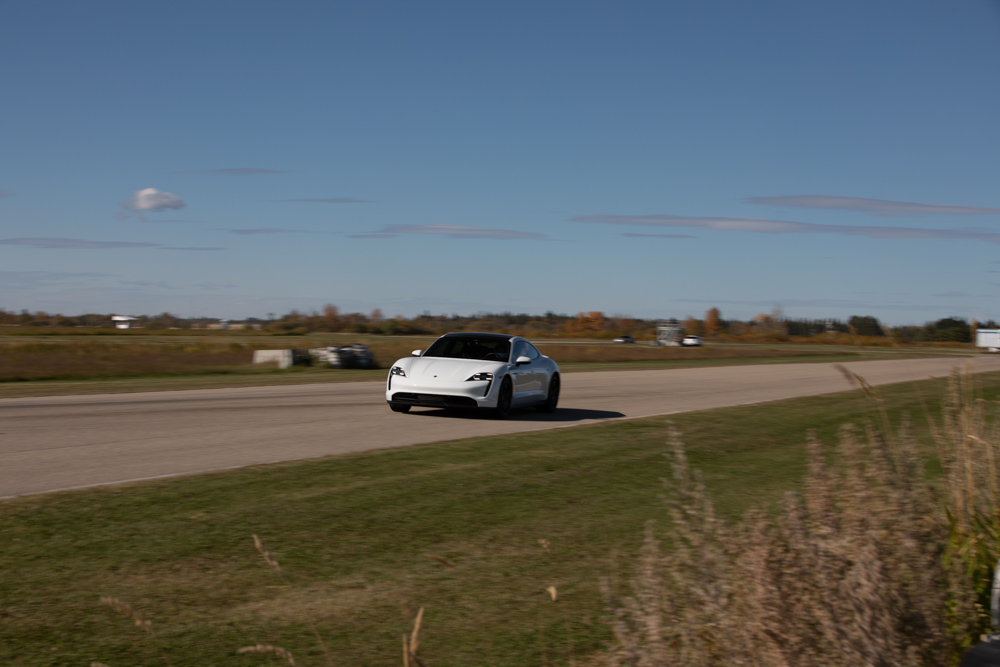 The instant throttle response typical of an EV, is ideal for lower speed transitions and "sending it" out of corners, making for an extremely fun car to drive. You never have to worry about what gear you're in, or what range of rpm you're at. Purists may scoff at this, but I still found this more "point and go" style of driving to still be very exhilarating. These characteristics also make it easier to disguise mistakes in certain situations. For example, let's say you missed an apex or scrubbed too much speed, and are now exiting a corner in the wrong rpm range or gear . In the Taycan, the second part of that equation is now factored out.
Acceleration drops off significantly at "top-end". Past around 130 km/h, the rate of acceleration is noticeably declining, particularly with the pedal to the floor. Where an equivalent (performance-wise) ICE car would continue to "bang through 5th and 6th gears", the Taycan 4S really starts to lose steam. I'm sure the Turbo and Turbo S models would mask over this deficiency to a large degree, but would both still be subject to the same drawbacks.
The rate of battery energy discharge during high-performance driving makes the tracking experience of a Taycan more of a novelty than a serious/competitive one. During my two 10-15 minute sessions while on the race track, I was losing ~4% of a full charge per lap (I also have the optional-for-the-4S high capacity 93.4 kWh battery). At Castrol Raceway, which is not a high speed course, each lap in the car was completed in the high 1:20 range. The math says that I was able to complete around 8-10 laps per session (beginning with a ~73% charge) before needing to worry about juicing up – more on that further below.
I am pleased to report that I had no issues with overheating of the battery or electric motors, unlike some of the "other EVs" at the track that weekend. Porsche's emphasis on "repeatable performance" is far more than just a marketing gimmick. It's real and it's a very justified bragging right; and I have first hand evidence of this.
Charging
In between track sessions, I had to make a 20 min drive to charge at the closest (and fastest) DC fast charger. I had used up a good 40% charge after the first session which I began at ~70%. So, this meant I had less than 30% to go by the time I came into the pits. I would use up an additional 7% to get to the aforementioned charging station, where I would spend about one hour plugged in, charging back up to over 80% of full. This also made for a good opportunity to take a lunch break, which is what I did, so that time waiting around didn't feel too wasted.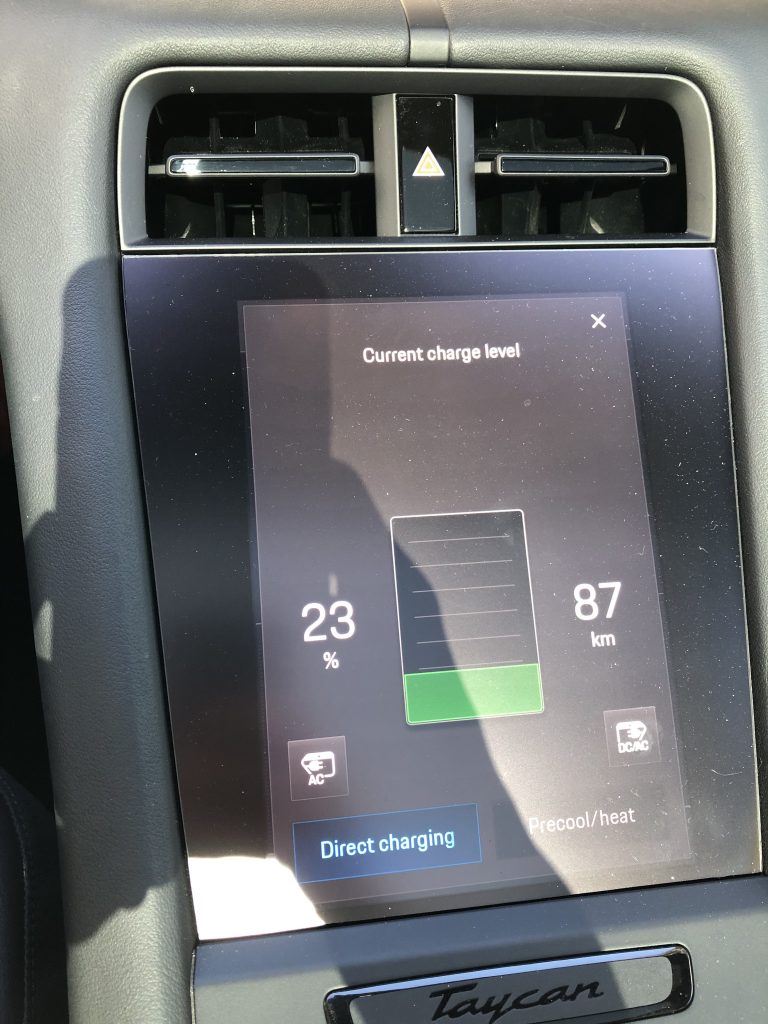 During lunch, it started to sink in that range anxiety is a very real thing. In the current state of play, charging can be frustrating and stressful when you are pressed for time, and even when you're not. It's not necessarily cheap either – at least where I live. This 60 min / 60% charge, however you want to look at it, cost $20 CAD. While this still remains much cheaper than filling with gas monetarily, the area where I was really falling behind was in the time I lost.
Suffice to say, any level of long distance driving will require a duty of diligence with regards to route planning, and  plenty of patience as well. This is especially notable in the absence of a reliable supercharger (or equivalent) network, which happens to be the situation where I live. Wanting to take your car to the race track, amplifies these matters exponentially.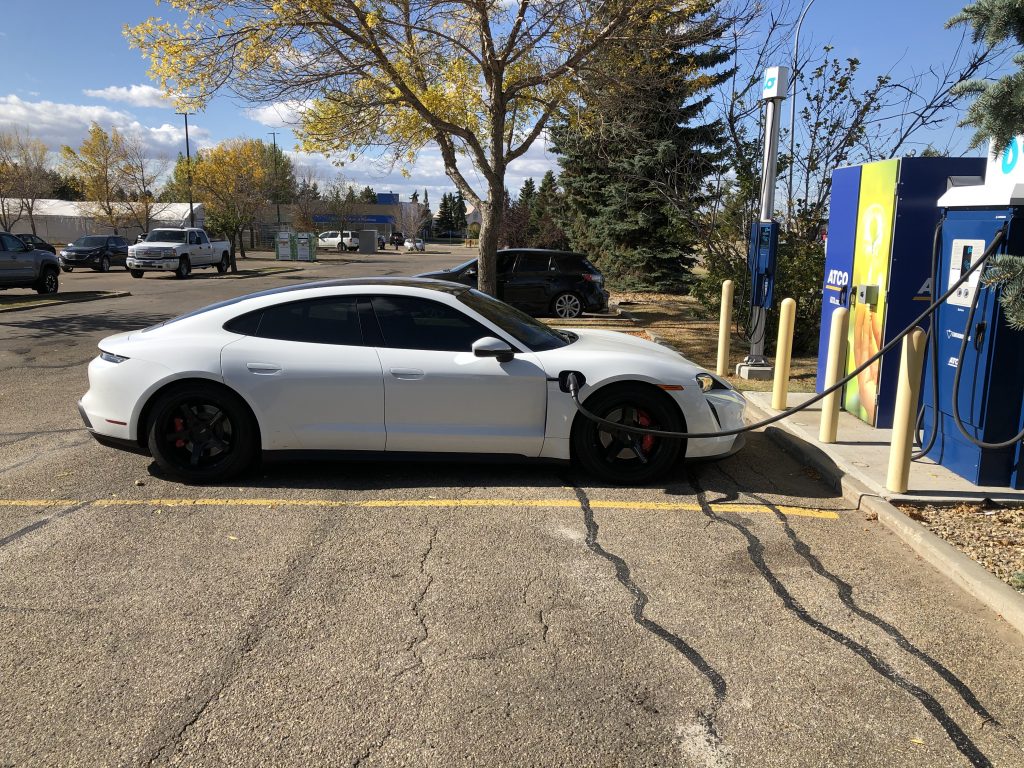 I am fully aware of how big an ask it is to expect the advantages of an EV production road car, to carry over to the race track without any drawbacks. So on that point, my experience with the Taycan so far has not been tainted by this expedition. However, I also expect and am optimistic that things do improve for the Taycan, and EVs overall, as technology and infrastructure continue to evolve. When (and only when) things improve enough, I hope to visit the race track with the Taycan once again.
Speaking of big asks, this is something that could've solved all my problems that day.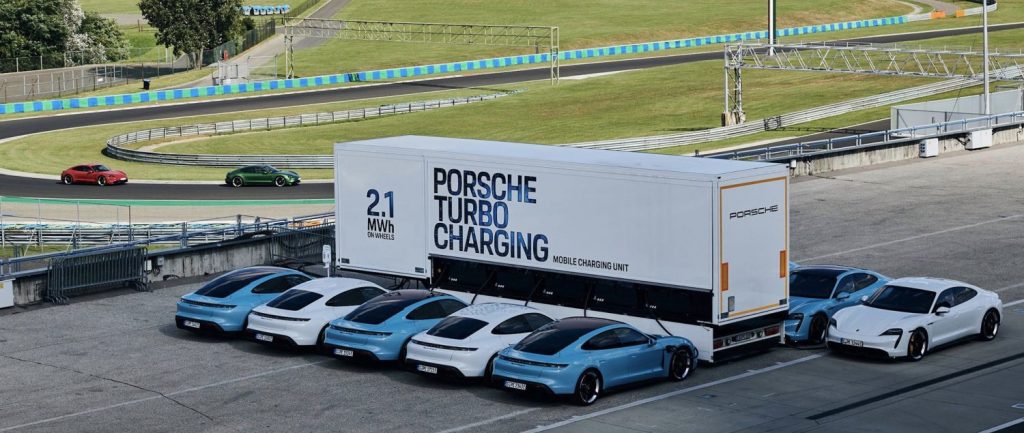 Chassis
Key Talking Points
While it's ultimately impossible to disguise the Taycan's hefty weight and large footprint, the car has been phenomenally designed to handle it, and then some. The ultra low center of gravity – inherent from the battery's weight and placement along the floor of the car – adds a new, impressive dimension to high-performance driving that is difficult to duplicate in a petrol engine road car.
Smooth, with no nonsense near the limit. The Taycan is a confidence-inspiring performer, that feels safe without being intrusive, and shows a wild side without needing to be unrefined. Those who believe that an enjoyable track car can't exist without the ruckus of a screaming exhaust, clunky noises and a tooth-grinding suspension, will probably have their minds changed after driving an EV that has Porsche DNA coursing through its veins.
Combination of electric motor (regen) braking and actual braking (pads and rotors) is quite the dynamic duo in tethering the 5,900 pound Taycan. So effective is the former's performance, that carbon ceramics would certainly be overkill for the street, while an argument can be also be made for the same (to a lesser degree, of course) on the track. Nevertheless, to squeak out the extra bit of performance in a min-max fashion, PCCB is obviously a required option.
The OEM tires – in my case, Michelin Pilot Sport 4 XL – are a good match for any type of environment, including the track. However, I felt that they were certainly the weak point of the car when it came to high-performance driving and without question, a set of stickier tires such as r-compounds (or these) would have a transformative effect on the experience – as they would in any vehicle transitioning from street tires to track tires. I suspect range would suffer noticeably with the increased grip, though.
PTV Plus and Rear Axle Steering (which came as part of the optional Performance Package) help rotate the car in ways that would initially be thought of as impossible for a 6,000 + pound machine (including driver), even with its uniquely low center of gravity in play. At your command is a level of precision and agility you would normally expect from cars which are mechanically much more nimble. Yes, electronics are at play here to make it possible for the Taycan to provide its "just point and go" capabilities, but as with any Porsche these days the car is remarkably tactile and driver centric.
General Thoughts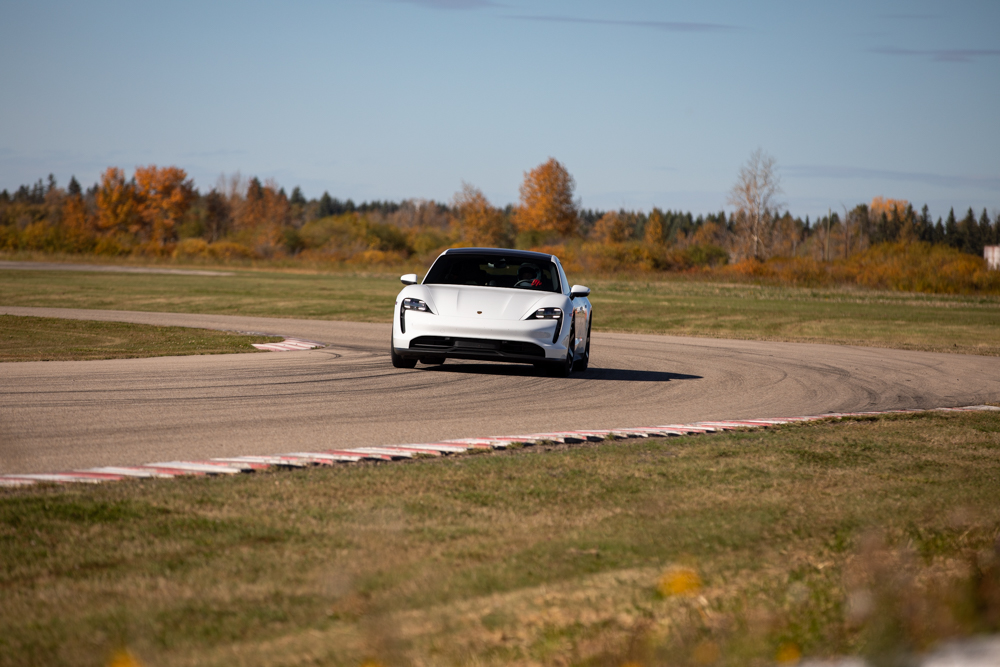 I particularly found the Taycan to be the most fun to drive through the tighter and twisty-er lower speed turns / quick transitions. Perhaps an initial expectation that the car would struggle more in these areas – than it would in the faster and longer sweeping turns – played a factor in this. Both because of its size, and also in spite of it, I feel the car really excelled and surprised me with its agility and responsiveness in these situations. It was a true display of Porsche's engineering prowess, even across an entirely new platform.
Porsche has proven that it has built a foundation (and a chassis) upon which it can continue manufacturing a new generation of EVs, without losing its identity and heritage of producing some of the world's best driver's cars. This is probably the biggest fear that any Porsche or driving enthusiast has to overcome when considering the somewhat sacrilege transition to EVs – but if they stick with a Porsche in this regard, I think they'll be just fine.
Summary
I just have to add that being able to blast Frédéric Chopin's Nocturnes and Impromptus (for the kids, that's Classical music) while hitting apexes as the tires screamed for grip, was a big highlight of the experience. On that note, never has high-performance driving been such a hybrid (no pun intended) exercise before.
Excitement unhinged, yet exuding a calm stability. Intense acceleration without the ruckus of an ICE. Bullish and heavy-set, but still able to glide and dance around corners. On the track, the Porsche Taycan is going to be unlike any other car you have driven; yet it will have an absolute sense of familiarity thanks to its unapologetic levels of Porsche genetics.
These are still early days, so yes, drawbacks are apparent and are not insignificant by any measure. But at the same time, the future looks promising and I believe it will continue to get better – and get better at a rate that's faster than what we've been seeing. Early adopters should remain patient, and the rewards should also be bountiful as time passes.
So does the Taycan perform well on a race track? Definitely. It will likely exceed your expectations, especially if certain must-have (in my opinion) options are at play such as the Performance Package and PCCB.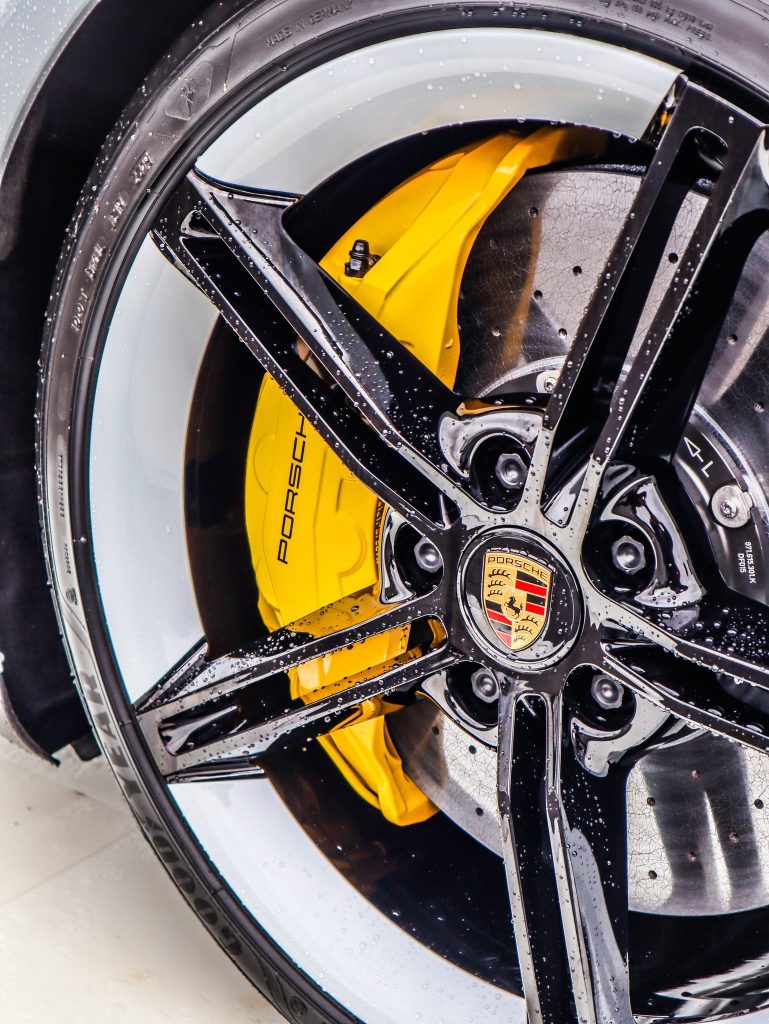 Is it good as a dedicated track car? Well that depends on how many laps you want to do, because viability is key. I'm in the school of though that most people are, and believe that a track car should be able to do a lot of laps without worry. So for now, I would say for the overwhelming majority of people, the answer is no. The big elephant in the room – charging infrastructure – needs to be universally addressed first.
On that final note, hopefully some of our local race track owners are reading this article – and by doing so between the lines, have also recognized this as a sentimental ballad for having on-site EV superchargers :). Only then can Taycan owners truly rejoice on the race track and still look forward to the trip back into pit lane.
More on-track photos can be found here.