The Epic & Awesome. These Are The Best McLaren Cars Ever Made.
Updated: June 2019
We recently finished creating a guide to the current McLaren range as well as a full list of every McLaren ever made. As part of that process we were awed by some of the amazing cars that McLaren has produced over the years. It is even more impressive when you consider that McLaren Automotive has technically only been around since 2010. That was the year McLaren decided to give the whole production car manufacturing thing a real business. Prior to that there were a few cars like the stillborn McLaren M6GT, the mighty McLaren F1 and a collaboration with Mercedes-Benz in the form of the Mercedes-Benz McLaren SLR.
McLaren has a rich racing history and deep technical knowhow as a company. Despite some recent woes in Formula 1, this is a team (and company) that knows how to win races and knows how to innovate when it comes to high performance machines. I was personally surprised when the 12C was released in 2011. It was way better than I expected and to McLaren's credit they did things their own way, without copying other carmakers. From the one-piece carbon fiber tub to their inhouse M838T 3.8 liter twin-turbo V8 engine and their innovative and unique hydraulic configuration suspension, McLaren came out of the gates swinging.
They haven't stopped since. In fact, the pace has increased with every passing year. Sure, many pundits argue that all of McLaren's cars are basically the same these days, but screw them. It is hard to argue that a McLaren Senna and McLaren 570S are all that close in nature so I choose to cut McLaren some slack and let the folks in Woking keep cranking out new machines.
What I do know is that in the last decade McLaren has created some simply fantastic supercars and I expect that they will continue to do so as they execute on the ambitious product roadmap in coming years. With that in mind, lets celebrate the top McLaren models of all time so far. Here is to the McLaren icons, the recent best McLaren cars and to the ones yet to come. Enjoy.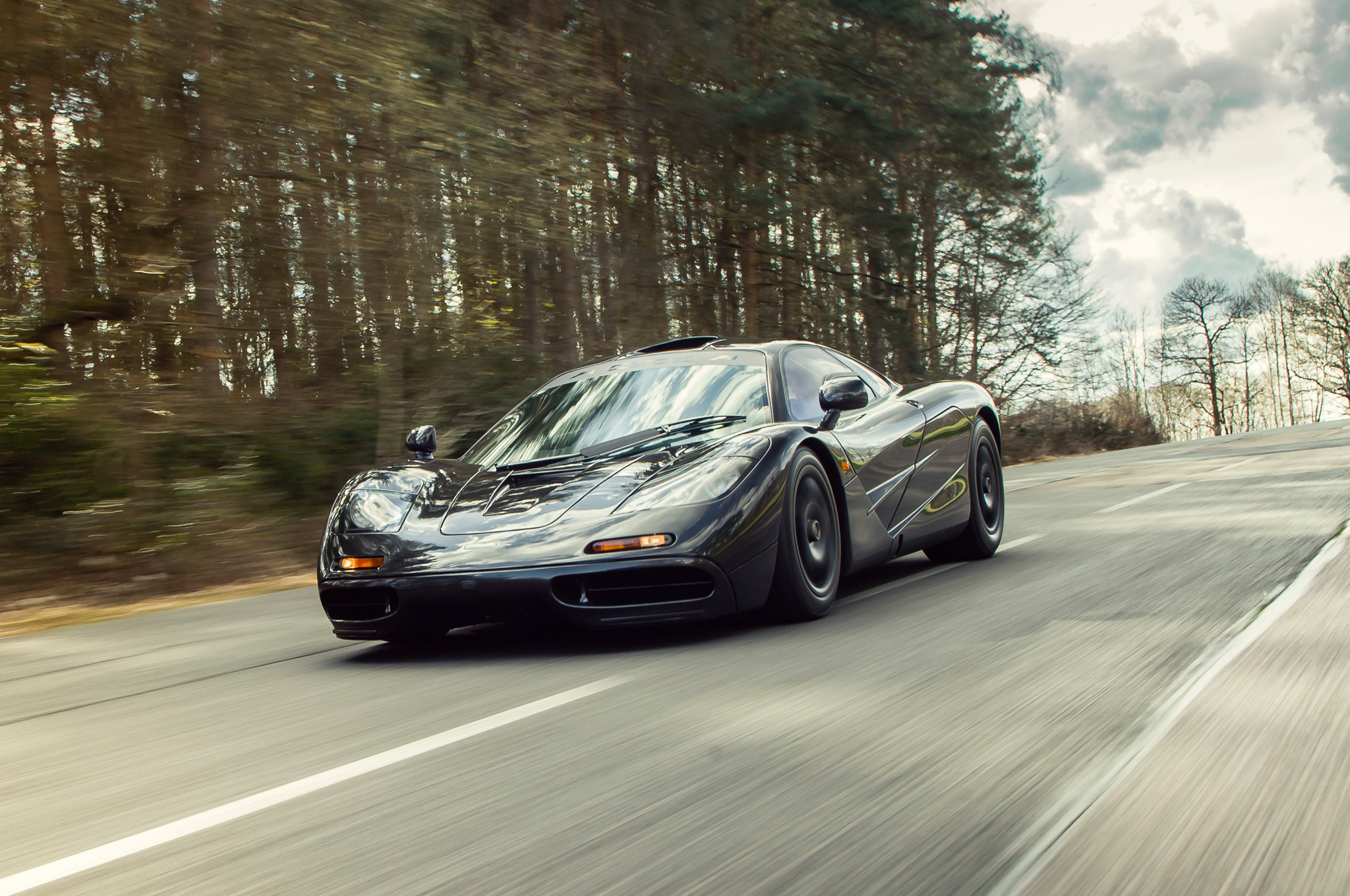 McLaren F1
Engine: 60 Degree V12 / Power: 627.1 bhp / Torque: 479.0 ft lbs / 0-60 mph: 3.2 sec / 0-100 mph: 6.7 sec / Top Speed: 240.1 mph
The McLaren F1 is the best supercar ever made. Its top speed of 240 mph puts much of even today's supercar crowd to shame, and ergonomic features like the driver-centered, three-seat cockpit have rarely been seen since. Sure there are cars that are faster, but nobody did it the way the F1 did it.
Originally a concept conceived by Gordon Murray, he convinced Ron Dennis to back the project and engaged Peter Stevens to design the exterior of the car. The McLaren F1 debuted in 1992. It was the cost-no-object approach to building a car and was such a leap ahead in almost every imaginable way that it changed way we think about supercars forever.
The McLaren F1 was a clean-sheet design, with all components except the tail lamps built specifically for it. The guiding principle was efficiency. Thus it is compact, with body panels and understructure of featherweight carbon fiber, and virtually every mechanical component of aluminum or magnesium. The obsession with weight was the stuff of legend. The Kenwood stereo, the air conditioning and the gold-plated titanium tools were all designed by their manufacturers to specific weight specifications that Murray has asked for. Completely customized for the F1 and so light that most parts manufacturers at the time were not sure they could meet the targets.
On 31 March 1998, Andy Wallace set the record for the fastest road car in the world, topping at 231 mph (372 km/h) with rev limiter on, and 242.95 mph (391 km/h) with rev limiter removed. Many still believe that with better gearing (inclusion of a 7th gear) the McLaren was capable of even higher speeds. Drivers who got the McLaren up to top speed said the car was still pulling and only gearing stopped them for achieving more.
Most people don't know that the F1 had a great racing history. The 220-mph GTR competition version took first, third, fourth, and fifth overall against a slew of purpose-built racers and did so almost immediately after launching. It blew the competition away. When production of the F1 ended in 1998, McLaren had given the world seven prototypes, seventy-two street-legal examples, and twenty-eight full-on race versions. The Sultan of Brunei owns eight or so, and untold numbers have been destroyed at the hands of over-exuberant owners.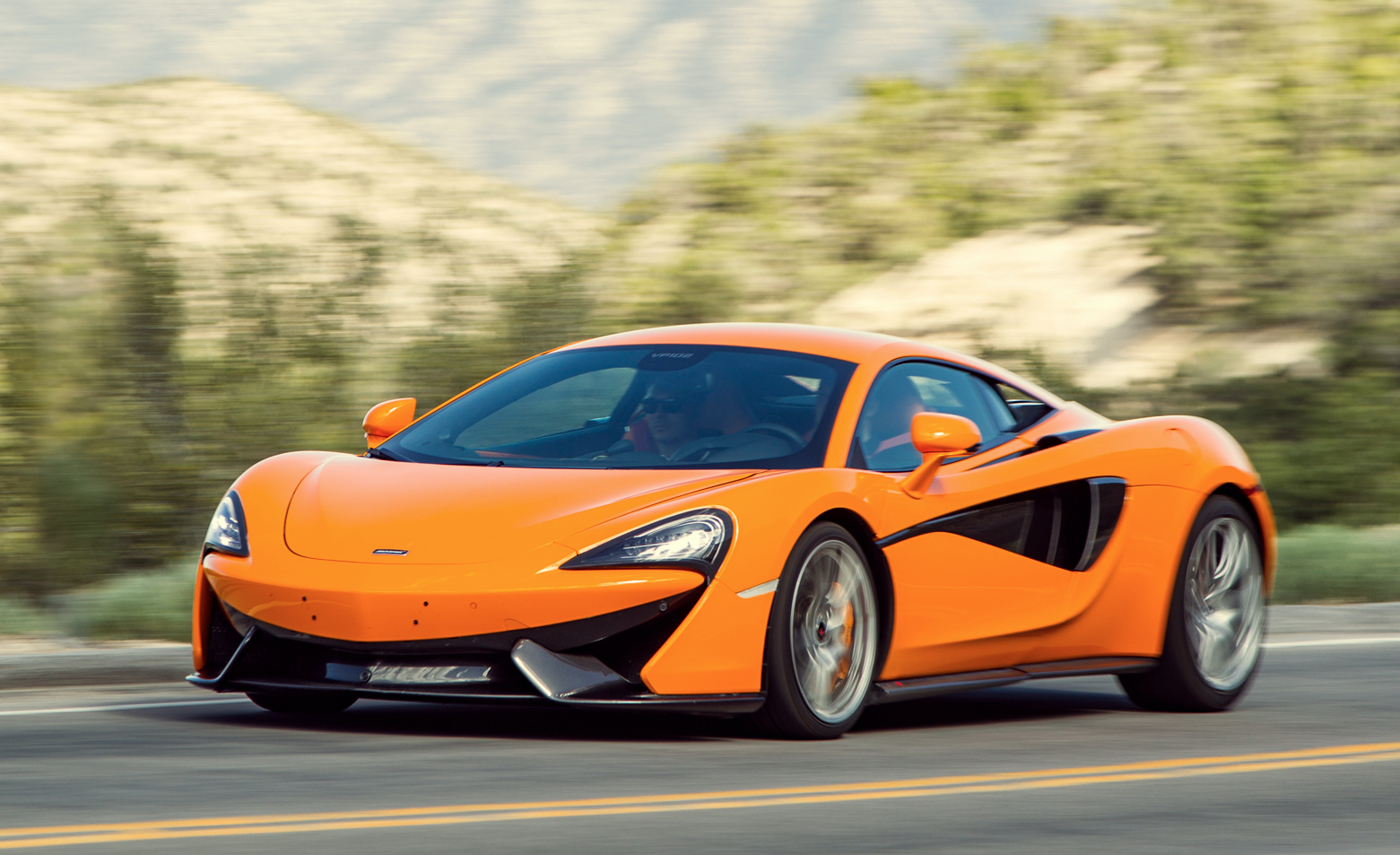 McLaren 570S Coupe
Engine: 3.8L twin-turbo V8 / Power: 562 bhp / Torque: 443 lb-ft / 0-60 mph: 3.1 sec / 0-124 mph: 9.5 sec / Top Speed: 204 mph
This one is going to seem odd but let me explain. The McLaren 12C came along and showed that McLaren could be a very fast supercar. It was innovative, insanely fast and yet it was flawed. McLaren had some bugs to work out and they did just that with the 650S a few years later. That sold well and definitely set McLaren on the right path. BUT, it is the McLaren 570S Coupe that showed that McLaren can make an everyday supercar that competed with the Porsche 911 Turbo and that is just amazing. The local McLaren dealership by me says that he is up to his eyeballs in Porsche 911 Turbo trade-ins, people making the leap from Porsche to McLaren because of the 570S.
The reason is simple. Ultimately this entry level McLaren is simply awesome. It offers a true sports car experience in a package you could live with every day. It is driver centric with epic performance. It is also perfectly positioned car in the range. It has more performance than you could ever need on the road. It is lightweight, has direct steering and tremendous dynamics and will destroy just about anything else on the road. What more could you want from a sports/super car?
Learn more: McLaren 570S Coupe
McLaren 600LT
Engine: 3.8L twin-turbo V8 / Power: 592 bhp / Torque: 457 lb-ft / 0-60 mph: 2.9 sec / 0-124 mph: 8.2 sec / Top Speed: 204 mph
This is the car I would buy if I had to choose the best supercar on sale today. Forget the Pista, forget the Senna, I would buy the McLaren 600LT Coupe (yes the 600LT Spider is also awesome).
On paper, the limited-edition 600LT is the ultimate version of McLaren's 570S/GT range. It uses a variation of 570S' McLaren's twin-turbo 3.8-liter V8, in this guise making 592 horsepower and 457 lb-ft of torque. It has a dual-clutch automatic transmission and is rear wheel drive. The handling is perfectly balanced and reassures you with its predictable nature with the ride a little firm due to its track nature approach. Standard carbon-ceramic brake discs, extensive carbon fiber and that massive wing let you know this is a limited edition car designed for the track. Capable of eye-watering performance it is deserving of the LT name.
The 600LT is the perfect drivers car. If you love getting behind the wheel on an open road and hammering around for a few hours, then this is the car for you. It's a revelation, calibrated just perfectly and with absurd levels of performance yet able to be enjoyed by regular drivers on normal roads. This is what cars are meant to be about. Future classic and the best car McLaren currently makes.
Learn more: McLaren 600LT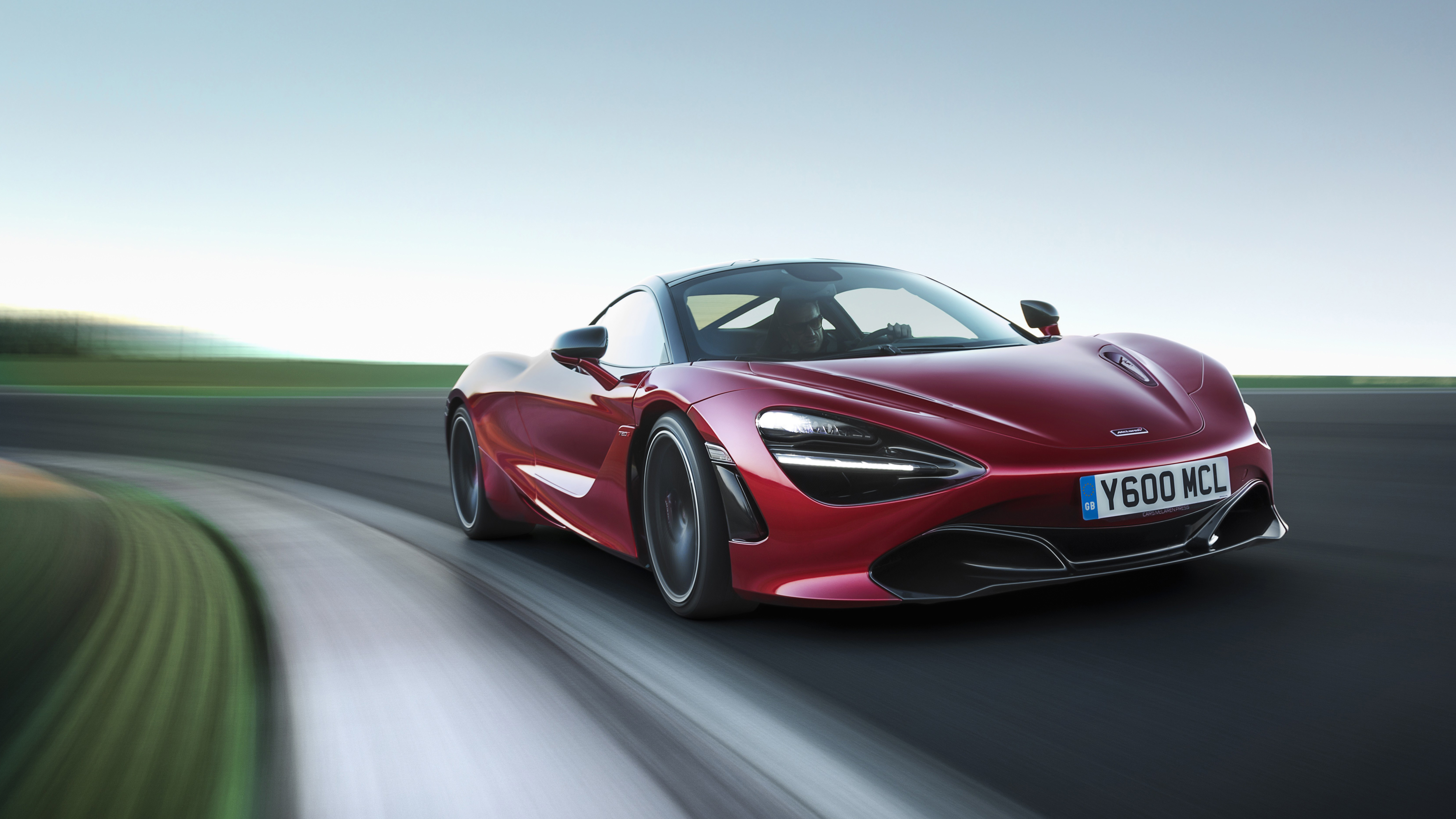 McLaren 720S
Engine: 4.0 L twin-turbo V8 / Power: 710 bhp / Torque: 568 lb-ft / 0-60 mph: 2.9 sec / 0-124 mph: 7.8 sec / Top Speed: 212 mph
The McLaren 12C never really worried the guys at Ferrari. Sure it was fast and smooth and had some cool tech, but ultimately it lacked the soul of a Ferrari and most supercar armchair critics panned it as a great attempt but ultimately not quite there. McLaren quickly made improvements and launched the 650S and that went some way to helping McLaren in the supercar bragging rights. But it is this, the McLaren 720S and 720S Spider that finally did it. McLaren built a supercar that was the best in the world. Out of this world performance, stunning looks, advanced technology and most importantly it has tons of soul. Better than the Ferrari 488? You betcha.
The McLaren 720S is a sensational supercar, easily the best of the current breed. It has a twin-turbocharged 4.0-liter V-8 that produces 710 horsepower and 568 lb-ft of torque. Monumentally fast, great steering and perfect high-speed balance. Top Gear said it best when they said the 720S was "Probably the single most accomplished supercar we've ever driven." Best supercar on sale today, bar none.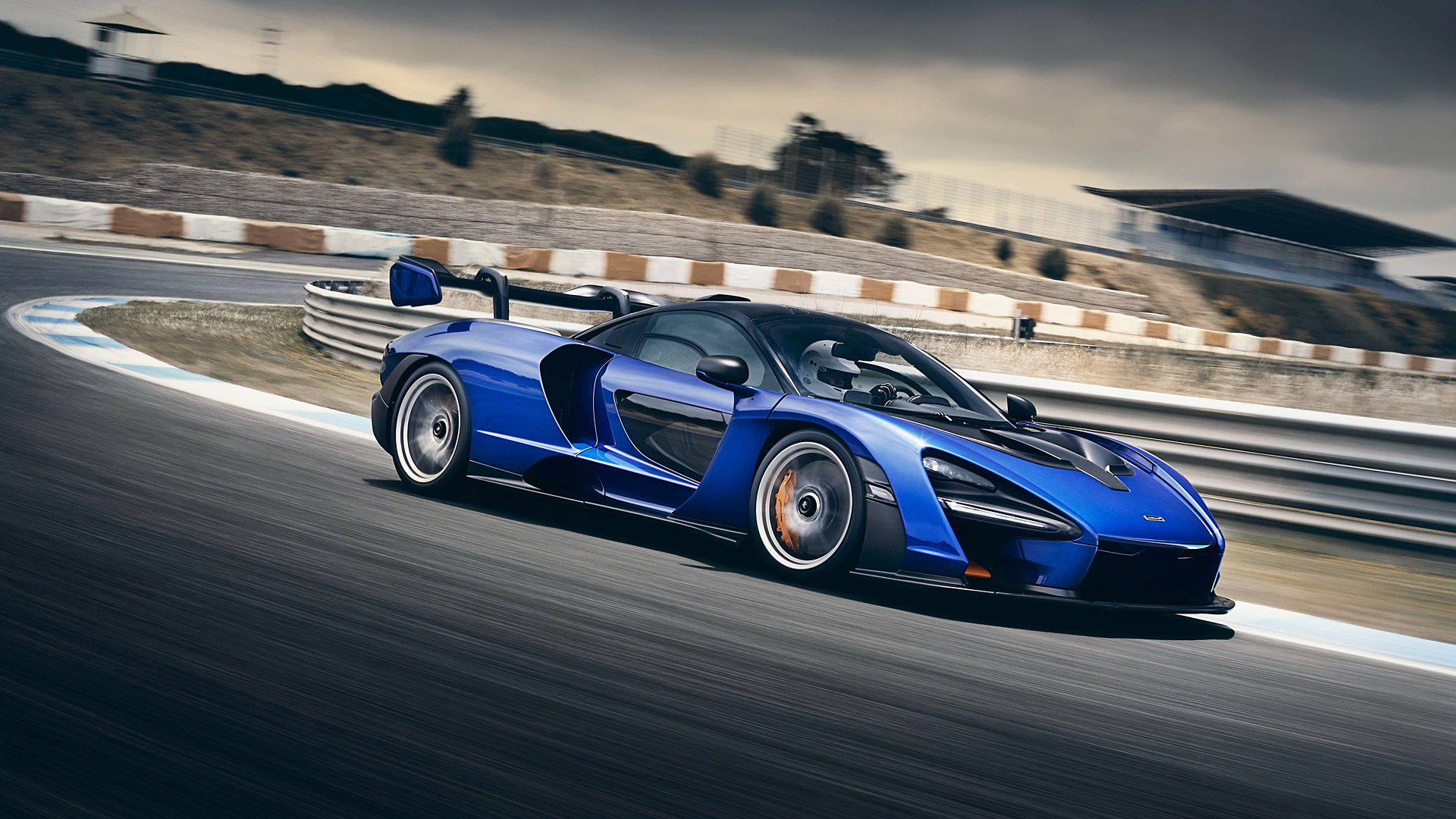 McLaren Senna
Engine: 4.0 L twin-turbo V8 / Power: 789 bhp / Torque: 590 lb-ft / 0-60 mph: 2.8 sec / 0-124 mph: 6.8 sec / Top Speed: 211 mph
McLaren claims this is the most extreme road car it's ever built. It was designed to smash lap records and spend days destroying circuits lap after lap. Named after Formula 1 driver Ayrton Senna, the McLaren Senna is a track-focused hypercar.
The first time you see the Senna is can be a little jarring. It certainly isn't the prettiest car in the world but it never was meant to. Every aspect of its design is focused on making it fast around a track. The Senna is all about aerodynamics – up to 1500 pounds of air pressing the mid-engined two-seater into the tarmac at 155 mph. It could produce more, but above that speed McLaren alter the wing angles to maximise acceleration.
It makes our list because it is in fact road legal and because it really is a stunning achievement by the team at McLaren. It develops 789 hp and 590 lb-ft of torque all deployed through the rear wheels via a seven-speed twin clutch gearbox. The sprints to 62mph is over in 2.8 seconds while 124mph comes up in just 6.8 seconds. To be fast on track a car needs to be both powerful and lightweight and the Senna is a relative lightweight, weighing just 2800 pounds with all fluids and fuel. All 500 units are already sold out.
Learn More: McLaren Senna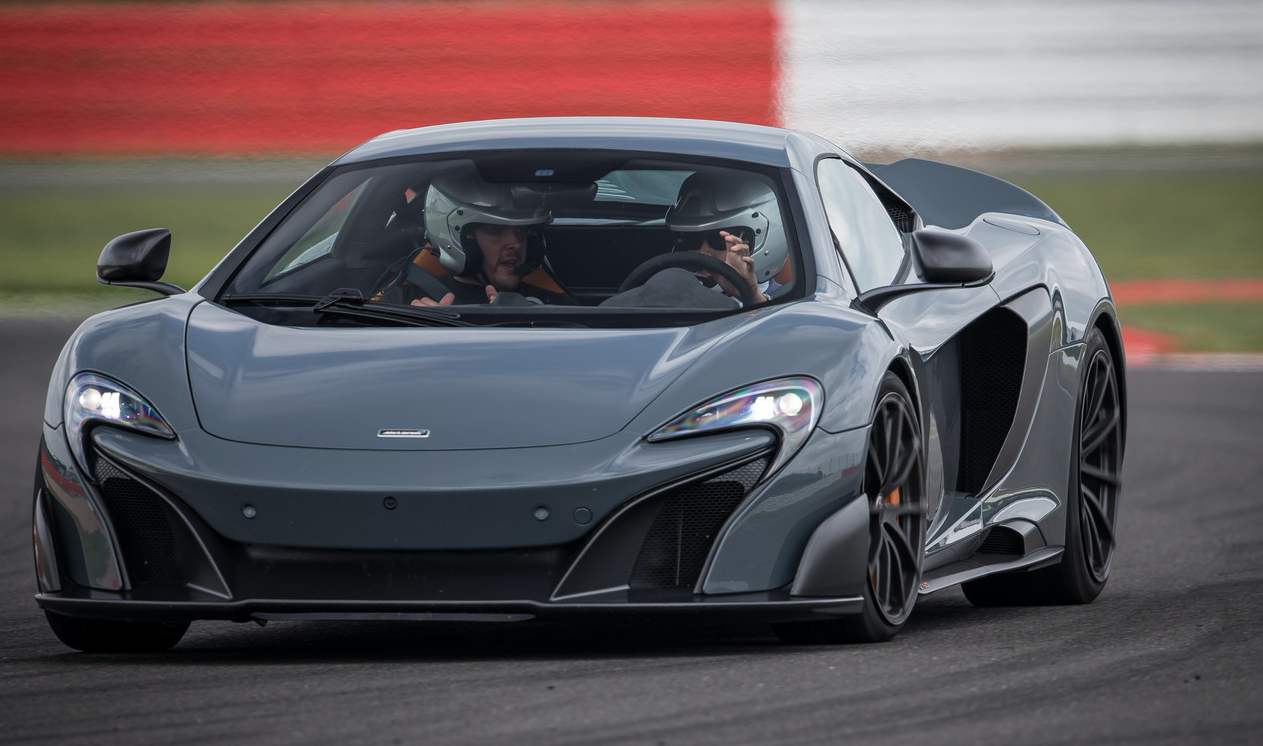 McLaren 675LT
Engine: 3.8-liter twin-turbo V8 / Power: 666 bhp / Torque: 515 lb-ft / 0-60 mph: 2.9 sec
0-124 mph: 7.9 sec / Top Speed: 205 mph
The 675LT was McLaren's answer to the Ferrari 458 Speciale, a harder, lighter, faster upgrade to the 650S. It is a track-focused supercar. . Track-focused but still absolutely scintillating on the road and nothing less than one of the greatest automotive experiences ever. Available as both a coupe and a spider the 657LT showed that McLaren could create the perfect package. Remember, this is a car from a time before the 600LT and before the Senna. McLaren had launched the 12C to great reviews, but it fell shorts in a few areas. To add injury to insult it seemed at first that McLaren was ignoring the feedback. They had built the 12C to be faster than any of the other supercars of the time, but it didn't sound like a supercar and it wasn't fun to drive, the electronic nannies and tuning of the chassis left people feeling it was too synthetic an experience. The 650S came along and was better than the 12C, but it was the 675LT that unleashed the McLaren beast.
Styling cues run from the extended carbon fibre front splitter, through an extended door blade and additional cooling intake, to the circular twin titanium exhaust pipes, giving a hint to the performance available for the most powerful and lightest model in the McLaren Super Series. The active 'Longtail' Airbrake is 50 percent bigger than the one fitted to the 650S yet, due its carbon fibre structure, is actually lighter. This is just one of the enhancements that add up to a dry weight of just 1,230kg.
More than 50 percent of parts have been changed in the 3.8-litre V8 engine to deliver increased levels of power, torque and driveability. Upgrades include new, more efficient turbos, detail design changes to the cylinder heads and exhaust manifolds, new camshaft and lightweight connecting rods, and a faster-flowing fuel pump and delivery system. These changes are so significant, that the engine unit receives a new, unique code – M838TL. The low weight, low inertia power unit produces, as the name suggests, a power output of 675PS and a power-to-weight ratio of 549PS per tonne.
The 675LT is as fully track-focused as it is road legal with around a third of parts modified to suit this purpose compared with the 650S Coupé and Spider that continue in production alongside it. Yet, like its iconic predecessor, the McLaren F1 GTR 'Longtail', from which the LT name is derived, this is a car that is as exciting to look at as it is to drive. It also embodies the key attributes of the 'Longtail' ethos targeting light weight, optimised aerodynamics, increased power, track-focused dynamics and driver engagement.
0-62 mph is over in 2.8 seconds, 0-124 mph in 7.9 seconds, the quarter mile in 10.5 seconds and a top speed of 205 mph. Wow. The way it gets there is what makes the 675LT special. The faster spooling twin-scroll turbochargers, lighter connecting rods, more aggressive camshafts and ECU tuning all combine to make the car more emotional and visceral driving experience. As Top Gear said when they first tested it, this is "nothing less than one of the greatest automotive experiences ever".
Learn More: McLaren 675LT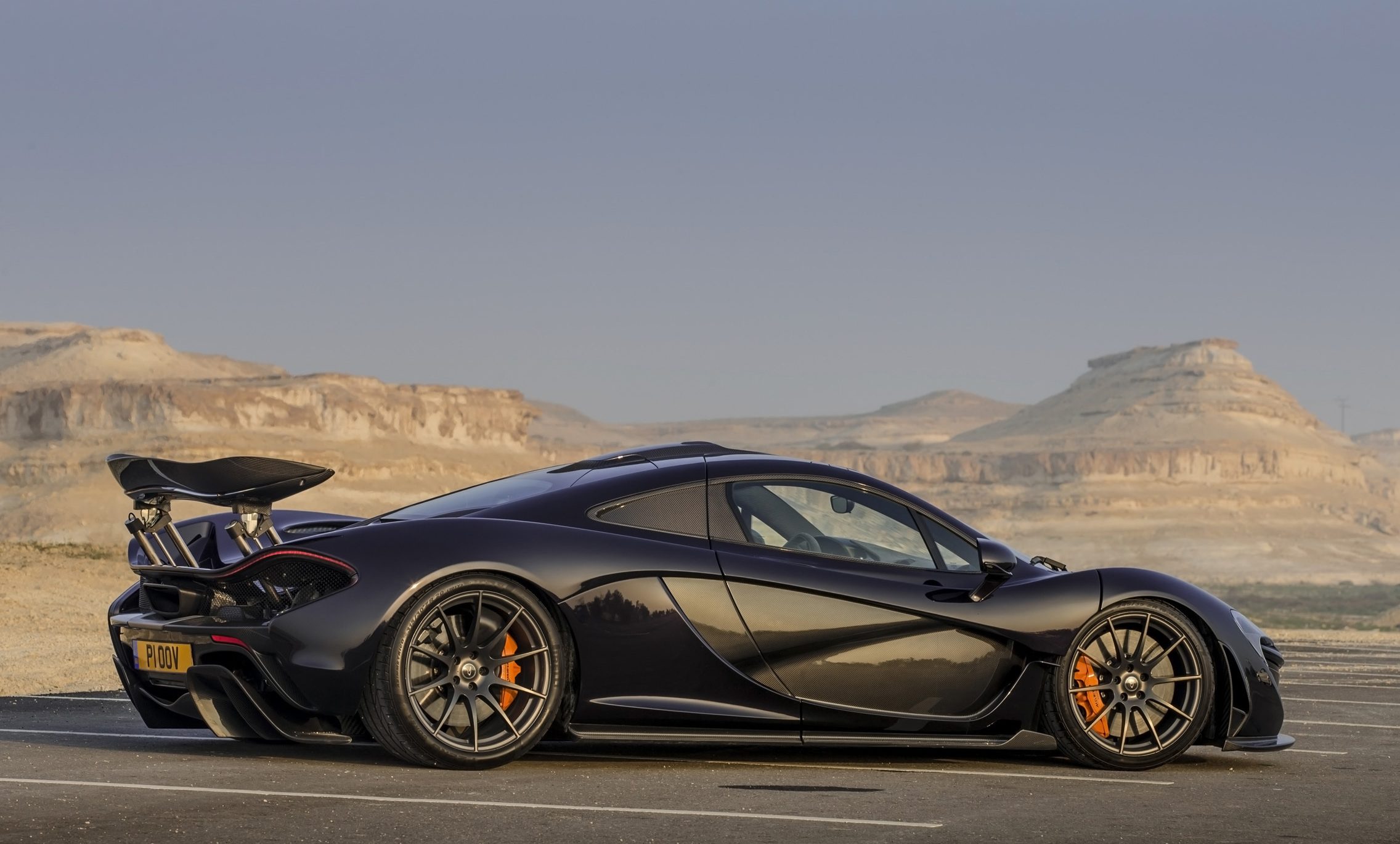 McLaren P1
Engine: 3.8 L twin-turbo V8 + electric motor / Power: 986 hp / Torque: 774 lb/ft / 0-60 mph: 2.8 sec
0-124 mph: 6.8 sec / Top Speed: 217 mph
This is the car that won the first Hybrid Hypercar War. Compared to the controllable yet vivacious characters of the cars it met when it emerged in production in 2013 – the Ferrari LaFerrari and Porsche 918 Spyder – the P1 delivered an altogether more sinister side, gaining it a reputation for having more of a bite. It was also a better performing, better handling and outright more aggressive car. Limited production run of 375, the P1 showed people that hybrid hypercars could be astonishing from a performance perspective. Cool electric motor handily fill in the torque hole left by turbo lag. One of the best ever.
The McLaren F1, released back in the nineties, was designed to be the most technically capable sports car of its era. It surpassed expectations, becoming the world's fastest production car – a record it held for seven years until the Koenigsegg CCR and Bugatti Veyron overtook it. By that yardstick, the McLaren P1 had a lot to live up to as the F1's spiritual predecessor at the top of the McLaren range. But McLaren, as a company, had changed a lot since the creation of the P1.
Given the focus on performance, it's no surprise that McLaren allowed aerodynamics to define the overall design of the P1. The carbon fibre bodywork is draped over a monocoque chassis, with a fighter-jet inspired teardrop cockpit sloping up out of the bonnet to funnel air across the rear wing, helping create a distinctly mid-engined silhouette that reveals how tightly-packaged and honed the car is. Twin air vents up front hint at a venomous undertone to the P1, while an active rear spoiler provides F1 DRS-style aero advantages on the straights as well as acting as an air-brake. This rises in "Race Mode", as the rest of the car hunkers down – creating an athletic stance and oozing menace.
The top speed may be below the F1 – an electronically limited 217 mph to the F1's 240+mph VMax – but absolute maximum speed is not what P1 is about. A 1547 kg car with 903hp is not going to hang about off the line, and the P1 makes the dash from 0-62mph in 2.8 seconds. 186mph comes up in just 16.5 seconds from standstill. The P1's` power comes mostly from a twin-turbo 3.8-litre V8 – the same as used across the McLaren range, but tweaked to output 727hp and 531 lb-ft of torque – combined with a lightweight and KERS-fed electric motor, that puts a further 176 hp and 192 lb ft at the driver's disposal. That power reaches the rear wheels via seven-speed twin clutch gearbox.
Learn More: McLaren P1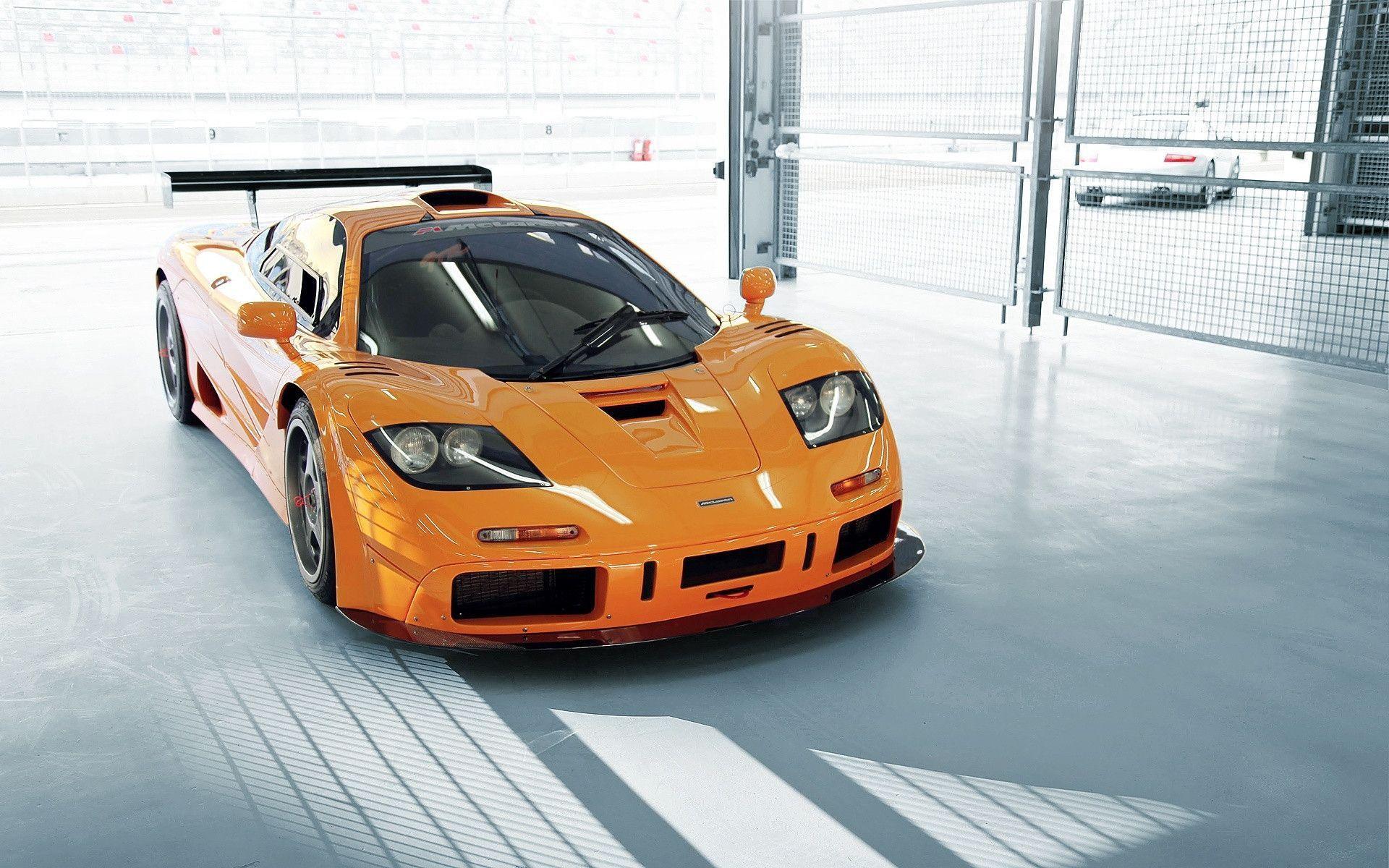 McLaren F1 LM
Engine: BMW 70/2 60 Degree V12 / Power: 668.0 bhp / Torque: 520.0 ft lbs / 0-60 mph: 2.9 sec
0-100 mph: 5 sec / Top Speed: 225 mph
I know we included the McLaren F1 already, but the McLaren F1 LM is sufficiently awesome in its own right that it deserves to be here too. First of all, the "LM" stands for Le Mans which is cool.
Second, the McLaren road car had basically gone to Le Mans and won, so Gordon Murray decided to make a road version with the kit from Le Mans. Brilliant idea that was not so straightforward. The parts from the race car included a ground-effects underbody, unique front bodywork, a rear diffuser and a carbon fiber rear wing engraved with the legend 'GTR-24 Heures du Mans Winners 1995'. The wheels grew in width, and from 17in to 18in in diameter, while the gearbox contained racing-style straight-cut gears.
The LM was a monster. It could go from standstill to 100 mph in less than five seconds.
From a performance perspective the changes lead to a big increase maximum downforce, up some 50 percent. It was almost 150 pounds lighter than the standard F1 and has better ventilation and cooling. Perhaps the biggest change came from the removal of the air restrictors which meant the LM had 668 horsepower at 8500 rpm vs the regular F1's 627 hp. Torque was also up from 479 to 520 pound-feet at 4500 rpm. Top speed was unchanged, with Gordon Murray gearing the LM for fast acceleration and quick gear shifts with closer ratios.
The McLaren F1 LM costs just over $1 million and only five will be built. All five were painted Papaya Orange.
Learn More: McLaren F1 LM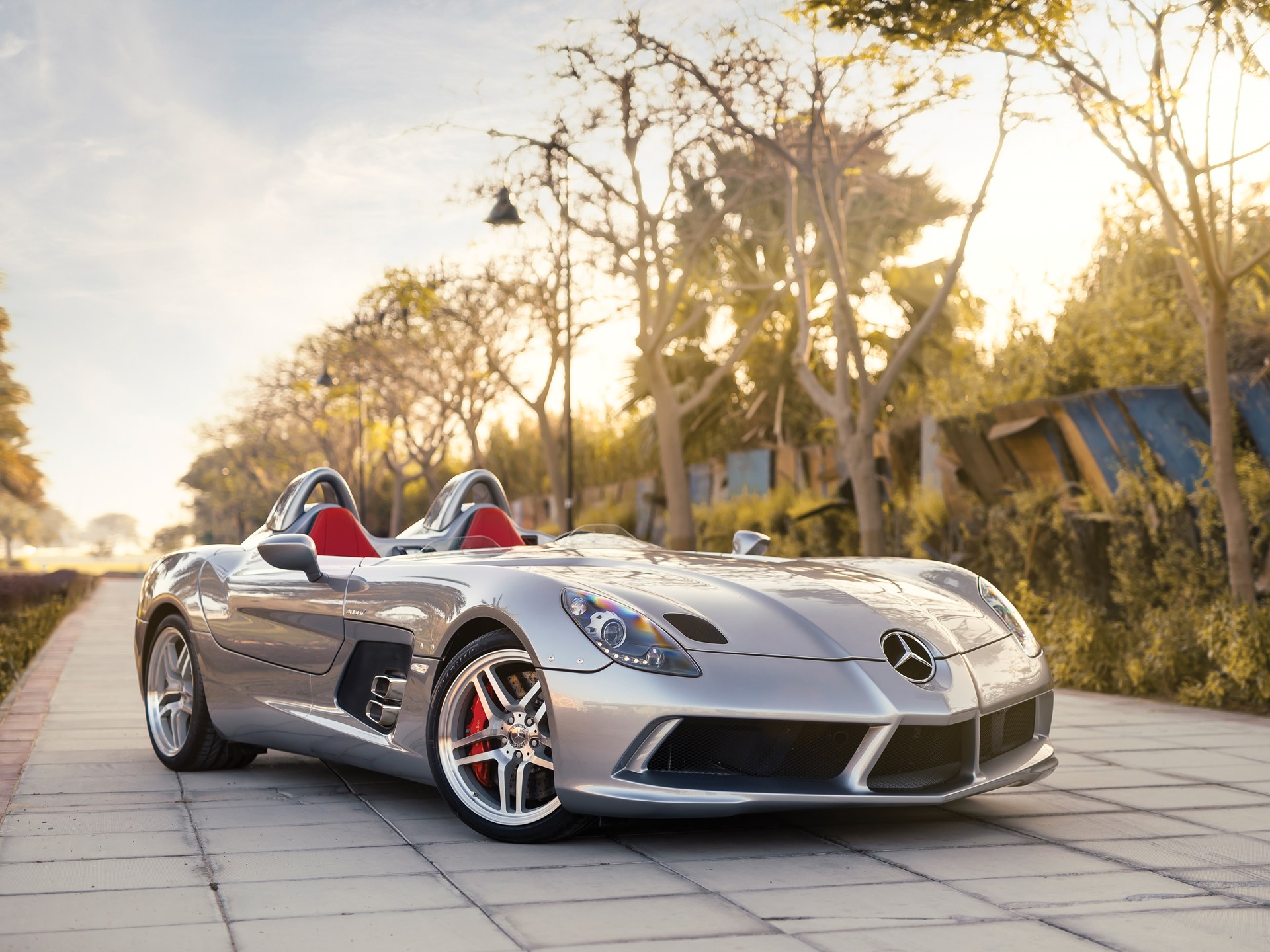 Mercedes-Benz SLR McLaren Stirling Moss
Engine: Supercharge AMG V8 / Power: 641 bhp / Torque: 605 ft lbs / 0-60 mph: 3.5 sec / Top Speed: 217.35 mph
We are counting this Mercedes-Benz and McLaren collaboration as an awesome McLaren car even though we know deep down that Mercedes-Benz probably did most of the work. It was the crowning glory to the highly successful SLR super sports car. We love how modern it was and just how uncompromisingly spectacular the car was.
The SLR Stirling Moss had a supercharged V8 engine good for 650 hp. Standstill to 60 mph was over in less than 3.5 seconds. It was limited to just 75 units and cost a healthy 750,000 euros when announced in 2009.
The SLR Stirling Moss sports an exciting, pronounced arrow-shaped form and is characterised by an elongated bonnet and a compact, muscular rear. As there is no windscreen, the exterior and interior flow smoothly into one. The bonnet also stretches from its striking tip right down into the interior, giving the vehicle body a distinctly sleek air. Even when standing still, the sports car radiates such dynamism that the observer immediately falls under its spell. The SLR Stirling Moss is the kind of high-calibre speedster coveted by the sporting gentry and enthusiasts alike. One of McLaren coolest models for sure.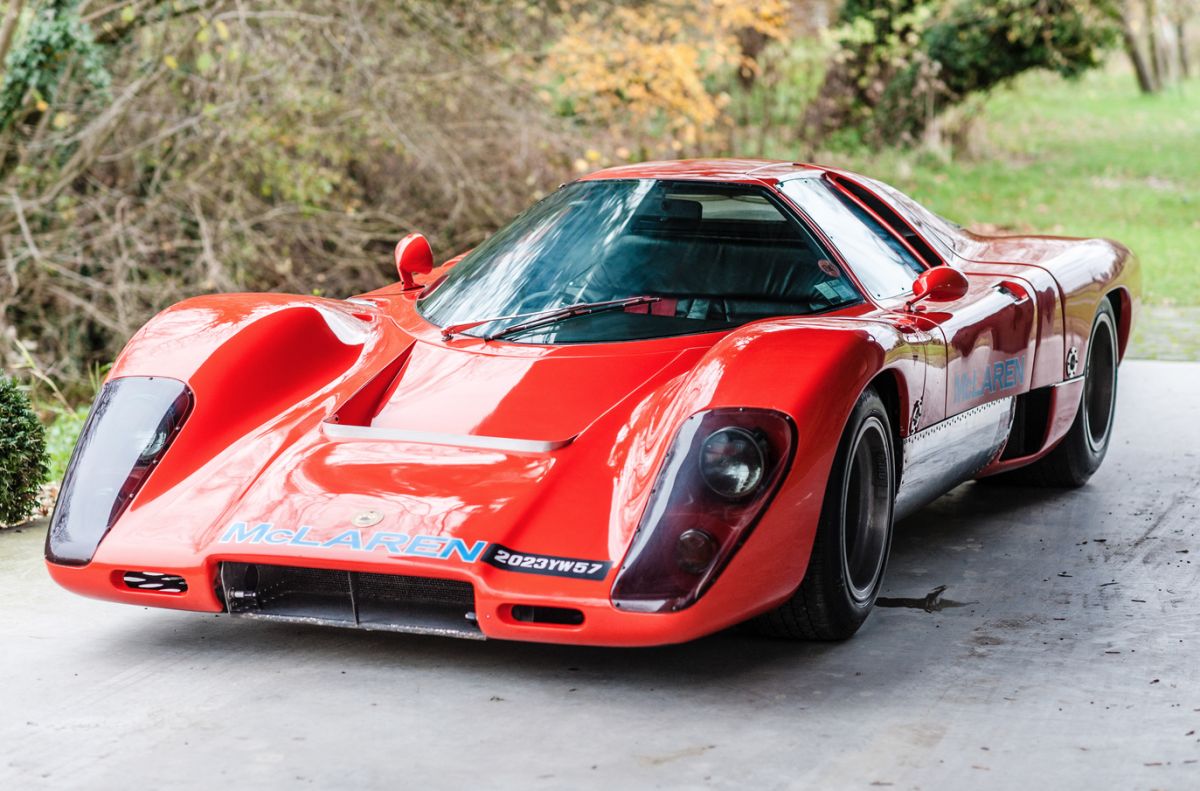 McLaren M12
Engine: 6.4 L V8 / Power: 770 hp
Most people don't know about the M12GT which was one of McLaren's earliest road cars. It is very rate. The M12 was basically a road legal Can-Am car. Back in the late 1960s the M12 was McLaren's customer car offered to privateers for the 1969 Can-Am season. Basically, it's an upgraded version of the M6 chassis from two years earlier with a more aerodynamic body, and an 800-hp Chevy big block in the middle. That is what we consider a cool production car, something based on the M8As which successfully used to win the 1968 Can-Am season, as well as the M8Bs which the team were developing for 1969.
However, the M12s did not share everything from the M8 series. Instead, the monocoque chassis were actually based on the early M6 series initially developed in 1967. On top of this chassis, the aerodynamic bodywork of the M8A was added. The engine bays were specifically designed to house a Chevrolet V8 engine, but several customers opted for other manufacturers. All M12s were built by Trojan, rather than at McLaren's racing headquarters
Several M12s were later modified by customers in order to cope with necessary demands. Many Can-Am M12 customers added larger rear wings for better downforce, in an attempt to keep up with competitors which had already done the same. Two M12s were imported to Japan by Toyota and received revised bodywork to allow better results at Japanese circuits as well as to fit company's own V8 engine.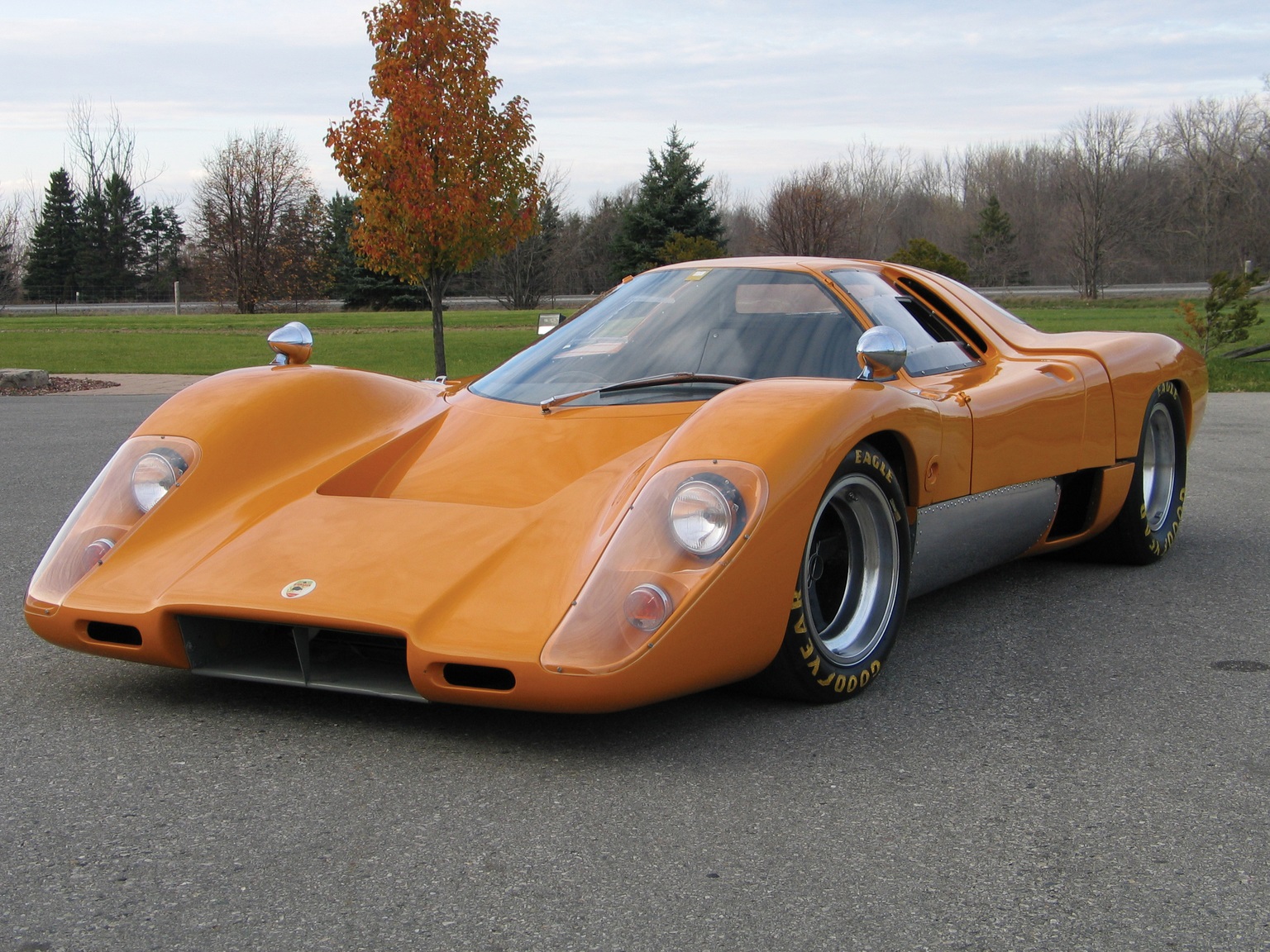 McLaren M6GT
Engine: V8 / Power: 370 bhp / Torque: 370 ft lbs / 0-60 mph: 3.2 sec / 0-100 mph: 8 sec / Top Speed: 165 mph
In the late 1960s, company founder Bruce McLaren was inspired to build a road car the likes of which the world had never seen. Bruce McLaren's vision for the M6GT is the genesis for all McLaren road cars.
Based on the latest race technology, the M6GT was superlight, blisteringly quick, confidence inspiring and safe. It would feature a closed cockpit, the running gear from a Can Am racecar. Three prototypes were produced, each capable of zero to 100 mph in eight seconds. Bruce even drove his car ever day which says a lot about how good it was. Bruce died in 1970 and with it so did the McLaren M6GT. Unfortunately, Bruce's death and the FIA changing the rules governing homologation for the World Championship of Makes (now requiring manufacturers to complete a minimum of 50 production examples before a car could be considered) effectively killed off the project. Unable to meet the requirement at the time, the racing project was shelved and so was the production car.
Learn More: McLaren M6 GT
MSO Carbon Series LT
I am including this limited edition (only 25 cars) MSO car because frankly I love the way it looks. The MSO team works their magic on a number of cars, but the limited production cars they create are some of my favorite McLaren's.
Based on the 675LT Spider, the Carbon Series LT was produced in response to requests from McLaren customers captivated by the visual carbon fibre bodied McLaren P1. Staying true to the 'Longtail' ethos, the MSO Carbon Series LT was developed with a focus on light weight and optimised aerodynamic performance. Applying gloss carbon fibre to the entire body of the car further extends its appeal to bring a brutal beauty to the existing 675LT Spider body.