Just think about these figures for a second … acceleration from 0 to 100 km/h in 3.7 seconds, an electronically limited top speed of 280 km/h, powered by a 4.5-Liter Biturbo V8 engine with 900 PS (662 kW) and a massive 1,250 Nm of torque at an RPM of only 2,900 … did that settle in yet? You might be thinking we're talking about some low-riding, harsh, uncomfortable but stunningly beautiful and aerodynamic supercar … right?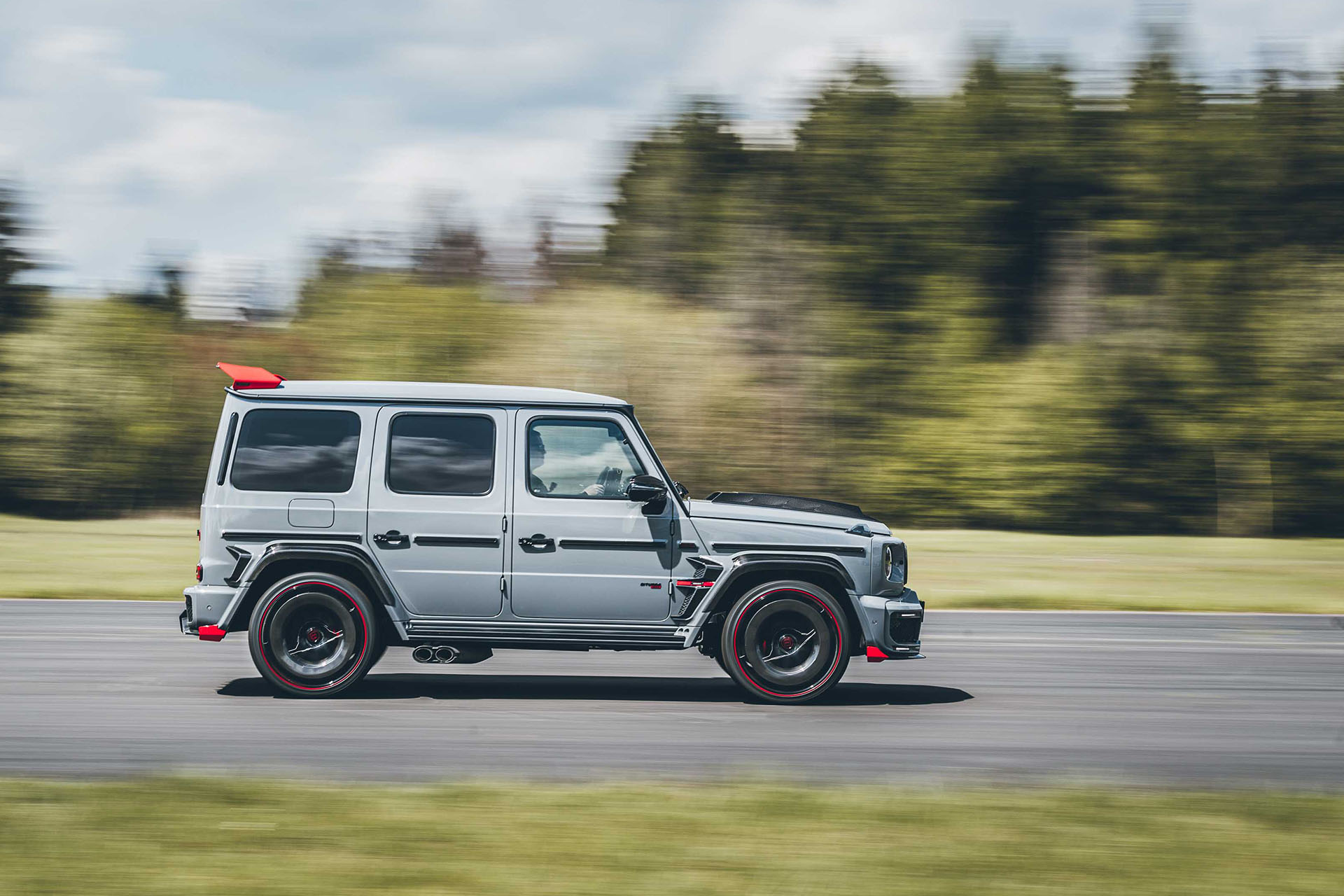 Nope, wrong … this is the brand new BRABUS 900 ROCKET EDITION, and since it's based on the Mercedes G63 SUV, we are talking about a car with as much aerodynamic styling as a brick house … well, that might be a bit harsh, but you get the idea, this is a 2,560 kgs (5,644 lbs) heavy SUV, and she's wide and tall too, 204 cm (80.3 in) wide and 462 cm (182 in) long, riding on massive 24-inch wheels, 10-inch wide at the front and a girthy 12-inch wide at the rear.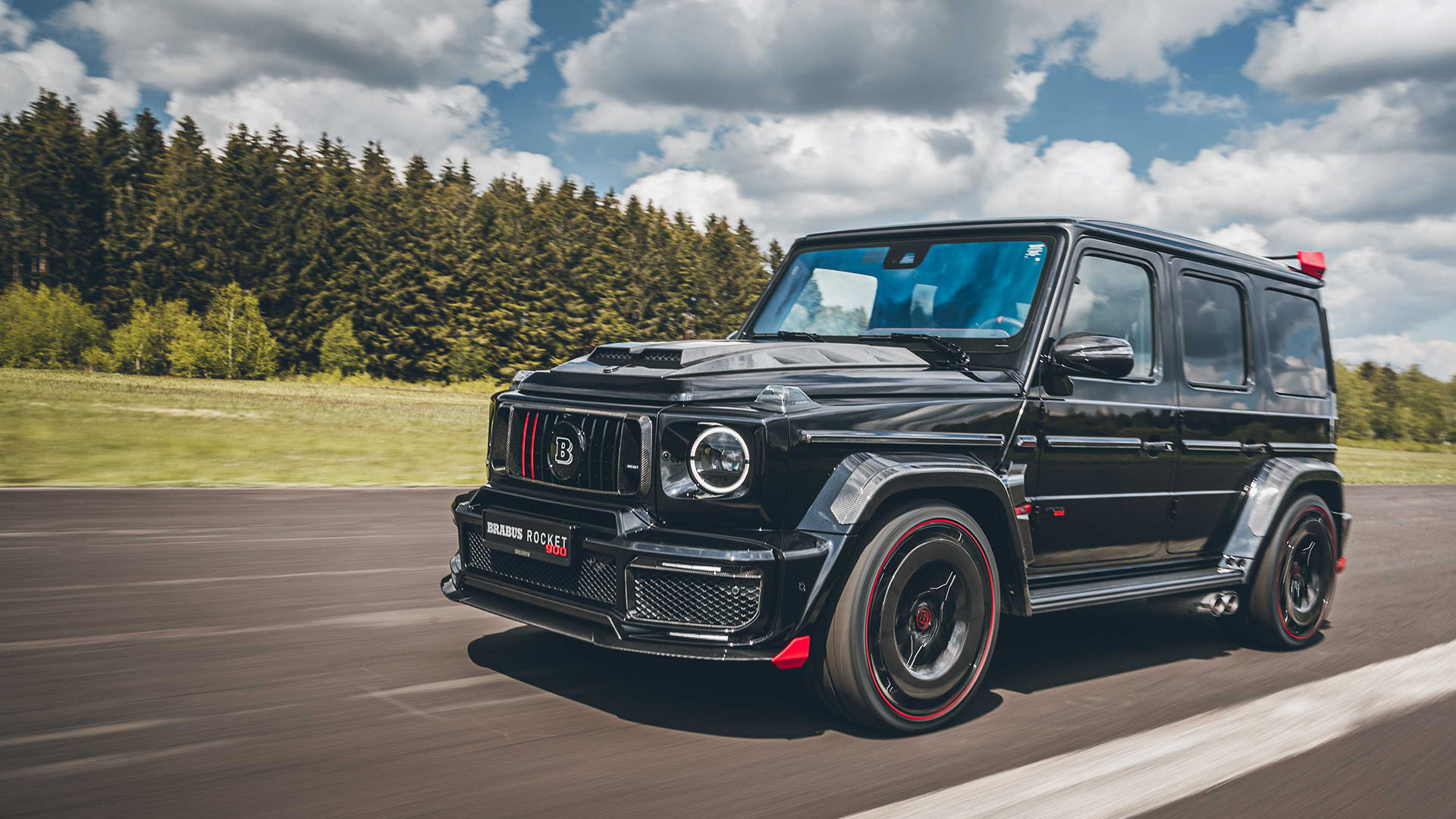 The new BRABUS 900 ROCKET EDITION comes with a serious price tag attached to her, €571,270 ($677,750) including German VAT (which is 19%), but BRABUS will only build 25 units for the entire world, 10 of which will be ready for delivery later this year while the remaining 15 units will join their customers by the end of 2022 … and while BRABUS always unveils their new cars in black or grey, the client can choose from an almost infinite palette of colors for his, or her Super SUV … both on the outside, and on the inside.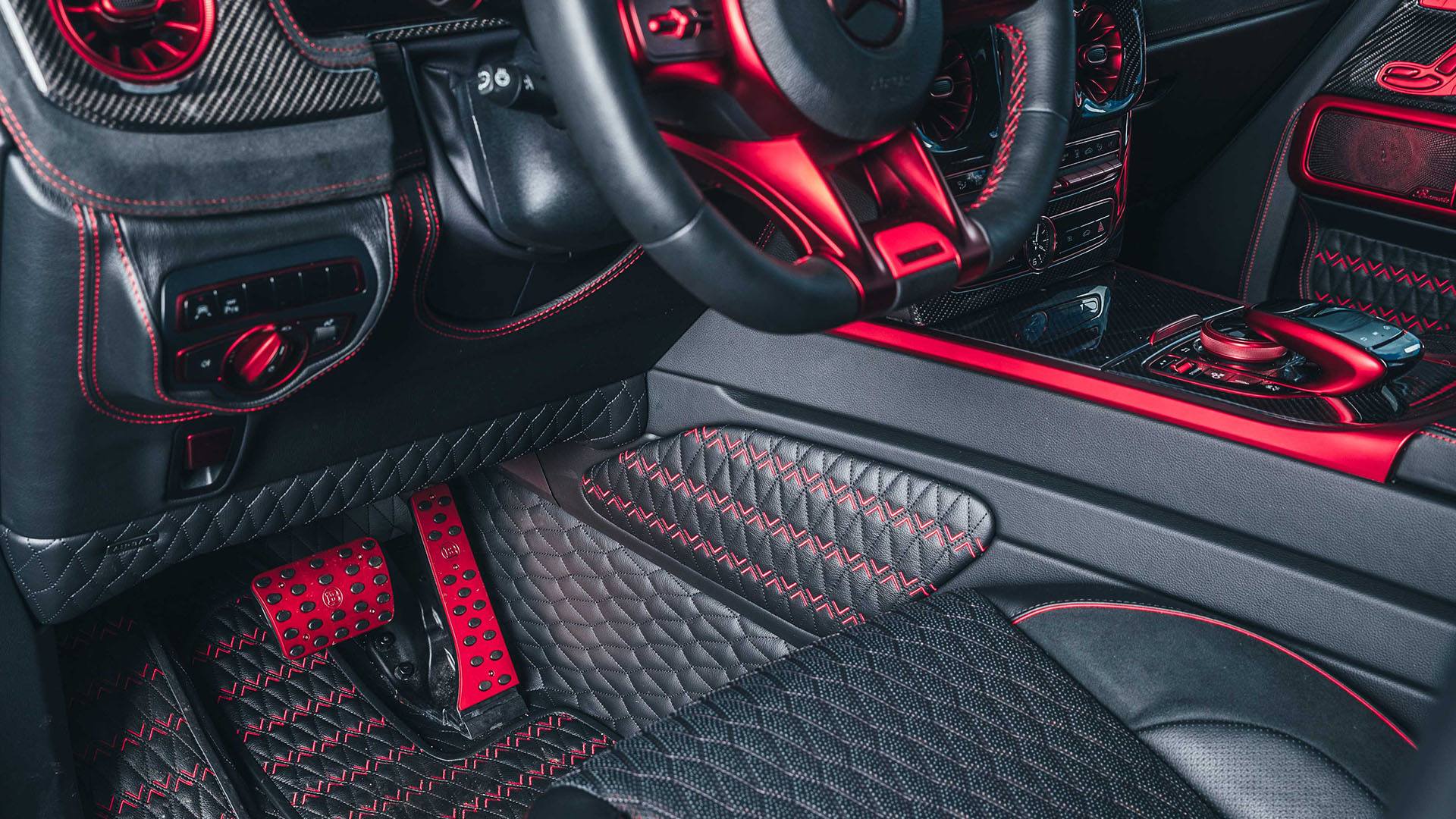 So what does BRABUS offer to justify adding about half a million US$ to the MSRP of a top-of-the-line G63 AMG model, which is about $160,000 before adding options, also note our previous article on a BRABUS SUV was about their 800 Black & Gold Edition, which comes in at about €200,000 less than this new 900 ROCKET EDITION … then the latter should really be something utterly amazing and special … right?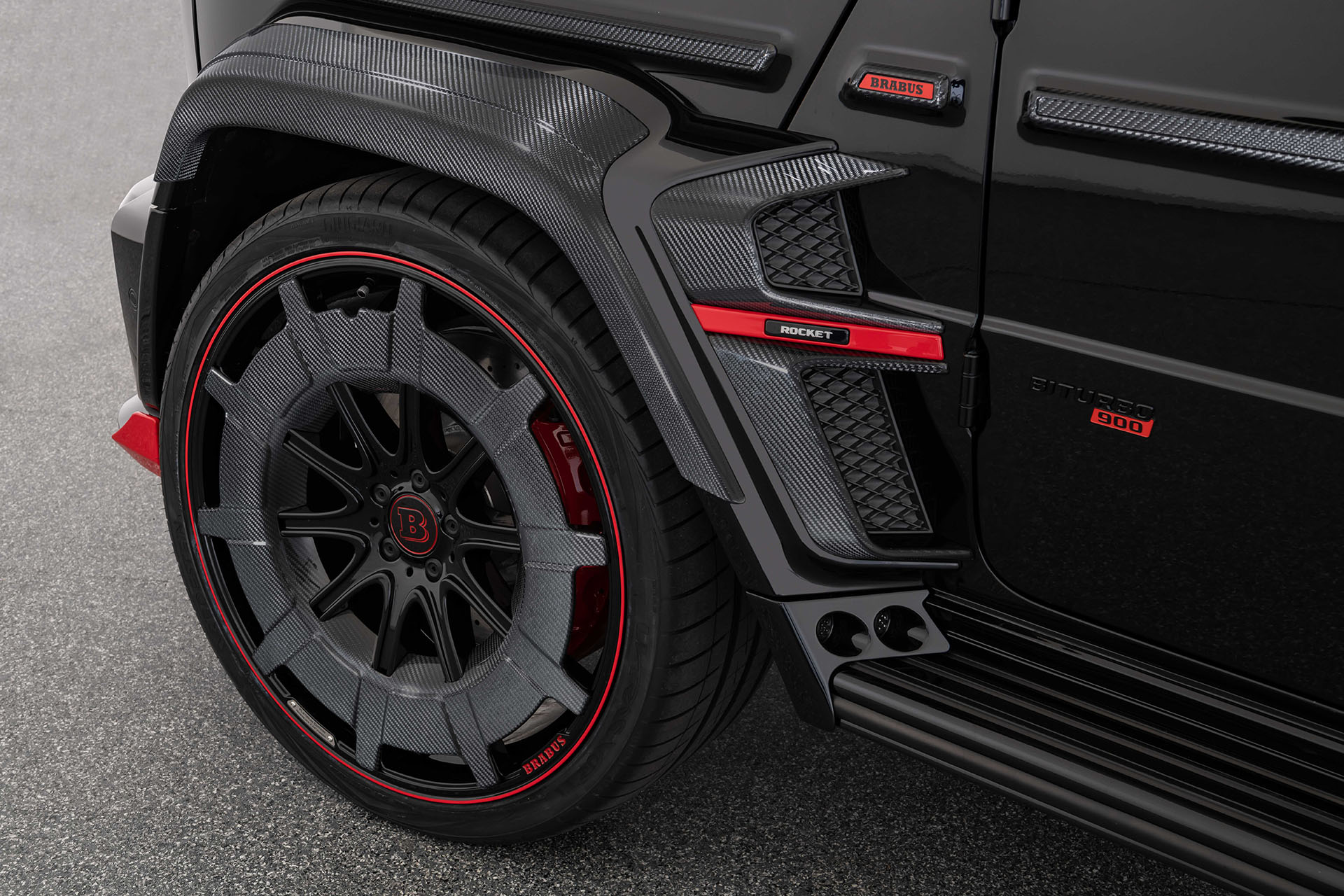 Just for this new model, BRABUS created the ROCKET widebody aerodynamic kit that includes some amazing carbon fiber parts, also a new set of Monoblock Z wheels in a massive 24-inch size was developed for the ROCKET EDITION which come with fashionable 'aero discs' and the rear wheels are fitted with massively wide 355/25 R 24 tires … that's Lamborghini tire sizes on a large SUV!
The two demo cars BRABUS prepared to showcase this new 900 ROCKET EDITION are finished in their famous "Signature Black" and "Stealth Grey", and while the exterior is already extremely impressive (more on that later), it is on the inside where BRABUS fitted their MASTERPIECE interior in the best black leather and individual seats for the rear with a central console that houses a table for comfort, on the dashboard, doors and central console you'll find a lot of breathtaking carbon fiber being fitted.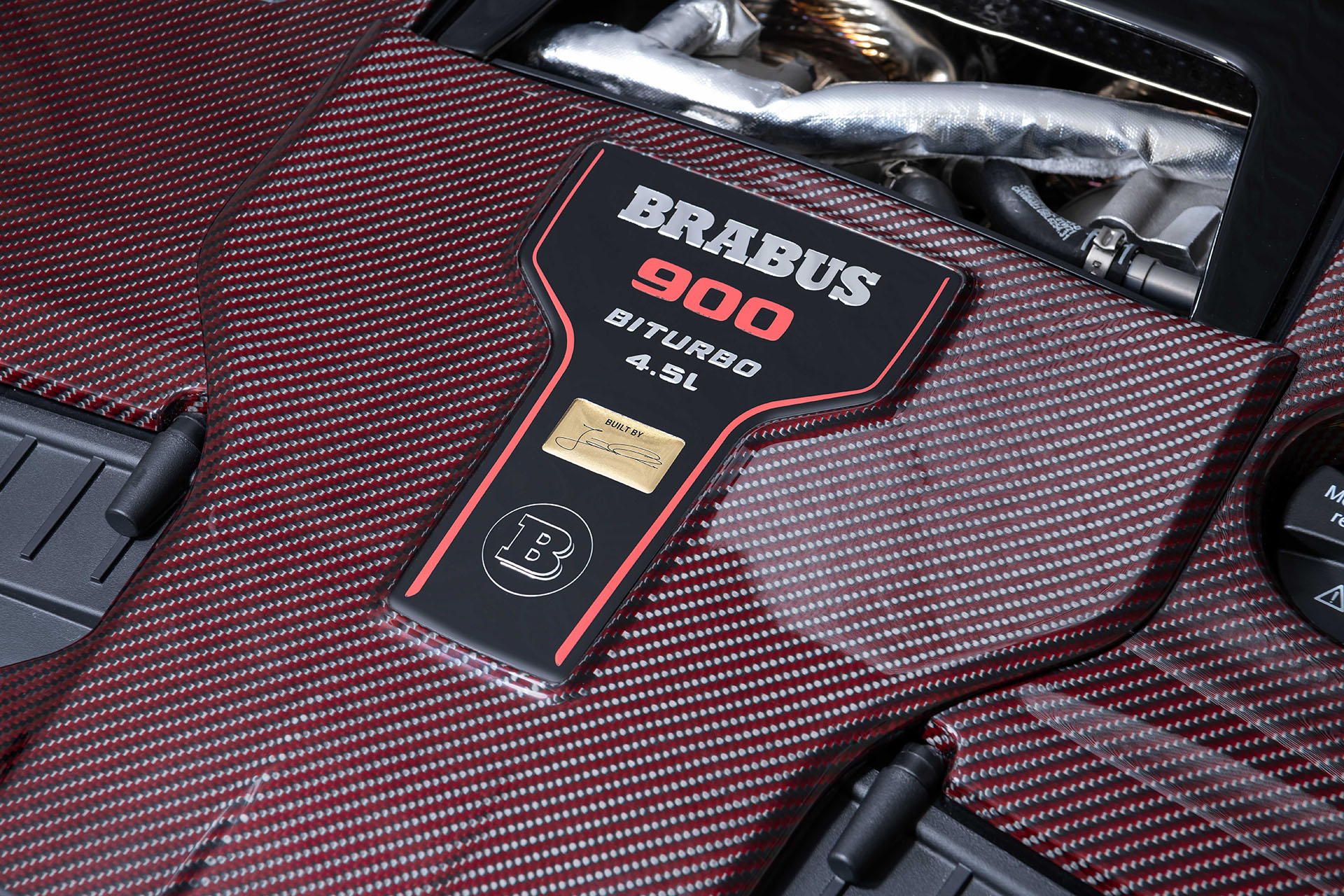 But first, back to what makes the BRABUS 900 ROCKET EDITION tick, the highly modified engine, if you know the statistics, the base G63 comes with a 3,982 cm³ displacement V8 engine, BRABUS takes that engine apart and bores out the cylinders to 84 mm and mills a new crankshaft from a solid rod of aluminum … the result is a displacement of 4,407 cm³, but that alone isn't enough to get a power increase of 315 PS, so BRABUS replaced the factory original turbochargers with a pair of their own, in-house units that are capable of a 1.4 bar boost, a ram-air intake made from carbon fiber makes sure these turbos can draw enough cold air, and just for looks, the engine is covered with a stunningly beautiful, red infused carbon fiber cover.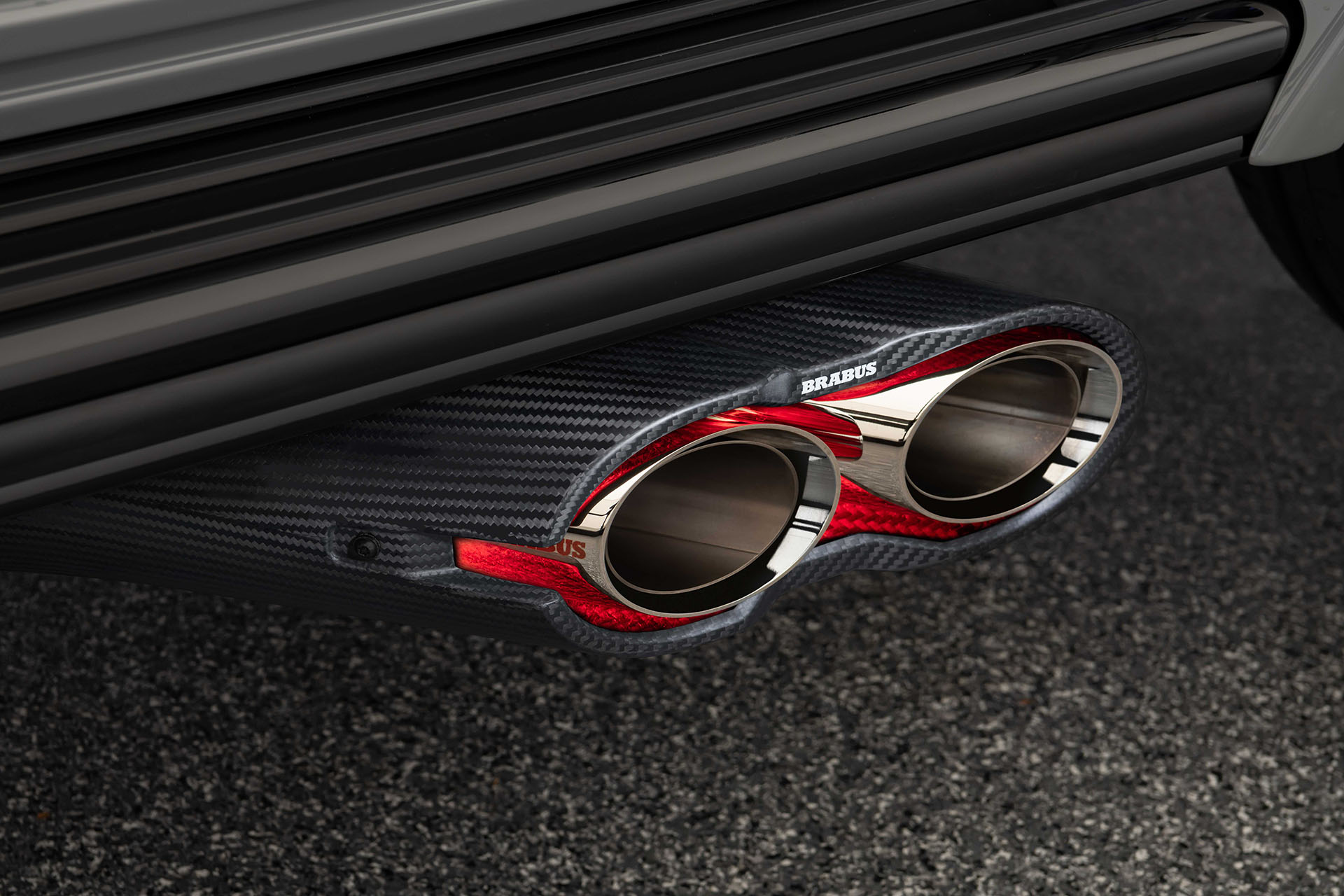 Some more help to reach that 900 PS output comes from the amazing stainless steel exhaust system fitted by BRABUS, complete with 76 mm downpipes and sport catalysts, and naturally a valved high-performance exhaust, so you can adjust the soundtrack of this impressive V8 depending on your surroundings, most neighbors don't like you starting this beast at 5 in the morning with the exhaust in 'Sport' mode … naturally, the dual, carbon fiber exhaust tips are fitted underneath this supercar and exit fumes just in front of the rear wheels, and to top it all off, BRABUS integrated their ROCKET ambient light into them, just for fun.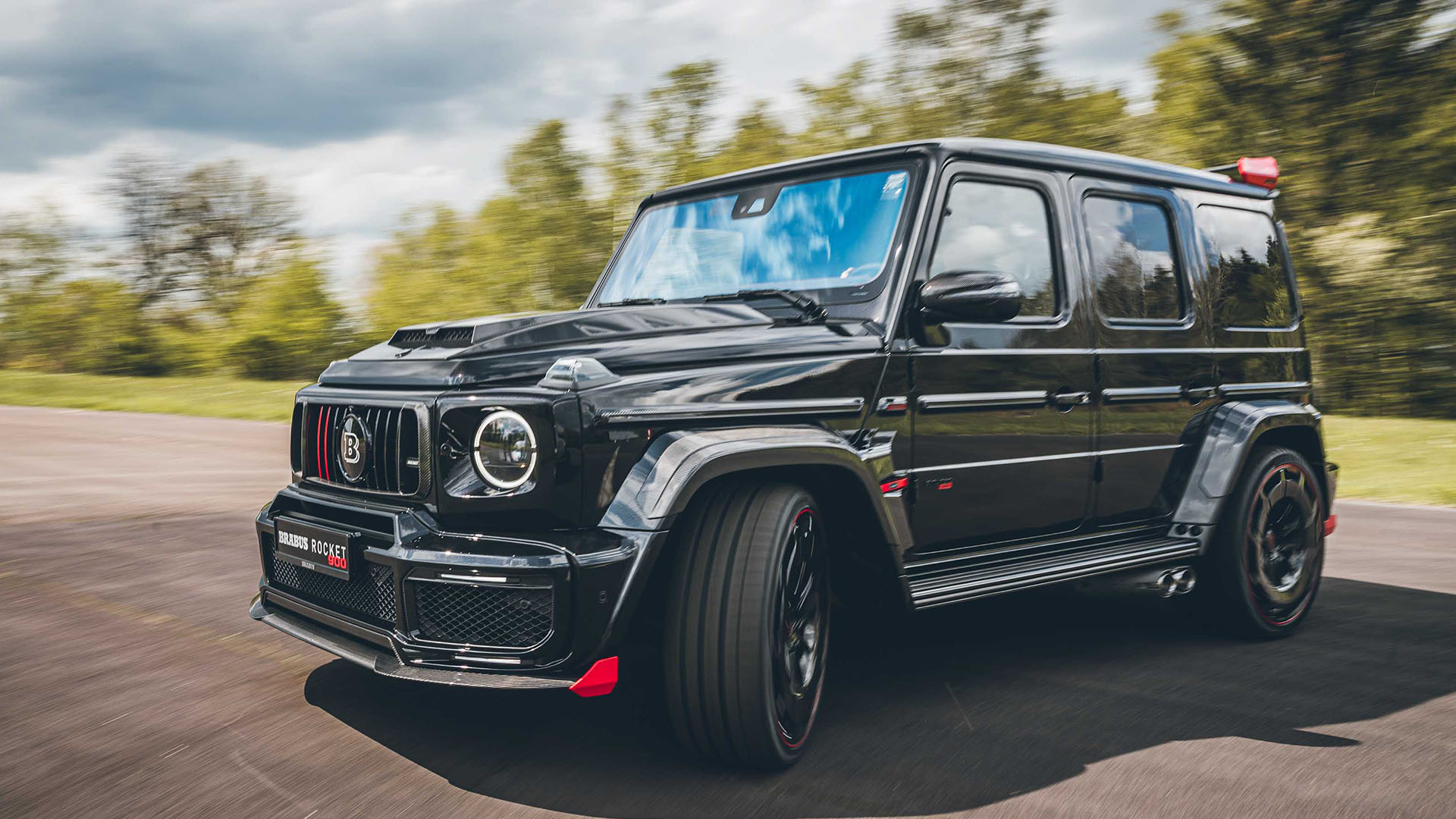 We've all seen the BRABUS WIDESTAR kit before, used on many Mercedes G-Wagon conversions from this Bottrop based manufacturer, but for their ultimate, limited edition version of the G63 they created a new version of their famous aerodynamic kit, using more visible carbon fiber on the outside than before, adding vertical stabilization fins to the front bumper, but also a new front grille with ROCKET logo and the required ram-air intakes for the turbochargers behind it.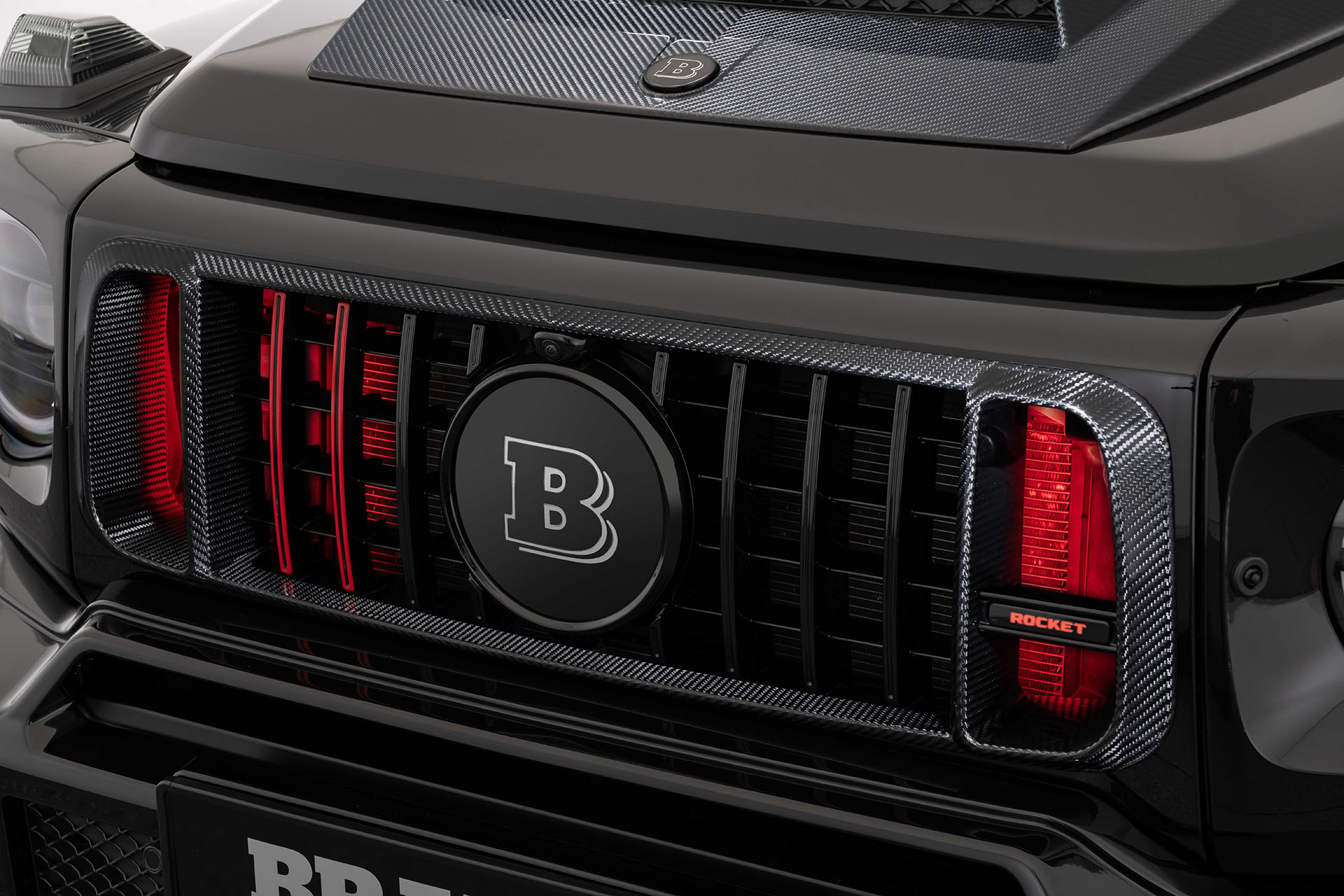 We also note the ROCKET Startup Glow and illuminated ROCKET logo, but you just can't miss those massively wide wheel arch extensions from BRABUS, made from carbon fiber for both the front fenders and the rear axle, they add 10 cm of width to the base G63 model, and they flow perfectly from the new front and rear bumper into a pair of side sills that are LED lighted in the dark, naturally a stylish roof spoiler and an aggressive-looking rear diffuser are also part of the ROCKET EDITION kit.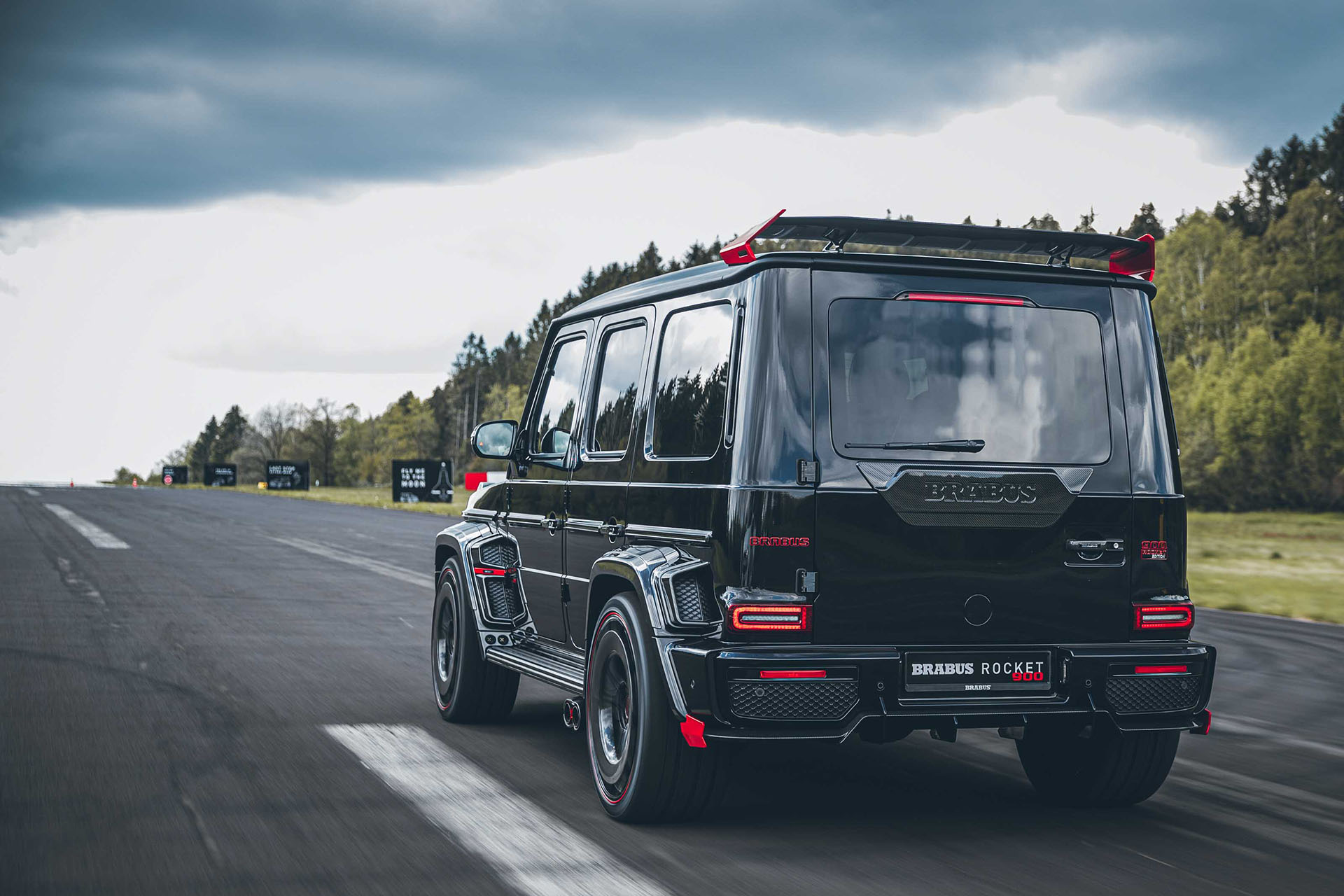 At the rear, the spare tire is removed from the door and BRABUS puts a carbon fiber cover over the attachment, also at the front, the original engine cover gets an add-on from BRABUS that completely changes the front, the ROCKET EDITION is extremely aggressively styled, from every angle, but it also comes with creature comforts like LED mounted underneath the side sill that illuminates the floor when you want to step out of the car at night.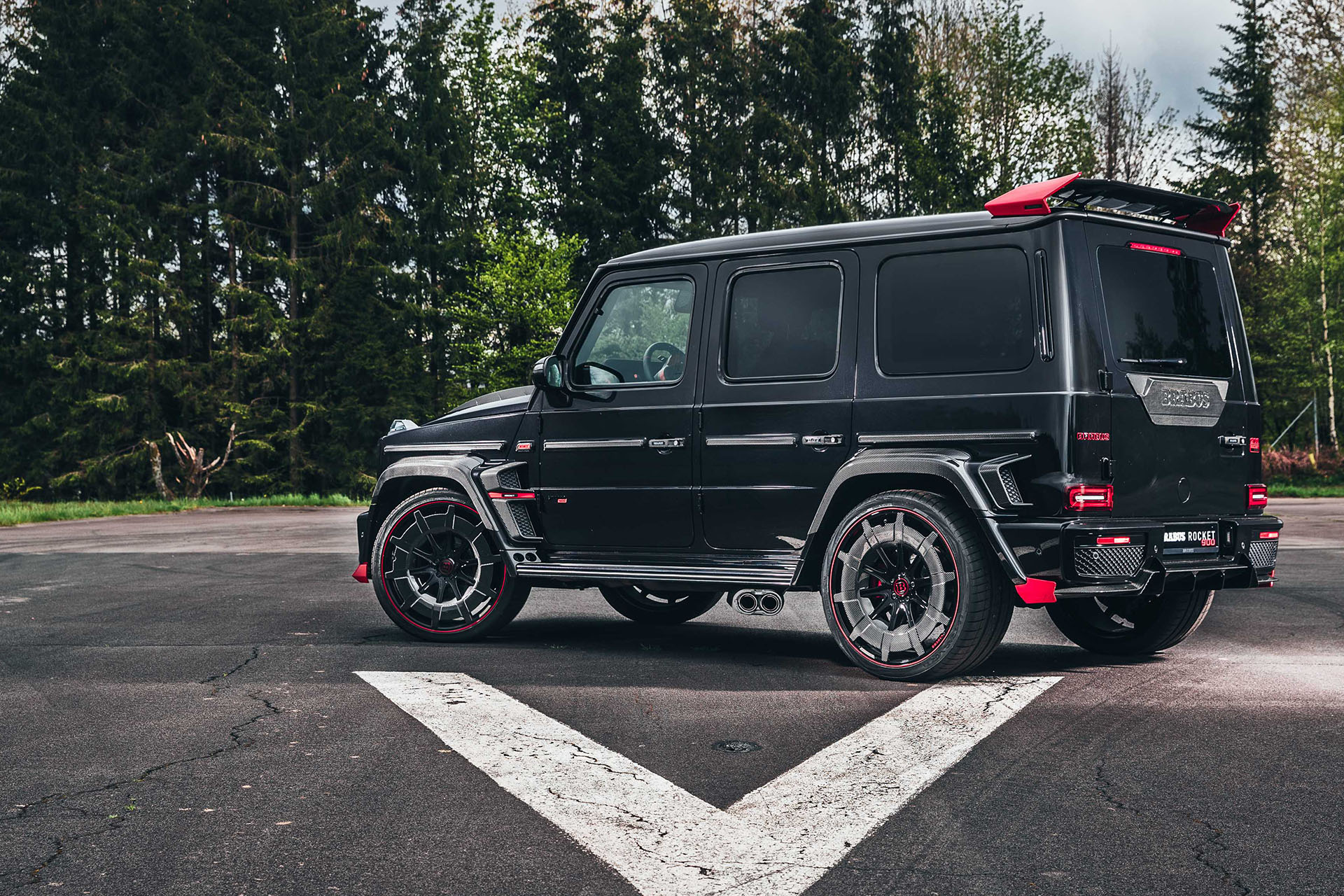 A wider body requires a special set of wheels, and these come in the form of the new BRABUS Monoblock Z "Platinum Edition" units, 10×24 inch for the front, 12×24 inch for the rear, fitted with 295/30 ZR24 and 355/25 ZR 24 respectively, either from Continental, Pirelli, or Yokohama, whichever the client prefers, or can source locally when it's time to replace them, and trust me, with this much power in such a heavy car, these tires will wear quickly, even without the occasional burnout or donut.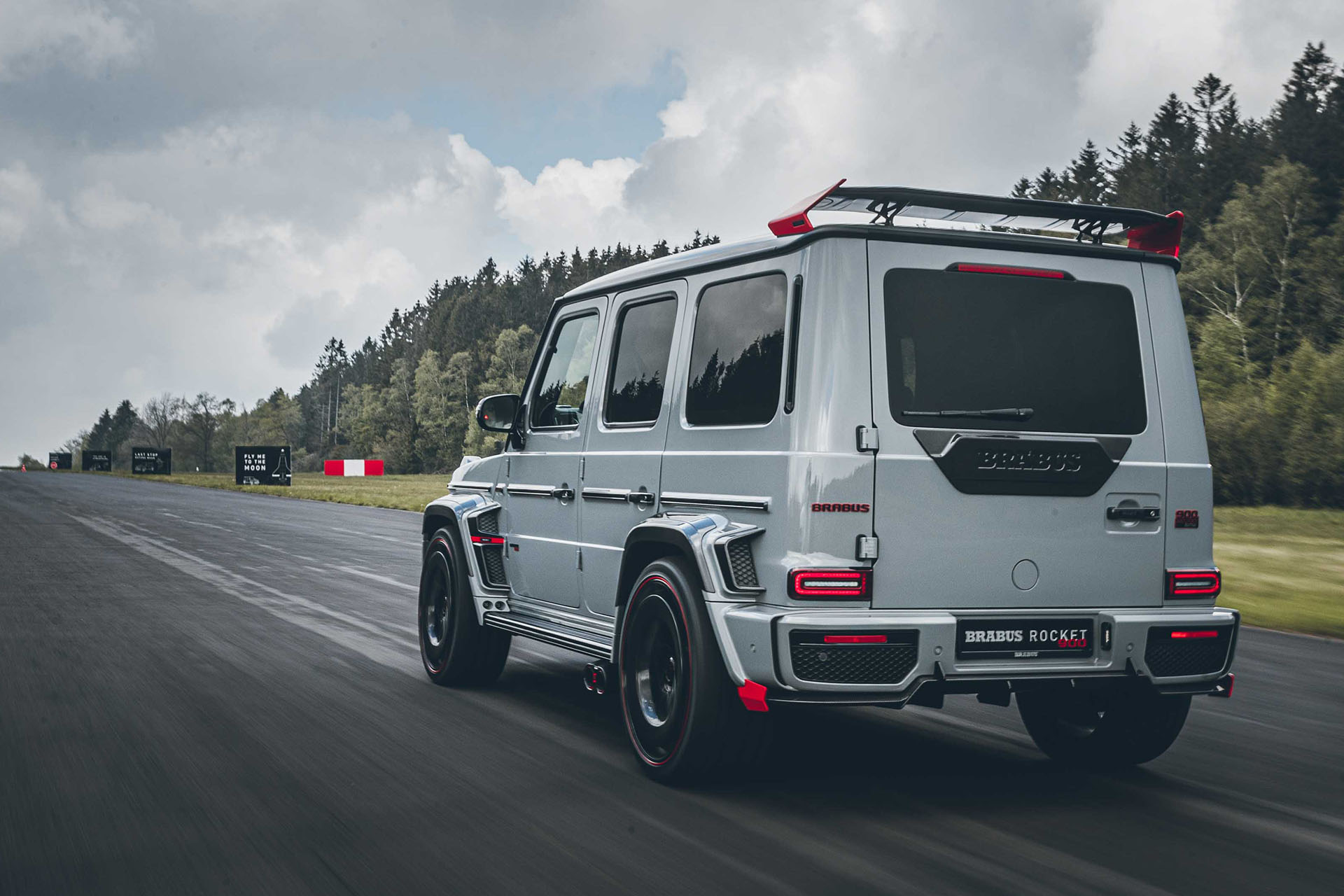 And that concludes only the exterior and engine … now comes probably the best part, the interior, which is completely customized by BRABUS saddlery, yes, they have their own, in-house saddlery to create some of the most beautiful and bespoke interiors, in whatever color the customer wants, and that not only includes the leather hides, but also the Alcantara, the stitching, the perforation and even a tint of the carbon fiber used … at BRABUS the sky is the limit when it comes to creating a bespoke interior … but it seems they do like black at BRABUS nonetheless.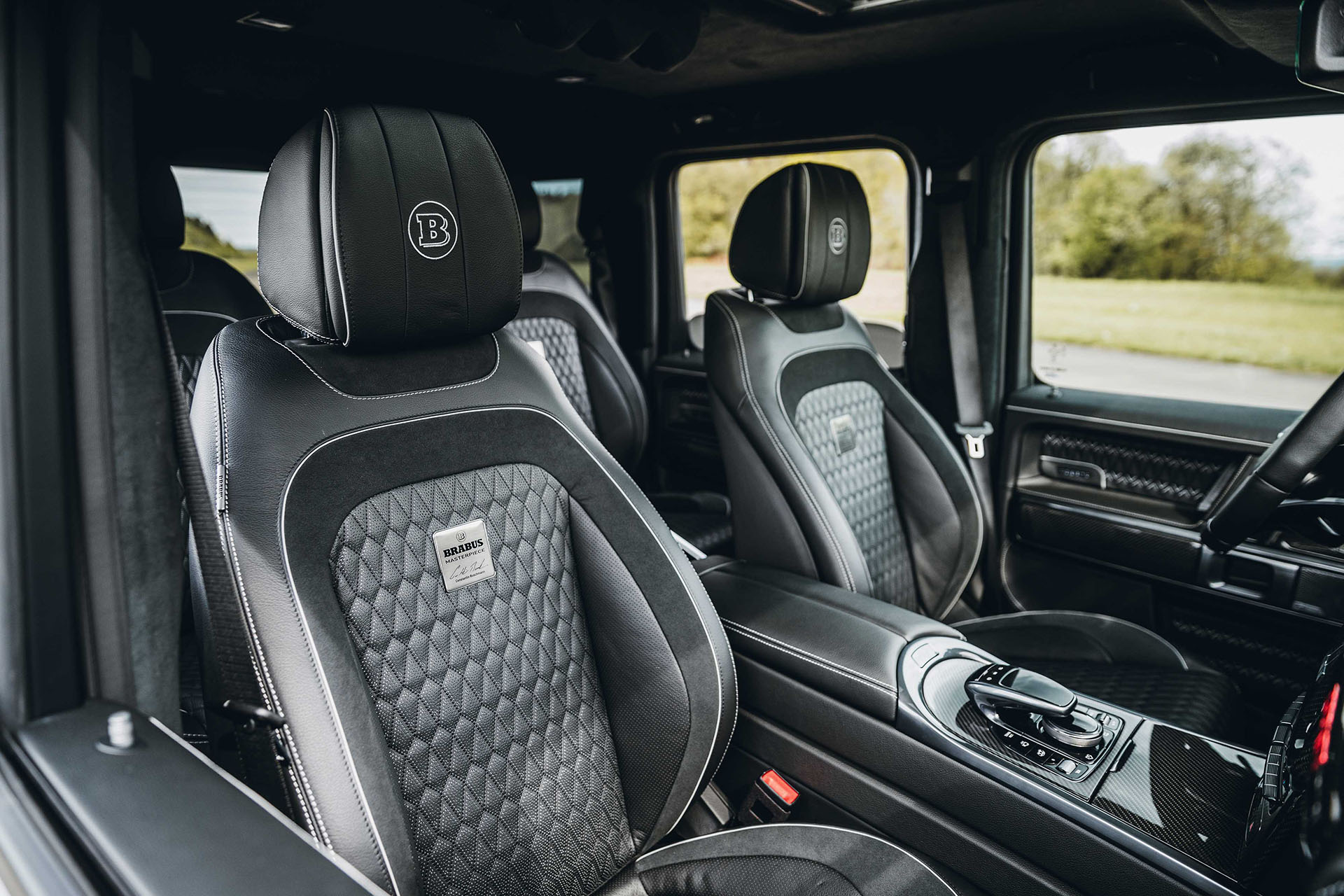 A total of 206 parts will get the BRABUS touch if you go all the way on the interior, and this includes some amazing shell-shaped quilting on the leather seats and door panels, but you'll also find leather carpets inside this beauty, contrast stitching to match the exterior color or bright red for even more difference is always possible, BRABUS can even install ambient light inside the air vents if you like.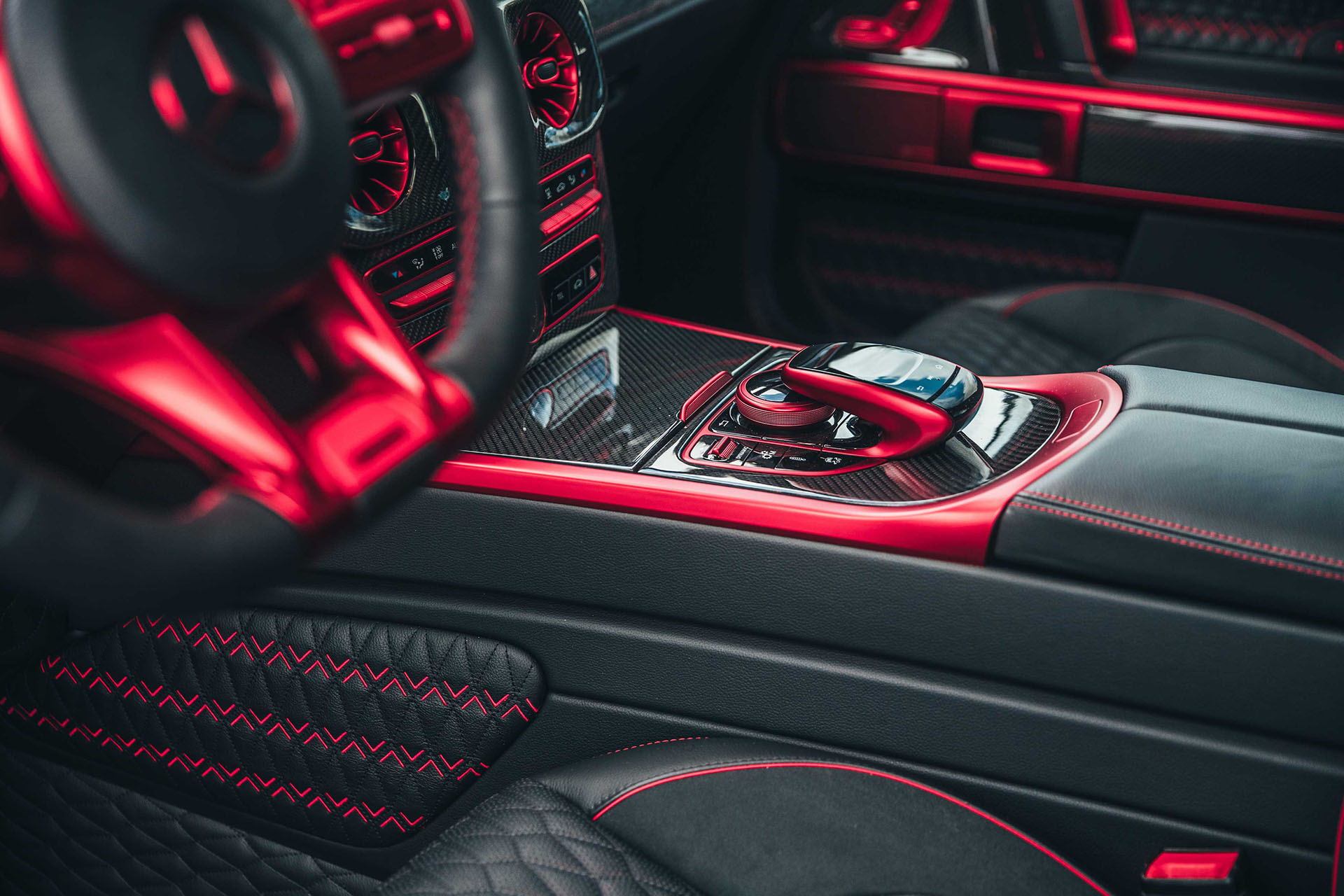 A lot of magnificent carbon fiber can be found inside the BRABUS 900 ROCKET EDITION too, as are aluminum pedals and door sills, with the BRABUS logo that lights up naturally, and since this limited edition packs a lot more power than the original G63 base car, the tachometer has been increased to 300 km/h (186 mph) so you can see just how fast this 2.5 tons SUV really goes down the road.
On their 900 ROCKET EDITION, BRABUS replaces the rear bench seat with two individual seats and a central console in between them that holds a fold-out table, so you can work in a laptop or tablet while being seated in the rear, both seats are not only heated, but also cooled, and even the cup holders are cooled and heated.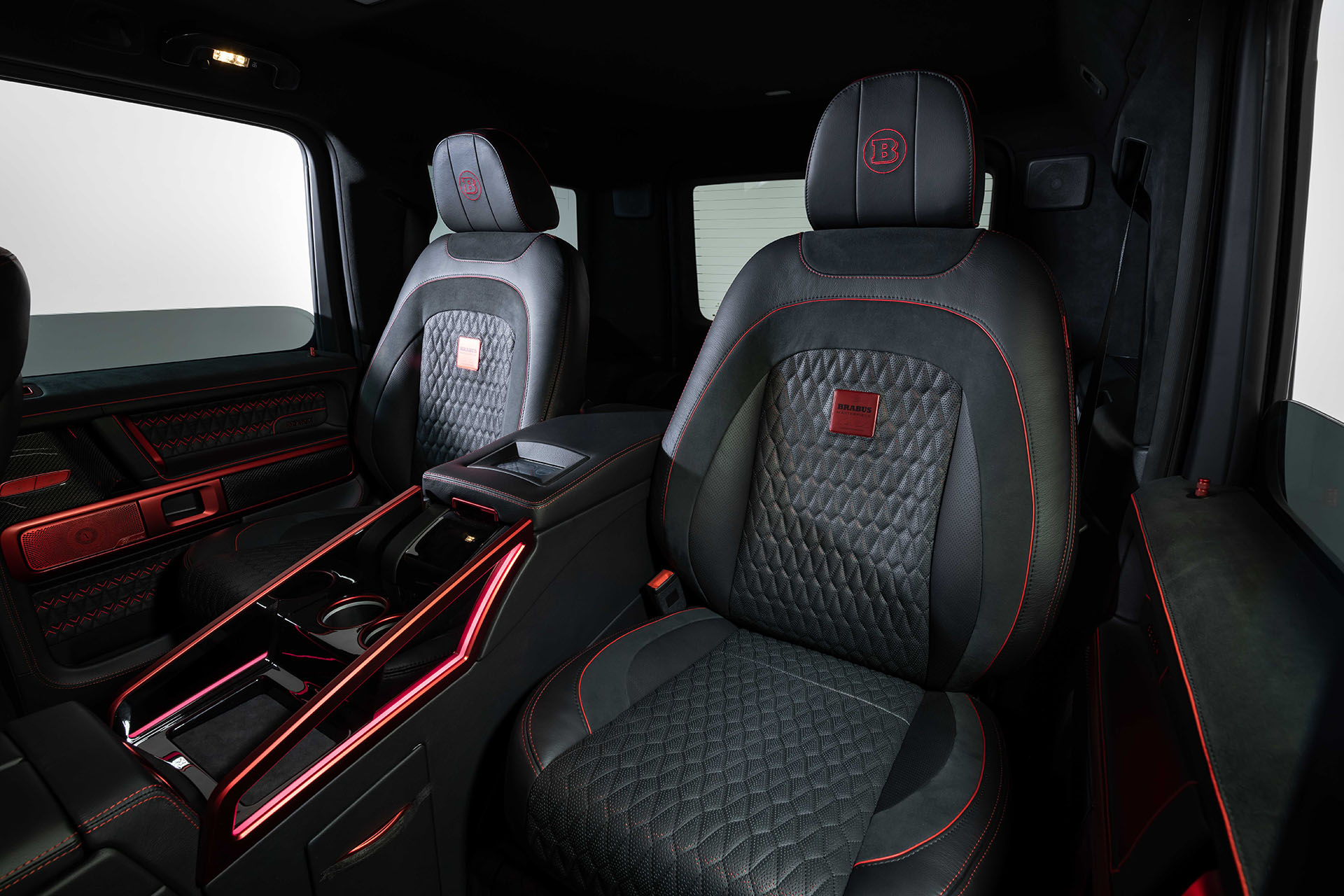 There is even a 4.3″ touchscreen installed at the rear that controls the rear seat adjustments and grants access to the factory original 'COMAND' system of the G-Wagon … you can control the sound system with it, turn on the reading lights in the rear. And if that's too much bother, there is the option of connecting a smartphone via the USB cable and control the COMAND that way, while your phone or tablet gets charged at the same time. BRABUS added a few displays in the headliner so passengers can check the outside temperature, see how fast the driver is going, and find out what time it is, all while the 'fridge' in the central console keeps your drinks cooled.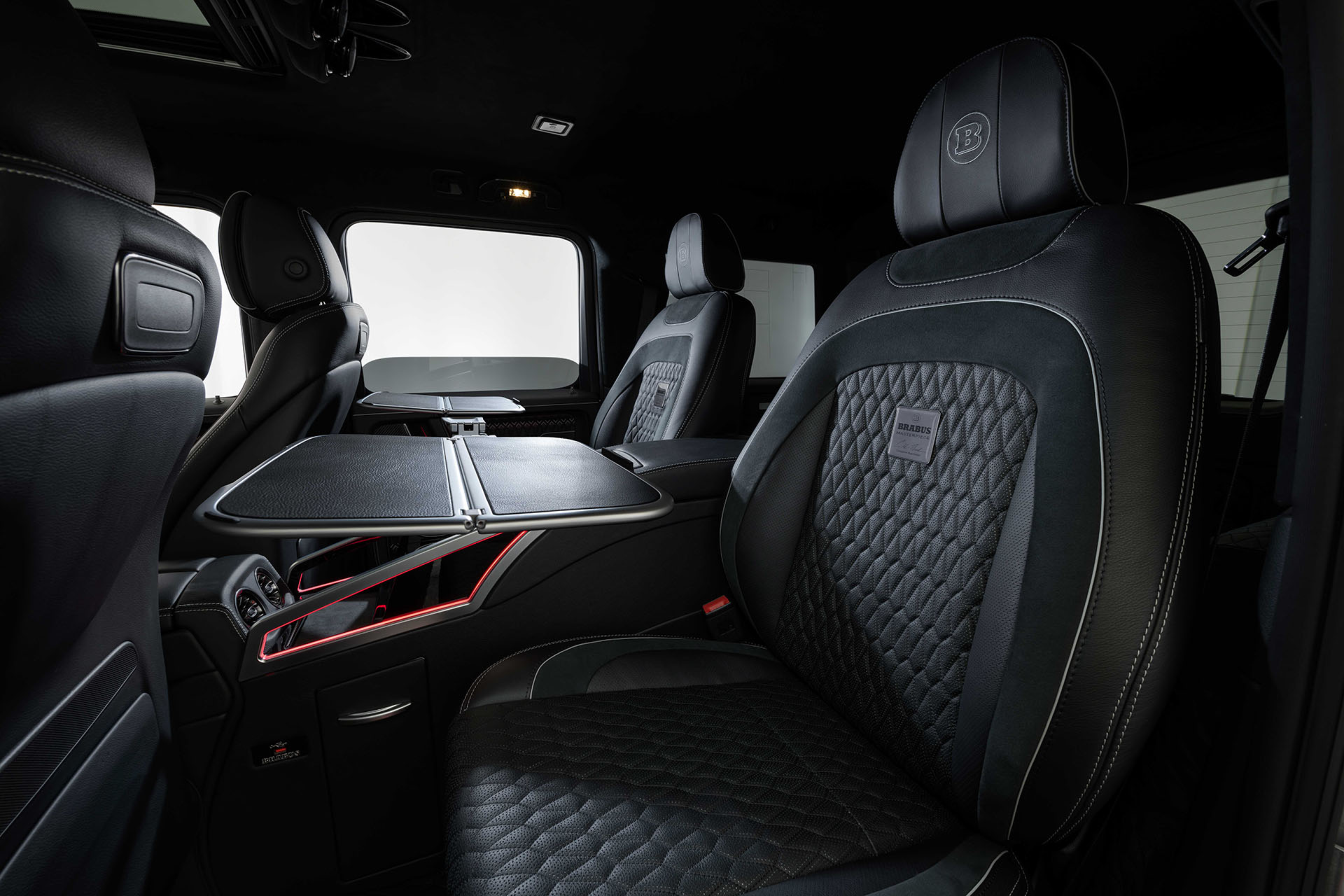 I guess the BRABUS 900 ROCKET EDITION isn't to everyone's taste, but seeing how many of these WIDESTAR versions from BRABUS are around, and the fact they create a limited edition model with only 25 units at nearly $700,000 each, there must be a viable market out there for totally insane SUV like this, I for one can't wait to see one of these behemoths in real life, and possibly experience it, even if it's only for a short while.