Built for a world where size does matter, the Mulsanne Grand Limousine by Mulliner was a special commission built for customers in the United Arab Emirates, and while these cars were handbuilt back in 2015, today they are still considered 'new' and none of the five that are available for purchase now have ever been registered, these are five-year-old, brand new cars that have just been put on the market for those that are seeking the ultimate in luxury limousines.
The first Mulsanne Grand Limousine by Mulliner was a bespoke build, a private commission so to speak, taking Bentley's famous Mulsanne from the production line in Crewe and taking it to the Mulliner atelier for a 1,000 mm stretch (39.47 in) to create a lot more space for the occupants behind the driver, or in this case, the private chauffeur. To make the passengers in the rear even more comfortable, Mulliner also raised the roof on the Mulsanne by 79 mm in the rear (3.11 in).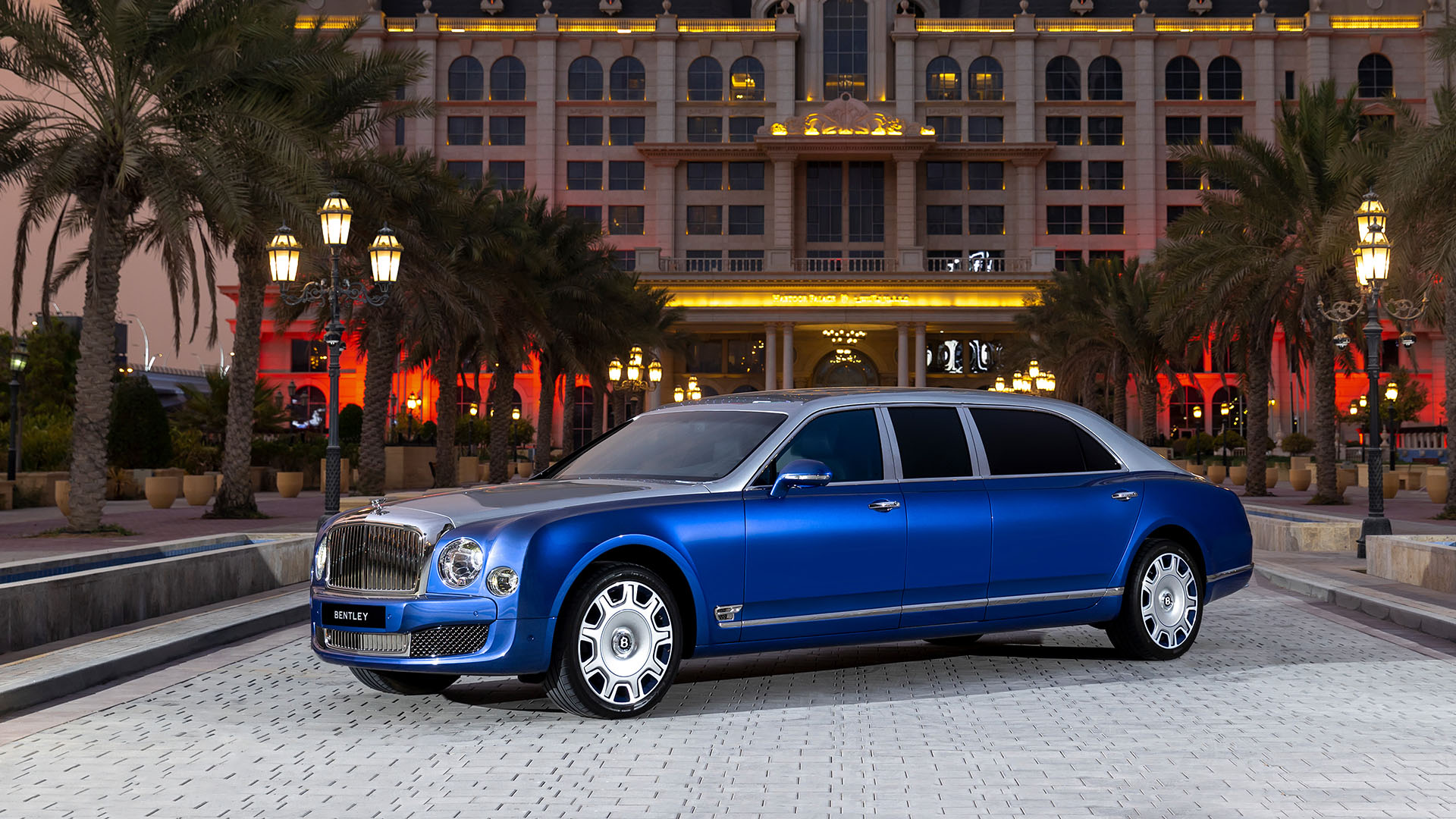 After this car was built and delivered to her happy customer, Bentley Mulliner was allowed to have this Mulsanne Grand Limousine by Mulliner as a limited production model in the books, and some were ordered by high-net-worth individuals that didn't want to be driven around in yet another Rolls Royce Phantom (which was also available as a 'stretch') but preferred a similar experience of utter luxury inside a more sporty designed Bentley like the Mulsanne.
Today it seems you can't order the Mulsanne Grand Limousine by Mulliner anymore, but fear not, if you still want to add one of these amazing handbuilt limousines from the UK to your garage, the opportunity has come up to obtain one of five of these 2015 cars that are still brand new, these five were ordered by Bentley Emirates for the rich and famous in that region, but in the end, none of these were ever registered, and they still come with delivery miles only.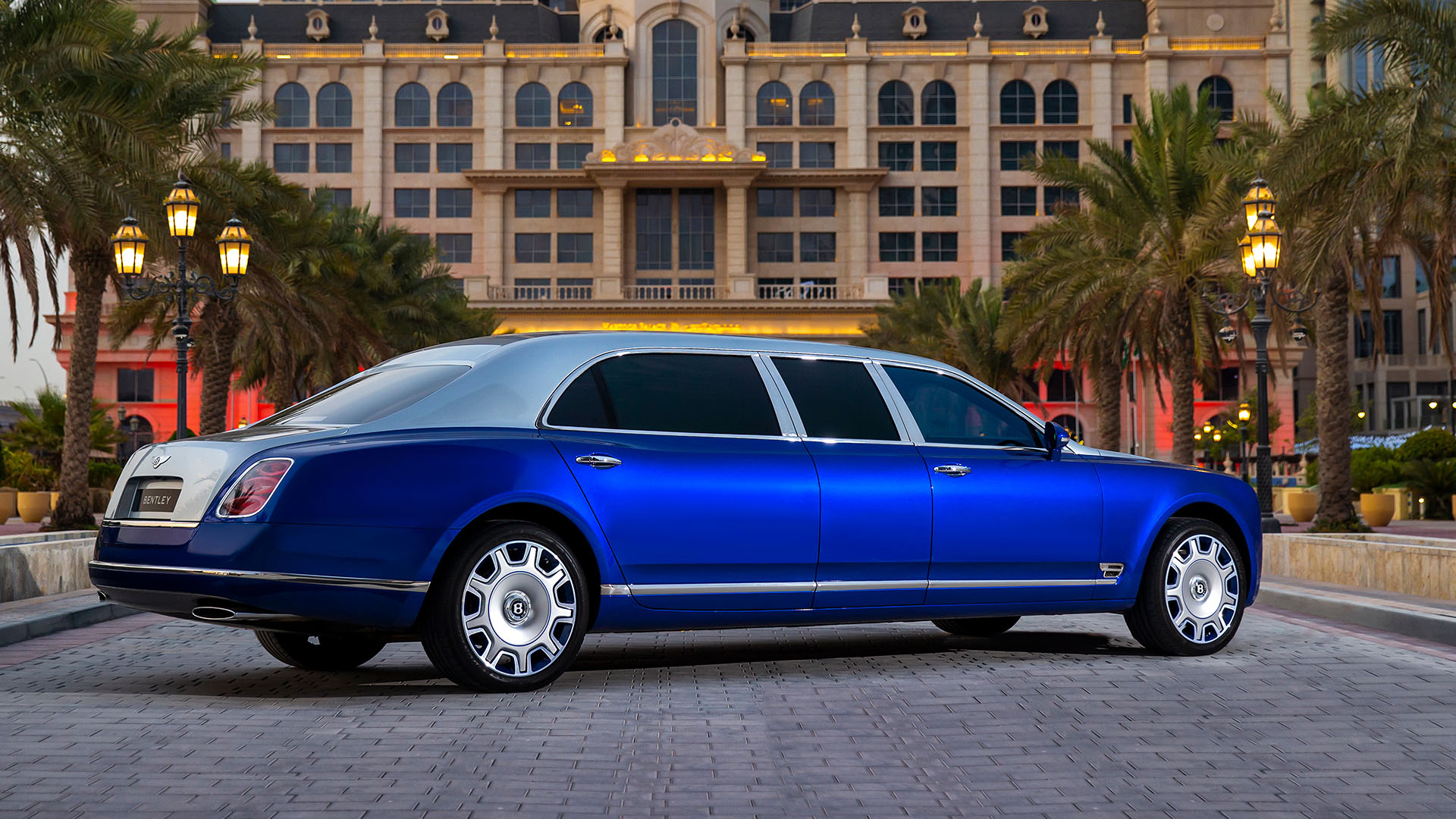 The only downside to these is the fact they are ready-built, so no bespoke specs can be ordered, but the upside is that these are available right now, no delivery time, nothing, and Bentley Emirates can deliver these Mulsanne Grand Limousine by Mulliner anywhere in the world within days, making this a unique opportunity for clients to obtain an icon of modern Bentley history.
As we would expect from a Mulliner built Bentley limousine, each of these five 2015 cars has her individual identity as customers that shop in this kind of market do not want to encounter the same car when they drive up to the restaurant or the latest party in their friend's mansion, an overview of the five different Mulsanne Grand Limousine by Mulliner now available:
Silver Frost over Moroccan Blue exterior paint, paired with an Imperial Blue and Linen interior completed by Burr Walnut veneer
Damson over Black Crystal paintwork, complemented by Damson and Twine leathers and Dark Stained Burr Walnut veneer
Onyx over Candy Red exterior, with a Hotspur and Camel interior, finished with Olive Ash veneer
Rubino Red over Light Gazelle bodywork, with an interior in Fireglow and Twine leather paired with Burr Walnut veneer
A single tone Black Sapphire exterior, with an Imperial Blue and Camel interior contrasted by Dark Stained Burr Walnut veneer
The car depicted in these photos is the nr 1, Silver Frost on Moroccan Blue, a very nice color combination, although I would prefer my Mulsanne Grand Limousine by Mulliner to be all black … a dark and sinister-looking 6,575 mm (258.9 in) long beauty with space for four passengers in the rear in a 'face-to-face' configuration.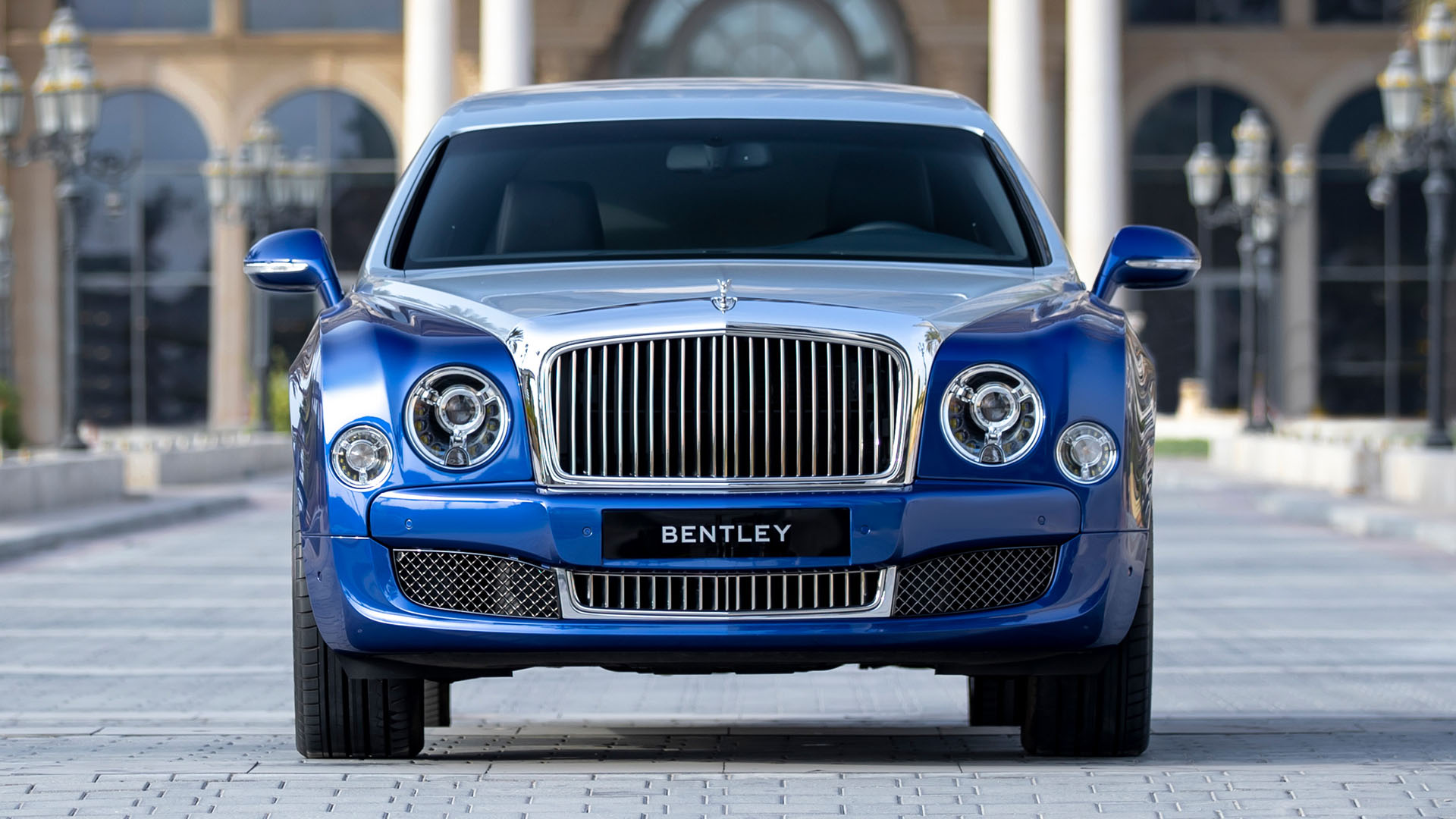 The clients that are in the market for a car of this caliber usually own a superyacht with a helicopter and a private jet, and that's where the inspiration for the rear 'cabin' on the Mulsanne Grand Limousine by Mulliner came from, having a setup that would allow four people to be seated two side by side, in front of each other so a conversation could be maintained with ease while being driven around in the best possible luxury available.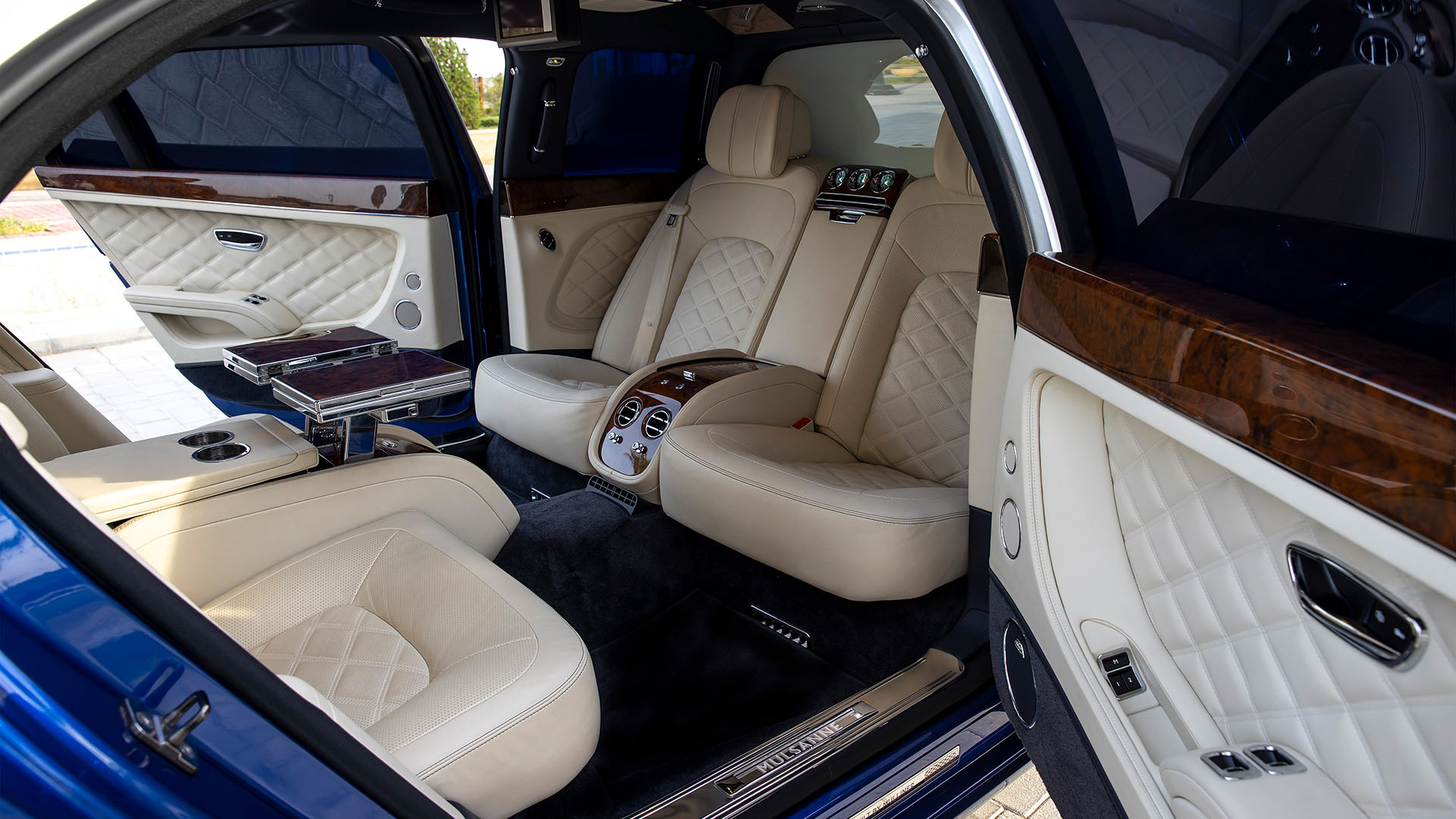 Inside such a car you'll find a bottle cooler with bespoke flutes between the rear seats, facing forward, a special cabinet for 'other' beverages was fitted between the seats facing backward, complete with Mulliner bespoke crystal tumblers, just in case you needed to get some work done before arriving at your venue in style, there are foldable veneer picnic tables for the occupants, complete with iPad docking station and USB chargers.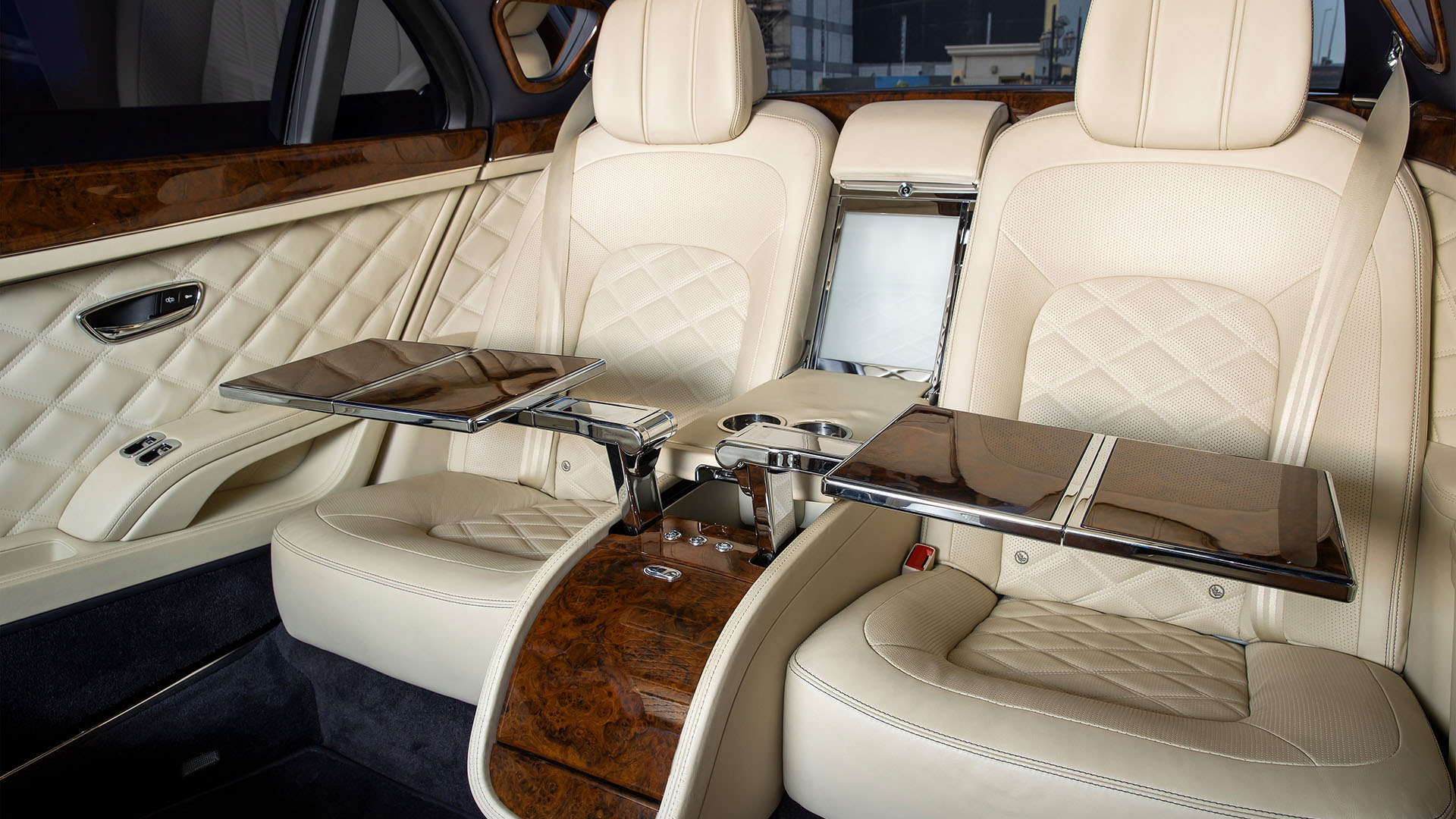 The rear passengers even have a view of three custom dials, one displaying the local time, a second one showing UK time, while the third one shows the outside temperature. A custom heating, ventilation, and air conditioning (HVAC) system was designed and built by Bentley Mulliner, specifically for the Mulsanne Grand Limousine to offer two separate zones for the rear cabin, each of the four rear passengers can control their own micro-climate, independently from their fellow companions.
These Mulsanne Grand Limousine also used a 'smart glass' divider for the first time on a Bentley, not only does it separate the driver from the passengers in the rear, but at the touch of a button the glass turns opaque, for convenience inside this private bubble there is an intercom system installed to talk to the driver.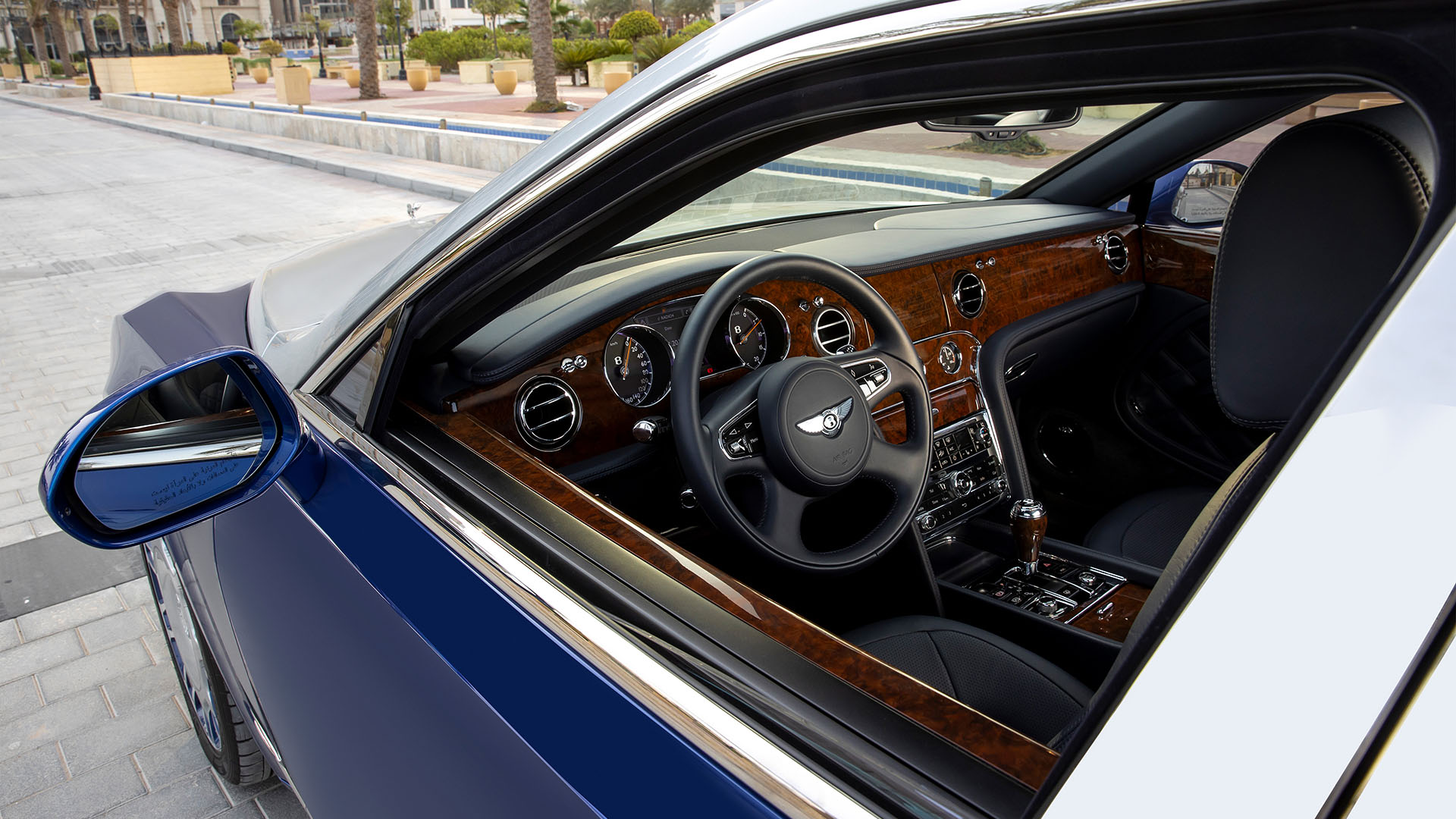 Each of the Mulsanne Grand Limousine is powered by Bentley's famous 6¾-litre twin-turbo V8 engine, delivering 505 hp and a very impressive 1,020 Nm of torque while riding on one-of-a-kind 21-inch wheels that match the car's paint, if you look really close at the 'Flying B' above the majestic grille, you'll notice the engraved 'Coachbuilt by Mulliner' script to set these limousines even further apart from their lesser Bentley Mulsanne siblings.
Bentley Mulliner has become a testament to what can be done if a company like Bentley goes above and beyond for their more discerning clients, Mulliner goes back almost five centuries in history when it comes to coachbuilding, they have recently celebrated the 1,000th bespoke commission, a special Bentley Bentayga since the Mulliner Design Team was put together by Bentley in 2014, and just as a reference, these Mulsanne Grand Limousine are still the longest manufacturer-built limousines in the world, other limousines are 'stretched' by third-party companies to greater lengths, but the Mulsanne Grand Limousine is different, it's 'Rare by Design' as stated by Bentley Mulliner.