Fastest Nurburgring Nordschleife Track Times
Encircling the village of Nürburg, Germany, the Nürburgring course is every professional driver's dream…and hellish nightmare. The Nurburgring Nordschleife is one of the best, most intimidating and most famous tracks in the world.
The "The Green Hell" lap record has been the target of just about every auto manufacturer. It is a key reference point for comparing cars and competing for bragging rights.
We've compiled a list of the Top 100 Nürburgring Lap Times, focused largely on Production Road Cars. For the sake of reference, a production road car is defined as "one that is put into mass production, as a model produced in large numbers and offered for sale to the public."
Don't forget to check out the full list of cars with a top speed of 200mph, cars with highest power to weight ratios or more as well as our other supercar lists.
It is a key reference point for comparing cars and competing for bragging rights.
The Nurburgring lap time has become a key reference point for manufacturers when comparing cars to rivals and competing for bragging rights. The Nordschleife, or "north circuit" is a 12.9-mile lap through dense forests that has 1,000 feet of elevation change. It is a tough road, one of the most difficult, dangerous and demanding circuits in existence.
Over the years, car manufacturers such as Aston Martin, Porsche, BMW, and more have put their cars through the rigors this course demands. More recently, the likes of small outfits like Radical and even large guys like Nissan have called Nürburgring home as they hone their machines for outright bragging rights.
We're constantly updating our list of Nürburgring Nordschleife lap times, but if we miss anything please let us know and we'll be quick to make it right.
Nurburgring Map, Germany
Here is the layout and map of the Nurburgring.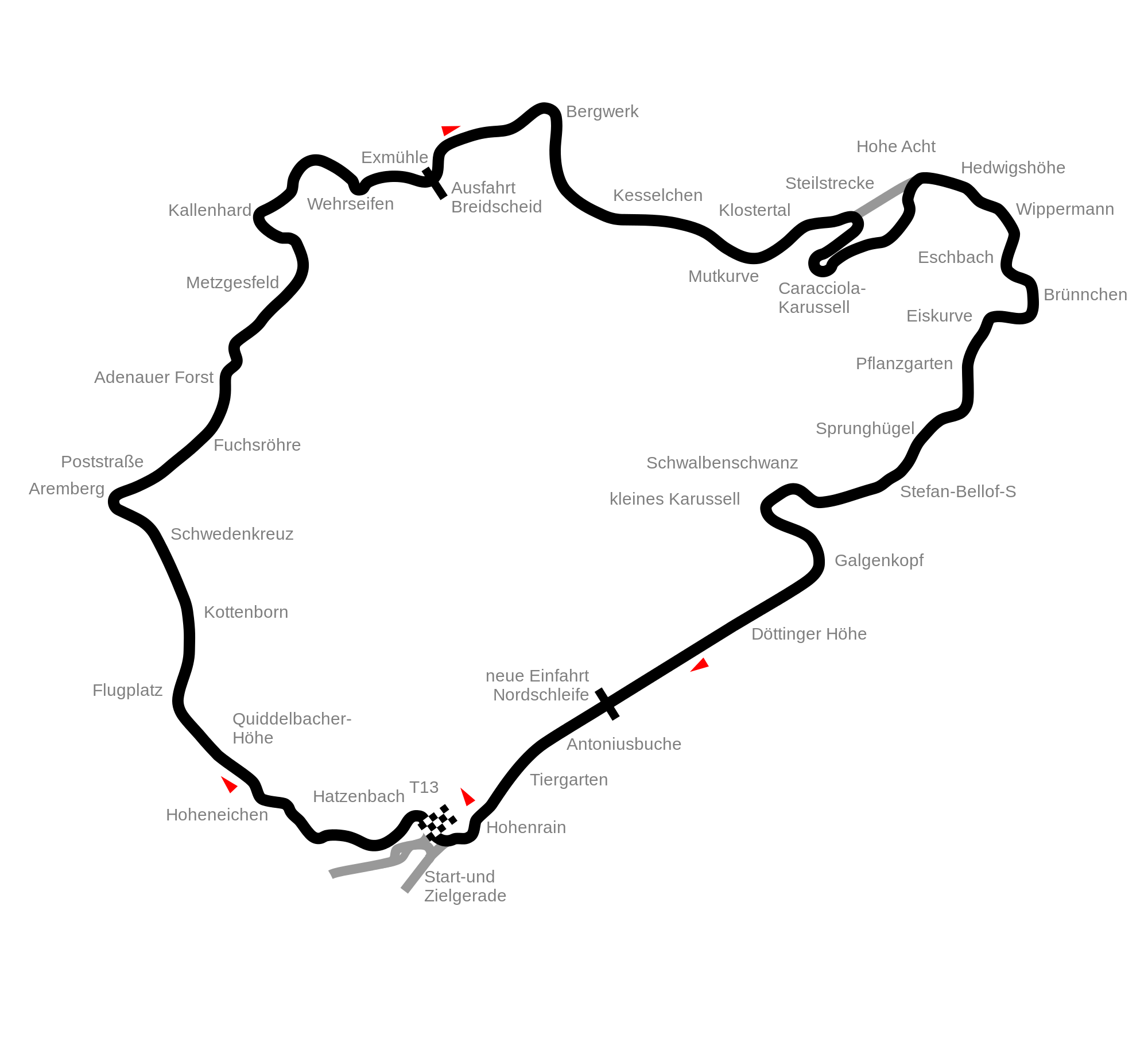 Top 100 Fastest Nurburgring Laps
Updated June 5, 2019: Porsche 919 Hybrid Evo 5:19.55 and VW I.D R 6:05.30 added.
The Nurburgring Record
You guys all know by now that we're obsessed with the fastest Nurburgring times and have been publishing the top 100 production cars around Nurburgring for years now. While we won't be adding this monumental time to our list (since this is clearly not a production car) we can't not share the news.
This morning (Friday June 29 2018) Timo Bernhard (D) lapped the 20.832 kilometre (12.94 miles) Nürburgring Nordschleife race circuit in 5 minutes and 19.55 seconds. This results in an average speed of 233.8 km/h (145.3 mph) on what is revered by race drivers, engineers and enthusiasts alike as the world's most difficult track. Driving the Porsche 919 Hybrid Evo, Bernhard beat the previous lap record, set by Stefan Bellof, by 51.58 seconds.
For 35 years and 31 days Bellof's 6:11.13 minutes record remained uncontested. The German driver from Gießen, who tragically died at Spa-Francorchamps in 1985, counted as the biggest racing talent of his time. He drove his record on May 28 in 1983 at the wheel of a powerful 620 bhp Rothmans Porsche 956 C during practice for the 1000-kilometre WEC sports car race. Also his average speed was over 200 km/h. Read more about it here.