Today, Toyota revealed their upcoming GR Corolla via livestream on YouTube. In an interesting turn of events in the hours leading up to this,  hawk-eyed reddit users discovered a new landing page for the model on the company's official website.
We reckon this was published by mistake or unintentionally ahead of schedule, as it revealed much of what was supposed to be breaking news during the official unveiling ceremony (that, and it promptly went offline moments later). However, as Toyota's sales grow, it's not surprising that they are pushing the envelope a bit more!
It was as what the kids these days are calling—a leak—as most of the intimate details regarding the GR Corolla, such as its 1.6L 3-cylinder turbocharged G16E-GTS engine which produces 300 hp and 273 lb-ft of torque, were made public a little sooner than Toyota would have liked.
Regardless of this slight marketing hiccup, I believe that people were always going to like what Toyota's new hot hatch had on offer, anyway. Afterall, it also comes standard with the company's coveted GR-Four all-wheel drive system and looks like a great candidate to fill the void left by the now departed Subaru WRX STi (and the Mitsubishi Lancer Evolution, before it).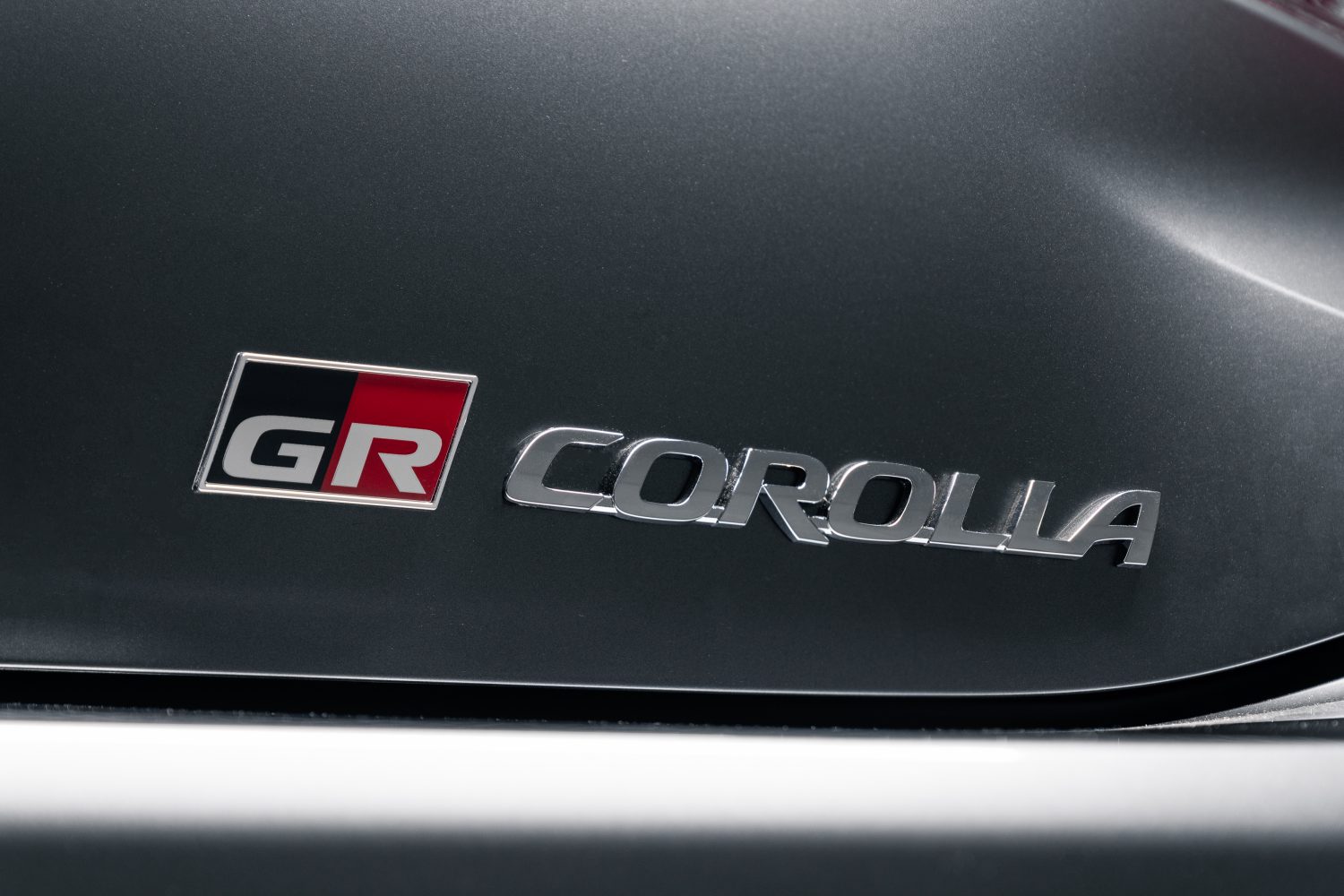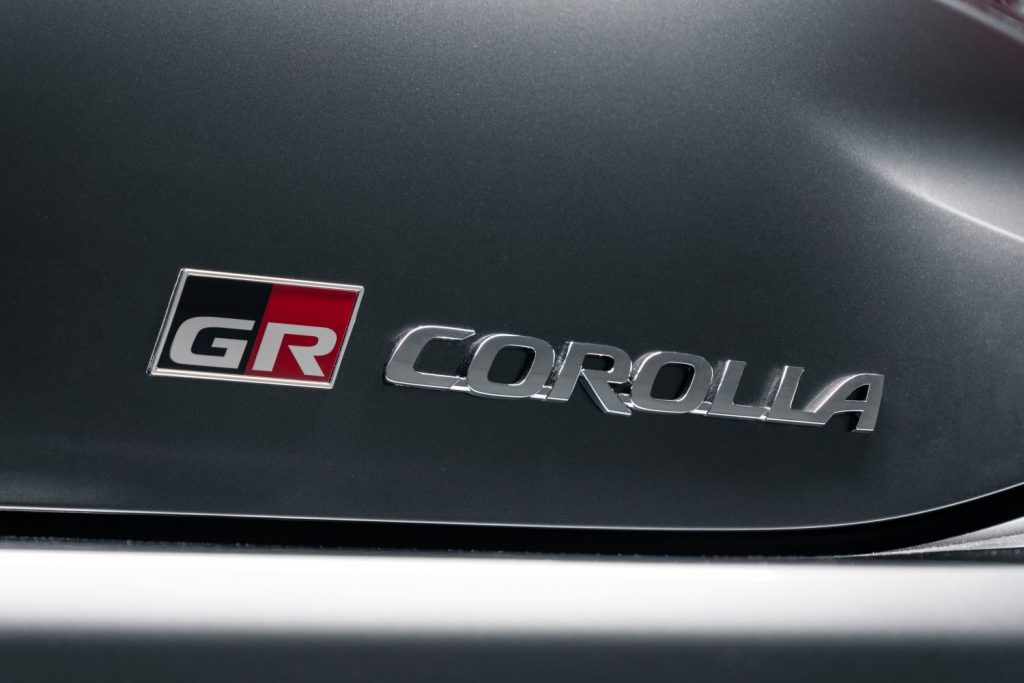 That being said, this hot hatch is a lot further from being a spiritual successor of the legendary AE86 Corolla, despite the shared nomenclature; unlike its rear-wheel drive stablemate, the Toyota GR86, which has been established as the de facto offspring of that legendary hatchback. Some would say it also harkens back more to the some of the Toyota rally cars of old, such as the infamous Celica GT-Four.
Now, that makes a lot more sense. Besides the fact that it's a quintessential turbo all-wheel drive model, there's sound logic in assuming that the GR Corolla will also serve as a homologation model for the rumored Corolla WRC car, in the same way the Yaris GR served to qualify its own rally counterpart for the sport's most prestigious competition.
Performance & Chassis
Back to the "official" reveal. All of the above details have very much been confirmed to a T. Power figures of 300 hp and 273 lb-ft—@ 6,500 rpm and 3,000 rpm respectively—remained unchanged from the "leak", while Toyota further acknowledged that its GR-Four system can accommodate a 60/40, 50/50 and 30/70 torque split based on the driver's selected settings.
The GR Corolla will also be produced exclusively with a manual transmission; something that certainly panders to purists, which to be fair, this car has been made for more than anyone else. This is a big shift (pun intended) away from the current groupthink in the automotive industry, and I'm a big fan of it, albeit surprised that Toyota's the one bucking the trend.
We're still waiting on other standardized performance figures, such as 0-60 mph times and top speeds, but reverse engineering some guess-timates should be easy enough. Afterall, we know that the European-market Toyota GR Yaris is good for 0-60 mph in about 5.3 seconds and a top speed of 230 km/h—it produces 257 hp and 266 lb-ft of torque—so the more powerful, albeit heavier GR Corolla, should be a smidge quicker.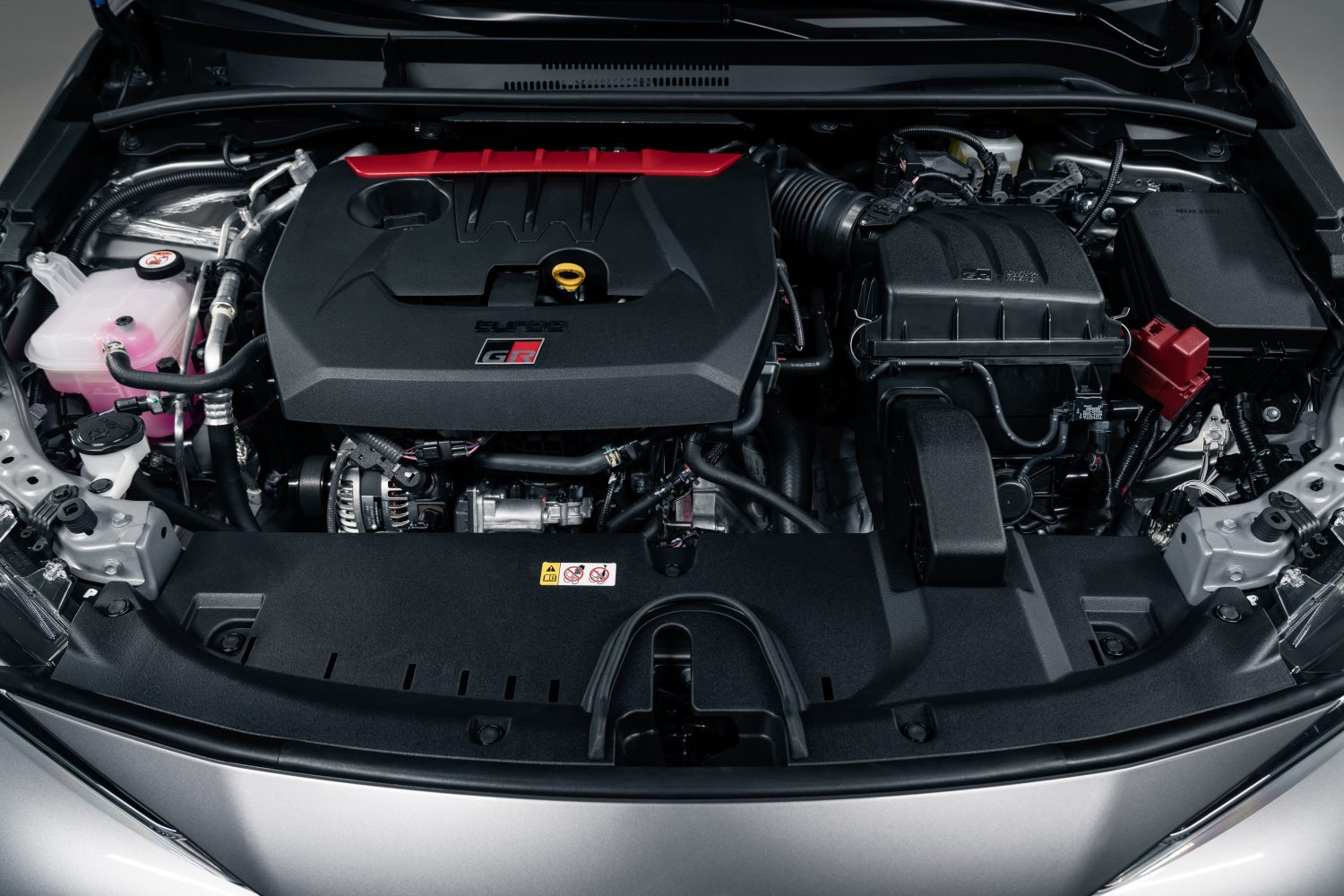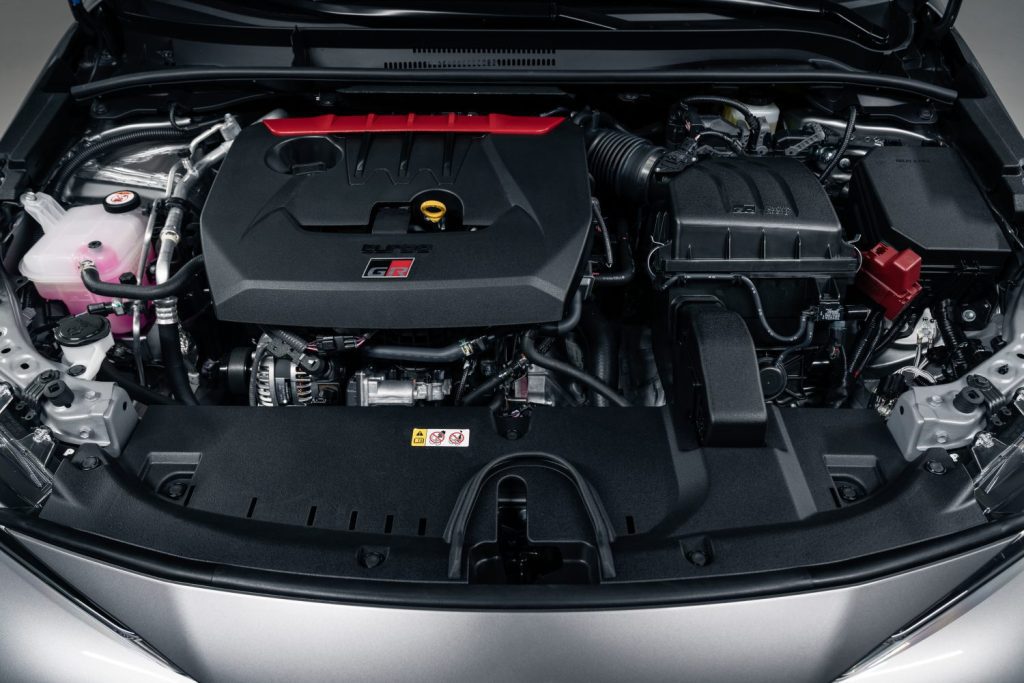 On the streets—and as a weekend track warrior—this should make the latest Honda Civic Type R its most direct competition in terms of driving dynamics, though cars like the Volkswagen Golf R are more its contemporary in terms of layout and overall design language. It looks to be a much sharper handling car than the latter though, with its reinforced chassis and more generous use of aluminum helping the cause.
Further more, a MacPherson front suspension with double-wishbones at the rear make the GR Corolla more conducive to apex-clipping than feeling floaty over uneven surfaces. Four-piston and two-piston brake calipers come standard in the front and rear respectively, while 235/40 Michelin Pilot Sport 4 tires wrapping 18″ wheels are tasked with carving up the tarmac.
Design & Interior
The Toyota GR Corolla retains the overall hatchback silhouette of the regular Corolla, but infuses it with rally-derived design elements—most notably, an aggressive widebody underpinning the brand's proud heritage in this branch of motorsport. It also shares cues with other sportscars in the Japanese automaker's line-up, with the front fenders and rear fenders pointing to the car's shared lineage with the GR86 and GR Supra.
Fabric sport seats come standard in the GR Corolla, as does a 12.3″ Multi-Information Display unit which serves as a digital replacement for the traditional gauge cluster. There's also an 8″ infotainment screen in the center of the dashboard.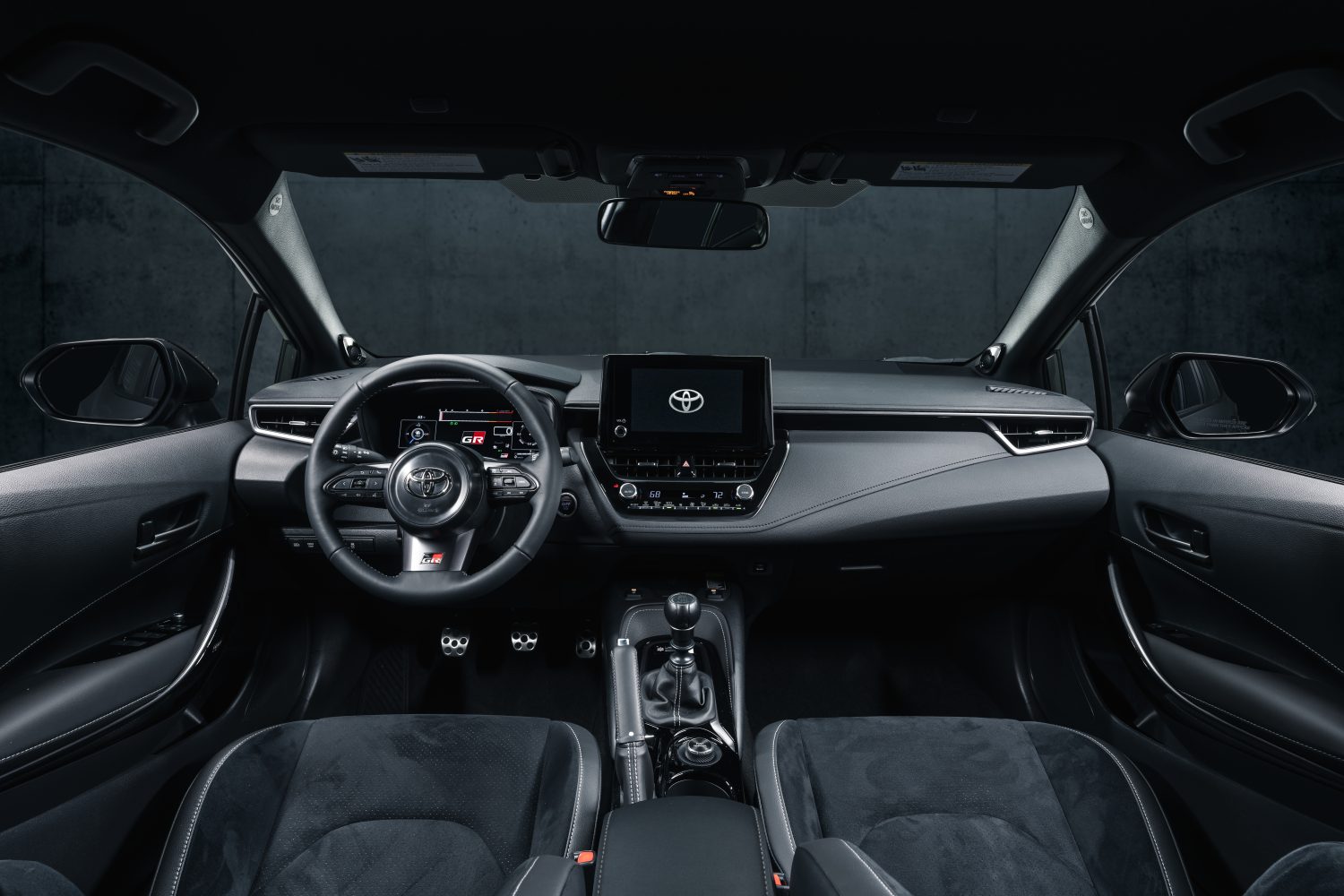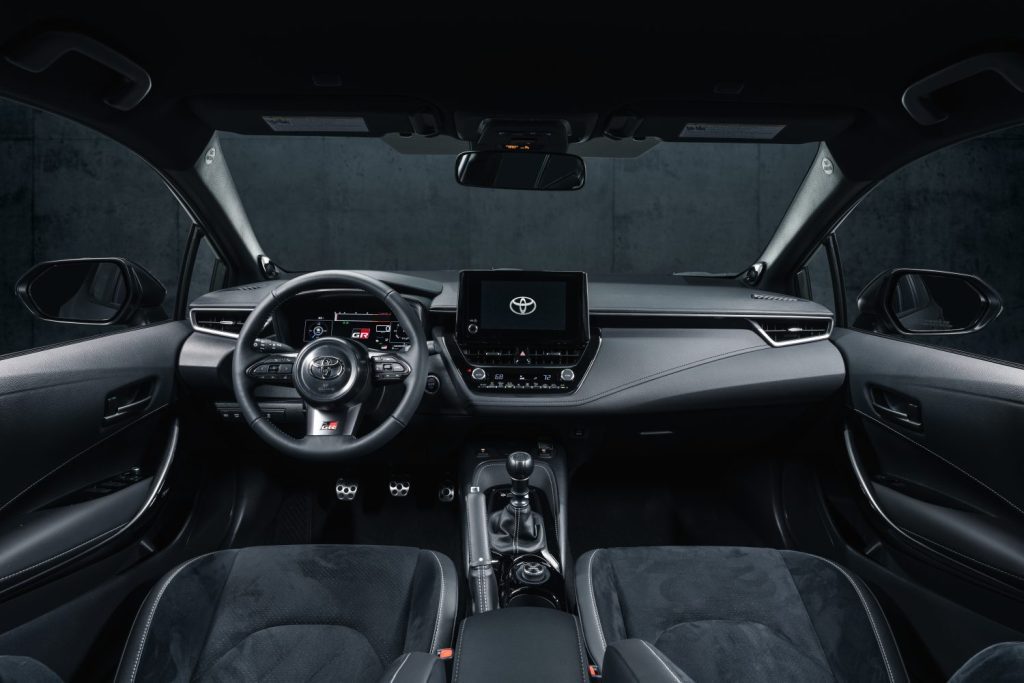 The optional Cold Weather package adds heated seats and steering wheel, while the Technology Package will supplement the car with features such as navigation, an upgraded sound system and wireless smartphone charging.
The Two Trim Choices: Core & Circuit Edition
The Toyota GR Corolla will debut in North America with two trim choices—the 'Core' (or base) model which will arrive first in late-2022, and an exclusive limited-run 'Circuit Edition (CE)' model which will arrive shortly after. Regarding the latter, Toyota stated that it will only be produced for the 2023 (launch) model year, so if you're set on a CE model you'll have to snatch one up pretty quickly here.
On top of performance upgrades—such as Torsen limited-slip differentials and a retuned suspension—the Circuit Edition also comes with its own unique set of wheels, a vented front bonnet, a one-off carbon fiber roof, and will offer an exclusive exterior paint color called Heavy Metal.
It also comes standard with synthetic suede and leather upholstery, and a more sporty black and red colorway. The Technology Package and Cold Weather Package—which are optional in the Core model—are also included in every CE model.
Core models will be available in white, black and red for launch, with more exterior color options likely to be added later on. The base cars can also be fitted with the CE model's Torsen LSDs as part of the optional Performance Package.
Pricing & Availability
Toyota has yet to reveal pricing details, so we'll have to update you on that when the numbers become available. Based on what the GR Corolla is going up against and what it has to offer, our best estimate is that the Core model would start at around the $33,000 USD mark, while the more loaded and rare Circuit Edition is likely to crest over $40,000 USD.
Stay tuned for more on what is shaping up to be a very exciting car!
Image Gallery