12 Best Car Movies Ever
It has been snowing all day here in New York. What better way to celebrate being stuck at home than by watching some of our favorite car movies. As the Supercars team discussed (over text) our favorite all-time car movies it was pretty clear this would make the perfect post to share. So here it is. After much debate and back and forth discussion here is our list of the best car movies.
First things first we were pretty liberal with our definition of movie. Racing video compilations, Formula 1 documentaries, Hollywood movies and 12 minutes mini-flicks all counted. We looked for movies with great car chases and cars as major characters (so to speak). If it has some cars it probably made the shortlist to be eligible.
The mix of movies is pretty broad as a result. We have some classics that everybody will recognize, some popular movies that most families may have even watched and then we have some real gearhead classics that are obscure and unknown. The one thing we did was choose one film per franchise (otherwise Mad Max would storm the list). We also stayed away from franchises like Fast & Furious because we just didn't feel they were really movies for car nuts (although open to feedback if that is something you guys disagree on).
Cars in movies have always played an important role in movies. It was amazing in researching this piece how some of the most memorable movies of yesteryear co-starred cars that have gone on to become storied legends. Other movies are all about the cars from the start and attracted us because of the sheer horsepower and iconic machinery on display on the big screen (Gone in 60 Seconds). Then there are the "car movie classics", the all-time car greats like Bullitt and The Italian Job. When diving into documentaries we found we loved a mix of action-packed racing (Le Mans and 1 The Movie) and true-stories of the racing heroes we loved growing up (Senna).
This list isn't exhaustive but we think it is a solid start. We added the trailers here and some links to purchase these movies on Amazon (note: we may get a commission if you buy from those links).
1. Senna
Senna Trailer
Why "Senna" Makes Our Best Car Movie List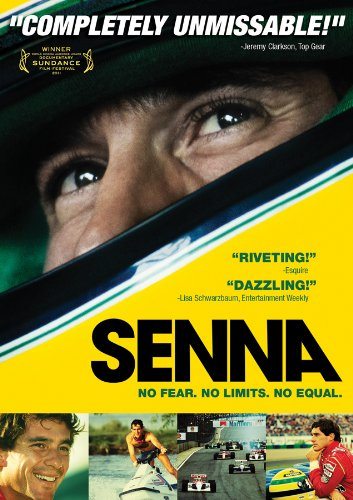 "Senna" is a documentary about arguably the most gifted racing driver ever. It is the story of Ayrton Senna, the three-time World Champion Formula One driver. Known as being insanely talented, a fierce competitor and having a huge personality he was one of the best ever. Senna's credentials were unmatched. He had the top pole position in Formula One races more times than any other driver in the history of the sport. He was a Brazilian national hero. Fans from Japan to Mexico revered this driving sensation, and would fill the stands to see him- until an early, tragic death ended his career and life in 1994.
This 2010 documentary from Asif Kapadia is a brilliant tribute to not only a sports hero, but also a truly interesting man. The film is definitely "pro-Senna" and doesn't really tell the full story. The other side of Senna (just ask his team-mates) was a person who is different than is shown in the film. The film is amazing. The storytelling, the way race footage is mixed with interviews all build to suck you in deeper and deeper.
Senna first raced with Toleman in 1984 but it wasn't until he moved to Lotus in 1985 that he started to become a star. With Senna's rise to fame a unique man emerges. He was mysterious, focused, spiritual and hugely ambitious. Senna's humility in the face of his greatness all the more amazing. Frank Williams once said Senna was a far greater man than he was a driver on the track. If you have to pick one on the list, this is the one. Buy on Amazon.
2. The Italian Job
The Italian Job Trailer
Why "The Italian Job" Makes Our Best Car Movie List
This British heist movie starring Michael Caine (remade in 2003 with Mark Wahlberg) finds a group of gold thieves transporting their loot through Turin, Italy in a red, white, and blue Mini Cooper. They go down stairs, through enclosed arcades, up (and back down) a curved rooftop, over an epic traffic jam and, finally, through a series of large sewer pipes. Though they never seemingly go too fast, it's their bloody single mindedness that makes this such a memorable chase. There's never much suspense — the robbers seem to have everything fully planned out — so the sequence's biggest thrill is in observing the fruits of a job well done.
Charlie Croker (Michael Caine), a Cockney criminal, is released from prison with the intention of doing a "big job" in Italy. He soon meets with the widow (Lelia Goldoni) of his friend and fellow thief Roger Beckermann (Rossano Brazzi), who was killed by the Mafia while driving a Lamborghini Miura in the Italian Alps. Mrs Beckermann gives Croker her husband's plans for the robbery that attracted the hostile attention of his killers, which detail a way to steal 4 million dollars in the city of Turin and escape to Switzerland.
Croker breaks back into his former prison to convince Mr. Bridger (Noël Coward), the head of a huge criminal empire, to finance the plan. Bridger, who has bribed almost all of the prison guards to work for him, initially rejects the plan, but changes his mind after he learns Fiat is set to build a new factory in China.
With Bridger's backing, Croker recruits computer expert Professor Peach (Benny Hill), his girlfriend Lorna (Maggie Blye) and a team of thieves and drivers. The plan calls for Peach to replace the programme in the computer controlling Turin's traffic control system, creating a paralysing traffic jam that will allow the thieves to escape with the gold in three Mini Cooper S getaway cars.[7]
After planning and training, Croker and crew set out for Turin. Mafia boss Altabani (Raf Vallone) and his underlings are waiting in the Alps at the same pass where they killed Beckermann. Altabani warns Croker that the Mafia are aware of the gang's intentions and smashes their Jaguar E-Type cars, sending Croker's personal Aston Martin DB4 drophead off a cliff. Croker tells Altabani that Mr. Bridger will avenge their deaths by attacking the Italian community in Britain. Altabani lets them go, ordering them to return to England. Instead, they proceed with the plan, replacing the traffic control system's magnetic tape data storage reels. On the day of the robbery, Croker sends gang member Birkinshaw, disguised as a football fan, to jam the closed circuit television cameras that monitor traffic. The substitute data reel then causes widespread traffic chaos. The gang converge on the gold convoy, overpower the guards, and tow the armoured car into the entrance hall of the Museo Egizio. There, the gang transfer the gold to the Minis. Buy on Amazon.
3. C'était un Rendez-vous
C'était un Rendez-vous Trailer
Why "C'était un Rendez-vous" Makes Our Best Car Movie List
This movie is the shortest on the list. This movie is also the greatest nine minutes ever captured on film! Period. Full Stop. Buy it. Buy it now.
You climb aboard a car in the early hours of the day as the drive screams through Paris flat out. It is epic. The low camera position gives you a real POV view of the road, you feel it.
I remember the first time I watched C'était un Rendez-vous was at a mate's house. It was so intense, that the memory of it has never left me. I remember it was a bootleg video cassette that was passed around amongst friends. It was surrounded in such secrecy. Even today it is so opaque.
The driver, never identified by director Claude Le Leouch doesn't even lift has he blows the red lights down the approach to the Arc de Triumph. Then a quick jaunt to the Louvre, turn north and through the various districts and ends up at the Sacre Coeur, where Le Louch steps into the headlights of the car and embraces a woman. This is all 100% real. No CGI. No movie magic. No edits. This is how it's done. 
Buy on Amazon.
4. 
Mad Max 2: The Road Warrior
Mad Max 2: The Road Warrior Trailer
Why "
Mad Max 2

" Makes Our Best Car Movie List

Let us start by saying every Mad Max movie should be on the list. We had to pick one. This is our way of being super-picky and disciplined. Mad Max 2 is the winner.

Aside from being the best movie ever, action, and stunts in the movie are mind blowing. One scene has a baddy flying in the air head over heals, if you slow it down you can see the stunt man actually broke his legs for real. The director kept it in the movie cause it looks too bad. Our kind of our movie. When people get hurt in a movie for real, you know it's a good movie.

Mad Max 2 goes out with a big bang. A 20 minute finale with giant chase involving over a dozen vehicles, the main centerpiece of it being a tanker truck with Max at the driver's seat.

This entire action sequence alone is perhaps the best one ever put on film, period. It truly has you on the edge of your seat, you dare not look away. Buy On Amazon.
5. Bullitt
Bullitt Trailer
Why "Bullitt" Makes Our Best Car Movie List
An all guts, no glory. There are bad cops and there are good cops … and then there's Bullitt. Steve McQueen plays a San Francisco cop who becomes determined to find the underworld kingpin that killed the witness in his protection.
This is the role that made Steve McQueen a superstar. He performed his own stunts, driving the Ford Mustang in the high-speed pursuit through San Francisco that stands as one of the best and most famous car chases ever filmed (it is my personal favorite). The scene had Bullitt in a dark "Highland Green" 1968 Ford Mustang GT 390 CID Fastback, chasing two hit men in a "Jewel Black" 1968 Dodge Charger R/T 440 Magnum.
Gritty, exciting and with a clever plot, this movie is an example of movie making at its best. It isn't just for car guys.
We also love that in 2008, Ford produced the Mustang Bullitt model for the 40th anniversary of the film. The Bullitt nameplate on the steering wheel honored the movie that made the Mustang one of the most popular cars of the 1960s and 1970s. The green color was also brought back for the anniversary edition. 
Buy on Amazon.
6. Le Mans
Le Mans Trailer

Note: This is a trailer for the recent documentary about the making of Le Mans the movie. We found it had the highest quality footage on the internet which is why we used it.
Why "Le Mans" Makes Our Best Car Movie List
This is a movie about Le Mans, and a good one.
Starring Steve McQueen, Le Mans puts the audience in the driver's seat for the Le Mans 24-hour race. McQueen plays the American driver, locked in an intense race with his German rival even as he wrestles with the guilt over causing an accident that cost the life of a close friend.
McQueen is his usual stoic magnetic self, and the racing sequences are among the best ever committed to film. A solid character-driven story combines with raw visceral power to make Le Mans a rich tapestry of action and thrills.
It is not a love story, or action drama that wastes time. The race lasts for 24 hours. It is a test of endurance for driver, machine, and crews. Strategy by owners and managers is illustrated, but only as part of the overall story. The filming is outstanding. Weather conditions, crowd responses are included in a way that adds to the reality of the experience. The colors, the sounds, the camera – it is all encompassing. We love it. This movie is one of our favorite car movies ever. Buy on Amazon.
7. Ronin
Ronin Trailer

Why "Ronin" Makes Our Best Car Movie List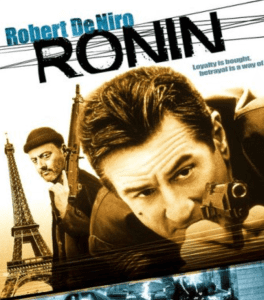 This one is all about the car chase.
In this gritty, international action caper, a group of covert operatives, led by De Niro, must recover a top-secret briefcase that every underworld group will stop at nothing to get.
Ronin is a decent spy film that is characterized by great location cinematography, sets and great performances from a very solid cast.
However, we agree with the folks at Jalopnik that when it comes to car chases Bullitt, Gone in 60 Seconds and Ronin make our list of the best ever and that's how it ends up on our recommend list. Buy on Amazon.
8. Gone in 60 Seconds
Gone in 60 Seconds Trailer

Why "Gone in 60 Seconds" Makes Our Best Car Movie List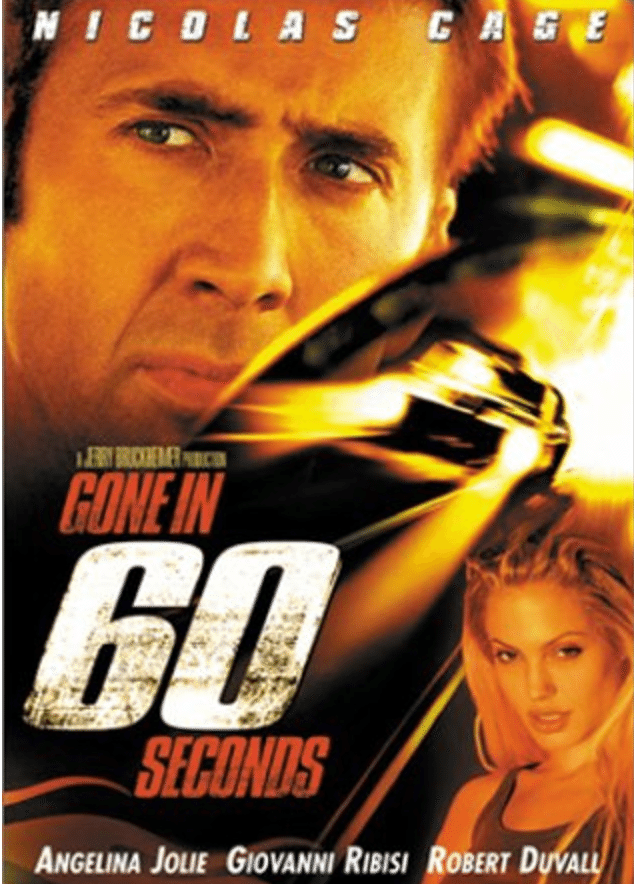 This movie is typical Hollywood. This is a Jerry Bruckheimer film. Important to say that up-front before we go any further.
A smart-ass young car thief working with a crew to steal 50 cars for a very shady guy whose nickname is "The Carpenter." Of course he messes up and it is up to his older brother (played by Nicolas Cage) to save the day. 
Based on the cult 1974 film of the same name, this is all about awesome cars. Fast cars. Rare cars. Wrecked cars. Stolen cars. All cars. This movie is action packed and non-stop excitement from start to finish.
Here's a list of the 50 cars stolen for you to enjoy. There is one car worth calling out specifically. It is a 1967 Ford Shelby GT500, dubbed "Eleanor", which the main character plans to steal last, as all former attempts to steal that type of car have ended badly and he feels the car is cursed. Eleanor's starring role in this movie kicked off a whole new generation of Mustang fans. Buy on Amazon.
9. Cannonball Run
Cannonball Run Trailer
Why "Cannonball Run" Makes Our Best Car Movie List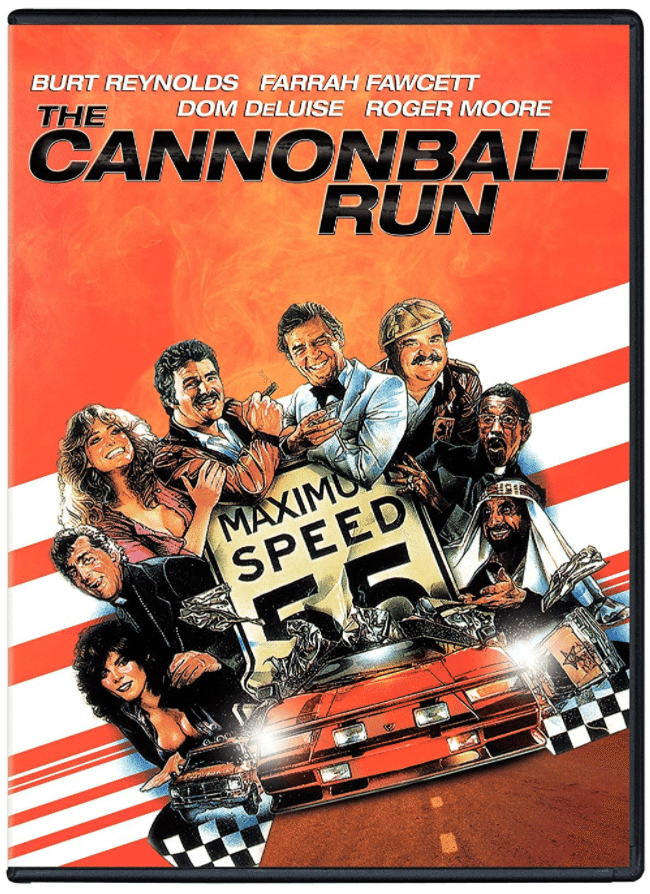 Buy on Amazon
If you have not seen this movie you should if you like fast cars and chases. There is an extra of making the movie that is very funny as well. Well worth buying.
The Cannonball Run brings Burt Reynolds, Roger Moore, Farrah Fawcett,Dom DeLuise, Dean Martin, Sammy Davis, Jr. and an all-star cast to the staryting line of the ultimate auto race., a madcap cross country scramble that roars full-speed ahead. Hal Needham, the director of such souped-up hits as "Smokey and the Bandit," "Hooper" and "Smokey and the Bandit II" is at the helm of a wild action-comedy inspired by an acctual event: The Cannonball Sea-To-Shining-Sea Memorial Trophy Dash., an anything- goes, all-stops-out and thoroughly illegal- competition that has grown to legendary proportions in the last ten years.
Classic car race film where car maniacs go into a car racing competition to win thousands & thousands of dollars. The race is from Connecticut to California. The way this film was shot was definitely a one off, with a lot of cameras on car hoods driving at extreme high speeds. It is still very funny after 35 years. Buy on Amazon.
10. Grand Prix
Grand Prix Trailer

Why "Grand Prix" Makes Our Best Car Movie List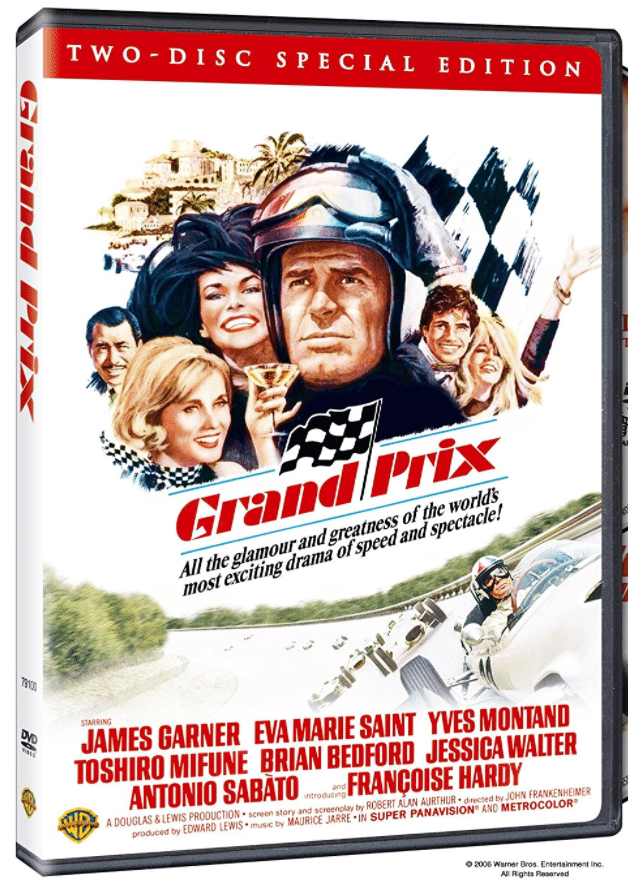 Light on story, this 1966 spectacle directed by John Frankenheimer was shot in 70 millimeter, with a cinematically enthralling emphasis on unique, visceral new ways of capturing the sensations of a car race. James Garner, Eva Marie Saint, Yves Montand, and Toshiro Mifune are part of the stellar, international cast whose characters plod through assorted relationship and business conflicts.
But the film's real hook is the thrilling and inventive means by which Frankenheimer (The Manchurian Candidate) brings an urgency to the drama happening on the racetrack. A true master of the plastic techniques of obtaining and cutting kinetic footage, Frankenheimer offers more than a joyride to viewers: he makes action part of the compelling language of stories. Cameras are strapped to vehicles as they round the track, shots are taken from a helicopter, the screen is split between angles for maximum impact–even if Grand Prix doesn't rank among the director's best character-driven stories, it is certainly driven on its own terms. –Tom Keogh
It has a soap opera plot, but it focuses with remarkable effectiveness on a plausible Formula I campaign featuring an aging star's challenge by two much younger and bolder drivers, with much detailed observation of how motor sport teams work. Made in the era before workstation graphics could simulate almost anything perfectly, the film featured extraordinary driving sequences, many of which were driven by the film's stars. Buy on Amazon.
11. Rush
Rush Trailer
Why "Rush" Makes Our Best Car Movie List
A biography of Formula 1 champion driver Niki Lauda and the 1976 crash that almost claimed his life. Mere weeks after the accident, he got behind the wheel to challenge his rival, James Hunt.
This was an epic real-life, legendary rivalry that rocked the world. During the sexy and glamorous golden age of Formula 1 racing, two drivers emerged as the best: gifted English playboy James Hunt and the brilliant Austrian opponent, Niki Lauda.
Ron Howard's "Rush" is a better film, not so much for the very effective simulation of actual racing conditions but for an impressive, well-written, and well-played depiction of the rivalry between James Hunt and Niki Lauda in the 1978 Formula I campaign. If you are an F1 fan it is a must see. Buy on Amazon
12. The Movie (Formula One)
1 The Movie – Official Trailer
Why "1 The Movie" Makes Our Best Car Movie List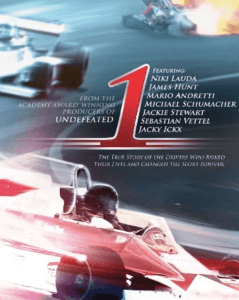 1 is an action documentary showcasing the glamour, speed, danger and excitement of Formula One Grand Prix racing. Narrated by Michael Fassbender, the film tells the story of the golden age of Formula 1, when the sport became terrifyingly dangerous. In the late 1960s, Formula 1 cars doubled their engine size and sprouted wings, making them incredibly quick, but even more hazardous.
With money pouring in from sponsorship and a new worldwide television audience, superstar drivers were born, thrown like gladiators into the ring. The drivers were legendary with charisma and raw talent, but many of them paid the ultimate price. "1" follows the story of the drivers who raced on the edge and those who stood up to change the sport forever. It is about the greatest show on earth Formula 1.
For people truly interested in Formula One history, this is a great film. I had missed the period in F1 history that this covers, and learned a tremendous amount from the film. The filmmakers took the time to talk to historic personalities that lived the story, so it's so much more satisfying for hard-core enthusiasts than a mass-market film like Rush, though Rush is very good for what it is. This film is just so authoritative and thorough in gathering the footage and interviews, and it's edited them together beautifully. 
Buy on Amazon.
Bonus. 
"50 Years of Formula 1 On Board"
F1 Classic Onboard: Senna On The Charge At The 1990 Monaco Grand Prix
Note: We couldn't find a trailer or footage from the movie so we included our favorite Formula 1 onboard footage ever, the hot lap of Senna when he was driving the perfect lap of Monaco. Magical.
We had to include the electrifying in-car action shown in 50 Years of Formula 1 On Board. 
No other movie puts you in the driver's seat of the fastest cars on the planet. Breathtaking on-board rides with F1 legends Fangio, Moss, Stewart, Senna and Schumacher driving their machines at historic Grand Prix circuits from the Nurburgring to Monaco, Spa, Suzuka, Monza and more.
Crafted entirely from rare F1 archive footage, this action film takes you into the exclusive world of F1 from 1950 to present day. You don't even have to be a big fan of Formula 1 racing to enjoy the in-car footage. The old footage is fantastic, and one sees the ever increasing speeds that become mind-blowingly fast. Buy on Amazon.