1929→1934 Delage D8
To replace the large six-litre GL at the top of the Delage range, the company prepared a new eight-cylinder engine for 1930. This was used in the D8 and it became the company's most noteworthy design, ofter described as the 'Rolls-Royce of French Cars'.
Unlike Louis Delage's earlier racing promotion, the D8 focused on refined elegance, the type that would gain acclaim at the then upcoming Concours scene.
An early prototype featured Delage's first production car eight, but it's 7-liter was too large for realistic production. Instead, Delage chose 4-liters that could rev more freely and produce 105 bhp. Attached was a single Delage Ccarburettor built under smith license. Automatic starting was provided by a near silent Bendix Éclipse unit.
Maurice Gaultier was responsible for the D8s design and he used the model 17CV for the D8's basis. Both cars used similar engines. These were powerful enough to propel the large steel bodies frm various French design houses.
The D8 was ordered in three different chassis lengths: Sport, Normal and Long. The Sport was the shortest of these measuring 3310mm wheelbase, compared to the Normal's 3430. To accommodate the larger, more luxurious bodies, a Long version extended both these to 3640mm. A 4.7-liter version, known as the D8 S was also offered. One of these was equiped with a minimal body in 1931 to beat many endurance records including a 24-hour avarage speed of 96.89 mph (156 kph).
The D8 was first shown at the 1929 Paris Auto Salon where La Journée Industrielle called it a "perfect model in every respect."
Delage prepared many in-house body designs for the D8, but would still offer a rolling chassis for discerning clientèle. 18 different bodies were offered on the three chassis. Occasionally a car was prepared for the concours d'elegance which promoted the Delage along with their successful racing program.
Price for the D8 ranged from the D8 Normal at 63,500FF or 500 more FF for the Sport or Long variants. These directly competed with Rolls-Royce and Talbot-Lago.
Later models included the 2.66-liter D8-15, the 3.75-litre D8-85, eventually reaching 4.743 liters with the D8-120 in 1938.
See full 1929 Delage D8 Gallery here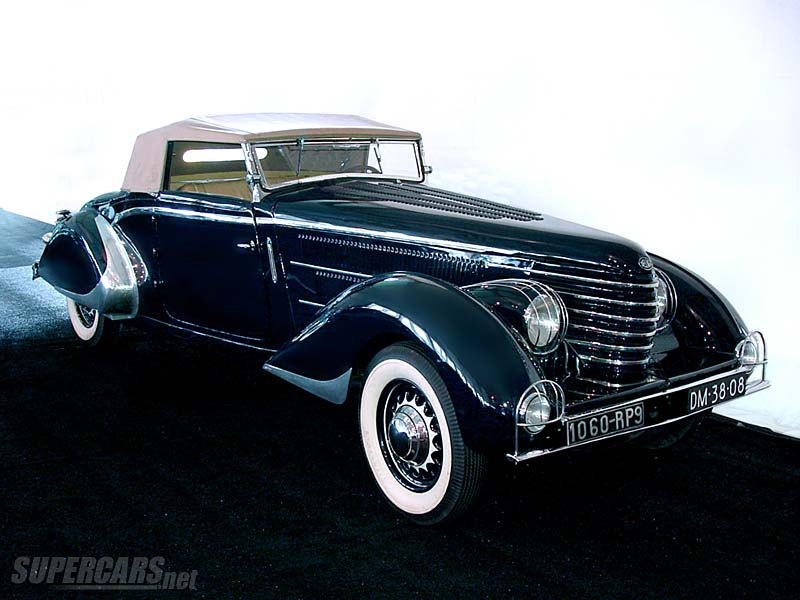 In Detail
| | |
| --- | --- |
| type | Series Production Car |
| production years | 1929 – 1934 |
| engineers | Maurice Gaultier |
| engine | Inline-8 |
| position | Front Longitudinal |
| aspiration | Natural |
| valvetrain | Pushrod OHV |
| displacement | 4060 cc / 247.76 in³ |
| bore | 77 mm / 3.0 in |
| stroke | 109 mm / 4.3 in |
| power | 78.3 kw / 105 bhp @ 4000 rpm |
| specific output | 25.86 bhp per litre |
| body / frame | Steel on Steel Chassis |
| driven wheels | RWD |
| front brakes | Drums w/Hydrualic Assist |
| rear brakes | Drums w/Hydrualic Assist |
| f suspension | Wishbones w/Transverse Leaf-Springs |
| r suspension | Live Axle w/Semi-Elliptic Leaf Springs |
| wheelbase | 3430 mm / 135.0 in |
| front track | 1480 mm / 58.3 in |
| rear track | 1480 mm / 58.3 in |
| transmission | 4-Speed Manual |
| tran clutch | Single Dry Plate |
Auction Sales History
1937 Delage D8-100 Cabriolet 51005 – sold for €286,080
Delage D8 has undergone a comprehensive restoration in the 1980s at Lecoq workshop, acknowledged to be the ultimate restorer at the time. The chassis and body were disassembled and the upholstery and the hood were completely redone. More recently, in April 2010, the engine was rebuilt in the workshops of Auto Classique Touraine for the sum of € 13,500, with complete disassembly, the engine was bored out and the block shaved, the camshafts were repaired, new pistons were installed, the cylinder head polished and the guides and valve assemblies were replaced too. The body work and upholstery have been carried out with the utmost of care, and thanks to meticulous maintenance this car has a very nice look, with well-preserved paint and impeccable seats and interior. The car features a Cotal pre-selector, making it a very easy and enjoyable drive.
Auction Source: Rétromobile 2015 by Artcurial Motorcars