1930 Marmon Sixteen
The vehicles produced by Colonel. Howard C. Marmon were not your customary American automobiles. In engineering terms, the Marmon was always a superior car. In aesthetics, they were always modern and tasteful, and in quality, few could compare. Conceived over many years, the crowning achievement of this firm was a grand automobile that carried a magnificent 491 cubic inch, all-alloy 16-cylinder engine – the Marmon Sixteen, first introduced in 1930.
Although the engineering and build quality were the work of Marmon, Walter Dorwin Teague and, to a large extent, his son, WD Jr. was responsible for the modern, almost architectural bodies that were mounted atop the magnificent chassis. Their designs were realized almost exclusively by LeBaron and made extensive use of alloy panels and fittings, techniques that were in keeping with the brilliantly engineered Sixteen.
Despite its incomparable performance and cutting-edge designs, the Great Depression ensured that the Sixteen, which typically cost at least $5,000, sold slowly and less than 400 were constructed. Today, owning a Sixteen is a sign of good taste, mechanical appreciation and wise judgment.
See full 1930 Marmon Sixteen Gallery here
In Detail
| | |
| --- | --- |
| | |
| submitted by | Richard Owen |
| type | Series Production Car |
| built at | USA |
| price $ | $ 5,000 |
| engine | 45 Degree, Aluminum V16 |
| position | Front Longitudinal |
| aspiration | Natural |
| valvetrain | Pushrod OHV, 2 Valves per PCyl |
| fuel feed | Stromberg DDR3 Carburetor |
| displacement | 8047 cc / 491.1 in³ |
| bore | 79 mm / 3.11 in |
| stroke | 102.6 mm / 4.04 in |
| compression | 6.0:1 |
| power | 149.1 kw / 200 bhp |
| specific output | 24.85 bhp per litre |
| bhp/weight | 83.33 bhp per tonne |
| body / frame | Steel Ladder Frame |
| driven wheels | RWD |
| front brakes | Drums |
| rear brakes | Drums |
| f suspension | Solid Axle w/Semi-Elliptic Leaf Springs, Friction Dampers |
| r suspension | Solid Axle w/Semi-Elliptic Leaf Springs, Friction Dampers |
| curb weight | 2400 kg / 5291 lbs |
| transmission | 3-Speed Manual |
| top speed | ~170.6 kph / 106 mph |
Chassis & Sales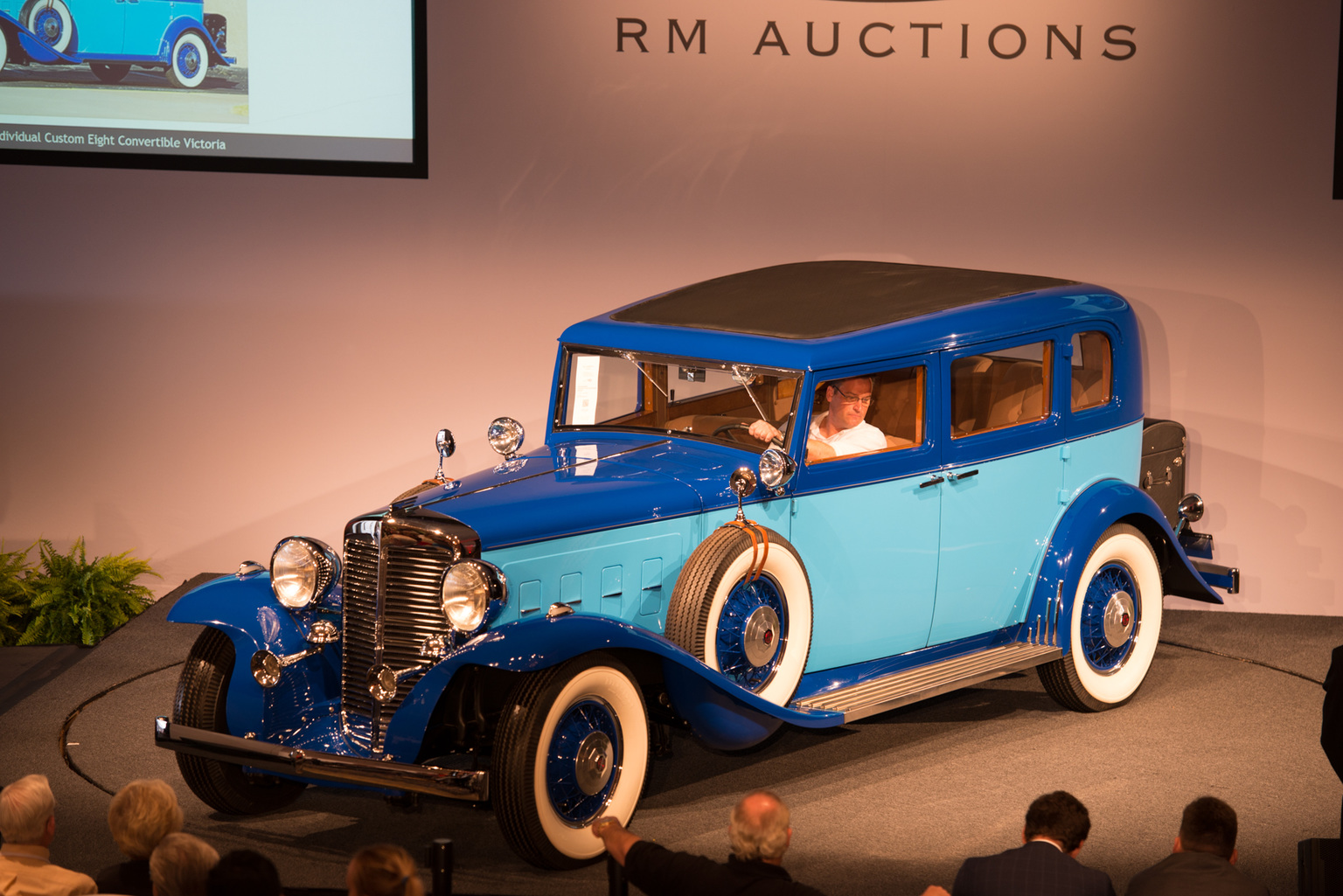 16140926-1933 Marmon Sixteen LeBaron Sedan. Complete restoration, recently undertaken by noted restorer of American classics and Marmon advocate, Harry Sherry of Warsaw, Ontario. Very little history known. Offered at Gooding & Co's 2010 Scottsdale Auction.
Auction Sales History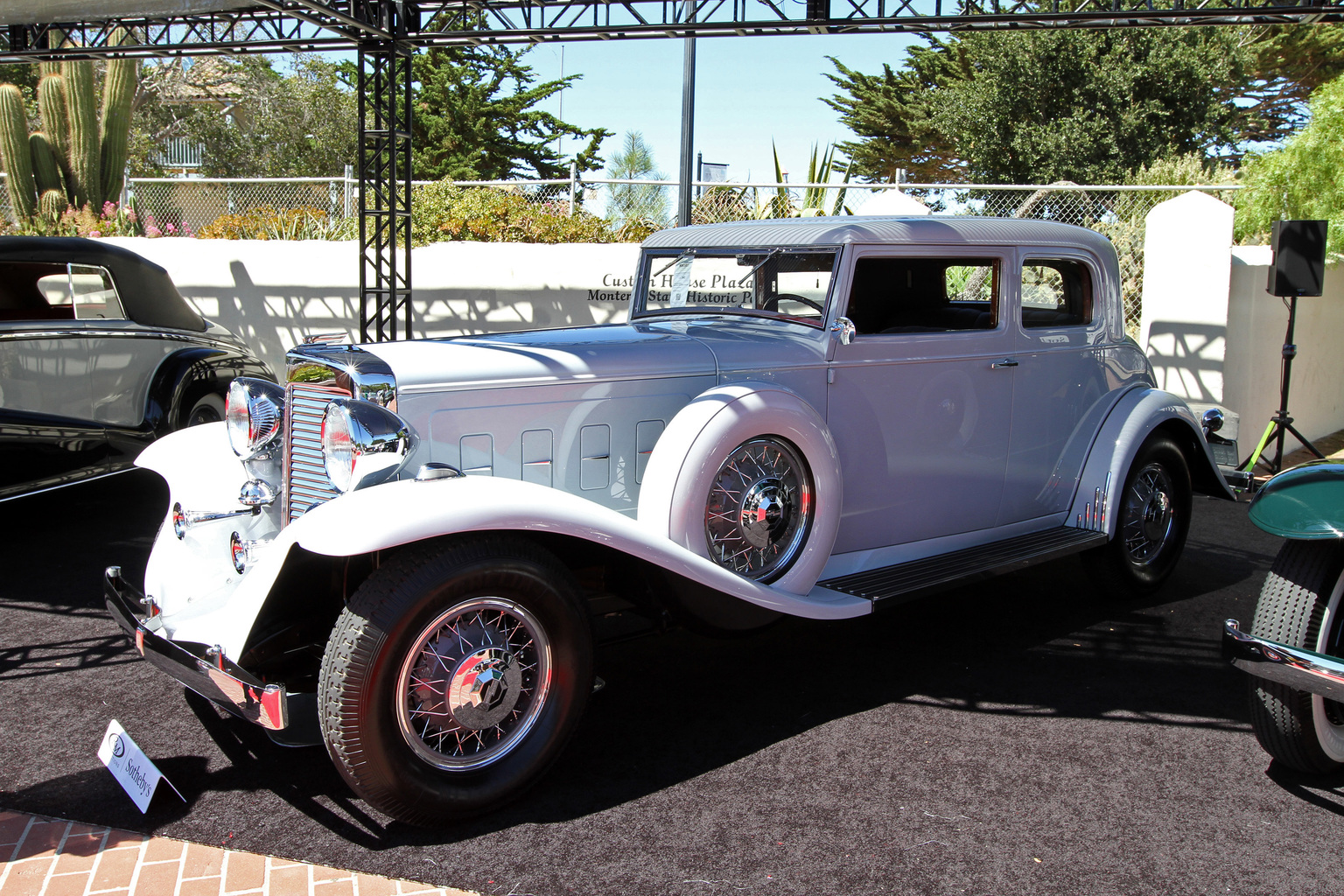 1933 Marmon Sixteen Victoria Coupe by LeBaron 16 143 907 – sold for $907,500 Formerly owned by Larry Harvey and Bernie Ecclestone. Beautiful and authentic Bob Mosier restoration, with Severns-Ridgley heads. Class award winner at the 1995 Pebble Beach Concours d'Elegance. Documented by Dyke W. Ridgley's Marmon Sixteen Roster. One of three surviving Victoria Coupes on the most developed 1933 Sixteen chassis. Auction Source: RM Sotheby's Monterey 2015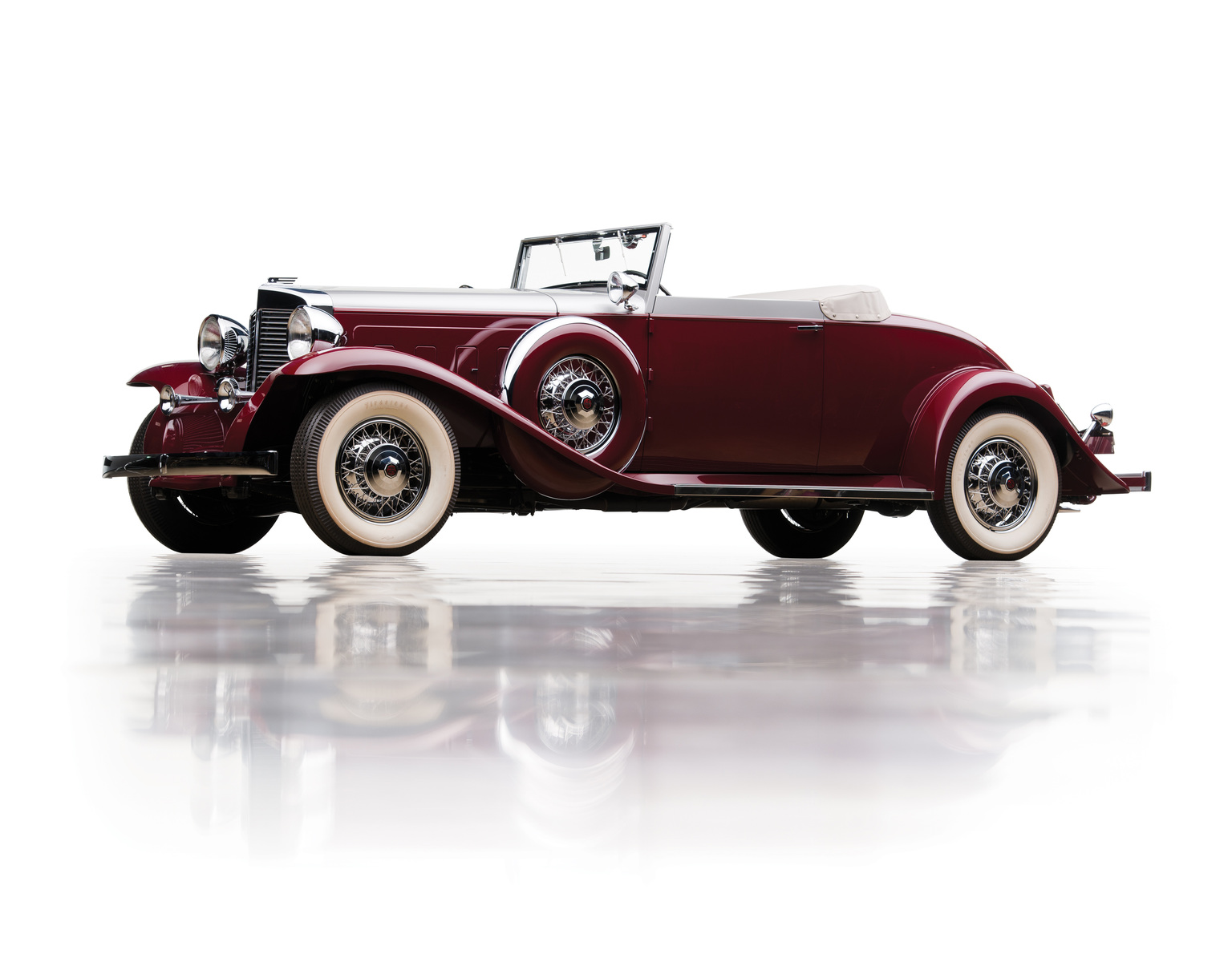 1931 Marmon Sixteen Convertible Coupe 16 144 705 – sold for $1,320,000 The largest American engine of the Classic Era; a masterpiece. One of eight known Convertible Coupes. Beautifully restored by Marmon Sixteen expert Harry Sherry. Fitted with Ridgley-Severn improved cylinder heads. Long-term ownership by known Marmon enthusiasts. Documented by Dyke W. Ridgley's Marmon Sixteen Roster. Auction Source: Paul & Chris Andrews Collection by RM Sotheby's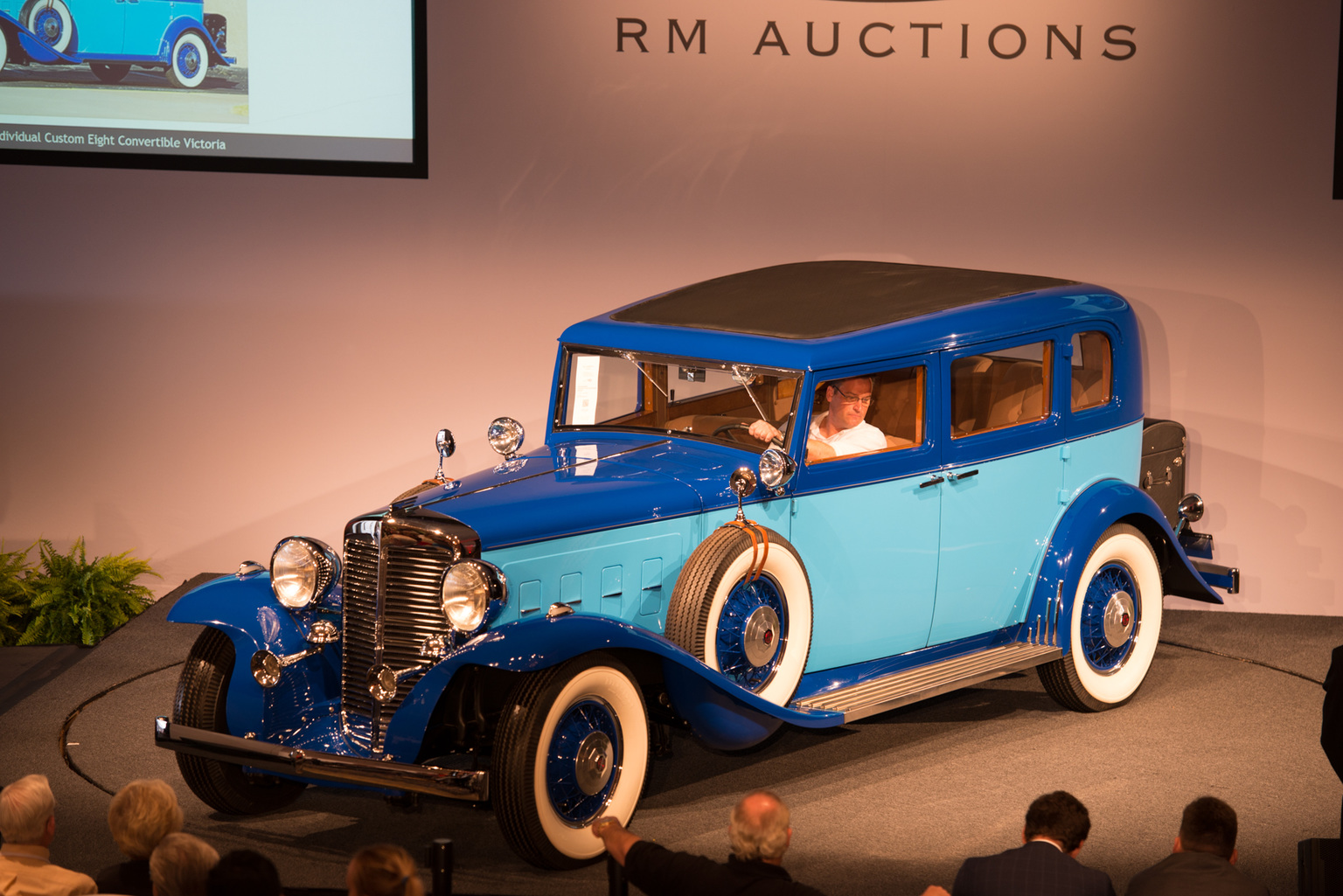 1933 Marmon Sixteen Five-Passenger Sedan by LeBaron 16 140 623 – sold for $330,000 Known history since new. Formerly owned by Marvin Tamaroff. Beautiful restoration by Marmon Sixteen expert Harry Sherry. . CCCA National Senior Award winner. Documented by Dyke W. Ridgley's Marmon Sixteen Roster.  Auction Source: 2013 St. John's Auction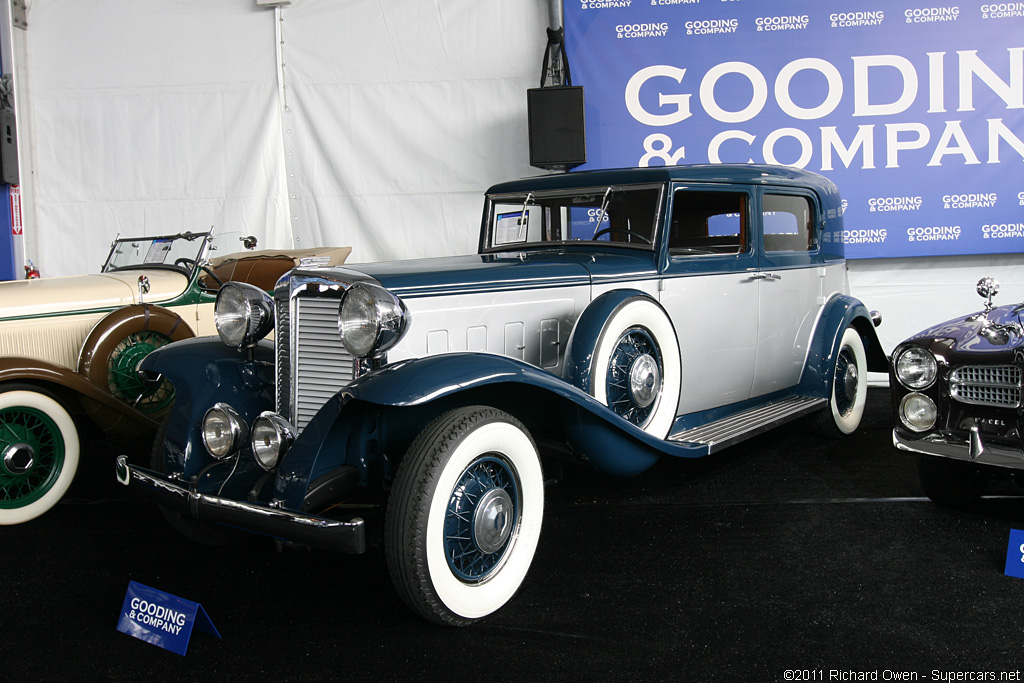 1930 Marmon Sixteen – did not sell for $185,000. Featured in Automobile Quarterly Volume 27 Number 2, this handsome close-coupled sedan is the epitome of 1930s styling and elegance as well as a showcase of superb engineering for which Marmon was renowned. Sporting engine number 16750 and body number 149-532, it has undergone an 18-month cosmetic updating and mechanical servicing by its current owner. Beginning with a straight and unblemished older restoration, the body was resprayed with an exquisite combination of Deep Sea Blue hood, fenders and roof, complementing a Platinum Silver body that is accented by silver coach striping. Wheels, including dual side-mount spares, are painted a contrasting blue, creating a striking period- correct appearance. Auction Source: 2011 Pebble Beach Auctions by Gooding & Company
Auction Source: 2011 Pebble Beach Auctions by Gooding & Company. Rarest of surviving Marmon Sixteens is the two-passenger coupe, of which only six are known to exist. Of those six, only four are known to have their original engines, including the example offered here. This car's original owner and early history are unknown, as Marmon records were lost after the factory closed. Its life since 1955, however, has been carefully followed and updated by Dyke W. Ridgley, custodian of the Marmon Sixteen Roster, to whom we are indebted for this information.  Auction Source: 2011 Automobiles of Arizona by RM Auctions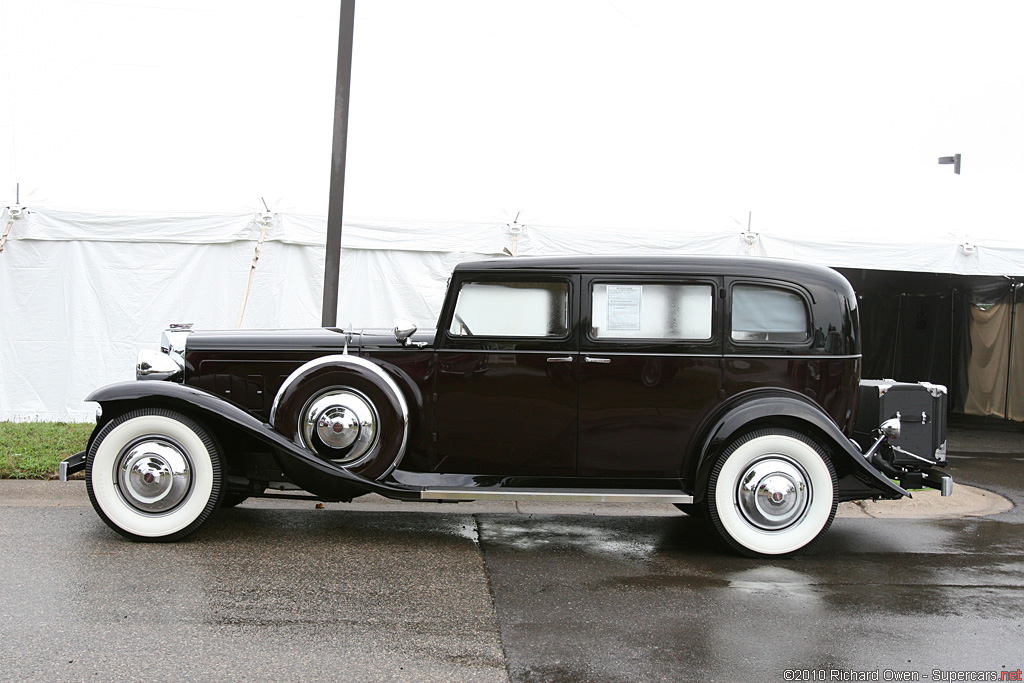 1931 Marmon Sixteen LeBaron Limousine – sold for $346,500. This LeBaron-bodied Marmon Sixteen Limousine is a truly outstanding and fortunate example that joined a large private collection in 2007. Prior to acquisition by its previous owner, the Sixteen was involved in a highway accident while in tow. Luckily, nobody was seriously hurt, but the Marmon suffered damage limited primarily to the coachwork. Remarkably, almost everything below the greenhouse survived intact, because the Marmon was securely strapped to its trailer throughout the ordeal.
Under its next owner, Canada's Sherry Custom Autos in Warsaw, Ontario restored the car with cost as no object and no area overlooked or untouched. Because the Limousine was in gear when the accident occurred, some of the gears within the transmission were damaged from the sudden jolt. They were quite easily replaced, and miraculously no other mechanical damage was suffered. The body was restored, with many new components fabricated by highly respected restorer Harry Sherry but using as much of the original coachwork as possible and following original manufacturing methods. Upon completion, the Marmon was not only given a new lease on life but had been restored into a mechanically flawless and visually stunning example.
The elegant exterior of the Sixteen is finished in a subtle yet regal color combination of dark burgundy and black. It is equipped with twin front-mounted horns, dual spotlights and a pair of side-mounted spares with metal covers and mirrors. The Marmon also sports dual windshield wipers, chrome disc-type wheels, wide whitewall tires and a leather trunk at the rear. The interior compartment is equally impressive, with the chauffeur treated to black leather upholstery and a set of pristine gauges. Behind the division window, passenger accommodations include burled wood and privacy blinds, as well as a pair of jump seats.
The sixteen-cylinder engine is itself a work of art, both modern in its precision and pristine in its presentation. The undercarriage displays a quality of restoration reserved for the show fields of the world's most prestigious concours events. Yet remarkably, the Marmon has not yet been displayed at any concours-level event. The substantial investment of care, time and money present in the Marmon is often reserved for the more popular open body styles. We encourage personal inspection, as the incredible quality of the workmanship offers the new owner perhaps the most attractive formal Limousine coachwork ever to be fitted to the legendary and sophisticated Marmon Sixteen chassis. Auction Source: 2010 Vintage Cars of Meadow Book by RM Auctions