1932 Duesenberg Model SJ
Supercharged Duesenbergs were the top American supercars of their time. They join the Supercharged Stutz, Cadillac V16, Packard Twelve and Marmon Sixteen to uphold American honors against the Rolls-Royce Phantom II, Bentley Speed 6, Hispano-Suiza J12 and Mercedes-Benz 540 k. With its centrifugal, gear-driven supercharger, 320 bhp was possible which eclipsed any other production car of the period.
Eric Minoff on the La Grande Dual Cowl Phaeton
The Model SJ, the supercharged version of the J, debuted in 1932 originally equipped with a set of eight separate hard pipes, the arrangement you see on this car. The early hard pipes, as they were referred to, only existed for less than a year, at which point they replaced with the 4 flexible stainless steel pipes you see on virtually all SJ and many J's.
The stainless pipes were so racy and popular at the time (Mercedes-Benz, Maybach, Rolls Royce, Bentley, Delahaye, Delage, Talbot-Lago, Auburn, and many others all had them), that many owners actually converted their hard pipe SJ's (or no external pipe J's) to the 4 stainless steel pipes. While these pipes did have their advantages, such as prestige and (on SJ's) the ability to disconnect the pipes for a [loud] boost of power, some owners liked their hard pipe SJ's too much to change them.
One owner went so far to tell August Duesenberg (after the owner had received a notice from the company offering to change the pipes) that he loved his hard pipes b/c they glowed at night and impress my girlfriend! Hence, you can definitely tell if a Duesenberg is an SJ if it has hard pipes, but cannot if it has stainless steel ones.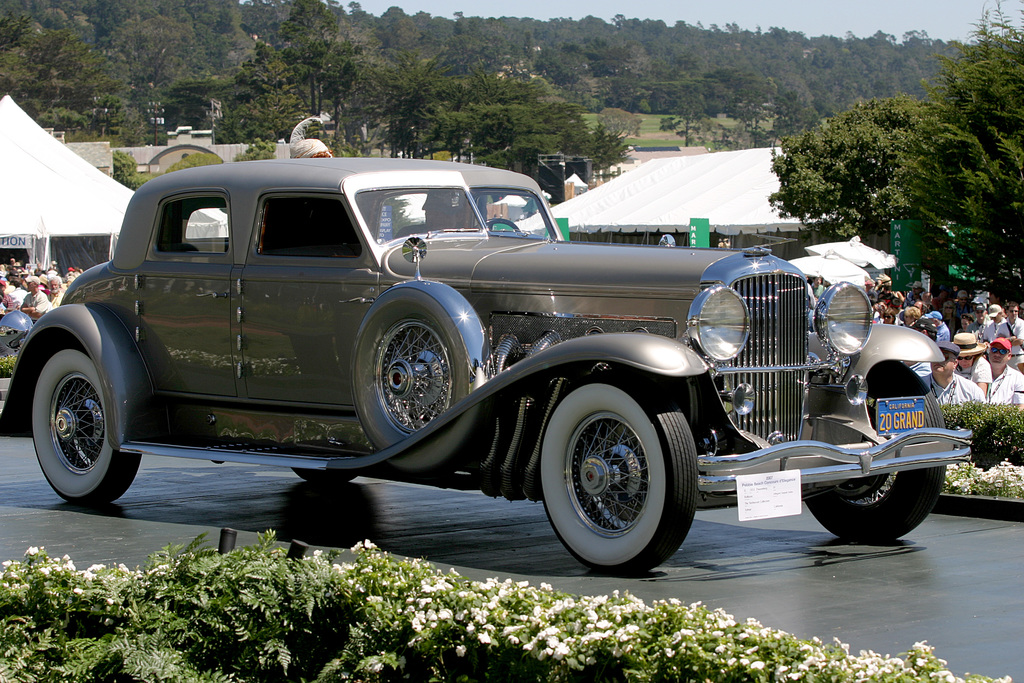 In Detail
| | |
| --- | --- |
| engine | Lycoming Straight-8 |
| position | Front Longitudinal |
| aspiration | Centrifugal, Gear Driven Supercharger |
| valvetrain | DOHC 4 Valves / Cyl |
| displacement | 6876 cc / 419.6 in³ |
| bore | 95.25 mm / 3.75 in |
| stroke | 120.6 mm / 4.75 in |
| compression | 5.2:1 |
| power | 238.6 kw / 320 bhp @ 4200 rpm |
| specific output | 46.54 bhp per litre |
| bhp/weight | 122.7 bhp per tonne |
| torque | 576.22 nm / 425 ft lbs @ 2400 rpm |
| redline | 5200 |
| body / frame | Steel over Steel Ladder Frame |
| driven wheels | RWD |
| front tires | 7.00×19 |
| rear tires | 7.00×19 |
| front brakes | Drums w/Hydrualic Assist |
| rear brakes | Drums w/Hydrualic Assist |
| front wheels | F 48.3 x 17.8 cm / 19 x 7 in |
| rear wheels | R 48.3 x 17.8 cm / 19 x 7 in |
| steering | Ross Cam and Lever |
| f suspension | Rigid Axle w/Semi-Elliptic Springs, Hydrualic Shock Absorbers |
| r suspension | Live Axle w/Semi-Elliptic Springs, Hydrualic Shock Absorbers |
| curb weight | 2608 kg / 5750 lbs |
| wheelbase | 3620 mm / 142.5 in |
| front track | 1425 mm / 56.1 in |
| rear track | 1425 mm / 56.1 in |
| transmission | Warner Hy-Flew 3-Speed Manual |
| gear ratios | 2.485:1, 1.397:1, 1.000:1 |
| top speed | ~207.6 kph / 129 mph |
| 0 – 60 mph | ~10.0 seconds |
| 0 – 100 mph | ~20.0 seconds |